The name Hoosier has been around four wheel racing for quite sometime, but only recently have we become to know Hoosier in the two-wheel motocross market. Hoosier was purchased by Continental Tire in 2016, but since has continued its racing heritage by manufacturing racing tires for many types of racing platforms. Since I have spent tons of time testing tires over my years, I was very intrigued by the tire and the brand's willingness to enter into the motocross market. Hoosier has no problem claiming that their motocross tires are "racing" tires and should be looked at in that way. I got my hands on a couple sets of Hoosier tires to try, with different compounds, to see if in fact they were good enough for me to purchase some for myself. 
 Hoosier has three different compounds set up for the consumer (MX20, MX25, MX30). They also offer an 18 inch version for you off-roaders, but not a 100/90-19 version yet for you 125 two-stroke guys. Each compound has a different carcass stiffness/feel and is there for the consumer to customize their own set up for what type of conditions or feel he or she rides/wants. I tested the MX25 front/MX20 rear and a MX30 front/MX25 rear compound on a Husqvarna FC450 and Honda CRF450R. If you want to know more about these tires go check out the Rocky Mountain ATV/MC Keefer Tested Podcast right here on pulpmx.com or keeferinctesting.com to get even further analysis.
Tracks Tested At And Conditions: 
Sunrise Cycle Park = Soft to intermediate terrain.
Private Test Tracks = Hard to intermediate terrain.
Local Riverbed Sand Track = Sandy to soft. 
Mounting: There wasn't anything abnormal that stood out to us when mounting the Hoosier's on several sets of rims. The Michelin and Pirelli tires go on a little easier, but for how hard the tire feels to your fingers (when pushing on the knobbies/side wall) it goes on relatively well.
Weight: The Hoosier tires are extremely lightweight coming in at 8.02 pounds for the 80/100-21 front tire and 10.1 pounds for the 120/90-19 rear tire. Compared to a Dunlop MX33 front tire at 9.01 pounds and 12.04 pounds for the MX33 rear tire.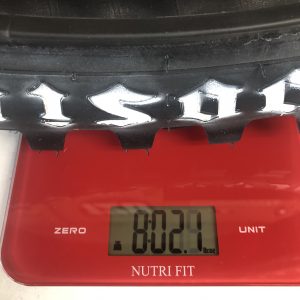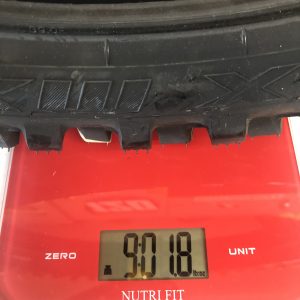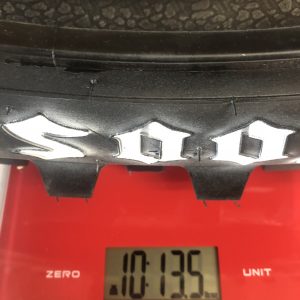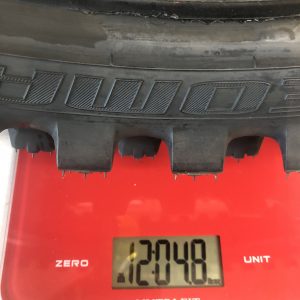 MX25/MX30 Front Tire Performance:   
I am super picky when it comes to front tires and to be completely honest I haven't had a front tire that I am completely happy with since the Dunlop 756RR. I do like a Michelin StarCross 5 Soft tire, but to me since the Dunlop MX3S is discontinued that's all I have to choose from. That is until now… The Hoosier MX25 front tire has a carcass feel unlike any other tire on the market. It's soft playable nature is reminiscent of a factory spec tire that I have only had the pleasure to ride on a handful of times. It soaks up a lot of square edge and bumps on different types of soil and acts like a second set of suspension. The MX25 front tire adds front end chassis comfort to a Honda CRF450R, which is huge on this type of a more rigid feeling machine. The MX25 front tire has more lean angle bite (off-throttle) when starting your lean for corners than any other tire I have tested the past few years. As soon as you get off the throttle to enter a rut or berm, you will notice the tire pulls down the front end more while biting the ground (very grabby). This may take some time for some riders to get used to, but I like the fact that it doesn't have that initial vague feel of a Dunlop MX33. Once the Hoosier MX25 gets into the corners its side knobs work well in a wide variety of terrain (from mild hard pack to soft terrain). I do notice that all Hoosier front tires look/feel wider and taller than other 80/100-21 tires, but in the world of tire sizing, I am told there is a spec range for each size tire to vary from (and the Hoosier MX25 is within spec of the 80/100-21 range). I do notice however once installed the MX25 front tire makes your front end ride a little taller (compared to other manufacturers front tires), which can lead you to adjusting your fork height. I ended up dropping my fork height 2mm's on the Husqvarna to compensate for the taller front end feel and that helped with balancing the bike out coming into corners. However on the Honda, it actually helped the low front end/stinkbug feeling rear end somewhat. 
To me if you're an aggressive type of rider that pushes the boundaries of the side wall of the front tire you will like the Hoosier's MX30 front tire's compound a little more. I found when going to harder clay base types of tracks this tire didn't roll as much on lean angle and provided me with almost as much carcass comfort on square edge/braking bumps. I also liked cornering stability a little more with the MX30 front tire versus the MX25 due to its more predictable/less rolling nature. The MX30's braking is not as grabby as the MX25, but I am highly sensitive to this (some of you less sensitive riders may not notice). I let my other novice test rider ride both front tires back to back and he couldn't tell any difference on straight/lean angle braking performance. 
MX20/MX25 Rear Performance:
The MX20 rear tire has incredible straight line traction (on-throttle) and gives the Husqvarna and Honda an amazing amount of traction coming out of corners. Lean angle traction was superb when the conditions were soft, but when the track hardened up this carcass felt like it rolled on the rim too much and had a tendency to wash out. Just like the front tire, the MX20 rear tire's carcass feel has so much comfort, it really makes the suspension on the Husqvarna and Honda have an increased damping feeling that I haven't felt from a production tire. Inside shallow ruts the rear tire's ability to drift is not as apparent and if you want to brake slide around corners this tire makes it tough to do so. For me I love that feeling because I steer with my front tire, but some of you rear end steering riders may not like this feel. To me this is a pure soft/sand type of rear tire that doesn't like too much sidewall pressure (on intermediate to hard terrain) for aggressive riders. 
The MX25's tire cushion was just as friendly as the MX20, but also could be pushed harder on the sidewall under throttle. When hard on the gas (on fast sweeping corners) the MX25's ability to not drift was a welcomed feeling. I could leave the throttle on under lean and not get a rear end wash feel like the MX20 had. Slap down landings on the rear tire was one of the first positives I noticed from the MX25, once I entered the track. Over jumping certain singles to flat didn't give me as much of a harsh feel as other production tires and that gave me less fatigue during a longer moto. Maneuverability or the ability to change directions of the MX25'a knobbies let you make quick line choice decisions without any rear end push. The MX25 just has a comfort level that most tires do not have when the track gets imperfections late in the day. 
How Does The Lack Of Weight Affect The Handling Of The Bike?: The Hoosier tires are lightweight… Although Hoosier wouldn't indulge too much on how they achieved such a lightweight tire, I will give you some insight on what I feel when I slap a set of these Hoosier's on (compared to a Dunlop MX33). The Hoosier tires feel unlike any other tire on the market. For how stiff they feel off the bike, they feel extremely soft and supple when riding with them. You really have to pay attention to the tire pressure (of the Hoosier's) and forget about what pressures you're running on other tires as well. When pushing into corners I can feel the initial part of the sidewall flex fairly easy, but then get progressively stiffer as more pressure is applied (front and rear). This is a unique feeling and took me a few added laps to get used to, but adjusting tire pressure helps dial in the firmness the initial part of the sidewall has.  
Positives Of The Hoosier Tires:
* Lean angle traction (MX25 front/rear)
* Rear tire straight line traction  
Carcass feeling
Lightweight

 
Negatives Of The Hoosier Tires:
Knob chunking on MX20 rear tire
If worn down somewhat the excellent lean angle traction isn't as apparent

 

Tire pressure is critical with these compounds (must check air pressure during the course of the day more)
Durability Of The Hoosier Tires: 
So if you're slapping down $125.00 per tire, I am sure you want to know about durability right? The Hoosier MX20 rear tire will chunk if using it on harder terrain (around the 4 hour mark). I put around almost 10 engine hours on the other compounds (MX 25 and MX30) and although worn, they didn't chunk. The downside to the Hoosier's is that when the tire gets half worn, the performance drops a considerable amount (compared to a Dunlop MX33). To me the Hoosier is a pure racing tire and should be taken as such.  
Tire Pressures:   
MX20 Rear: 14-15 PSI
MX25 Rear: 13.5-14 PSI
MX25 Front: 13.5-14.5 PSI
MX30 Front: 13-13.5 PSI 
You can check out the Hoosier's over at hoosierracing.com.