Photos by Rich Sheppard
PulpMX.com Fantasy Pick & Trends
The Triple Crown race format is a controversial topic in our little moto universe. There are issues that need to be resolved regarding points payouts and purses, and it's a difficult night for the teams and privateers. What can't be denied though is the level of excitement generated by the intense racing action on the track. When it comes right down to it, that's why we all love the sport. Detroit delivered the excitement for race fans and fantasy team owners alike; let's take a look!
Last week in this column we discussed Triple Crown strategy, knowing that all 8 of your riders will be in the main event seemingly makes team selection easier. Much of last week's discussion centered on picking riders with the highest handicap who made the mains. I also wrote about looking at it another way, and picking a couple of mid-low handicap riders who could finish with a better score than sixth place after the handicap adjustment. As it turns out, this could have been a way to separate from the pack, but nobody, myself included, picked the right combo! Chad Reed outscored all other 450 riders by at least six points, but almost nobody picked him.
A three hundred point score took down the overall this week. Not one, but two team owners got there and interestingly enough, they did it with teams built of all high handicap riders, many of whom I thought would have had much higher pick trends than they did.
Congratulations to "Diedrix" and "Dirtracer432" for taking down the overall this week with identical teams. They both scored 300 with a 250 team that consisted of Justin Thompson (16), Chase Sexton (2AS), Wilson Fleming (13), and Blake Wharton (8). Their 450 Team included Ryan Breece (14), Chris Blose (10), AJ Catanzaro (14), and Eli Tomac (4AS). They also correctly chose Forkner and Cooper Webb as first lap leaders.
Most picked riders AKA "the chalk"
450 class riders had the highest pick trends this week. AJ Catanzaro (14) topped the charts with a 45% trend. Eli Tomac (4AS) – 40% and Ryan Breece (14) – 35% rounded out the top three. The 250 class was lead by Justin Thompson (16) – 36%, he was followed by Blake Wharton (8) – 34% and Wilson Fleming (13) – 32%. Overall pick trends on the high handicap riders were much lower than expected.
  Low owned players who delivered – AKA great contrarian plays
 There was only one low owned player who snuck through and delivered a great score, Kurri Kurri Australia's own Chad Reed! Somehow the living legend was only selected by 7% of team owners. Granted Chad didn't qualify great, but does he ever? A couple of things should have tipped us off though, big whoops and, excluding a bad night at Arlington, ever improving overall results.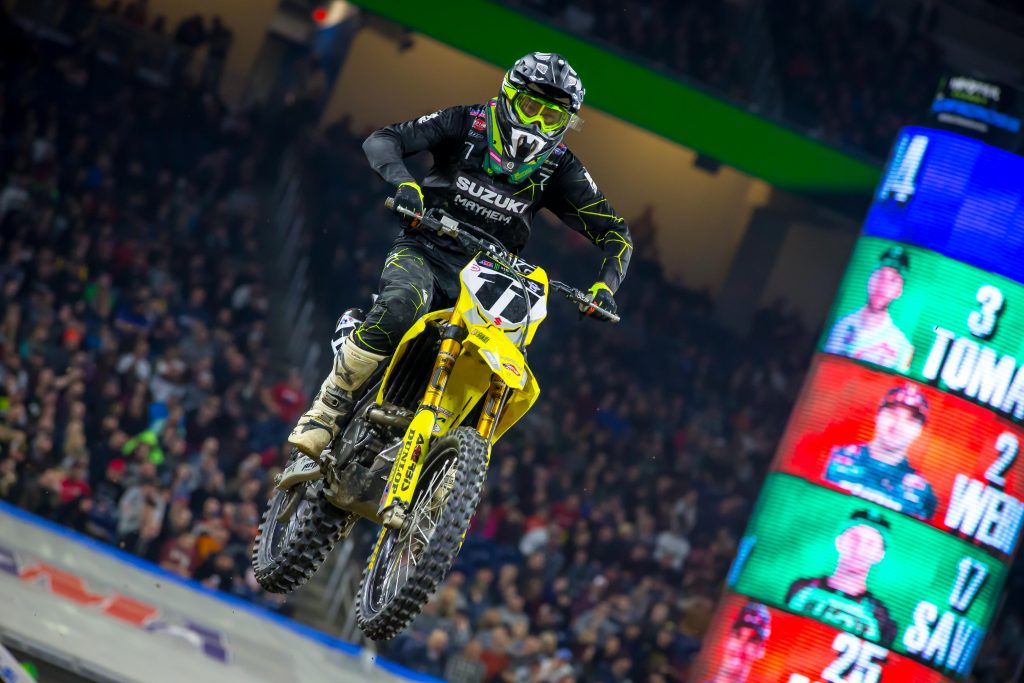 Fantasy Duds
Chizz didn't Chizz! Kyle Chisholm (7) – 20% pick trend has been a fantasy stalwart all season, consistently delivering 30-35 points on a weekly basis. This week it wasn't meant to be. Chizz had an off night, scoring 17-21-18 moto scores for 18OA, just outside of double points, leaving his owners with only 12 fantasy points. Dean Wilson (6AS) – 21% trend also had a bad night, his 11OA netting only 18 points.
No real duds in the 250 class!
 Fantasy Studs
 The big scores were in the small bores this week! Blake Wharton (8) – 34% was highest scoring rider of the week. His 10P finish netted owners 46 points. Purple Rain was followed by Justin Thompson (16) – 38 points, Steven Clarke (11) – 34 points, Henry Miller (7) – 34 points, Joshua Cartwright (8) – 34 points, and Marty Davalos (-2) – 32 points.
In the 450 class, Chad Reed lead them all, his 3P finish netting 42 points. Ryan Breece (14), Chris Blose (10), Zach Osborne (4), and AJ Catanzaro (14) followed, all topping the 30-point mark.
 The 100% "Lead Pipe Locks"
This week we only had three experts making 100% Lead Pipe Lock picks as JT was unavailable to record. Once again we had a little bit of overlap with the picks. Paul and Dan both chose Blake Wharton and Zacho. Steve went another way all together, choosing Jayce Pennington and Chizz.
Paul and Dan's combo outscored Steve 80 to 12. Not a good pick for Steve as Pennington was a DNQ and Chizz, as we already discussed did not have his usual night.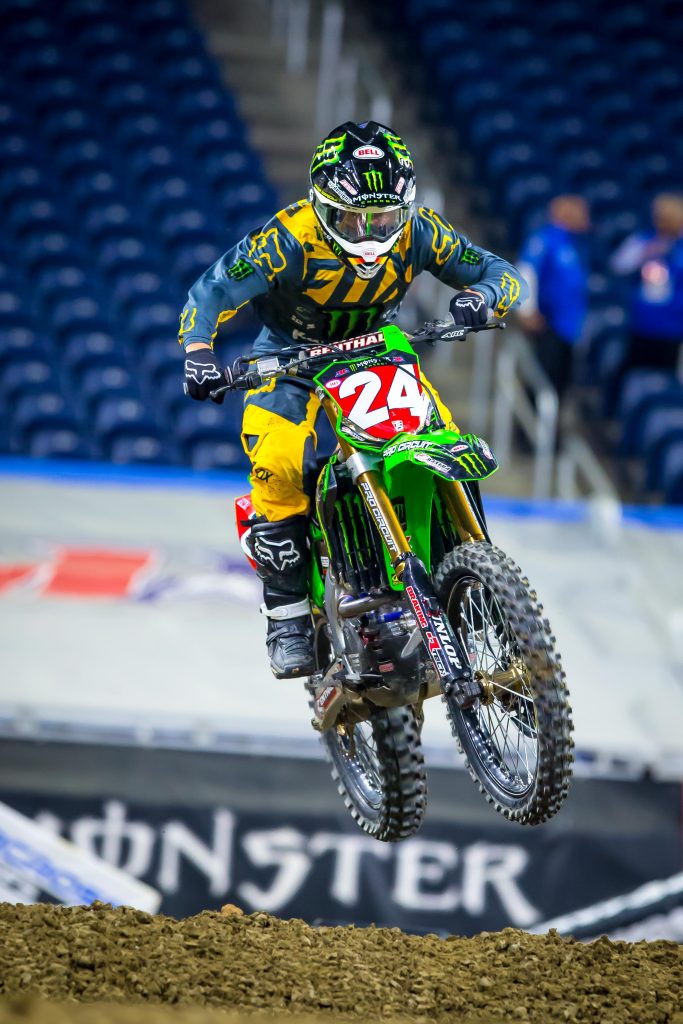 First Lap Leaders
Pro Circuit first lap leader dominance continues in the 250 class, as Austin Forkner lead two out of three mains, with Jordan Smith grabbing one. The 450 class had three separate lap leaders, Justin Brayton, Cooper Webb, and Blake Baggett.
The pick trend in the 250 class was 62.7% of owners selecting, 96% correctly. If you didn't pick Forkner as a lap leader this week, you need to review your process! The 450 class pick trend was close, 60.2% of teams selected, but the percentage of correct picks was much lower. Only 19% correctly guessed one of the three. I'm going to go out on a limb and guess that Ken Roczen had a high pick trend here and did not deliver.
Final Thoughts – Atlanta Picks
We're on to Atlanta! The 450 class will be back to business as usual. At first glance there are a couple of good picks to be had. Cole Seely took a rock to the sternum in first practice at Detroit and was unable to ride. He now enters Atlanta at a zero handicap non-all star. Barring the injury, Cole had been showing top 5 speed and could be in for a big night if he is able to compete. Also, don't sleep on Chizz! Recency bias might make people shy away from him, but his handicap has gone up to an 8 again, and we know what he is capable of. I also like Zacho at a 1 handicap non-all star and Joey Savatgy at a -1 non-all star.
For 250 class picks I really like Mitchell Harrison at a 14 handicap non-all star. I also like Michael Mosiman. He enters ATL as a 7 handicap non-all star. His overall finishes of 12-7-8-10 make him a strong pick to score 40+ points.
Well that's it for this week. Thanks everyone for reading and playing. Please remember to support the PulpMX Fantasy sponsors when you shop for all of your off road, motorcycle and MTB needs.
Hope I see you on the leaderboard