Photos by Rich Shepard
The third and final Triple Crown was held Saturday night in Houston and boy was it a wild and weird one to witness. A lot went down at NRG Stadium for round 13, so let's get right into it.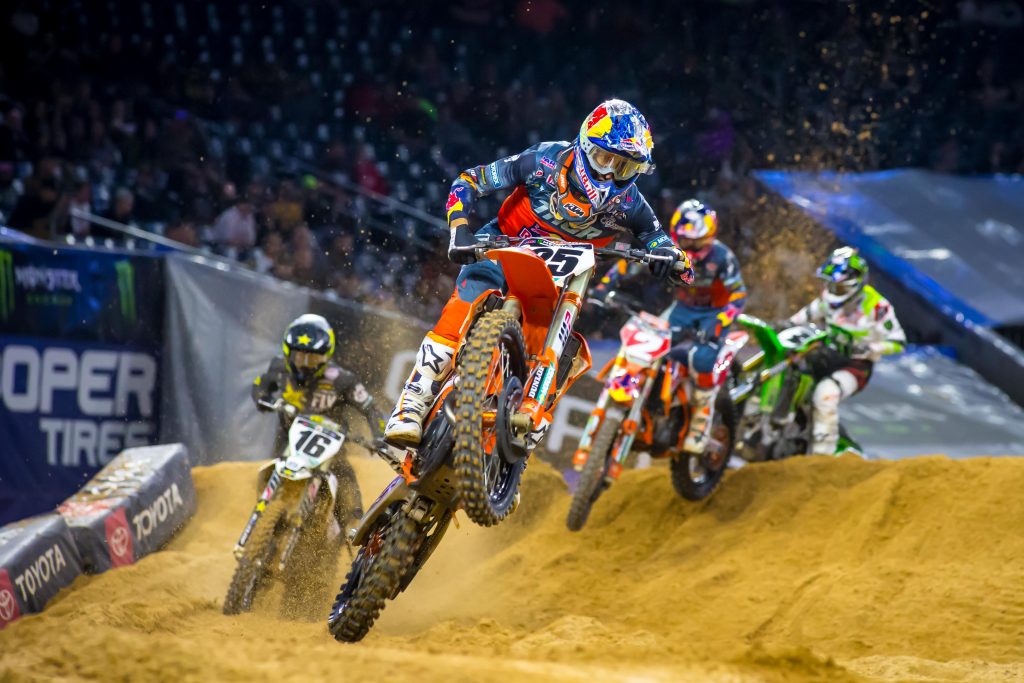 Webb And Musquin: Well that was interesting right? Webb wasn't stoked on Musquin's bump and run in the first main of the night, so Webb continually tried to punt Marv off the track. To sit there and say all is well under the KTM tent would be a fallacy. There is going to be tension because these two riders are going for a championship and with the money that's at stake, you can be sure that more fireworks are coming. To me Webb's relentless never say die attitude has Marv a little rattled when number two is behind him. If Marv gets a start and Webb is fourth or fifth, Musquin has enough confidence (in his speed/ability) to be able to lay down some fast laps, so that "Webb Wagon" will not be able get up his ass. This is going to get good folks! Get ready!
Dean Wilson: Dean-O is so fluid on the bike, but he needs a little more "race speed" to keep up with Marv and Webb. I say "race speed" because that "qualifying speed" hasn't been there when it's race time. Until now… Our sport is so mental and I think Dean is finally getting that part dialed in the big boy class. Let's hope he keeps that in outdoors because I think he will be better come summertime. Dean is built for outdoors!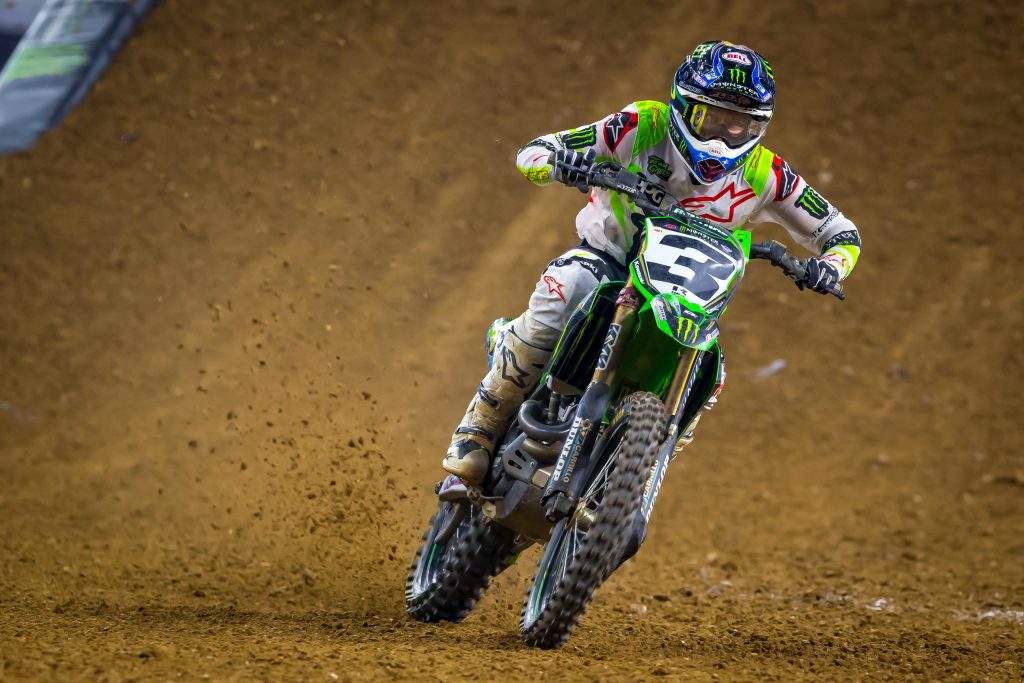 Eli Tomac: Rick……Rick? Yeah, I don't know either..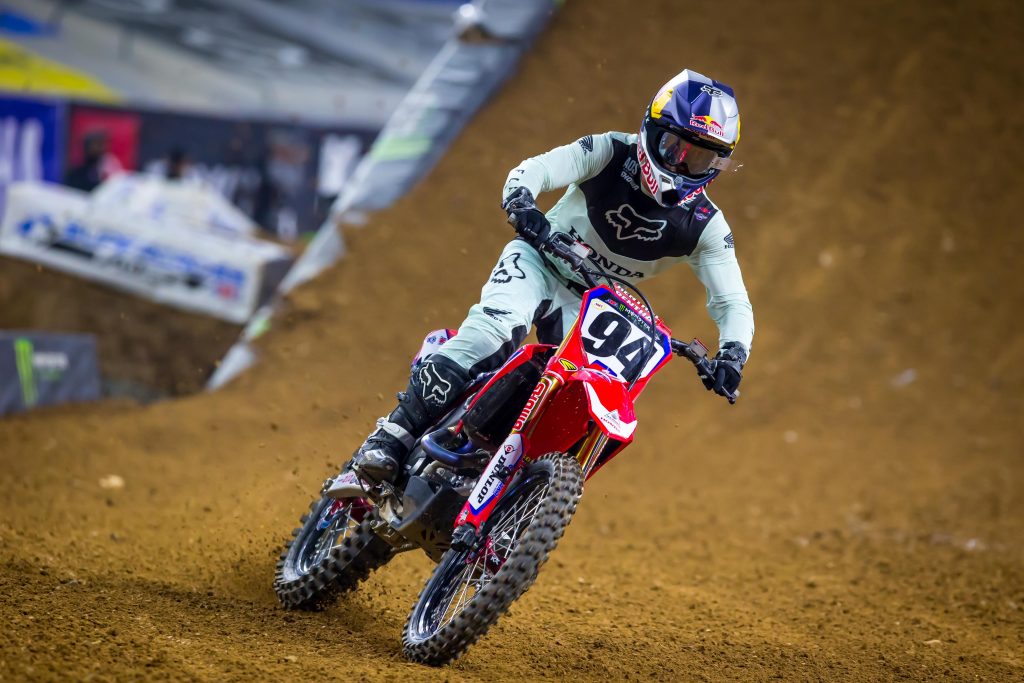 Ken Roczen: Son. Of. A…….. I thought this was going to be the night, after the first main. Who's with me? A 10 second lead at the end of the first main and I'm over here like….Boom! But this is Supercross and you can't predict anything like some of these "know it all insiders" tell us. Kenny has a hurt piggy, but should be good to go for the next couple rounds and then he gets a little break. Kenny's Honda looks like the best bike in the paddock through the whoops as it stays the straightest when the whoops get cupped. This should help him in Nashville as I have heard the whoops may be back with a vengeance.
Flaggers: Ok, look I may have went off on the over/under bridge flagger when AC went down, but what the hell man? I was told that said flagger was supposed to stay back (away from the downside of the bridge landing) so that the flagger on the front side (take off) of the over/under could see if the accident was clear or still in the middle of the track. I don't buy that!!!! You're telling me that we couldn't get more flaggers on the front side of the over/under jump and that other flagger at least near the actual track? The guy or gal was at least 10 feet away from the edge of the track. THAT IS NOT GOING TO DO ANYTHING FOR ANYONE! It's a mistake, I understand, but can we be better at this people. If you take the job as a flagger, you could save a riders life! Don't take that lightly. Live and learn.
Errrrr….. I mean 97: A 15th! As Adam would say… LET"S GOOOOOOOOOO! Nice job all night by Enticknap. He had a a good LCQ race was rolling his corners better and had a better mindset he said. Again, just like I said, racing is 80% mental.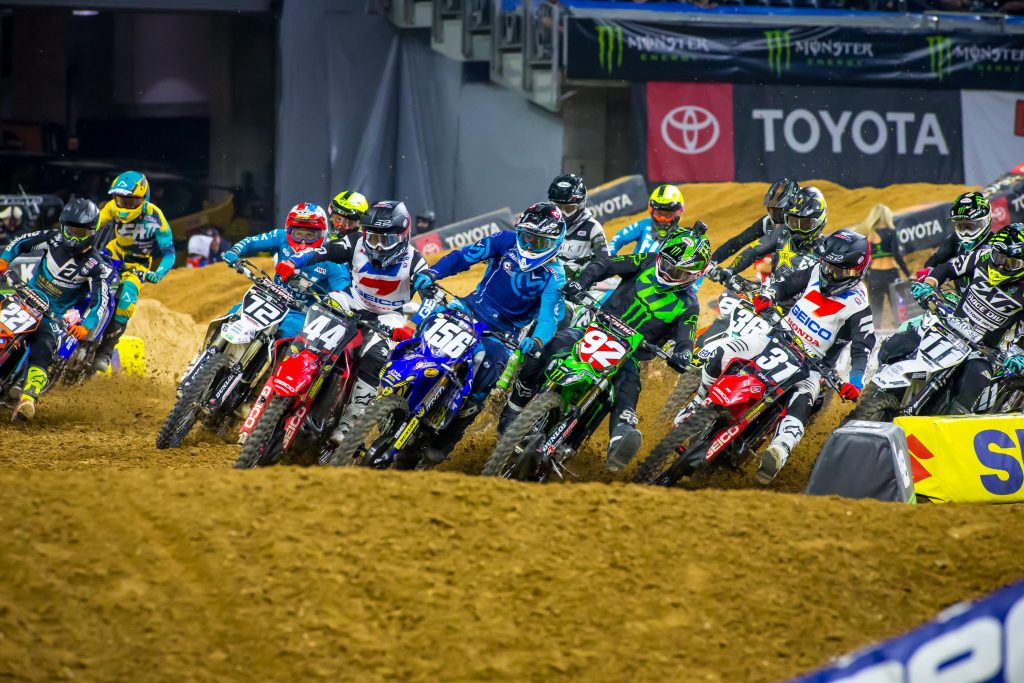 Adam Cianciarulo: AC was a fast man In Houston. Some bad luck and bad starts hurt his overall and his points lead, but I am not scared as he will be just fine. His speed is better than Dylan's, but he will need to keep it mentally together for these final couple rounds! As much as I talk about how fast the Star Racing Yamaha's are, Adam's Pro Circuit KX250F is so gnarly off the bottom end. Go back and watch him triple out of the rhythm before the over/under bridge. He could do it so easily, even when he doesn't make the corner before clean enough! I LOVE FAST ENGINES!
Dylan Ferrandis: Dylan's consistency is coming around at the right time in the series. It also doesn't hurt that you have DV in your corner helping with your technique, mental game, and conditioning. I like this combo and I like that Dylan can take some shit from DV to make him better. Not ALL moto guys can take honesty. Most need to be coddled into a champion with their people telling them fluffy shit. You need honesty with a sprinkling of pats on the back and atta boys.
RJ Hampshire: When they said RJ hasn't had a podium since his rookie year I was actually blown away. Really?! A 3-2-4 got that second overall secure and RJ's tenacity with making passes catches my eye. He has a good eye at adapting and making new lines work, which is rare for American 250 Supercross riders. His GEICO Honda is no slouch either and should be recognized because the stock Honda's leave a lot on the table for these engine builders. A lot of work goes into RJ's bike and it showed as the bike looked a little better in Houston.
Justin Starling: This dude is quietly having a good year! Justin has always been fast, but I think he needed some good equipment to get consistent results. His Gas Monkey/AJE Motorsports Husqvarna is just what this guy needed to keep getting inside the top ten in a pretty damn good west coast group of riders. Nice work! Oh and watch Justin ride, he is technical on his bike and has good form.
Cameron Mcadoo: I owe Cameron a Jersey Mike's gift card. That is all…
Chris Blose: A third in qualifying! It's coming people! It's coming! A podium on or before Vegas.