PulpMX.com Fantasy Pick & Trends
Scores soar in Tennessee as high pick trend riders deliver.
Can you believe we are already through 14 rounds of Supercross this season? Before we know it, we'll be stuck in that lull between Vegas and Hangtown, thumb scrolling Draft Kings looking for some fantasy Nascar action.
This past weekend, Supercross visited Nashville TN for the first time ever and it did not disappoint. There was a great crowd, overlooking a hard packed and technical track that once again delivered great results for many Pulp MX Fantasy owners.
The overall for this week came down to a head to head battle between John Short (6) – 16% owned, and Josh Cartwright (9) – 43% owned. Interestingly enough the team with the higher owned player won, by the two-point differential between Short and Cartwright.
Congratulations to Brett239 for taking down this weeks overall with a fantastic 319 point score!
Brett was beyond solid with his team selection this week. Based on this weeks individual rider results he picked the highest scoring team possible in the 450 class, and just missed in the 250 class. He also correctly chose the 450 class first lap leader, Cooper Webb.
Brett's 250 squad consisted of Ryan Sipes (6) – 49%, Freddy Noren (11) – 35%, Joshua Cartwright (9) – 43%, and Martin Davalos (5AS) – 15%. His optimal 450 squad featured Justin Starling (16) – 45%, Ryan Breece (13) – 18%, Chris Blose (8) – 52%, and Eli Tomac (3AS) – 12%. He also correctly chose Cooper Webb for first lap leader, giving him 15 crucial points over a huge chunk of the field.
Congratulations on a great overall win!
Now, let's take a look at this week's results.
Most picked riders AKA "the chalk"
Some very high pick trend riders this week concentrated on only a few riders. This tells me that the handicappers might have left a few soft spots to be exploited, and were they ever. In the 250 class, Ryan Sipes had an incredible 49% pick trend, Josh Cartwright and Freddy Noren followed, with 43% and 35% pick trends respectively. In the 450 class the trend percentage soared above 50% for one rider. Chris Blose was chosen by 52% of owners. Justin Starling followed Blose at 45%, and then Ken Roczen at 32%.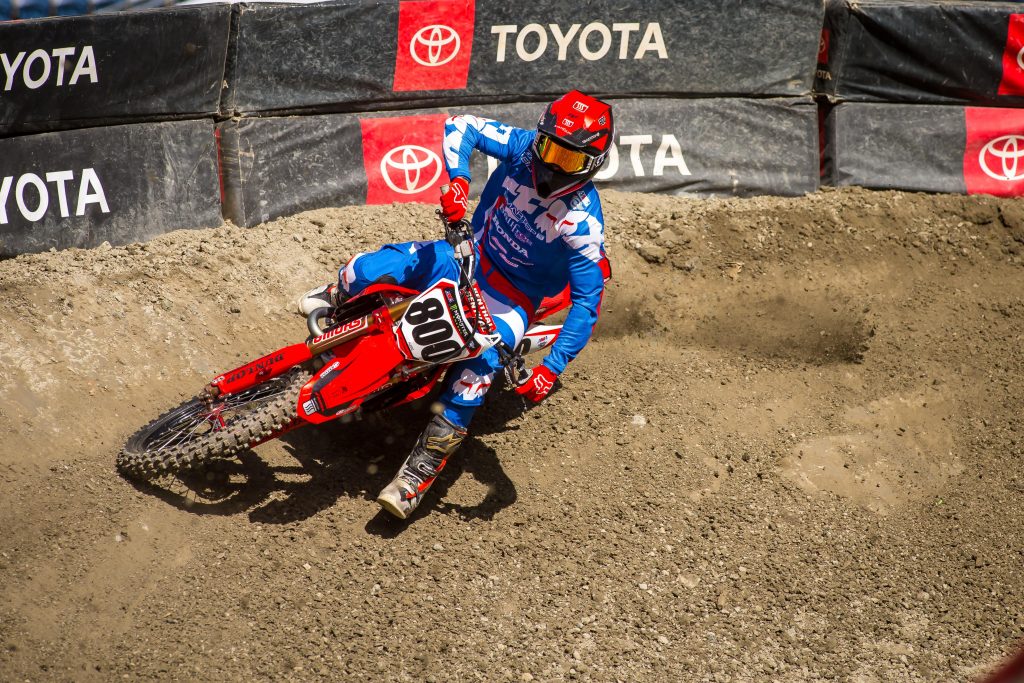 Low owned players who delivered – AKA great contrarian plays
This would have been a great week to pick Weeks! Going back to this column a few weeks ago, we documented a trend with the east coast 250 class where riders who were on the bubble in qualifying were making the main. This week was no exception as we saw James Weeks (16), who qualified in 27th, but on the same second as 21st, put it into the main. Understandably, he had very low ownership at 1%. He rewarded those owners with a perfect 52 point score.
The really interesting thing here is that none of the 1% who picked Weeks had the rest of the combination correct; otherwise they would've or could've taken down the overall.
In the 450 class we saw the 800, Mike Alessi (9) sneak through with only a 5% pick trend. He put up 36 points, good for third highest score of the night in his class via a 14P finish.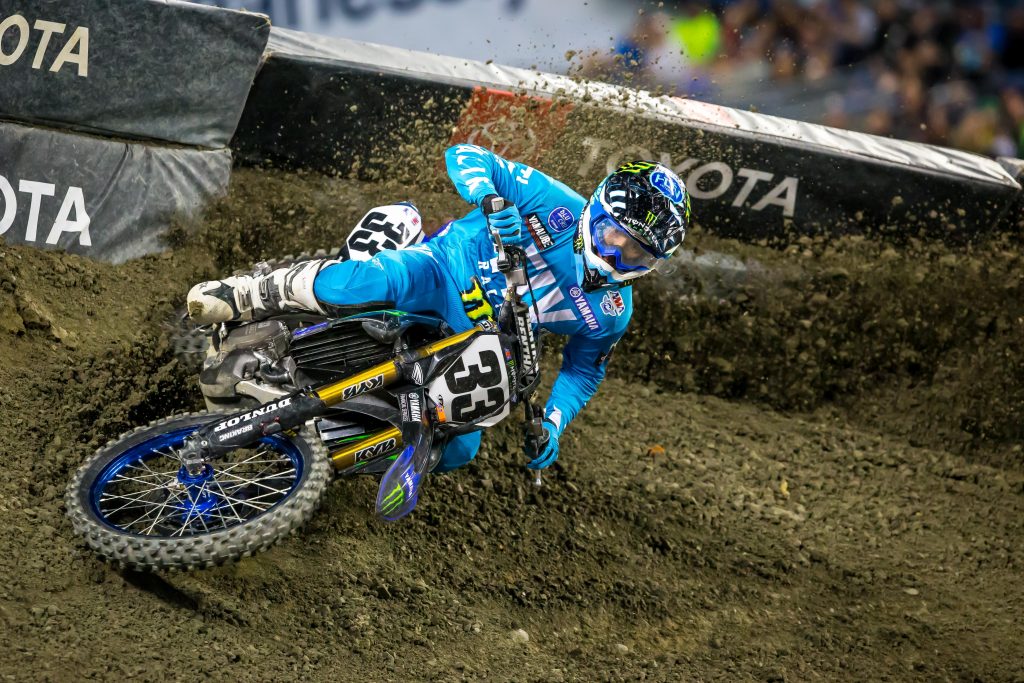 Fantasy Duds
No real duds in the 250 class, unless we count Austin Forkner (0) who still managed to have 16% ownership. His pick trend being that high really surprises me as there were some very strong choices in the class, especially with his injury, what were you guys doing? Hoping for a speedy recovery for Austin!
Josh Grant (9) is now in the third week of his fill in ride with factory Yamaha and it's not going well. We have seen his handicap increase with each passing round as a result. This week he entered Nashville as a 9, started the main in 12th, worked up to 9th on the 5th lap, and then promptly crashed out. This left 24% of team owners who selected him with only 11 fantasy points.
Fantasy Studs
The big scores came from the small bores again this week! We only had one rider in each class put up a perfect 52 point score. In the 250 class we already mentioned James Weeks (16) – 1% 52 points score. We also saw Ryan Sipes (6) put up an awesome 46 point score for 49% of his team owners via an 8P score. Following him were Fast Freddy Noren (11) – 35% pick trend for 42 points, Mitchell Falk (5) – 28% pick trend for 38 points, and Kyle Peters (-1) – 10% pick trend 36 points.
Justin Starling (16) qualified in 19th, but on the same second as 13P and had a super high pick trend of 45%. He delivered a perfect 52 point score via a 15P finish. Following Justin were Chris Blose (8) – 52% pick trend for 42 points, Mike Alessi (9) – 5% pick trend for 36 points, Ryan Breece (13) – 18% pick trend for 36 points, and the Alaskan Assassin, Ben Lamay (6) – 13% pick trend for 34 points.
The 100% "Lead Pipe Locks"
The original fantasy pod crew of Paul, Dan, Steve and JT were all on air this week to make picks. Paul chose Mitchell Falk and Justin Starling for 90 points, Dan chose the same combo for 90 points, Steve also chose Falk & Starling for the 90, and finally JT went contrarian, choosing Bradley Taft and he things Josh Grant for 11 points.
This leaves us with a three way tie for the 100% Lead Pipe Lock between Paul, Dan, and Steve. I think we should give it to JT though for having the courage to make a contrarian pick.
First Lap Leaders
This season in the 250 class picking a Pro Circuit Kawasaki rider for either coast has been pretty close to a lock for 15 extra points. As a result we have seen a higher than normal percentage of team owners making picks, with a correlating high percentage of them correctly choosing Forkner or AC, depending on the coast. This week we unfortunately saw Forkner injure himself in practice. This resulted in a drastic drop in percentage of teams who chose a 250 LL, only 28.3% chose, with only 2% correctly guessing Martin Davalos… a Team Pro Circuit rider. How did we all miss that, and of course it's a PC rider, right!?
The 450 class saw 21.3% of team owners choose a first lap leader, with 16.7% correctly choosing Cooper Webb, pretty average numbers there.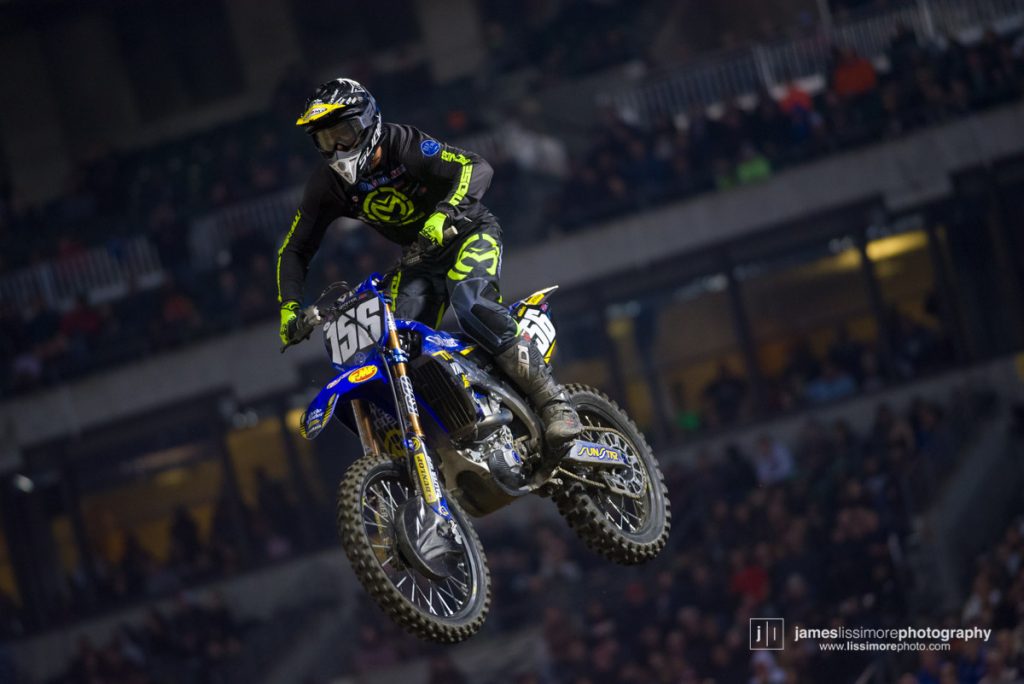 Final Thoughts – Nashville Picks
Have you guys been following the track build for Denver? Yesterday on social media there were a lot of photos of an under construction and very snowy track. Currently the weather is calling for a partly sunny 46-degree day in Denver on Saturday, so the racing should not be affected by weather.
We're back to the west coast for the 250 class this week. A quick scroll through the handicaps and a few things jump out at me. Michael Leib had a great showing in Seattle, finishing in 14P and enters the Mile High City with a 9 handicap. Also, keep an eye on Jacob Hayes in practice, he will begin round 15 with a 3 handicap and is very capable of a top ten finish.
For the 450 class I like Cade Autenrieth who is coming off of an 18P finish and will still have a 16 handicap. Finally, Ken Roczen as an all star with a 6 handicap is a lock it and break the button off pick.
Finally here's your reminder to pick AC for first lap leader.
Well that's it for this week. Thanks everyone for reading and playing. Please remember to support the PulpMX Fantasy sponsors when you shop for all of your off road, motorcycle and MTB needs.
Hope I see you on the leaderboard!