Photos by Rich Shepard
Heather and I were happy to hit the races this weekend in Denver, Colorado and let me tell you that my wife was the happiest I have ever seen her at a Supercross race. It's Colorado, its John Elway, and it's the Broncos! She's in! Snow in the morning gave way to clear skies and slightly warmer temps, but there was plenty of warm weather attire on throughout the day. Can you believe that I actually stayed the whole day and NIGHT people! So instead of telling you exactly what went down during the race let me walk you through the weekend al little from my POV. Here is a full helping of Daytime and Nighttime program from the Rocky Mountains!
Racer X/Pulp MX Live Show: These live shows have been a hit so we decided to do some more throughout the year. The Oriental Theatre hosted our janky ass and we packed the house Friday night. Our guests included Wil Hahn and Denny Stephenson and they brought some classic stories that had the audience rolling. It's crazy how fast two hours can go when you're BS'ing with your buddies about today's hot motocross topics. There were even some Rick…..Rick moments that somehow spawned into a t-shirt. If you haven't yet made it to one of these shows do yourself a favor and try to get to New Jersey or Vegas before the end of the year.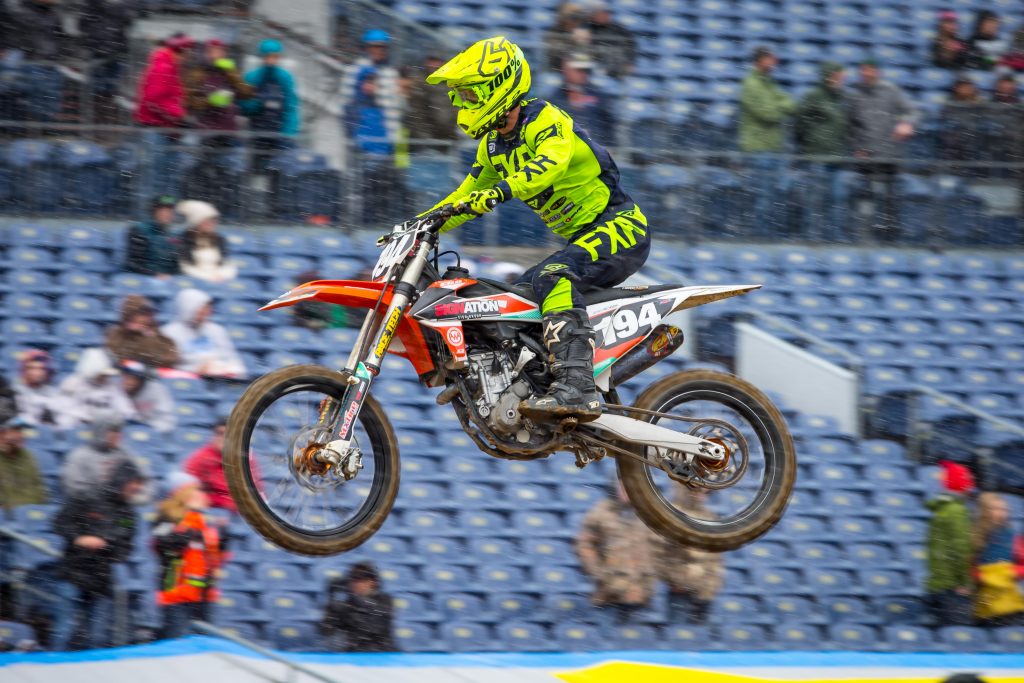 Jerry Robin: The fantasy dudes talk about Jerry a lot and sometimes in a negative way, but this dude is what makes motocross great. Jerry drives his van up to Colorado by himself, practices at a buddies place in Grand Junction for a couple days before the event, doesn't have a man friend or a mechanic, has a KTM that looks like there are some hours on her, and qualifies P11. His main event was lackluster, but you have to give it up to a guy that puts all of his time and effort into getting to the races (by himself I may add). The kid tries hard and I feel with a little guidance and some good equipment he could really do good. He has speed, he just needs to work on putting consecutive smooth laps together in order to consistently get into the top ten. If you see Jerry at Vegas go give this dude a high five and tell him he's rad.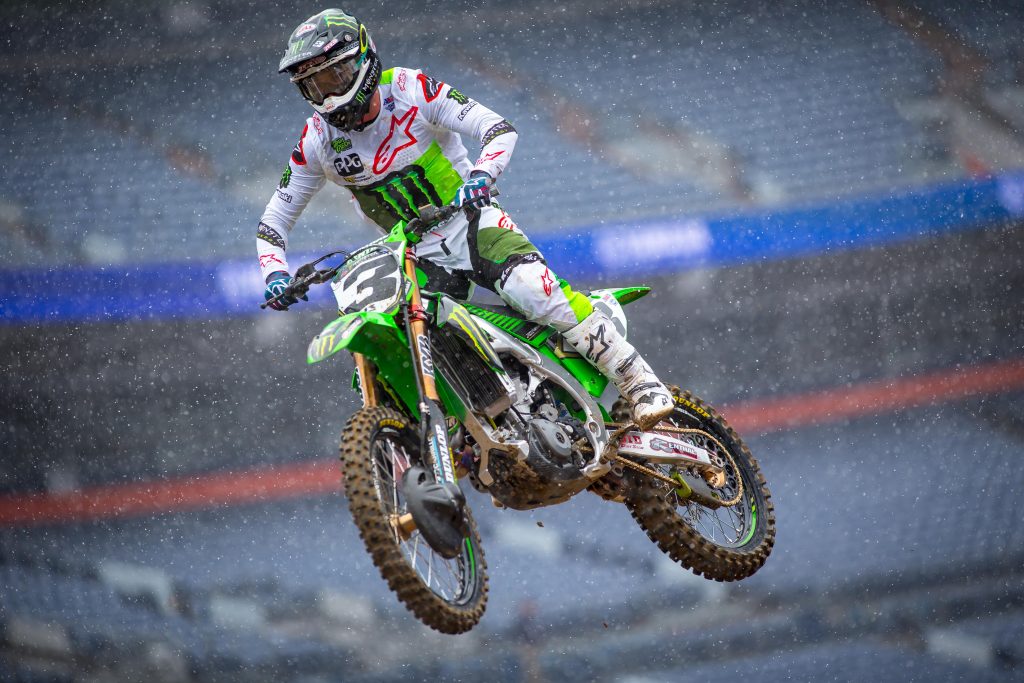 Press Box Life: There were a lot of things that went on up in the press box that I thought were interesting. Here are a few moments (in no particular order) that I would like to share:
– There is a lot of fantasy talk with A LOT of industry people. More people in the press box were watching Jerry than watching the leaders, including Chad Reed.
Speaking of Chad Reed he sat next to me throughout the heat races and is very vocal and observant. He picks out lines that other riders should be using and can look at a bike and tell if it's set up well or not. Coming from a testing background I can appreciate how he can pick a bike apart from the press box. I also like that Chad can give Steve shit, which makes me happy.
Alcohol wasn't allowed up in the press box, which made my wife very angry. She went all Glen Helen at 4:15 for a bit.
-Everything looks so easy from the press box. It's not real life up there.
Chris Blose: The dude crashed his brains out in the main event and lays himself out on the concrete and looked to be hurt pretty bad. The next thing I know Blose is back out on the track and hauling ass. What a man amongst boys!
Fly Racing Live Show From The Pits: It's pretty cool to interact with the fans at the race with this live show Fly puts on with Matthes, JT, and Weege. I had the chance to be a guest this weekend and to my surprise there was actually a solid group that came out to listen. Fun stuff.
DV: DV is a man of few words. When you see him he might say two or three words to you as you walk by, but those are quality/choice words. If you're in the airport and look miserable, DV will find you and immediately call you out on twitter. Ahhhhhhh, DV!
Honda/Kenny/Cole: Even though Cole won his heat race, Team Honda's main event wasn't a good one. Kenny didn't look like his normal effortless self and Cole pulled off the track for a brief moment in the main event. The track was super slick come main event time and the Honda's, for whatever reason, looked a little stiff on de-cel. Through flat corners Kenny had insane rolling speed, but once the track got a little rougher coming into corners, the Honda looked like it suffered somewhat. Trey Canard will be doing some testing this week in California to work on a few things from what I understand so that will definitely help. Trey is really good at evaluating as I had the pleasure to work with him recently, so I can see how Kenny and Cole will benefit from his testing. When a track gets hard pack and slick sometimes set up becomes more critical. Maybe Honda will work on some more hard pack settings this week in order to be more prepared come Vegas. Orrrrrr. Maybe he's helping with some outdoor settings? The red bikes are awesome in soft conditions so look for the factory Honda's to be near the front come New Jersey time.
HEP And Plywood: I don't know what it was, but the HEP Suzuki riders were going around the triple during practice. Every lap there was a yellow bike exiting the track and working its way around the triple on the slick plywood. It was a bold move by each rider that was puzzling everyone in the press box. By the night show though the HEP guys got it figured out and stayed out on the track.
Mike Alessi And Plywood: During the first non-timed qualifying Mike crashed and went off the track, onto the wet plywood. This is where things got interesting however. Mike tried to pick the bike up only to slip and fall. Once he managed to get his bike upright, getting on the bike proved to be tricky in the slippery snot. After he gingerly got on his bike he basically spun the rear tire and almost went down again. Mike managed his way off the plywood and back on the track, but not before some more tense moments. This whole thing with Mike spawned a great idea for a "Joker Lane" at the MEC. Let's just put an "S" section in with wet plywood for the riders to take one time each main event. It was an unanimous decision by everyone that we shared it with (besides the riders of course). Plywood Joker lanes! Come on!
Adam Cianciarulo: AC looked like he was feeling it in practice so I knew the others were in trouble. The whoops were small, but the way he was going through them and using the last one to preload his suspension (before the triple into the corner) was something only technical riders and fans could point out. Those little minute details are the things that you fans can pick up on, to check if your rider is "on it" or not.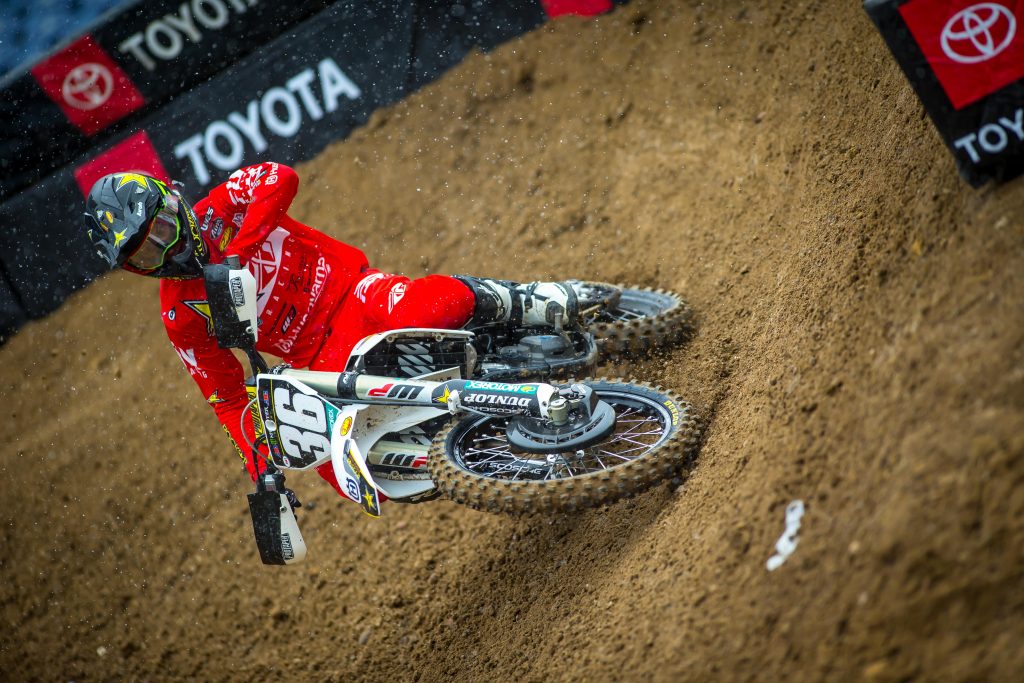 Michael Mosiman: I had this kid come up and ride with me a few years ago up in the high dez and although I didn't know much about him at the time I knew he was good. He didn't rev his 250F and was super smooth out on my rough/crappy/dry training tracks. That kid was Michael Mosiman and in Denver I saw that same rider once again. He looked smooth and relaxed, but wasn't out of control. I think some fitness got the best of him, but that is to be expected when you're running up front leading some of your first laps. He may not have finished on the podium, but he gained some confidence and will get better from here on out.
Eli Tomac: The crowd was all in on the hometown boy this weekend and he delivered. Tomac was just too aggressive for the rest of the competition and with Webb possibly backing it off a click, it was an easy race for #3.
Cooper Webb: Webb had to come from a ways back to get that second place and had some good battles along the way. What a story for Cooper Webb in 2019! Coming off a bad year at Yamaha to being on the verge of the Supercross championship? I knew he would be good, but I didn't think a championship would be in reach in 2019. That goes to show you that it doesn't matter what all of us guys who type think and having the right set up and mentality is what matters in this sport.