It's summertime and that means what? Longer days and motos mean it's time for the AMA Lucas Oil Pro Motocross Championship! Extreme temperatures, humidity, thunderstorms, 30-minute-plus-two-lap motos, big braking bumps, square edges, deep ruts, a 40-rider gate, the smell of barbecue in the air, and thousands of roaming, screaming fans along miles of fence line that surrounds a dauntingly high-speed outdoor playground. Just thinking of all that should carry some weight and make your heart rate jump, but for the riders (and mechanics) who have virtually no time off to get prepared for the 12 grueling rounds, it's super gnarly. The Monster Energy AMA Supercross series has only one weekend off (Easter weekend) and after the final round in Las Vegas on May 4th, the first round of the Lucas Oil Pro Motocross Series in Sacramento, California, is just around the corner on May 18th. That is only two weekends off in just five months! To me that is unacceptable because we are simply burning out our riders and team members. That is next to no time to prepare for a completely different form of racing, not to mention give riders time to recover from injuries. So what exactly are the ins and outs of going from one series to the other? I wanted to give you all a little insight on what some of the riders and mechanics have to go through when going from indoors to outdoors.
Let's take a step back and break down the timeline of Supercross and Motocross. Even before winter rolls around, pro riders are in full Supercross mode, unlike the European riders. From October to early April, riders are practicing on Supercross tracks that are under one minute in lap times, plus the racers rarely get their bikes into fourth gear for very long and hardly do you ever see them go more than 45 mph. When they switch to outdoors they are working with speeds up to 75 mph, and the racers' eyes have to adjust to hitting bumps at high speeds. You may think this is no big deal, but getting adjusted takes some time. Riders will usually ride a smoother, faster type of outdoor track on their first few days of motocross testing just to get their eyes dialed in for the speed. Lap times on an outdoor track hover around two minutes, and when you ask some riders they say they have to really try harder to focus for almost 40 minutes compared to the 20 minutes at a Supercross race.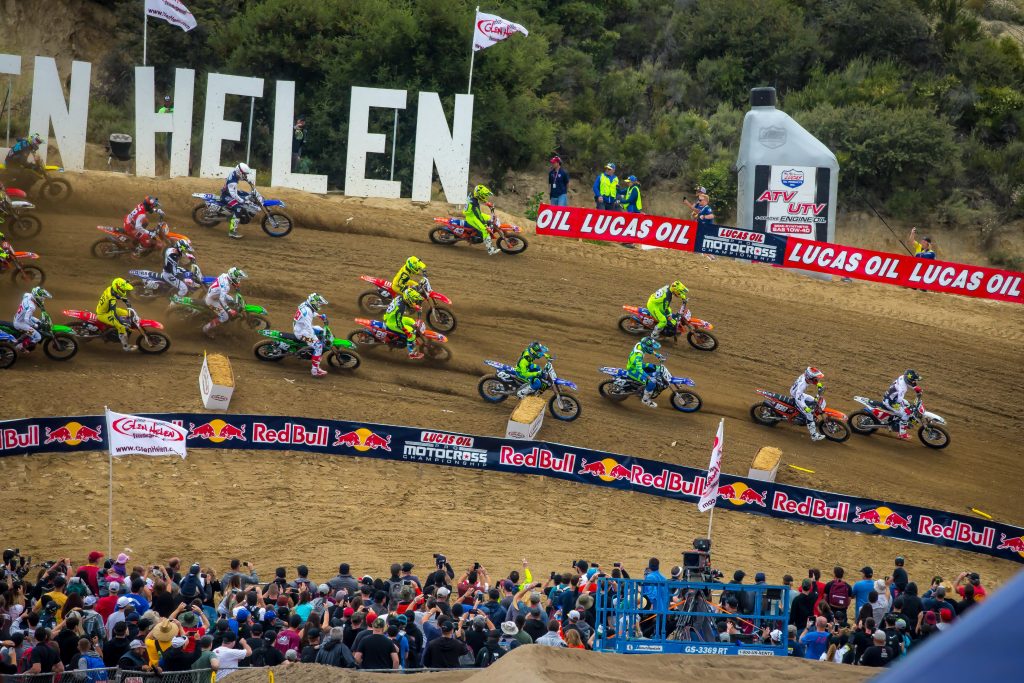 Another thing riders have to adapt to coming from the lights of a stadium is technique on the bike. Riders are constantly on the front of the bike pushing down on the front end to scrub or soak jumps indoors, yet they need to hang off the back of the bike more for outdoors. Getting traction coming out of a long, muddy rut requires the riders to move toward the rear of the bike and prepare for the onslaught of square edges and bumps they are about to hit. 
When watching your favorite riders this summer look for how they enter or roll their corners in outdoors compared to indoors. In stadiums, riders square up corners a lot and rear brake slide to pivot them down the next lane (unless you're Tomac), but in outdoors rarely will you see this maneuver. Rolling corners, getting on the gas sooner (through the corner), and using the front brake is the key to carry the most speed around a motocross track. All of these little things add up when tackling an outdoor track and take some time to get used to once again.
The suspension in Supercross is ridiculously stiff (especially the fork setting) in order for riders to hit steep faces and stay low. Skimming whoops takes a stiff setup as well to keep the bike from pitching (back and forth). In outdoors the suspension must stick to the ground (for maximum traction) while also being soft enough to soak up all of the bumps that accompany a soft, watered outdoor track. So when racers jump back on their outdoor suspension settings the bike often feels too soft and they will mention to their mechanics something isn't working right. It's more common than you think! Riders have to adjust to the bike actually moving in the stroke instead of the bike's attitude having a "dead" feel and not moving at all. Some riders are more head cases than others (shocking I know), so it can take some persuading to convince them that everything will be okay and they just need to ride it a little more and then an additional settings can be gone through.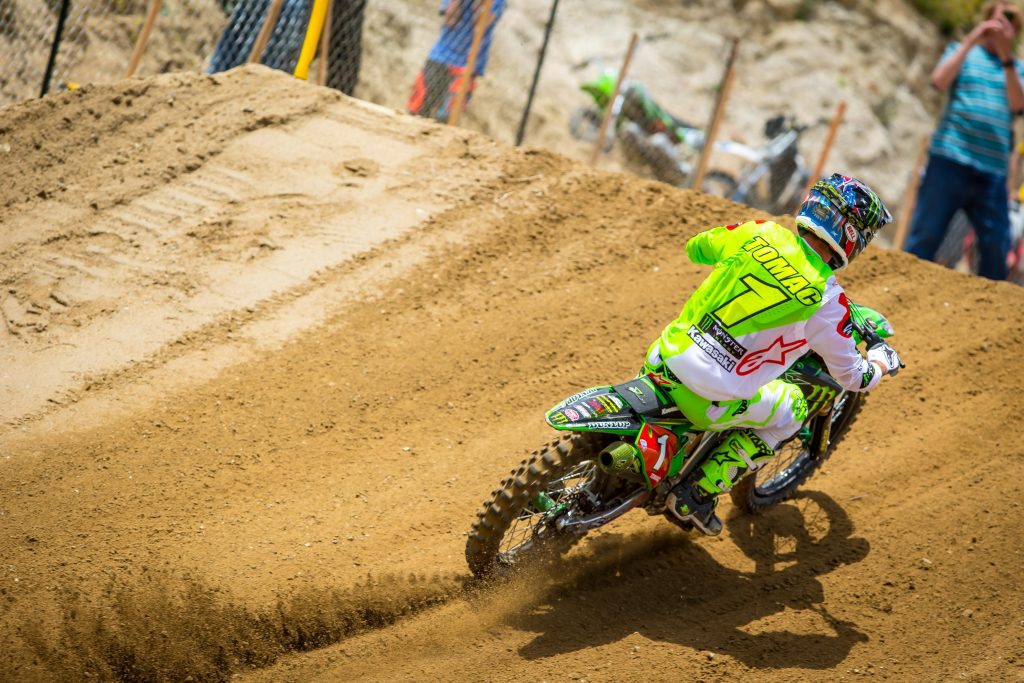 The engines are known to be smoother off the bottom-end and rev much farther for the long straights. This will usually be done through the ignition with some re-mapping. In Supercross, riders want more bottom-end to get over rhythms out of corners and will sacrifice some top-end. Outdoors riders have to ride an engine character for almost 40 minutes, so a little friendlier power delivery that is much easier to manage for the duration of two long motos is much better.
Lastly, some teams and riders run mousse inserts in their tires to prevent flats and that creates a different feel on the bike. Most Supercross riders prefer traditional rubber inner tubes for contact feel and lean-in traction feeling, but with mousse inserts riders have to get used to a less absorbent tire carcass feeling and the mousse gives more of a "dead" feel over braking bumps. Some teams drill holes into the foam inserts for a softer feel, but then they are risking the foam breaking down and failing in a long moto (due to heat).
Instead of doing sprints and short, quick bursts for speed, riders will transition into doing longer motos during the week (in hot and humid conditions) to train their bodies for the sun and not the bright lights/cool temps of a baseball/football stadium. Recovery is also more important during the summer months, as riders will dehydrate way more racing 60-plus minutes on a Saturday afternoon. Instead of practicing four times a week like most riders do during the Supercross season, most riders will back it down to two to three days a week during the outdoor season. Off the bike, training is not as strenuous while more recovery bicycle rides that are longer in duration (two hours) and with a lower heart rate dominate riders' training schedules.
The rider is only as good as his bike and mechanic allow him to be (cue Matthes and his "mechanics are the backbone of our sport speech"). A mechanic's job can be just as stressful as a rider's during the week as well as race day. In Supercross, mechanics usually have more time to change parts, prepare, and get the machine ready for the night show/main event. In outdoors, the schedule is much tighter with live TV schedule, and the bikes endure way more abuse than in Supercross. To qualify for a Supercross main event the bike has less than 15 minutes of racing on the chassis/engine. In motocross the chassis/engine has more than 35 minutes on it between motos and is much dirtier with mud than in Supercross, not to mention that for those 35 minutes or so the engine rpm's are much higher than that of a Supercross race.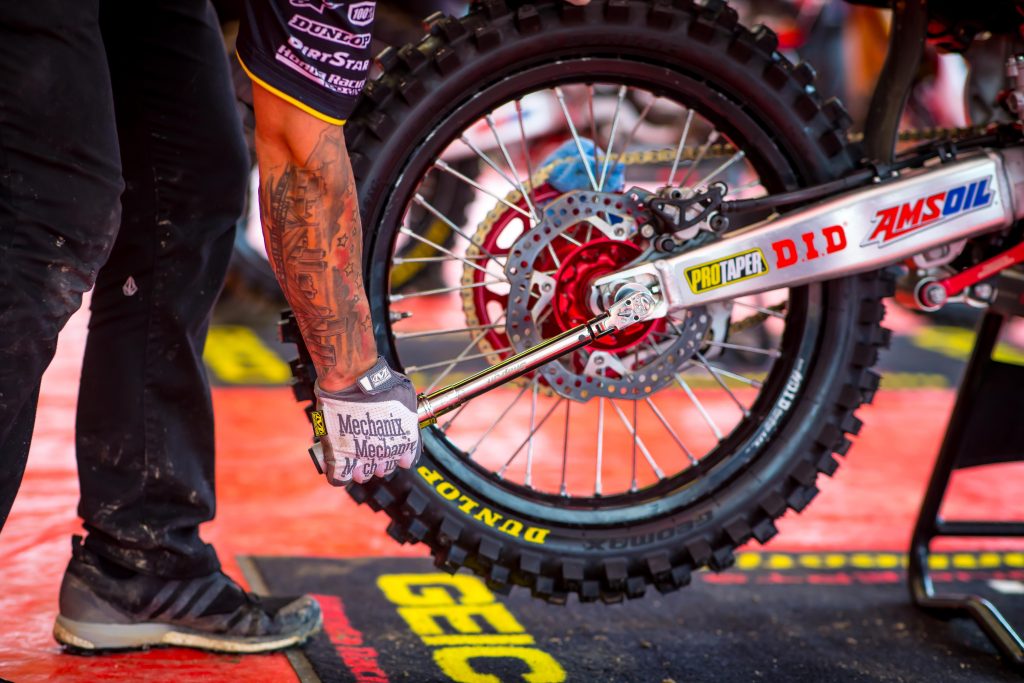 Testing is also much harder to do as most of the manufacturers and teams are based on the West Coast, which means most testing happens on the West Coast. But… What happens when the riders' "West Coast" test settings don't work on East Coast dirt? Unlike Supercross, where settings very rarely change from track to track, outdoor motocross presents a whole new challenge in bike setup. Teams sometimes have to rely on their notes from past years' race settings (at a particular track) in order to get a good baseline for a rider at any given round. Or they might even have to travel some of team staff to a riders east coast compound for extra testing. So that means, extra cost and more headache. 
So when you you're whipping your shirts over the fence or screaming at the television for your favorite rider this summer, just know that even though things may look the same on the outside, there are many changes that make up the dynamic of a successful summer campaign. If you haven't gone to an outdoor national yet, do yourself a favor, get there early, prop up your EZ-UP, place your fold up chair firmly into the dirt, and cheer on the riders that grit it out for the love of the sport. Not the bright lights, money or fame.