PulpMX.com Fantasy Pick & Trends
Denver delivers mile high scores.
What a weird weekend for Supercross! In the days leading up to Denver it appeared that the race would either be on a frozen track or a mud bog.
As it turns out, neither came to be. Even though there was a bit of a scare during the first rounds of practice as riders were literally jumping through a snow globe. Somehow the parched Colorado soil seemed to absorb the flakes like a sponge. This resulted in the track resembling Vegas blue groove hard pack.
There were also a lot of comments about the track being too easy. I wonder if things were scaled down due to the forecast for lots of moisture? Either way, it didn't hinder fantasy scoring one bit as it took a whopping 326 point score to take down the overall this week.
Congratulations to "Concussed" for taking down the overall and scoring 326 points. Interestingly enough, Concussed took the top spot without picking a first lap leader in either class. He did pick the optimal 250 team, Dylan Merriam (8) -52 points, Robbie Wageman (11) – 46 points, and Enzo Lopes (8) – 46 points for non-all stars, with Adam Cianciarulo (2AS) locking down 26 all star points.
His 450 team was not optimal for the evening and he could have been beat, but no other team owner selected the right combination, which centered on having John Short (16) – 52 points, and Josh Grant (10) – 52 points. Concussed's 450 team consisted of Charles LeFrancois (13) – 36 points, Joey Savatgy (7) – 26 points, Ryan Breece (11) – 42 points, and Josh Grant.
Concussed's build consisted of higher pick trend riders that all came through, and more importantly, he didn't make any mistakes while choosing his team. Another interesting not, he achieved top score without picking a first lap leader in either class.
Now, let's take a look at the rest of the scores.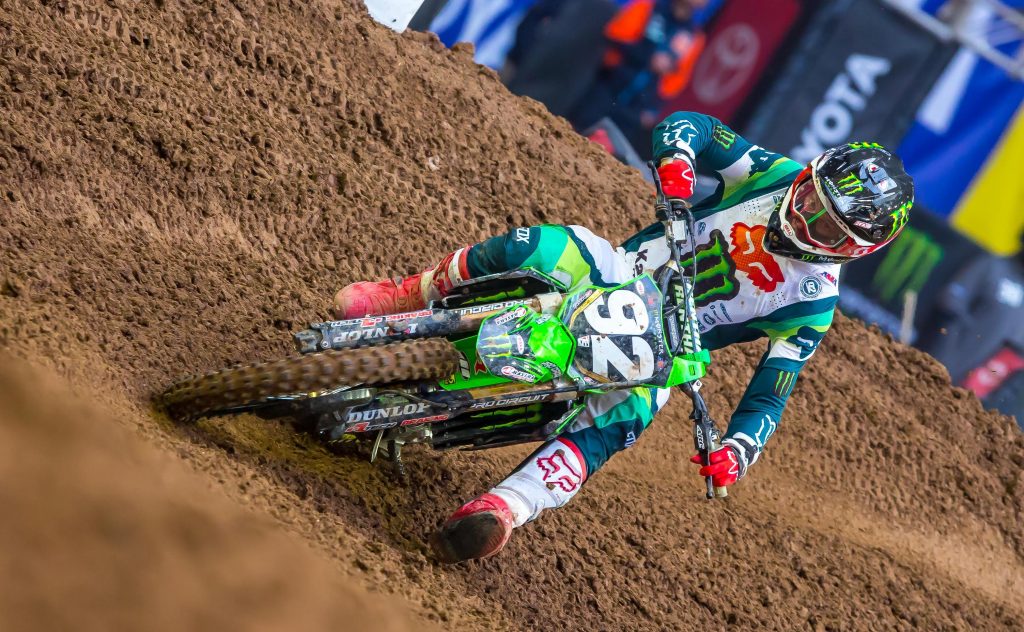 Most picked riders AKA "the chalk"
How far has Jerry come? At Denver he had the same pick trend percentage as Adam Cianciarulo! For the first time ever, we had two riders in the same class with an above 50% pick trend. Jerry Robin and AC each had a pick trend of exactly 55% on the weekend in the 250 class. The class also saw Enzo Lopes come in at 41% (amazing considering he is fresh off an injury and was doubtful going into this round) and Robbie Wageman at 34%.
The 450 class riders had lower ownership percentages overall. Charles LeFrancois lead everyone with a 48% pick trend. Josh Grant followed at 37%, and finally Eli Tomac rounded out the top three at 36%
Low owned players who delivered – AKA great contrarian play
John Short (16) made the first 450 main even of his career and put up a perfect 52 point score for only 10% of his team owners. We also saw Justin Bogle continue to fly under the radar. Apparently his 1 handicap and frequent mentions here, and on the podcast were only good enough to entice 11% of team owners. He rewarded them with 42 fantasy points.
The 250 class had a near perfect score from Johnny Garcia (16). The Moriarty NM rider put it into the main event for the first time in his career via a 27P qualifying spot. He went on to finish in 18P for 46 points for 0% of team owners. Congrats on your first main Johnny!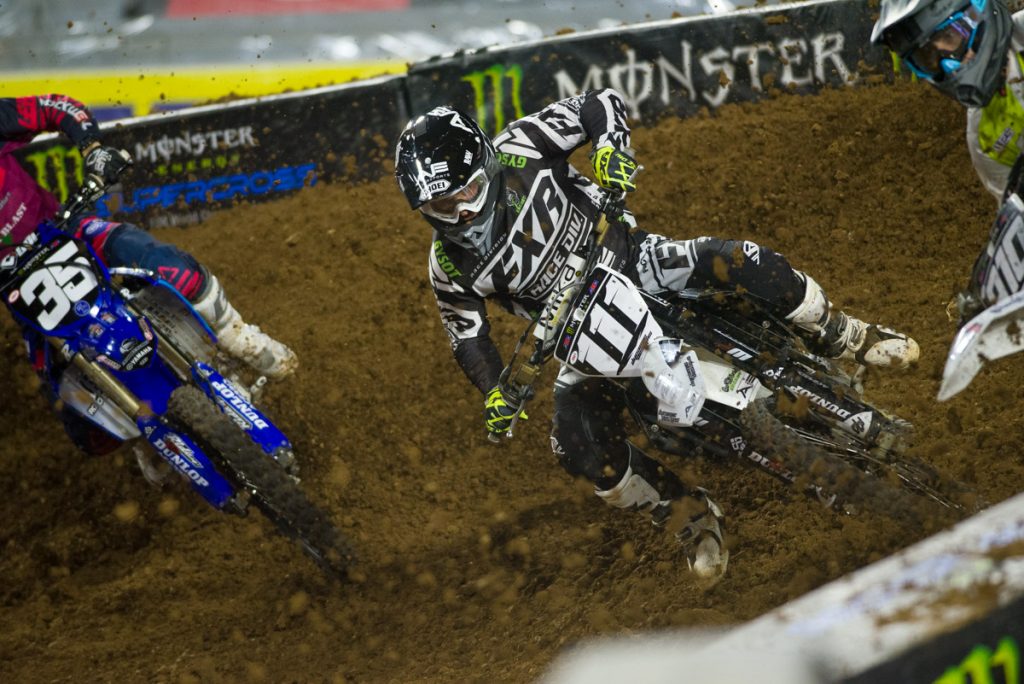 Fantasy Duds
Not a lot of duds in the 250 class, we had Zombie Chris Blose (7AS) rise from the ground to chase the pack down from DFL to score 15 points. We also had Jerry doing a bit of a Jerry in that he had a 46 point score going through lap ten for 55% of team owners. Sadly it didn't last past ten laps and he wound up dropping down to 32 points, not terrible, but what could have been!
In the 450 class we had two 23% pick trend riders detonate their teams. Mike Alessi (7) and Austin Politelli (8) finished 21st and 22nd respectively. Mike delivered only 8 points via a DNS and Austin only made it through 5 laps of the main, scoring 10 points.
Fantasy Studs
 The big scores came from the big bores this week! Josh Grant (10) delivered 52 points via a 9P finish for 37% of team owners, quite a turn around for the 33! We also saw Charles LeFrancois (13) deliver 36 points, good for third highest score of the night for 48% of teams.
The 250 class had two standouts, both scoring 46 points. Enzo Lopes (8) got their via a 10P finish for 41% of team owners, with Robbie Wageman (11) joining him via a 13P finish for 34% of team owners.
Is it me, or does Enzo seem really good on hard pack?
The 100% "Lead Pipe Locks"
250 Steve – Jerry 32, JT – Auberson 38, Dan – Marchbanks 1, Paul – Robbie Wageman 52
450 Steve – John Short 52, JT – Justin Barcia 0, Paul – John Short (totally nailed it) 52, Dan – Josh Grant (also totally nailed it) 52,
The fantasy fab four of Paul, Dan, Steve and JT were on air this week and clearly chose their 100% Lead Pipe Locks. Paul chose Robbie Wageman and John Short for a perfect 104 points, Dan chose Garrett Marchbanks and Josh Grant for 53 points, Steve went with Jerry and John Short for 84 points and finally JT went contrarian again, choosing Justin Barcia and Killian Auberson for 38 points.
Congrats to Paul for being taking down this week's 100% Lead Pipe Lock and being the first fantasy expert to achieve a perfect 104 point score!
First Lap Leaders
The 250 class used to be somewhat easy for choosing a first lap leader as we could go with whichever Pro Circuit rider was lining up and be right over 80% of the time. Those days are in the rear view now. This week the 250 class saw 29% of owners choose a lap leader (guessing AC), with 0% correctly choosing Michael Mosiman.
First lap leader pick trends for the 450 class were a bit below average, 21.6% of team owners chose, with only 10.6% correctly choosing Marvin Musquin.
 Final Thoughts – New York Picks
We're down to two round left, and then the "summer series" begins! It's amazing how fast this season has gone by.
When we last saw the east coast 250 guys Martin Davalos was holeshotting and winning races following a procedure to alleviate pain in his neck. Keep this in mind if you want to gamble on a first lap leader, Mitch Peyton's crew has absolutely dominated this in the 250 class this season.
The 250 class will also see Geico Honda's Christian Craig return to action. He will be eligible for double points as a one handicap and looks to be a great pick in this depleted class. I also like Kyle Peters, he is double points eligible and has finished 4P, 6P, 7P in his last three, he will be a 6 handicap.
Austin Politelli looks like he could be a good pick this week. He has gone 21P, 16P, 18P over his last three, is racing in a more depleted class than ever and will enter NJ as a ten handicap. Chris Blose will make his return to the 450 class again this week. When he last raced this class in Nashville he finished in 11th place. He will have a five handicap. Finally I really like Ken Roczen as a six handicap all star. He is seriously due for some positive regression and I can't think of a better place for that, than just outside Gotham.
Hope I see you on the leaderboard!
Well that's it for this week. Thanks everyone for reading and playing. Please remember to support the PulpMX Fantasy sponsors when you shop for all of your off road, motorcycle and MTB needs.
Hope I see you on the leaderboard!