PulpMX.com Fantasy Pick & Trends
Champions are crowned in Vegas, and PulpMX Fantasy.
This past weekend the AMA/FIM Supercross series concluded in Las Vegas. We saw Cooper Webb bring home the 450 Championship, Chase Sexton win the 250 East Championship, and Dylan Ferrandis seize opportunity created by Adam Cianciarulo's misfortune, and take home the 250 West championship.
Who cares about them though! We have a new PulpMX Fantasy Champion!
Congratulations to McNichols511 for taking home the PulpMX Fantasy Champions League title and the 2019 KX 250! McNichols had an incredible and consistent season, scoring an average of 257.5 points per week for a total of 4186 points! His worst week was 192 points, and his best was 306.
Looking at McNichols race to race results show that he had only three top 100 scores, with two of those being top 10 scores (Glendale 3rd overall and Atlanta 9th overall). His worst overall was Seattle where he finished in 3573rd place. Interestingly enough, his average finishing position based on all 17 weeks is 1036th place.
Congratulation also goes out to Stremme12, who finished second overall. Stremme averaged 253.2 points per week, for 4150 points overall, enjoy that Dirt Dreams vacation!
SixFiftyThree took the last podium spot with an average weekly score of 254 points per week, scoring 4138 total points. Enjoy that new Fly Racing #LitKit! Also note, SixFiftyThree was the highest overall finishing team of the top 100 national plate holders, great work by last season's #38 overall team!
As to this week's overall, congratulations to Caldoo856 for taking down the overall with a great 284 point score! The trick to taking down the overall this week was avoiding some very high pick trend 250 class riders who DNQ'd or had a very low score, (more on them below).
Caldoo avoided all of that, choosing John Short – 52 points at only 7% pick trend, Alex Martin – 46 points, 12% pick trend, Mitchell Falk – 34 points, 11% pick trend, and Dylan Ferrandis as his all star for 26 points – 36% pick trend.
Caldoo's 450 team was equally strong. The 722 led them all with 36 points – 26% pick trend. He also chose Scott Champion – 34 points, 18% pick trend, Justin Brayton – 30 points, 24% pick trend, and Eli Tomac as his all star for 26 perfect points at a whopping 59% pick trend.
Now let's take a look at the rest of this week's scoring.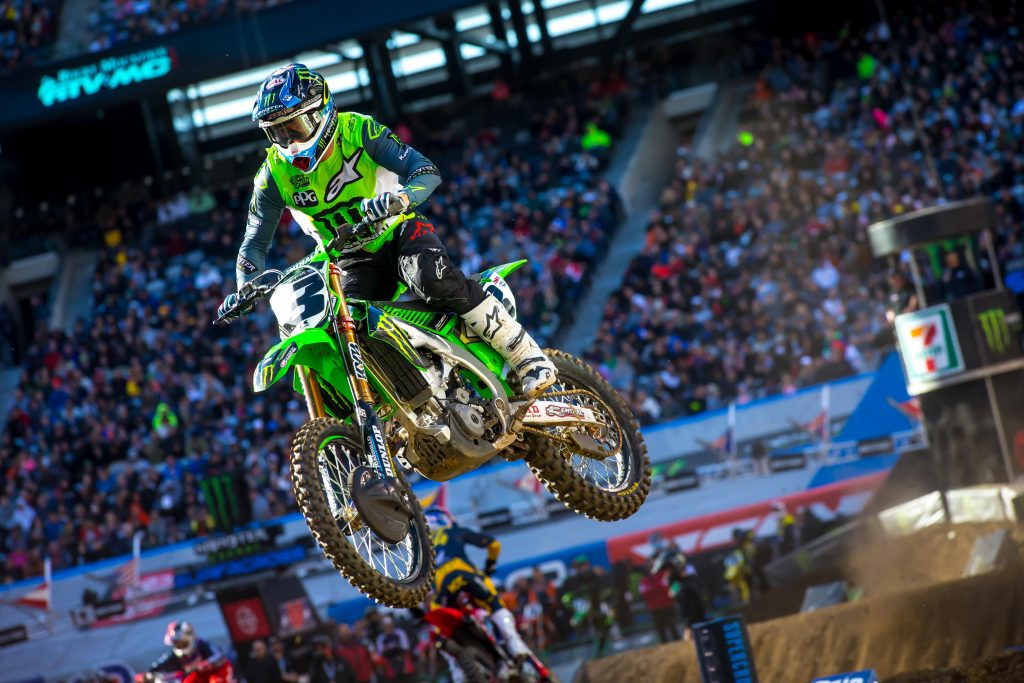 Most picked riders AKA "the chalk"
Las Vegas featured some very concentrated ownership. We saw Eli Tomac (2AS) lead everyone with a 59% pick trend. He was followed in the 450 class by Justin Bogle (1) who had a 40% pick trend, and ARay (9) who had a 32% pick trend.
Adam Cianciarulo was the highest picked rider in the 250 class with a 50% pick trend. Chris Blose (5AS) – 44%, and Dylan Ferrandis (2AS) – 36 points rounded out the top three pick trend 250 class riders. We saw very few non-all star riders with high percentage pick trends.
Low owned players who delivered – AKA great contrarian play
There were some huge difference makers in the low owned column again this week. We saw a pair of 16 handicap riders in the 250 class put up perfect scores. John Short was selected by 7% of team owners, including the overall winning team. Chase Marquier had even lower ownership at only 1%. Cameron McAdoo (2) also joined the 52-point club for only 5% of team owners via a 3P score. Lorenzo Locurcio (12) should also be mentioned here as he put up 42 points for only 3% of team owners.
Not much to report here for the 450 class as the scores were very low overall. Tevin Tapia (16) did manage a nice 38 point score via a 20P finish for 1% of team owners. Tapia's 38 points also counted as the highest score in the 450 class.
Fantasy Duds
Tiptoeing through the 250 class minefield was the key to success in Vegas as we saw some very high pick trend riders bust. Adam Cianciarulo had a 50% pick trend and only scored 4 points. We also saw Chris Blose with a 44% pick trend score 6 points, Mitchell Oldenberg – 27%, 0 points and finally Josh Osby – 25% pick trend, 0 points. As we mentioned in the rundown of Caldoo's team avoiding these guys was key to a great score this week.
The 450 class had no duds this week.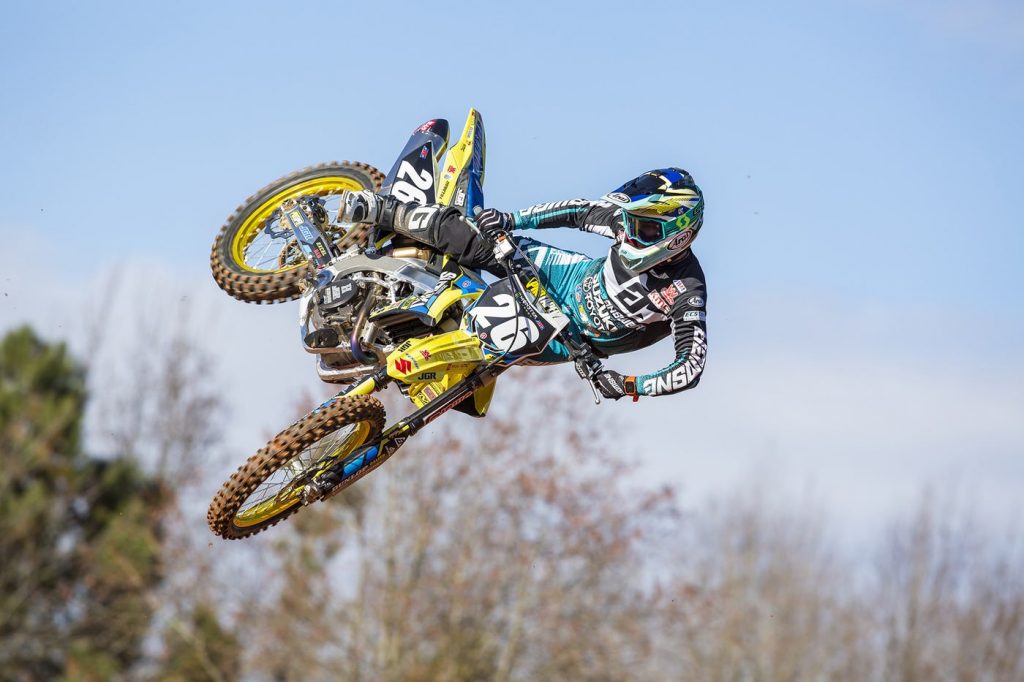 Fantasy Studs
 The big scores came from the small bores in Vegas! The two keys to winning this week were avoiding the high pick trend duds and landing on the low owned studs. This was definitely a week to make contrarian picks.
The 250 class saw some great scores from some low owned riders who we have already mentioned. We also saw high scores from some higher pick trend riders including, AMart (3) who scored 46 points for 12% of teams, Michael Mosiman (3) – 38 points for 15% of teams, and Garrett Marchbanks (6) – 38 points for 18% of teams.
Adam Enticknap took down the second highest score of the week in the 450 class with 36 points for 26% of team owners. We also saw three riders put up 34 points each, Scott Champion at 18%, Carlen Gardner at 17%, and Alex Ray at 32%. While these scores seem low, we have to keep it in perspective as 34 points was the third highest score achieved this week in the 450 class.
The 100% "Lead Pipe Locks"
Paul, Dan, Steve and JT were all on air for the final fantasy pod of the SX season and clearly chose their 100% Lead Pipe Locks. JT chose Chris Blose and Justin Bogle for 34 points, Paul chose Josh Osby and Charles Lefrancois for 30 points, Steve chose Justin Starling and Austin Politelli for 64 points, and Dan went with Mitchell Oldenburg and Justin Bogle for 26 points.
Congrats to Steve for taking down this week's 100% Lead Pipe Lock with a great 64 point score!
First Lap Leaders
If you picked a 250 class first lap leader this week, there's a 97% chance you were wrong! For the third consecutive week almost no team owners correctly chose the first lap leader. We saw 30.2% of teams pick a 250 FLL and only 3.3% correctly guess Dylan Ferrandis.
The pick percentage for the 450 class was lower, 27% chose, with 33.7% correctly picking Eli Tomac.
 Final Thoughts – Vegas Picks
That's if for Supercross! As Bill Belichick would say, we're on to the outdoors, (and Hangtown). For those of you that signed up for the pre-season package deal, we'll see you soon! If you did not sign up for the outdoors yet, please consider doing so! We will have more great prizes, and all of the fun of Supercross, with even more riders to choose from each week!
Also, please remember to support the PulpMX Fantasy sponsors when you shop for all of your off road, motorcycle and MTB needs.
Hope I see you on the leaderboard!