PulpMX.com Fantasy Pick & Trends
High Point marked the return of the Lucas Oil Pro Motocross series to the east coast. With the change of coasts, we also had a plethora of new fantasy options to choose from. High Point marked the return of Benny Bloss and Mitchell Oldenberg from injury. To add to the fun, Kyle Chisholm (fill in for Justin Hill) and Cameron McAdoo (fill in for Shane McElrath and Jordon Smith) joined the fray. We also had a grip of east coast privateers lining up to put it in the top 40. To make things even more interesting, we had huge question marks surrounding Joey Savatgy and Hunter Lawrence.
All of the new choices made for some very interesting decisions regarding pick trends. Team owners had to choose if they wanted to run with the pack by selecting likely high pick trend riders, or go contrarian and hope for the best.
Congratulations to Tszynaka116 for taking down the overall this week with a 589 point score!
Tszynaka116's 250 squad consisted of Nick Gaines – 100 points at 19%, Cameron McAdoo – 94 points at 24%, Wilson Todd – 66 points at 3%, and all star Dylan Ferrandis – 50 points at 23%.
Their 450 lineup included Joey Savatgy – 90 points at 31%, Tyler Bowers – 80 points at 20%, Henry Miller – 66 points at 15%, and Marvin Musquin – 43 points at 40%.
Tszynaka116 did not choose any first lap leaders; this was a big help as the correct pick percentage for the 450 class was in the single digits, with more than half of teams selecting. Normally we would look at this team and figure they nailed it by picking Wilson Todd at 3% in the 250's and Henry Miller at 15% in the 450's. It turns out; neither rider finished as top scorers, so there was ample opportunity for other owners to achieve a higher score. Tszynaka116 got to the top by avoiding high percentage duds, not picking a FLL and having the magic combo of the two highest scoring riders in each class, congratulations again!
Now, let's take a look at the rest of the scores.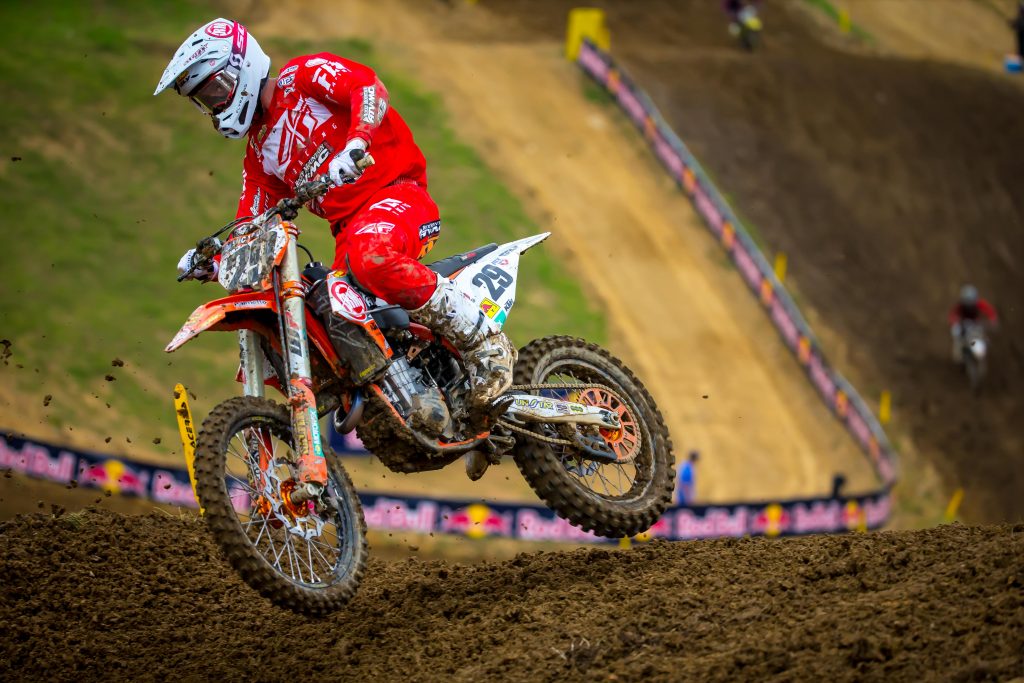 Most picked riders AKA "the chalk"
Looking at qualifying times and knowing who was available to the field, I thought that we were going to have much higher pick trend percentages than we did.
The 250 class was topped by Jordan Bailey (14) – 41%. Jordan qualified 17th, then had another less than stellar fantasy day, scoring only 50 points via 38-15 moto scores. Chase Sexton (4AS) followed next, he delivered 50 perfect points for 38% of team owners. They were the only riders in the class who had pick trends of more than 30%.
Benny Bloss topped the big bores, and all riders this week with a 47% pick trend. Honestly, I thought his pick trend would be closer to 60%, especially considering that he qualified in 8P with a 6 handicap. Benny did not disappoint, putting up the third highest point total on the day in the 450 class, 66 points. Marvin Musquin (3AS) had the second highest pick trend at 40%. Once again, Marv couldn't get through the first lap unscathed and only put up 43 points. Finally Joey Savatgy (5) had a monster 90 point day for 31% of team owners, more on him in a bit.
Low owned players who delivered – AKA great contrarian plays
By far, the biggest low pick trend percentage difference maker this week was Nick Gaines. His 18 handicap really jumped out at me, especially considering his qualifying in 13P. Over the first few weeks of the season we have seen riders who qualified in the 21-24P range with an 18 handicap go on to have some monster days, so I figured Nick was due. He delivered a perfect 100-point day for only 19% of team owners.
We also saw Challen Tennant put up 20-20 moto scores at an 18 handicap, good for 88 fantasy points. Challen fit the exact profile I mentioned above, qualifying in 23P. He was selected by only 13% of team owners. Finally for the 250 class, the Aussies had a good fantasy day. Hunter Lawrence (-1) finally put two motos together, winning the first and finishing 3P in moto 2, good for 80 fantasy points for only 15% of team owners. Wilson Todd (6) had a nice day as well, putting up 66 points for only 3% of teams.
The 450 class saw two 18 handicap riders put up solid scores with little to no ownership. Felix Lopez was on the bubble in qualifying, and wound up getting in via the LCQ. He had 0% ownership and put up 68 points via 25-21 moto scores. Jared Lesher qualified in 19P, and also put up 68 points via 21-25 moto scores for 9% of owners. Their 68 point scores was good for third highest point total on the day.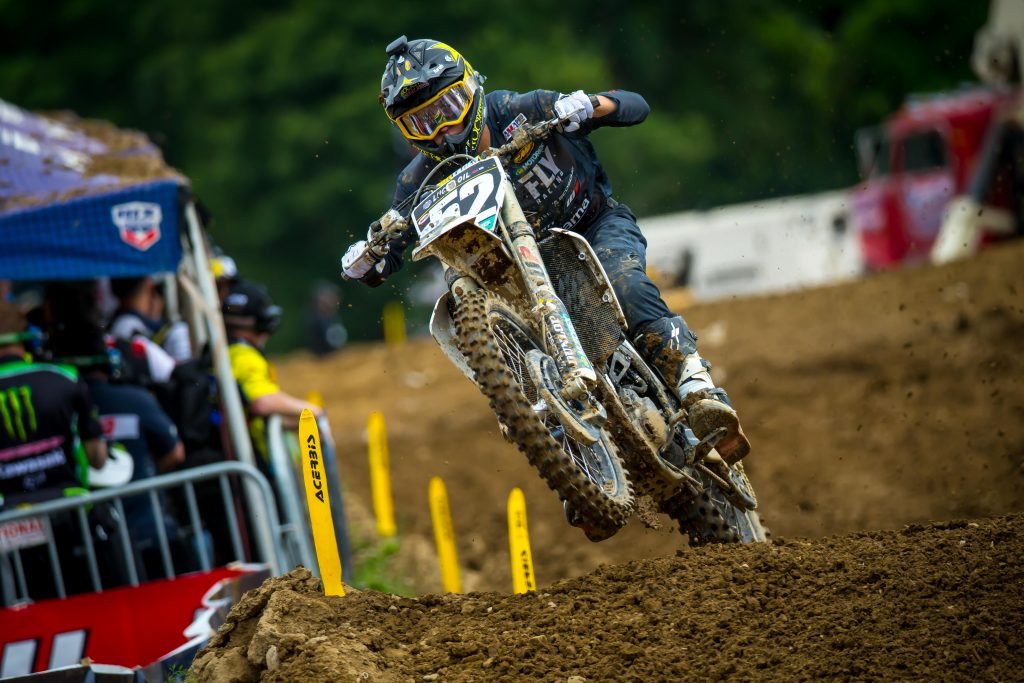 Fantasy Duds
Ah yes, the riders that made you want to throw your Apple TV remote through your flat screen. Lets take a look at who sold the most TV's this week!
The 250 class was topped by Jordan Bailey, who put up 50 points on the day, while not a terrible score, it was an underperformance that cost 41% of owners valuable points. We also saw Mitchell Oldenberg (4) have a less than stellar day, putting up only 36 points at a 30% pick trend. Finally, Jacob Hayes (7) managed to score only 28 points at a 24% pick trend.
The 450 class also had a few. Tyler Stepek (18) had an awful day in his motos after qualifying 16th. He wound up scoring zero points for 22% of team owners. Finally, Jake Masterpool (7) scored only 22 points at a 20% pick trend.
Fantasy Studs
 This week we only had two riders who put up monster scores and had a pick trend above 20%. PulpMX favorite Cameron McAdoo (6) had a monster day in the 250 class, scoring 94 points for 24% of team owners.
Last week we recommended Joey Savatgy (5), as it appeared that he was emulating his dud to stud Supercross start. He lived up to expectations, scoring 90 points at a 31% pick trend. Watch his handicap this week, if the value is gone, it might be a good idea to give him a week off and see if you can catch him for a bigger day at Southwick.
The 100% "Lead Pipe Locks"
This week we had JT, Steve, Dan, and Paul make 100% Lead Pipe Lock picks on the podcast. Once again this week, they pretty much chose the same teams, leaving me wondering if there should be a no picking the same rider rule?
Anyways, Steve had Christian Craig and Joey Savatgy for 90 points, Paul had Jordan Bailey and James Weeks for 104 points, Dan had Jordan Bailey and Joey Savatgy for 140 points, and JT originally chose Jordon Smith and Joey, but when news broke mid-week that Smith was out, I tweeted everyone asking JT whom he would like to substitute. JT responded that he was switching to Jordan Bailey. We will continue to offer this to the experts should late breaking news affect their choice. JT wound up matching Dan's 140 point score as he had the same team.
Congratulations to Dan and JT for taking down this week's 100% Lead Pipe Lock expert pick with a 140 point score!
First Lap Leaders
First lap leader participation percentages continue to hover at around 50%. This week we saw a huge drop in correct pick percentage in the 450 class. 53.6% of team owners chose a FLL and only 8% correctly chose Cooper Webb or Blake Baggett.
Trends were much closer to normal in the 250 class, 55.9% of owners chose, with 68.1% correctly choosing Justin Cooper, who has continued to dominate the first lap this season.
All Stars
I wanted to add a bit about the all stars this week as something really interesting happened. For the first time in a while we didn't have a single 450 class all star score 50 points. Highest point total on the day in class was 47 points by Cooper Webb and Jason Anderson.
Meanwhile, the 250 class saw three out of eight riders, Colt Nichols, Chase Sexton, and Dylan Ferrandis put up the perfect 50 point score.
Final Thoughts – Swamptastic
We're on to Florida and it's going to be a hot one. With temperatures hovering in the low 90's and high humidity, it will be a good week to focus on riders who live and or train in the Sunshine State. As this is a new to the circuit venue, there isn't much history to go on either.
For the 250 class, the handicap crew dangled a huge carrot with Jordan Bailey at an 11. He has not performed to expectation this season and will be racing in his home state. I might just lock him in.
There appears to be some value left with Nick Gaines this week as well at a 13. He had a decent fantasy week in CO with 24-38 moto scores, and an outstanding High Point. He is from GA and should have no issue with the heat, so he looks good right now.
Joey is going to make for an interesting decision this week, as he is very capable of running in the top 8. I am leaning towards him being a lock at a 2 handicap.
Well that's it for this week, please remember to support the PulpMX Fantasy sponsors when you shop for all of your off road, motorcycle and MTB needs.
Hope I see you on the leaderboard!