Photos and captions by James Lissimore
Saturday was a hot day of racing, both on and off of the track as we made our way to the Sand Del Lee MX track, near Canada's capital city of Ottawa. With some of the hottest temperatures I've ever experienced at a motocross race, riders were struggling with the conditions. Throw in a Phil meltdown and there was plenty of action. 
As usual, here's a look primarily at the many American riders that made their way up to try their hand at Canadian racing. Results are based on the finishes as they happened on Saturday and don't take into account Nicoletti's disqualification and Alessi's 5 position penalty. Results are currently under review, pending appeals.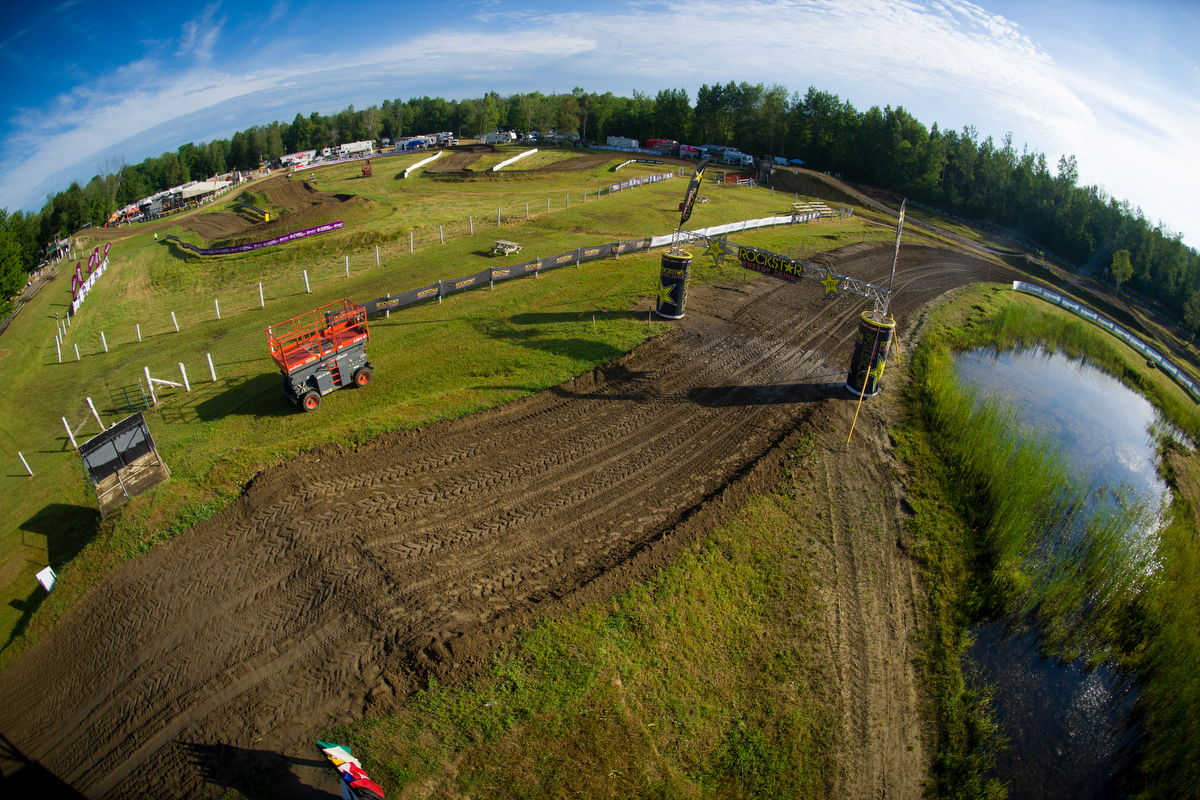 Sand Del Lee is the home track of the multiple 250 championship winning MX101 Yamaha team. Not as sandy as last weekend at Gopher Dunes but still considered a sand track. Closer in surface to Southwick than Lommel.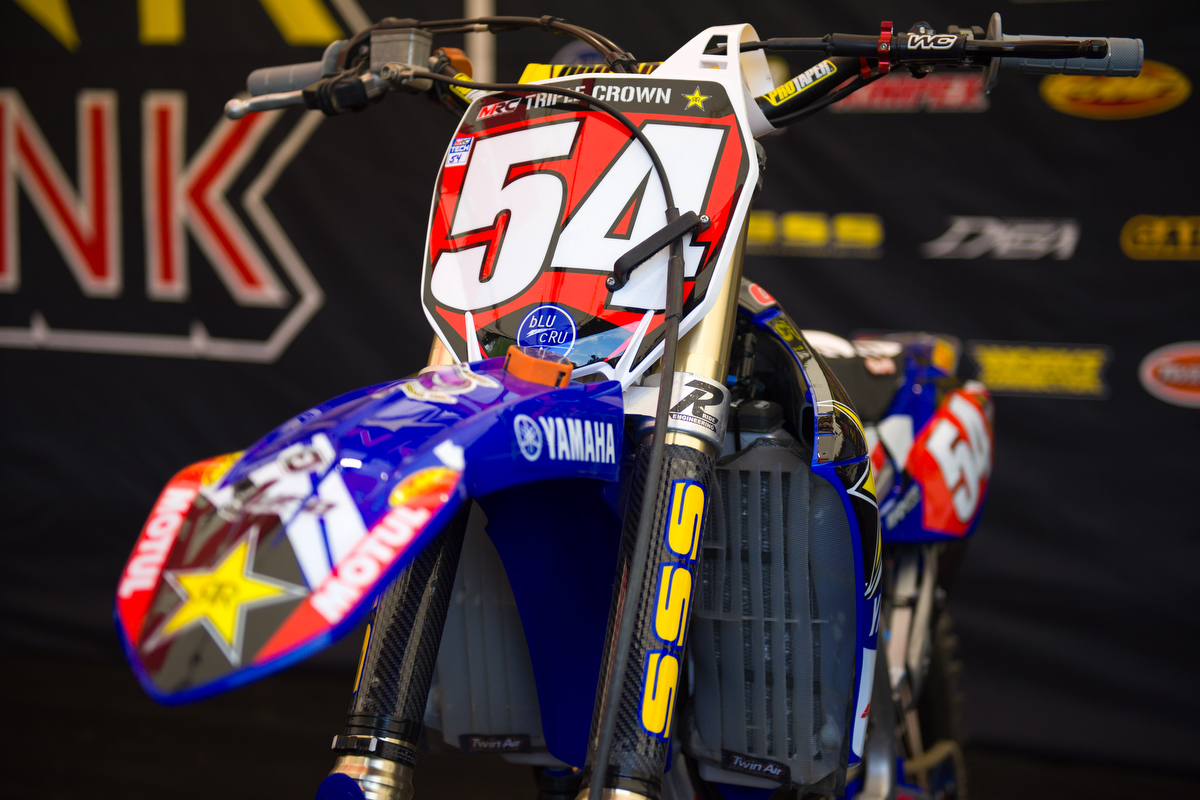 Coming off a strong showing last weekend at Gopher Dunes, Phil Nicoletti was rocking the red plates as co-points leader, along with Colton Facciotti.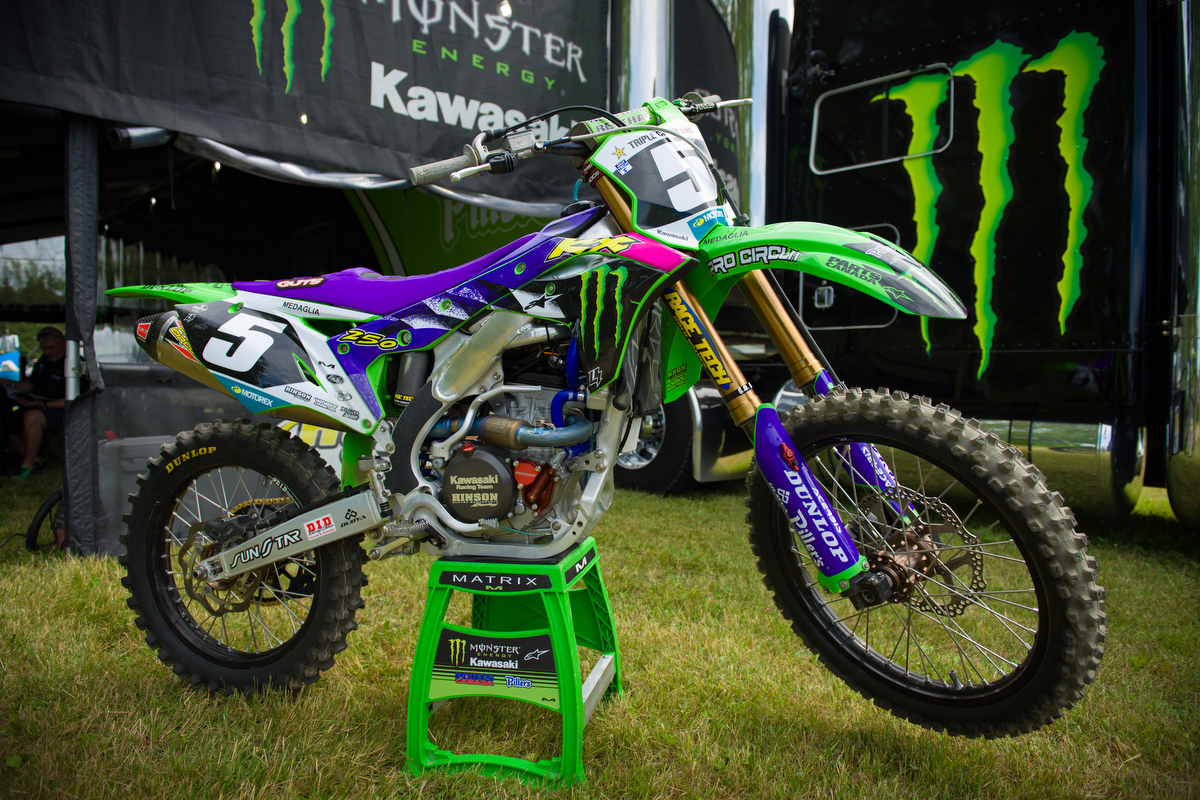 Though he's based on the East Coast now, Tyler Medaglia grew up near the Sand Del Lee track and has turned a million laps here so for the past couple years the Monster Energy Alpinestars Pillers Kawasaki team likes to do a custom bike for his home race. This year they chose to go with a 96 KX theme.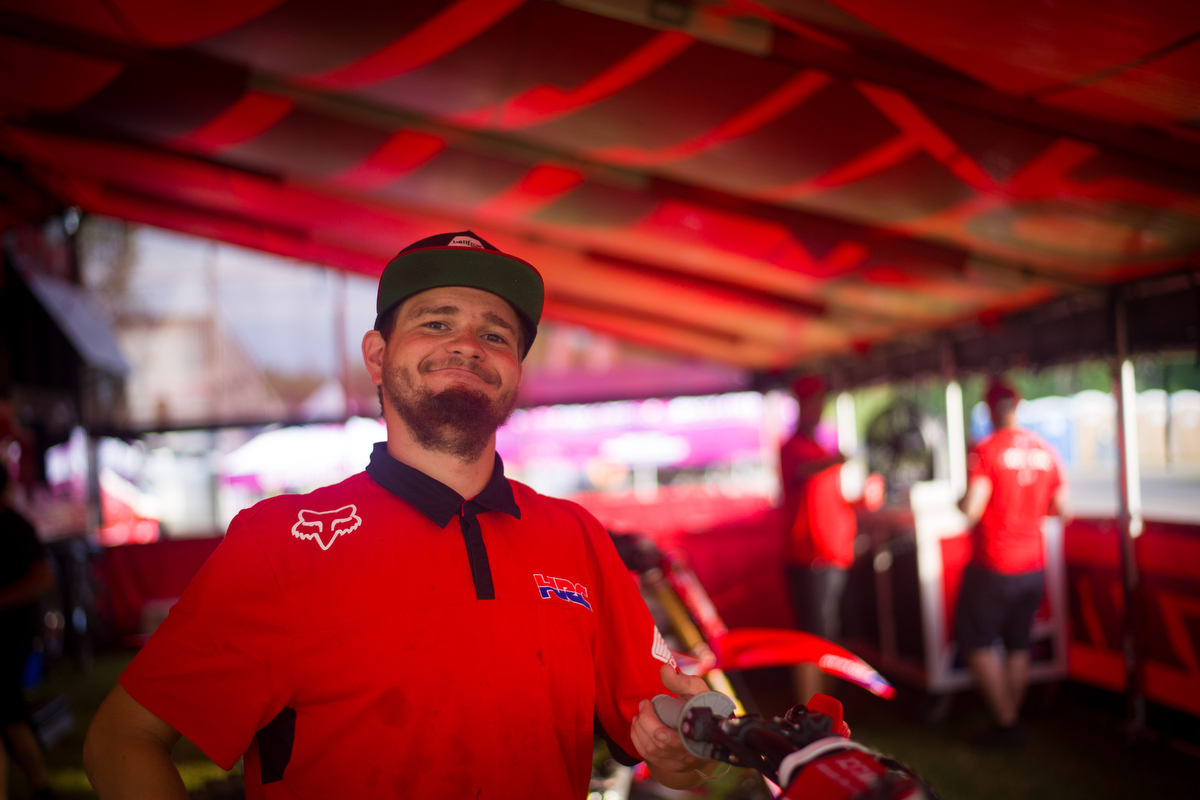 Foot Nick is ready to sweat.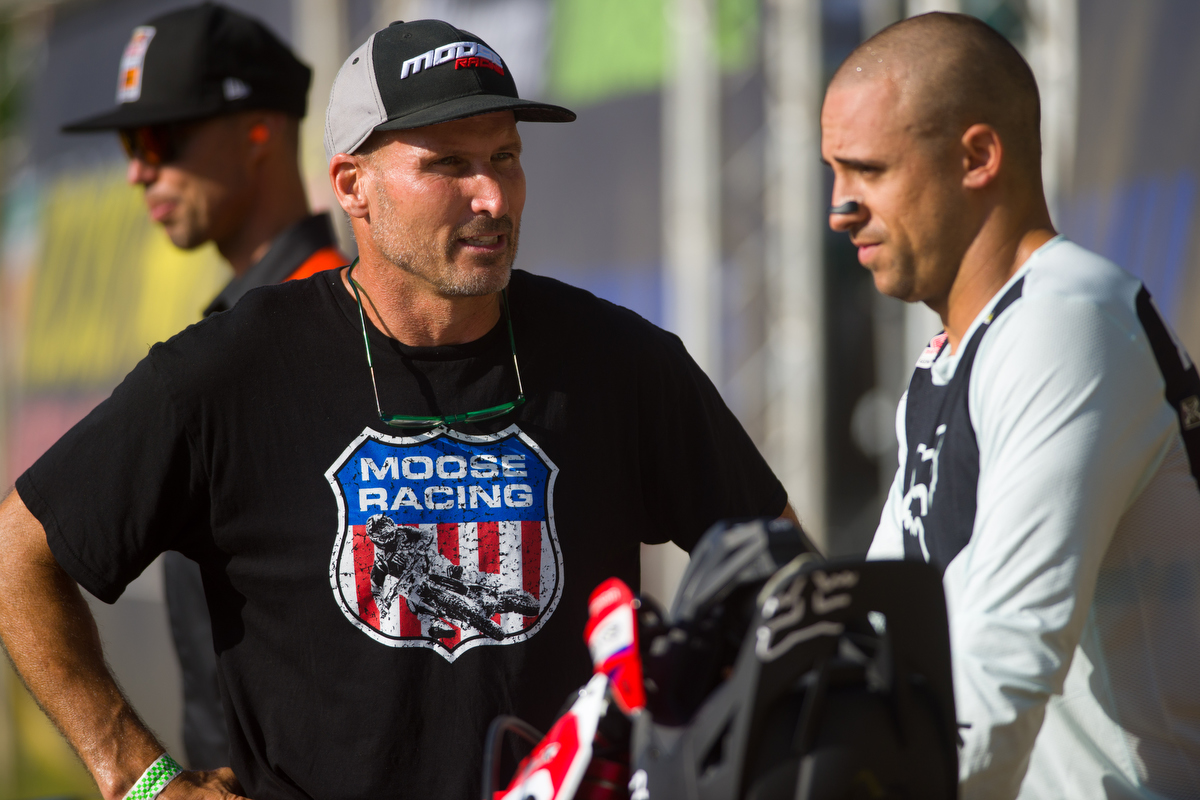 The legendary John Dowd was at Sand Del Lee to support his son, Ryan, who's raced the entire MX Tour season this year. Word is, he's going to line up, along with his buddy Keith Johnson, at the Deschambault round of the series.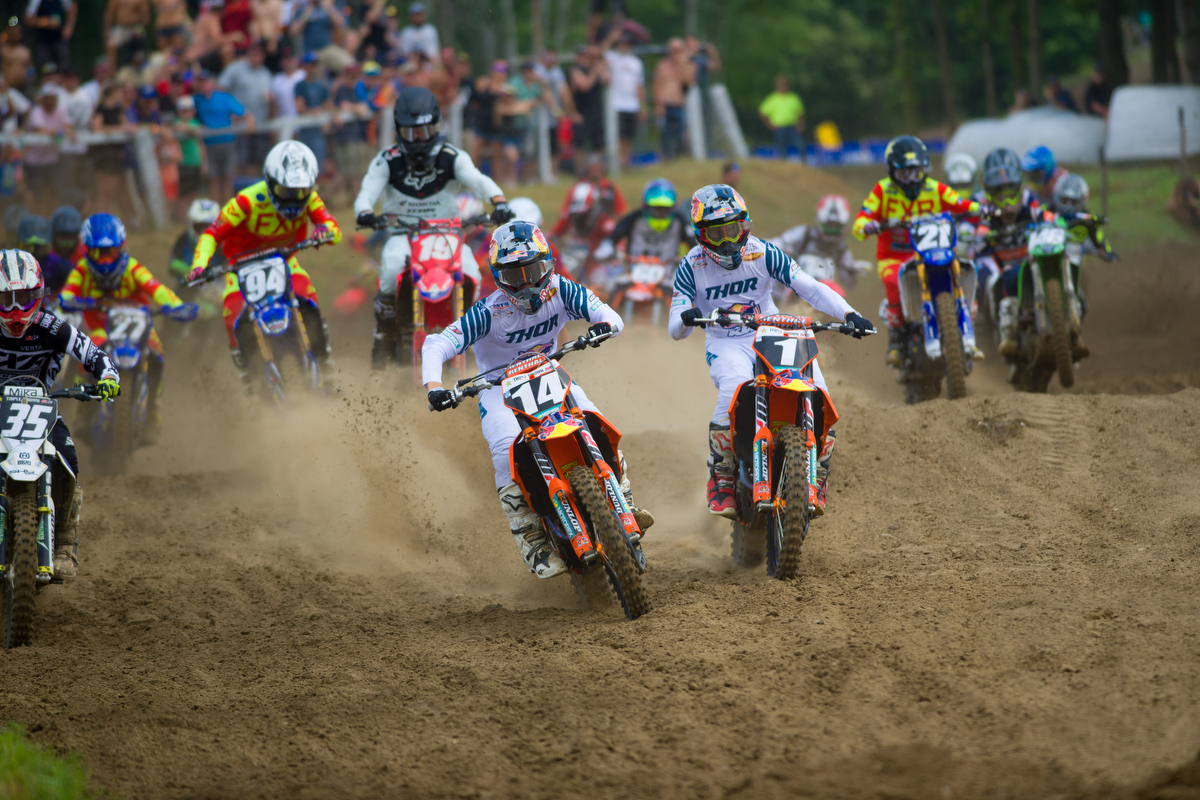 It was a pair of KTM's up front for the start of 250 Moto two, with Tanner Ward(14) and Jess Pettis(1) leading the way.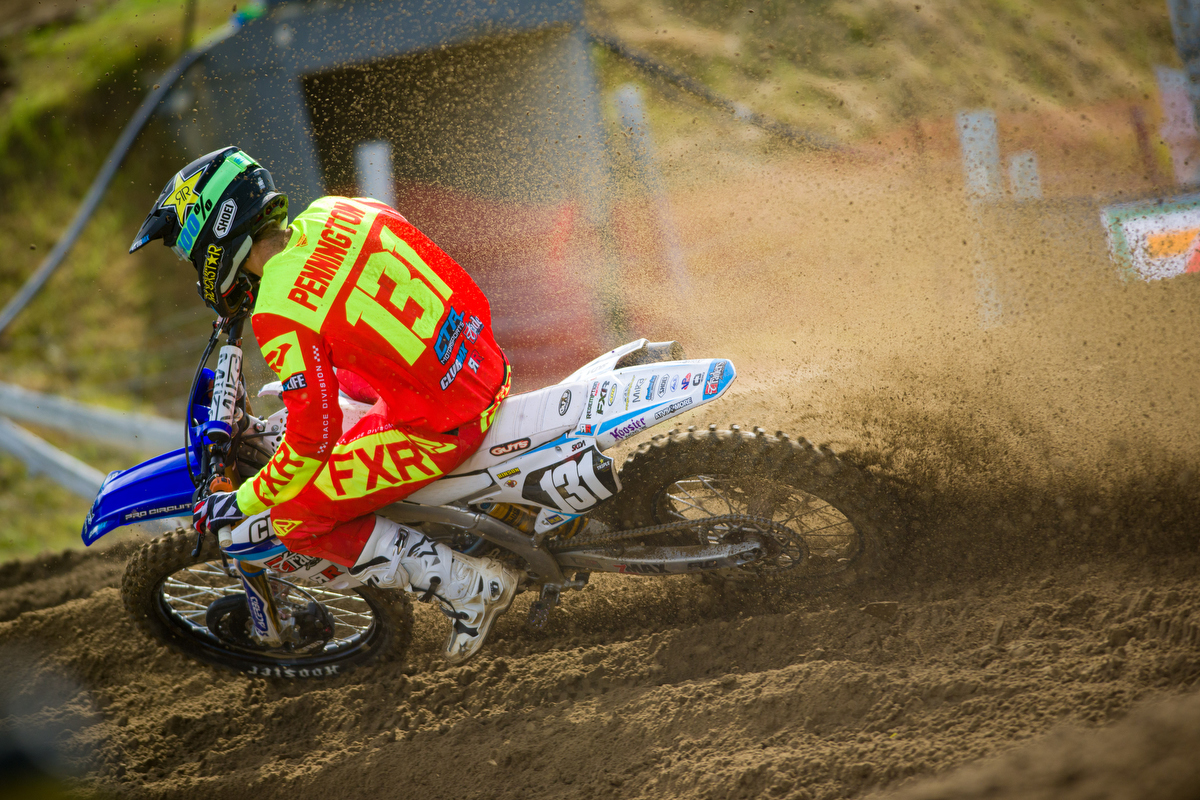 It was the second weekend in Canada for CTR Yamaha's Jayce Pennington and things did not go well. He looked good in practice but ended the day with DNF-17 finishes.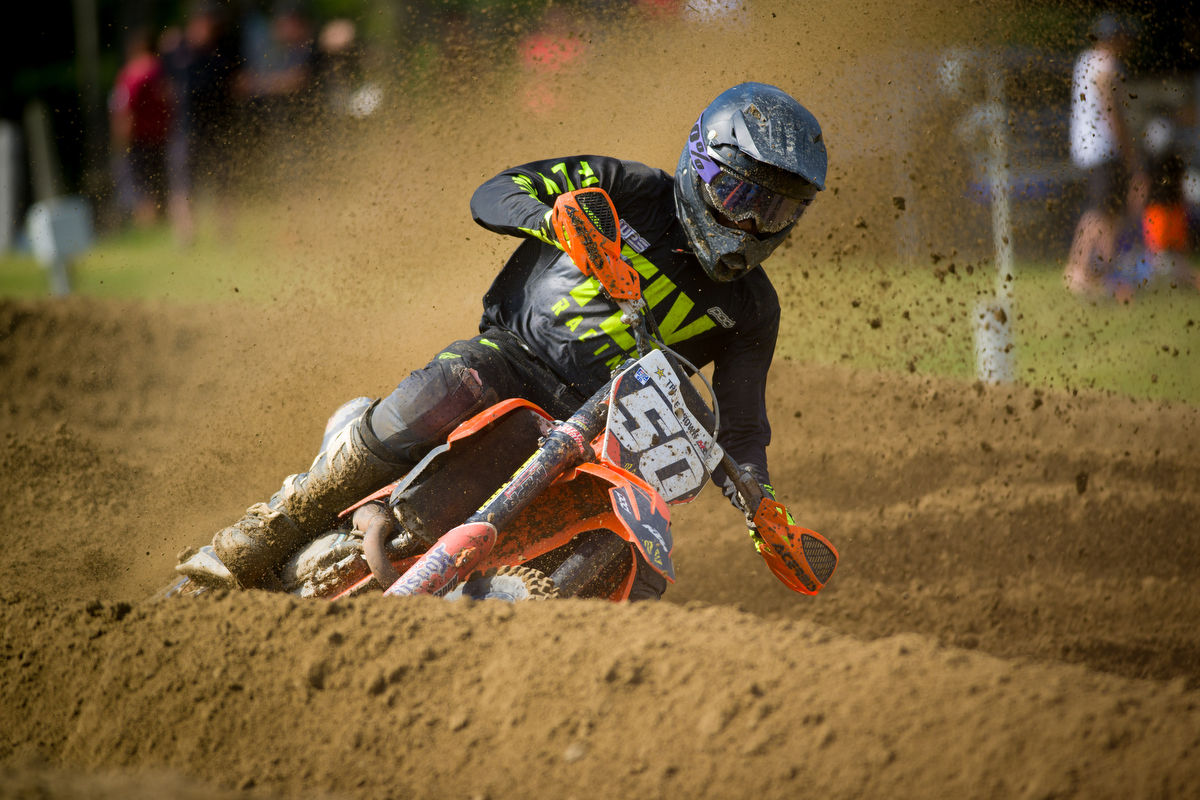 Bermuda's Jyire Mitchell finished just inside the top ten, with 9-11 finishes for 9th overall.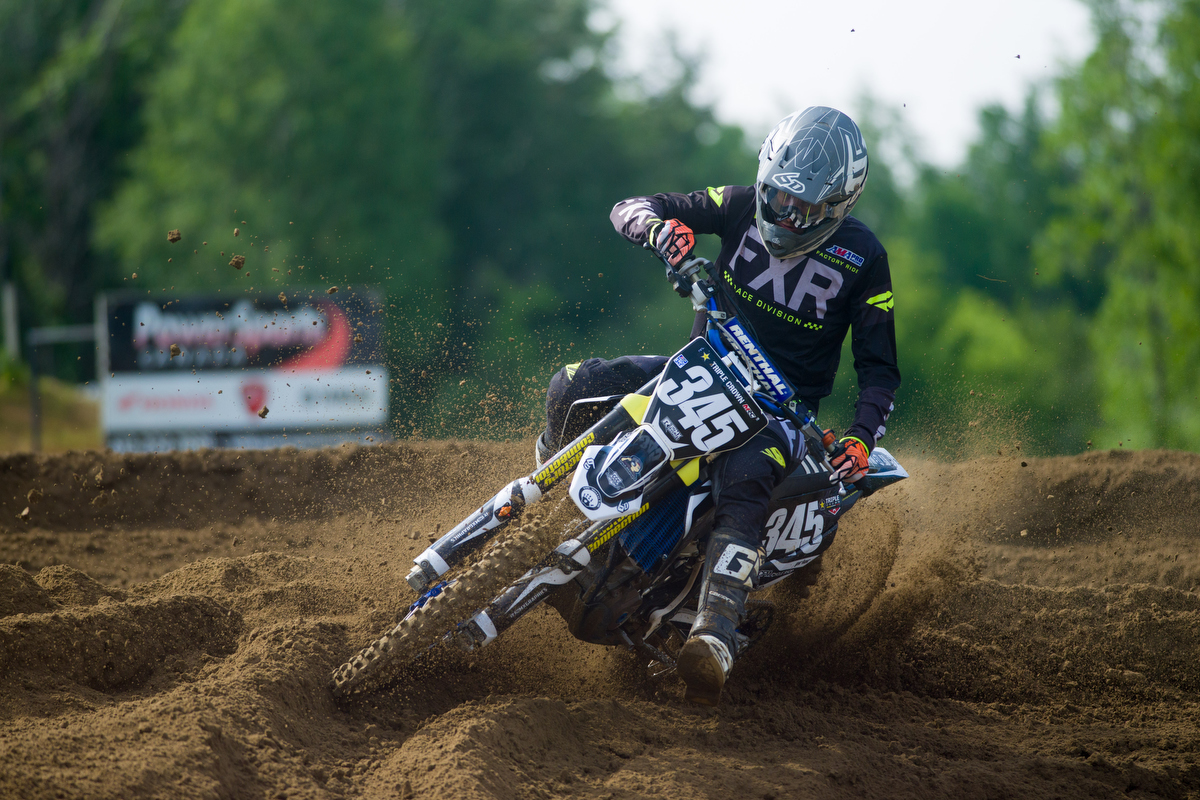 Josh Prior finished 18th overall.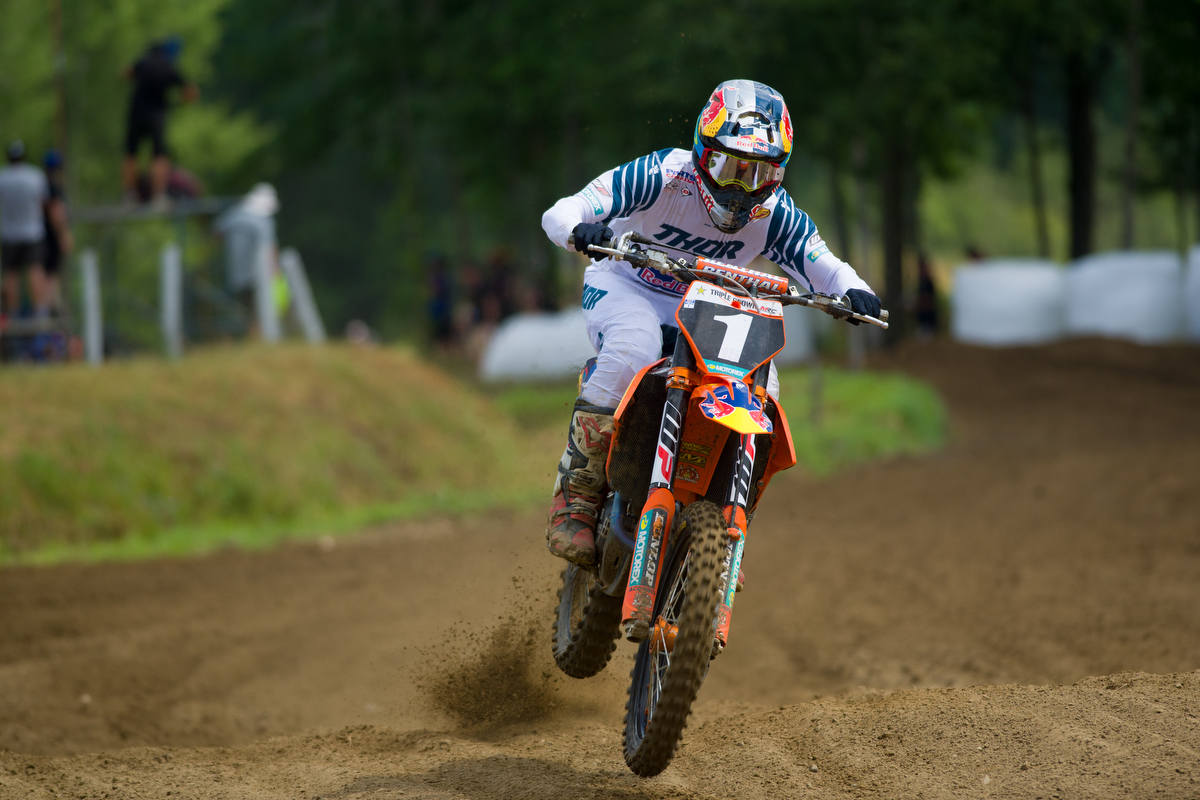 The defending champion, Jess Pettis has been getting stronger every week, after coming into the season injured, and led laps in Moto two, on his way to second overall.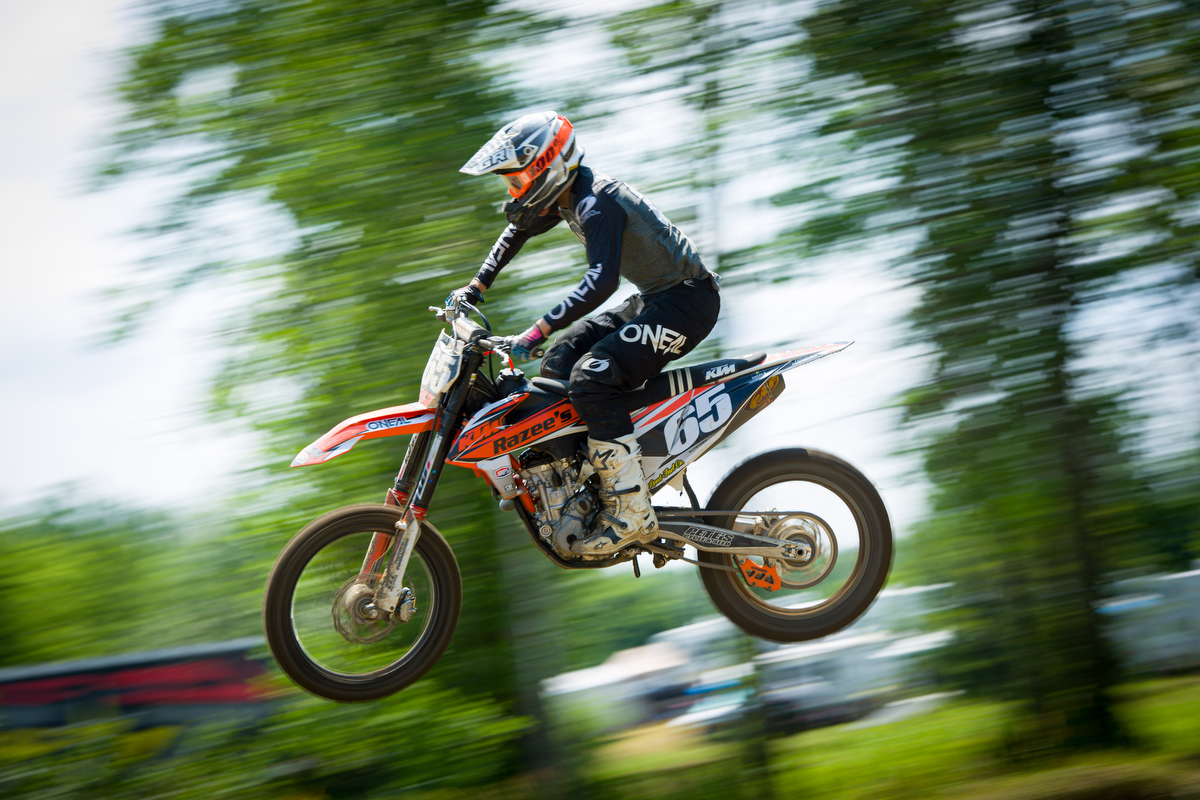 Gabe Gutierres had a solid day, finishing 8th overall.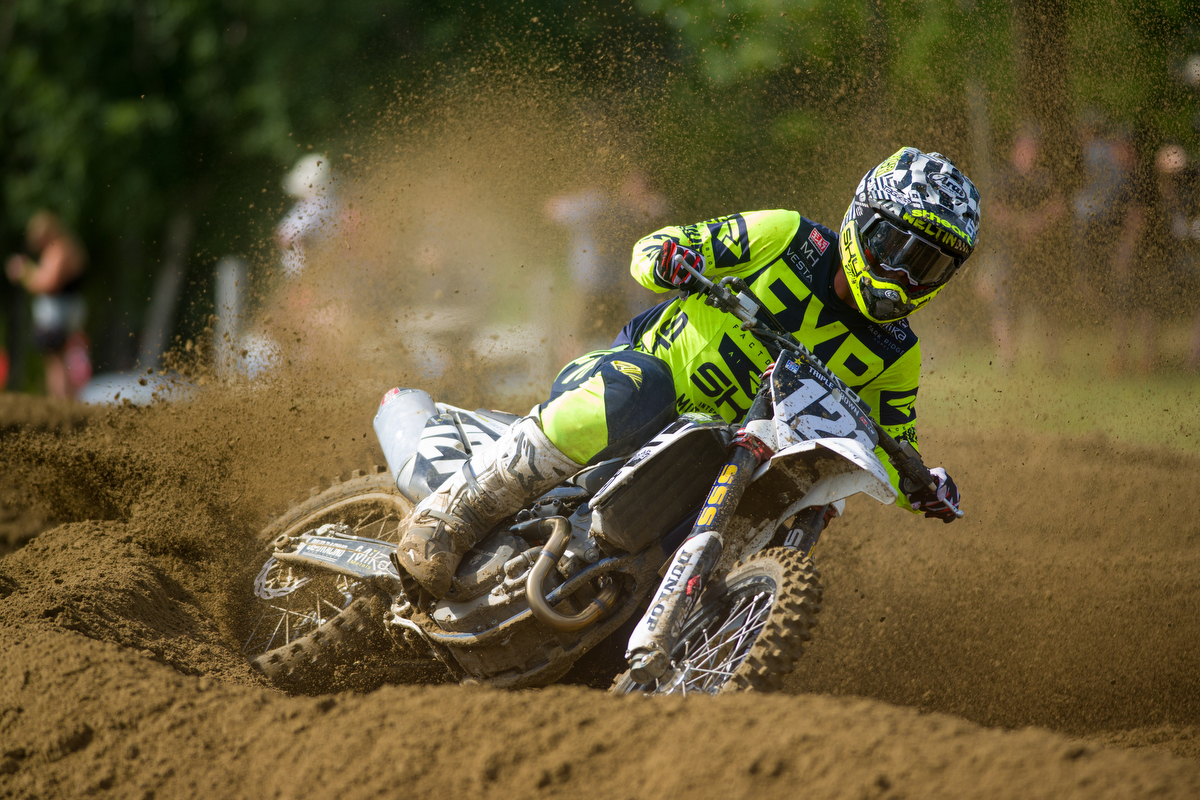 Carrying the red plate coming into the eastern swing of the series, Marshall Weltin hasn't been as good so far the past two weeks. He ended his day at Sand Del Lee with 35-5 finishes and has slipped all the way down to 5th in the title chase, with 3 rounds remaining.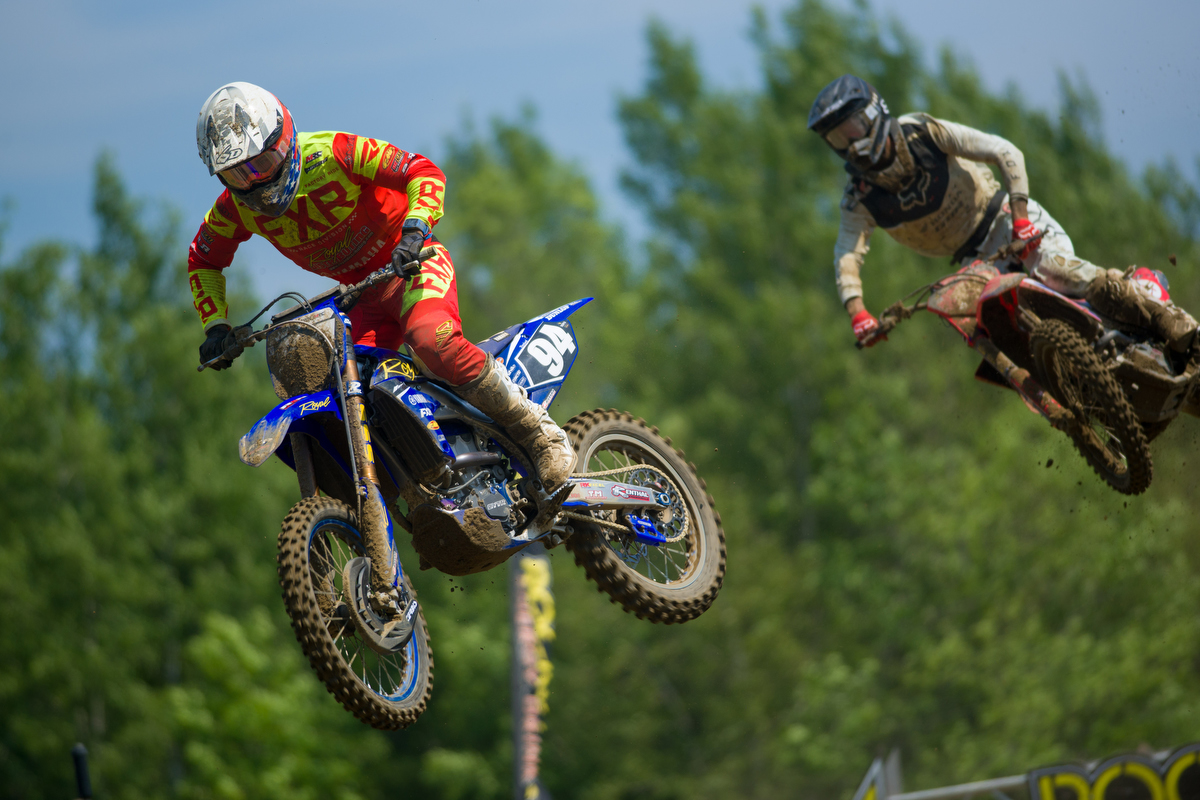 Luke Renzland has been putting in a bunch of laps at his team's home track and had another solid day, going 2-3 for 3rd overall.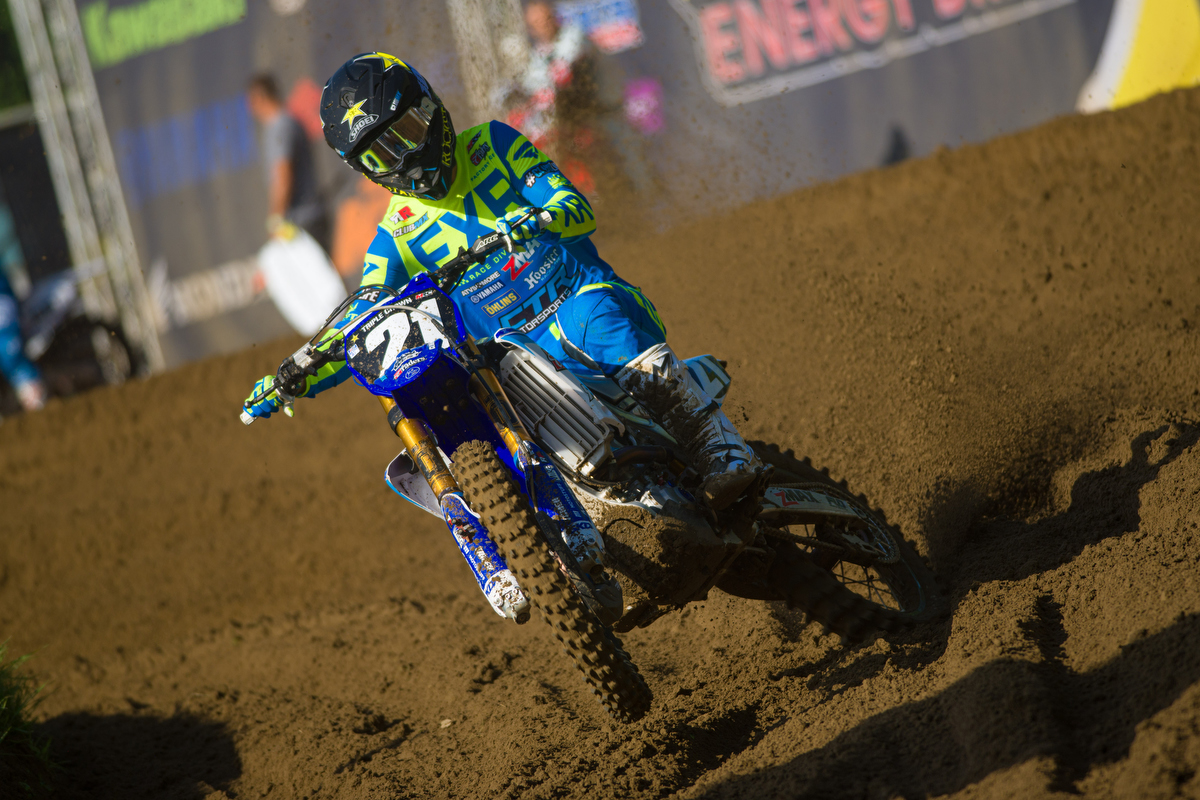 Another rider who started the season off strong but has been a bit off the pace lately, is Josh Osby. He finished the day in 4th overall but was off the pace of the leading trio. Look for him to bounce back as the series moves to Moncton next weekend.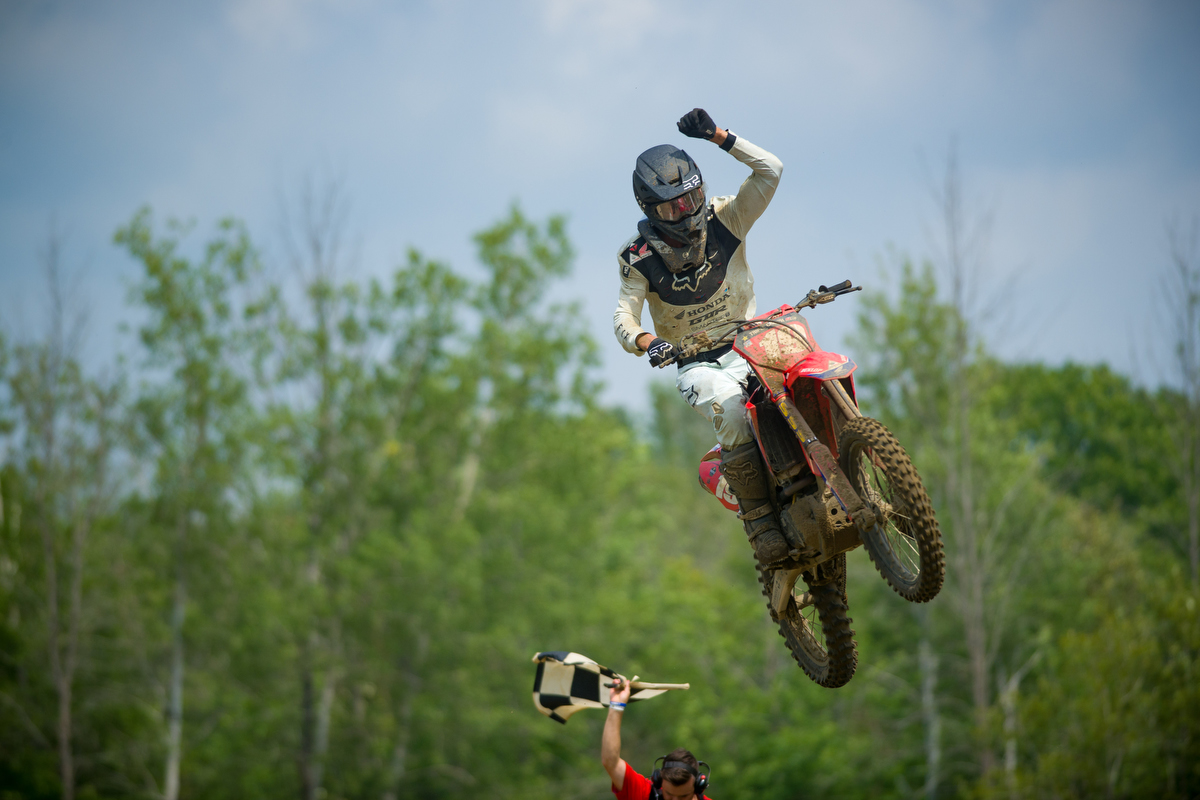 Already the fastest rider all season long in the 250 class, Dylan Wright wasn't going to be denied as the series stopped at his home track. With a ton of laps on the Sand Del Lee track, even getting caught in a first turn pileup wasn't going to stop Wright as the points leader was turning laps 2-3 seconds quicker than the completion as he sliced through the pack. A second weekend of 1-1 finishes and he's now opened up a 31 point lead with 3 rounds remaining.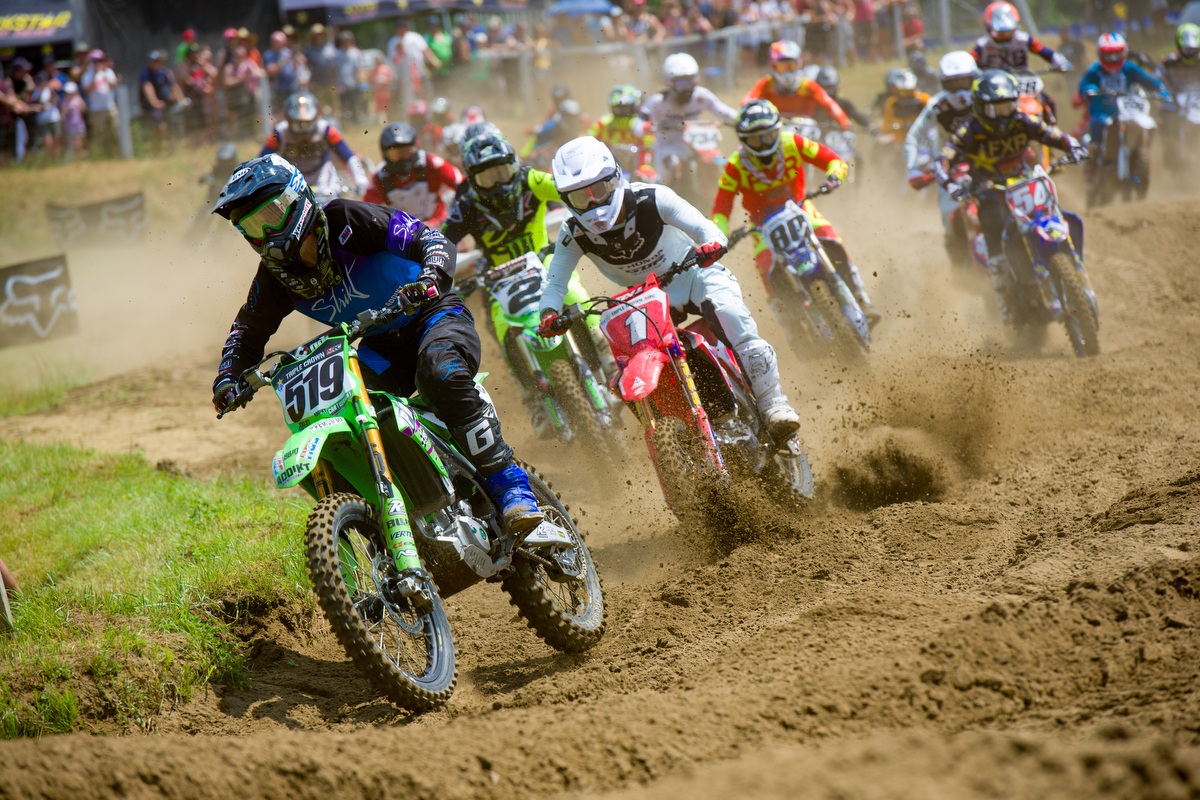 Josh Cartwright made his first Canadian National appearance in years and nabbed the holeshot in the first 450 Moto. He finished the day with 5-7 finishes for 6th overall.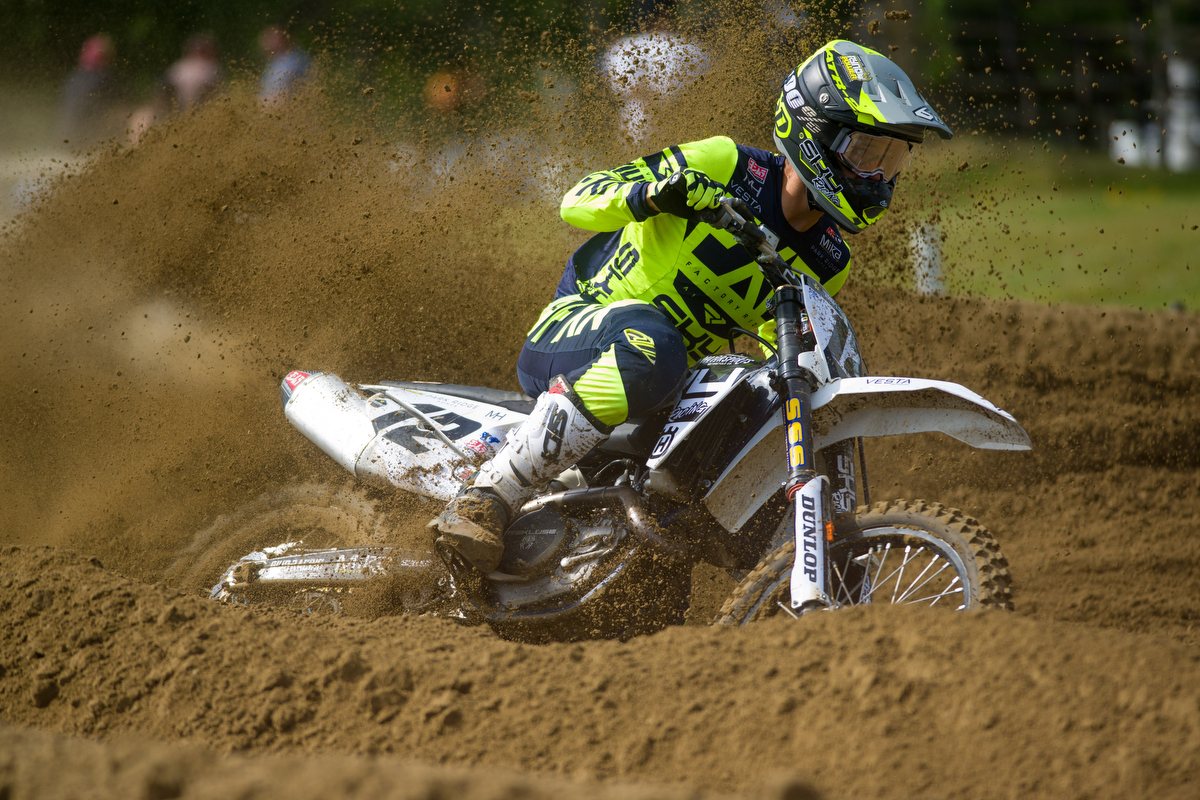 Cade Clason grabbed 7th overall with 6-9 Moto scores.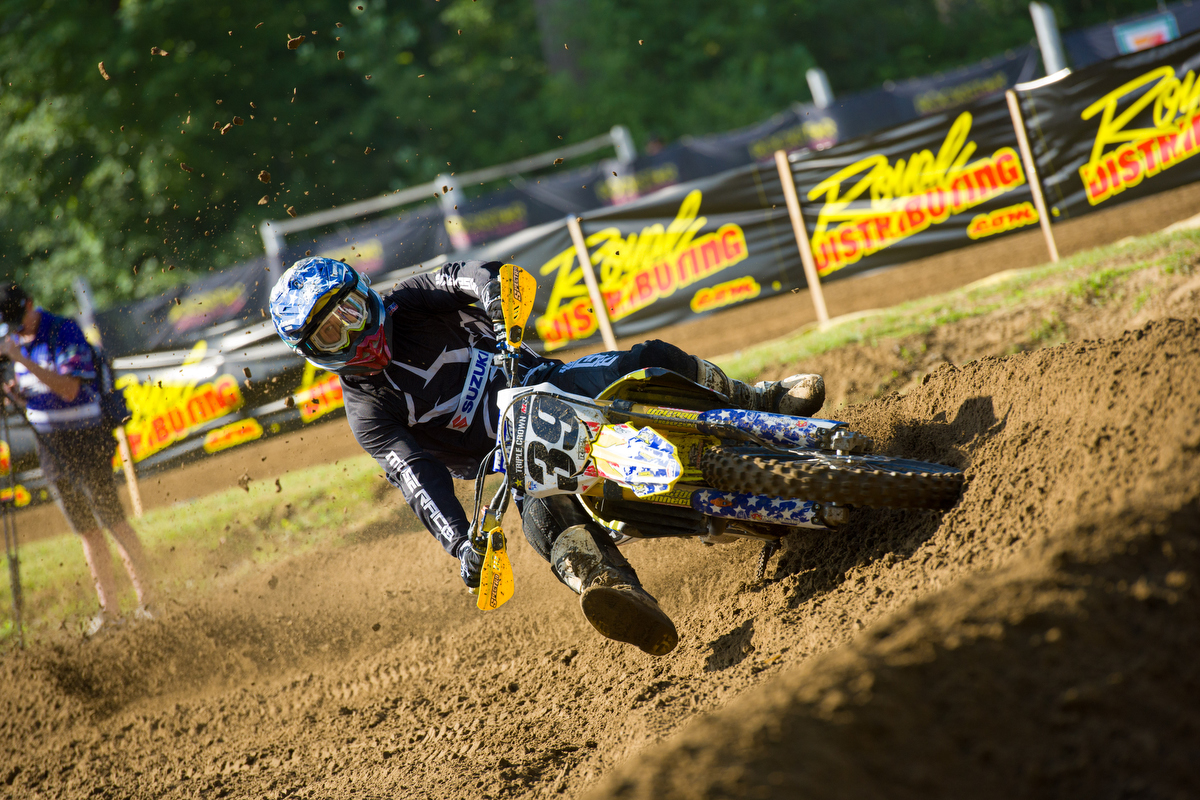 The younger Dowd, Ryan, rode to 10-10 Moto finishes, for 10th overall.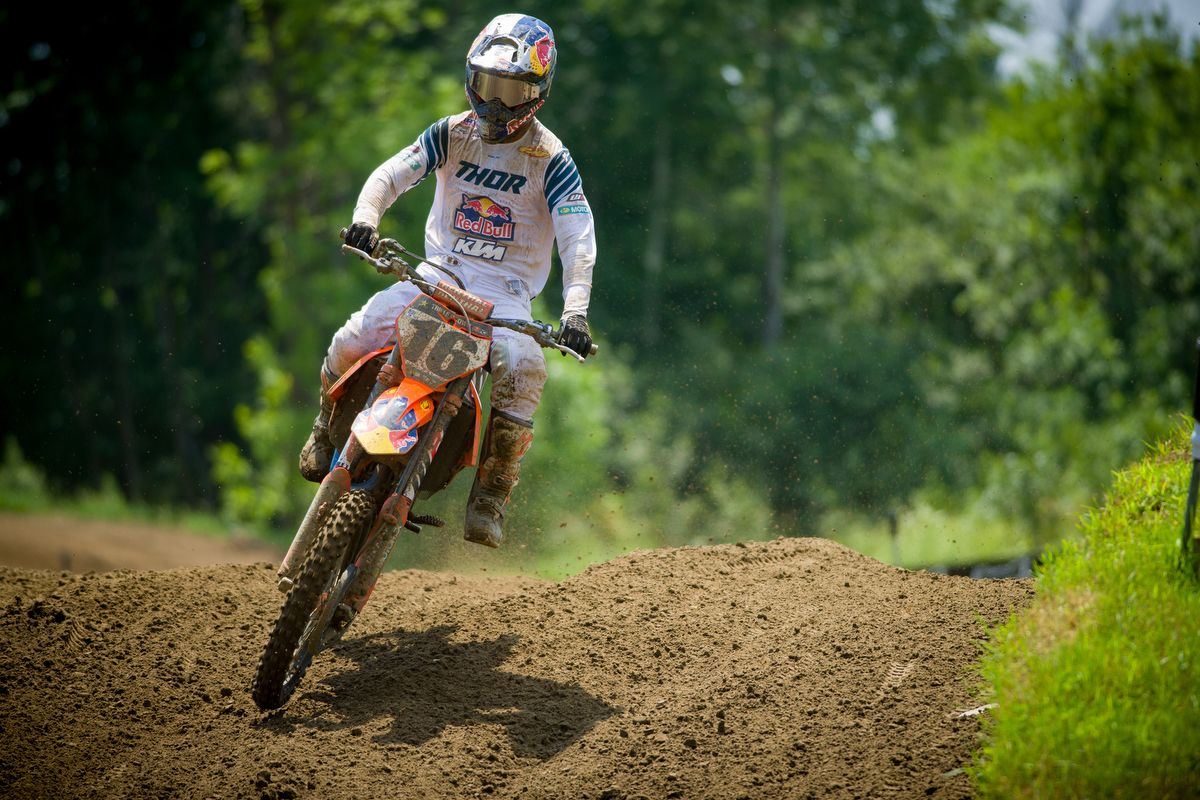 Cole Thompson has been dealing with a back injury that's hindered him the past two weekends. 7-5 for 5th overall.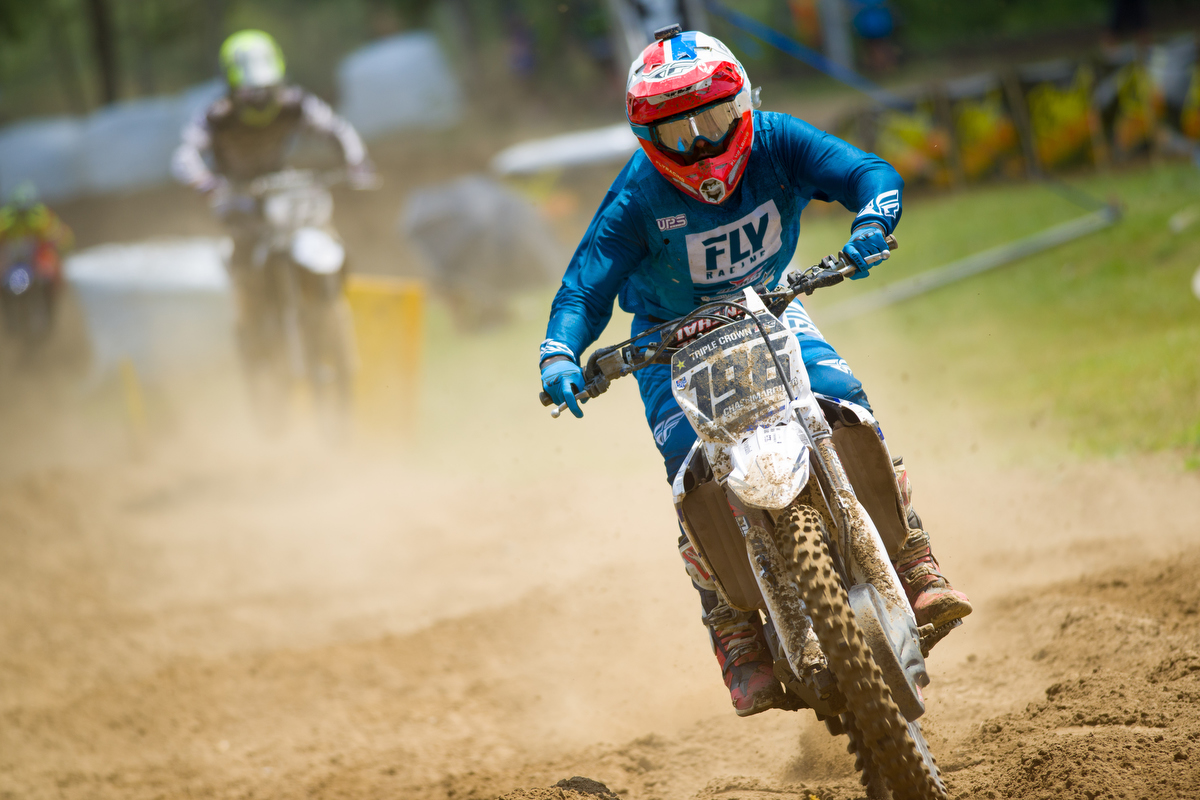 Chase Marquier grabbed 11th overall, with 8-13 motos.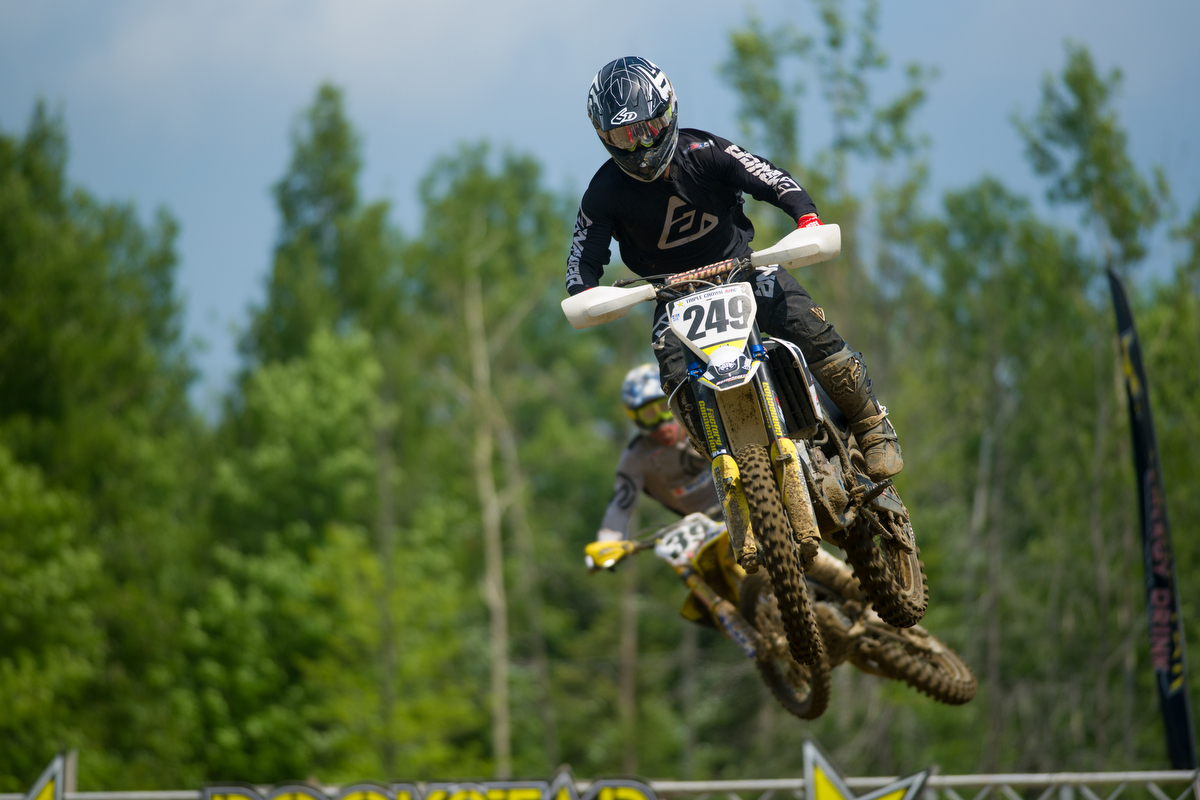 Husquvarna mounted Derrick Barnaby finished 15th overall.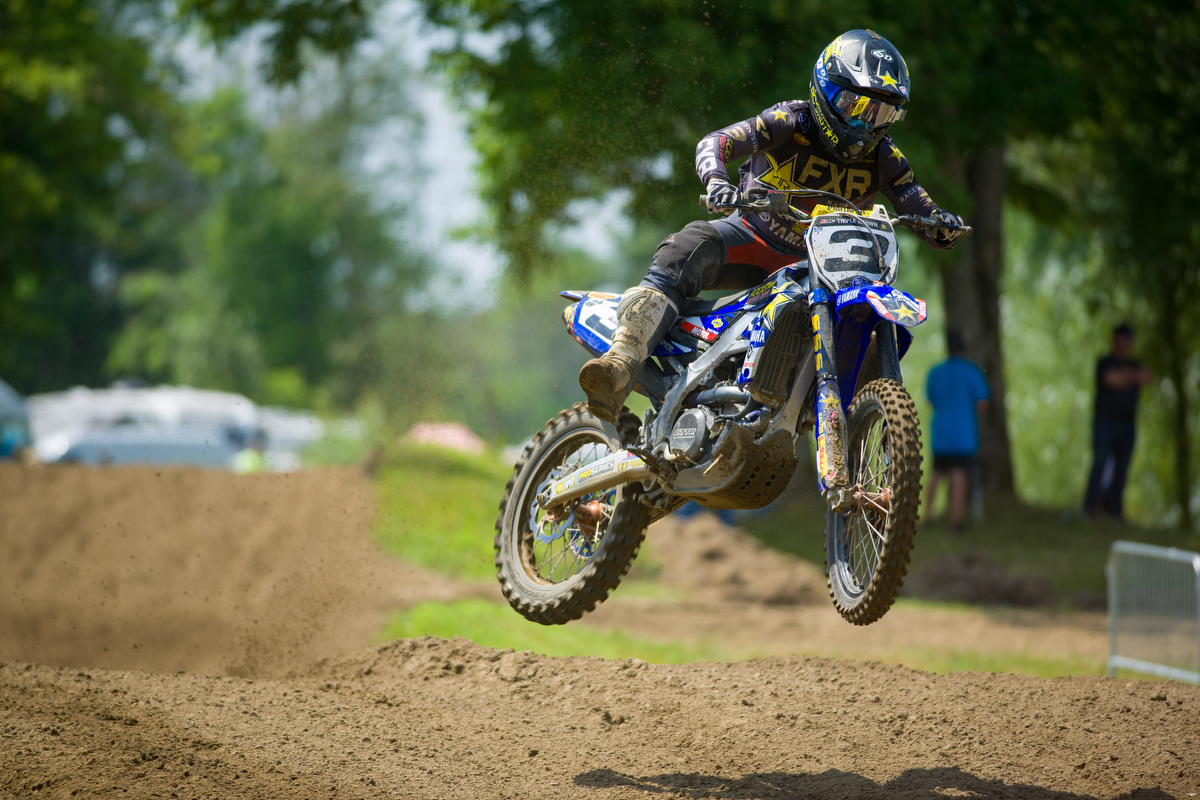 Shawn Maffenbeier has been good in his first season back in the 450 class. The 2017 250 champ grabbed a podium spot in the First Moto. Bike trouble in the second Moto left him with a 6th place finish, but still good enough for 4th overall.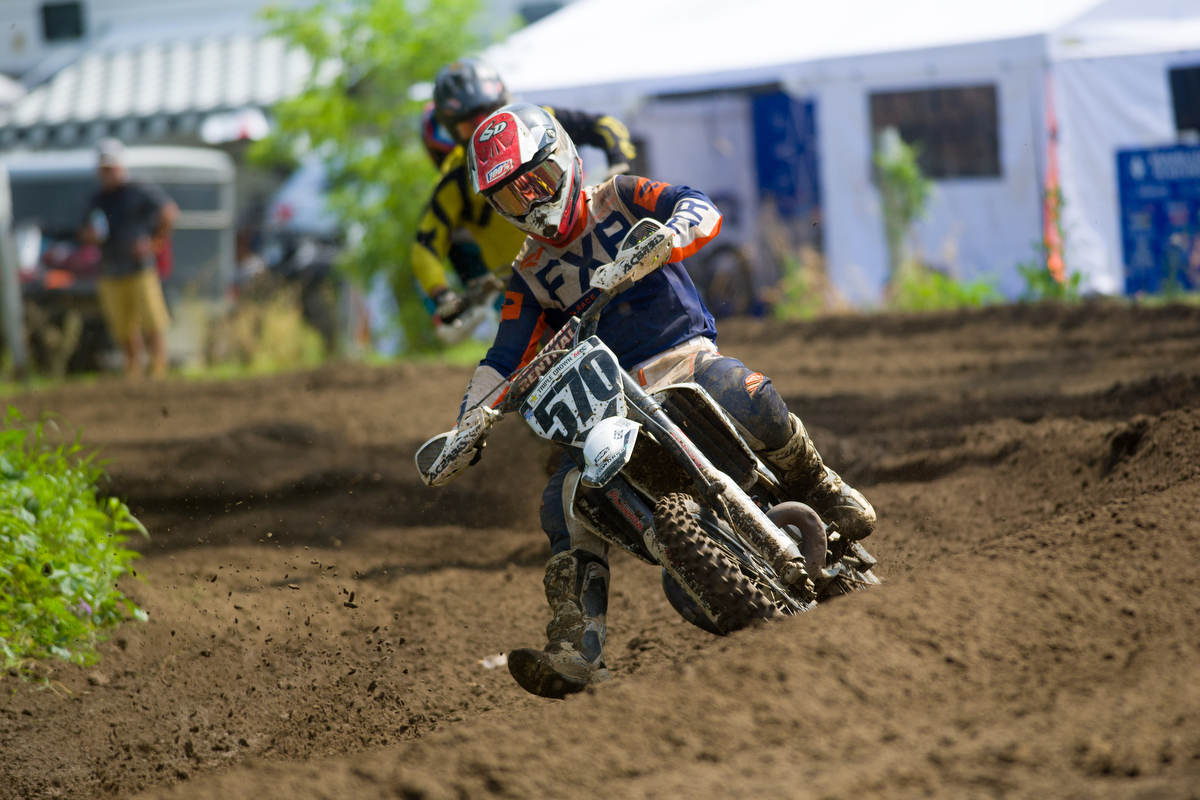 2-stroke mounted Thomas Lanphear finished in 19th overall in the 450 class.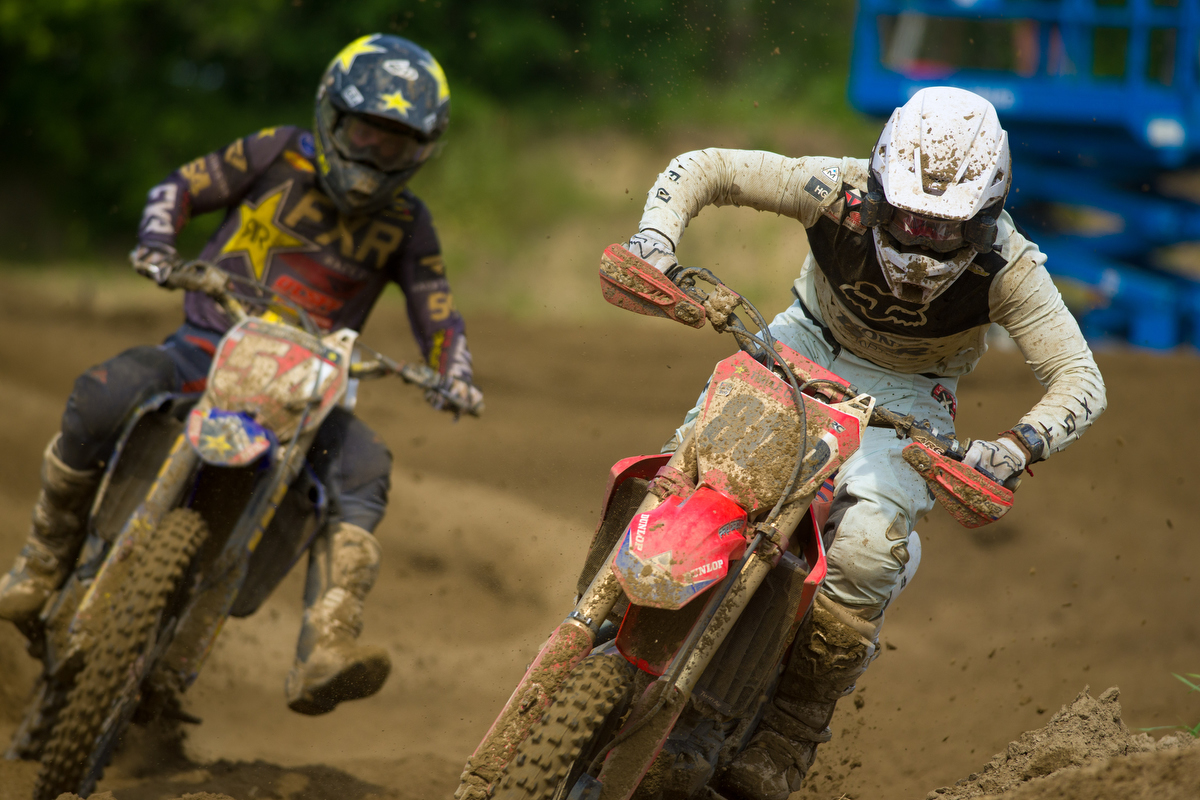 Moments before impact.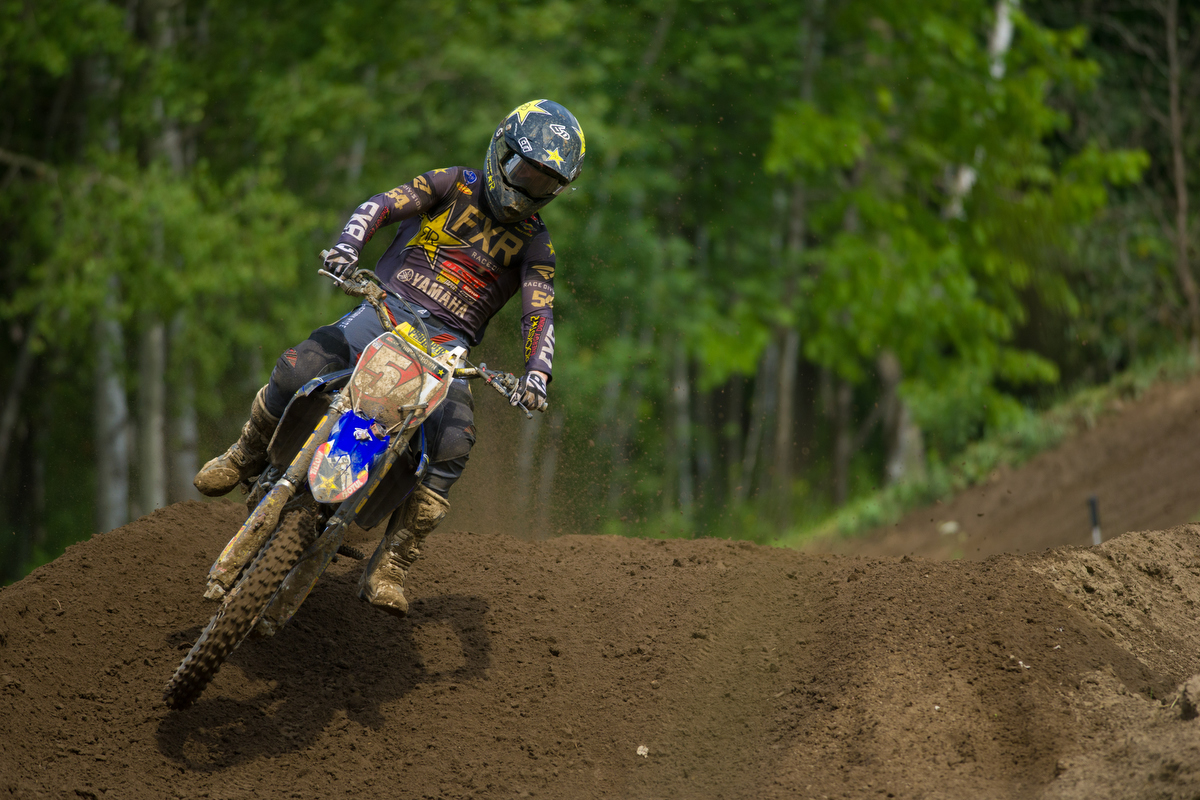 Where do you start with Phil Nicoletti's day? A crash in the First Moto required Phil to stop in the mechanics area to change a rad, though he could only get back to 37th, for no points. Then, in Moto two, he made the pass on Alessi before Alessi came back and collided with Phil, sending him off the track. Nicoletti was not too impressed with the move and let Alessi know, by turning around after the finish line and going backwards on the track to try to get at him, then had some choice words for him at the podium area. You can check out video of the racing incident on the PulpMX instagram account.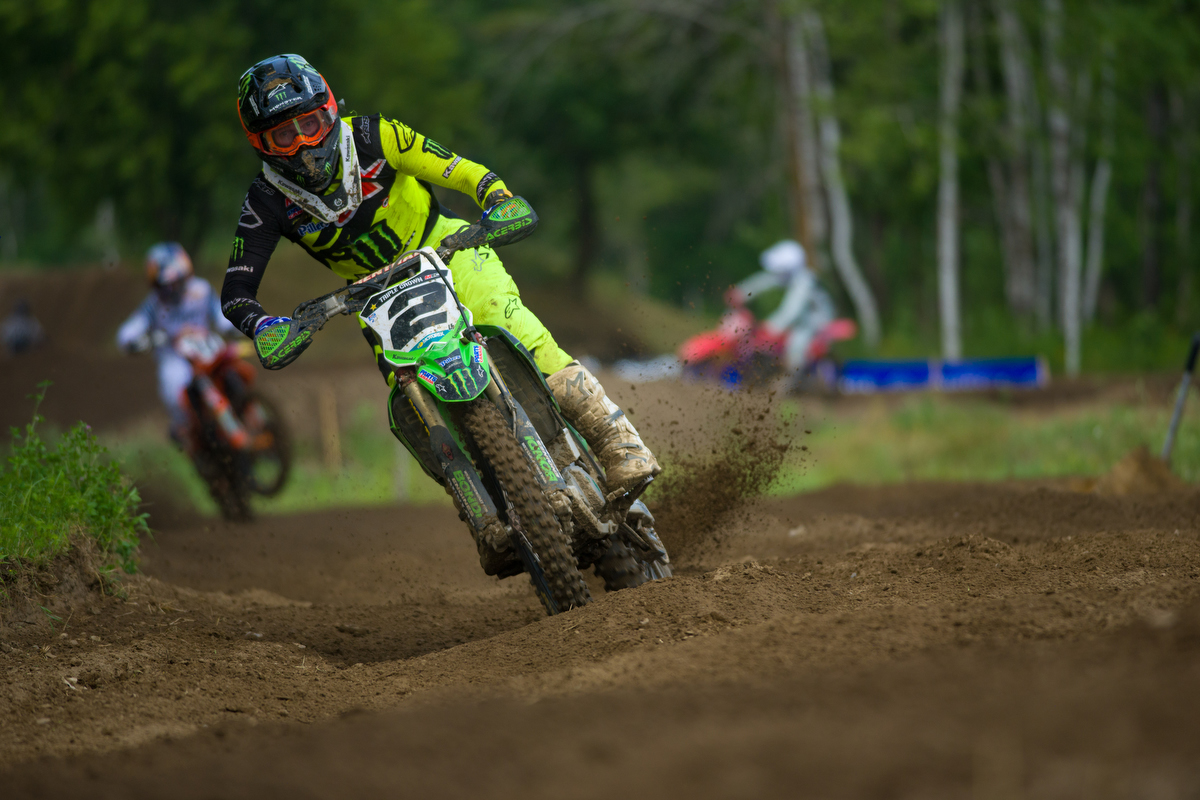 After a terrible DNF-DNF race the week before at Gopher Dunes, Matt Goerke needed a bounce back, and he got one at Sand Del Lee. Goerke hit Nicoletti in Moto one, when Phil crashed, but came back to 4th. He then managed to grab the lead in moto two and hang on for the win.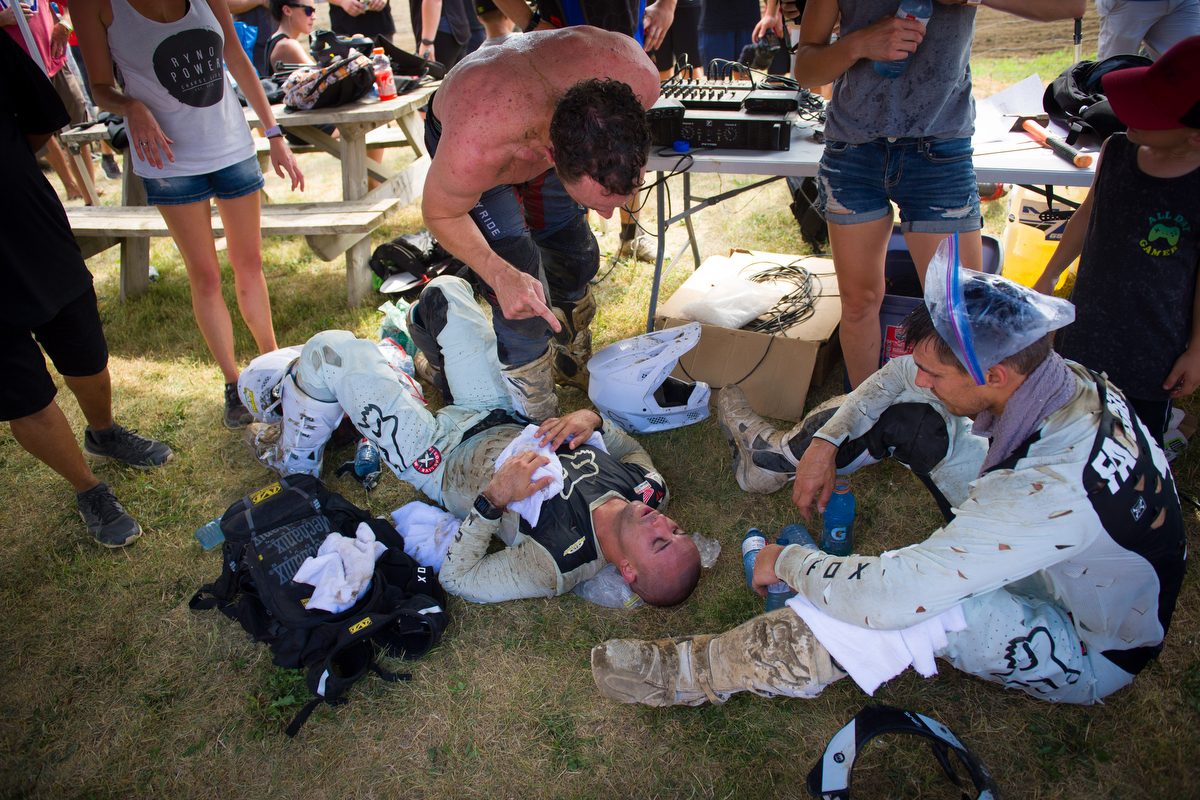 Phil tells Mike what he thinks of his move in the Moto while Colton Facciotti's son learns a few new swear words. Phil would ultimately get disqualified for making a threat to another rider.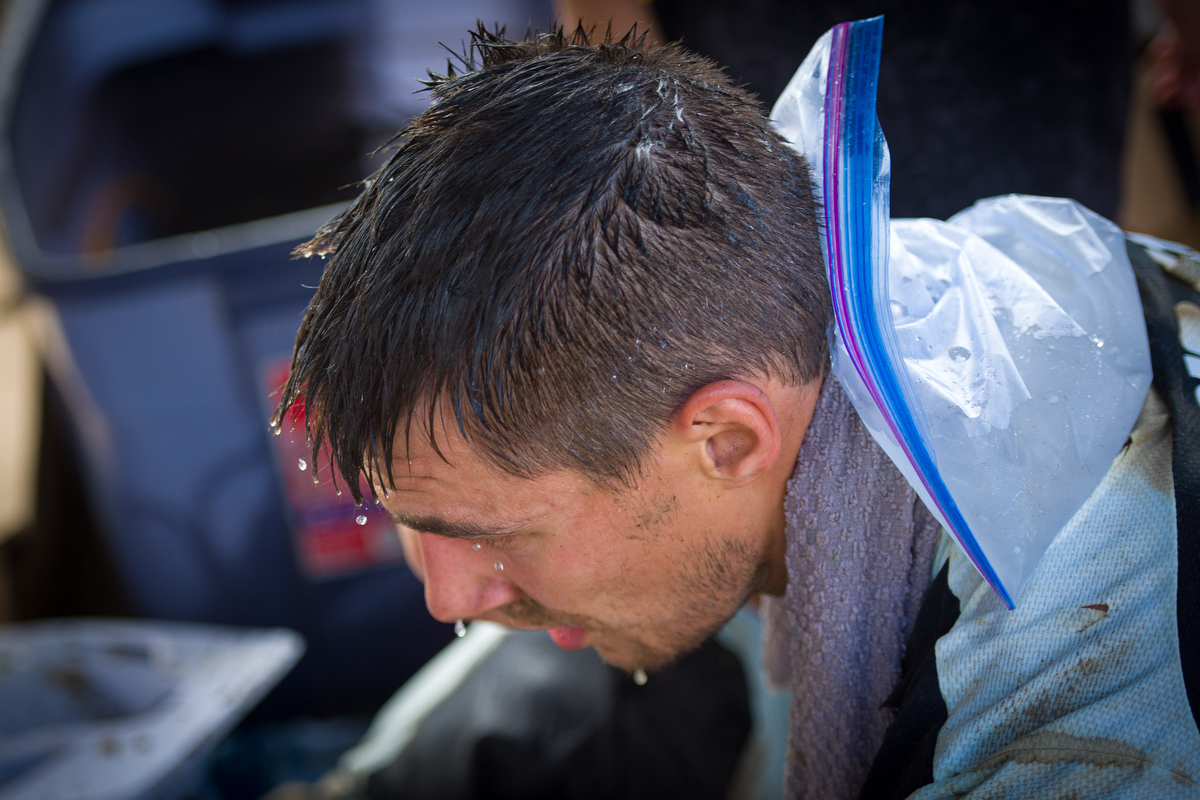 It was a scorcher of a day.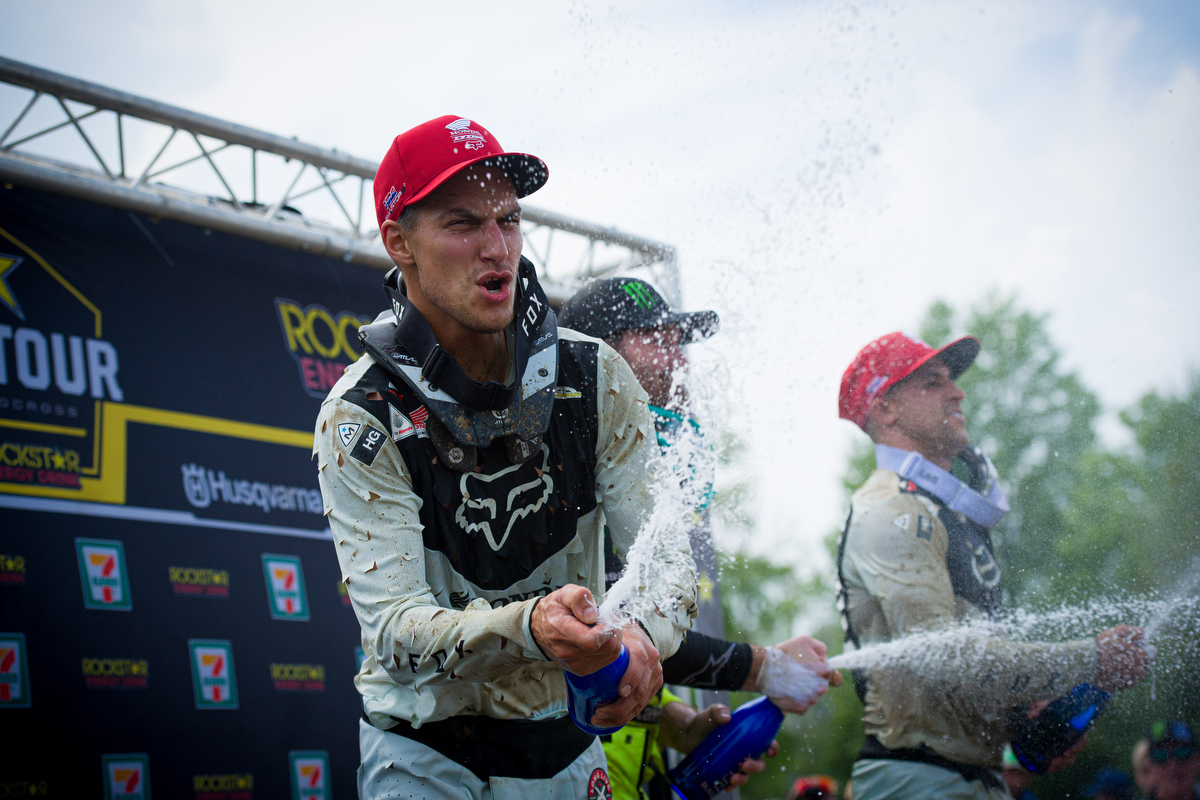 Facciotti tries to cool down the crowd.