10 Things About The 2020 Honda CRF250R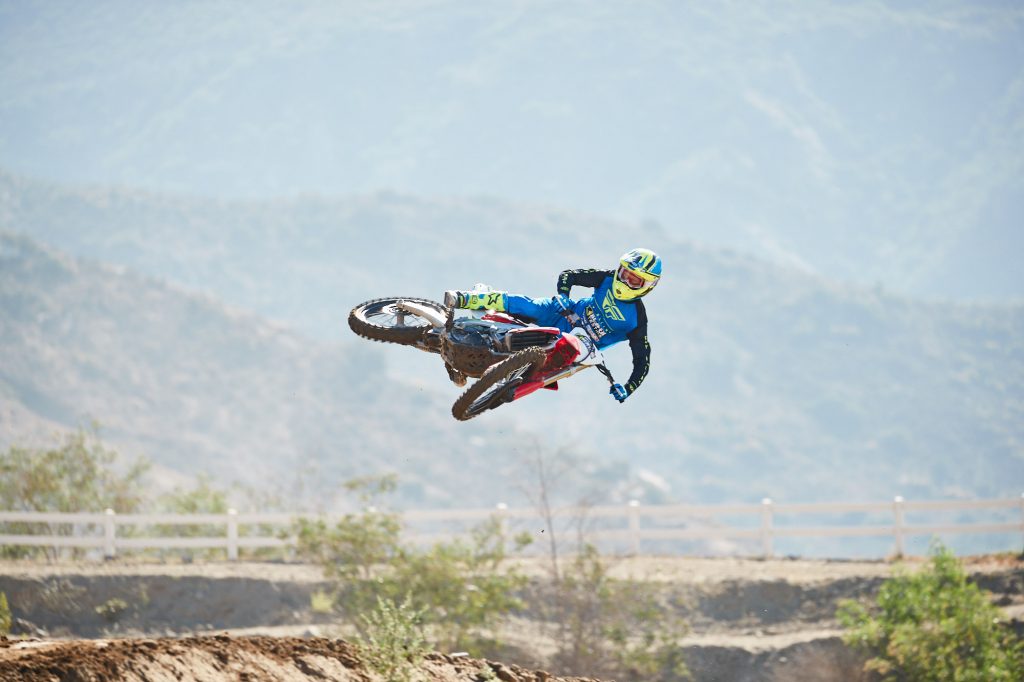 Honda won the 250 East Coast Supercross Championship with Chase Sexton aboard the CRF250, but to us normal everyday riders that really doesn't translate into a CRF250R that us normal everyday riders can go purchase. The GEICO Honda is such a different machine than the one sitting on the showroom floor that it would be foolish to base your purchasing decision on that title alone. What we do know is that the 2019 Honda CR250R was a good bike that liked to be ridden at the upper ranges of higher rpms because it lacked torque down low. For 2020 Honda wanted to address those issues and went to work on refining not only the engine, but the chassis, and suspension as well. We spent a full day out at Fox Raceway in Pala, California with the Honda crew and came away with some first impressions that we feel you should take into consideration before purchasing a red machine. If you want to see exactly what Honda changed for 2020 please click this link :https://www.keeferinctesting.com/latest-news-1/2019/5/7/4xwgxuriezuyxlgyxyb2rgo6h1iaz0 or simply go to https://powersports.honda.com.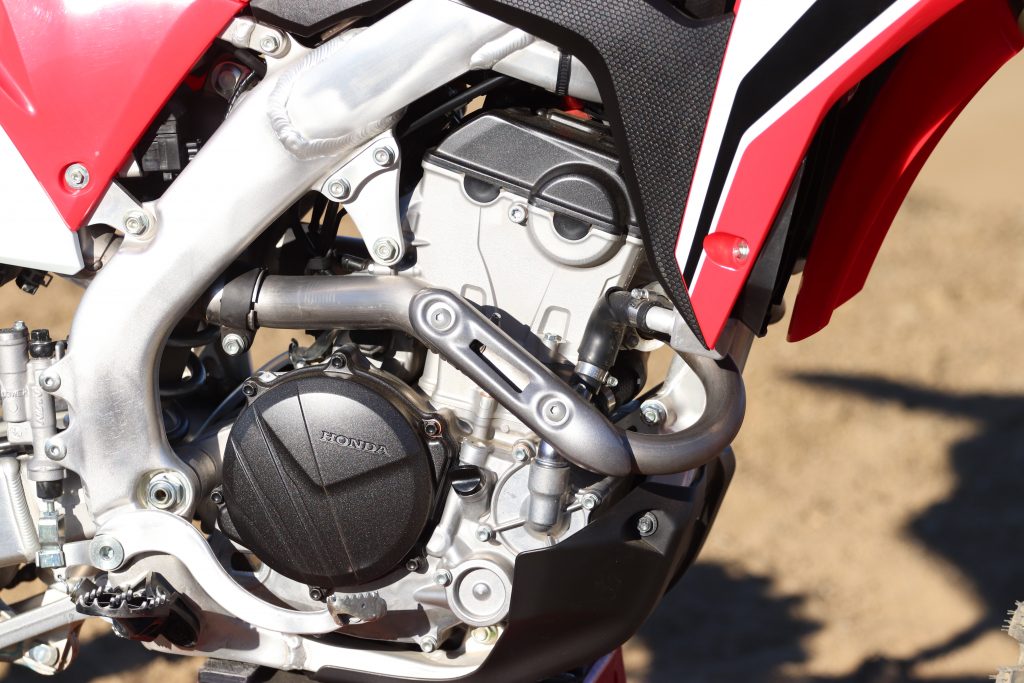 Engine Feel: The 2020 CRF250R's engine delivery is a much healthier version of the 2019 engine character. You're able to feel the increased low end power right away once stepping off of the 2019 version. The 2019 version takes a lot of clutch work and massaging to get it into the meat of the power. The 2020 has more torque feeling out of corners and can be shifted into third gear sooner than the 2019. Now I will not sit here and tell you that it's now a torque monster and can smoke a YZ250F on bottom end, but Honda did a good job at getting some extra low end power delivery. At 0-15% throttle opening there is more RPM response over the 2019 and the 2020 Honda now feels less hollow at lower RPM. If you're wondering what the hell "hollow" means, it's basically another way of saying it felt slow (AKA hollow, empty). Mid range on the 2020 also has more pulling power to it especially in third gear, but top end pulling power feels as good as the 2019 version, which we do not mind because it was good. There is more bottom-mid range recovery time with the 2020 and that just makes for an easier to ride CRF250R. Even Phoenix Honda's Jace Owen commented on how much better the low end felt compared to his 2019 stock machine back home. And yes, we were away from the Honda tent so it wasn't near the Honda execs. It was a legit comment!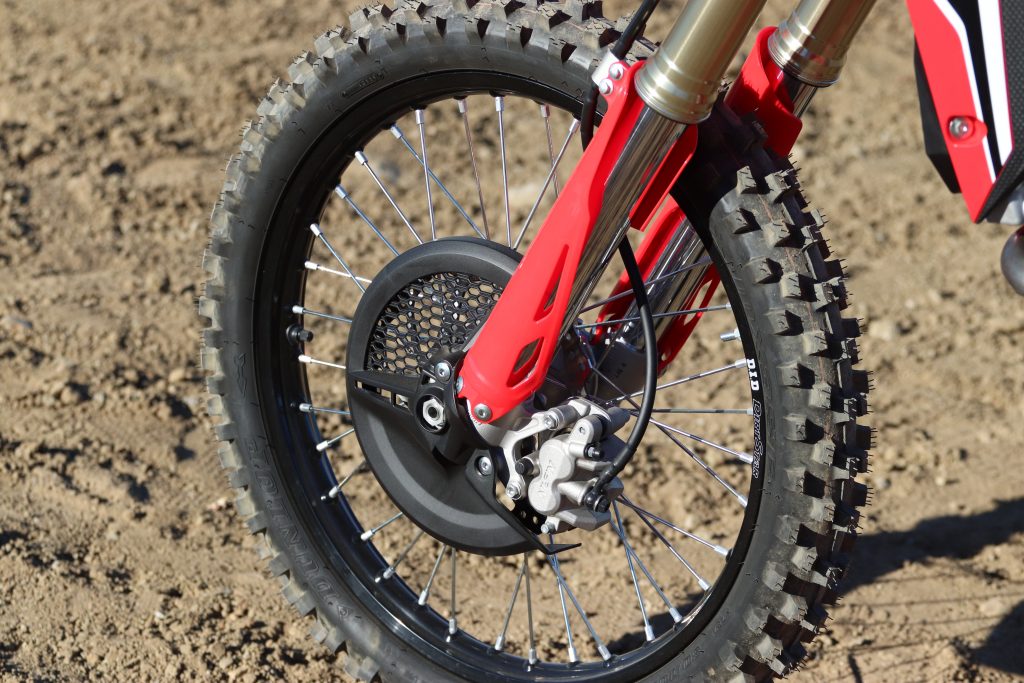 Suspension: Much like the 2020 CRF450R the CRF250R's suspension holds up higher in the stroke for 2020 and gives the rider decent comfort on the small chop, but don't expect it to be better than the SSS KYB suspension that comes on the Yamaha YZ250F. All three riders that tested this bike (155, 165, 175 pounds) went stiffer on the fork to help the Honda from diving under heavy braking. Even with the fork changes Showa made for 2020, we still wanted some more hold up. Our older vet racer that tested the CRF250R thought the fork had enough comfort and hold up, but when pushing the bike hard by faster riders the fork needed some added performance at the end of the stroke. Once going a little stiffer (compression) the front end felt calmer and allowed for a more aggressive riding style. The shock/rear of bike has a ton of comfort/traction coming out of rough/choppy corners, but on heavy g-outs or steep jump faces the end of the stroke is empty (soft) feeling. Going stiffer on high speed compression an eighth of a turn will help hold up and prevent you from bottoming too hard on sharp jump faces and landings. We ended up going with a 102mm of sag as that pleased all three riders and left them with the best balance, on and off throttle. Note: This sag reading is different than in years past so make sure you start at 102mm to help balance of bike. If you feel like the rear is too high, try dropping the fork down in the clamp 2mm (from 5mm to 3mm) as this will help the CRF250R from stink bugging on de-cel.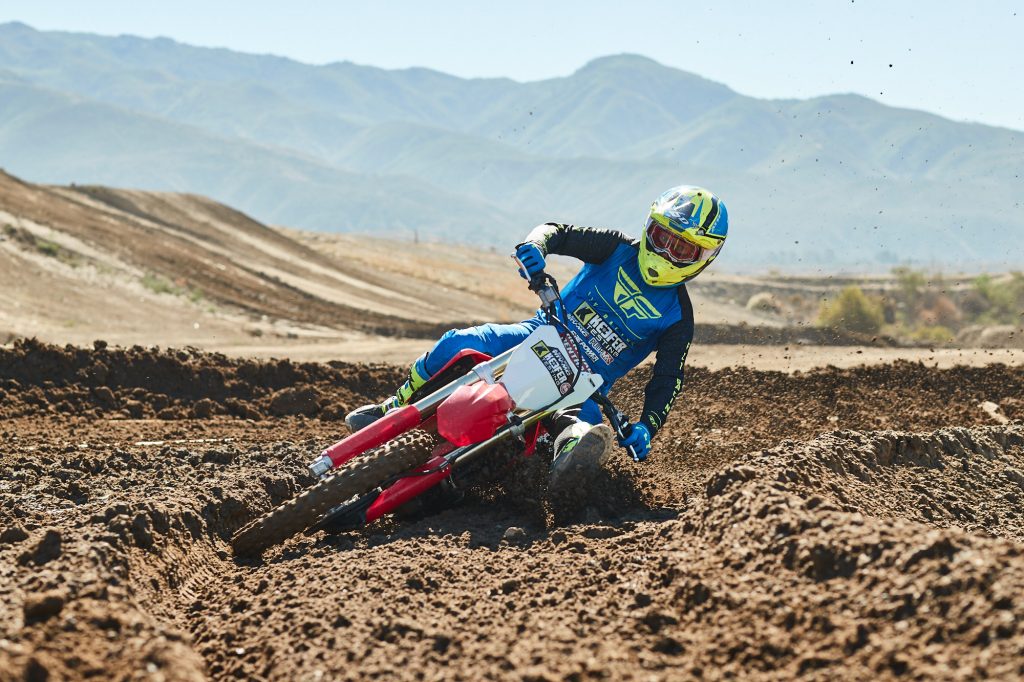 Chassis: Now that the 2020 CRF250R shares the same frame as the CRF450R you think it would feel slightly rigid like the 450R does, but that is simply not the case. The 2020 CRF250R frame and chassis has good bump absorption on square edge and feels more compliant than the 450R. Straight line stability is improved from last year's model and the CRF250R feels more connected to the ground while on throttle. The CRF250R's cornering character remains as good as the 2019 on initial lean, but mid corner we noticed that the 2020 chassis was harder to keep leaned into the rut. It almost felt like it had a heavier feel in this area of the corner. The 2019 didn't want to stand up as much as the 2020, so cornering the 2020 takes a little more effort. I would gladly take a slower turning Honda for increased stability and that is exactly what we got for 2020 it seems. Don't freak out and think the Honda can't corner now, just know that it just takes a little more effort mid corner, but it's still one of the better cornering machines. Yes, better than the YZ250F still.
 Engine Maps: Each engine map has a distinct feel on the track and can be very useful in different types or for different types riders. Here is what I felt from each map:
Map One: Pulling power is good out of corners and has a broad mid-top end feel. Good for most tracks unless you're riding deep sand.
Map Two: Smoother roll on power with less bottom to mid rpm response. Good for younger riders or tracks that are hard pack and loose.
Map Three: Hardest hitting bottom-mid range with less pulling power on top/over-rev. Good for aggressive riders who want more out of corners or who like to shift early.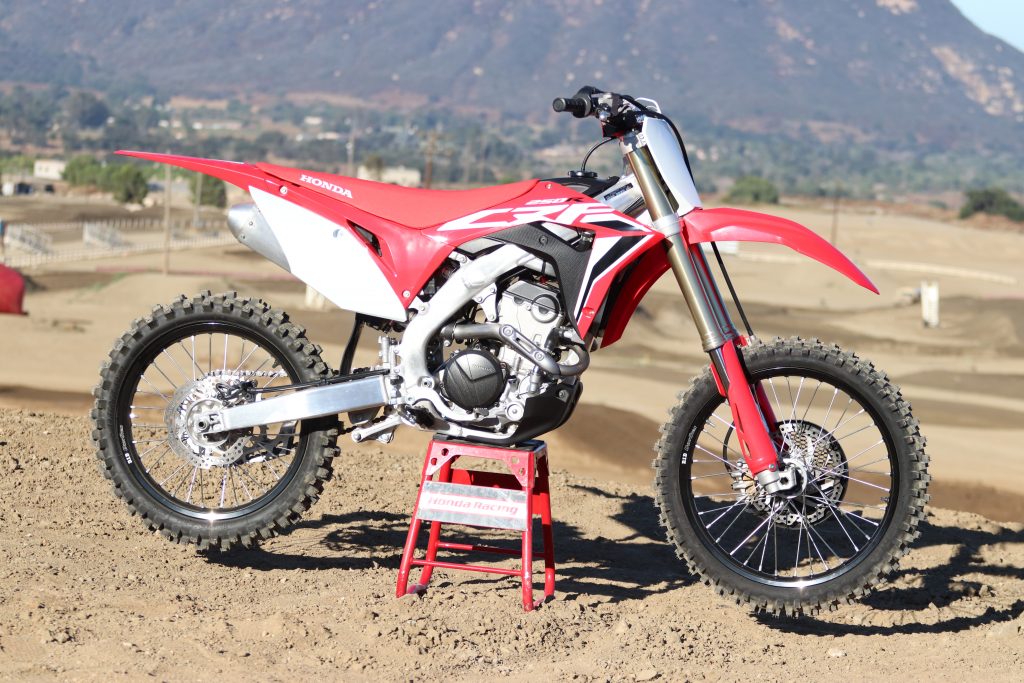 Transmission: The 2020 Honda CRF250R's second gear spacing is improved and that lets the rider pull that gear longer in order to use third gear more efficiently. Last year I would sometimes bypass third gear and go straight to fourth as third didn't have enough spacing from second, so it felt super short. Fourth gear felt like third gear on last year's bike, but Honda managed to get it much better for 2020. For 2020 third gear is much more usable and makes the Honda easier to ride.
Cooling: Even with the enlarged left side radiator for 2020 the Honda can still run hot at times. While moving and riding the CRF250R doesn't get as hot, but if you find yourself idling off the side of the track while waiting for a homie, do yourself a favor and turn off the engine. Check your coolant level after every day of riding to ensure you do not get it too far down past the coils.
Footpegs: Honda has newly shaped footpegs that are 20% lighter, but to me that didn't shed mud more easily like they claimed they would. If you own a Honda then you know how big a pain in the butt mud can be with the footpegs. They DO NOT self clean well. This hasn't changed for 2020. Buy yourself a pair of Acerbis rubber footpeg covers. Thank me later.
Clutch Springs: Stiffer clutch springs are used in the 2020 CRF250R's clutch and this is a great thing. The 2019 clutch felt like it was slipping all the time under throttle, but the 2020 clutch has more grab and bite, especially when under the throttle hard out of corners. This doesn't mean that the clutch is more durable in the long run (we will have to test that theory in the coming weeks), but at least the new clutch springs help get the power to the rear wheel better in 2020.
Brakes: The front brake is powerful! Honda seems to be back with great brakes along with a good feeling at the lever/pedal. The rear brake pedal is a little low stock so make sure to try and raise it up some when you pick yours up. If you feel like the front brake is too touchy, you can bring the lever closer into the grip which will help you modulate it better coming into corners.
Steering Head: If you happen to feel a little twitchiness in the front end at times, I noticed that the front steering head feels loose. Simply tighten the steering up a little so that the handlebars DO NOT flop down to the stops. A good rule a thumb is that you should have to tap the bars twice for them to drop down to the stops.
Is The 2020 Honda CRF250R Better Than The 2019 Version: A resounding YES! Unlike the 450R where I would tell you to save a couple grand and purchase a 2019, the 2020 CRF250R is much better than last year's model. If you're a Honda guy and are coming off of a 2019 CRF250R then you will be very please with what Honda did on the new bike. More power, better chassis feel, and suspension that has more hold up as well as comfort is reason enough for me to spend the extra cake on the new model.