For this edition of Classic Ink, we are going to take a look back oat some of Oakley's iconic ads from the early 1980s.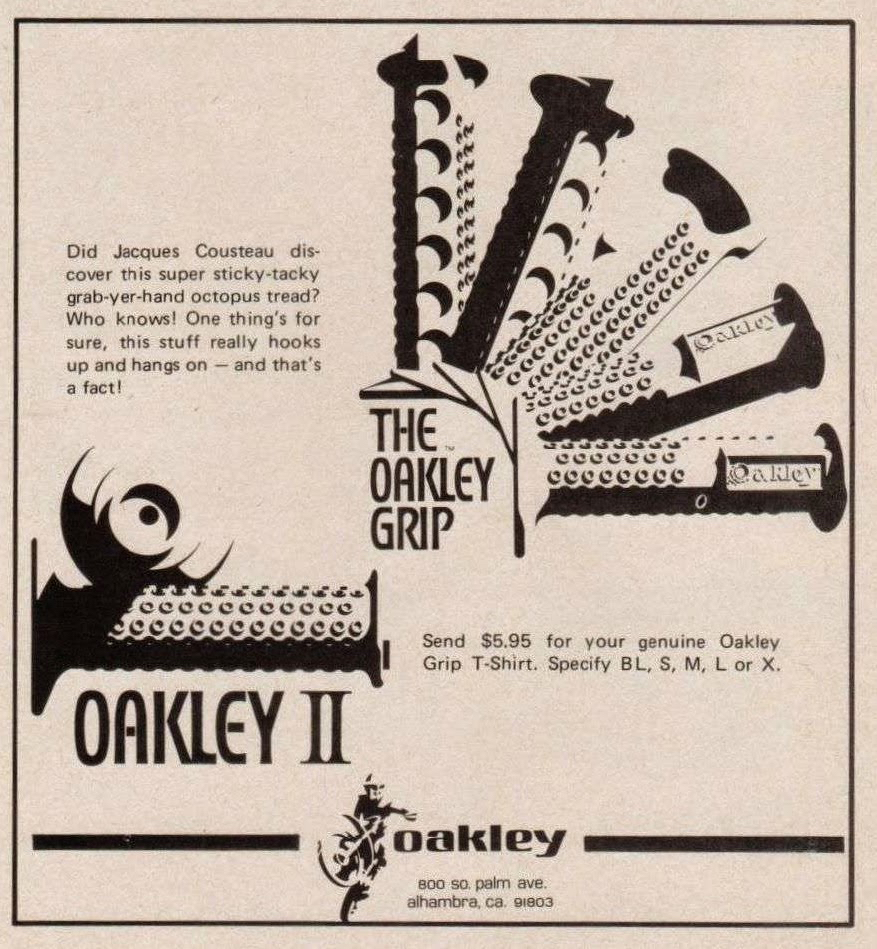 The "Oakley Grip" was Jim Jannard's first product. Fashioned out of rubber compound  Jim coined "Unobtanium," this grip featured a unique shape and tacky feel that improved grip in wet conditions. 
Matthes: I'm old AF because I remember these grips and how great they were on BMX bikes.
Today, Oakley, Inc is one of the most recognizable lifestyle brands in the world. Their products are ubiquitous in malls across America and grace the heads of athletes in all manner of sports disciplines. If you are into golf, skiing, mountain biking, snowboarding or of course, motocross, chances are you are familiar with that iconic oval O logo.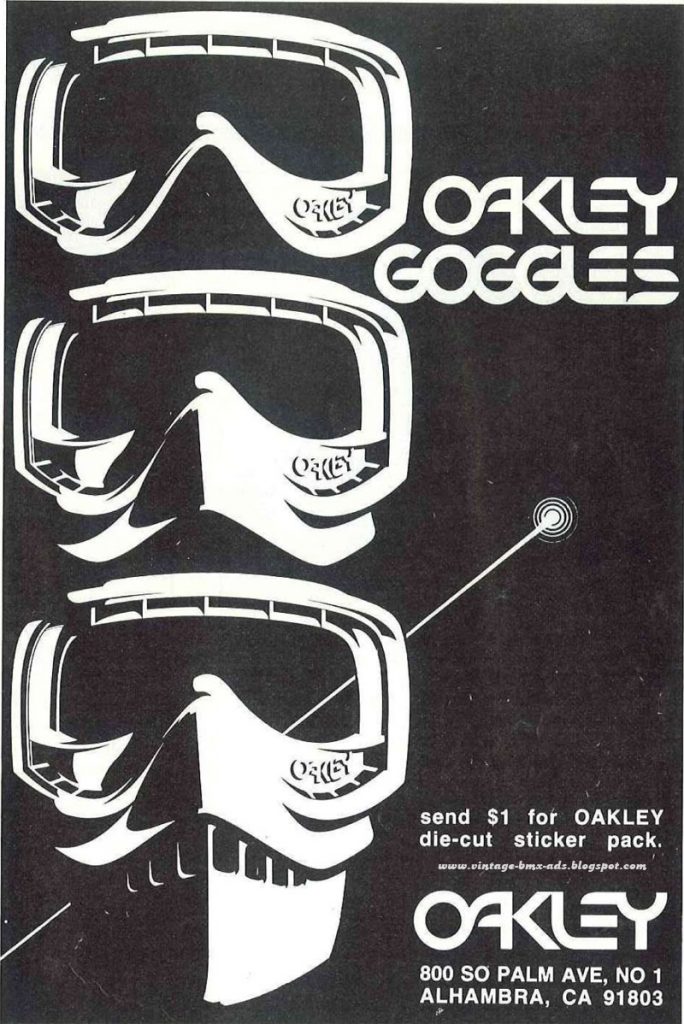 After the success of the Oakey Grip, Jannard expanded his business to include goggles in the late seventies. 
Matthes: I don't remember these but that logo is iconic for sure. I wonder if Jim designed that the first time he sat down, whether he hired someone for it or what the genesis of that lettering style was?
Started out of a garage in 1975, Oakley is a motocross success story. The brainchild of Californian Jim Jannard, Oakley (named for his dog "Oakley Anne") began as a one-man operation selling motorcycle grips at local racing events. Crafted from a rubber compound Jim coined "Unobtanium," the new grips featured an innovative and distinctive design that proved a huge hit with motocross and BMX riders alike.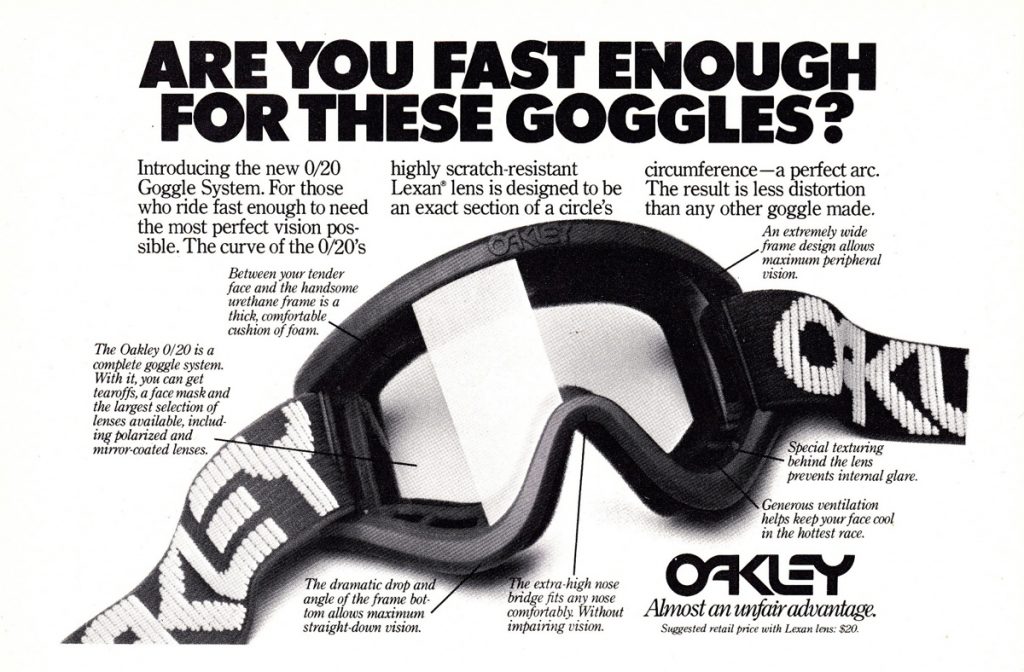 In 1980, the introduction of the new "O Frame" goggle catapulted Oakley to the forefront of motocross goggle design. 
Building off the success of Oakley grips, Jim eventually expanded into goggles and by the early eighties, had parlayed his unique rubber compound into one of the most influential brands in the motocross industry. Much like JT Racing, Oakley became a who's who of early eighties motocross talent. Jeff Ward, Marty Smith, Ricky Johnson, Mark Barnett and Johnny O'Mara were all in the Oakley stable and at the forefront of motocross style. 

In 1983, Oakey had a powerhouse stable of past and future champions under the Factory Pilot banner. 
Matthes: In talking to some of the old-timers they tell me that Jim was around a lot in the early 80's at the races and hawking his grips and goggles to anyone. I guess he was very persistent because a lot of racers started rocking them as you can see from the big names above. By the way, that Bomber look in this ad is fucking awesome and if my parents had ever let me wear an open face helmet, 100% this would've been my look.
In 1983, Oakley launched an all-new ad campaign centered around this all-star lineup of MX talent. These new "Factory Pilot" ads featured Oakley's sponsored riders geared up and ready for battle against a dark backdrop. In each ad, only the rider's upper torso was featured, with Oakley's new "O" Frame goggles taking center stage.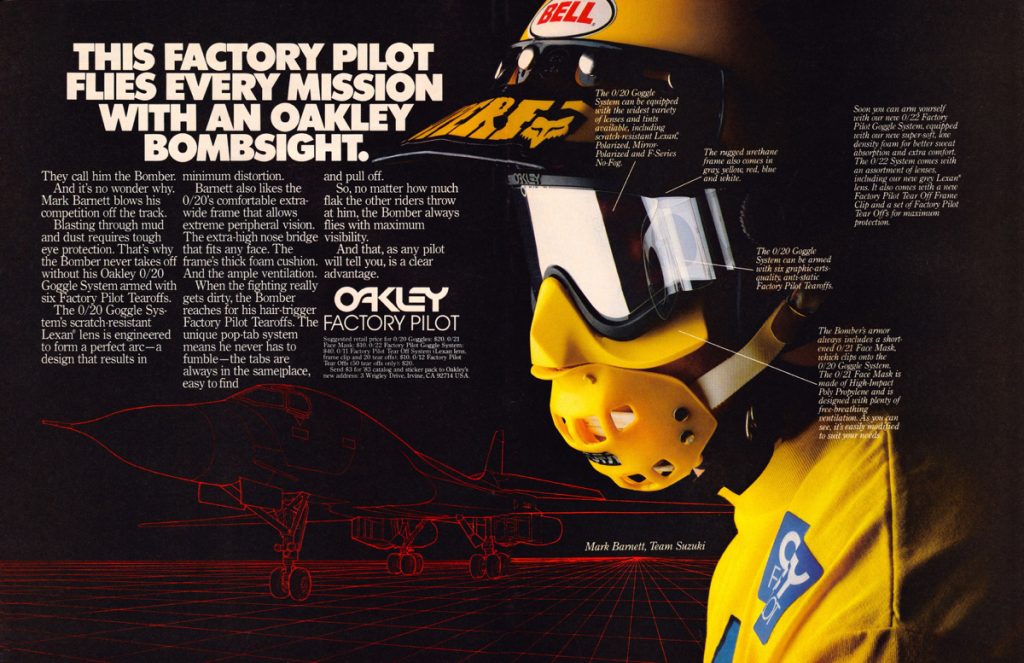 Bomber: Of all the '83 Factory Pilot ads, this one with Mark Barnett is probably my favorite. Personally, I never liked the look of the classic Jofa mouth guards, but somehow in these ads they actually look badass. I think it also helps sell the "fighter pilot" look in a way that a full-face helmet would have ruined.
Matthes: Bomber was a bad dude.
To say I thought these ads we cool, would have to be a massive understatement. The Mark Barnett version in particular pegged the trick-o-meter to Eleven with a silhouette of the Air Force's new B1 bomber right below the multi-time champ. This was both an allusion to Barnett's "Bomber" nickname and a play on the ad's fighter pilot vibe.  While this Barnett version was my favorite, Jeff Ward and Johnny O'Mara variations were almost as cool. All three ads made me want to buy Oakley and look just like these 125 speedsters.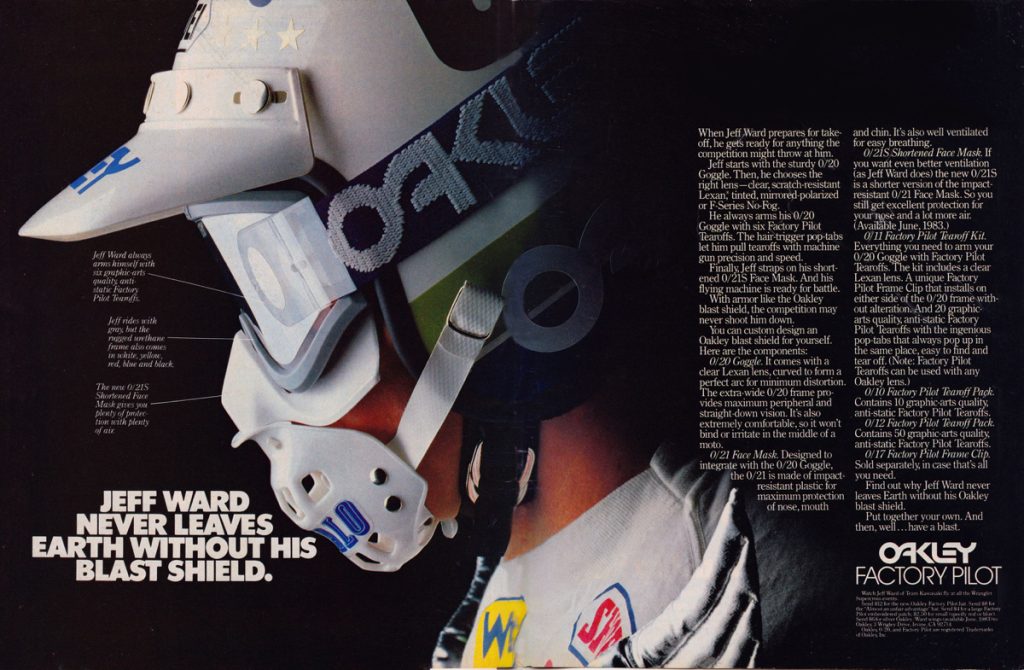 The Flying Freckle: More Top Gun badassery by Jeff Ward in this alternate version.
Unfortunately, once I was actually able to afford a set of Oakley goggles, I quickly found out they would not fit over my glasses…sigh. As a member of the four-eyed club, I was forced to run Scott OTG instead. Of course, that did not stop me from plastering an Oakley Factory Pilot sticker on my steed anyway. Then, as now, I was never going to let a little thing like actually using the product stand in the way of a good sticker. 
Matthes: Wardy rocked an open face for so long! Can you imagine just eating roost off a 500 with that little Jofa on?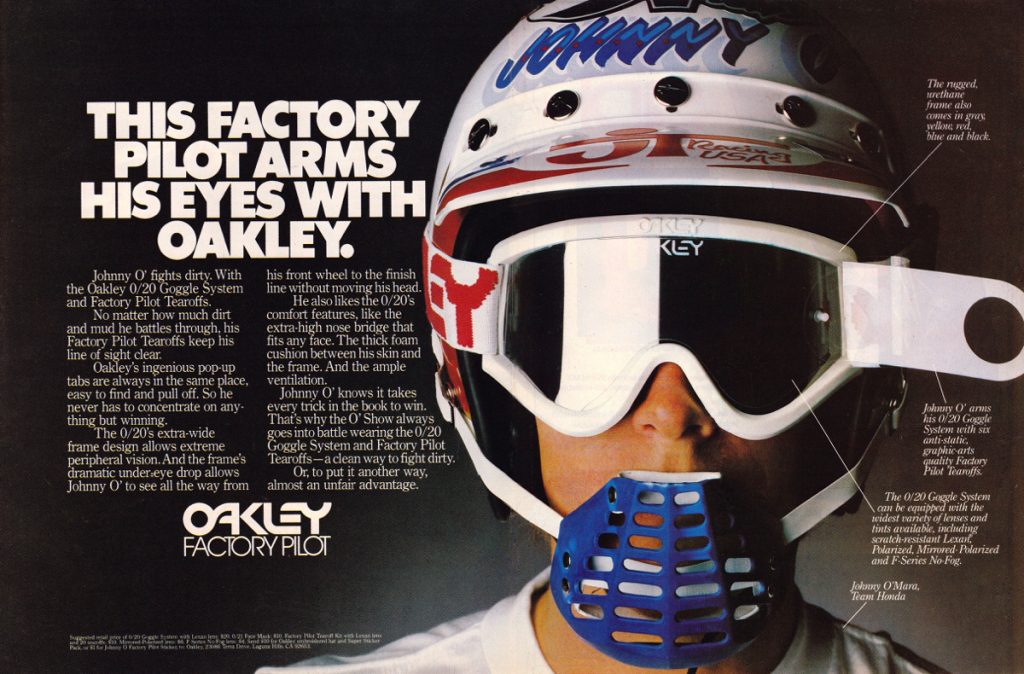 O'Show: While I generally can not find any fault with the style of Johnny O, I can't say that I liked this JT Racing Mouthtrap nearly as well as the Jofa versions run by Barnett and Ward. 
Matthes: Nope, the JT mouthpiece was cooler Blaze, that's all there was to it. Whenever I saw local guys wear them it seemed like they always needed to tighten up the guard because it would eventually end up down around their chin.
Today, Oakley remains a major player in the motocross industry. Jim Jannard is no longer at the helm, having sold the company to Italian eyewear giant Luxottica Group in 2007, but they have continued to stay true to their roots by supporting motocross and motocross' athletes.