Dunlop recently introduced their new MX53 intermediate to hard terrain tires last week to the media at Perris Raceway. I was excited about the new tire from Dunlop because quite frankly there hasn't been an intermediate to hard terrain tire that I have been over the moon about in a very long time. I usually am stuck with running a soft to intermediate tire at most tracks, but that always isn't the best decision once second motos roll around. I have been able to ride with the new Dunlop MX53 tires at more than five different tracks, with several types of soil, over the span of seven days. I have put almost 10 engine hours on the tires as well as experimented with air pressure settings. Here is what I know about the new Dunlop MX53 tires.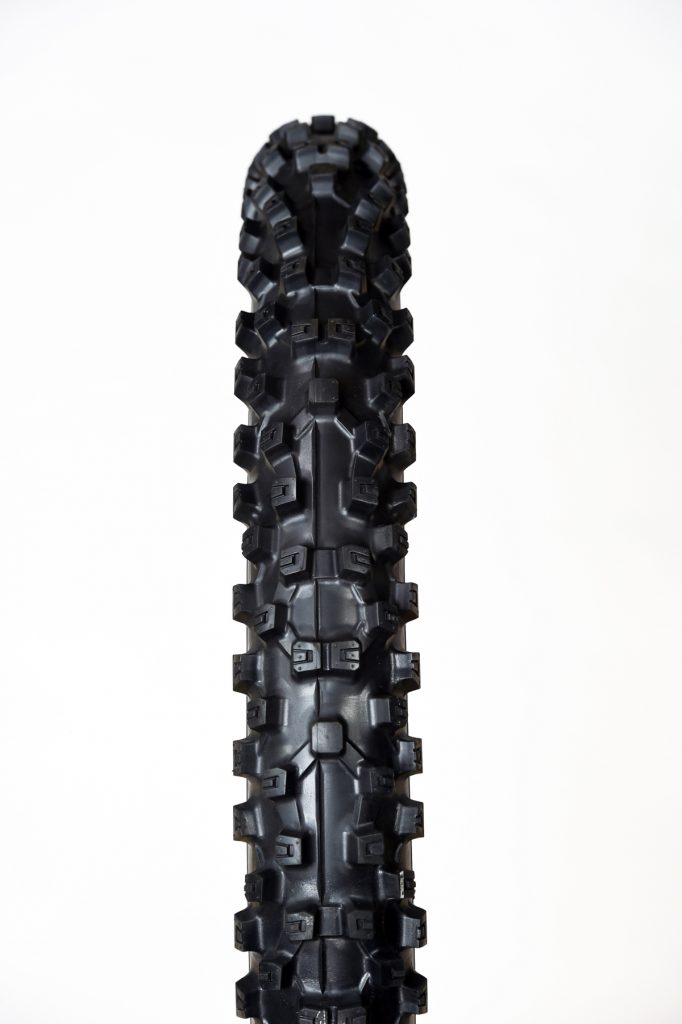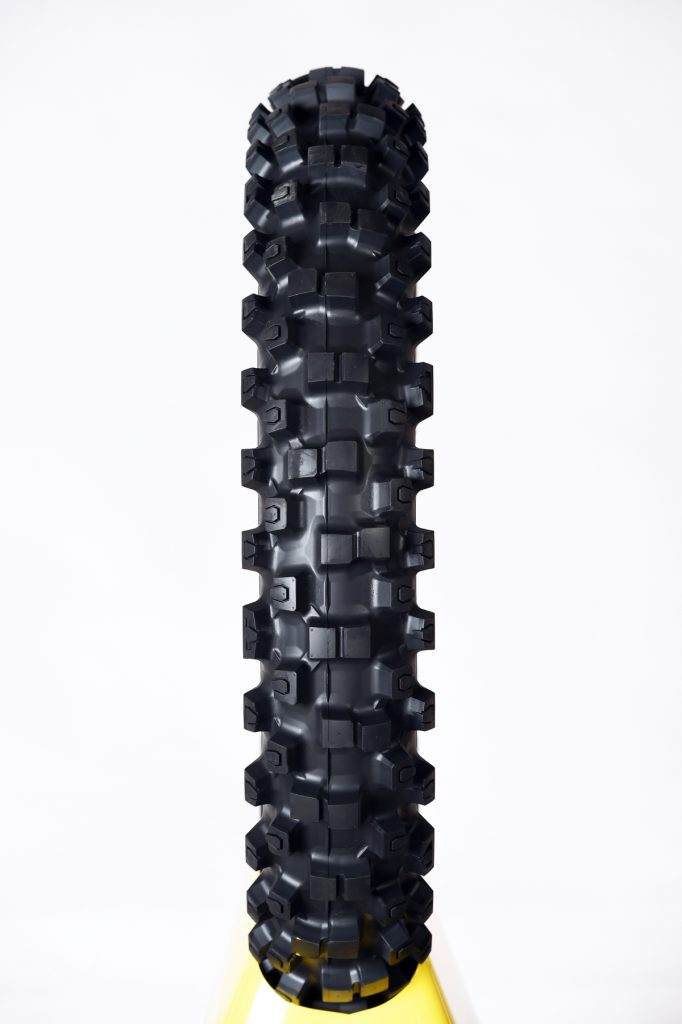 Tread Pattern (From Dunlop):
Front Tire: Dunlop has introduced a horseshoe shaped cluster of knobs to the front tire of the MX53. This horseshoe pattern acts as a giant claw to dig into the ground in order to try and give the rider more traction on hard-packed terrain as well as maximize braking grip. This bold new pattern features hollowed out portions of the center of the tread. The hollow area of this horseshoe cluster results in less stiffness in the center of the tire, in order to give riders better feedback and more compliance. The MX53 also has a taller profile than the previous MX52, providing gentler handling, a higher lean angle and better maneuverability. Additionally, each of the blocks are 1 mm higher than the MX52. This extra height is crucial in allowing the MX53 to perform better in intermediate terrains than the MX52 ever did.
Rear Tire: The rear tire enhancements include a reemergence of Dunlop's Tornado Wave block distribution. The staggered placement of the rear tire blocks provide a more linear land ratio for a better ride compliance. The consistent placement of knobs along the shoulder of the tire increases confidence at greater lean angles. However, the interior blocks have more separation, which allows loose soil from softer terrains to clear the spaces more easily, while also exposing more surface area of the knobs to the dirt when more traction is needed for harder surfaces 
Progressive Cornering Block Technology:
Dunlop's patented Progressive Cornering Block Technology has become an industry standard. A smaller block within the traditional knob, commonly known as Block-In-A-Block, has been incorporated into Dunlop's rear off-road tires for many generations of tire patterns. Dunlop continues to raise the bar by evolving this traditional block into altered shapes to increase durability and tire performance. 
Block-In-A-Block: The new Geomax MX53 now also features Dunlop's patented Block-In-A-Block technology on the front tire, which allows enhanced flex on each knob resulting in ultimate grip and even more biting edges. The tie bars connecting the base of the knobs add heightened durability to enhance performance in harder terrains. The 
individual flex of each knob improves linear tracking and aids in steering, as the block can now flex around various terrain elements. 
The Block-In-A-Block technology in the rear tire incorporates the Diamond Block design that was introduced with great success on the MX33. The diamond shape of this altered knob increases the surface area of the block, enhancing stability and slide control. Two additional angles increase the number of biting edges to dig into the dirt. The updated Block-In-A-Block shape has also been added to the rear tire along the shoulder. This wider knob provides a steady base to maximize traction along the outer edge of the tire's surface.The compound for the MX53 tires has a higher number of molecular polymer particles. This results in a higher fracture strength, meaning more durability. Dunlop has also added more fine carbon particles. The carbon par-ticles are responsible for grip.
Construction: In the construction process of the MX53, Dunlop has added Advanced Apex Design technology. This component of the tire's construction is present in both the front and rear tire. The Apex of the tire previously consisted of a small strip of material wrapped around the apex of the bead. By extending this apex further into the tire's natural construction, Dunlop is able to increase ride compliance by spreading the forces of weight on the tire across the breadth of the profile. Distributing the force in this manner increases bump absorption and allows more flex and better ride compliance. Incorporating this element strikes a perfect balance between a plush ride and a firm feel.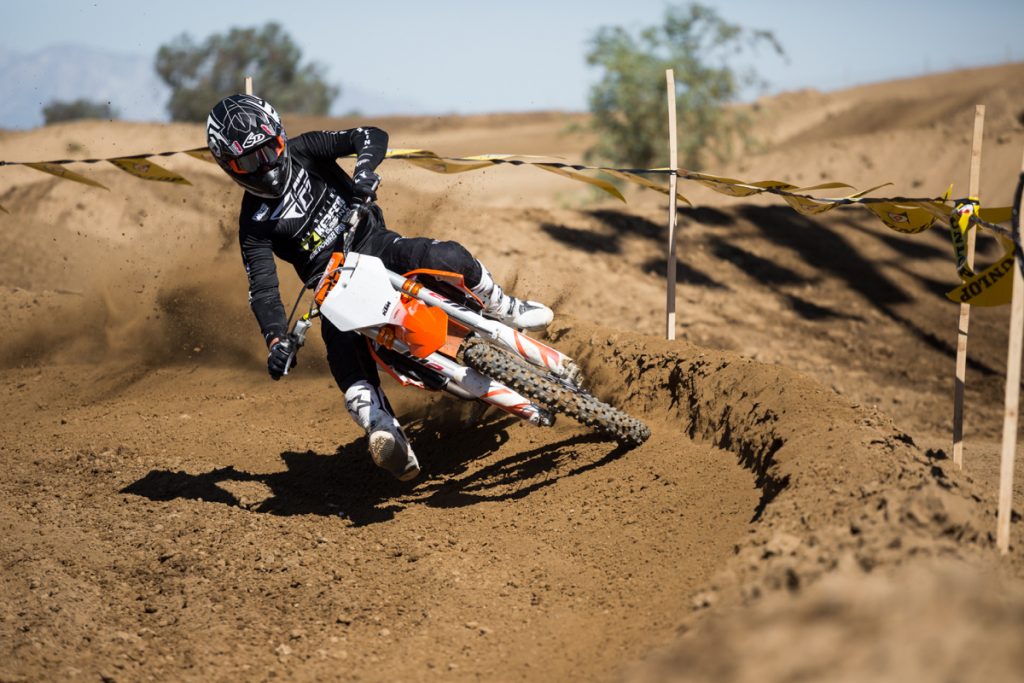 On The Track: I managed to ride five different types of tracks and I will be completely honest here; I came away with a more positive outlook on these tires than after the first day of testing, at Perris Raceway. As you may or may not know I am a front end steering type of rider and I am not a fan of the Dunlop MX33 or MX52 front tires at alI. I am a picky SOB when it comes to front tires!! I was forced to purchase any remaining MX3S front tires that were available and mix matched my way around Southern California with different front to back tread patterns. 
The Dunlop MX53 front tire impressed me on the first day of testing, but it wasn't until after day two (at Glen Helen) that I realized that I could actually like an intermediate to hard terrain front tire better than a soft terrain front. The MX53 front tire lean angle traction inspires confidence in terrain that is anywhere between soft-hard pack. In pure sand conditions the front end is a little loose feeling on entrance of corners, but if the track is still fresh in the morning with tilled up loam, the front tire tracks very well. I can predict where the side of the MX53 will break loose, how much I am able to lean through corners, and that feeling never waivers throughout the course of any day. Unlike the other MX33/52 compounds where they washed unexpectedly on initial lean, the MX53 bites and give the rider predictability. Another positive aspect to the MX53 is lack of front tire sliding when braking. Grabbing a handful of front brake (lean angle or straight line) into a corner leaves the rider with a sensation of a more contact patch feel that is wider than any other Dunlop I have tried to date (especially on lean angle braking).
Flat corners (while on throttle) or medium lean angle sweepers gives me a more secure/planted feel than a MX33 or MX52 and doesn't leave me with a feel of washing the front end out. As much as I love the MX3S front tire, even that tire isn't as good in this area of the track. The carcass of the front MX53 tire also has enough cushion to where it doesn't make your front end feel harsh on braking bumps like the MX33 can do at times on intermediate/hard pack tracks. For as much time as I have on the front tire the reliability also seems to be better than the MX3S, but I will continue to put more time on the tire to see where its "breaking" point is. The overall integrity/feel of the tire still remains intact with almost 10 hours on it. The only real negative I have found to this tire is the air pressure setting is crucial, so running a 13.5 air pressure setting is the number you will need to achieve. Going higher in air pressure will leave you with less lean angle grip on dry/wet slick surfaces and going lower will leave you with a carcass that is extremely soft feeling on braking bumps.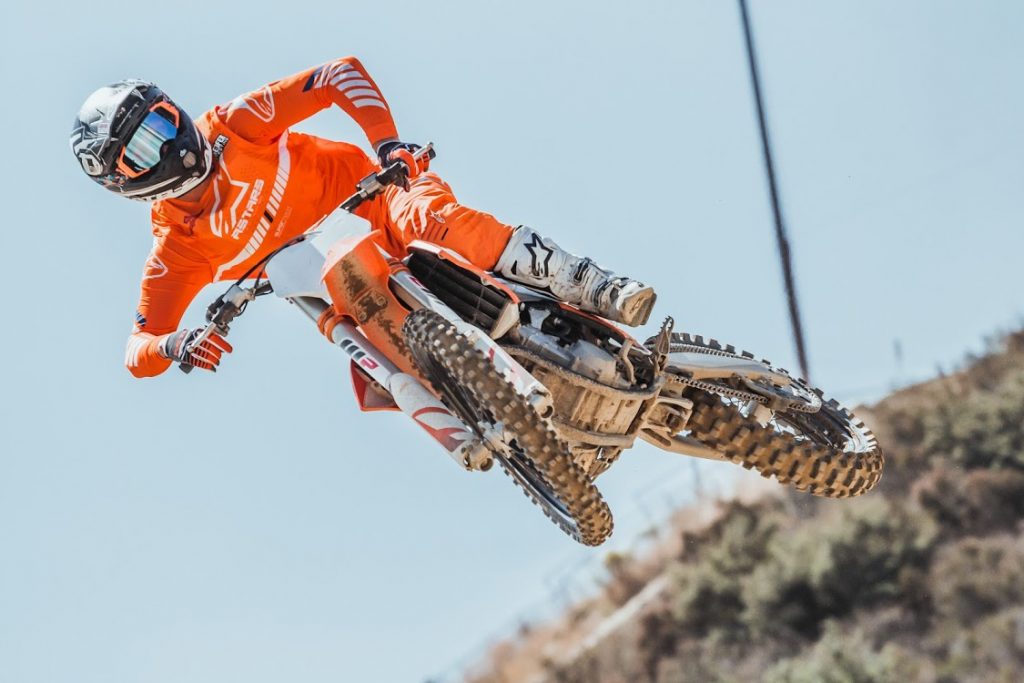 I am not as picky when it comes to a rear tire, but the MX53 rear tire has a narrower "terrain window" than the front tire. However, it's still impressive on intermediate-hard terrain, it just doesn't have much forward bite or tracking when the track has deep sand sections. If the track is softer in nature the rear tire doesn't bite into the ground as good as the front does, so if you're a rear end steering rider you may want to stick with a MX33 in softer stuff. The MX53 has a comfortable carcass feel on square edge and braking bumps, but just know 13.5 or even 14 psi is recommended. I tried Dunlop's recommendation of 12.5, but found myself feeling the tire squish too much on the rim on acceleration bumps. When it comes to entering shallow hard pack ruts I have yet to feel anything better than a MX53 in this area of the track. The rear end tracks into the ruts superbly with a positive lean angle and lets you get on the gas earlier because the rear end of the bike feels planted sooner. Another area I gave the MX53 high marks was under braking. When braking into corners there was much less slide with the MX53 than the MX33 and that really helps when you're asking your motorcycle for traction/bite when diving hard into a corner. If you're a rear end steering rider, having a rear tire that slides a little more under braking might be better for you, so look into a MX33 if you're that type of rider. Just like the front tire, being on the gas while under a medium lean angle suits the MX53 rear tire. The contact patch that the rear tire lays down for you is better than any other intermediate to hard pack terrain tire I have tried as well as allows for a more controlled scrub up faces of dry/hard pack jumps. The rear end will not want to wash as quickly up the faces of jump when leaning, which can allow for a lower trajectory. With almost 10 hours on the rear tire, its performance hasn't dwindled a huge amount and is consistent enough for me to continue to put time on it. 
On wet/slick track conditions (think hard pack with water on top) the MX53 front/rear tires fling sticky mud out from in between the knobs well enough for me to be fairly aggressive, but just note that I have yet to find a production tire that works extremely well in that type of condition. Overall, these Dunlop MX53 tires have changed my outlook on running an intermediate to hard terrain tire on a wide variety of tracks. Having a tire that is consistent enough to run in the early morning motos as well as the late afternoon motos is tough to do, but Dunlop has done a good job with providing us a tire that is capable of doing this. 
Forecasting Questions: Before my email inbox blows up with MX53 questions, let me answer some that may come through the pipeline. 
Kris, what do you like better? The MX3S or MX53? As of right now I can stand here and say for California tracks I would like to run the MX53 tires 9 months out of the year. If we get a lot of rain and the tracks are soft I will run a MX3S front and MX33 rear. If you're an east coaster and ride soft conditions I would run a MX3S front and a MX11 rear. 
Kris, what about durability? Will these knobs chunk off? At the 10 hour mark these MX53 knobs haven't chunked off. The MX3S knobs have chunked on me around this time, but you have to know what type of tire buyer you are. Are you a performance or durability based tire purchaser? It is extremely difficult to get both of these into one tire. For me I would rather take a 10-12 hour tire that has excellent grip than a 20 hour tire that has low grip/high. However, not everyone is like me, so if you're a weekend warrior and do not care about performance as much, but want more durability, then you might want to look into a cheaper tire manufacturer price bracket. 
Kris, what sizes do the MX53 tires come in? Dunlop offers the MX53 for all size bike ranging from 50cc-450cc including 18 inch sizes for you off-road guys. 
If you have any more questions about the Dunlop MX53 tires or even the MX3S front tire that is making its way back into production, please feel free to email at kris@keeferinctesting.com.