Photo: Shawn Hanson
The Red Bull Straight Rhythm was unleashed on RedBull TV once again this last Saturday and as Red Bull is apt to do, they improved upon the event for the 4th consecutive running.
It should come as no surprise. Red Bull has positioned themselves through their decisions and execution, as the brand not afraid to test boundaries or the rules of convention. They are certainly not run like most businesses or brands in this day and age of conservancy and "trying not to lose". This stands in stark contrast to the majority of approaches used in our sport when it comes to forming and implementing a business plan.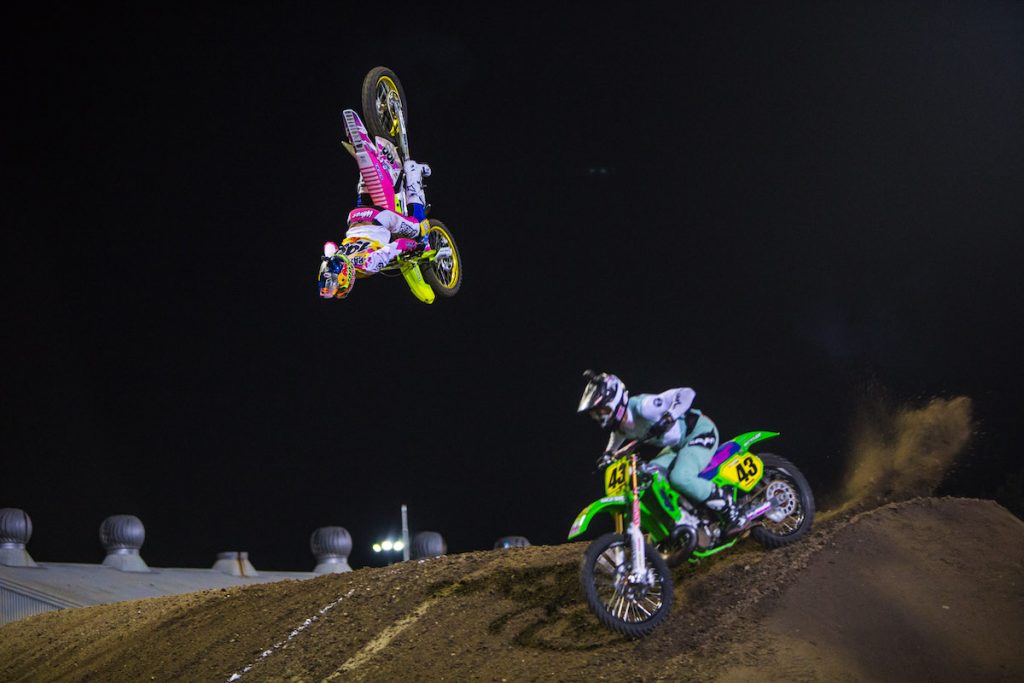 Thinking about Red Bull's progressive approach in our stagnant to declining overall trending line in Motocross and Supercross, really got me worked up. It's not necessarily the promoting groups that have much to do with this downward trend but mores the acronyms I point my finger at. Stick with me here, I'm mostly talking to people like Steve Matthes. The guys who have been in the trenches for years and hold a particularly jaded, realist, view of how we got where we are and the wholly pessimistic view that nothing will change.
We all know how we ended up in this dead end of twelve-thousand dollar four-hundred fifty cc motocross bikes. A lax AMA rulebook, highly innovative and motivated Japanese engineers and the commonly understood aspect of human nature to choose the path of least resistance. The grass is always greener on the other side yes? For decades we had been saturated in 2-stroke bikes. Narrow power-band possessing machines that magnified rider error and put a premium on technical execution and therefore narrowed the field of who would be capable of excelling and dominating. 4-strokes in this era were turds. Incapable of being battered and abused in a motocross setting in the same manner that the 2-strokes were. Once the excuse of EPA regulation was brought to light, 2-stroke innovation reached the ceiling of what OEM's were interested in and of course when that supremely outdated AMA rulebook was given a quick glance; the OEM's were all to eager to pounce on the 4 stroke opportunity. It didn't hurt that with the 4-stroke development came higher price points and wider profit margins for the OEM's.
And here we find ourselves now some 22 years after Doug Henry cemented the fact that 4 strokes would take over. Factory Suzuki is on the verge of pulling out of racing, the two main classes of racing have the most cost prohibitive entry into the sport ever, horsepower means more than a riders technical proficiency and Supercross tracks can no longer provide an ample challenge for the tractable horsepower on tap.
I hate the argument that we all wanted to end up here. In the beginning sure it was novel to jump on a newer purpose built 4 stroke and experience the ease of going faster with less effort, like I said "the path of least resistance". The grass really was greener on the other side… but now that grass is thinning, yellowing and become a fire hazard.
Watching Red Bull Straight Rhythm made this more apparent than ever. It's not just a nostalgic feeling. Fans want to watch two strokes and the added necessity for rider proficiency to return. Participants want to be able to afford racing again and you'd think the OEM's would be smart enough to realize that selling more units at a more reasonable price point would equate to more profit. Maybe Suzuki wouldn't have to sweat bullets as the next racing season approached, wondering if they could actually participate in the sport they create product for.
Let's pretend for a moment that the EPA argument really is at the forefront of the cause for the 2 stroke obsolescence. The displacement of the premier class needs to be reeled back in. With a simple pow wow between the two acronyms which have gotten us in this situation, AMA and OEM's, they could cooperate to an agreed upon timeframe and reassessed competitive displacement for the two main racing classes at the elite level. This would assure the OEM's ample notice for research, development and tooling reappropriations.
For the sake of the sport, please let's have some transparent communication before this downward spiral takes the sport from niche down to unsustainable.