Fire Power Featherweight Lithium Ion Polymer Battery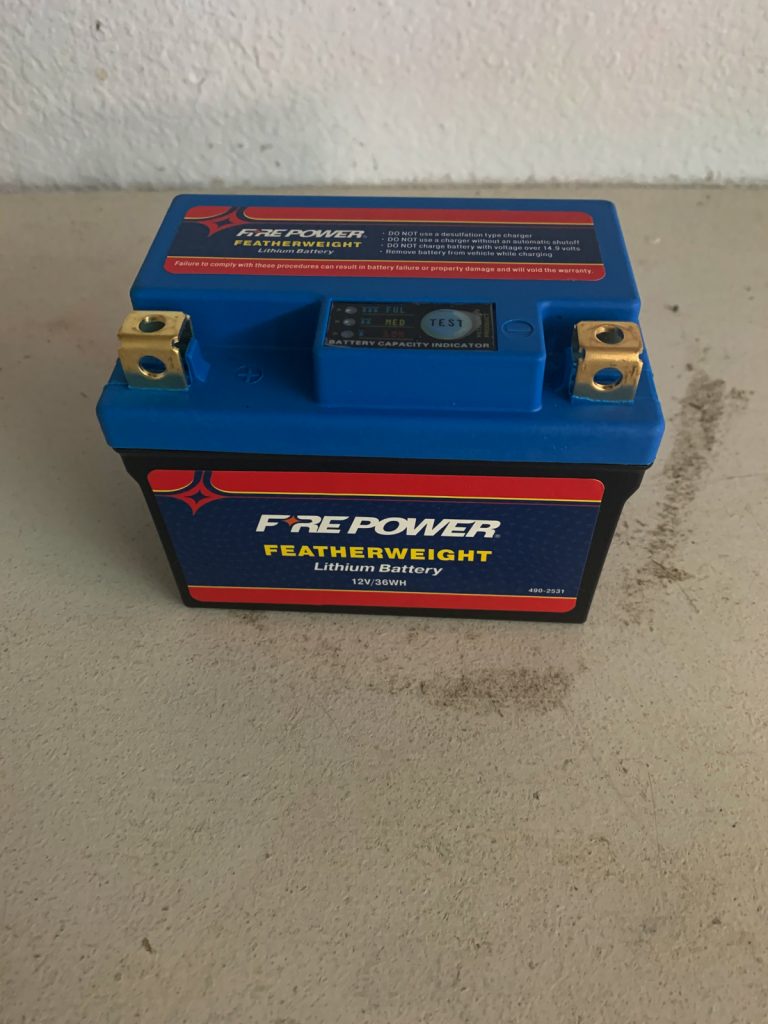 Fire Power lithium batteries are for use in Powersports vehicles only (motorcycle, scooter, ATV/UTV). Fire Power batteries are direct replacement batteries for your vehicles original battery. Fire Power batteries have Lithium Ion Polymer technology and all components are designed, manufactured, assembled and packed in one location assuring high quality and consistency. The Fire Power battery that has been in our Yamaha YZ250F is extremely lightweight at 1.06 pounds (stock is 1.5 pounds), has a built-in LED test gauge so you know when your battery is at full charge, half full, or has a low charge. I also noticed that the Fire Power battery has increased cranking amps over a lead acid battery that I tried in my dad's older Honda. I have yet to recharge a Fire Power, but from what I was told (from my test rider Michael Allen) that the recharge time literally took him 7.5 minutes in order to get the battery up to 90% charge. Fire Power was claiming six minutes, but nonetheless that is a damn quick charge and not to mention that you can charge it with any 12 volt battery charger as long as it has automatic turn off capabilities.
The lifespan of the Fire Power has been much better than that of our stock 2019 Yamaha YZ250F battery, as we are still on the same FP from last winter. Just for the sake of testing I ordered a new Fire Power battery and have let it sit for almost one year and it still is holding a full charge. I will say that we haven't had too many cold nights here in Southern California, but after having two dead stock batteries in my Yamaha as well as my KTM/Husqvarna in that same span, the Fire Power is doing great in my book. Another aspect that I didn't know too much about, but is a cool feature is that the Fire Power can be mounted in any position, just in case you're trying to modify or get more room out of your airbox like my good buddy Gary Sutherlin did with his Yamaha YZ450FX back in the day. The Fire Power has no hazardous acid or heavy metals, it's non-explosive and non-combustible. It comes with a two year warranty and will only cost you around a $100.00.
Fire Power Heavy Duty Chain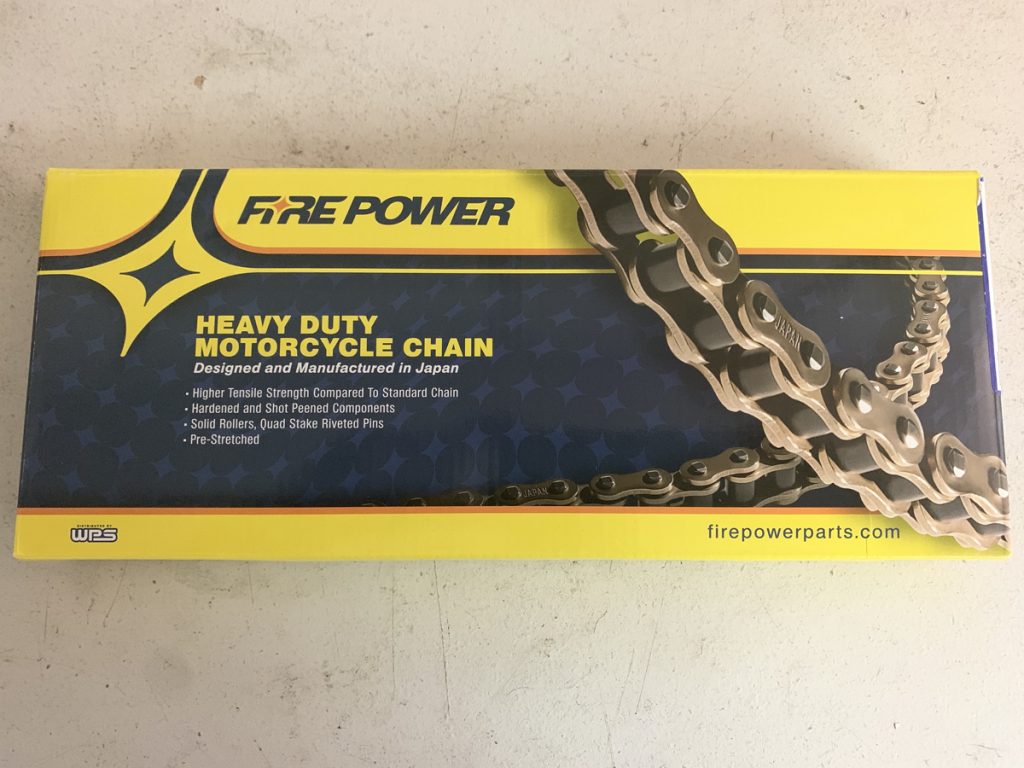 I go through chains a lot because most of the time I am a non o-ring type of moto rider. I also know that cheap chains are very unsafe and I have broken more than a couple in my time. NOT COOL!! There is nothing more scary than snapping a chain while you're taking off from a jump. I have been a huge DID ERT2 fan for as long as I can remember because I have had the best luck with those specific chains. Switching to a Fire Power chain was something that quite frankly I wasn't too sure of… Until now…
The Fire Power Heavy Duty chain is designed and manufactured in Japan, has an 8,000 pound tensile strength, comes in a 428/520 pitch, has hardened/shot peened components with solid rollers, comes pre-stretched, and all Fire Power chains are supplied with clip style master links. I usually just get a 120 link chain and cut to my desired length so that I can place my rear wheel where I like it. Once installed the Fire Power chain will initially stretch the first couple times out and then I literally didn't touch it for a solid 4-5 engine hours. I keep it lubed before every ride and it has treated me well. I have ridden with the Fire Power chain on my YZ450F, KX450, as well as the KTM 450 SX-F with the same results. Conditions have been from sand, mud, dry silt, and the occasional trail ride from the house.
Under those conditions I have gone anywhere between 10-18 hours on chains in the past and the Fire Power chain is on it's 16th hour. Around the 16th hour I felt like it was loose enough to where I decided to retire it (per my judgement) and install a fresh one. To get a chain that I can trust in that amount of time for under $50.00 is almost unheard of. I would recommend the 520 Fire Power Heavy Duty Gold Chain to any weekend warrior looking to save some money and get a quality product.
If you have any questions about the Fire Power products in this test, please feel free to email me at kris@keeferinctesting.com