The biggest hyped race of the year did not disappoint Saturday night. Round one of the Monster Energy AMA Supercross Series in Anaheim, California was action packed and I will indulge into a few things that I witnessed on the track, off the track, and even in the pits. Let's get this party started shall we…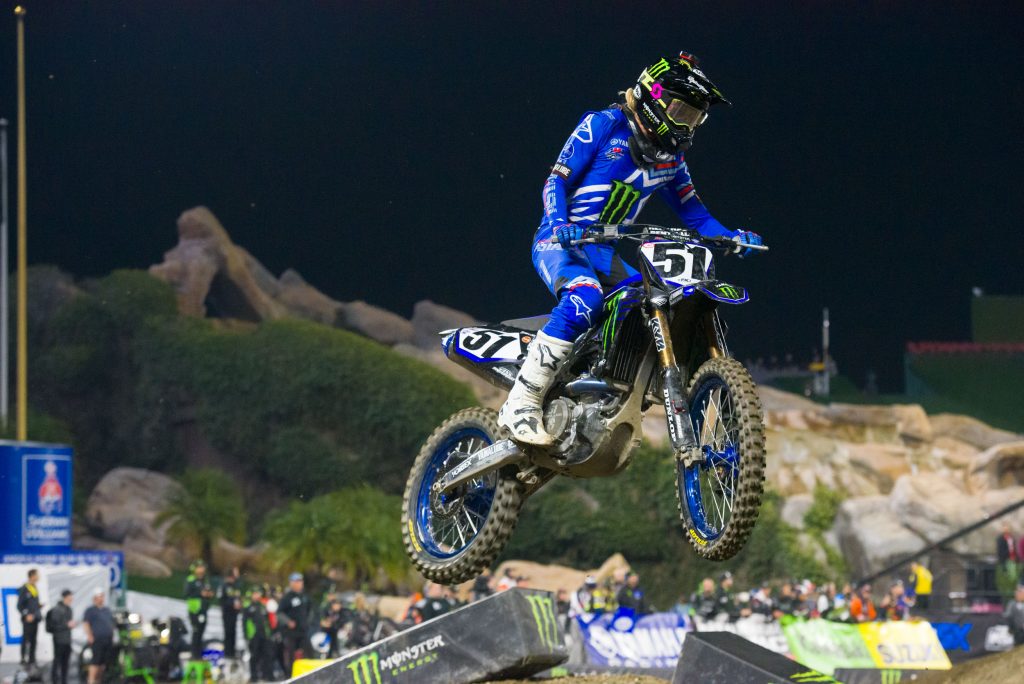 Justin Barcia And His YZ450F: Two A1's in a row for JB51! However this win is a little different than last year because the factory Yamaha team had to work through a fairly new 2020 YZ450F. With the 2020 YZ450F chassis much different as well as some updates to the engine, this win was over three months in the making. Unless you've been living under a rock you know that Barcia has been vocal about riding a stock-ish bike most off-season. In the off season Yamaha re-acquired one of their chassis engineers, Sergio Avanto. I worked with Sergio when I was at Yamaha over ten years ago and he's a very outside of the box kind of engineer. With his knowledge as well as Travis Preston's production testing background they started from square one and built the factory Monster Energy Yamaha YZ450F from the ground up. Barcia couldn't ride last year's bike the way he wanted to (AKA revving the shit out of it and moving around on the bike a lot) so the team told him to ride a completely stock 2020 YZ450F and give his feedback to the R&D team. 
Once he tested the stock bike, he rode it that way for a month or so after the last round of the outdoor nationals. The team collectively decided to carefully add parts as A1 drew near in order for Barcia to NOT have to change his style of riding. Barcia's A1 YZ450F spec only has very mild work to the cylinder head, cam, and he even is using the stock ECU with a map that is similar to the TP 3.0 map, that us normal YZ450F folk are using! The Pro Circuit muffler is a factory spec, but past that everything else is very close to a production YZ450F. As a fan of the sport and a guy that rides a YZ450F a lot, this gets me excited and almost makes you feel more connected to Barcia's win because of how close his bike is to the common man! From the time Barcia got on the track you could tell that the old Bam Bam was back. Jumping off the track and then immediately attacking AC in the same corner is classic 2012 BAM BAM! That's the guy we love, that's the BAM BAM that can string together some wins in this series. This win is huge for number 51 and Yamaha, but let's just hope he can keep it together for the full series. St. Louis will be a great test for the new bike as the Yamaha has been notoriously known to be not as good on softer terrain.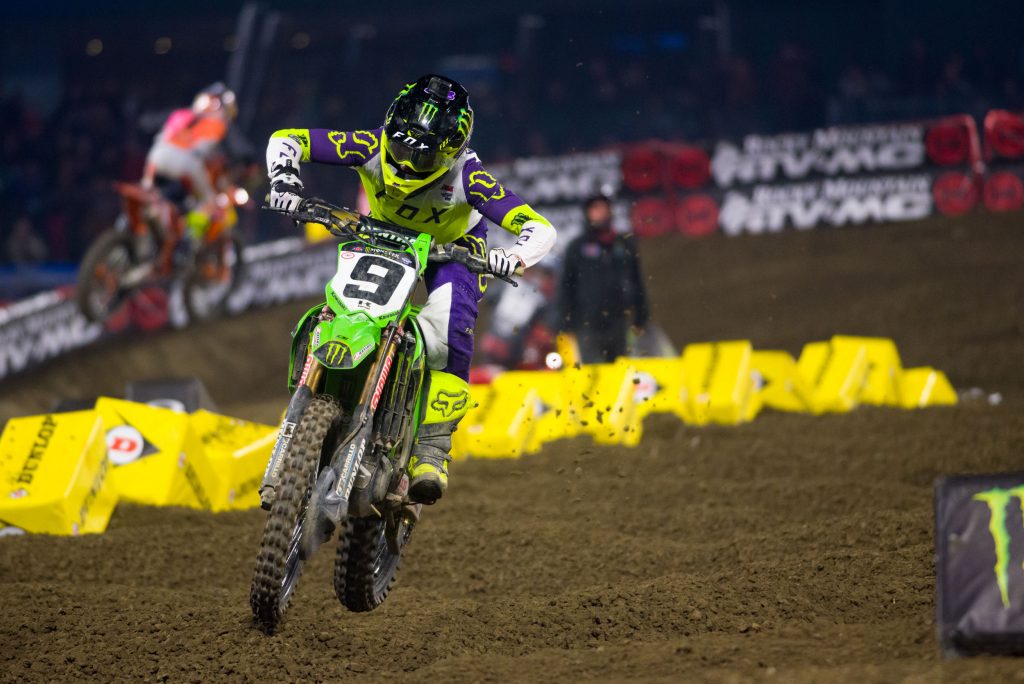 Adam Cianciarulo: Look, if you would have told me that AC would have looked this good at A1, I probably would have slapped you across the head and said "you be trippin"! I know AC is a bad dude on a dirt bike, but to look this poised and calm was making me nervous. I was sitting in the stands watching AC in the second practice session with Nicoletti and he even was mind blown on how he was a second faster than the second place rider. AC had the fastest lap in lap nine of the main event and looked to have Barcia under control until that Anaheim moisture decided to make its way out of the ground. In my years of racing Anaheim you could always count on the moisture to make its way back out around 9:15PM, like a zombie coming out of the ground to kill any warm blooded human walking the earth. That guy was almost AC! He almost went down, but his newfound strength held him on his Kawasaki and kept him on the podium for the first round. I don't think this type of AC dominance will occur on a weekly basis, but it's nice that we have "another" guy to mix it up in the series.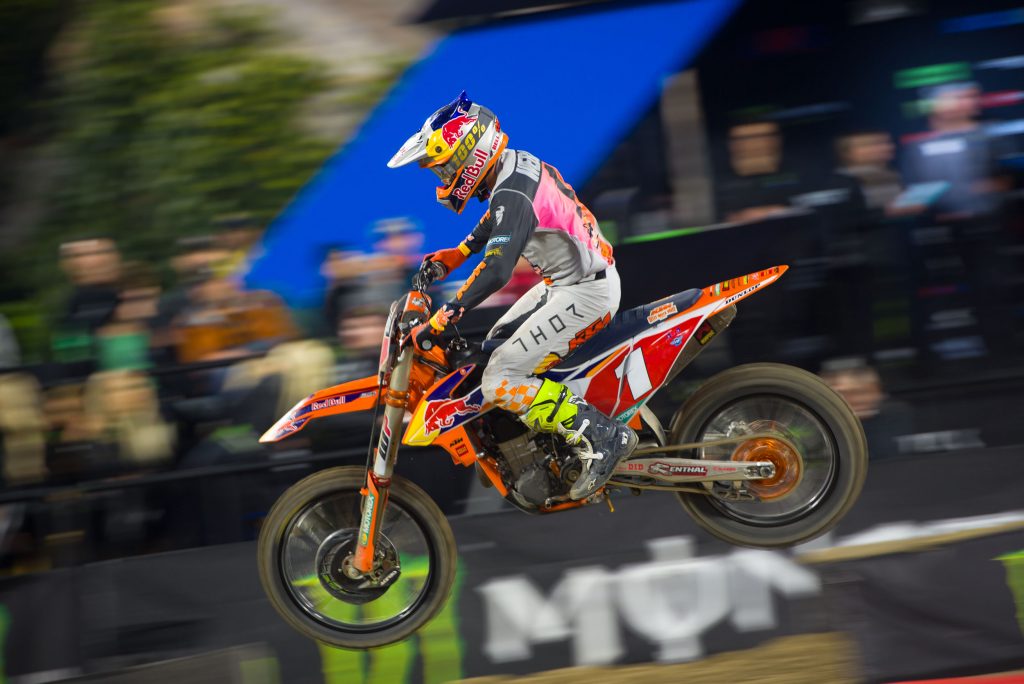 Cooper Webb: When they interviewed Webb for the TV broadcast, I was like uh oh, I know that sound. That's the sound of being drained, foggy, and even lethargic. In other words… Feeling like shit! Oh and you have to race your dirt bike at the highest level, that sounds great. He looked like shit in practice and I was thinking if he can just get a top ten this weekend, it will be a huge feat. But in true Webb fashion, he digs deep, is a pain in the ass to get rid of, and is so strong minded that he willed his way to a third place. WTF! As impressed as I am with AC, I am more impressed by the turn around Coop had in the main event. It's funny because I think most of the media has basically written Cooper off for getting a repeat title, but I know better. I know how strong this dude is upstairs and that is the most powerful tool known to man. Cooper is the new Chad Reed in the "mind strong" department. Look for Webb to recover and get back up to the front ASAP.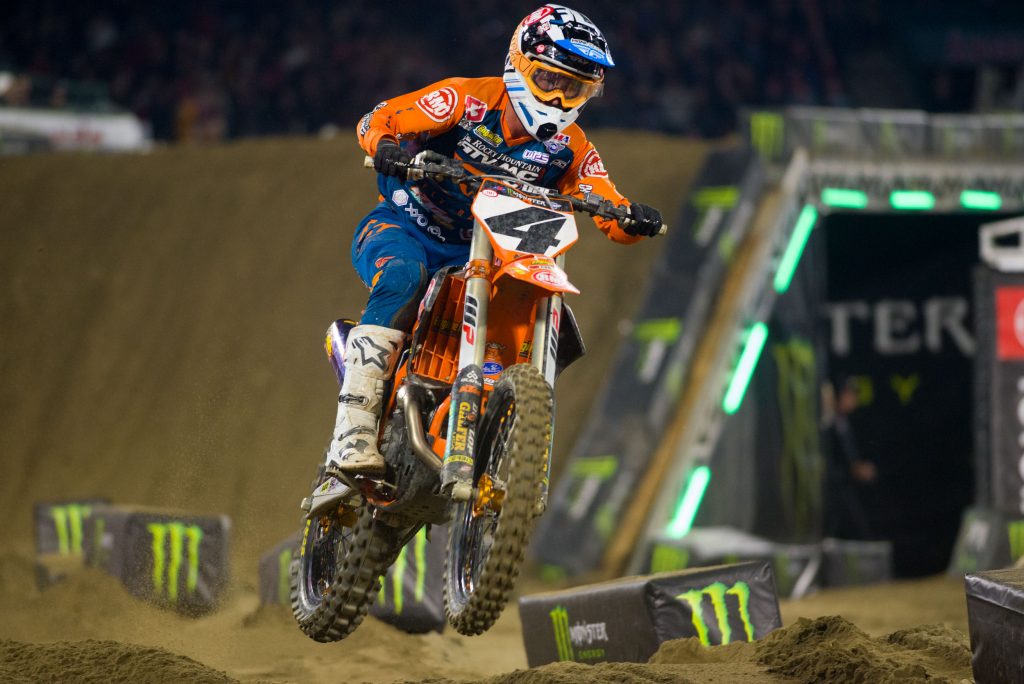 Blake Baggett: Have a cool wife. Have a family. Have a good bike. A good team. Be in shape. Get great results. It's not rocket science. BB4 looked very good for an A1 race. He never looks this good early so this is bad news for the rest of the riders. Blake will get better as we move east and it wouldn't surprise me to see him on the podium next weekend in St. Louis.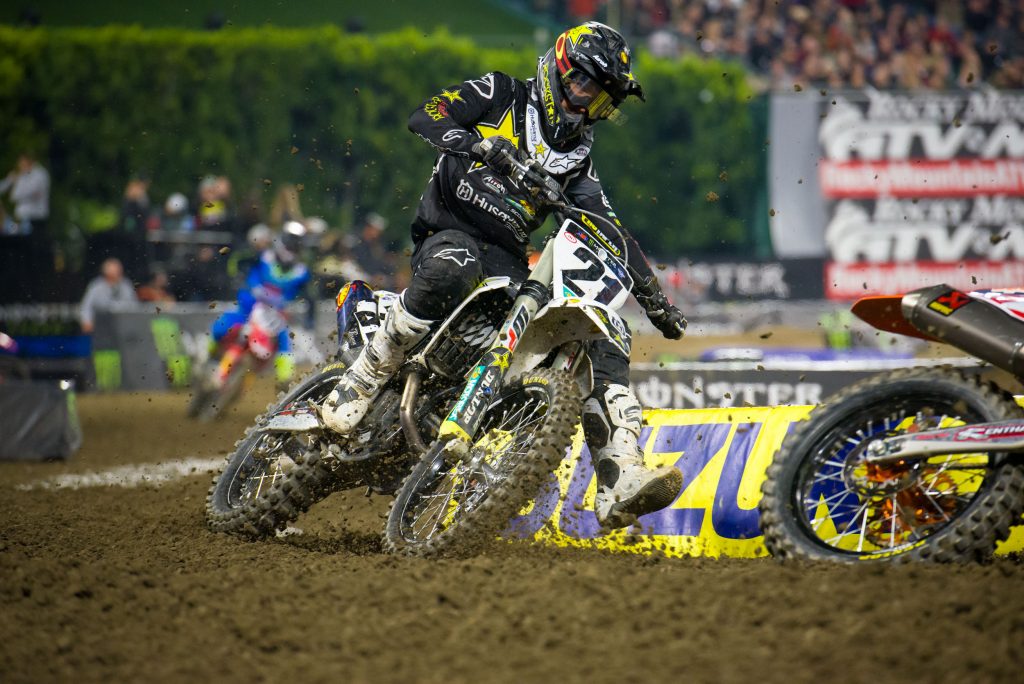 Jason Anderson: Team Fried had a quiet, but effective Saturday night. If you ask any rider if they would take a top five at A1, they all would most likely say "hell yes"! Jason was quiet all day, but his sneaky smooth style was perfect for the slippery, rough main event conditions.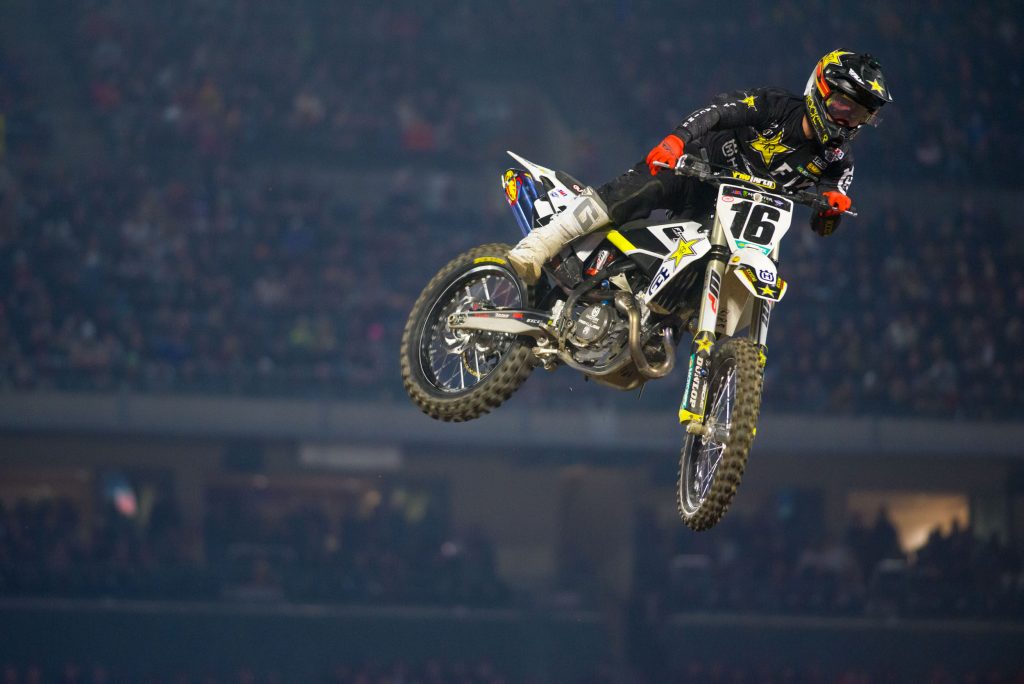 Zach Osborne:  Another rider that got bit by the flu/cold bug was Zach and boy did he have a rough go in Anaheim. A big crash in the whoops in practice and a big crash in the heat race just set the tone for a tough main event. Being sick and crashing is a recipe for lack luster results, but look for Zach to rebound come St. Louis. Did I mention that not having Zach's podcast is a bummer for me! I liked your podcast Zach! Come on, bring it back.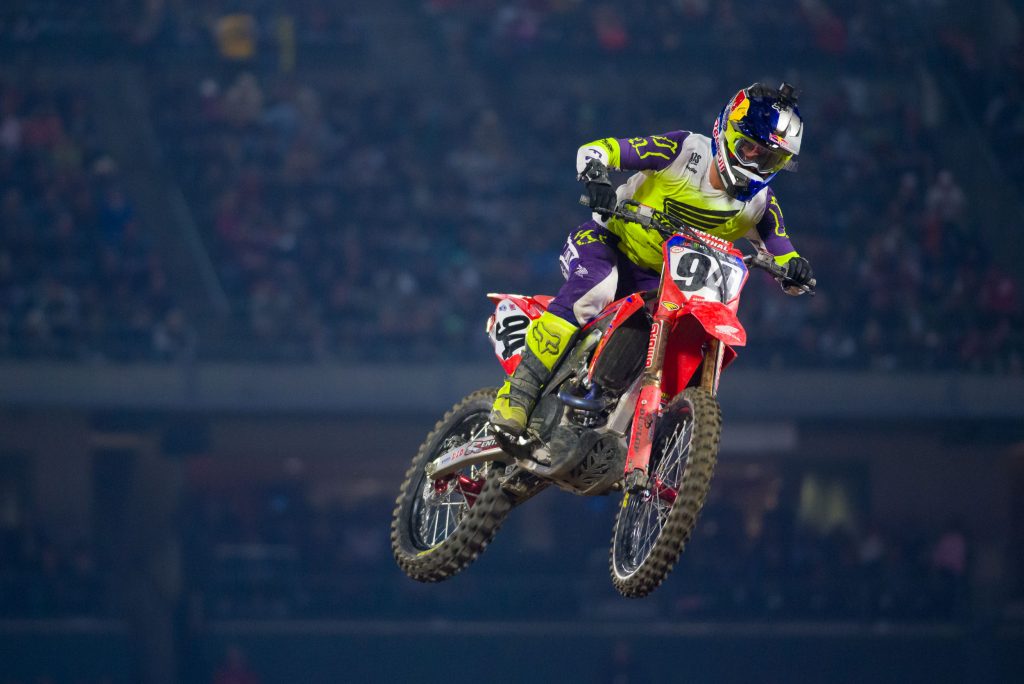 Ken Roczen: I expected Ken to be better, but I also did mention in our Racer X Preview shows that the Honda is the best in the whoops when they're big and round, but once the track deteriorates, the Honda's chassis is tougher to manage. I feel like Roczen needs to practice on whoops that are chewed up during the week because he's not as good when he has to jump through them. Hard, slippery dirt, with square edges are the Honda's weakness. Brayton wins the heat race, but also doesn't do well in the main. Coincidence?  I think not! I don't think this was a health or fitness issue, but more of a bike set up deal.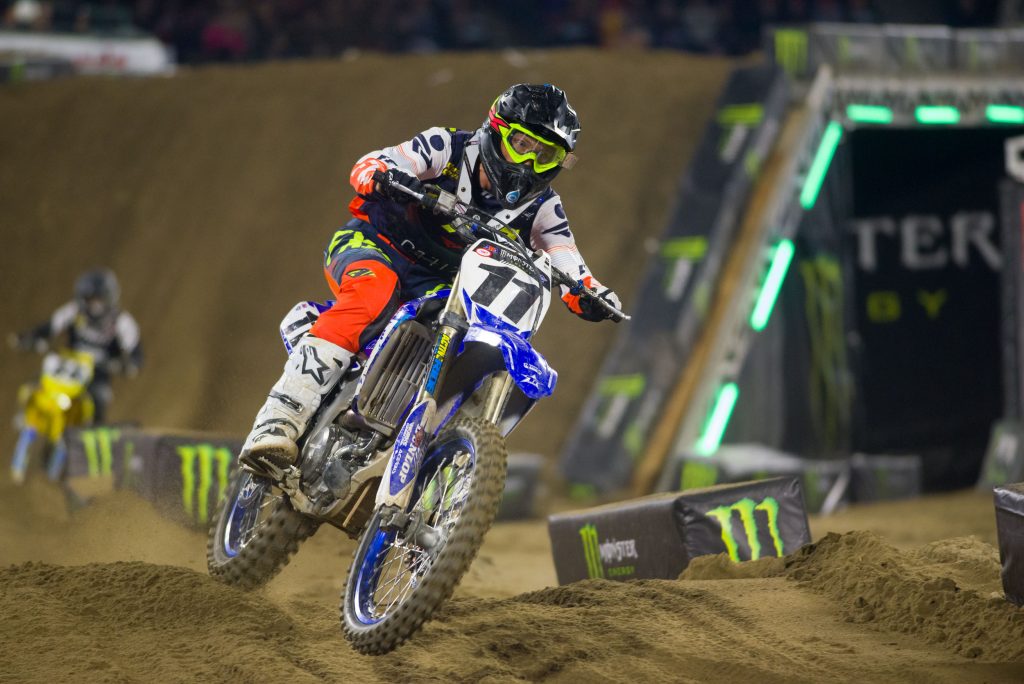 Kyle Chisholm: Chiz got his Yamaha a week or so before A1. Lots of texts back and forth between us on what to do to the Yamaha before the race, but there isn't much to add to the Yamaha, so I said "slap SX suspension on it and ride it". Chiz put into the main and proved that he doesn't need all the bells and whistles to make it into the show. Well played Chiz. Well played.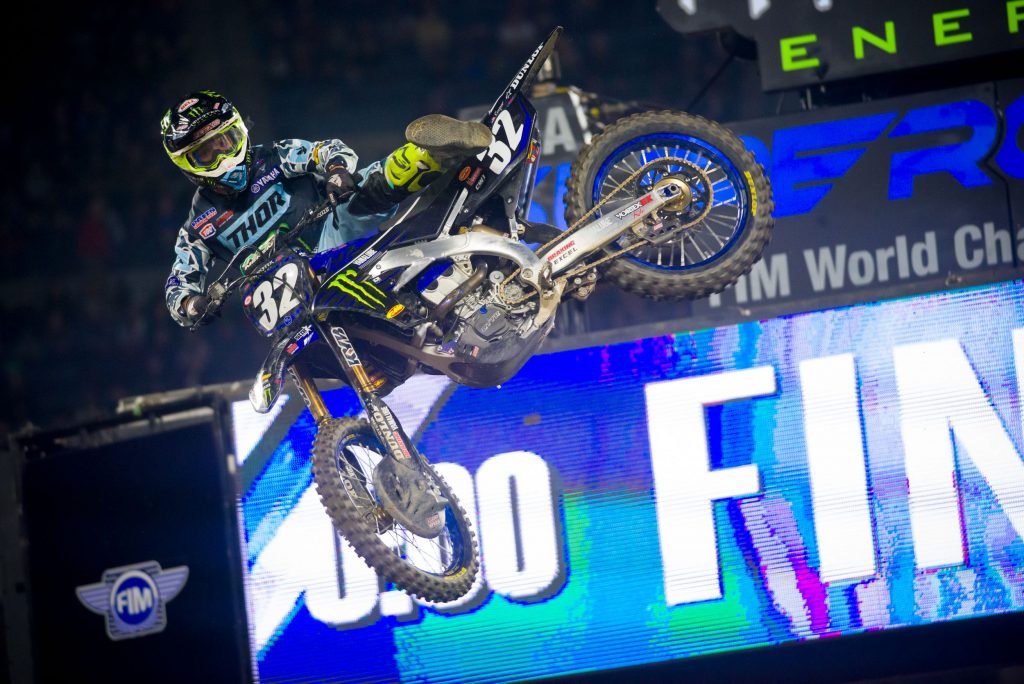 Justin Cooper: Not a lot of talk of Justin during the off season. He breaks his hand at MX Of Nations, comes back to win round one and his FIRST SUPERCROSS! It's weird to say that this is his first win, but it was and you could tell on the podium. The podium speech was almost as long as a Mike Alessi heat race win podium speech. Almost! I will say that he didn't look like the fasted guy in the field, but a great start has a way to get you a win when the fastest guy is back in fifth place. I will say that Cooper didn't do Forkner dirty in the heat race because there was enough room for Forkner to back it down. Cooper is aggressive and is much like Cooper Webb mentally. Head strong with the best bike in the 250 class equals a long season for the other riders with a different color on their machines. Yes, even the Pro Circuit Kawasaki guys!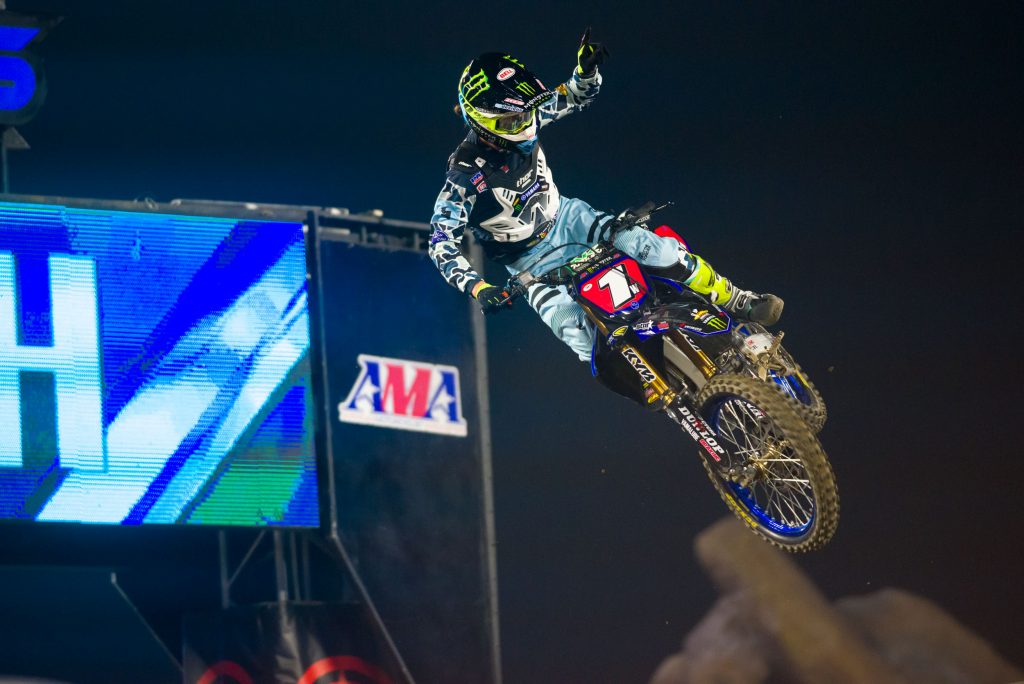 Dylan Ferrandis: When you see DV jumping up and down for Dylan you know Dylan is riding good. Ferrandis is so aggressive and is the best rider that can race/charge in between the jumps, which doesn't seem like ground breaking news to you, but let me tell you, it's tough to do! Ferrandis has great roll speed through his corners and is good in the whoops. Ferrandis is kind of like the the Baltimore Ravens in which he has a lot of weapons built in. He has a lot in his arsenal that he's good at when it becomes game time. Other riders are really good at one part of the track and may have a weakness in the other. Dylan is good everywhere. Did I mention that the Star Racing Yamaha is fast? How about that 3-5-3 triple before the standard 70ft. triple after the finish line? He could roll the inside and seat bounce over the whole thing when the other riders had to roll the outside and seat bounce the shit out of it to clear it clean. Not Dylan. He's got torque under him, but I wouldn't know because I didn't get to ride the bike. Thanks for nothing Wil!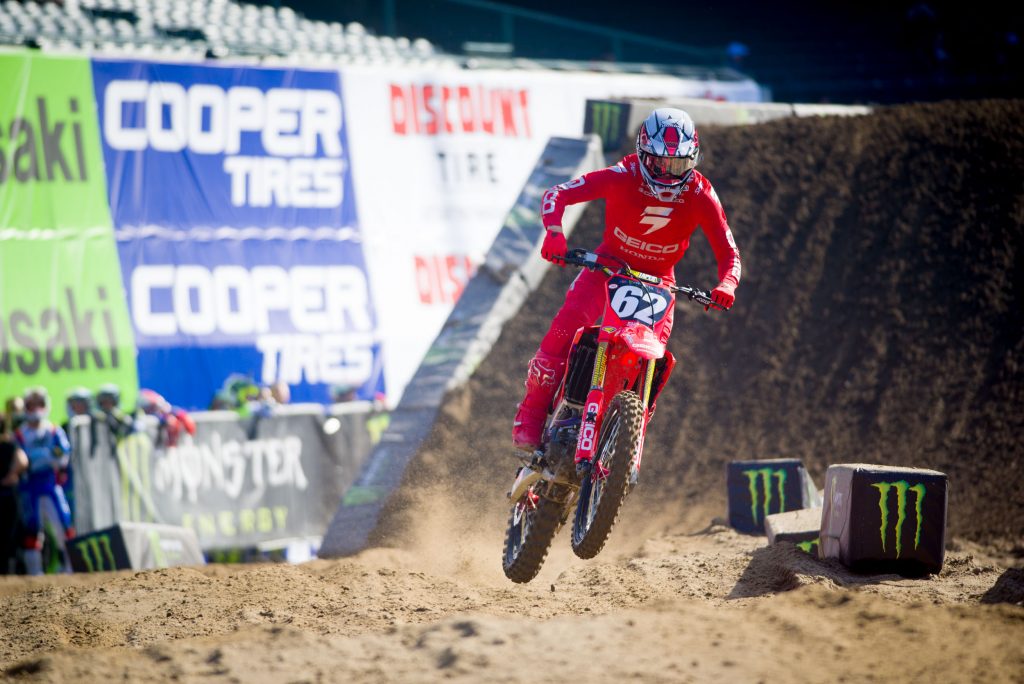 Christian Craig: I know I am a broken record, but is there anyone prettier to watch ride a motorcycle than Christian Craig? Yes, maybe Josh Hansen, but as far as racing speed goes, Craig makes me want to buy a Honda, wear Shift gear, and go hit some whoops! You could tell he was having fun and was genuinely happy to be racing. I will say that the Geico Honda looks to have more juice (more on that below) this year by the looks of the starts Christian got all night. Even though Craig got third by default I bet he doesn't care because getting a podium at round one is a huge accomplishment from where he was last year with the FIM bullshit! Go back and watch Craig hit the whoops and study his entrance speed, his foot placement, and how he places his upper body. Watch. Learn. Smile. I know I do!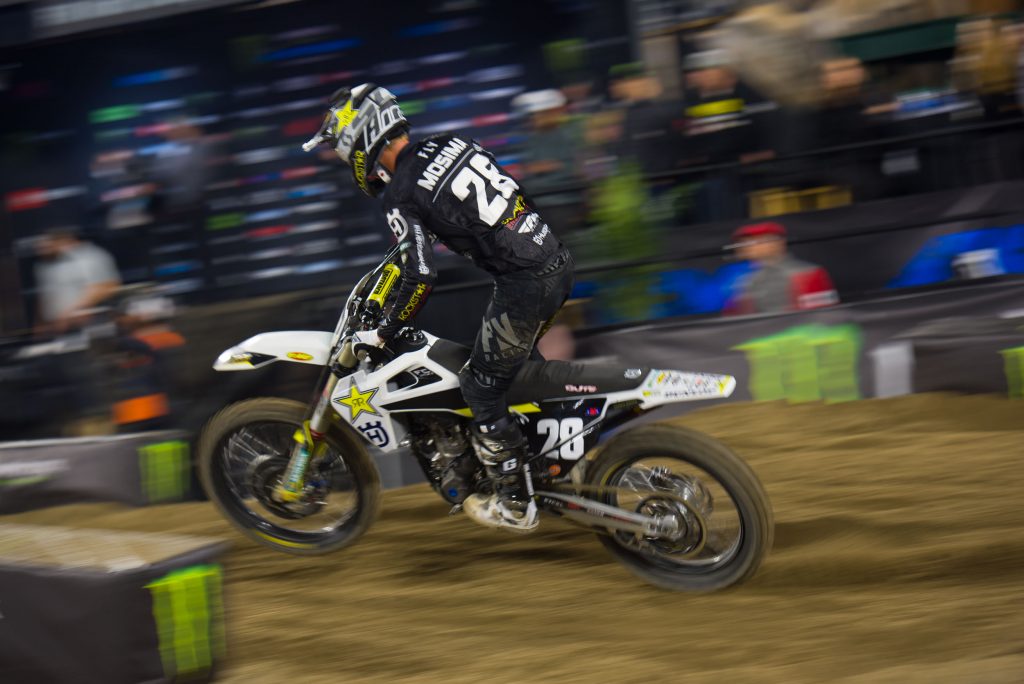 Michael Mosiman: For a fourth place finish, I still feel like Mosiman had a rough A1. He didn't look especially great in practice, had a horrible time in the heat race, had to transfer out of the LCQ, and then had a quiet main event. I bet if you would ask him, he would take the fourth after the day he had. Mosi-Man will get better and be scratching for podiums soon as the A1 jitters should be all out now. It's also cool to see his brother Josh Mosiman in the press box working for MXA, but not shockingly you can see him studying his brother intently more than any other riders. Both Mosiman brothers are very polite kids and it's a unique situation for one brother to be in the media and one to be a top level athlete on a factory team. Pretty bad ass if you ask me!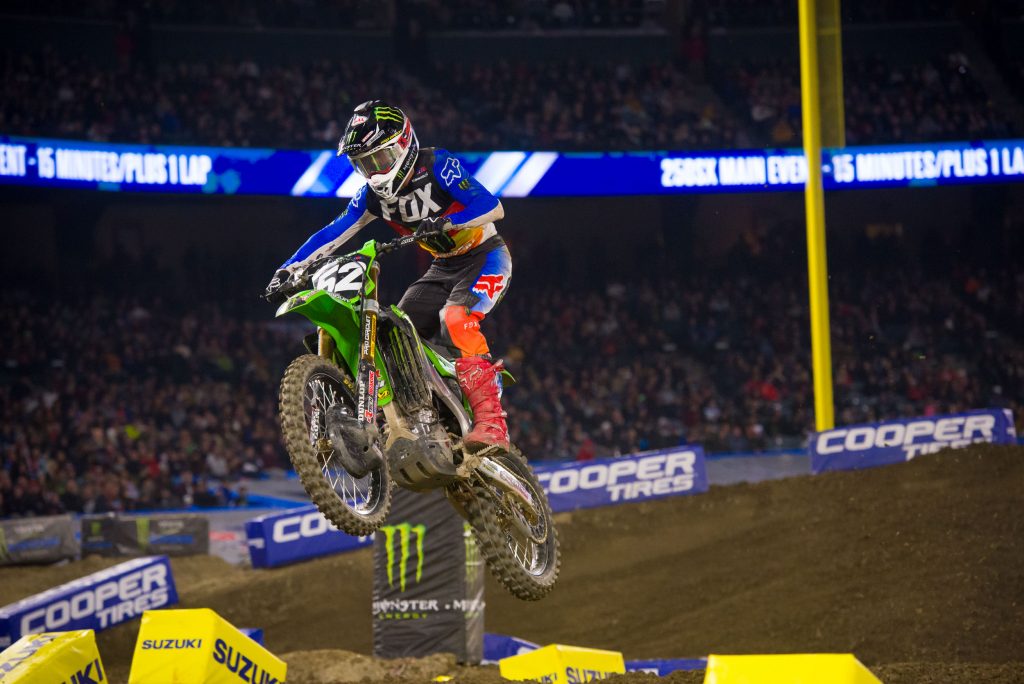 Austin Forkner: If there is one rider to get in the middle of the blue train it's this guy! Forkner looked damn good for over half the race and looked to have Cooper covered until his tuff block excursion happened. I also don't understand why he didn't just footplant his way back on the track and get going instead of "risking" getting docked. I understand it's the heat of the moment, but if you would have took a few extra seconds to do this Austin, you would have stayed in third. On a personal note, I like that the kid is in love, is slightly basement, and knows what he wants. He's not out swiping right all day and screwing up his mindset for race day. His girl seems like she's cool and just because she's hot doesn't mean she's not smart. Everyone chill down on the personal relationship advice on this one. "That's all I got to say about that" –Forrest Gump 
Best Dressed: Congrats to Shift MX and the Geico Honda team for looking absolutely insane for A1. Attention other gear manufacturers! Solid colors are beautiful and makes your gear pop out on the track! They are popular and will sell well! Solid red gear with red boots made Christian and Jett stand out from all the others. Nothing gets me more hyped on riding a dirt bike than a great looking gear set with a rider that looks beautiful on the bike. Christian and Shift checked all those boxes for me!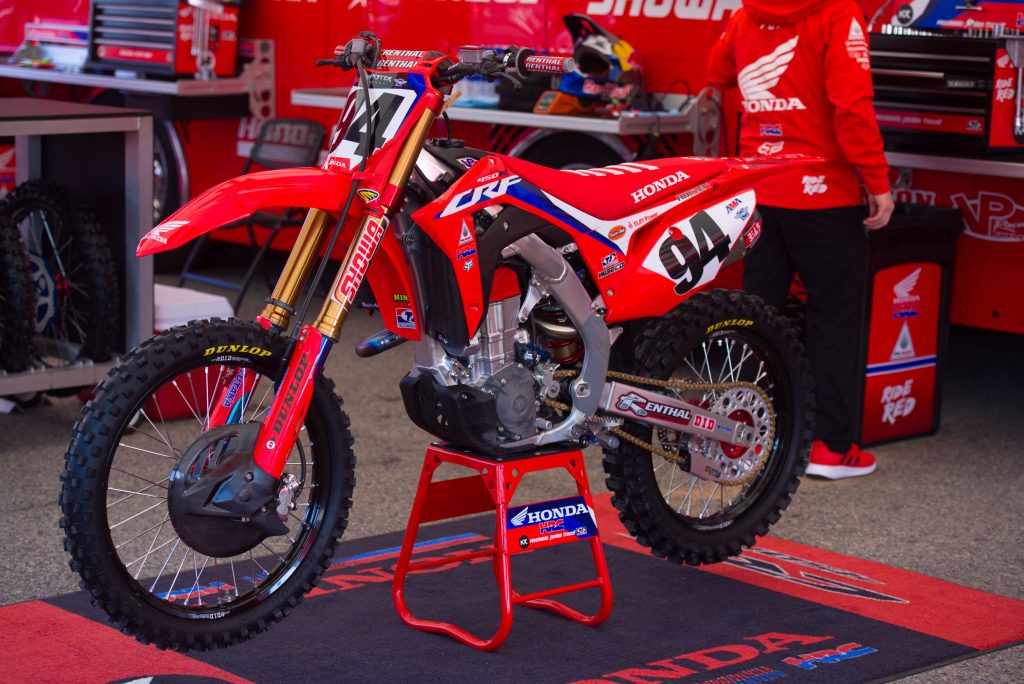 Best Looking Factory Bike: I went around and asked the motocross media which bike looked the best for A1 and almost all of them said Factory HRC Honda. I can't argue with them because the clean looking Honda's have more red in them this year and the CRF logo on the shroud is much improved from the 2019 version. When walking by the factory Honda pits I seemed to stare at Brayton's and Roczen's bike for at least 20 minutes!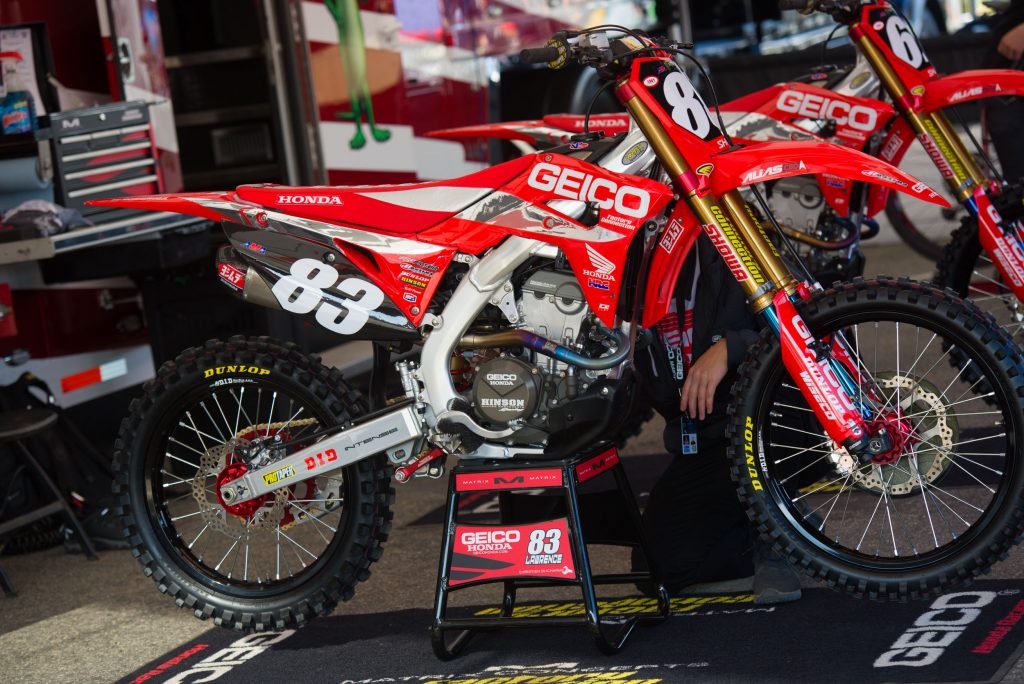 Geico Honda: Let's give props to the Geico Honda team for putting in a lot of hours testing with Christian in the off season to get their bikes not only more horsepower, but a chassis that is calmer for the riders when pushing their limits. Ryan Cox is the R&D director over at Geico Honda and he has really helped hone in on what the 2020 Honda CRF250R needed for the team. When watching the riders at A1 it sounds like they are revving their bikes less in 2020 high tells me that they have more torque. Upon further inspection, watching Jett and Christian jump some of the obstacles immediately out of corners almost as easy as the Star Yamaha boys tells me that they have some bottom end now. With Ryan Dungey as part owner of the team now, the bikes and the riders will only benefit and get better.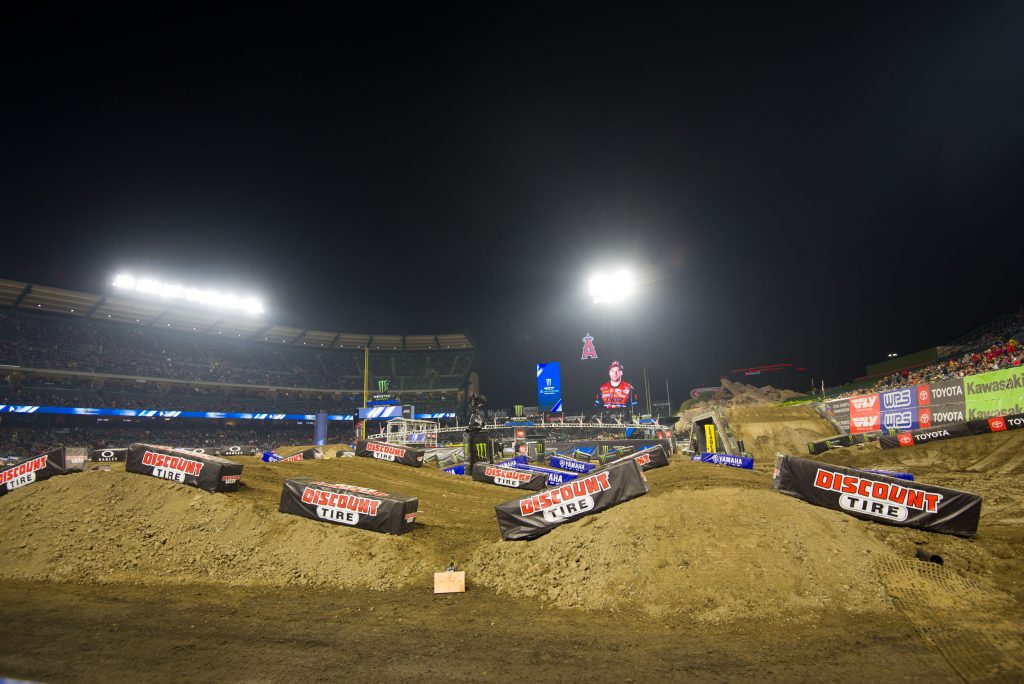 A1 Track: You normally don't see an A1 that has the rhythms that the 2020 A1 version had. With the rain that Southern California got the last couple weeks the track was softer than normal which made the track that much more difficult. The track didn't allow that many passing opportunities so mistakes were important in order to make the pass. While on track walk I also heard a lot of riders complaining about the transitions between the jumps that were notchy. Hopefully St. Louis is better and provides more passing opportunities for the riders.
See you in St. Louis! -KK