Wow, wow, wow. Forest Gump had it right, A1 one is like a box of chocolates, you never know what you are gonna get. In this case, we got another night of exciting racing with some unexpected (to me at least) outcomes, mental meltdowns, and rookie ascensions. This is why I love Supercross so much. It is such an exciting and dynamic sport that never fails to entertain. Here are my thoughts on the top ten in the 450 class and a few bonus observations.
Justin Barcia/ First Place 450 Class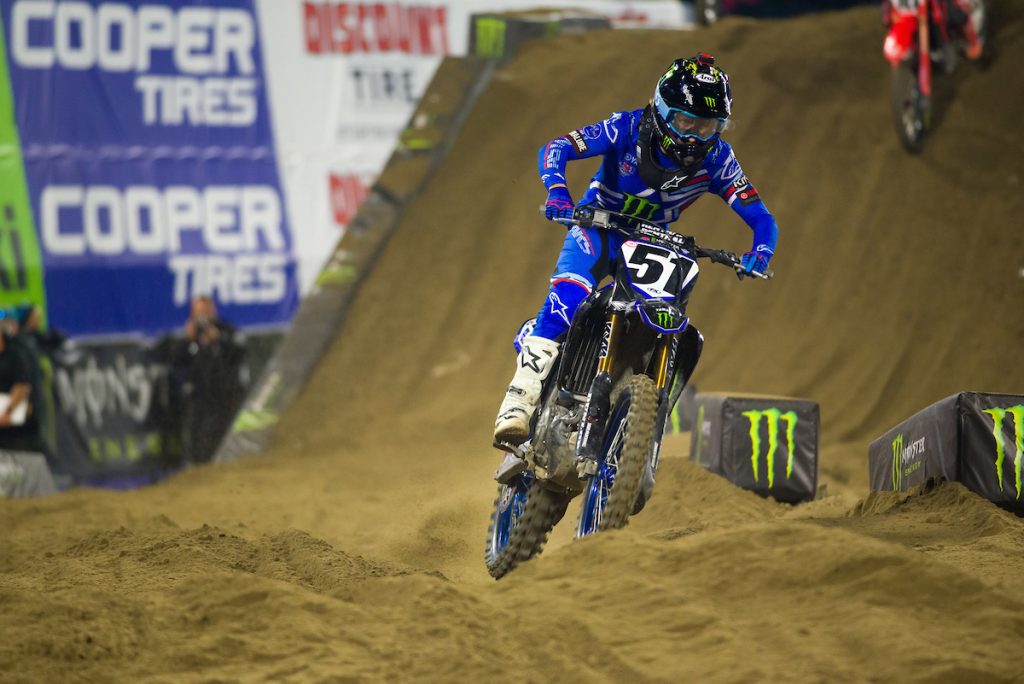 What an amazing night for Barcia. Yeah, he had a great offseason, but I certainly did not expect him to win A1 after 95% of 2019 was a disappointment. I know he was injured for much of it, but to expect the BamBam-Naissance to continue into 2020 seemed like a stretch. It is the last year of his contract and he knows now what it is like to be looking in from the outside with no ride. Even so, his win last year seems like a total outlier in an otherwise terrible year. A1 2019 was a mud fest and it is hard to put too much stock in any of those. Not 2020 though, this one was 100% earned. He was fast as hell all day and did not fold when he made a mistake and let AC by. He just put his head down and kept hauling a$$. It was a great victory for Barcia and a great night for Yamaha overall.
Riding Rating: 10 out of 10, very impressive riding, but he really could use a haircut and maybe a little conditioner.
Gear Rating: Way better than his usual cross-dressing A-Star Mardi Gras fare, I'll give him a 7 out of 10.
Adam Cianciarulo/ Second Place 450 Class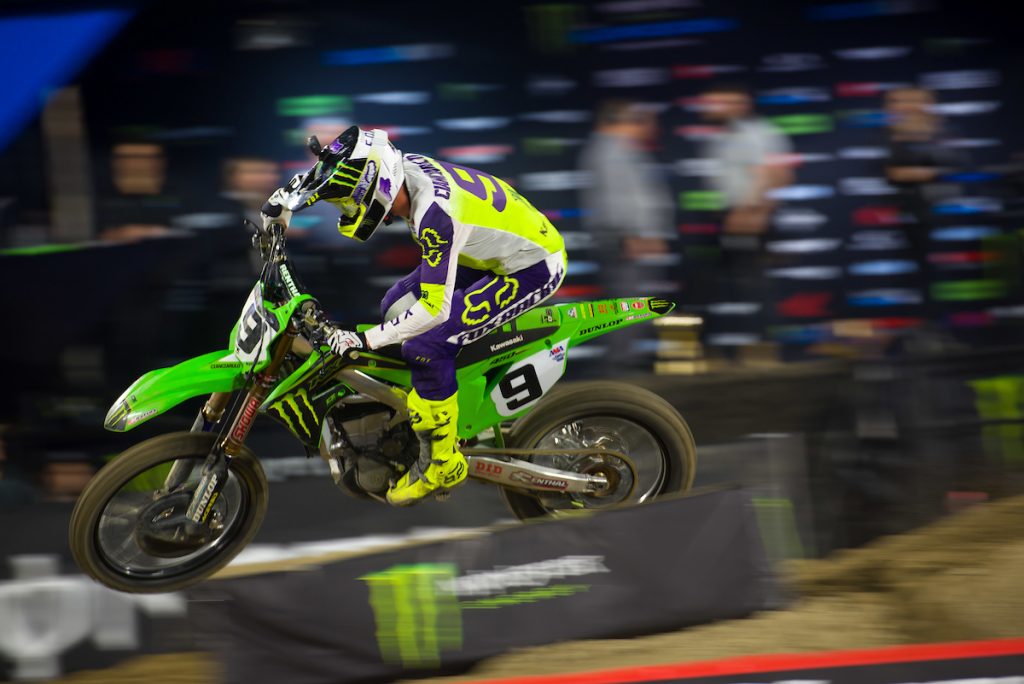 My oh my, do these guys need to be scared. Honestly, after last year's Nationals, I think this might be the guy everybody thought they were getting back in 2014 when he turned pro under a mountain of hype and the crushing pressure of expectation. AC is for real people. He had that win fair and square if the slippery A1 dirt doesn't bite him in that rhythm lane. He was really lucky not to crash there and smart to not go berserk trying to run down Barcia. I am a huge AC fan and I wanted to believe he could win, but I was cautiously optimistic about his chances. Last night though got my hype meter pegged to eleven. After a fifth or sixth place start he quickly raced to the front and showed he did indeed have the speed to win. Of course next week he could make some huge rookie mistake and throw it all away, but I want to believe this is the status quo for the new Adam. He withstood the trial of that bitter Las Vegas disappointment and came out a better man. Time, of course, will tell if he can keep it going, but for now, I think you would have to consider him a legit contender to make it three first-time champs in a row.
Riding Rating: 9.5 out of 10, so, so close to pulling a McGrath and winning his first Anaheim.
Gear Rating: 10 out of 10, tied with Ken Roczen for my favorite gear of the night.
Cooper Webb/ Third Place 450 Class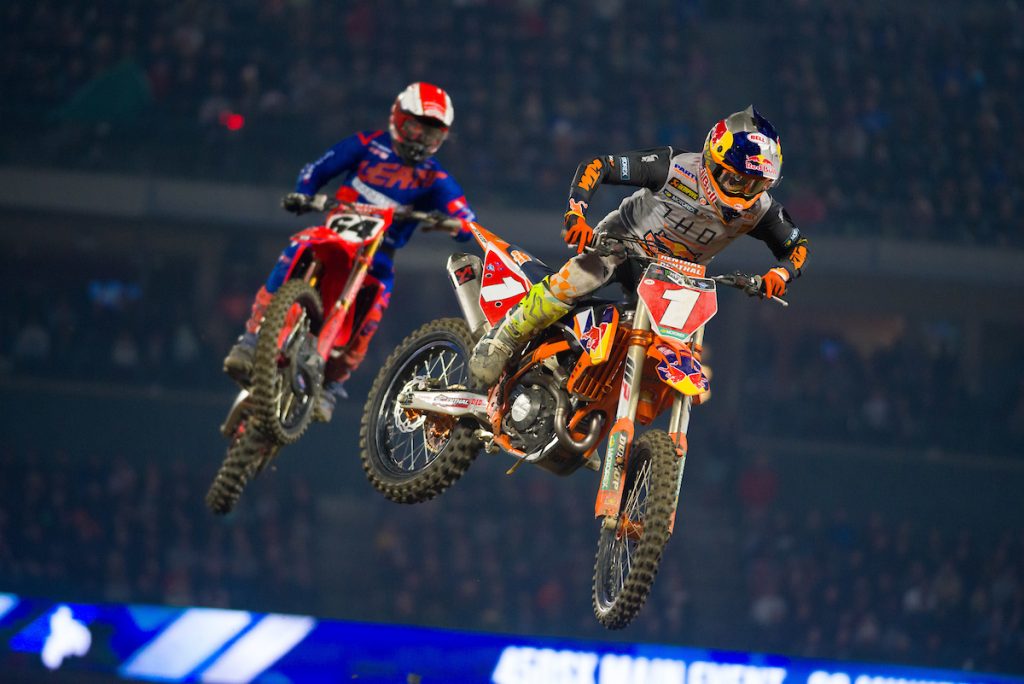 Normally a third would probably be a disappointment for a returning champ, but I think Coop pulled a rabbit out of his hat last night. Apparently, he was very sick and he was once again way off the pace in practice. What did he do though? He put himself in a great position and gutted out a podium, beating all of his expected championship rivals in the process. Of course, if AC or Barcia go on a tear, it may not work out for Coop, but if Eli, Kenny, and Anderson bounce back, this third may loom large down the road. They always say you win championships on your off days and Webb did that at A1.
Riding Rating: 8.5 out of 10, very impressive under the circumstances.
Gear Rating: 5 out of 10, I'm not a big fan of most of the newer Thor stuff. I did not really love this, but the splash of color on the back section on his jersey did make it a little better. At least there were no kittens…
Blake Baggett/ Fourth Place 450 Class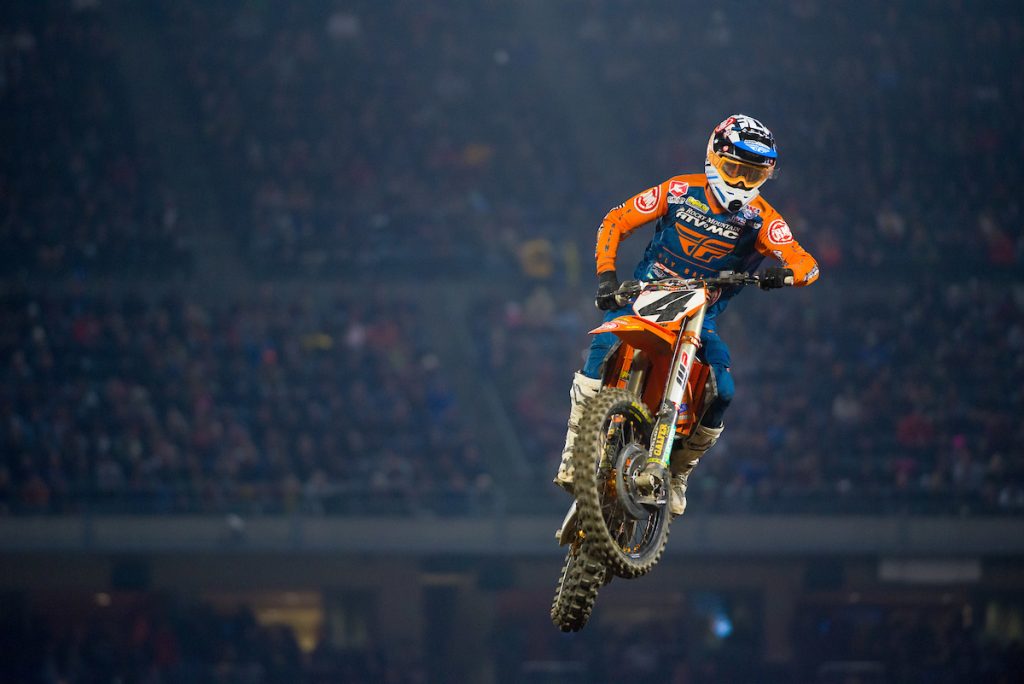 Blake Baggett is such an enigma to me. You literally never know what you are going to get. He may go all Chupacabra and eat up the pack like a goat-eating monster, or he may lay an egg like a pregnant duck. Either way, I am not surprised. At A1 we got more of the former than the latter with a really solid ride to fourth from around tenth in the first turn. This had to be one of his best A1 results ever and a major boost to his team after the usual disappointments he has to start the season. I'm happy for Blake and I hope he keeps it going.
Riding Rating: 7 out of 10, a great start to the season for the mythical creature of legend.
Gear Rating: 9 out of 10, I really dig the Fly Racing gear the Rocky Mountain team runs. It is a great combo with their bikes.
Jason Anderson/ Fifth Place 450 Class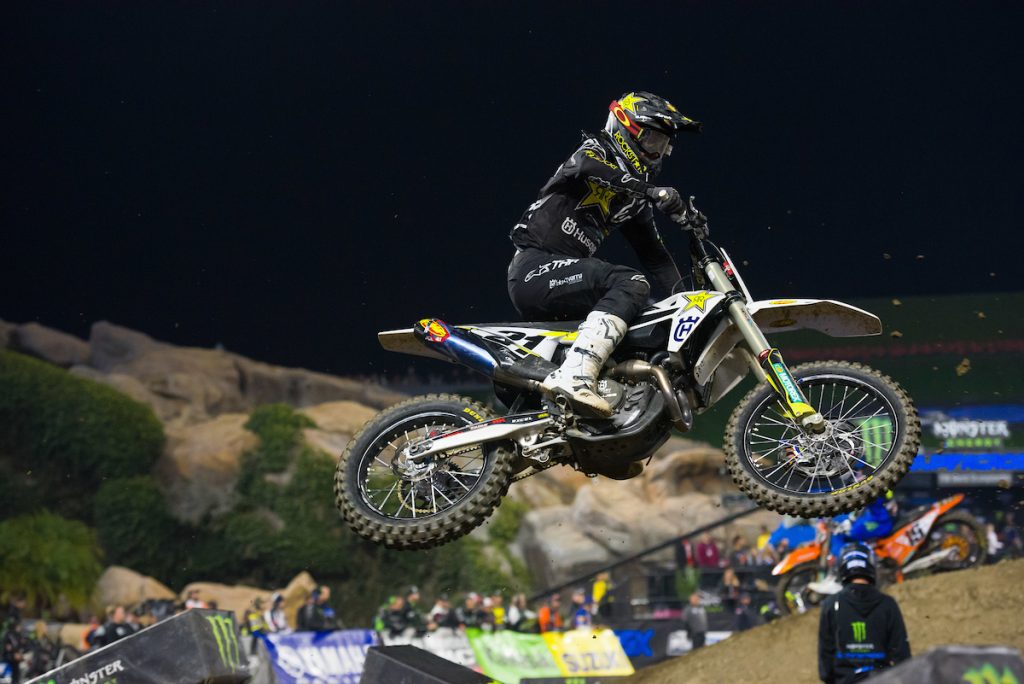 Jason had me pretty worried for most of this race. He started around tenth and was not really making his way forward for most of it. With seven minutes to go, he was still back in seventh. Not the ride of a potential champion in my book. To salvage a fifth is a decent outcome and he did beat Roczen and Tomac, but I wonder if that is more a result of them being off last night rather than his speed. Either way, it is way better than his start to last season and something to build on if he can pick up the pace moving forward.
Riding Rating: 5 out of 10, I expect more from a former Supercross champ.
Gear Rating: 2 out of 10, I am not a fan of black gear in general and this Rockstar getup looks like they are not even trying. Booorring!
Ken Roczen/ Sixth Place 450 Class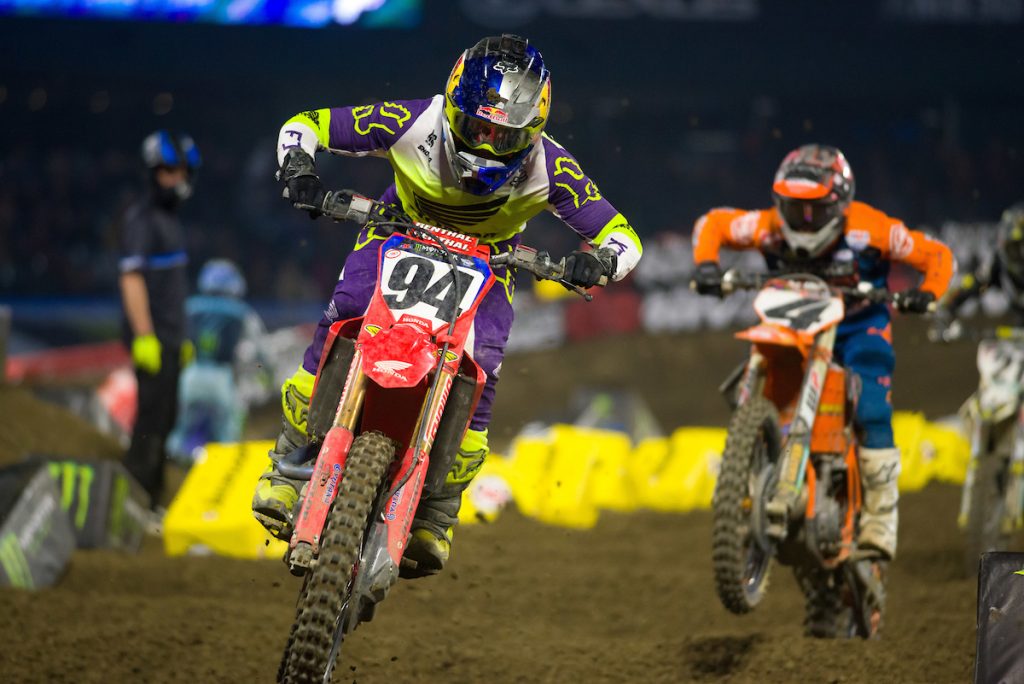 If any of you watched my pre-race video on YouTube you know that Zee German was my pick for the win at A1. I was hoping his ailments were behind him and the weather was going to be cool so the heat should not have been a factor. So what happened? He got a mediocre start and was never in the battle at the front. He was sixth on the first lap and sixth at the finish.  Two years ago I would have been fine with this after what he went through, but in 2020 I am expecting more. Hopefully, it was just first-night jitters and he will be back at the front in St. Louis. In my opinion, the sport is better with the affable German at the front and seeing him struggle is no fun for anyone.
Riding Rating: 5 out of 10, hopefully, better days are ahead.
Gear Rating: 10 out of 10, this was definitely my #LitKit for the evening. I love this color combo. It has a sort of nineties feeling, without being too retro. Very, very nice.
Eli Tomac/ Seventh Place 450 Class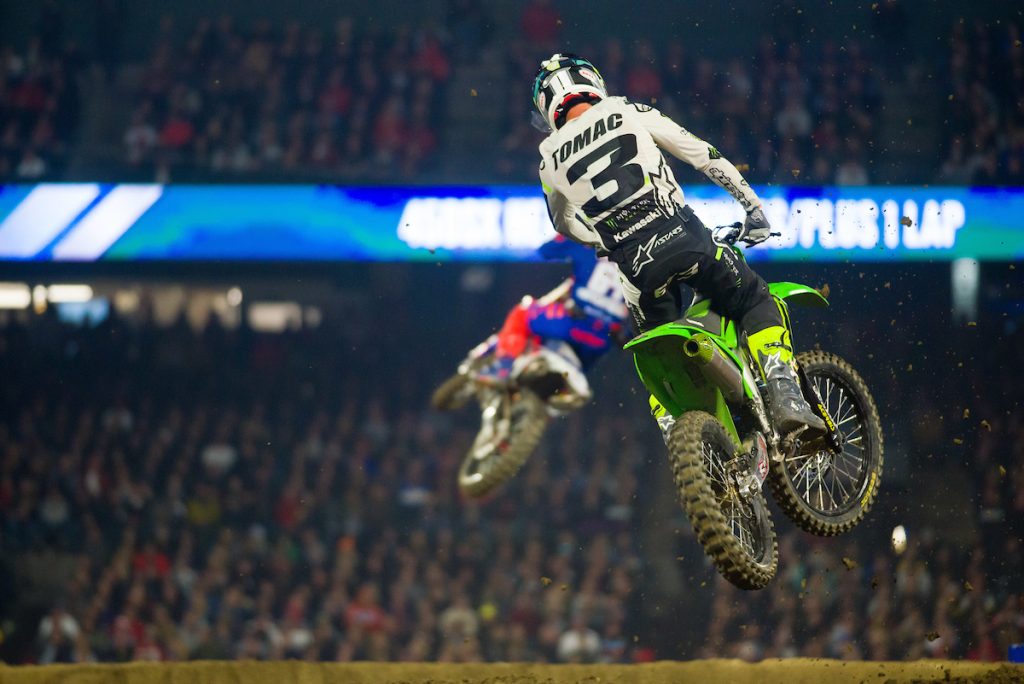 Where do I begin? I suppose I should start by thanking Eli for always making the series interesting with these head-scratching rides. Maybe he has a secret injury or maybe they accidentally installed a link off of Stew's 2005 KX250 two-stroke on his race bike. Regardless of the reasons, we have been here before. My prediction, he will come out next week and win by thirty seconds. Then he will tip over at A2 and stare blankly at his bike as eight riders fly by before he picks it back up and gets going. That is what Eli does.  I still think he is my pick for the title, but my confidence is wavering…
Riding Rating: 3 out of 10, Tomac gonna Tomac.
Gear Rating: 4 out of 10, pretty boring in my opinion, but it is still 250% better than the seizure-inducing getups he wore at Geico on the 450. Am I the only one that thought his A-Star under protector made him look more like a middle linebacker than a motocross rider?
Justin Brayton/ Eighth Place 450 Class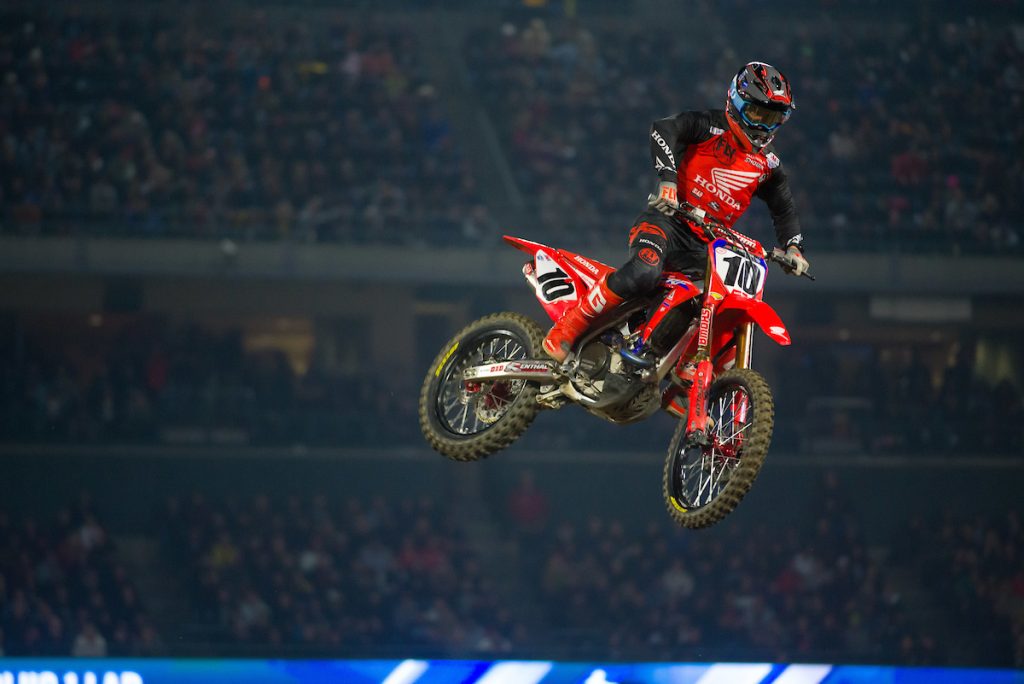 Coming from Australia, I imagine Leigh Diffey thought Justin Brayton was the sure favorite for the win last night. Early on, it looked like that might be the case for Weege's man-crush. A win in the heat and a second-place early in the main had it looking like we were in Melbourne instead of Anaheim. Unfortunately, however, that Coriolis effect must have caught up with Justin, because he started spiraling backward and got used for a berm by Jason Anderson. I'm not thinking El Hombre will be on the Weigandt family Christmas card list this year. Still, two guys in the top ten are a solid start for Team Honda.
Riding Rating: 6 out of 10, I don't love the fade. Hopefully, he can nail a win in one in one of the Gang Bangs later this season.
Gear Rating: 7 out of 10, I think there is a bit too much charcoal gray going on, but I liked this Fly kit overall.
Malcolm Stewart/ Ninth Place 450 Class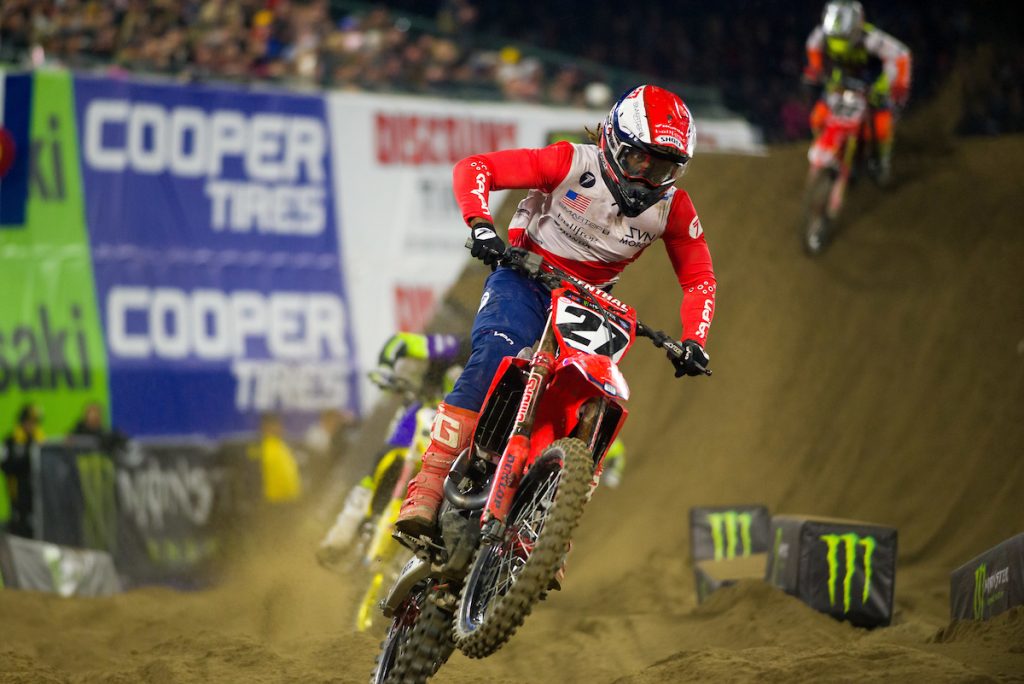 I didn't really see Mookie on TV, but he came from fifteenth place to ninth, which is a solid result in my book. I think people predicting podiums for Stew Part Deux might be a bit overzealous, but I would love to see him get a top-five or two before the season is over.
Riding Rating: 7 out of 10, a solid result for the Hot Tub Time Machine team.
Gear Rating: 3 out of 10, is Seven still a thing? Well look at that, apparently, it is.
Vince Friese/ Tenth Place 450 Class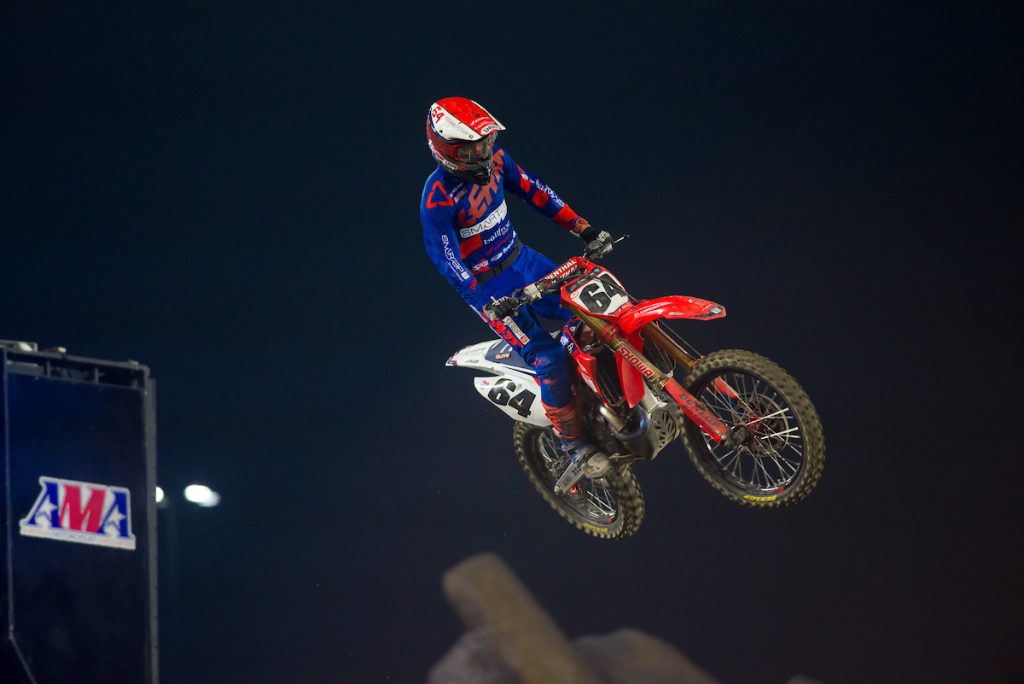 Taken in a vacuum Friese's holeshot to tenth finish is not great, but when you look at the guys in the class he has to beat it is pretty solid. I would not expect Vince to beat any of the dudes in front of him and I would have expected him to get beat by Osborne and Plessinger behind him. Two guys in the top ten and three guys in the top eleven is a really great outcome for the Tony Alessi-led team.
Riding Rating: 6 out of 10, a solid finish and about where I think he should be.
Gear Rating: 7 out of 10, I'm not a huge fan of some of the Leatt gear but this red/blue combo was pretty good looking.
Honorable Mentions:
Great job by Deano to race A1 and gut out a thirteenth. He even beat his teammate Osborne.
Justin Cooper: Congrats to Justin who spent the night in Austin Forkner's head and secured an impressive victory over his teammate Ferraindis.
Chad Reed: Major props on hitting 250 main events. Chad has always been my guy and I am glad he is getting to go out on his terms. Enjoy the ride champ.
RC in the booth: I have been a tough critic of RC in the past and have lamented Jeff Emig's dismissal, but I have to give props to Ricky for doing a much better job last night. On a side note, I was not a fan of the Aussie Wally Pipping Ralph, but I lit some candles anyway in his honor.
Dishonorable mentions: 
JGR's 450 results: I'm not thinking a twenty-first and twenty-second place finish is what J-Bone needs to land that major title sponsor. Ugh…
Austin Forkner's sense of direction: It appears those KX250s have something amiss with their Lit-Pro GPS systems because they keep taking a wrong turn at Albuquerque. Forkner is lucky he did not cause an accident when he cut across the track, went backward, and exited the track stage left without looking. He then proceeded to cut the corner for no apparent reason. It was a bonehead moves by a kid who should have known better.
JGR's 250 results: A tenth is not great by A-Mart, but at least it was not last…
Aaron Plessinger: A crash in the first turn of his heat and a bum ankle was not what this guy needed. He barely made it through the LCQ and then limped to a twelfth in the main. At least Barcia won so the team had something to celebrate.