PulpMX.com Fantasy Pick & Trends
Photos by James Lissimore
Supercross is back – Welcome to the 2020 PulpMX Fantasy season!
If you're new to PulpMX Fantasy, or new to this column, thanks for stopping by. Every week I recap what happened from a fantasy perspective. We'll talk ownership percentages, who scored bunches of points, who didn't – but was expected to, and much more. We will also break down the overall winning team each week and look at what they did right, so that we may learn from it.
Let's get into it.
Winners! Congratulations to this week's co-winners, Krezz0541 and Dotson76, they kicked off the season in great form, taking down the overall with 266-point scores. Guessing they will have to cut the Cooper Webb jersey down the middle? Seriously, next week will decide who wins the jersey as the first-round tiebreaker is decided by highest score at round two. Going forward, if there's a tie, the breaker would be previous week's score. Let's take a look at how they got there.
Krezz and Dotson each had the same exact team, and each chose an FFL for the 250 and 450 class. Amazingly enough, they also each correctly chose Austin Forkner as the 250 class FFL and incorrectly chose Roczen (Krezz) and AC (Dotson) as the 450 FFL.
For the 250 class they each chose the optimal scoring team, Christian Craig – 42 points, Michael Leib – 42 points, Derek Drake 36 points and Dylan Ferrandis – 26 points. I love all four of these picks, I felt Craig had the most value of any rider in the class and it showed in his pick trend at 56%. I also thought that Leib was a very strong pick as he was one of few riders in the class with a number of top ten finishes and a 9 handicap. Finally, Derek Drake presented great value with a three handicap, and Ferrandis was an easy pick with his experience and savvy.
The winning 450 team consisted of Malcolm Stewart – 26 points, Justin Hill – 32 points, Vince Friese – 32 points, and Adam Cianciarulo as the All Star with 26 perfect points. The 450 handicaps were very difficult this week and no great values presented themselves. Krezz and Dotson made savvy picks with Friese and Hill, both of whom have top ten speed and had some value with their handicaps at 3 (Friese) and 4 (Hill). The other key thing that they both did. They avoided 24 percent owned Luke Clout in the 250 class and 29% owned Martin Davalos in the 450 class. More on them below, let's get into the rest of the results. Congratulations again to Krezz and Dotson!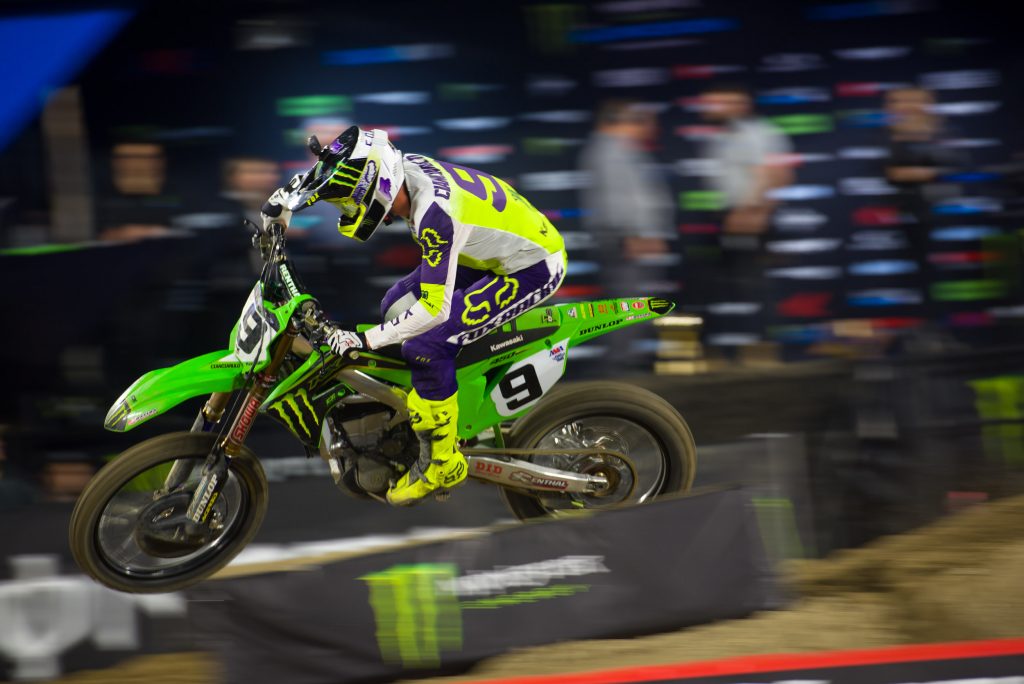 Most picked riders AKA "the chalk"
If you're new to this column the term "chalk" comes from the betting – mainstream fantasy sports world. It refers to picks that everyone is on, in this case, high pick trend riders. For PulpMX Fantasy purposes, riders with more than 30% pick trends are considered chalky.
Despite the tough handicaps, the season opener had an about average amount of chalk picks in each class. The 250's saw high pick trends for Christian Craig (0) who delivered 42 points via a 3rd place finish for 56% of team owners. He was followed by Dylan Ferrandis (1AS) who delivered 26 perfect points via a 2nd place finish for 48%, Michael Leib (9) who delivered 42 points at 35% and Justin Cooper (2AS) with a perfect 26 points at 32%.
The 450 class – everyone loved Adam Cianciarulo (4)! He had the highest pick trend of the night at 61%. AC delivered a perfect 26 All Star points via his second-place finish. Ken Roczen (2) showed that life does indeed imitate art, joining his buddy AC as the second highest pick trend at 37%. He didn't deliver the points though, with only 19 via a 6th place finish. No other 450 riders had a greater than 30% pick trend.
Low owned players who delivered – AKA great contrarian play
If you're new here, a contrarian pick goes against the grain of the popular (chalk) choices and can be a great way to gain an edge on the field, IF you choose correctly! This section is typically reserved for non-all stars.
Killian Auberson had more than a few mentions in this column last season and put up some memorable scores, including a 42-point effort in Seattle. Despite this he somehow lined up at A1 with an 8 handicap and nobody picked him! He wound up delivering the third highest score, 34 points for the 3% of team owners who chose him. Riverside CA's Derek Kelley (13) also put up a 34-point score via his 19th place finish for zero percent of team owners. Finally, Robbie Wageman (5) had some massive scores last year as well, he wound up delivering the 5th highest score on the night – 30 points, for only 3% of team owners.
Not much in the way of contrarian picks in the 450 class. Justin Brayton (-2) put up a 26-point score for the 5% who chose him via an 8th place finish on the night. While 26 points would not normally be a good score, this week it was good for second highest due to the tough handicaps! I'm surprised JB10's pick trend was so low considering his "off season" and Factory Honda support.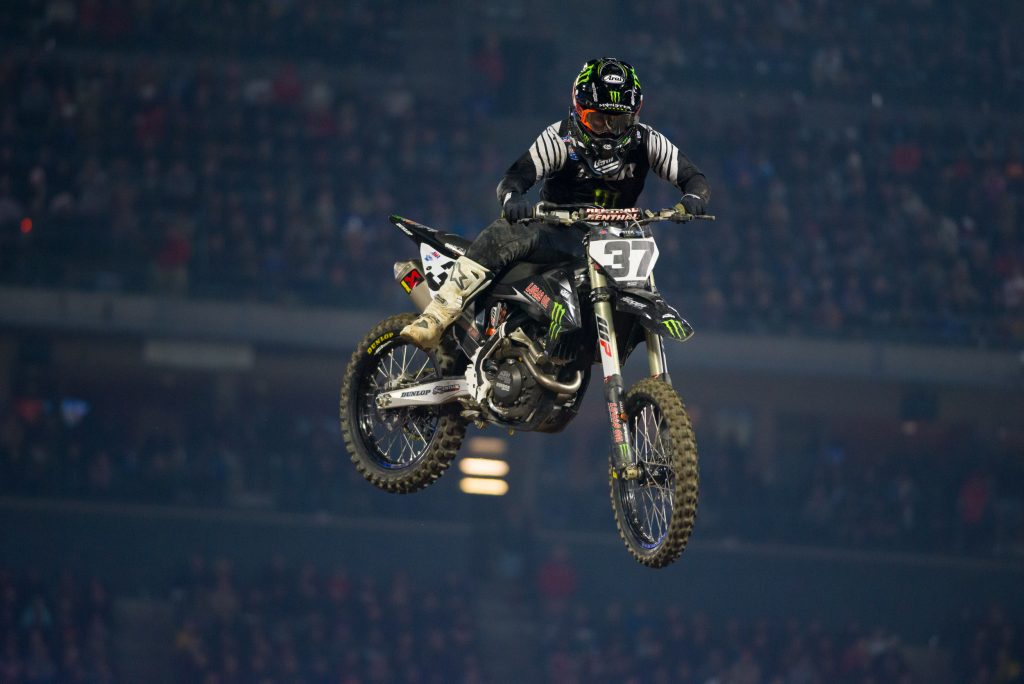 Fantasy Duds
Who burned the field? Let's take a look.
In this week's Fantasy podcast Australian Luke Clout received a lot of touting, unfortunately for those who chose him, it didn't pay off. Luke lined up with a 2 handicap and was only able to deliver 4 fantasy points via a 21P finish for 24% of team owners. We also saw a less than optimal night for Austin Forkner. Austin was the third highest owned All Star and delivered an underwhelming 19 points for 28% of team owners.
One notable non-All Star this week, Steve's new BFF Martin Davalos (4). Marty didn't have a good fantasy night, only delivering 12 fantasy points via a 15P finish for 29% of team owners. Team owners who chose Eli Tomac (1AS) as their All Star didn't have a good night. Eli was only able to deliver 17 points for 24% of teams via his 7P finish. Ouch.
Don't forget to take a look at these guys this weekend if they are available to you. There's a good chance their handicaps will increase, giving them greater value, also, you will have an automatic edge, in that a percentage of the field cannot choose them.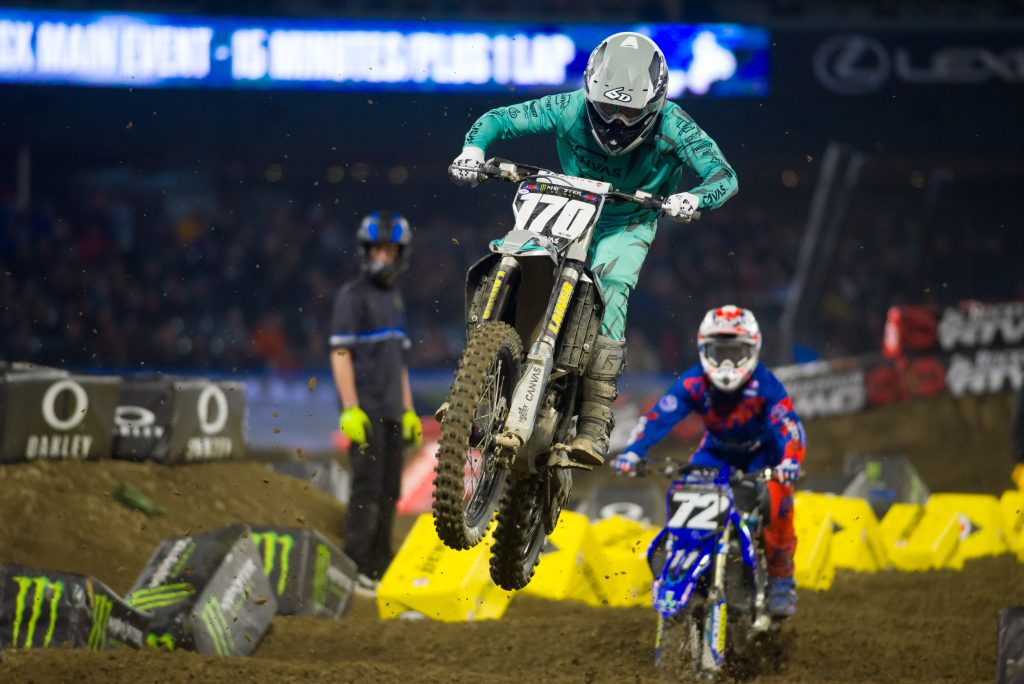 Fantasy Studs
 The big scores came from the small bores this week! Well, to be fair, "big scores" is relative, overall the scores were low in both classes, with the highest individual score being 42 points by Christian Craig and Michael Leib. Choosing both of them was key to your team having a good week, and each had significant pick trend percentages, Craig with 56% and Leib with 35%.
The 450 class was much lower scoring, 32 points was highest score, with 26 points being good for second highest score. This gets interesting as it's the same total that an All Star gets if they meet their expected handicap value. Of the highest scores, we saw only two with significant pick trends, Justin Hill (4) put up the 32 for 27% of team owners, and Malcolm Stewart (-1) achieved the 26-point score for 26% of teams.
The 100% "Lead Pipe Locks"
The fantasy podcast was back this week with the usual cast of misfits making picks and predictions. Steve chose Christian Craig and Marty for 54 points, Dan chose Aaron Tanti and Marty for 12 points, Paul chose Chris Blose and Jay Wilson for 20 points and JT chose Ken Roczen for 19 points. Note, JT did not make a 250 pick and still finished in third place for the week thanks to Kenny.
Congratulations to Steve for taking down week one of the 100% Lead Pipe Locks with a 54-point score!
First Lap Leaders
If you played last year you might recall that the Pro Circuit Kawasaki team dominated the first lap leaderboard for much of the season, to the point that the correct pick percentages was hovering around 80%. This year, apparently everyone forgot about that as we saw Pro Circuit Kawasaki mounted Austin Forkner get to the finish line first, scoring a crucial 15 extra points for the 36.7% of teams who chose him.
We typically see about 30% of teams rolling the FFL dice. This year was no exception as we also had 36.4% of team owners choose a 450 class FFL. It was Justin Barcia, the guys changed the "FLL" to the "FFL" designation as it's a bit clearer now…FFL means "first to the finish line" and not "first lap leader".
We typically see about 30% of teams rolling the FFL dice. This year was no exception as we also had 36.4% of team owners choose a 450 class FFL. Sadly, for them only 2.7% correctly guessed Justin Barcia. I'm a bit surprised that Justin's percentage was that low given his penchant for good starts and first laps. Let's see if he can back it up at round two!
Final Thoughts – St. Louis Round 2
That sounds really weird, doesn't it? Anyways, as of this writing the handicaps have not been posted, so I want to talk about something I already mentioned, recency bias.
This is a great week to take a look through the A1 results and figure out who underperformed, and, most importantly has more value via a higher handicap at St. Louis. A lot of owners who aren't savvy enough to read this will look at A1 scores and avoid some of these guys, this gives you an edge!
Looking at the duds from A1, we should see Luke Clout's handicap increase, as well as Marty's. We also saw Benny Bloss fail to qualify at A1. We know he has talent and good equipment via Rock River Racing, so I would expect a better result and an increase of his 6 handicap from A1. For the 250 class, I'm going to keep an eye on Jett Lawrence and AMart. They will both be double points eligible and could be strong picks if the handicap crew gives us some value.
That's it for this week. Thanks everyone for reading and playing. Please remember to support the PulpMX Fantasy sponsors when you shop for all of your off road, motorcycle and MTB needs.
Hope I see you on the leaderboard!