Daytime Program turned into a full pull program in St. Louis this week! Look, I am not going to sit here and complain all that much to you and act like I don't like going to the races because I do. But… That's right, there's a "but"… I really like watching the riders, studying their technique, talking to them about their bike set up, as well as BS'ing with the fans, but thinking about Matthes going to all of these suckers every week is simply crazy to me. I mean I am typing this at 4:00AM working on one hour sleep in the airport. This is the norm for guys like Matthes, Weege, and so many others in the motocross media. The work isn't the problem for me. I don't mind working hard, but it's these god forsaken airports and the travel that would beat me down week after week. I only completed one week of travel and I can't even think how it would be for a person who would have to travel constantly for their jobs. Respect! And what about the riders? No one thinks about these guys working their balls off during the week, having all that stress on their bodies when riding, the stress/pressure during the weekend, and having to do that week in and week out. We just see the cool bikes, the hot girlfriends/wives, the money, and the sweet looking tracks every Saturday night. These are the 4:00AM thoughts that go through my mind while I am at the airport the following day after a race. Without further ado here is a large dose of some things I viewed and experienced  in St. Louis. Welcome to the "Full Pull" St. Louis Edissssshhhhh. Let's have some fun and go big shall we?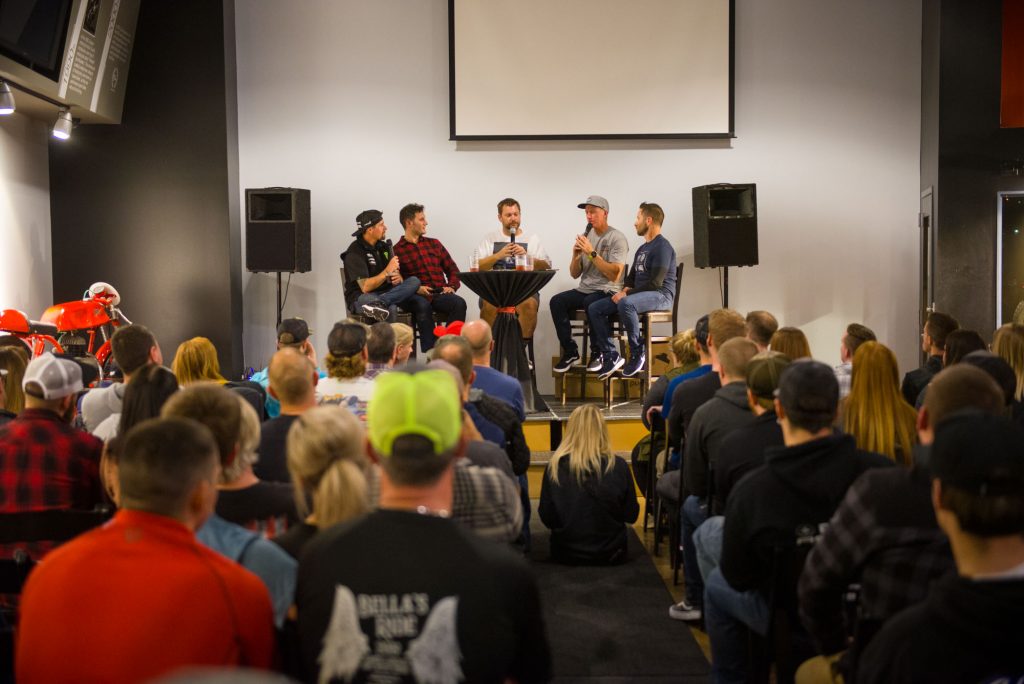 Racer X/Pulp MX Live Show: I thought the setting for this week's Live Racer X/Pulp MX Show was very cool. The Moto Museum in St. Louis has a cool vibe and tons of old motorcycles to geek out on, which lead to some awesome bench racing for the show. Having Broc Glover and Will Hahn provided the sold out crowd with many stories as well as laughs. I even got to talk some After Dark with a few people and try to give my advice on a few relationship problems! If you know anything about me, you know that I love me some relationship talk. However, we do have one complaint! You people standing in the back at these things need to stop talking. The last two shows have been loud because of chatty groups in the back and the people that pay good money to sit in the seats can't hear. Come on people! You're better than this! Let's BS after the show and talk some crap! When the show is going, relax, have a beer and enjoy. Save the bench racing for after the show.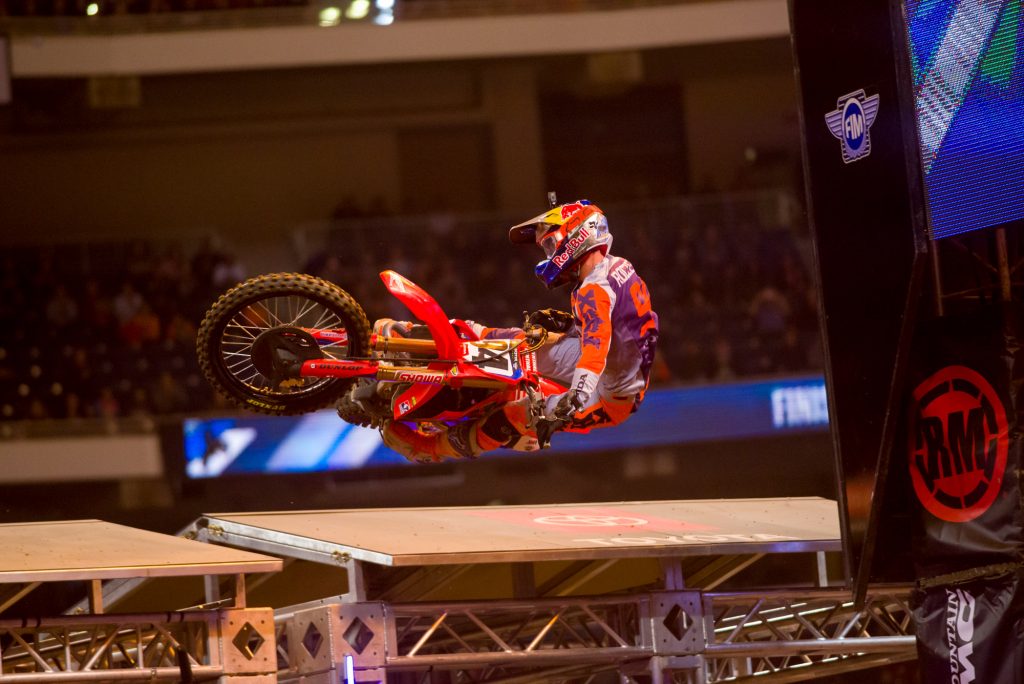 Ken Roczen And Best Dressed: It's hard to believe this is Roczen's first Supercross win since his big accident at A2 in 2017! I watched Roczen closely all day and knew he would be better than A1 simply because you could tell he was more playful in practice than he was last week. Roczen changed his suspension as well as his linkage to hopefully get some more feeling from his machine and that is exactly what he got in St. Louis. He didn't mess around with Osborne early in the main, so he could get to the front ASAP. Not only is this win huge for Roczen, but for Team Honda as well! Honda has been frothing at the mouth for a Supercross win for quite sometime and if you know Honda, you know that the Japanese manufacturer is not here for second place finishes. Having Trey Canard as a test rider has also helped pay huge dividends in getting the CRF450R more comfy for Roczen. It's also very refreshing for me to see Roczen hang out with some of his Honda team and just drink a beer after the race. It's bad ass that he can just turn it off and decompress like most of us normal folk do after a long day of work. This is one of the reasons why I really enjoy me some Ken Roczen. His transparency, work ethic, no BS way of living is something that is needed in our sport right now. We need a feel good story and this win in St. Louis did just that. Congrats to Ken and the whole Honda team. It's been a long time coming, but oh how sweet it is! Also, congrats to Fox on dressing Roczen in a grey/orange color way that actually worked very well with the red Honda! Even his Instinct boots had matching accents! It definitely popped, even from the mile high press box.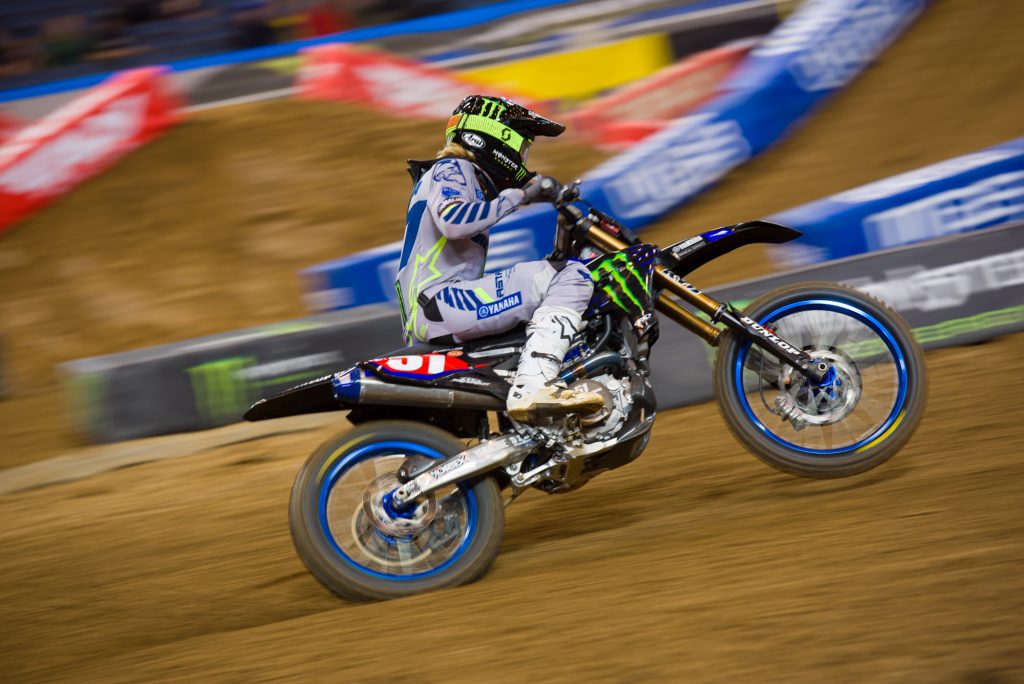 Justin Barcia: News flash! Barcia is still good and he looks to be thinking about this series long term. Bam Bam's starts have been solid as well and he looks like he knows when to hang it out and when to back it down. The soft conditions were the question mark for the YZ450F going in St. Louis and I wasn't sure about if Barcia could get comfy on his new setting. The factory YZ450F has notoriously been in need of some help when conditions got soft and rutty, but from the looks of it, the 2020 bike is much better and easier to ride in soft conditions for Barcia this year. Look out for another Barcia break out ride next week! He's not done folks! Stand by!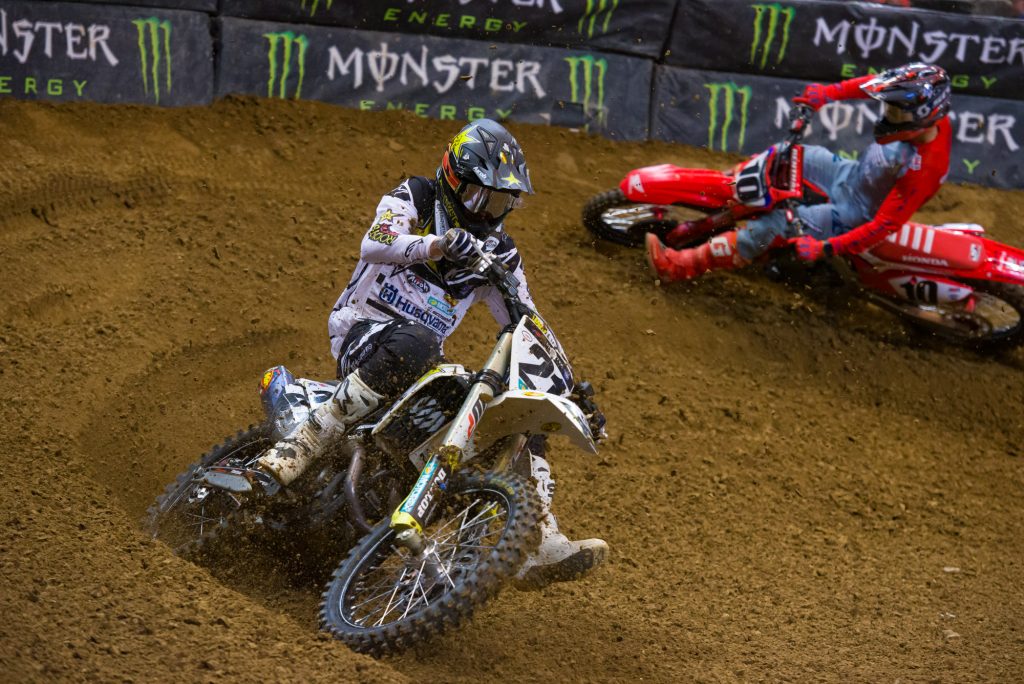 Jason Anderson: Knock knock! Look who's quietly gaining some momentum. The silky smooth Team Fried member has been sneakily good and no one seems to be talking about these rides. His 5-3 season is starting very similar to the 2018 season when he won his championship. He only had one "oh shit" moment in the heat race, but cleaned everything up in the main event. He was catching Barcia in the middle to end of the race, which means he's also in shape and ready to get a main event win. Anderson doesn't have the raw speed of Cianciarulo or Tomac, but with how deep this field is, he could easily sneak in a couple wins this season. He may be Team Fried, but don't let that fool you. The dude is in shape to hang for 20 plus one.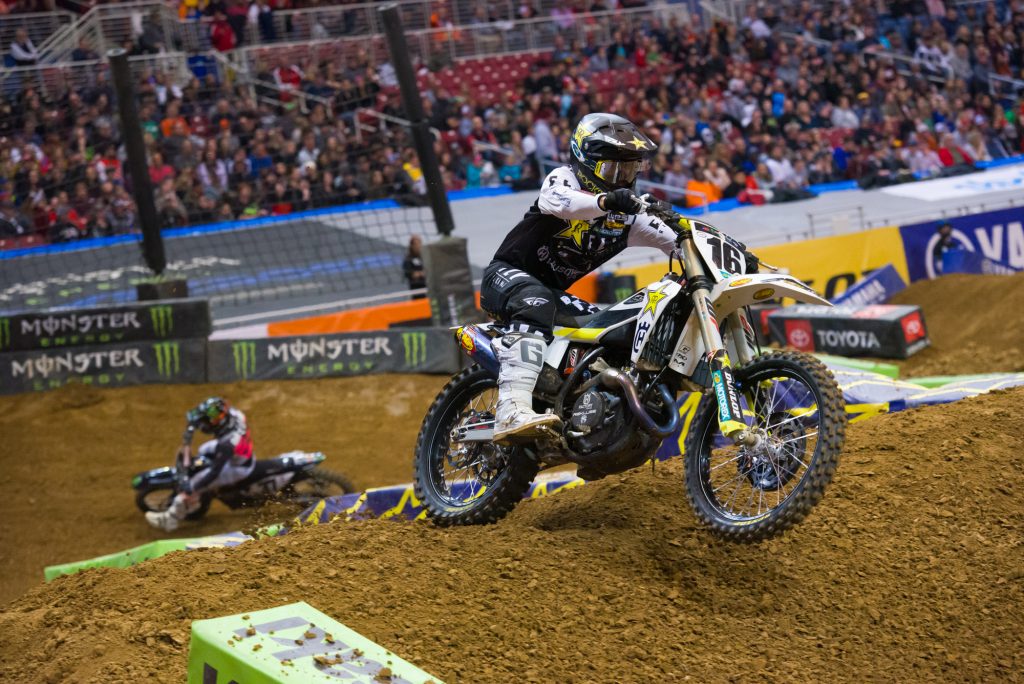 Zach Osborne: Zach was frisky this weekend and his starts were dialed! I also appreciated the aggression early in the main when AC made a move under Zach before the double going across the start. Zach didn't seem to take this very lightly and proceeded to give AC the business through the next corner. A top 5 finish in St. Louis gets Zach rolling and now that he's not sick, look for him to hang in more at the end of these long main events.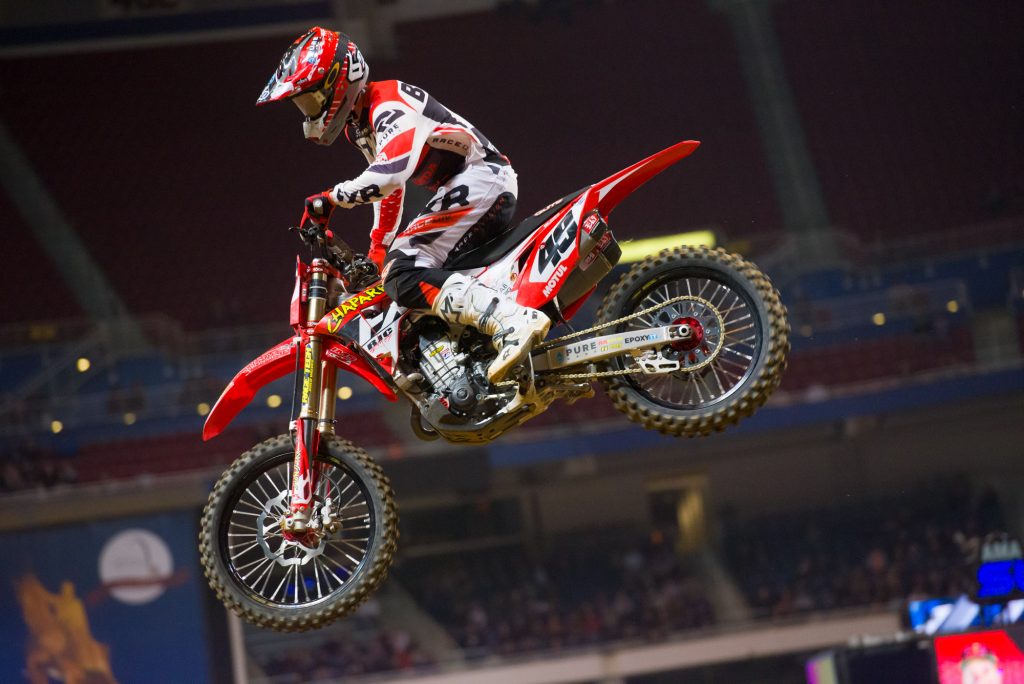 Chris Blose: On track walk Chris Blose let me in on a fun fact. Blose started his career way back in 2006 right here in St. Louis in the 250 east division. He didn't make the main that night, but he knew he had a chance to make it in this sport and he has. Blose has been in the game a long time and is one of those guys that you can count on to be a solid main event finisher. His 18th place isn't really a tell tale on how well he actually rode because a small goggle issue during the main held him back from moving up further. I do love to see Michael Lindsay bring Chris out "east" so he can keep racing while preparing for the 250 east races. I will say Chris will be a sleeper come 250 east and I wouldn't be surprised if he was a consistent top 5 rider week in and week out. PS. Chris Blose is not basement and he's ripped. Chris is the the exact kind of guy that we do not like at our Wednesday meetings.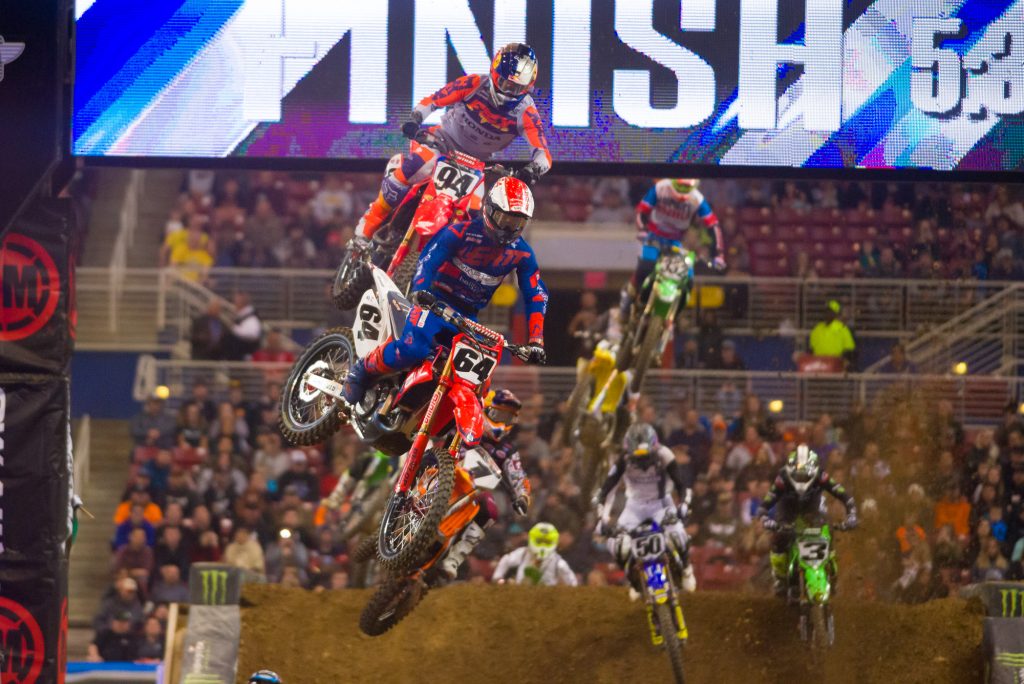 Vince Friese: No hate comms here on Vince. Vince is riding really well and to me has improved his speed a ton! Look for Vince to be up in the mix more on these triple crown races coming up. He's a great starter, doesn't care who is behind him, and to me is ready to be a podium guy. Vince's only problem is that I don't think he is ready to go that speed for 20 plus one quite yet. When he gets these good starts he seems to have a little lull in his mid race craft. This to me is just him riding tight while he's learning the speed up front. I hear people say that Vince is a road block, but to me he's getting better because he's getting these good starts. He's not a hazard (yet) and will slowly get the speed he needs to be near the top 5 at the checkers soon. Now when it comes to these triple crown races, Vince is a top 5 guy right now! These races are tailor made for Vince to really screw up some of the other factory riders nights. Watch! It's not as crazy as it sounds.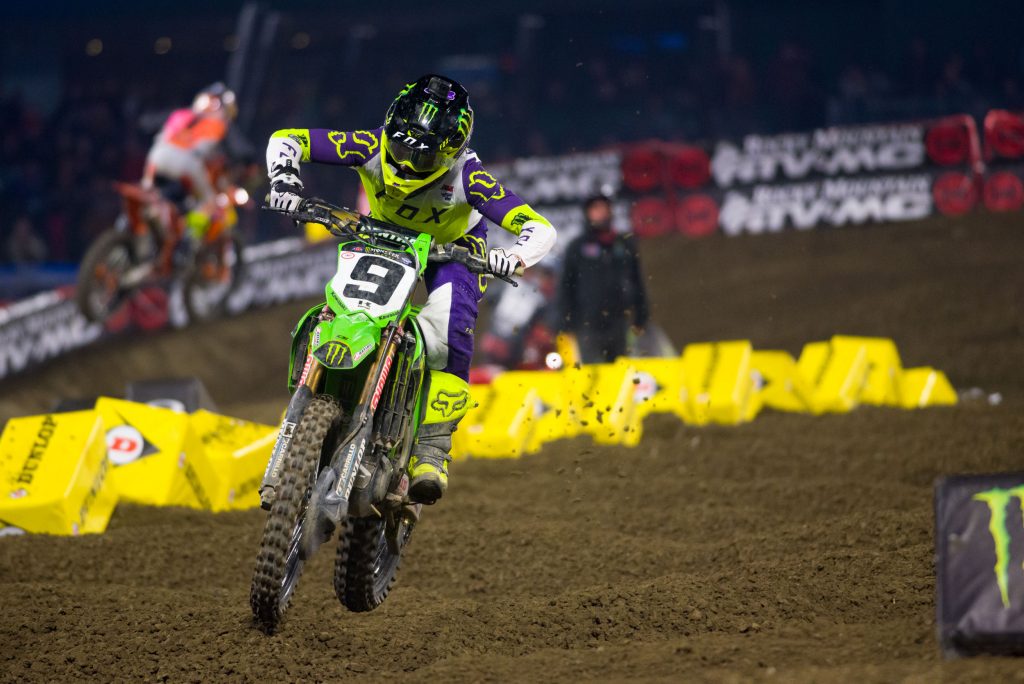 Adam Cianciarulo: I wasn't buying all the hype around this kid early, but after I witnessed his technique/speed/style in St. Louis, I am on board for AC winning multiple rounds. AC looks faster as well as more in control than Eli does at this point and that is really tough to do. AC's rolling corner speed is absolutely ridiculous and he sets up/comes into corners so much faster than the rest of the field right now. He rides more in control now than when he was on 450's yet seems to have kept that 250 aggression. It's tough to impress me as I have been around a lot of fast riders in my day, but this kid has some next level stuff here. Gulp! Yes, that's me drinking the green AC cool-aid and I now have more respect for this kid leaving St. Louis then when I arrived. Yes, he crashed on the last lap and got seventh, but to me if it wasn't for the run in with Osborne early in the main, he would have been on the podium.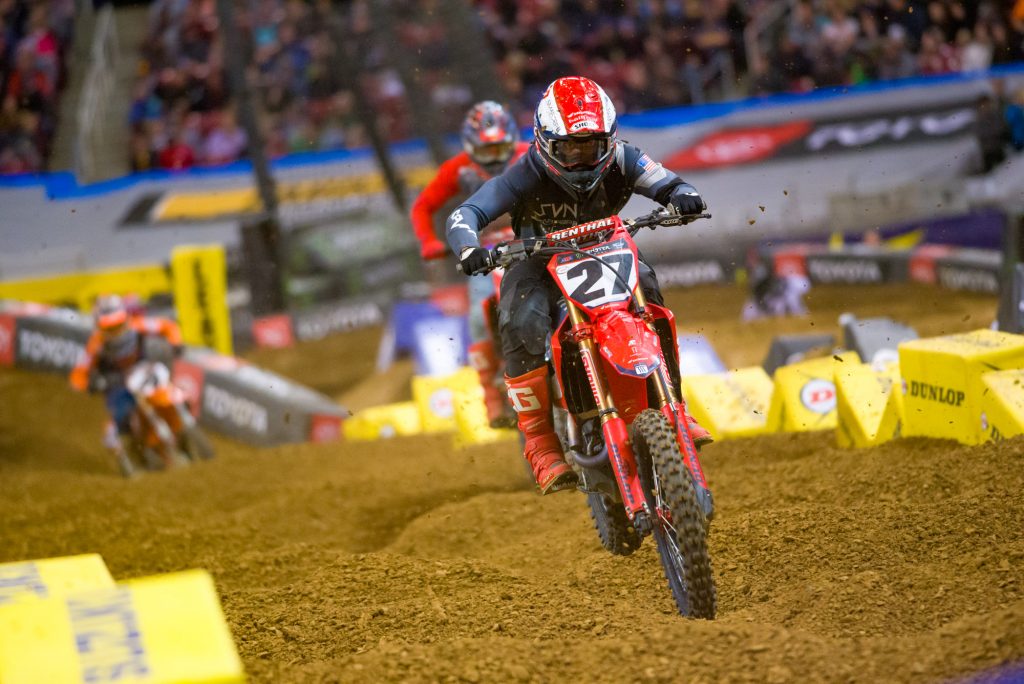 Malcolm Stewart: Malcolm was beat up coming into this weekend from a big crash at the practice track during the week. I called team manager Tony Alessi on Friday to check in and Tony simply gave me the "We're fine" with a trophy emoji, and a video of Malcolm eating dinner. WTF! Ok, thanks for that Tony! He's eating dinner so a podium is on the way? Got it! For how sore baby Stew was Saturday night his whoop speed DOES NOT show any weakness! Dear Dirt Wurx, you can't stop Mookie's whoop speed, you only hope to contain it! Build them small. Build them big! MOOKIE DOESN'T GIVE A SHIT! He will annihilate them with Mookie like precision! If I was a rider and wanted to kill whoops, I would watch Malcolm riding whoops all day and night! It's not even fair how good he is in these things. If you're headed to a race in the future, make sure to watch Mookie in the whoops. It should be a bucket list type thing people! Did I mention he was good in the whoops! Holy baby Yoda!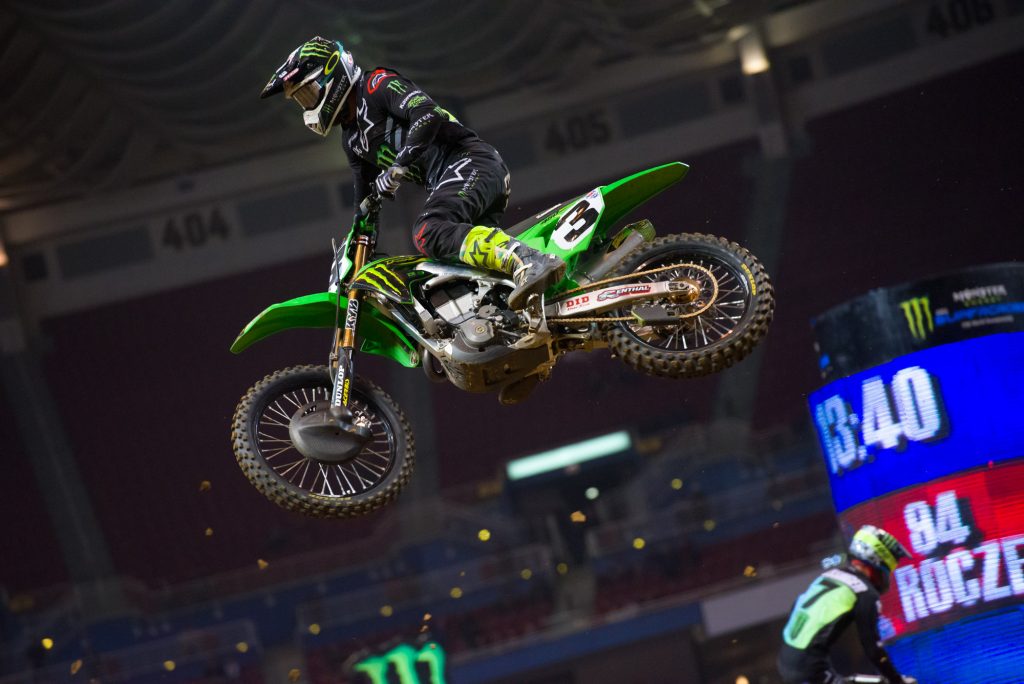 Eli Tomac: I picked Eli to win! I still believe it's his title to lose, but he's not doing himself any favors with these starts he's getting. We have some riders who have Eli speed this year, so Eli will need to start in front or near them to get it done this year. He was the first one to jump three in after the finish line, which Weege said couldn't be done. Eli has set such a high standard for himself that we the media have put huge expectations on him that maybe we shouldn't. Yes, I know he's a three time outdoor champion, but maybe we need to chill down on him just a little. Eli will get this all figured out, go back to his winning ways soon, and we the media will just say "finally".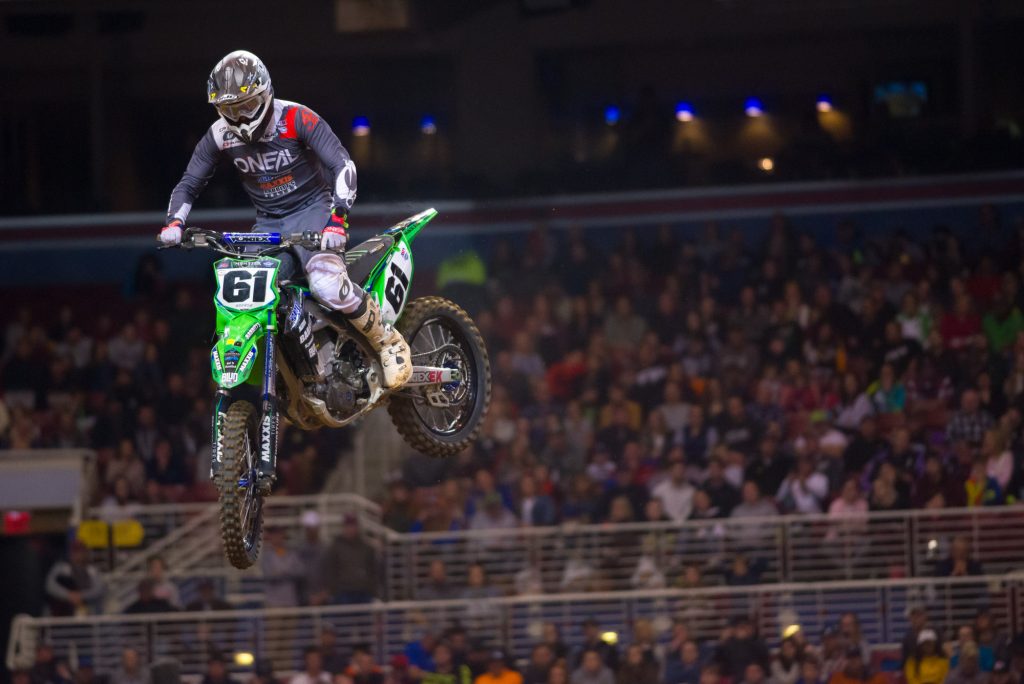 Alex Ray: I've been trying to get this dude on the #Homelife bandwagon, but it's been tough. Alex had an old flame, his family, some friends, and he made the main in St. Louis. Coincidence? I think not! He rode great in the LCQ, but needs to clean up some of his main event riding and we should be in the top 15. His new girl seems chill and cool, but I don't this she knows what to think of me just yet. How do I know this? I basically grilled her in the pits before showtime and she took it like a champ, but didn't talk much! Keep this one around for a while A-Ray will ya? #Homelife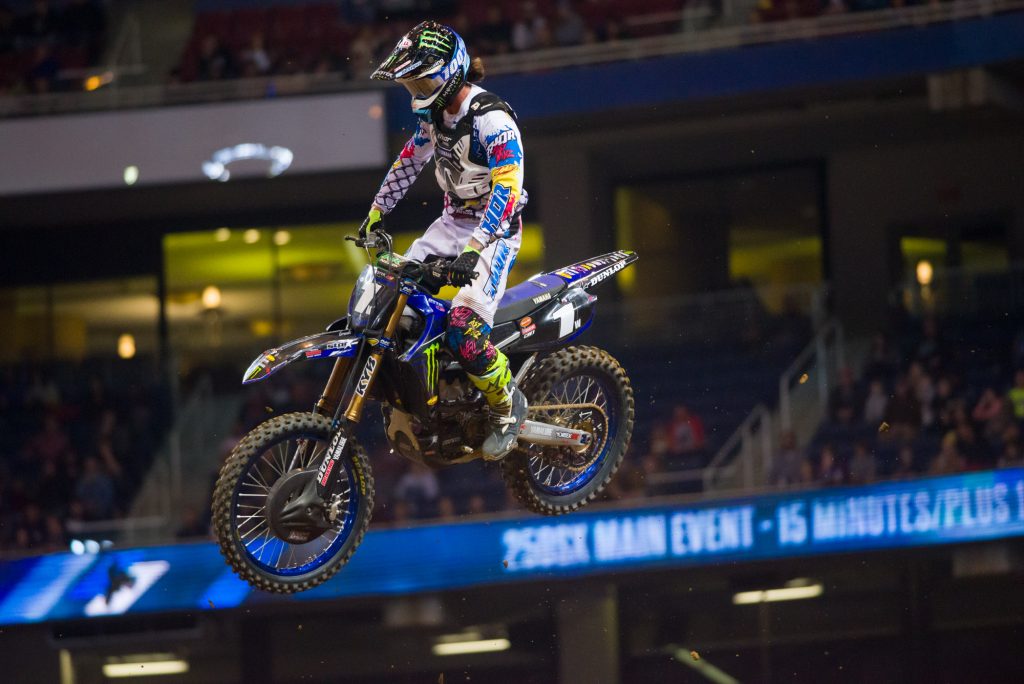 Dylan Ferrandis: Poor Dylan. As fast as that Star Racing Yamaha is, poor Dylan couldn't buy a start or get a clean first lap in St. Louis. Setting the fastest time in practice I thought this would be the night we started seeing the french train start to roll, but it wasn't meant to be. In the main event though Dylan managed to get his bike straightened out, but jumped back in with the lead pack and to me screwed up a few riders main events. Some of the riders battling up front assumed Dylan was on the lead lap in front of them only to ride harder to try and make a pass then screw themselves up by pushing too hard.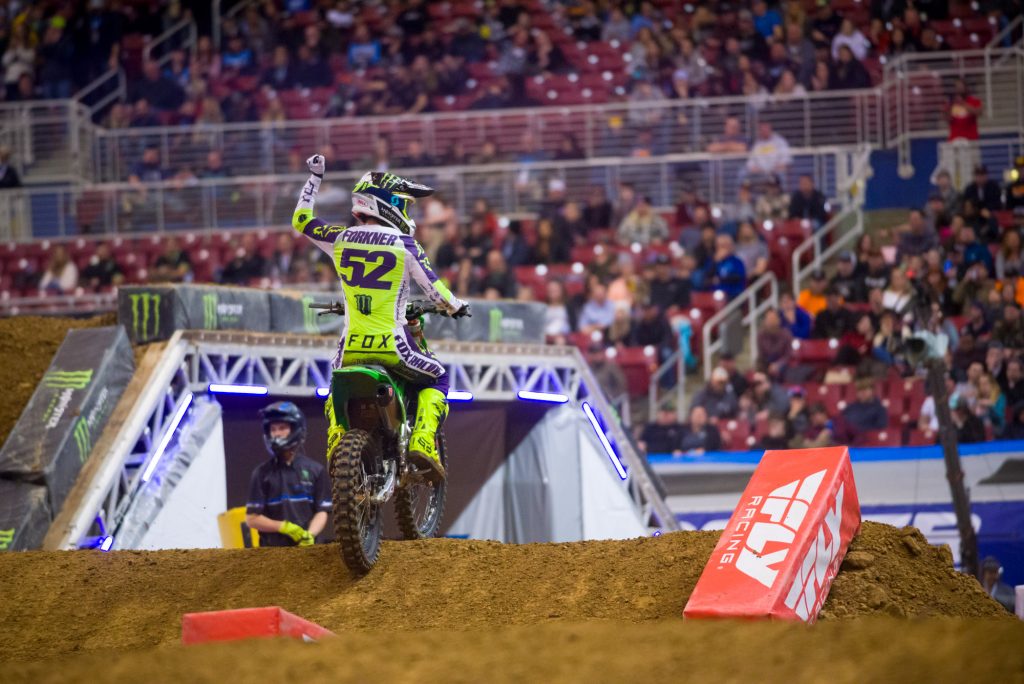 Austin Forkner: Austin is part of the BHC and that makes me like the kid even more. He rode aggressive, yet unlike A1 where he made a crucial mistake, he didn't make the mistakes in St. Louis. He got a small gift because Cooper and Ferrandis both had their issues on the start so that let Austin get a comfortable margin fairly early to ride within his limits. A2 is going to be exciting between Forkner and the Star boys. See you Wednesday at 6PM Austin!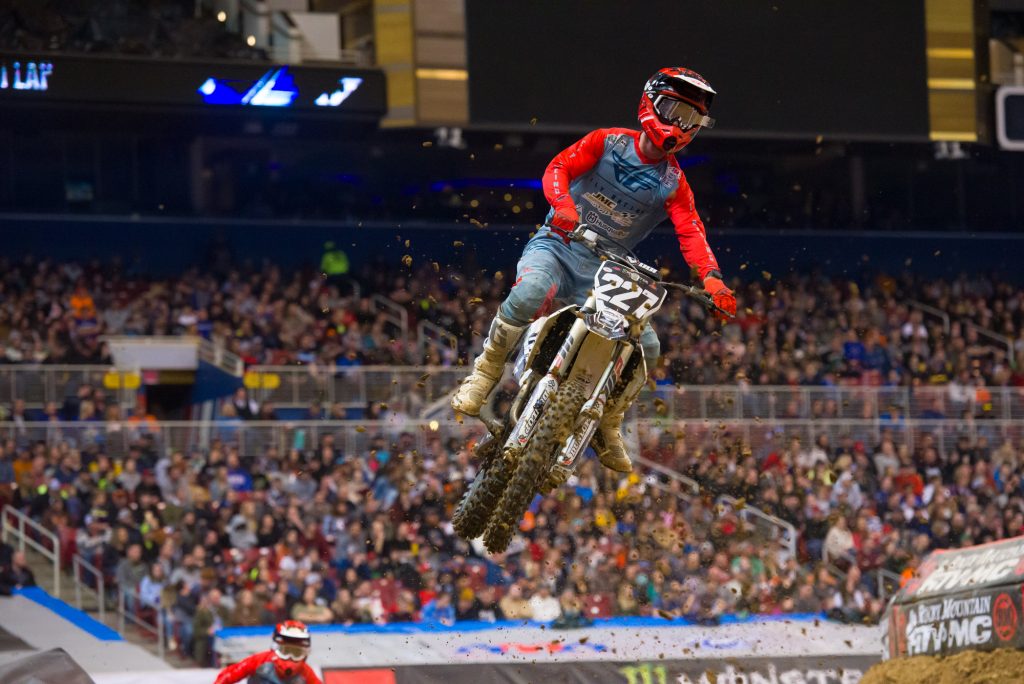 Derek Kelley: Derek has been impressive stealing the last transfer spot in the main the past two weeks on his JMC Motorsports Husqvarna. Derek is a Moto guy turned off-road rider turned Supercross rider. He was on the SLR Honda team (Mark Samuels) for the WORCS Series some of 2019, but decided to give Supercross a go one last time. Watching him ride Saturday night I noticed his strengths are the whoops and how he can man handle the bike more than some of his competition. His size on the bike is an advantage in this area. Kudos to this kid who basically no one really knows and has a record of 2 for 2 on getting her in the main event.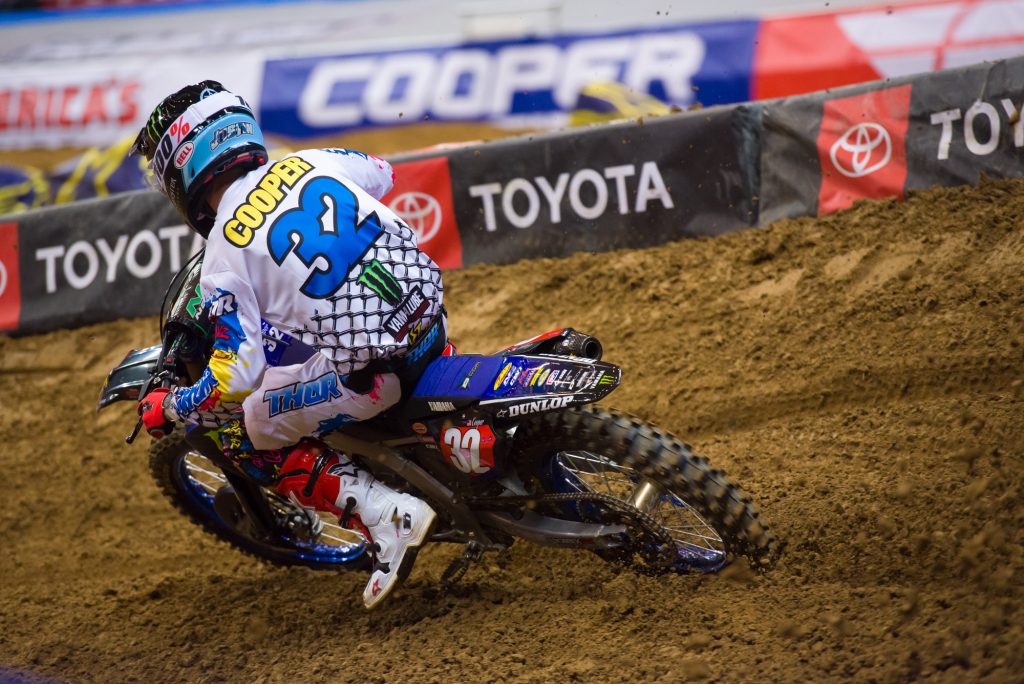 Justin Cooper: Cooper was the fastest of the night, but having a crappy start in the main is something he would rather forget. This crappy start forced Justin to use lines that were less favorable to try and make passes. That let Forkner have a clear track. I am impressed by Cooper's newfound calmness that he has this year though and it looks like Swanepoel has his fitness better in 2020.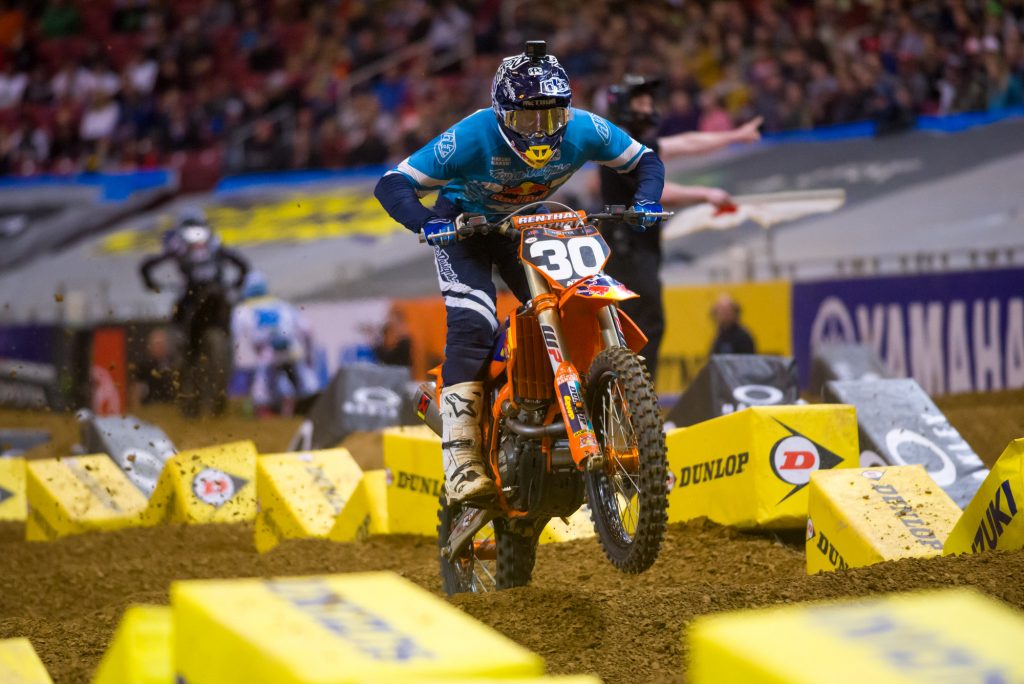 Brandon Hartnraft: Great ride for TLD KTM and Hartnraft. Alex Martin and Brandon had a great battle the last few laps that saw Alex get right on Brandon's rear fender near the last corner only to have a lapper get in his way. From what I know about Brandon he seems like a hard working kid. Mike Brown told me the kid has heart and tries really hard on or off the bike. This is a compliment coming from Mike Brown. Trust me!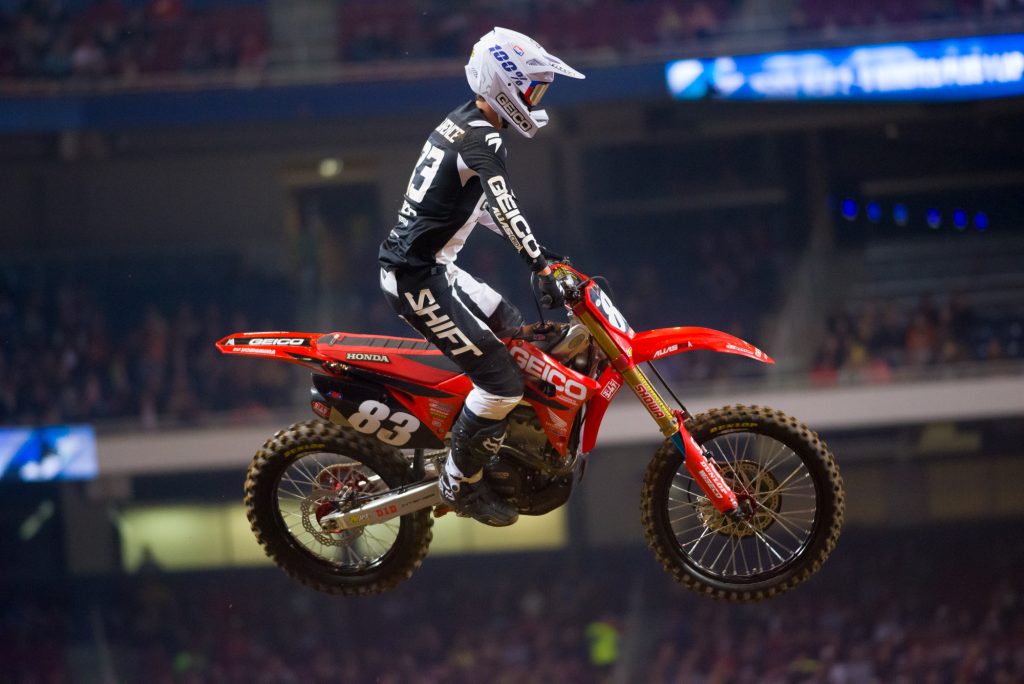 Jett Lawrence: Jett is only 16, but man is he going to be good or what?! He only got fifth place because he had a run in with a tuff block, but he was looking to get on the podium. I did notice around the 12 minute mark things started to come unraveled quickly for the young Australian. You could tell he was getting tired because he started to seat bounce jumps out of the corners and get sloppy on his corner entrances. Seat bouncing is a tell tale sign of a rider getting tired and Jett was looking like the pressure of running up front had his tongue in the spokes a bit.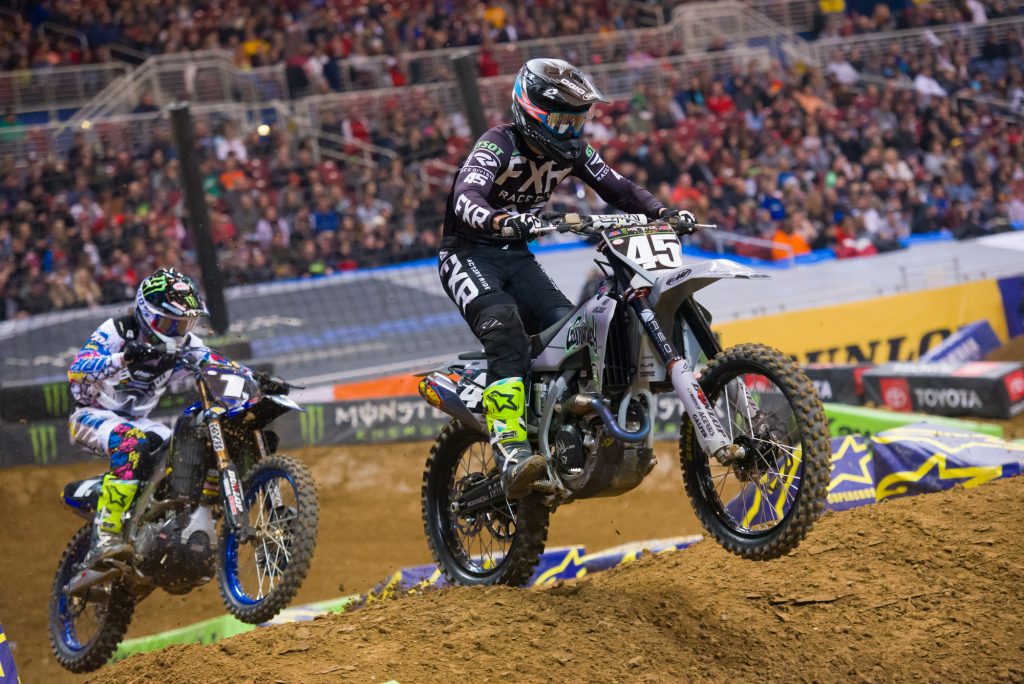 Jacob Hayes: A sixth place by Daniel Blair's protege is a great step in the right direction. Hayes has been staying up north with Blair and riding at the HEP Suzuki track, but he just now started to get in the swing of training/riding again after an injury forced him off the bike for a bit. You can count on two things with Jacob. One is the dude is going to try his balls off and not leave anything out on the track. The second thing is he will be good in the whoops.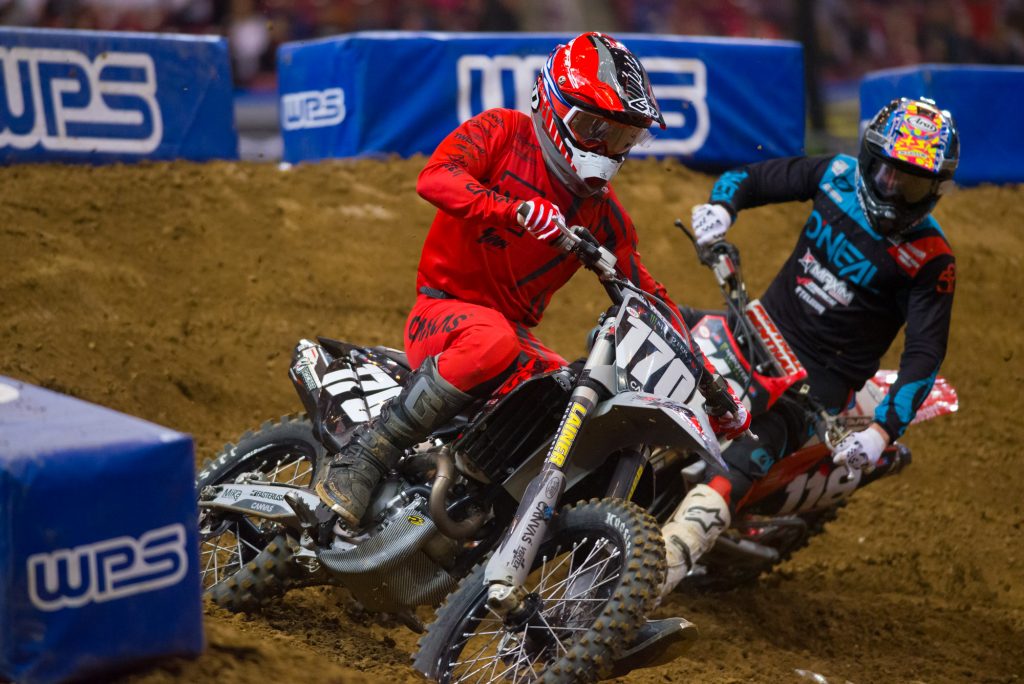 Michael Leib: Leib had a god heat race and that past two weeks has caught my eye for not only his gear combos, but his speed during the day. He looks good! I spoke with Leib on track walk and we talked about how age has helped him deal with pressure better than 10 years ago. He said the elite level riders deal with it very early in life and that's why they are so damn good. It made sense to me and it's cool to see a veteran like Leib with some perspective. Leib's 17th place doesn't show how well he's actually riding. Be on the lookout for his Canvas gear set ups the next few weeks as those will be for sale to the public.   
Rider Turnout Attendance: I was talking to JT about the rider attendance and how it seems fairly low for an early round. With only 42 250 riders and under 60 450 riders entered in St. Louis makes me wonder what the hell is going on? These kind of numbers are the type of numbers we get towards the middle to end of the season. Is the 250 turnout super low because St. Louis is the second round and that it's a west event? Possible. Hey Feld! We are in Missouri. Shouldn't this be an east event? We are killing our 250 privateer riders by doing this. I understand this will not most likely happen again next year, but come on, let's try to give our privateers a fighting chance to get to the event at least.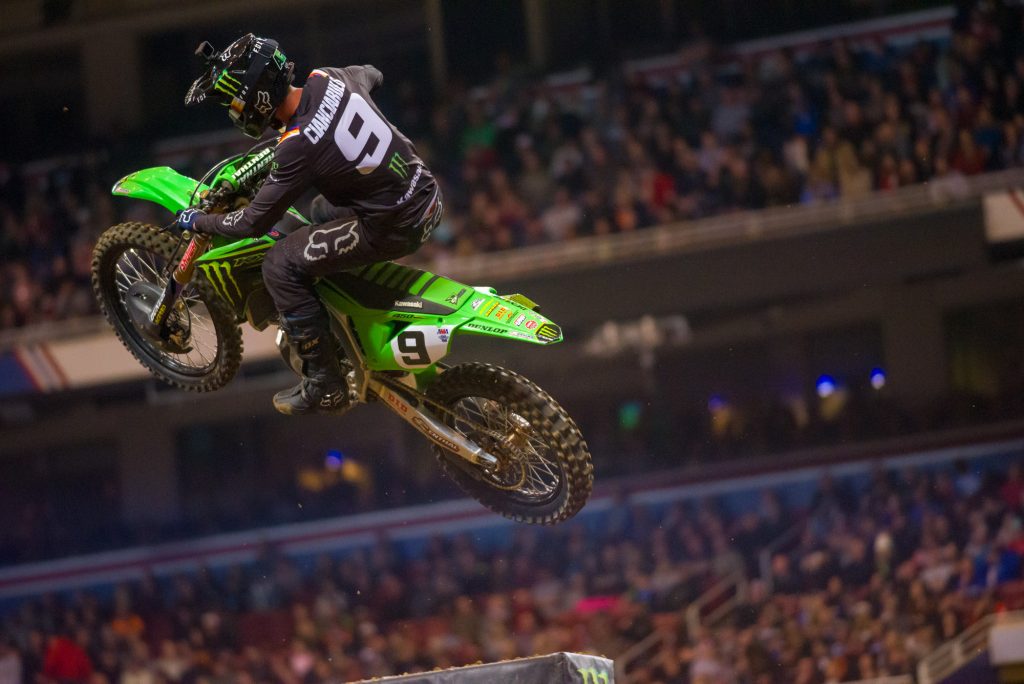 AC Directing Traffic: I noticed in the last practice that AC waved his arms at a couple riders to signify that he was about to do a heater lap so please wait for me to cross the start/finish line so I don't have to find my way around you on the lap. The other riders obliged and rolled very slowly on the track behind AC until he started his hot lap. I just thought it was cool that the there riders respected AC enough to not jack with his lap.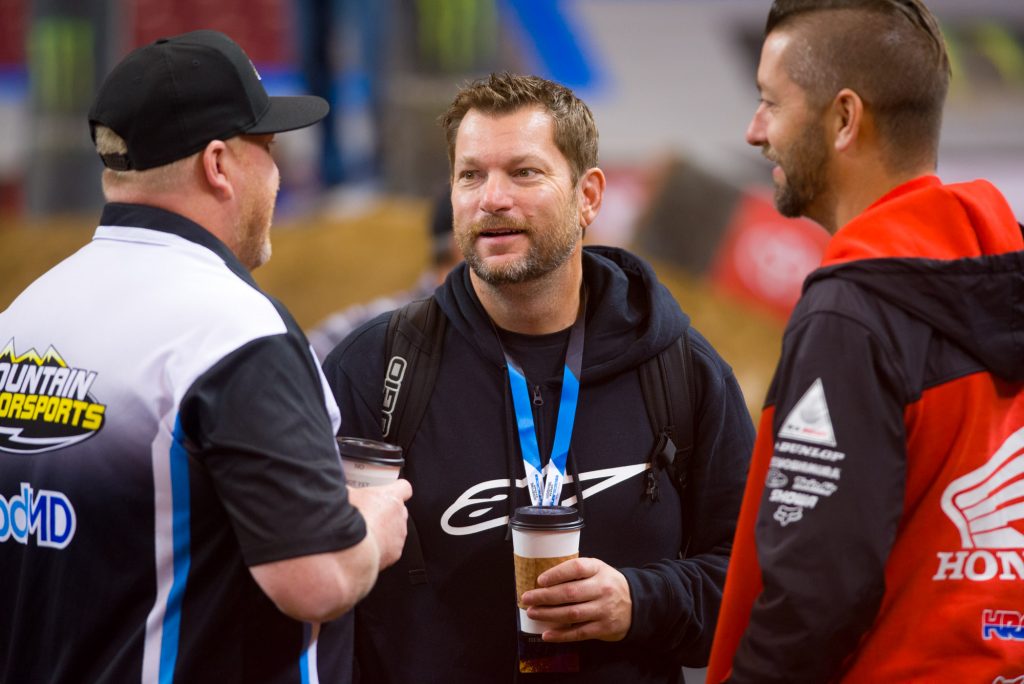 Steve Matthes: Much like loading up your own truck or van when you're going riding, you most likely have a system/program that you do each and every time, so you don't need anyone to mess with it right? When your buddy goes riding with you and tries to help you load up he basically just screws it up, so you would rather just do it yourself right? I feel like that friend sometimes that's trying to help Steve load up and I'm just in the way at times at these races. Steve seems to have his race day program dialed in, so I try not to mess with it when it comes time for me to actually go to a night show. However, there are some things that Steven needs in order to have a good day at the race. Steve needs coffee asap, he needs there to be minimal talking first thing in the morning, he needs the Team Monster Energy Kawasaki truck for more coffee/snacks, and he needs to flip off Wil Hahn at some point in the day. I DO NOT want to interrupt that flow at all.  I do respect as well as witnessed how much effort Steve gives each and every time he's at a race, because let me tell you people, he's is juggling a lot in the press box. I mean he has the twitter feed, Pulp Fantasy, he's watching the riders, he's got dudes wanting to talk to him about fantasy, he has a hundred text messages coming in, and he seems to do all in stride. For those of you that do not know Steve that well, I will let you in on a little something. The dude's work ethic is one of the best that I have been around and he works his ass off to get content out to all of you ASAP. It makes me raise my level and even though he may not know it, he's a good role model for me to bust my ass.