I was not sure what to expect in St. Louis but what we ended up receiving was a great track, with some sweet dirt, and another exciting night of racing. While there were not really any great battles at the front, we did see plenty of drama and excitement a little bit farther back. Redemption, validation, sharp elbows, and concerns were all on display in the dome. Here is my thought on the top ten in the 450 class and a few highs and lows for the night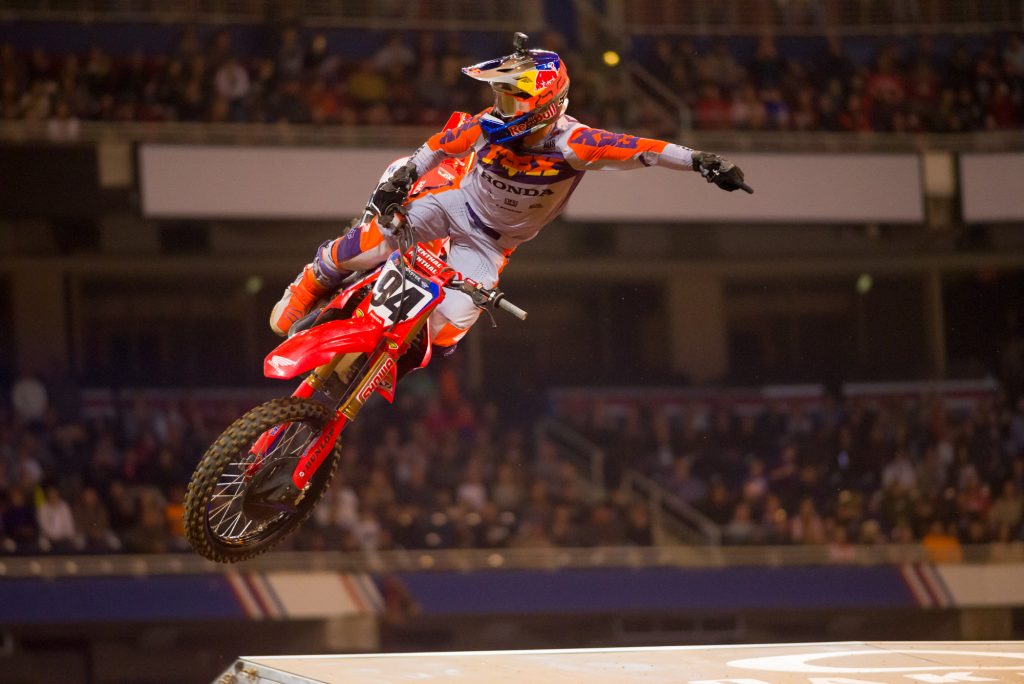 Ken Roczen/ First Place 450 Class
Man, I am soooo pumped for Kenny. That monkey is finally off his back after nearly three long years of frustration. I know he has scored a few wins outdoors, but it was Supercross that almost ended his career. Last night he saw an opportunity and seized it, making an aggressive pass on Osborne and checking out on the rest of the field. This was the ride I was hoping to see at A1 and a damn fine display of speed by one of the most talented riders in the sport. Time will tell if the move East played a major role in this success or if Zee German truly has his bike dialed in now. Either way, it was a great night for Kenny and all of his many, many fans. Best of all, perhaps now we will never have to watch that awful 2017 crash ever again. Next week we travel to the scene of the crime and hopefully, Roczen can bury that free-loading monkey in the Anaheim dirt once and for all.
Riding Rating: 10 out of 10, how could it not be? He got a great start, made an aggressive pass and checked out. A textbook ride by everyone's favorite Deutschlander
Gear Rating: 10 out of 10, overall I think St. Louis was dismal for gear so this colorful Fox setup wins the night by a mile in my book. Everyone else was dressed for a wake for some odd reason.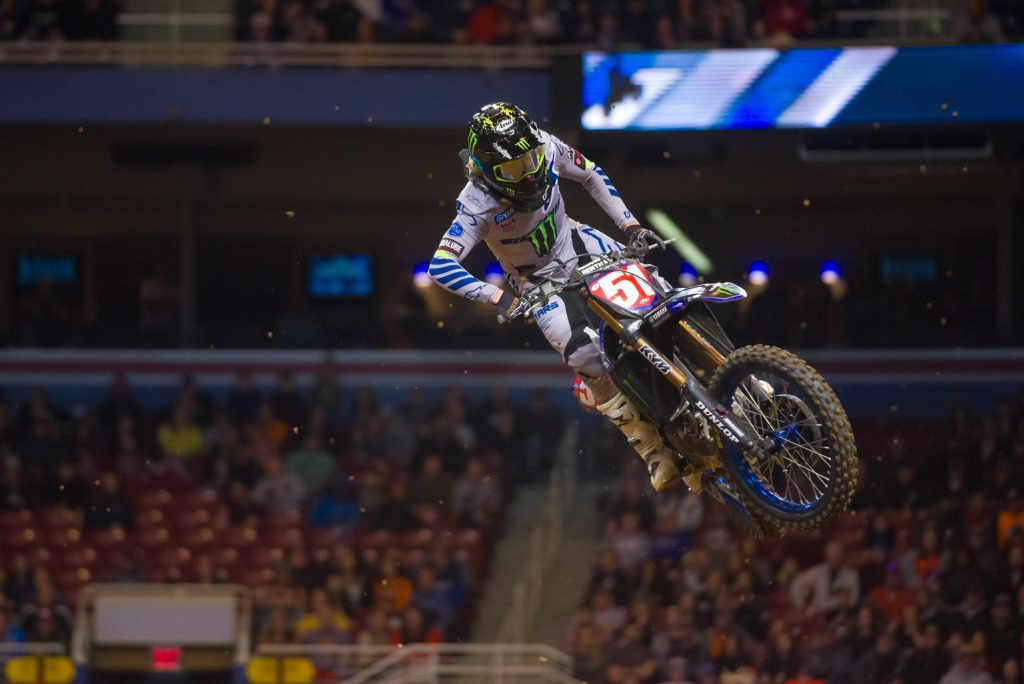 Justin Barcia/ Second Place 450 Class
I know it is early, and Bam Bam is as mercurial as his nickname would suggest, but boy oh boy am I on the #BarciaBandwagon now. At St. Louis he was sick as a dog and miserable, but somehow he pulled off a convincing second place. One look at Cooper Webb's results and you can see how this night could have gone, but not this time. Somehow Justin found the strength to gut out championship-caliber performance in the dome. He didn't luck into this one either. In spite of having the creeping crud, he logged the second-fastest lap in the main behind only Roczen. Again, I don't want to go all crazy here, but Justin actually extended his point lead last night. Last year, that red plate only lasted until round two. This year, who knows? Maybe he can keep it going a bit longer. Hopefully, everyone will be healthy next week at A2 and we can finally have the barnburner we have all been hoping for.
Riding Rating: 10 out of 10, with his illness I am not sure if anyone could have hoped or expected better.
Gear Rating: 4 out of 10, yes, it wasn't terrible, but blue and flat gray should only be the color pallet on battleships and F-14 Tomcats. Eject Mav…EJECT!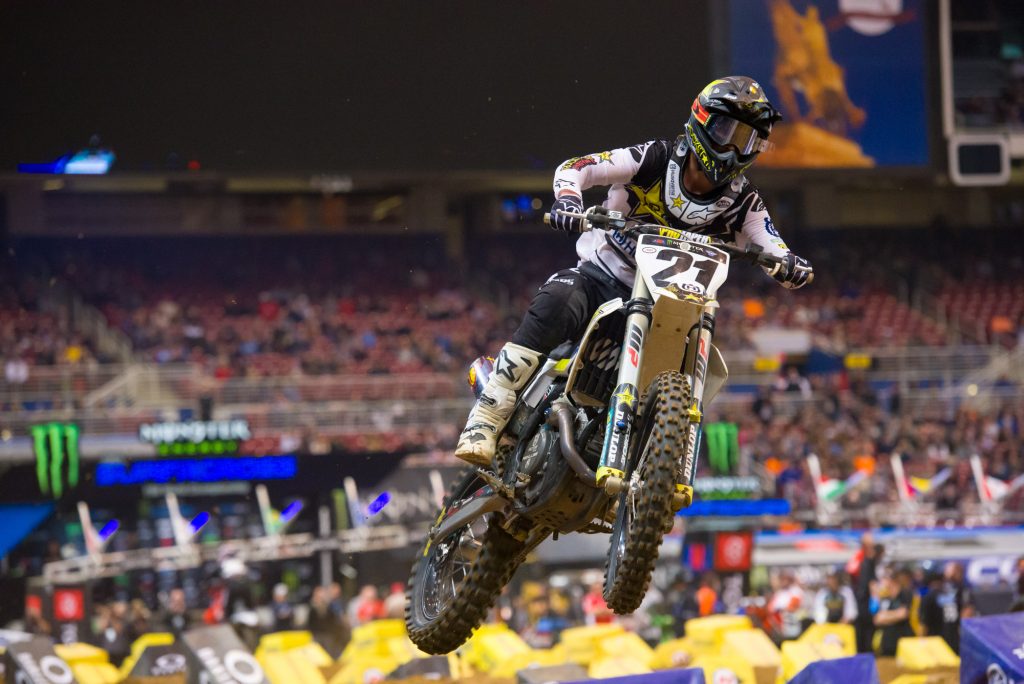 Jason Anderson/ Third Place 450 Class
This was a nice ride by Anderson. He secured a good start and rode patiently as Zacho and AC played bumper cars in front of him. Of course, if AC had been a bit more patient himself, Anderson may have been looking at another fifth, but if elbows and bars were candy and nuts… you know the rest. In any case, Jason scored his first podium in a year and placed himself smack dab in the middle of this title fight. With AC's rookie shenanigans and Webb's struggles, El Hombre's stock is definitely on the rise.
Riding Rating: 8 out of 10, nice to see a man brave enough to represent his country on the podium again. #TeamUSAMatters
Gear Rating: 5 out of 10, same old, same old from Rockstar here. These guys are as bad as Yamaha back in the 2000s with their desire to keep to a certain look. I did like this better than Osborne's weird Checkers motorcycle club look though.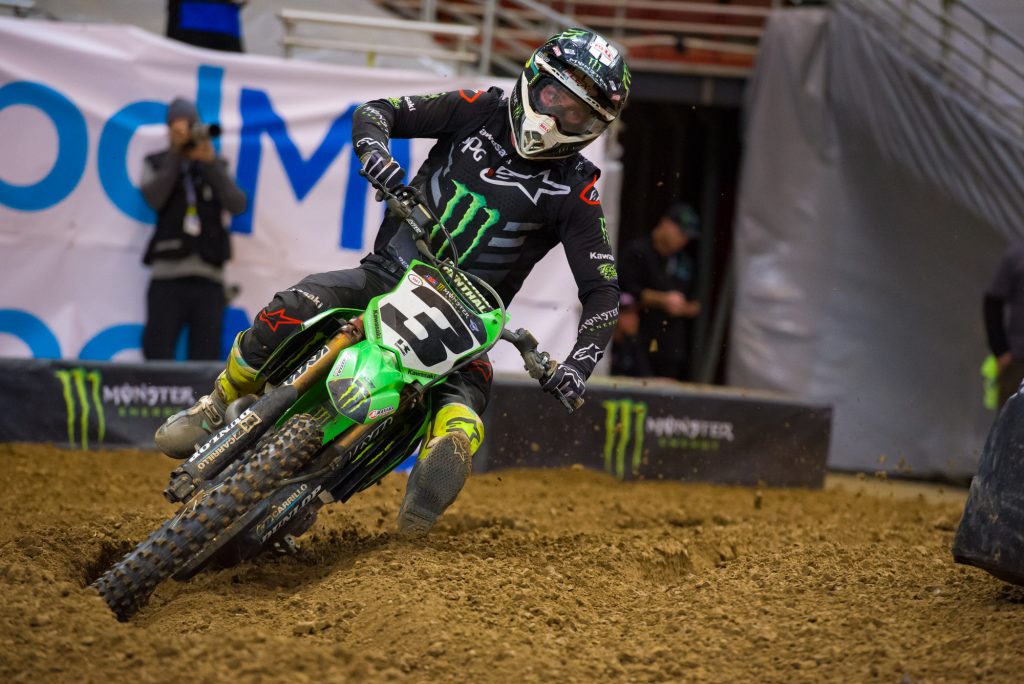 Eli Tomac/ Fourth Place 450 Class
Well, this was not the victory I predicted Tomac would score at round two, but it was significantly better than his aweful A1. He came from way back off the start and almost made the podium. With Roczen's health still a question, AC's rookie mistakes, and Webb's sub-par finish, things have to be looking up for the Tomac camp. He really needs to stop trying to use first gear on the starts, but as long Barcia does not turn into Mr. Consistency, he is still fine for this title.
Riding Rating: 7 out of 10, I have to dock him a bit for another terrible start. It was not the win I thought we might see, but it was still a solid bounce-back from his A1 head-scratcher.
Gear Rating: 3 out of 10, unless you are a ninja or are named Solid Snake you should not be wearing this black and gray getup.
Zach Osborne/ Fifth Place 450 Class
I'm not sure how I feel about this ride by Zach. He nailed the holeshot and I would've hoped he could have turned than in a podium. Instead, Kenny and AC used him for a Tuff Block. He did get his revenge by totally screw up Adam Cianciarulo's night in retaliation, but that is only small consolation for a guy with championship aspirations. On the bright side, a fifth is way better than last week, and I don't know if he is still feeling the lingering effects of the flu. He was under attack all night and showed a lot of grit to fight back and stay in the top five (even if AC handed one position to him on the last lap). Personally, I would love to see Zach challenging for a few wins this year like he was in New Jersey in 2019. If he is going to make that happen though, he is going to need to find another gear pretty soon.
Riding Rating: 5 out of 10, way better than last week, hopefully, next time he can race forward instead of being used as a course marker repeatedly.
Gear Rating: 3 out of 10, I like Fly Racing. I like playing checkers. I don't like this.
Malcolm Stewart/ Sixth Place 450 Class
This was a great ride by Mookie. I think this was his best ever career finish and a really great showing for his team. Man, the MCR squad sure has come a long way from the Laser Gate days. Whoever would have guessed that Tony Alessi could actually be a solid team manager?   Last year, they won the main event at Daytona and this year I honestly think they can be looking at having two or three guys in the top ten on a regular basis. What a world we live in.
Riding Rating: 8 out of 10, I think Barcia and Webb may have been suffering from a bad case of Mookie Fever at St. Louis. #CatchTheFever
Gear Rating: 2 out of 10, I apologize if somebody died and we were all in mourning, but otherwise all this blacks and gray gear can go back to the Megadeth concert it came from. Maybe they all stole it from Ralph Sheheen's concert wardrobe?
Adam Cianciarulo/ Seventh Place 450 Class
If I am bummed about one thing at St. Louis, it is the night that Adam Cianciarulo had. He was once again the fastest guy all day and won his heat with little problem. Going into the main, I thought he was going to pull off his first win. At the start of the main, he put himself in a good position and I thought he was once again going to the front. I'm not sure anyone was catching Roczen this night, but I think he had the speed to at least get on the podium. Then he got impatient, though, and all those plans went off the rails. His move on Osborne was aggressive, but not dirty, but all the same, Zachypoo was not having it.  After being parked by Kenny, Osborne was not about to let this upstart kid push him around so he took AC to the top of the berm before the second of those big doubles. This move let Anderson and Brayton by and basically cost Adam any shot at making a race of it at the front.
Even so, AC regrouped and eventually got back by Zach (cleanly this time) into fourth. He was not up to catching Anderson, but a fourth-place should have kept him in second behind Barcia in the series standings. On the last lap, however, he threw it away in some sort of crash they did not show on the broadcast. It did not look like a big one, but it cost Adam three valuable positions at the finish. It was such a disappointing end to a promising night. Even after all of that, AC is still tied with Anderson for third in the series and is only ten points out of the series lead. I'm hoping this race filled AC's quota for rookie mistakes and he can get the hype train back on track at A2.
Riding Rating: 5 out of 10. he had the speed but rookie blunders torpedoed his night.
Gear Rating: 3 out of 10, this was by far the biggest drop in my Gear Power Rankings from last week. I wish these kids with all of their black gear would just get off my lawn!
Justin Brayton/ Eighth Place 450 Class
Justin was in fifth at one point early and faded back to eighth at the end. Basically a copy of what we saw last week minus the heat race win. Still, having two riders in the top ten is great for Honda and about what they should have hoped for out of Kenny's wingman. Maybe he will be friskier when we get to the Gang Bang at Glendale.
Riding Rating 5 out of 10, not as flashy as A1 but about what I expected.
Gear Rating: 7 out of 10, I still don't love all the gray but overall this is a good look.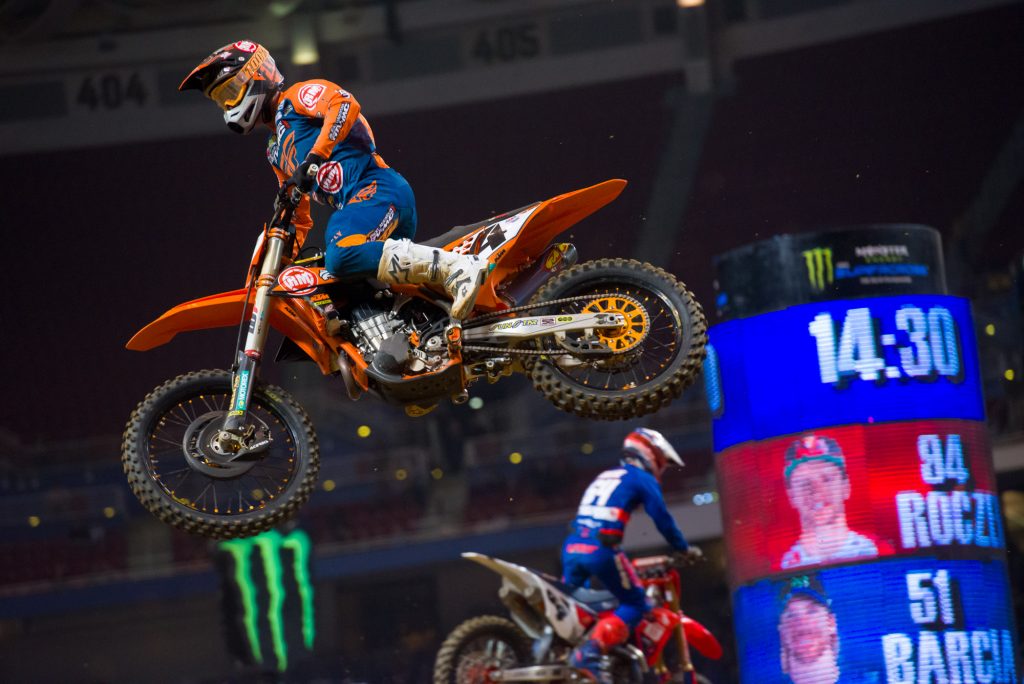 Blake Bagget/ Ninth Place 450 Class
They barely showed Blake in the main but I'm sure a ninth was not what he was hoping for after an impressive A1. Unfortunately, this is pretty much par for the course with Baggett and imagine he with follow this up with a second or some other crazy result next week.
Riding Rating: 4 out of 10, I did not see him out there but my score reflects my expectation that a ninth is not really cutting for a guy on his team with his talent.
Gear Rating: 9.5 out of 10, I know I gave this gear a 9 last week but it gets a bonus half-point for not being black.
Aaron Plessinger/ Tenth Place 450 Class
While this is much better than last week's disaster, there is no way this is the kind of finish Yamaha had in mind when they signed this kid to a big contract. I imagine they thought Barcia would be his wingman by now. After all, he was coming off of two 250 titles and Barcia was on the street just three years ago. My how times have changed. Now, I am starting to get worried about the future for Aaron. He seems like a nice kid, but he never seems to have the desire to win that you see in most 450 champions. Maybe it is just his public persona, but I am afraid this might not work out for him. Oh well, I guess he can always go kick some ass in the woods like his dad.
Riding Rating: 3 out of 10, this was an improvement, but yeah, not great.
Gear Rating: 3 out of 10, black, black, black, everywhere I turn there is black! WTF people?
Blaze's Burnouts
Bam Bam: He rode great and kept the points lead. It is early, but he is making me a believer.
Ken Roczen: I'm so happy for this guy and hopefully we can finally stop talking about that damn 2017 crash.
Cooper Webb's Gear: He rode like poop but his gear was aces in my book. My favorite Thor stuff in quite a while.
Austin Forkner: He rode great, looked great (love that purple Fox gear) and made up for that track-cutting debacle at A1 with an impressive 250 win.
Justin Hill: An eleventh is not going to get him Tampa $$$ but he is riding way better this season than I expected.
JGR: They did not finish last! Small victories people…small victories.
Blaze's Boner Airs
Cooper Webb's Riding: I can only assume Coop was still under the weather. Either that or someone painted his 2018 Yamaha orange.
Dylan Ferraindis: A twelfth is a major bummer in an abbreviated series. He better hope Forkner pulls a Forkner and his teammate catches Barcia's Mookie Fever.
Frederik Noren: I'm not sure what happened to Noren, but the only thing worse than a last place is a Did Not Start. If a JGR had a theme song it would be a sad trombone.
Chad Reed's DNF: The Bummer from Down Under
Black Gear: Alice Cooper was proud.
Thanks for reading and if you would like to see a daily dose of old-school moto goodness you can check out my Twitter and Instagram – @TonyBlazier.
If you like your moto in video format, check out my YouTube channel at www.youtube.com/themotocrossvault .