PulpMX.com Fantasy Pick & Trends
Photos by James Lissimore
PulpMX Fantasy heavyweights battle it out for overall win at St. Louis.
Hi everyone and welcome back to week 2 of the PulpMX Fantasy wrap up. If you are new to this column, please check out the A1 wrap up, posted last week so you have all the terminology down.
St. Louis delivered great racing and a tie at the top of the Championship League leaderboard for a pair of PulpMX Fantasy heavyweights. Overall champion and current #1 red plate holder "Cook", and PulpMX Fantasy #24 plate holder "Calvin 861" tied for the top spot this week at 283 points!
Some interesting takeaways looking at their teams. First, they both chose an optimal 450 lineup. This consisted of Zach Osborne (0) – 36 points, Benny Bloss (10) – 32 points, and Kyle Cunningham (9) – 32 points. They did pick different all-stars; Cook chose El Hombre (4) with Calvin choosing Eli Tomac at a 3 handicap, each of their all-stars scored 26 perfect points.
The second interesting thing; they chose identical 250 teams that could have been beaten. Carson Brown (6) had a great night, putting up 42 points at a 15% pick trend. Alas, nobody who chose Carson landed on the optimal line up, that's what makes this game so difficult, and fun!
Their 250 lineup consisted of Luke Clout with 42 points at a 4 handicap, Aaron Tanti (9) – 38 points, Alex Martin (-1) – 36 points, and hometown hero, Austin Forkner (2) in the all-star slot with 26 points.
They also added 15 points apiece by choosing Forkner as First to Finish Line (FFL).
Two keys to their success: Choosing Kyle Cunningham, who scored 32 points at only 8% pick and avoiding Dean Wilson (2) who scored only 12 points at a 22% pick trend. This is a classic leverage play, they correctly landed on a low owned rider, who outscored the chalkier choice who failed to meet or exceed their expected result.
Congratulations Cook and Calvin on the tie at the top for St. Louis! They will now go head to head this weekend, with the winner taking home the first-place prize Chad Reed jersey.
Speaking of ties and tie breakers. We had a tie at the top last week between Krezz0541 and Dotson76 – congratulations to Dotson76 for taking down the Cooper Webb jersey! Dotson followed his week one win with 262 points at St Louis, landing him in 3rd place overall for the 2020 Fantasy SX season.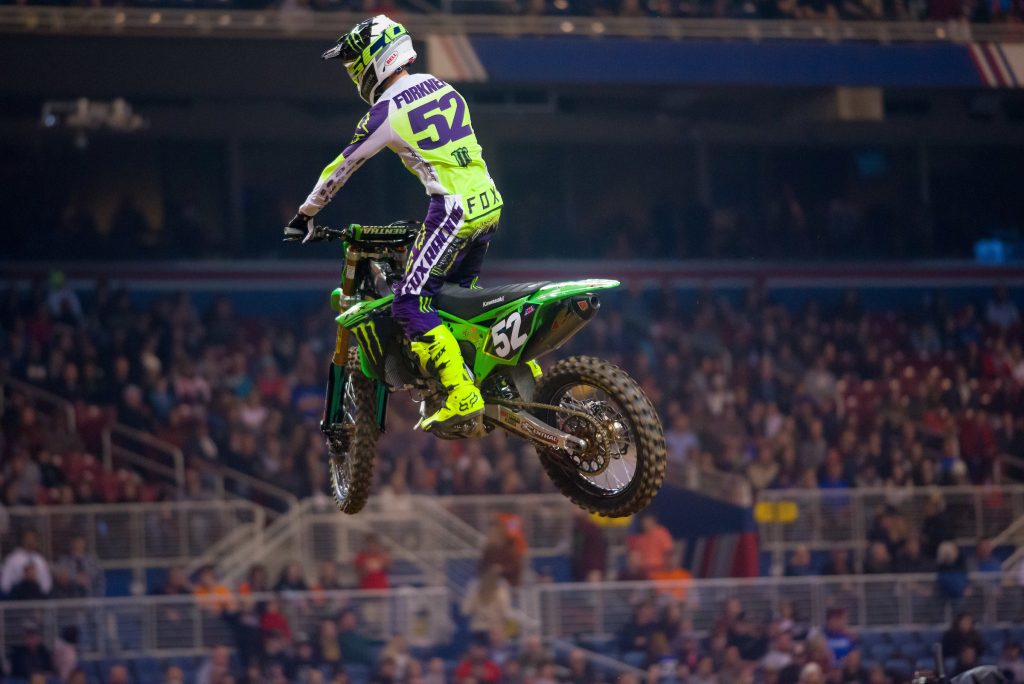 Most picked riders AKA "the chalk"
Last week we saw crazy high pick trend percentages at the top, when 61% of team owners chose Adam Cianciarulo at a 4-handicap all-star and 56% choosing Christian Craig at a (0). St. Louis pick trends were not quite as high, and we saw a very slight reduction in the number of riders with a greater than 30% pick trend. This is a good sign that the handicap crew is doing great work. Let's take a look.
This week, Austin Forkner was the highest pick trend rider at 46%. The 2-handicap all-star delivered 26 perfect points via his first-place finish. Alex Martin was the only other high pick trend rider, coming in at 34%.
The 450 class saw three riders with greater than 30% pick trend. Zach Osborne topped them all at 44%. He rewarded those who chose him with the highest in class score of the evening, 36 points. Eli Tomac (3AS) – 36% and Benny Bloss (10) – 31% rounded out the top three for the class.
It's interesting to note that all of the riders noted here were on the winning team(s), showing that you can take down an overall with only a slight deviation from a chalky lineup.
 Low owned players who delivered – AKA great contrarian plays
Last week we noted that Derek Kelley slipped through the cracks and delivered a great score for nobody, as he had zero percent pick trend. Guess what? He did it again! This week his pick trend crept up slightly, to 3% ownership at a 9 handicap. He rewarded his owners with third highest in class score, 36 points, via a 14th place finish. Nice work Derek! We also saw Jacob Hayes (0) put up a nice 34-point score via a great 6th place finish for only 11% of team owners.
As we discussed in the winner's breakdown above, Kyle Cunningham (9) was the low owned – contrarian pick to have this week with 32 points at 8%. We also saw Alex Ray (10) and Aaron Plessinger (1) put up 28 points each. ARay via a 19th place finish for only 6%, and AP via a 10th place finish for 7% of owners. Honorable mention to Mookie (-1) with a great 32 points score at 12%, and Chris Blose (9) with 28 points at 13%.
Fantasy Duds
Who burned the field? Let's take a look.
This week in the 250 class there were no riders with a higher than 20% pick trend who failed to deliver a good score. You guys are good! About the only mention as a fail to deliver would be Christian Craig (3) who scored only 4 points for 18% via his 22nd place finish. This was due to a crash; good news is that he reportedly avoided serious injury.
The 450 class was a different story as we had three riders fail to achieve expected scores. Cooper Webb (2AS) delivered only 13 of 26 possible points via a 12th place finish for 22% of team owners. We also saw Dean Wilson (2) score only 12 points at 22% and Adam Cianciarulo (2AS) score 18 points at a 21% pick trend.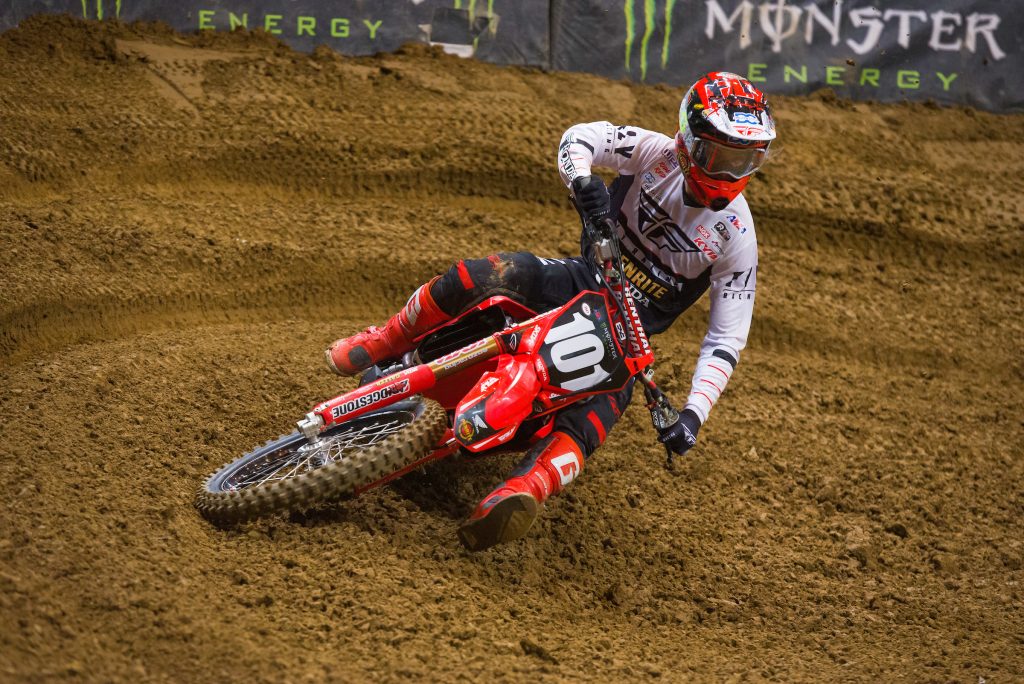 Fantasy Studs
 These are the riders with high pick trends who delivered!
The big scores came from the small bores again this week! Highest overall score with high pick trend was Luke Clout (4), who scored 42 points at 25%. We also saw a nice bounce back this week by Aaron Tanti (9) who put up 38 points at 24%, AMart (-1) with 36 points at 34%, and Mitchel Oldenberg (2) with 34 points at 25%.
The 450 class was topped by already mentioned Zacho at 36 points – 44%, Benny Bloss with 32 points at 31%, and Eli Tomac (3AS) who scored 26 points at 36%.
 The 100% "Lead Pipe Locks"
This week's fantasy pod included Steve, JT, Dan, and Paul. Steve went with AMart and Marty for 41 points, JT chose Luke Clout and Marty for 47 points, Dan chose Martin Castelo and Zacho for 74 points and Paul went with Luke Clout and Kyle Cunningham for 74 points.
Dan and Paul are your week two 100% Lead Pipe Lock leaders with 74 points. The season breakdown looks like this. Steve 95 points, Paul 94 points, Dan 86 points, and JT who only made one of two picks on week one with 66 points.
 First to Finish Line (First Lap) Leaders
Last week we mentioned how Team Pro Circuit scored lots of FFL points during the 2019 Supercross season and picked up right where they left off at A1. It looks like you guys were paying attention as 34.5% of team owners chose an FFL with 55.9% correctly choosing Austin Forkner.
The 450 class had 28.7% of team owners risking the points, and only .4% correctly guessed Zach Osborne. Whoever you are that picked, him, nice job!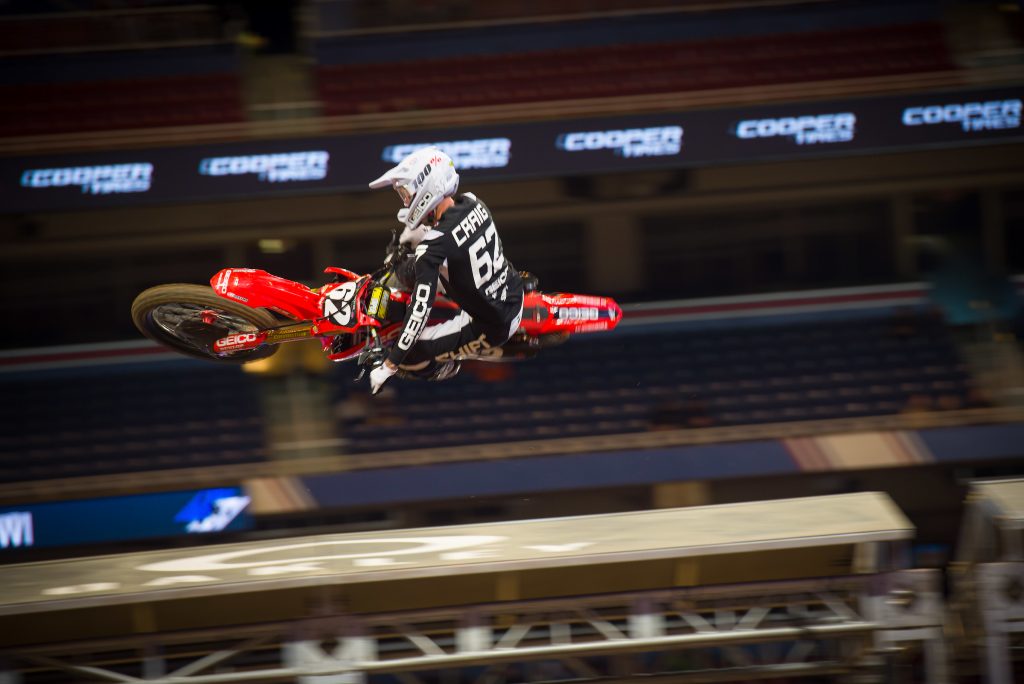 Final Thoughts – St. Louis Round 2
Last week I recommended going through the Anaheim 1 results to figure out who underperformed, resulting in more value for round 2 at St. Louis. For the most part this strategy paid off nicely for those who did the work as we saw Luke Clout, Jett Lawrence, AMart and Benny Bloss all put up great scores. The only miss on this was Marty, who had another lackluster week in real life, and fantasy.
If Marty's handicap continues to climb, he will be hard to avoid picking. One of the first rules of playing any fantasy sports games is that you don't want to be a week late to the party, if Marty does put up a good score at A2 and you don't choose him, it might be too late.
This week I like Christian Craig to bounce back and Derek Kelley as a possible sleeper? It will be interesting to see where his handicap comes in. The 450 class has a grip of factory supported stars who are all double points eligible. Keep an eye on Justin Brayton, he will be double points eligible, as will Zach Osborne. Depending on where their handicaps land, they could make very juicy picks. I also like Justin Bogle this week. He has underperformed so far and is due for some positive regression in the scoring.
That's it for this week. Thanks everyone for reading and playing. Please remember to support the PulpMX Fantasy sponsors when you shop for all of your off road, motorcycle and MTB needs.
Hope I see you on the leaderboard!