PulpMX.com Fantasy Pick & Trends
Photos by Lissimore
Anaheim Deux Delivers!
Hey everyone, wow, what a night of racing at A2! I was wondering, as I was listening to the boos cascade down from the stands, how many of the people booing… had Christian Craig on their fantasy team? The odds are high that a few of them did as he had a 55% pick trend percentage.
As to the PulpMX Fantasy weekly overall championship, we somehow wound up in a tie at the top, again! Congratulations to Thrasher77 and Lott768, they scored 264 points with two different teams. Let's break it down!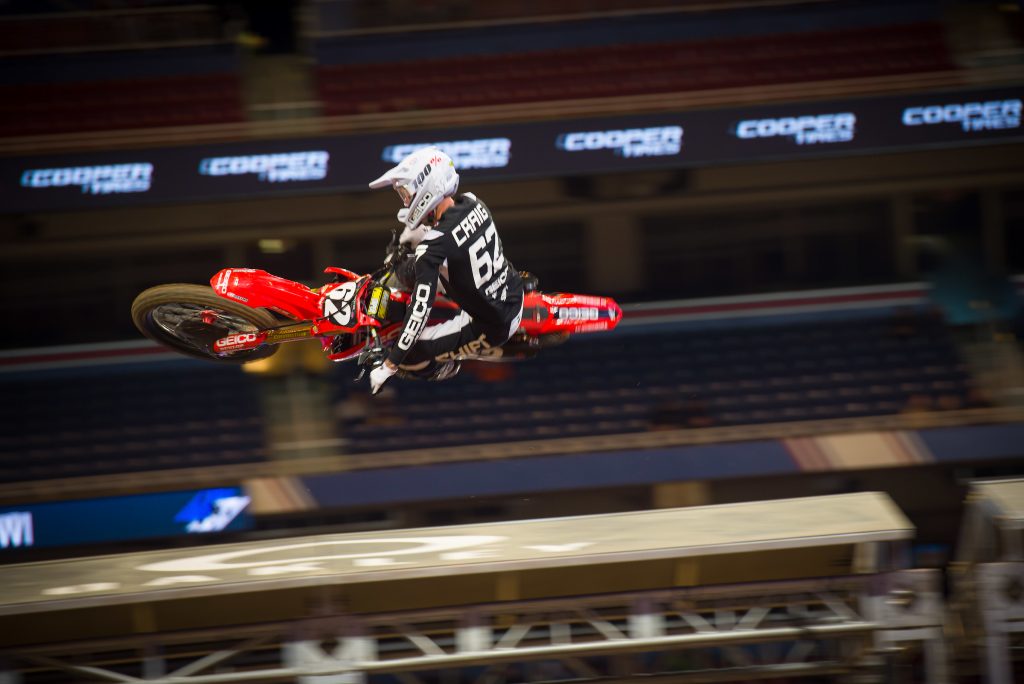 Key to their success: Avoiding Christian Craig chalk. This week it was as simple as that, a leverage play on 55% owned Craig made all of the difference in the world. Thrasher chose Jay Wilson (8) who delivered 42 points at 15%, and Lott chose Luke Clout (3) who also scored 42 points at 28%. Great game theory plays by both!
The rest of their team – shared players: They shared Michael Mosiman (0) – 38 points at 34% and Dylan Ferrandis (4) – 26 points at 55%. They also shared two 450 riders; Martin Davalos (7) – 34 points at 44%, and Dean Wilson (3) – 32 points at 29%.
Thrasher rounded out his 250 team with Aaron Tanti (6) – 32 points at 12%. His remaining 450 riders included, Tyler Bowers (7) – 26 points at 30% and Ken Roczen (2AS) – 26 points at 22%. Thrasher also chose an FFL in each class, correctly with Ken Roczen, incorrectly with Jett Lawrence for a net gain of 8 points.
Lott's remaining 250 rider was Logan Karnow (10) – 36 points at 13%. He rounded out his 450 team with Justin Brayton (-1) – 30 points at 9% and Eli Tomac (3AS) – 26 points at 24%. Lott did not choose any FFL's.
As we resulted in a tie, this week's winner is decided by last week's score from STL, so Thrasher takes down the first prize Fly Racing Blake Baggett jersey via his 221-point STL score, congratulations Thrasher!
Let's take a look at everything else.
 Most picked riders AKA "the chalk"
This week we still had some high pick trends in each class. The 250 class had two riders with a 55% trend, Christian Craig and Dylan Ferrandis. Go figure! Can you imagine what scoring would have looked like had they both been unable to continue? We also saw Michael Mosiman join the >30% crowd with a 34% pick trend.
450 chalk included Adam Cianciarulo at 57%, Marty at 44%, and the Bear, Tyler Bowers just squeaking in at 30%.
Note: Adam Cianciarulo's 61% pick trend from A1 remains the highest trend of the season.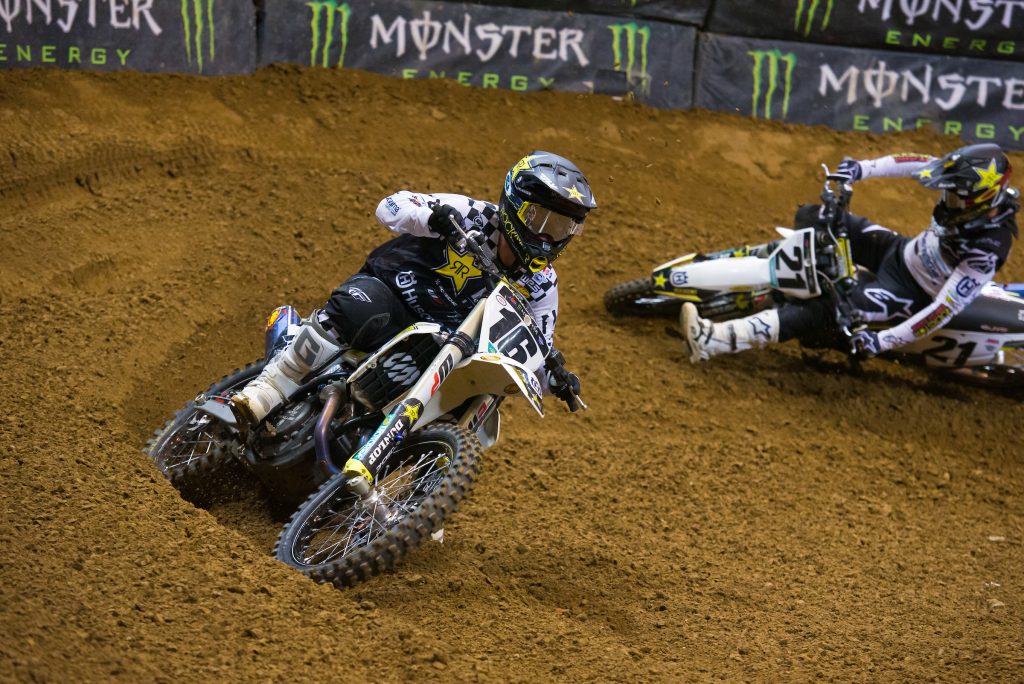 Low owned players who delivered – AKA great contrarian plays
If you follow my Twitter you might have seen me tweet pre-race that I thought there was a lot of noise with qualifying, and that people should disregard Q times for Zach Osborne and Justin Brayton. As it turns out, they both had strong scoring nights, with a low pick trend. It's a good reminder that you sometimes need to go with pedigree and experience over a single session of qualifying.
Zacho (-2) wound up tying for top score on the night in the 450 class at 34 points for only 7% of teams via his strong 4P finish. We also had Vince Friese (3) and Justin Brayton (-1) tie for third highest score at 30 points. Vince at 8% and JB10 at 9% pick trend.
The 250's had two notable low pick trends to mention, Lorenzo Camporese (16) had the third highest score of the night, 36 points at 0%. Ludovic Macler (13) finished at 34 points for 1%. Great job by both.
 Fantasy Duds
Who burned the field? Let's take a look.
When Christian Craig got torpedoed by Dylan Ferrandis it took down 55% of PulpMX Fantasy teams. Tough night for Christian, and those who chose him. Not much else in the 250 class to speak of.
Benny Bloss continued his up and down season, landing him here this week, he was only able to secure 9 points for the 24% of teams who chose him at an 8 handicap.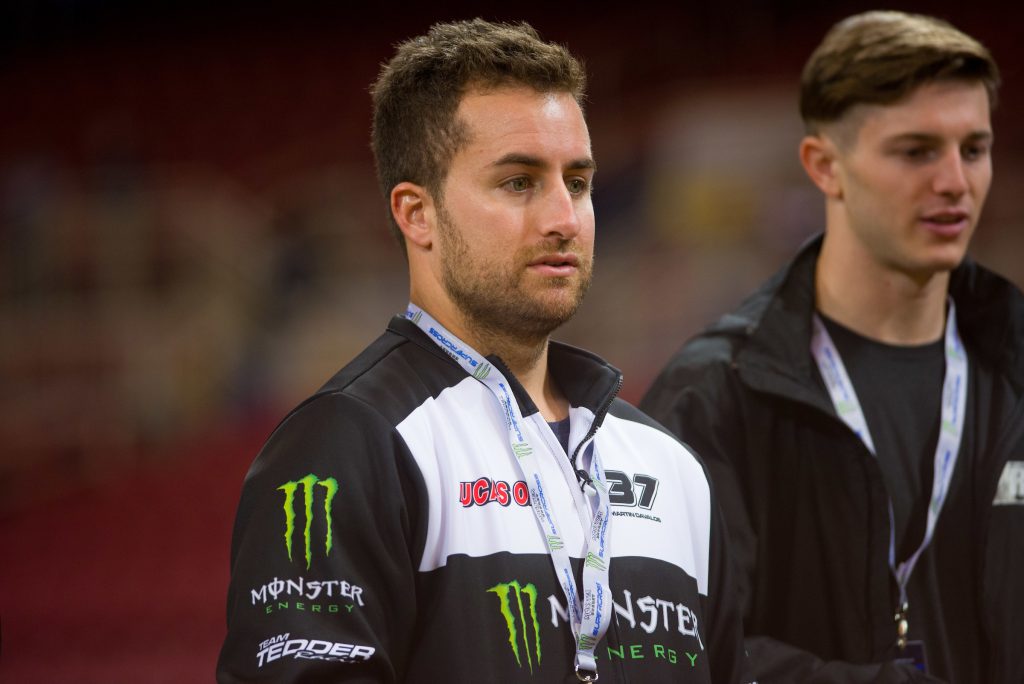 Fantasy Studs
 These are the riders with high pick trends who delivered!
Luke Clout (3) topped the 250 class with a great 42 point score for 28% of team owners. We also had Michael Mosiman (0) put up 38 points at 34%. I'm surprised Mosiman's pick trend wasn't 10-20 percent higher given his value and ability.
The 450 class was topped in scoring and pick trend by Martin Davalos (7) who got up from an early crash, thinking about PulpMX Fantasy (true story, listen to him on this week's show) and raced his way up to 13P, scoring 34 points at 44% pick trend. We also saw continued improvement, as promised, from Dean Wilson (3) who had a nice 32 point score at 29%.
 The 100% "Lead Pipe Locks"
 This week's fantasy pod included Steve, Paul, Dan, and JT. Steve chose Christian Craig and Ryan Breece for 29 points, Paul chose Michael Mosiman and Justin Brayton for 68 points, Dan chose Jay Wilson and Marty for 76 points and JT chose Luke Clout and Marty for 76 points.
Dan and JT are your week three 100% Lead Pipe Lock winners with 76 points. The season breakdown looks like this. Paul and Dan are tied for the overall at 162 points, JT who only made one of two picks for week one is next with 142 points and Steve is head of the PulpMX Fantasy Lead Pipe Lock Basement Club with 124 points.
So, like everything else this season, we have a tie for the week and a tie at the top. Congrats to everyone but Steve!
 First to Finish Line (First Lap) Leaders
The early season Pro Circuit Kawasaki FFL dominance came to an end at A2 and the correct percentages dropped like a GEICO rider being passed by a Frenchman (too soon?). We saw 37.2% pick a 250FFL with only 3.7% correctly choosing Christian Craig. The 450 class saw 26.9% of teams choose with 23% correctly choosing Ken Roczen. It was a clean sweep of the FFL's by Honda!
Fun Facts & Stats 2020 Supercross Season
Highest pick trend to date: 61% Adam Cianciarulo (Anaheim 1)
Highest individual rider scores to date (weekly):
250 class – 42 points by Christian Craig (0) & Michael Leib (9) at A1, Carson Brown (6) & Luke Clout (4) at STL, Jay Wilson (8) & Luke Clout (3) at A2.
450 Class – 36 points by Zach Osborne (0) at STL. (450 scoring has been historically low this year!)
All Star perfect scoring: Ken Roczen and Justin Cooper are the only riders to score 26 perfect points at all three rounds this year.
All Star perfect score percentage: To date an average of 45.8% of All Stars in each class have had perfect scores (11 out of 24). This is up a bit from average, which hovers around 37.5%.
Perfect scores by round:
A1: Roczen, Baggett, Barcia | Ferrandis, Mosiman, Cooper
STL: Roczen, Brayton, Anderson, Barcia, Tomac | Hartranft, Cooper, Forkner
A2: Webb, Tomac, Roczen | Ferrandis, AMart, Hartranft, Cooper, Hayes
 Final Thoughts – Glendale Round 4
Going back to what I mentioned above, this week was a great example of how you should not base all of your picks on a single qualifying session. Ignoring what I called "a lot of static" paid off nicely for me with my Justin Brayton and Zach Osborne picks. Remember to always factor in opportunity and experience. A factory supported rider like Zach or JB10 have that support for a reason, when value presents itself on riders like them, grab it.
Looking at Glendale, people who chose Christian Craig at A2 are likely to be cursing their fantasy fate and a Frenchman. CC is going to be available to only 45% of the league and will be 2x point eligible with what will be a juicy handicap, I'm sure. Pick him if you can. I would also keep an eye on Killian Auberson. He has been sneaky good with finishes of 15P for 34 points, 14P for 28 points, 10P for 38 points. Not a bad three weeks.
Glendale will also be the first Triple Crown of the season; a good start is critical! For this reason, I like Vince Friese, Blake Baggett, and of course, Marty in the 450 class. All are 2x point eligible, roster them if you can!
That's it for this week. Thanks everyone for reading and playing. Please remember to support the PulpMX Fantasy sponsors when you shop for all of your off road, motorcycle and MTB needs.
Hope I see you on the leaderboard!