Renthal introduced their brand new Fatbar 36 handlebar last week under their R-Works umbrella. With me being a handlebar geek, I couldn't wait to get out on a rough track to try and see how this new bar felt. I have been vocal about Renthal's rigidity in the past and really wanted to see if this new Fatbar 36 material/technology helped the flex character. Here is some information about Renthal's new bar and what my first impression was, after I spent some hours out on the track.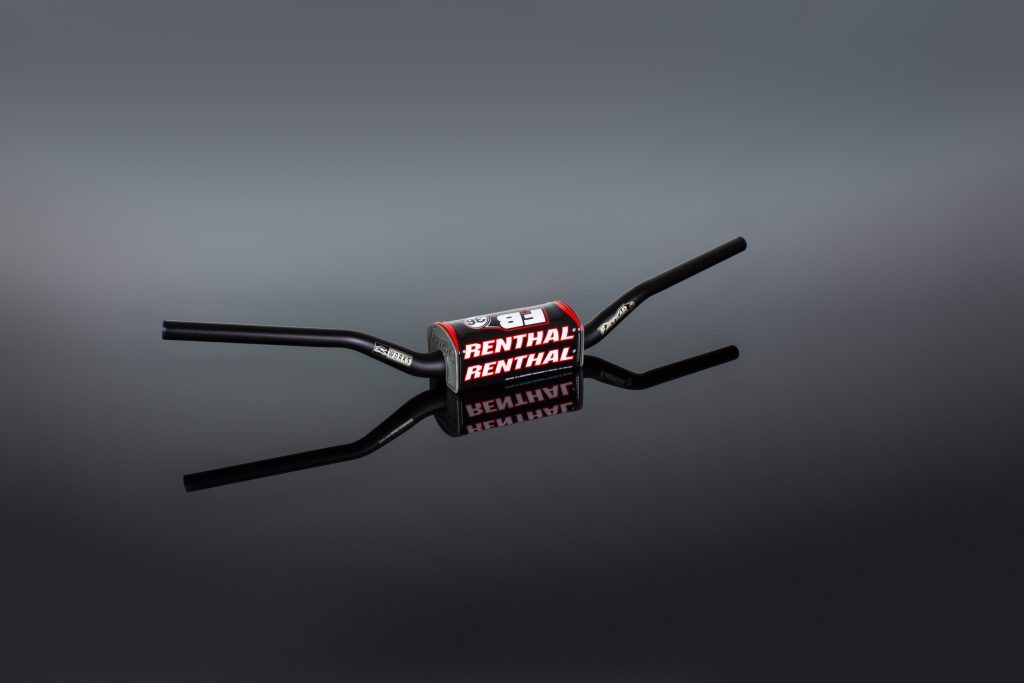 What is the R-Works Fatbar36?
The R-Works Fatbar36 is Renthal's new lightweight motocross handlebars. Utilizing Renthal's 36Tech™ handlebar standard and proprietary Zarilium™ material to give a high strength handlebar at the lowest possible weight. The R-Works Fatbar36 is 36% lighter than their standard 28mm diameter Fatbar (240 grams less).
Will the R-Works Fatbar36 need different clamps?
Yes 36Tech™ is a new clamping standard of 36mm and neither 22mm nor 28mm clamps will work with this handlebar. Renthal will offer a range of bar mounts to allow you to fit the handlebars to your original triple clamps.
Fatbar36 Overview: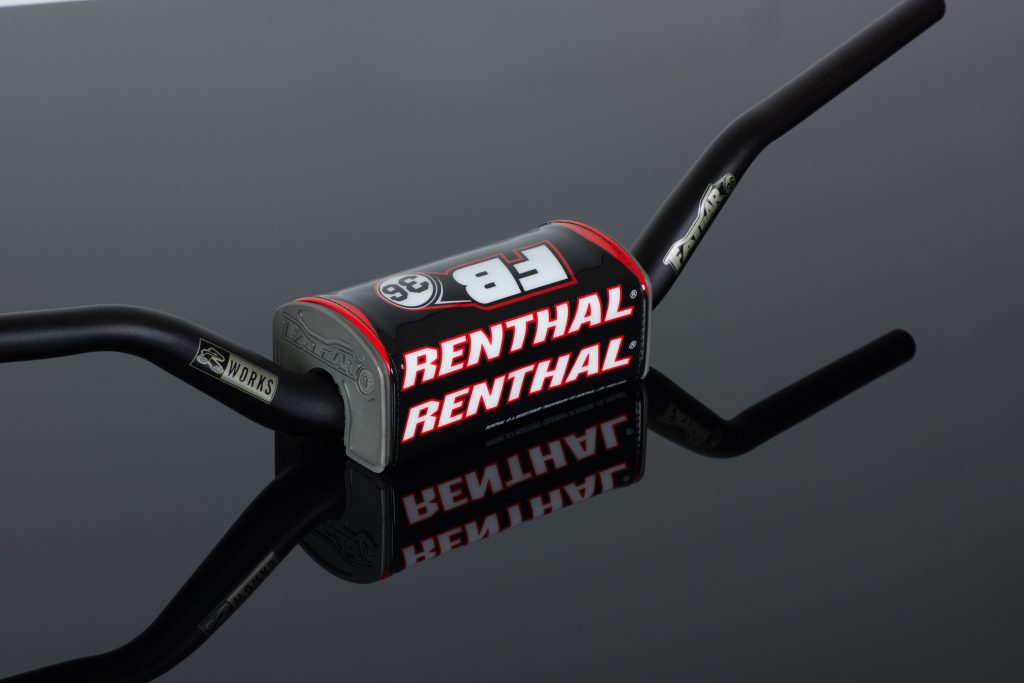 Introduction:
Working alongside Renthal factory race teams they developed the concept to improve performance through weight reduction without trying to compromise existing handlebar strength. Every time you accelerate, brake, corner, jump you work against the weight of the motorcycle. By reducing weight it can improve the performance of your motorcycle in all of these areas, resulting in faster lap times.
Lightest Motocross Handlebar
Renthal's current handlebar range is at a strength level their factory level teams feels it needs to be, but weight savings will always be high on their priority list. We made this our priority as well in developing Fatbar36.
36TECH™ – Advanced Technology
36TECH™ is a new handlebar standard developed by Renthal to push forward the boundaries of handlebar technology. The 36mm clamping diameter tapers down to a conventional 22mm control section at each end, using advanced wall geometry, maximizing material efficiencies in wall thickness along the entire length of the handlebar to reduce weight.
New Material – 20% Stronger
Zarilium® is a new aluminium alloy exclusive to Renthal. This new alloy is said to have 20% greater ultimate tensile strength, while maintaining the same elongation properties. This additional strength has allowed Renthal to achieve the maximum weight reduction possible whilst matching the best in class strength of the Renthal® 28mm diameter Fatbar®.
What is said to make Zarilium® so strong?
Its increased mechanical properties is said to come from an improved chemical composition of Zinc, Copper, and Magnesium.
Do other handlebar manufacturers use Zarilium®?
No, this new alloy has been specifically developed for Renthal handlebars.
Bends and Dimensions: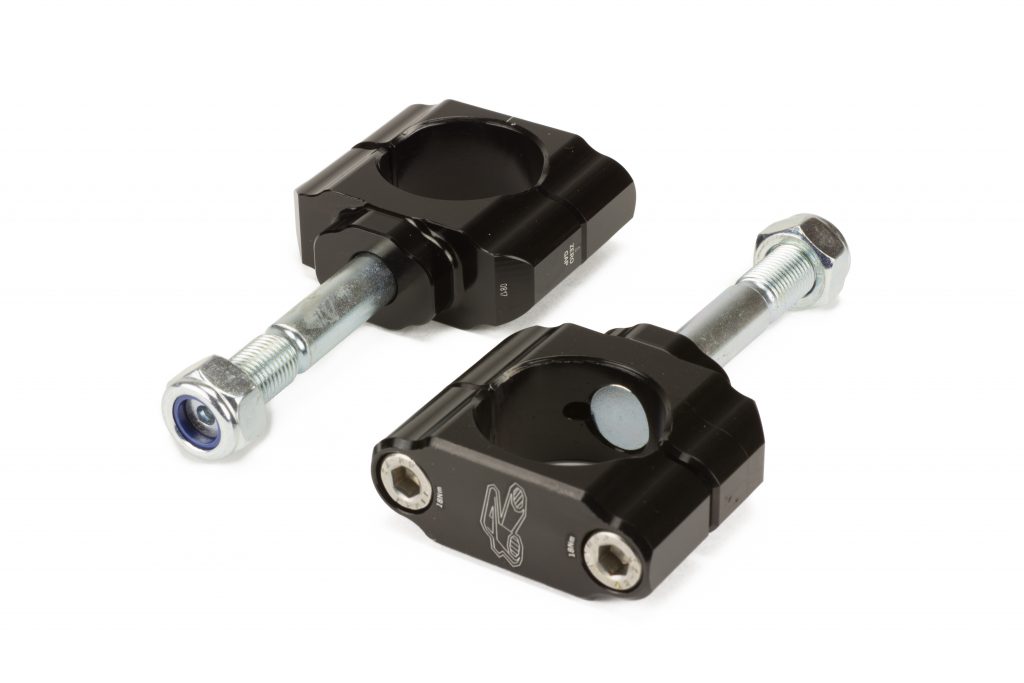 Choosing the right Fatbar36 for You
With the launch of Fatbar36 Renthal has brought four of their most popular bends into the R-Works line (RC/Honda CRF, Villopoto/Stewart, Reed/Windham, and KTM bends). User's might also notice a change to the way they present the height (B) dimensions. Now present are Bm and Bv dimensions. Bm is a direct replacement for B and relates to B measured. Bv is specific to Fatbar36 and is a virtual measurement that helps users compare Fatbar36 to their existing range of handlebars.
What is Bm?
Bm is the vertical measurement from the centre line of the mounting diameter to the centre of the end of the bars. Fatbar36 will always be 4mm lower when comparing this dimension to Twinwall and Fatbars.
What is Bv?
Bv is the vertical measurement from the baseline of the Fatbar36 to the center of the end of the bars. This measurement will give you the true height of the Fatbar36 when comparing to a Twinwall or Fatbar.
Why Do Bm and Bv exist?
To create the Fatbar36 Renthal needed to make the clamps higher to prevent the Fatbar36 from contacting the top of the forks. To offset this Renthal has manufactured the Fatbar36 slightly lower than their Twinwall and Fatbar range when looking at the Bm measurement. Although in isolation Fatbar36 may appear lower in height, when combined with the 36Tech bar mounts, but the position is exactly the same as the corresponding Twinwall or Fatbar bends.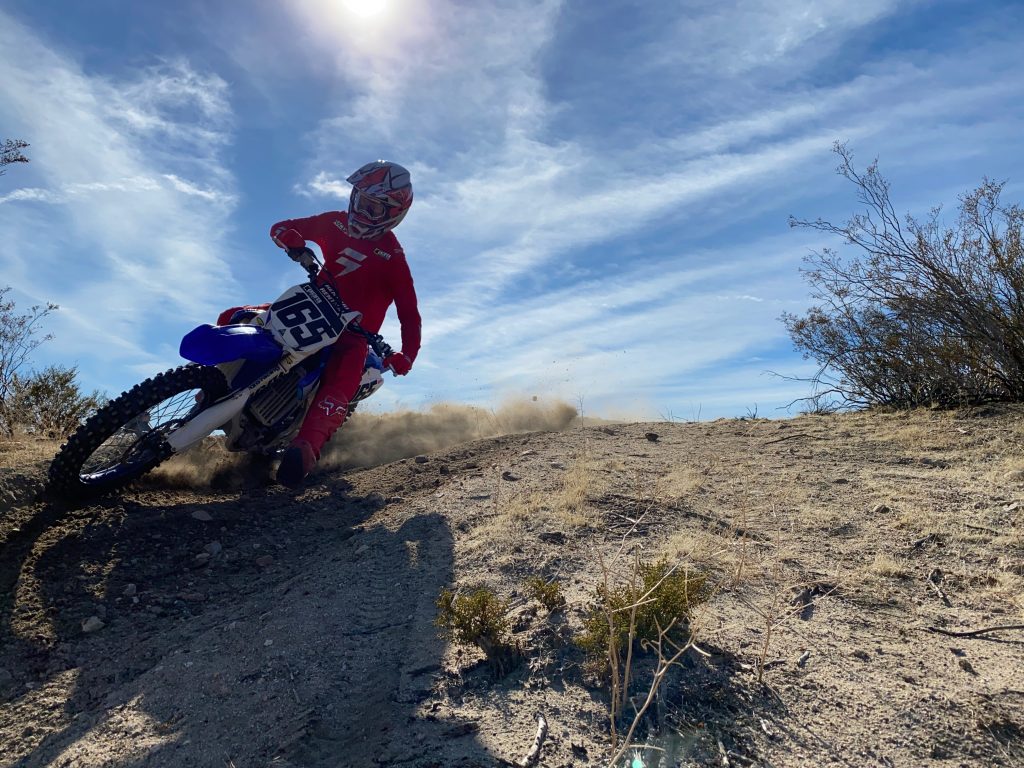 On The Track:
I am 42 years old and I am not a 18 year old Supercross racer anymore, but I still want a strong bar with great damping qualities, as well as a bar that helps decrease vibration. To me Renthal hasn't been the leader in comfort as their Twinwall and Fatbar handlebars are a little too rigid for my older joints. Renthal's 7/8 bar is great however and I don't mind that Kawasaki comes stock with that size of a handlebar on their 2020 KX 250/450 lineup. Immediately when I went to put the Fatbar 36 on I noticed how light it was. Coming in at almost a half pound lighter than their current bar, the Fatbar36 feels more like a mountain bike bar than a motocross bar. 
I will say that it's not everyday that I change bar mounts on the 2020 Yamaha YZ450F, but going to this new Fatbar 36 bar requires the use of Renthal's handlebar mounts (because of the 36mm clamping surface), so installing the handlebars wasn't as quick as usual. The Renthal bar mounts are 2mm lower than the stock pieces and I chose to run the 934 bend because that was the closest Fatbar 36 bend I could get to my normal "stock Yamaha bend" that I like so much. 
934 bend:
Width: 802mm
BV: 85mm
Rise: 48mm
Sweep: 56mm
I chose a track to test on that was very rough, had a lot of corners, and provided enough speed that I could get a good reading on what the Fatbar36 flex character was all about. Once out on the track, I noticed a couple things fairly quickly. The Fatbar36 handlebar has a great ability to dampen vibration through your hands. I would assume that the new Zarilium material has something to do with this feeling, because I have never felt as much vibration/harmonic reduction in a bar before. I think KTM/Husqvarna owners could appreciate this sensation more than Yamaha owners, but it's something that is worth noting. 
The fore/aft flex of the Renthal 36 bars do flex slightly more than any other current Renthal bar and seems on par with the Pro Taper Evo bar in this particular area. Pulling back on the bar over square edge as well as pounding into braking bumps/sand rollers provided excellent damping qualities that I have yet to experience with any other Renthal product. 
On the downside, the up/down flex character still remains somewhat of a stiff feel (unlike a Pro Taper EVO). When landing hard off of jumps I could feel the stiffness of the bar, which reminded me of TwinWall like feel. When the ground was hardpack this sensation was exacerbated, but when the ground turned softer, the sensation wasn't as apparent.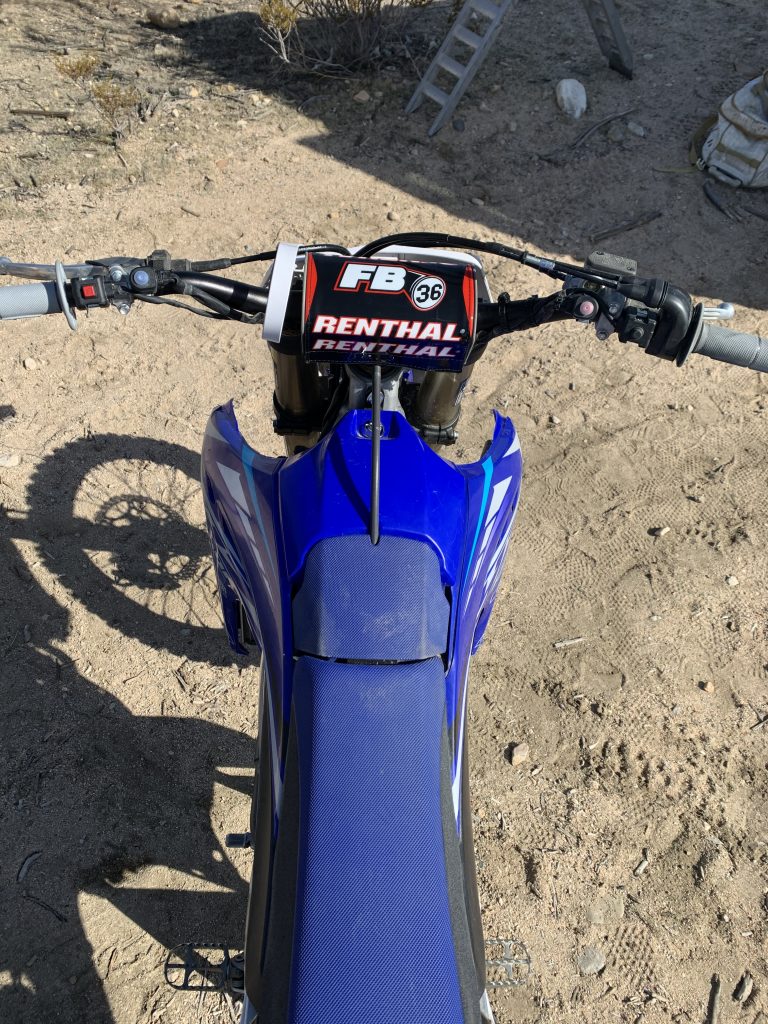 I do like that I get a little more front end control/feel when leaning into corners (with the Fatbar 36 handlebar and Renthal bar mounts). With the stock bar mounts/handlebar you can feel the Yamaha flex a little too much under extreme lean/load when slamming into ruts/berms. With the Renthal set up the Yamaha does feel like it has more precise feel when hitting corners at speed. 
For $179.99 for the Renthal Fatbar36 handlebar and $79.99 for the bar mounts, this can deter the consumer from getting a set up such as this. It's not cheap! However, Renthal understands this, but is at least offering something high end for the serious racing consumer (R-Works) that wants to cut weight and lose some vibration from their machine. If you're a more traditionalist their is still the Twinwall, standard Fatbar, and 7/8 options. I have yet to put the "crash toughness" to test, but stay tuned as I will be doing some drop testing in the near future.  
You can go to renthal.com to read more about the Fatbar 36 handlebar as well as pick out your desired bar bend.  
If you have any questions about this test please feel free to email me at kris@keeferinctesting.com.