Crown posts perfect score in Tampa!
Hey everyone, thanks for stopping by again this week to check out the PulpMX Fantasy recap. Tampa provided and the highest overall Championship League winning score of the season at 317 points
Congratulations to MXGlen108 on taking down the PulpMX Fantasy Championship win in Tampa, let's take a look at how he did it.
Glen chose a very strong team, including nailing the FFL's in both classes for +30, but he did not pick a perfect team for either class. His 250 team was topped by Joey Crown – 52 points at 41.5%. He also chose Jace Owen – 38 points at 14.4%, Joe Shimoda – 36 points at 42.1% and Jeremy Martin for all-star with 26 points at 56%.
Glen's 450 team was led by Dean Wilson's 42 points at 39.5%. He rounded it out with Justin Hill – 38 points at 8.5%, Brock Tickle – 36 points at 48.6% and Jason Anderson in the all-star slot with only 19 points.
Keys to success: Glen's team was pretty chalky for the most part, but two riders really performed for him at a very low pick trend, Justin Hill's 38 points at only 8.5% were a huge difference-maker. Selecting Justin over Zach Osborne, who scored 28 points at 40% gave Glen a 12-point advantage on nearly half the field. Glen also made a very sharp pick with Jace Owen's 38 points at only 14.4%. This gave him a big advantage over those who chose Josh Hill or Enzo Lopes, each of whom had pick trends hovering around 20%
Also, once again, we see how crucial the extra thirty FFL points are in determining the weekly championship.
Let's take a look at everything else.
Most picked riders AKA "the chalk"
Lots of high pick trends in Tampa! The 250 class was topped by Jeremy Martin (4AS) at 56 points. We also saw Joe Shimoda (5) at 42.1%, Joey Crown (14) – 41.5%, and Nick Gaines (8) – 41/4%.
450 class chalk was topped by Brock Tickle (7) at 48.6%. The other riders with >30% trends included Zach Osborne (2) – 40%, Dean Wilson (3) – 39.5%, and Adam Cianciarulo (4AS) at 36.6% 
Low owned players who delivered – AKA great contrarian plays
We knew that getting the 250 class correct was going to be difficult for Tampa, and it was. This resulted in quite a few low owned riders putting up some good scores. Notables included Hunter Sayles (14) with 38 points at only .3%. We also saw Jace Owen, who spent his off-season racing the Australian Supercross series have his best night to date in the U.S. with an 11P finish, rewarding the 14.4% who picked him with 38 points. Finally, for the 250 class, Cedric Soubeyras had a nice 36-point night at only 7.2%.
Two notables snuck through without much ownership in the 450 class. Justin Hill had a surprisingly low pick trend of only 8.5% and rewarded them with second highest in class score of the night, 38 points. We also saw Adam Enticknap put his 722 machine into the main, scoring 36 points for the 2.9% who picked him.
Fantasy Duds
Who burned the field? Let's take a look.
Enzo Lopes has had his ups and downs in Supercross. This week was a down for the 19.6% of owners who chose him as he was only able to deliver 11 fantasy points at a 7 handicap. 
AC didn't have a disaster night in Tampa, but his 8P finish, which delivered only 19 points to 36.6% of teams certainly didn't help. We also witnessed Jason Anderson having another sub-optimal night. He was only able to score 19 points via a 10P finish for 21.1% of the field.
Fantasy Studs
These are the riders with high pick trends who delivered!
Joey Crown's 11P qualifying result was hard to resist! 41.5% of teams went all-in on Joey and were rewarded with a perfect 52-point score. We also saw Joe Shimoda's top ten finish result in 36 points for 42.1% of the field, and Nick Gaines scoring 34 points for 41.4% of teams.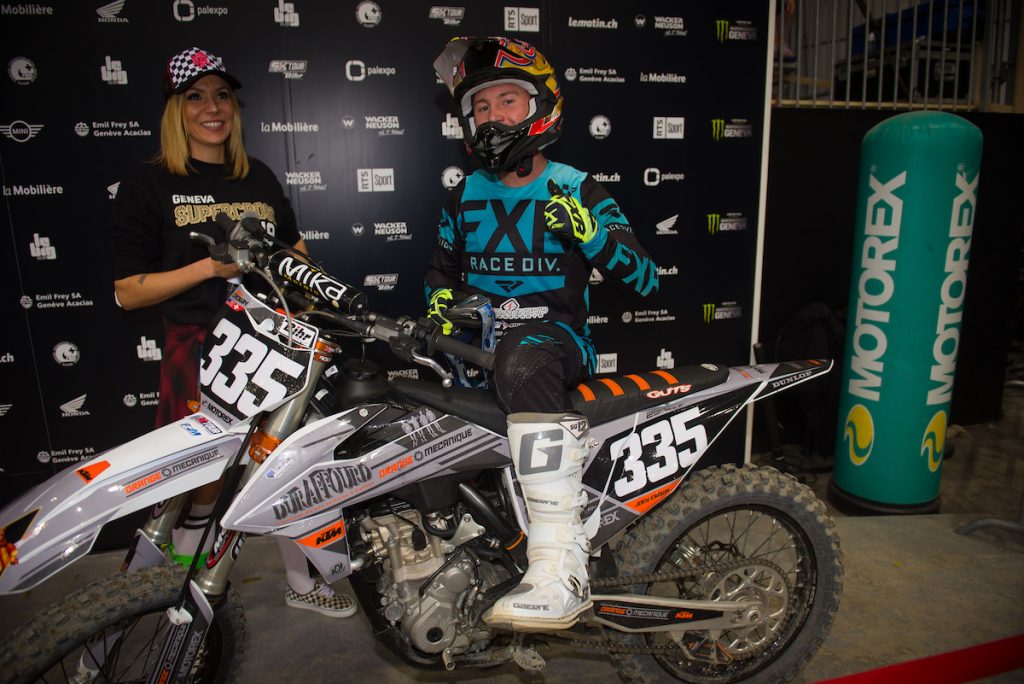 Dean Wilson had a couple of bad weeks in a row for fantasy scoring, but bounced back nicely in Tampa, putting up 42 points at 39.5%. We also saw Brock Tickle make a great and welcome comeback to Supercross with 36 points at 48.6%. 
This was one of those weeks where it seemed like nearly all of the high pick trend riders hit for good scores. Not a good week for contrarian players!
The 100% "Lead Pipe Locks"
The Tampa Fantasy Pod featured all four regulars. Steve chose Isaac Teasdale and Zacho for 58 points, JT chose Brain Moreau and Dean Wilson for 42 points, Dan chose Enzo Lopes and Zacho for 39 points, and Paul chose Brian Moreau and Zacho for 28 points. ICYMI Brian Moreau was seriously injured in free practice, hoping he makes a full and speedy recovery.
For the season, Paul retains the lead at 323 points, followed by Steve who leapfrogged to second at 307, Dan in third at 293, and JT in fourth at 253 points.
First to Finish Line (First Lap) Leaders
FFL pick trends were a skosh lower than normal this week with only 19.7% venturing a guess in the 250 class and 21.5% taking a chance on the 450 FFL. Of those, 39.1% correctly chose Star Racing Yamaha's Shane McElrath for the 250 class, while 33.1% correctly chose AC for 450's.
Fun Facts & Stats 2020 Supercross Season
Finally, a perfect score! Joey Crown delivers the first 52 points score of the season at the 7th round. Will we see another on the East Coast? With a deep field, it's certainly possible!
New team-high (weekly score) for the PulpMX Championship League, 317 points scored this week by MXGlen108.
Highest pick trend to date: Still 61% Adam Cianciarulo (Anaheim 1) – will this be topped this season?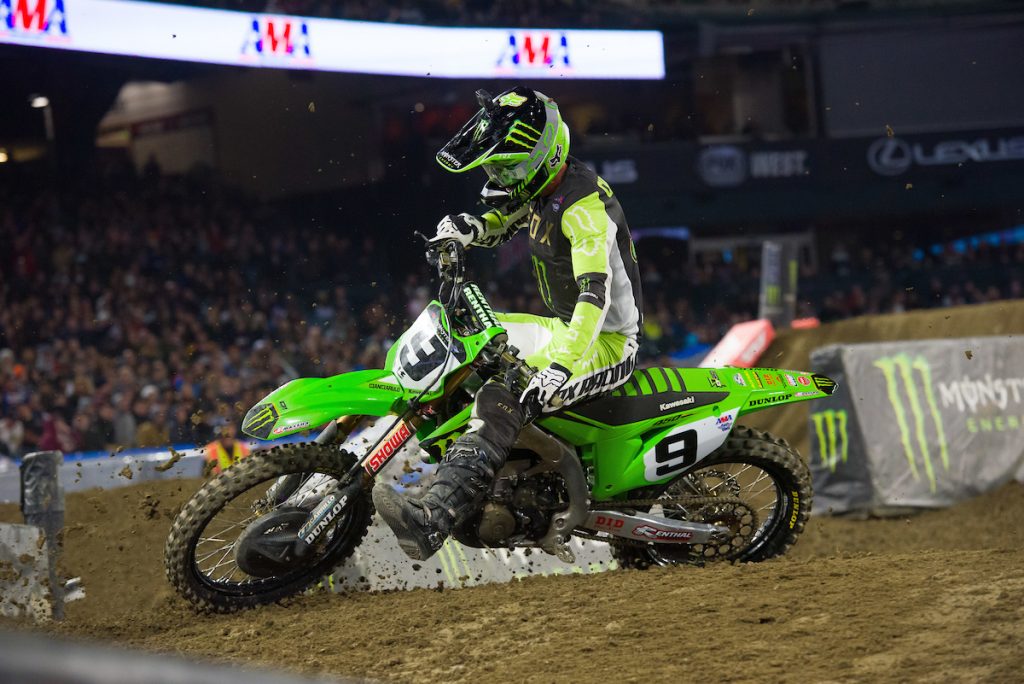 All-Star perfect scoring: Cooper Webb posted his fifth consecutive perfect score! He is now the only 450 all-star to put up five consecutive perfect scores. For the season, the 450 class has had 29 out of 56 all-stars achieve a perfect score (51.7%). The 250 East class starts out with 5 out of 8 perfect scores (62.5%). 
Highest and lowest correct FFL pick % for the season (regular format). 55.9% correctly chose Austin Forkner at St. Louis. Lowest to date was set this week, with only 0.2% correctly choosing Michael Mosiman.
Speaking of the Championship League, we now have a tie at the top as EastCoastLifeStyle11 bounced back to tie things with Shurandy_Suga_SX at 1728 points. Their weekly average is a whopping 246.9 points. They are followed closely by Weatherman172 at 1725 points, his average weekly score is only .5 points lower at 246.4 points.
Final Thoughts – Dallas Round 8
It's hard to believe that we are rapidly approaching the halfway point on the season! 
Tampa definitely leaves us with some question marks to be answered in the 250 class. A few riders who are just out of the top-ten will be interesting to follow, Souby had a solid night at Tampa at an 8HC and now sits in 13th overall, if he comes in at 5 or more, I would give him consideration. I am also keeping an eye on Nick Gaines. He was an 8 at Tampa and finished in 14P on the night, hopefully, he still has some value at Dallas
Justin Hill will deserve another look in the 450 class, he sits just outside the top 8 and has put in some nice rides lately on improved starts. We will also see Blake Baggett as a 2x points eligible rider again, due to his DNS in Tampa. If everything is physically OK with Blake, he might be a lock pick. 
That's it for this week, thank you for reading and please remember to support the sponsors who support PulpMX.
Hope I see you on the leaderboard!