For this edition of Classic Steel, we are going to take a look back at Honda's first liquid-cooled mini racer, the all-new 1983 CR80R.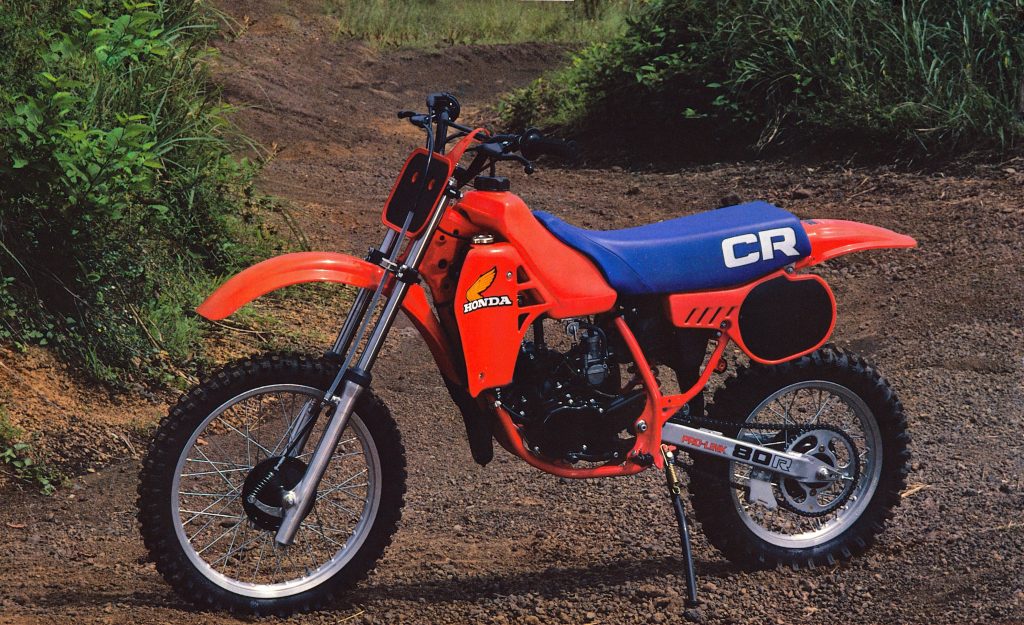 All-new for 1983, Honda's CR80R featured works bike styling to go with fairly modest performance. Photo Credit: Honda  
The early eighties were a great time to be a mini class pilot. After decades of neglect, mini bikes had taken on a new prominence in late seventies. Once the domain of cobbled-together backyard projects and underperforming play bikes, the mini division of the early eighties had become a hotly-contested class full of ultra-high-performance machines. Long-travel single-shock suspension, powerful liquid-cooled motors and works-styling were all on the menu for mini-class pilots in 1983. For aspiring Donnie Hansens, Bob Hannahs, Jeff Wards, and Mark Barnetts, there had never a better time to be coming through the mini ranks.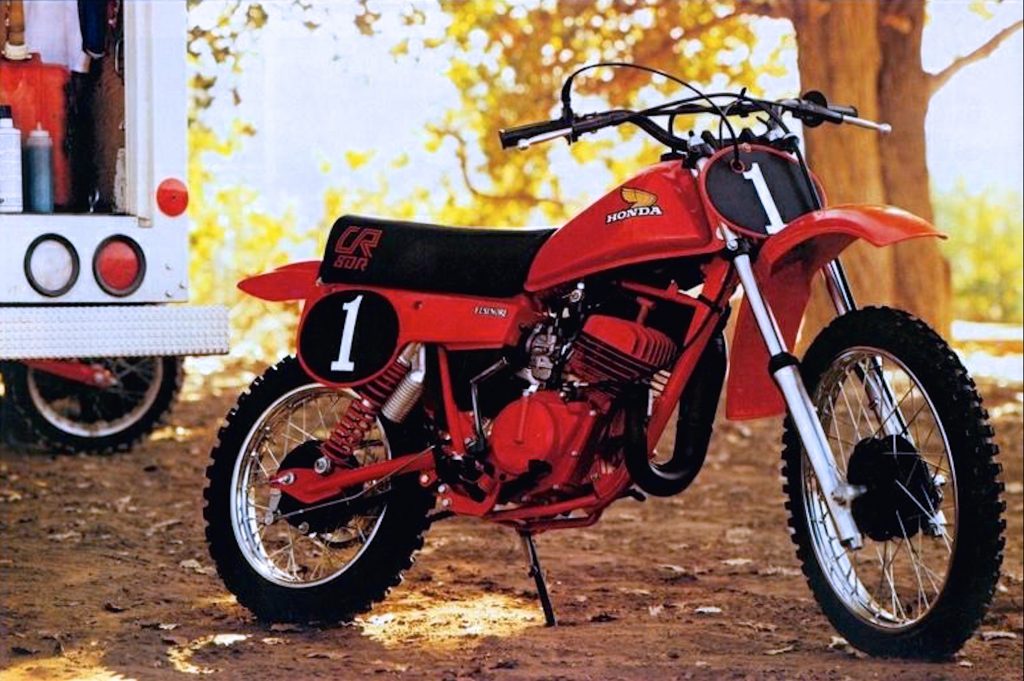 Honda was fairly late to the two-stroke mini game, introducing their first model in 1980. Photo Credit: Honda 
In the early seventies, Honda had been one of the first Japanese manufacturers to take the mini class seriously with their original XR75. Refined, well-suspended and reasonably powerful, the little four-stroke had offered kids a great platform from which to start a racing career. Eventually, however, new two-stroke competitors from Suzuki and Yamaha eclipsed the modest performance limits of the XR. It was still a great play bike and competent beginner machine, but for hard-core racing, it no longer had what it took to run at the front.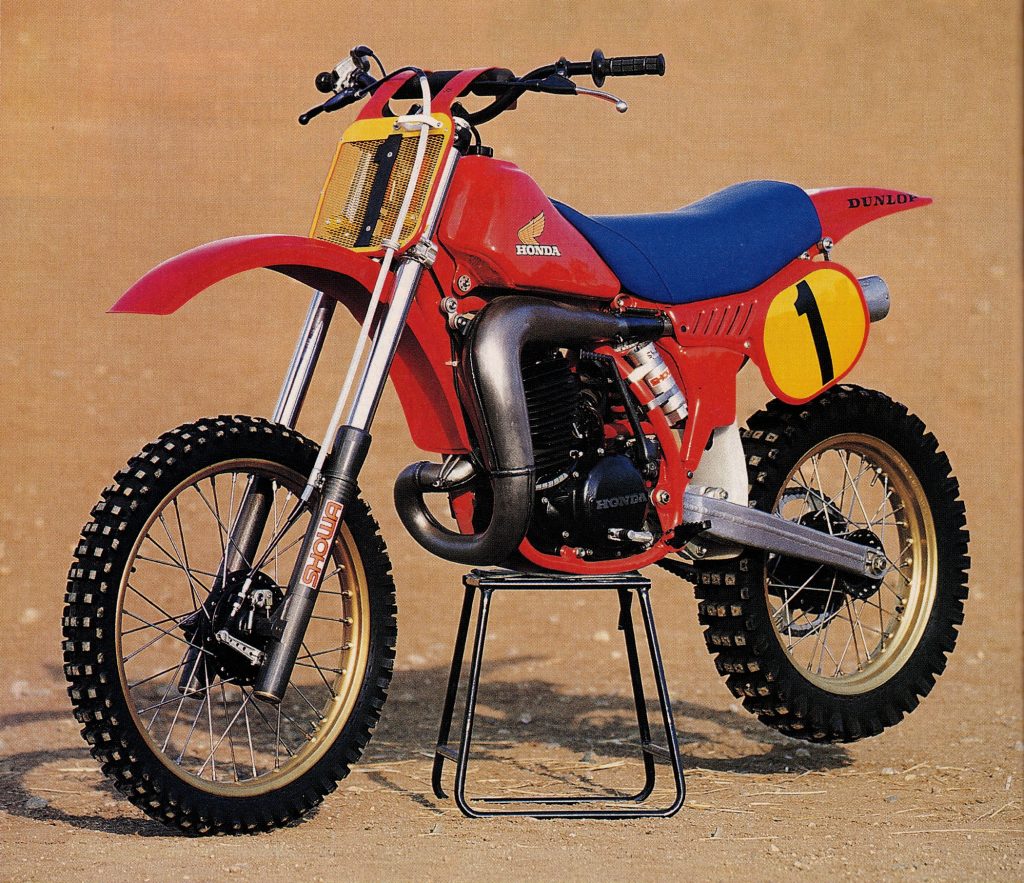 Honda's '83 CR80R certainly looked the part. With its Flash Red plastic and trick up-the-tank saddle, the new mini looked for all the world like a shrunken version of Darrell Shultz's '82 RC500. Photo Credit: Motocross Journal 
 Realizing they needed a boost in performance in the mini class, Honda unleashed an all-new model for 1980, the first CR80R Elsinore. Looking just like a three-fifths scale CR250R, the new mini featured a powerful 79.7cc reed-valve two-stroke motor, laid-down dual-shocks, and a stem-to-stern coat of fire-engine red paint. With its close-ratio six-speed gearbox, manual clutch and explosive power delivery, the CR80R was far more challenging to manage than the XR and aimed squarely at racers only.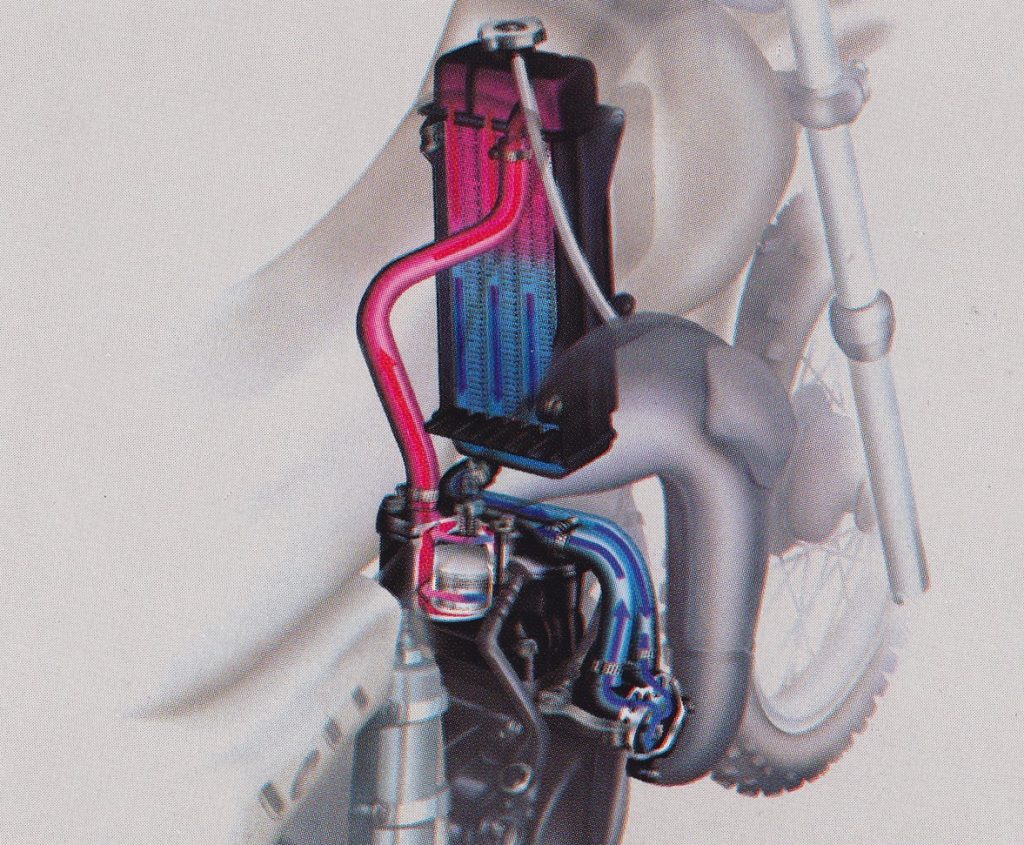 An all-new 79cc mill for 1983 kept the internal dimensions of the '82 model but added water cooling for longer-lasting power. Photo Credit: Honda 
While certainly more competitive than the underpowered XR, this new mini CR was not the game-changer the original Elsinore had been at its introduction. The motor was a rocket, but the chassis and suspension were far less successful. Both the forks and shocks were poorly damped, prone to bottoming, and harsh in action. When pushed, the shocks faded immediately and the bike bounced and deflected instead of tracking in the rough. With major suspension work, it was competitive, but in stock condition, it was less than ideal.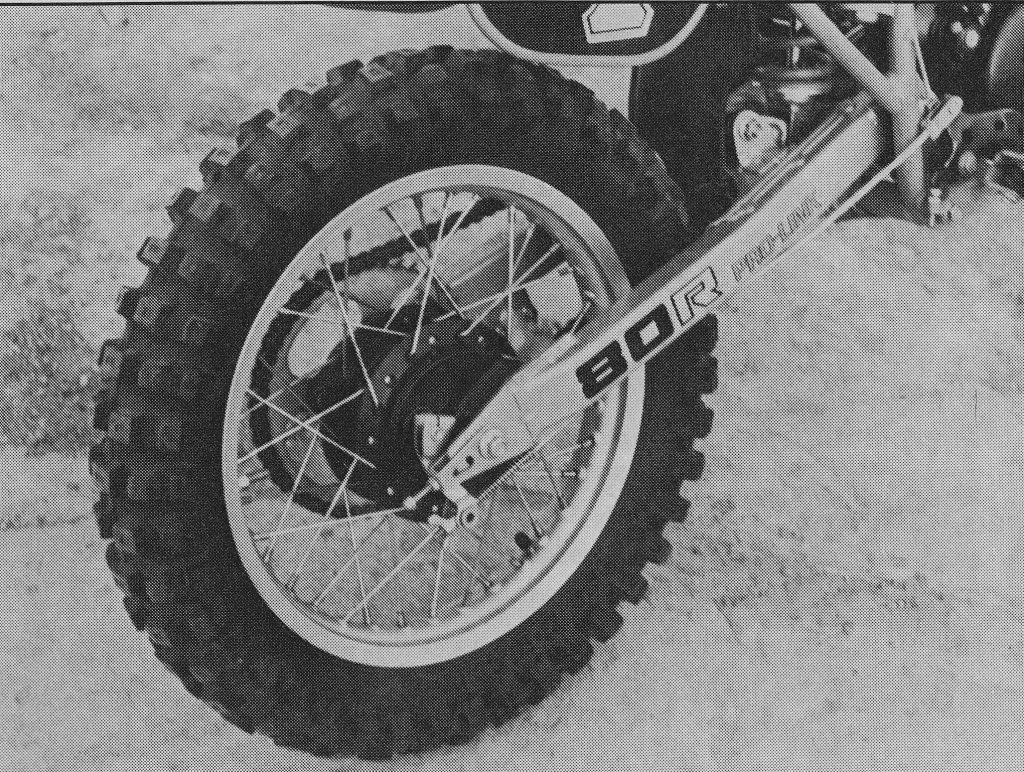 All-new alloy rims for '83 reduced weight, but the swingarm continued to be crafted out of steel to keep costs down. Photo Credit: MOTOcross
In 1982, Honda had tried to address some of those issues by adding a version of their Pro-Link single-shock rear suspension to their smallest CR. The bike still made do with air-cooling, but a new chassis, revised bodywork, and updated suspension improved handling and gave the bike a much more up-to-date appearance. It was still not up to toppling Kawasaki's KX80, but it was far more competitive than the '80 and '81 models had been.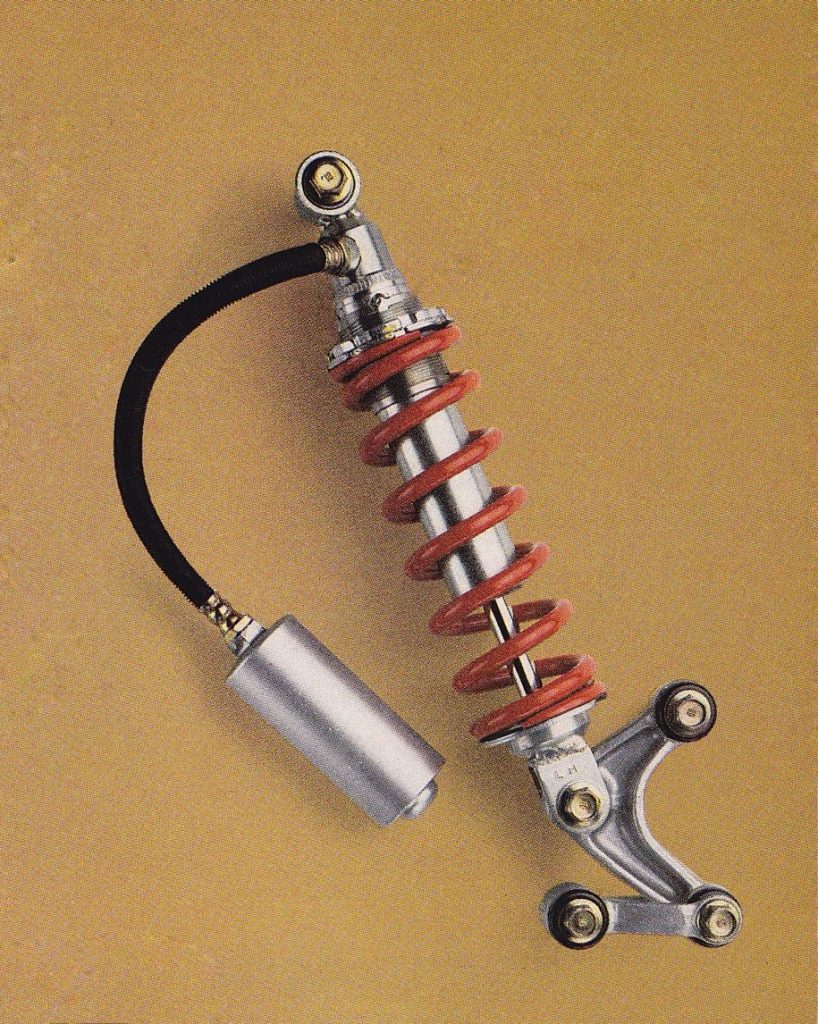 The 1983 CR80R used a low-cost version of the Pro-Link system found on the full-size CRs. Aside from spring preload, there was no adjustment available to fine-tune the ride. Photo Credit: Honda
For 1983, Honda decided to pull out all the stops by once again completely redesigning their mini-class offering.  As in '82, the new machine continued to employ Honda's Pro-Link rear suspension, but an increase in travel from 7.9-inches to 8.3-inches looked to smooth out the ride. Up front, the new CR continued to employ a set of 31mm Showa damper-rod forks, but new settings aimed to improve performance. On the motor side, the '83 CR80R featured an all-new liquid-cooled power plant that Honda claimed pumped out just over 20 horsepower. It continued to employ a six-speed gearbox with a manual clutch and a maintenance-free solid-state CD ignition. On the chassis front, Honda spec'd an all-new semi-double-cradle steel frame to work with the new motor and revised Pro-Link. The new chassis lopped .4-inches off of the wheelbase for 1983 and steepened the geometry for improved turning.  All the bodywork was new as well, with revised lines that mimicked the looks of David Bailey's factory racer right down to the blue safety seat and more orange "Flash Red" colored plastic.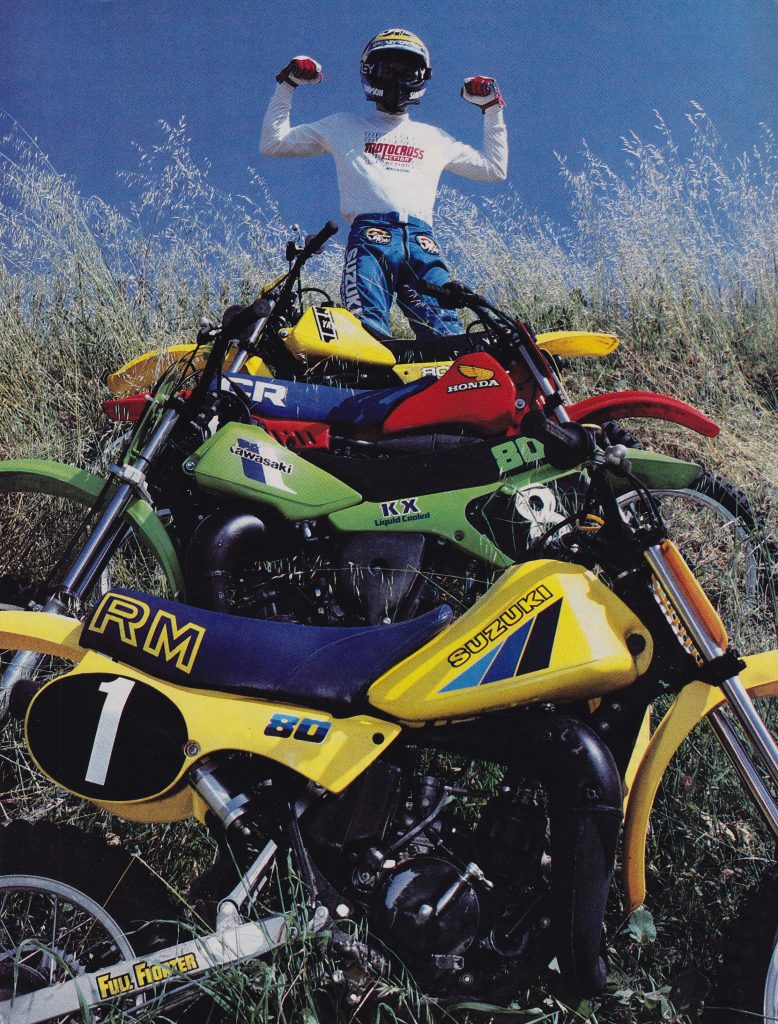 The 80cc division of 1983 was one of the most hotly-contested ones in motocross. All four machines were completely redesigned, with powerful liquid-cooled motors, single-shock linkage rear suspension systems and most of the trick features of their bigger brothers. Photo Credit: Motocross Action 
In designing the new motor, Honda chose to keep the same basic internal dimensions as 1982. Both motors shared the same 49.5mm x 41.4mm bore and stroke and 79cc displacement. The new motor did feature all-new porting and a switch from a side-port-to a center-port exhaust for improved flow. With the switch to liquid-cooling, the new motor had an all-new look and appeared to be literally half the size of '82. Fuel delivery was handled by a 26mm Keihin round-slide mixer, fiber reeds, and an all-new airbox. The new airbox was larger for '83 and repositioned from the side of the motorcycle to below the seat, just like the full-sized CRs.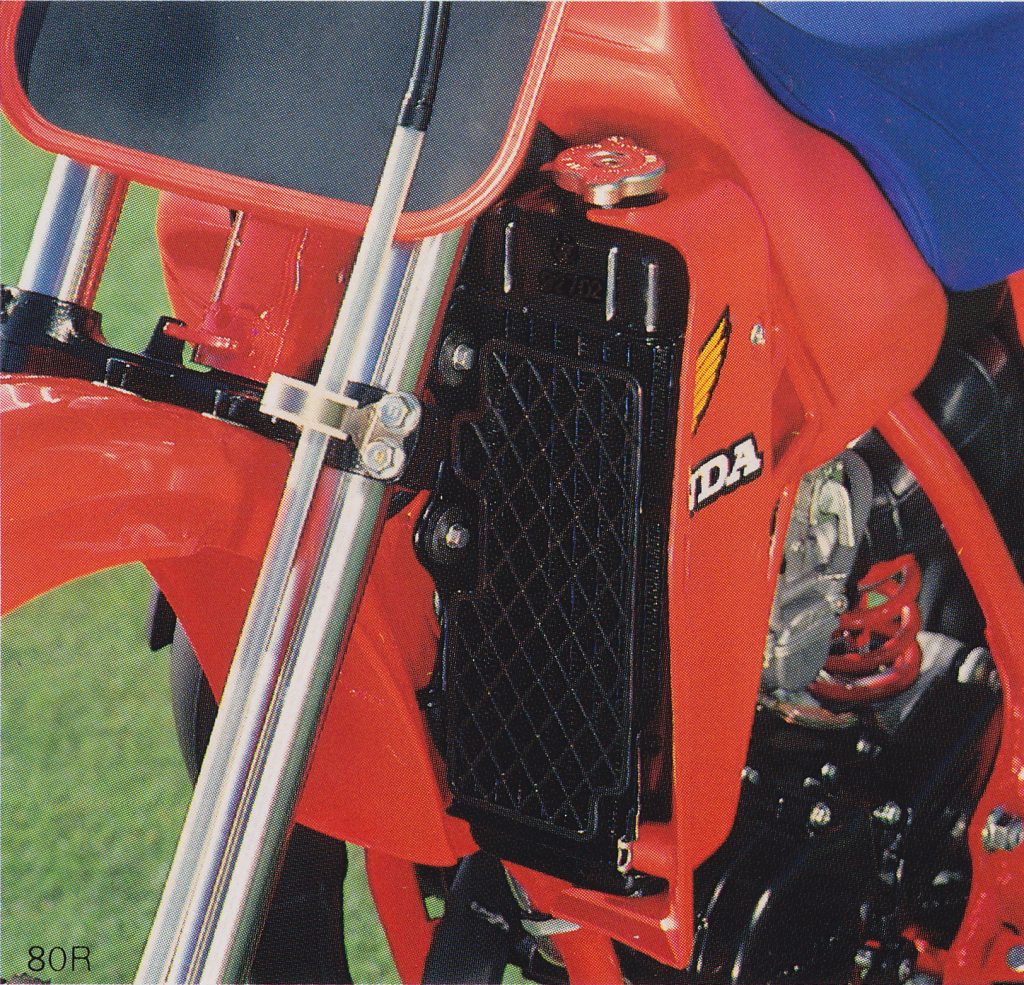 To provide cooling, Honda chose to go with a single large radiator mounted below the tank. Photo Credit: Honda 
 In order to keep things cool, Honda installed a large single radiator to the left side of the machine. By mounting it below the tank, they were able to avoid the packaging issues and top-heavy feel of the early Yamaha water-pumpers. This switch also meant it was safe to bump-up the compression slightly for '83, with the new machine featuring a more robust 7.6:1 versus the old bike's 6.5:1 rating. Internally, the new bike continued to employ six-speeds, but revised ratios were installed to better work with the redesigned engine's power characteristics. A new clutch was also installed with tougher plates and revised springs to handle the '83 bike's improved power output. Finally, an all-new expansion chamber and silencer were bolted on help get all of those spent gases out as efficiently as possible.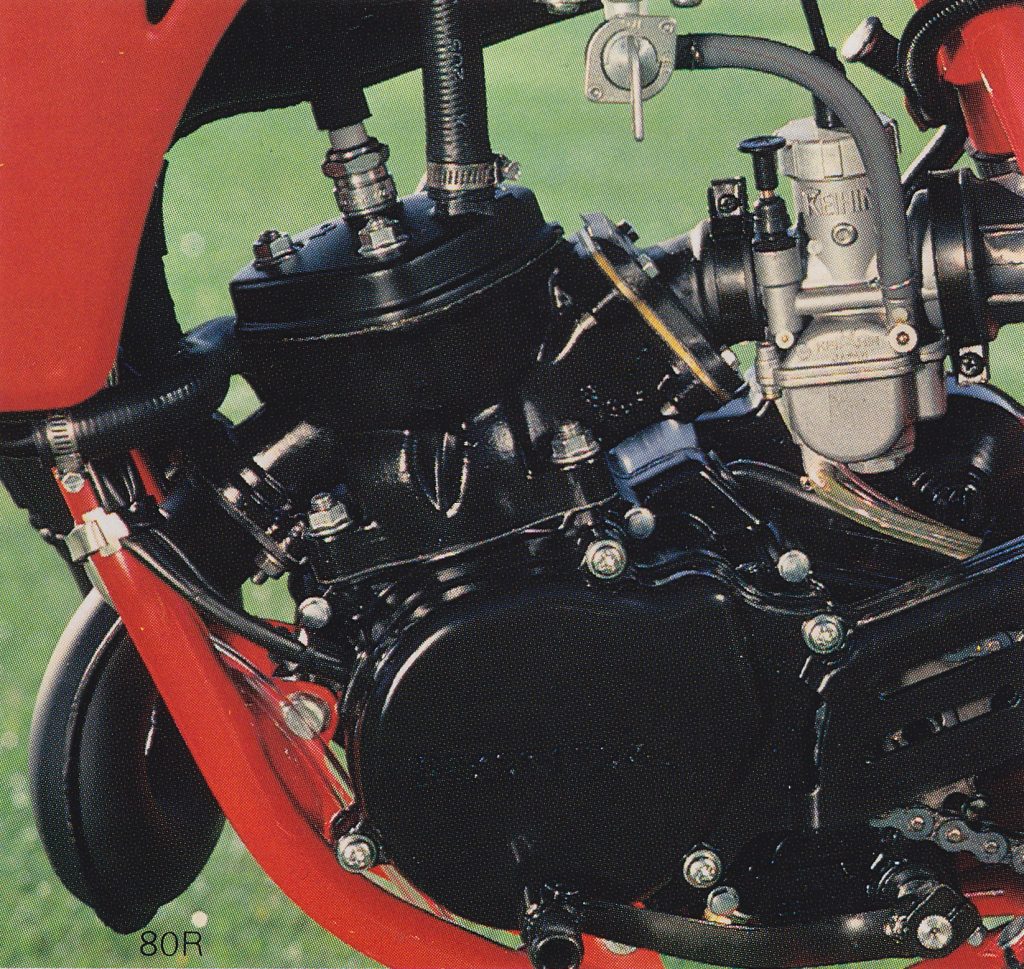 Torquer: The CR's 79cc two-stroke mill produced a strong low-to-mid surge and little else. Top-end power was particularly lacking and most riders above the novice class were likely to find its lack of revs disappointing. Photo Credit: Honda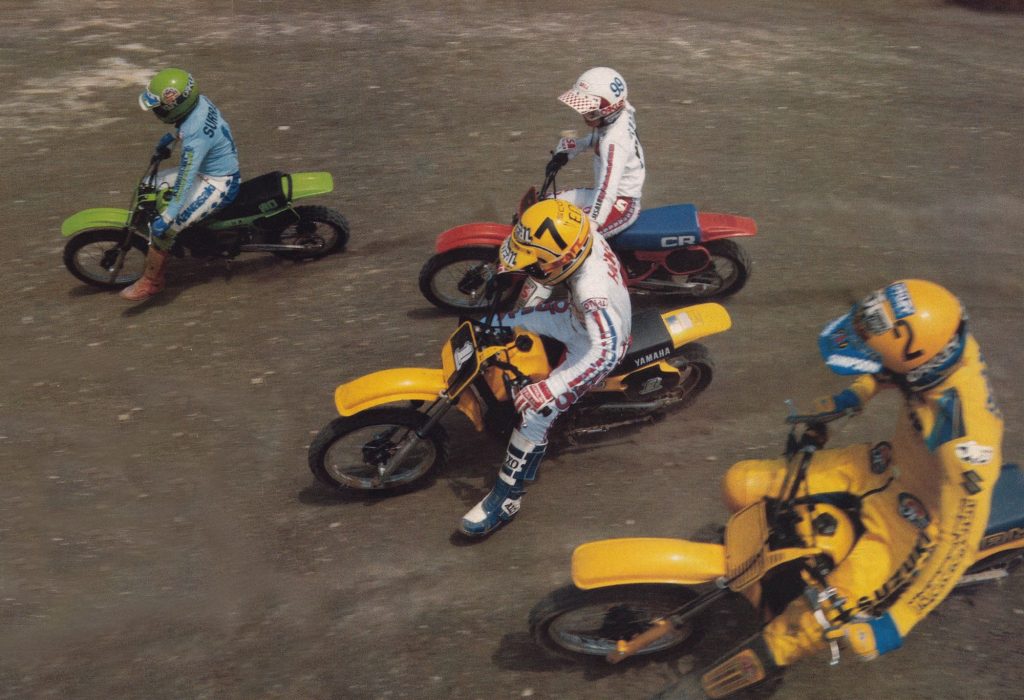 Mean Greenie: In the 1983 80cc motocross sweepstakes, one bike stood head-and-shoulders above the rest. The Kawasaki KX80 offered the most power, most suspension, and most roomy ergonomics. If you were small or a beginner, the others had some appeal, but if you were serious about winning, there really was only one choice. Photo Credit: Rich Cox 
On the track, the new motor turned out to be a significant improvement in some areas and rather lackluster in others. Low-end response was better than '82 and the bike was snappy out of the hole for a mini class machine. The midrange was solid as well, but top-end power was completely lacking. On Kerker's dyno, the Honda put out a peak of just over 14 horsepower, well below Big Red's advertising claims and over two horsepower less than Kawasaki's KX80 on the same equipment. With its strong low-to-mid delivery, the CR was liked by novices, but derided by faster kids who demanded more revs and a stronger pull on top. It was faster than the '82 CR80R, but still not up to running with the class-leading KX in any test of speed. If you were an aspiring Mike Healey, you were likely going to need some major motor work in 1983.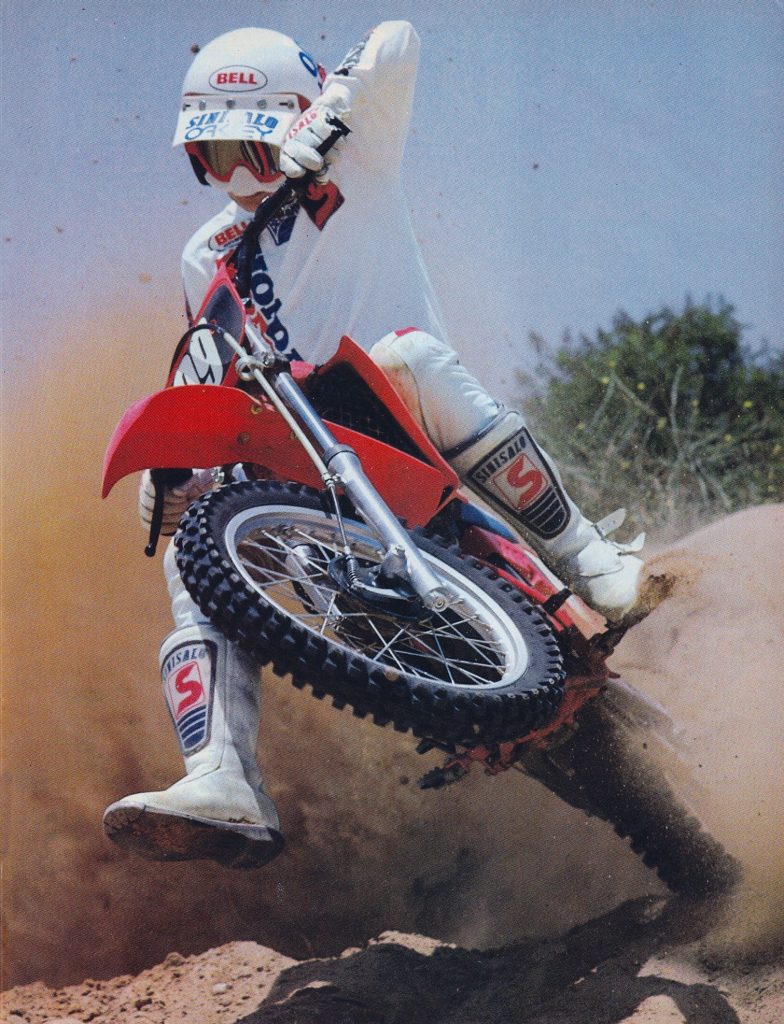 With its strong low-end burst, the '83 CR80R was quick out of turns, but fast guys like Mike Healey (pictured) found its lack of top-end disappointing. Photo Credit: Honda 
 On the suspension end of things, the '83 CR once again skewed toward the novice side of the spectrum. It featured both the least travel in the class and some of the softest settings. Neither end offered any adjustments save spring preload in the rear. Compared to the class-leading KX, the CR gave up nearly two inches of suspension travel front and rear. While this made it a better fit for smaller kids, it significantly hindered its ability to take on larger whoops and the bigger jumps. Both ends were sprung extremely softly and underdamped for aggressive riding. With a larger or faster kid on board, the Honda would crash to the stops on any medium-sized hit. Even with a smaller rider aboard, both ends were harsh and underdamped.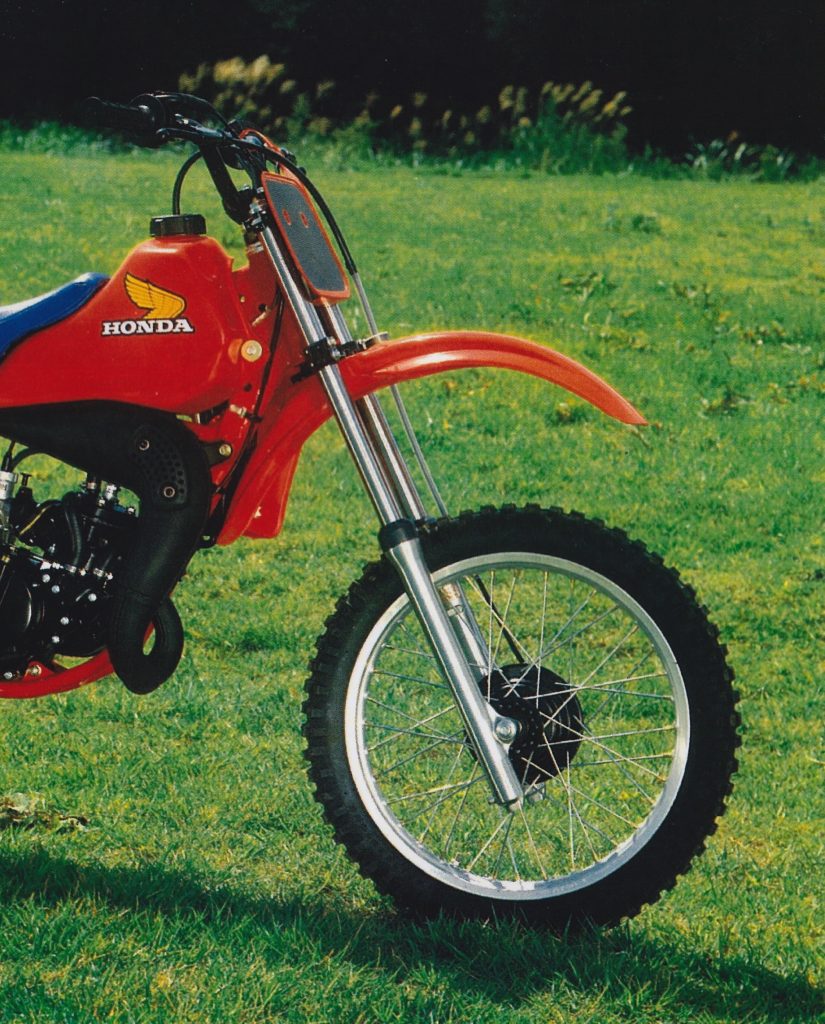 The CRs 31mm front forks offered 8.9-inches of travel and no adjustments for performance. As delivered from the factory, they were softly sprung and harsh in action. Photo Credit: Honda
 Because of its overly soft suspension, the CRs handling could be a real handful in the rough. Under acceleration, the rear end squatted appreciably and rebounded suddenly when encountering the first bump or whoop. The soft forks did help the bike settle in slow turns and the CR was quite good in that department. Fast sweepers, however, were a white-knuckle affair as the bike bobbed and weaved on its overtaxed forks and shock. Keep the speeds down and it was a decent handler, but try to pick up the pace and it was brown-trousers time for junior.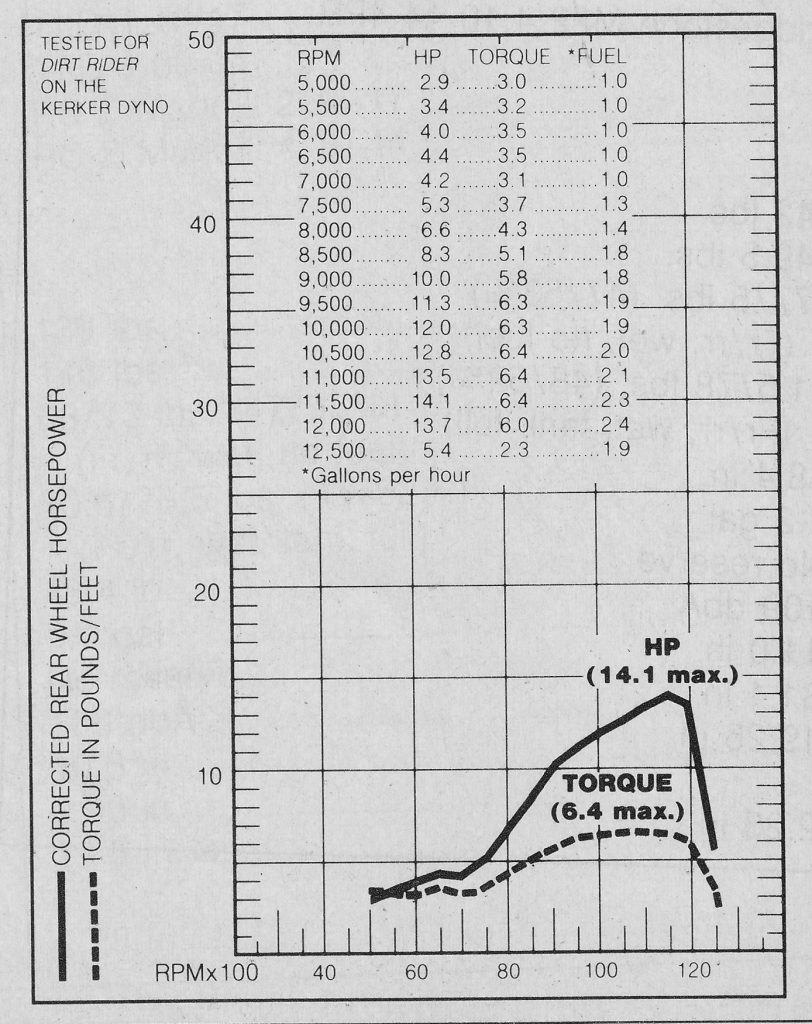 At a peak of 14.1 horsepower, the CR put out over two less horsepower than the class-leading KX80 in 1983. Photo Credit: Dirt Rider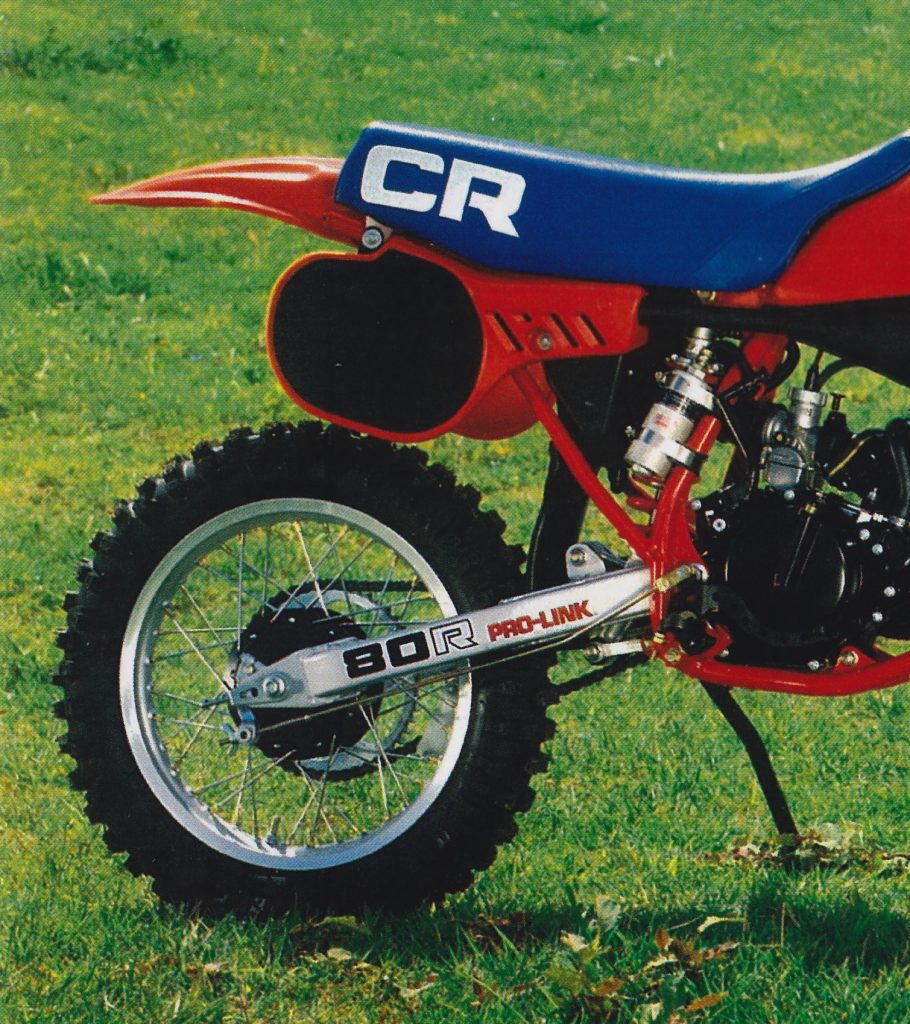 Much like the front forks, the Pro-Link rear on the '83 CR was softly sprung and underdamped for anyone above the novice class. Photo Credit: Honda 
On the detailing side of things, the new CR was excellent for its time and a solid step forward over 1982. The new plastic looked great (aside from the slightly weird front number plate), fit well and gave the bike one of the most comfortable layouts in the class. Only a set of overly-tall bars detracted from its otherwise first-rate ergonomics. A new folding shifter made crashes less of a hazard and excellent controls gave the smallest CR the same air of quality its larger brothers enjoyed. Both drum brakes were considered strong and more than adequate for the time, but the rear got demerits for its grabby and difficult-to-modulate action.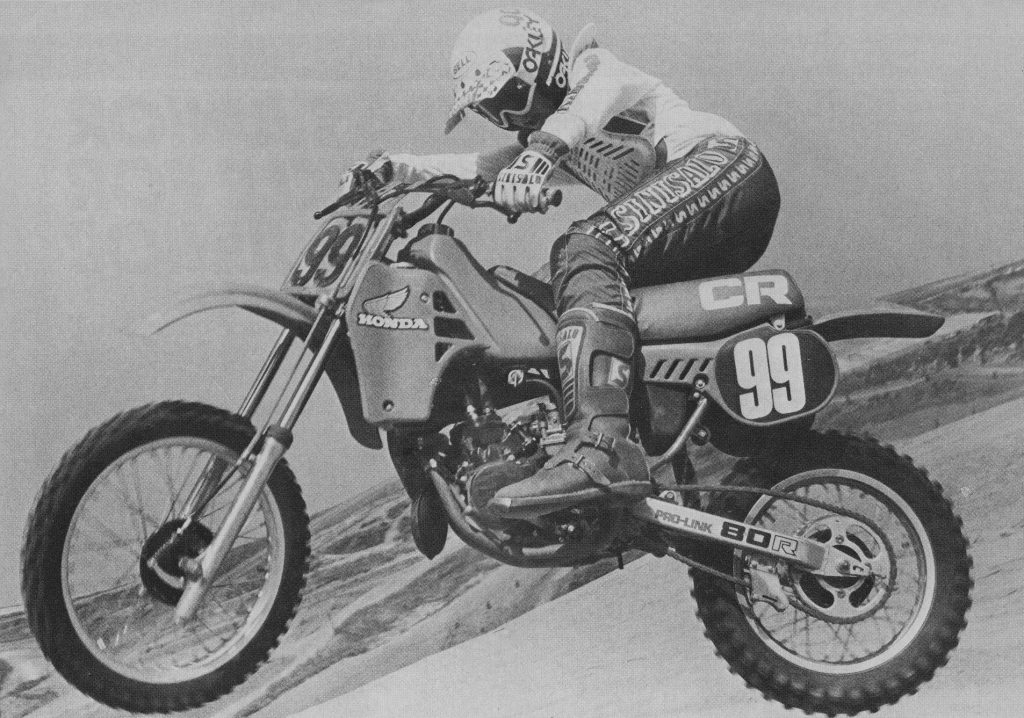 Stray Cat: Honda's factory mini pilot Mike Healey made the CR look more impressive than it actually was in '83. Photo Credit: Motocross Action
Overall, the 1983 CR80R was an impressive-looking machine in need of some additional performance. If beauty won shootouts, it would have been unbeatable, but as it stood, it was too short, too heavy, and too slow to compete at the top. It was a good machine for shorter, younger, or inexperienced riders, but too limited for anyone above the novice class without some major upgrades.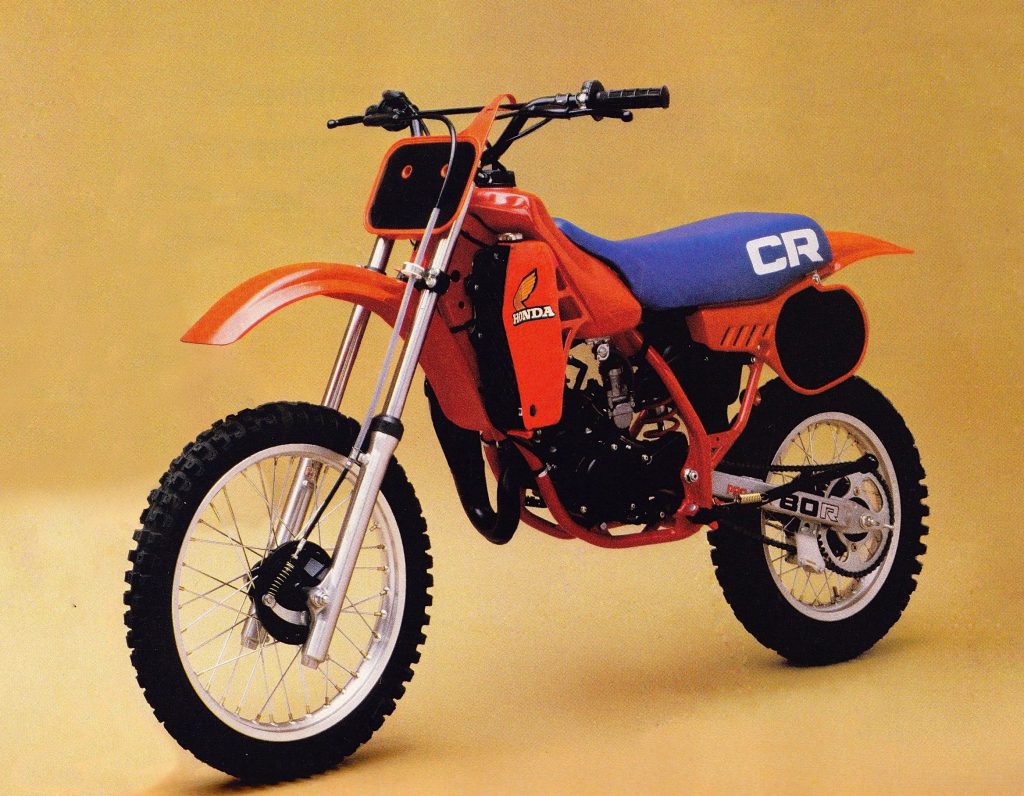 Beautiful to behold, but only moderately successful on the track, the '83 CR80R made a good beginner bike, but not much of a serious racer. If you were looking to be at the front, there were better choices available in 1983. Photo Credit: Honda 
For your daily dose of old-school moto goodness, make sure to follow me on Twitter and Instagram – @TonyBlazier
For questions or comments, feel free to drop me a line anytime at TheMotocrossVault@Gmail.com