Over the fifty odd years of motocross in America there have been a handful of truly iconic images that have been permanently burned into the tapestry of the sport. Bob Hannah launching out of Gravity Cavity in 1979, Keith McCarty telling Hannah to "Let Broc Bye" to hand Glover the 1979 125 Motocross title and of course, "The Scrub." Each photograph is an indelible moment in time that captured the thrill, drama and excitement of the sport we love. 
In most cases, these iconic shots are either action photos that have depicted daring feats of bravery and skill, or moments of high drama that have changed the course of the sport. Every so often, however, a bit of motocross marketing can make its way into this sanctified company. On these rare occasions, creativity, artistic skill, and maybe a bit of luck combine to elevate these images above the din of capitalistic pursuits to enter the Pantheon of motocross photo greatness. 
For an ad to make it into this hallowed ground it can not just have been another action shot with a logo plastered on it. While beautiful to behold, a shot of Bubba launching LaRocco's leap or RC railing a berm with a Renthal sticker affixed to the bottom of the page just does not cut it. To be truly great, an iconic ad image needs to have something to say. It needs to communicate something that pushes the envelope or emotionally speaks to the reader in one way or another. In my mind at least, the status quo just won't cut it if you want to run in these heady circles.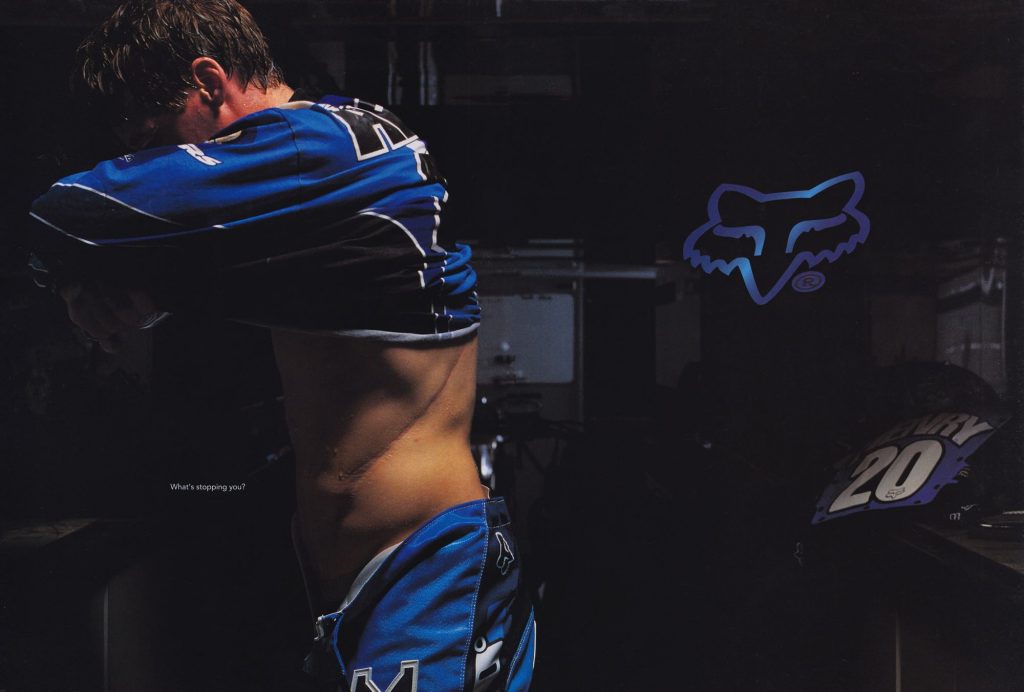 While there are a few ads that meet that criteria (Fox's "Thinker" for one), none of them have embodied the emotions, sacrifices and dangers of motocross in the way that Fox Racing's 1996 "What's stopping you?" ad did. Featuring a just-returned-to-racing Doug Henry, this ad said so much with a simple image. Henry's commitment to return to racing and overcome a potentially career-ending back injury were illustrated clearly by the large scar that ran the length of his torso. So simple, yet so deeply profound, this ad spoke to every one of us who have found themselves staring at yet another rehab and wondering if it is worth it. 
Of course, that danger is an integral part of what draws us all to motocross in the first place. The personal pride we take in doing something that others fear to do is certainly a component in its appeal and a part of what makes moto feel like such a brotherhood. As racers, we all know that the next ride could be our last and pushing through those barriers is a major component in the satisfaction we extract from the sport. For Doug Henry, that price was high, but he did not let it stop him in 1996, and he continues to push through those barriers today. 
Just as powerful today as it was twenty-three years ago, this ad continues to implore us all to look deep inside and challenge ourselves to overcome whatever obstacles stand in our way.
What's stopping you?