Anyone else miss watching races on Saturday!? I do and my fingers are crossed that we get to see some outdoor races this summer along with the final supercross rounds this fall.
While we're waiting, let's dive into some stats that racers, mechanics, media, and us fans tend to debate. For this first installment, let's take a look at whether or not qualifying first matters.
How many times have you heard a rider say qualifying doesn't matter or they don't take it that serious?! How many times have you heard Ralph Sheheen or Ricky Carmichael mention that so-and-so was the fastest in qualifying?! It seems like it's always a story line. It's a stat that gets discussed every Saturday throughout the season.
Just look at the 2020 450 supercross series and the coverage that Adam Cianciarulo got for being fastest qualifier seven weeks in a row. Not to question the coverage, it was Adam's rookie year and he emerged as an immediate title contender in his first practice session. Then he went on to repeat it 7 weeks in a row. It's worth the media talking about it.
But does qualifying fastest translate into podiums, wins, and championships!? As we're all well aware, it didn't turn into wins for Adam but he did snag 2 podiums and an average finish of 5th. What about for other riders in other years?
Since 2013, there have been 18 riders that have qualified first over 129 main events.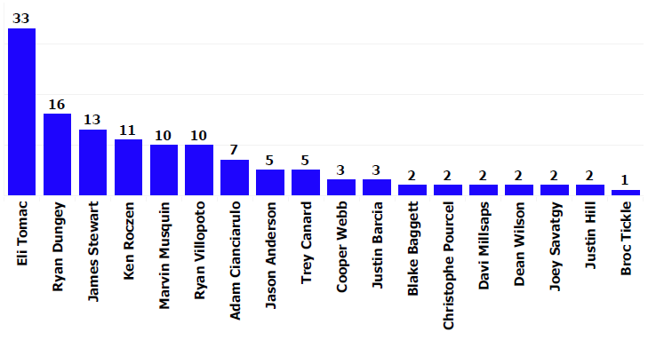 A few things immediately stand out. Let's start with the fact that Eli Tomac has qualified first in 33 of his 107 main events. Oddly close to the 32 main events that he's won. But has his 32 wins come on the 33 nights that he has qualified first?!
The answer… he's won on 17 of the 33 nights that he's qualified first. That's 52% of the time. But what I think is most interesting is that Eli Tomac finished on the podium in 23 out of the 33 nights he qualified first. That's 70% of the time. I'd happily play those odds in Vegas. Eli Tomac is all but a sure thing to podium in races where he qualifies first.

Another thing that stood out to me was that Cooper Webb has only been fastest in qualifying 3 times. Upon deeper analysis, he only qualified fastest once en route to his 2019 championship. He won that race.
Then there's Ken Roczen. Ken's been vocal that he doesn't put much emphasis on qualifying. Nonetheless, he's qualified first 11 different times in 83 main events. However, he's won 0 and podiumed 4 of the 11 times that he's qualified first. It's reasonable to say that Ken's been telling us the truth… kinda. He's been ranked 2nd or 3rd in qualifying on 7 of his 14 wins. He's still qualifying very strong, just not the fastest.

Comparatively speaking, it's interesting that when Eli Tomac is fastest in qualifying, he's on the podium 70% of the time but Ken Roczen is only on the podium 36% of the time. Yet another difference between two future hall of fame riders. This also further solidifies that when Eli's in the zone and feeling one with his bike, he's on. #beastmode
While the individual rider stats are interesting, we still haven't entirely answered if qualifying fastest turns into podiums, wins, and championships. The answer is that it's a good indicator a rider is going to podium, but it's not a great predictor of a rider winning races or a championship. Since 2013, the fastest qualifier went on to win 33% of the time (42 wins), podium 59% of the time (76 times), and averages a 4th place finish.

There's only 1 time where the supercross champion was also the rider that qualified fastest the most times. That was in 2016 when Ryan Dungey was fastest qualifier on 6 occasions. In 2013 and 2014, James Stewart qualified fastest the most times (7x and 6x), but Ryan Villopoto won the championships. In 2015 and 2017-19, Eli Tomac qualified fastest the most times (7x, 7x, and 8x) but Ryan Dungey, Jason Anderson, and Cooper Webb won the championships.
So there you have it. The fastest qualifier is a good predictor of a podium finish, but not wins and championships.
Given the lack of racing, here's a few more stats we can use to bench race while we're waiting out COVID-19… since 2013, the average qualifying position for all 129 race winners is 3. The worst qualifying position to win is 15th by Blake Baggett at Glendale in 2019 and he's the only rider to do so after qualifying outside the top 10.
What stat would you like to dive into next?
Let me know @3lapsdown on Twitter or Instagram.
Stay safe, stay healthy, stay at home.