I am not going to sit here and tell you that I am even close to an "adventure rider", but I do love getting out and exploring through the deserts and mountains near my home on dual purpose built machines. I also like to grab the wife, stick her on the back at times, so she can enjoy what mother nature has to offer us two wheeled enthusiasts. I am the type of rider that likes to go fast on the track, but when it comes to riding on the road, I don't need gobs of horsepower or go balls out to make me happy. I just want to be outside with the wind blowing against my body and enjoy the time being on two wheels. When I heard that KTM was going to be coming out with a 390 Adventure bike this immediately got my mind working and thinking of routes that I could venture off to. I have tried 990 's as well as 1190's and they were simply too big for my liking. Again, I am not your hardcore adventure guy so to me I simply don't need that much motorcycle, but I understand the reasons that others do. I had a chance to go for several "adventure" rides and wanted to give you some feedback on KTM's 390 Adventure from a beginner's perspective.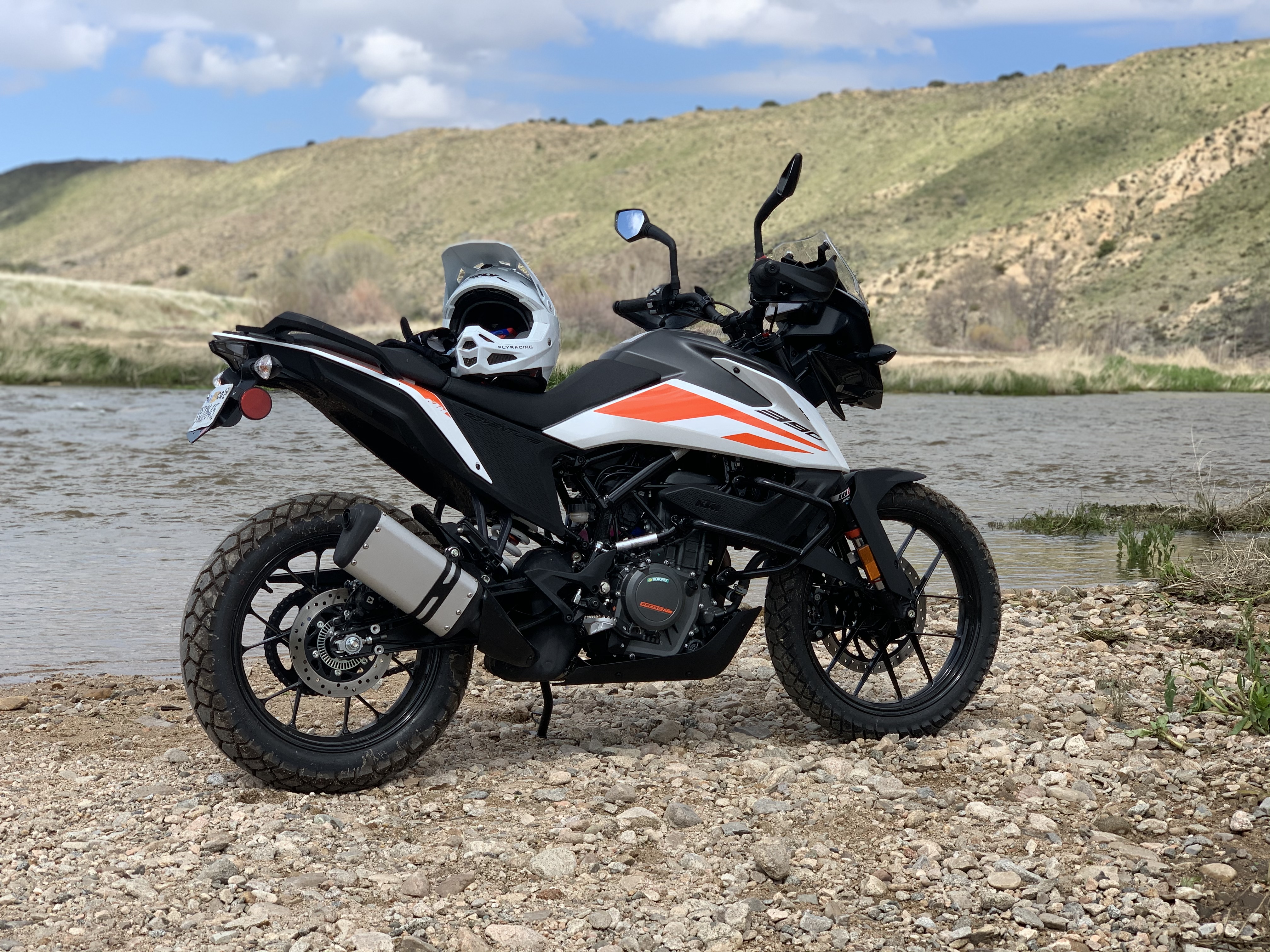 On Road:
 The compact single-cylinder travel-enduro machine has a sporty design attitude, with the comprehensive equipment and performance credentials of the KTM Adventure range. A state-of-the-art, liquid cooled, single-cylinder, four-stroke 373.2 cc engine powers this machine into KTM's world of Adventure. The engine is equipped with an electric starter and achieves impressive peak power for a small bike with a punchy torque that is surprising. Twin overhead camshafts, four valves and electronic fuel injection are integral to the KTM 390 Adventure's power and together with a balancer shaft, deliver levels of smoothness that makes it easy to ride on the street or even taking the short way home. 
I took off on a strict road ride regimen for the inaugural ride and found out just how torquey this little engine can be. First gear is surprisingly long yet second gear stop and gos proved to be too tall for the 390. Unless I am rolling a stop sign, second gear is too tall for me not to fan the hell out of the slipper clutch. Once I got used to using first gear more, once stopped, I really had no issues with the transmission spacing. I managed to get up to 92mph without any trouble and the lightweight/free feeling engine makes for a responsive ride around the city streets. With that free feeling comes a lightweight feeling that I didn't expect from a bike that weighs in at nearly 350 pounds dry, but it does leave you with an impression of a heavier motocross machine when leaning the 390 through corners.
The ergonomics of the 390 is comfortable and leaves me with a moto inspired feel, but I will have to get used to the front fender not moving with the handlebars when I turn. The seat is plush and wide enough for my behind as well as my wife when she tags along. The Bybre brakes provided enough controlled stopping power to please my erratic motocross throttle hand. I really liked the ABS system on the road as it made the KTM 390 feel more planted than say a Super Duke can.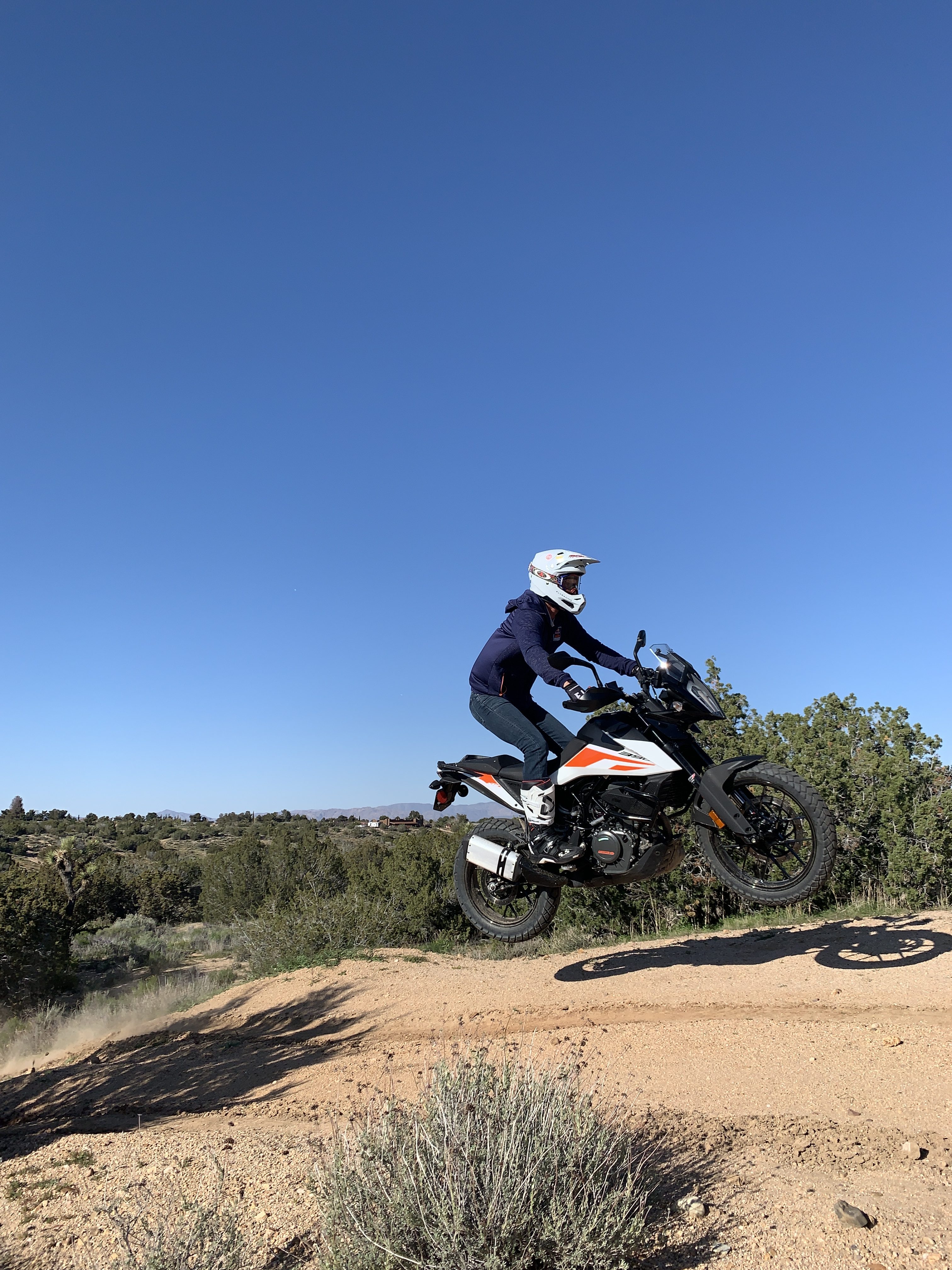 Off Road: 
Now to what you guys came here for. How does it tackle some off-road conditions? To my surprise, just like on the street, the 390 Adventure feels easily maneuverable and lightweight when get to a tighter section of any trail. When I say "trail" I mean semi-technical and nothing too crazy as I quickly found out. If you decide to take a hard route the KTM 390 can be a handful to maneuver. On an average trail, the 390 Adventure does feel capable and fast, its WP suspension really working hard to keep you in charge, but aside from the default advantages of having more power, there's no special trick up its sleeve. You're not going to be bombing up your local "black diamond" trail and expect to have a good time, but you will be able to take that rough Jeep trail home or maybe the occasional sand wash. Sure, you have Traction Control, but much like it is on the SX models, it's more of a bar talk feature rather than a genuine rider assist. The TC is quite erratic, re-engaging when it feels like it over loose and rocky surfaces, turning the KTM 390 into a bike that is hard to predict in slippery situations. If you're a rider that rides off-road on more than a few occasions you will want to turn the TC off and get back to that throttle to rear tire consistent feel, but if you're new to the off-road side of motorcycles TC could help in some situations.  
When you stand up on the pegs, most of you over 5'11 reading this will find the handlebar set too low to be able to grip the tank with your knees like a moto bike, so even on areas of the trail where the 390 Adventure could shine, you'll suffer from a loss of some leg grip. I also can't fathom why the serrated footpegs are set at a forward bank when no other adventure motorcycle really has them placed that way. It also takes a few seconds to turn the TC off and set the ABS to 'off-road' mode, which is fine since you aren't going to go all Ricky Brabec and run off to the Dakar rally, but with KTM, I expected something a little more rider friendly. 
When riding off road conditions third and fourth gears became my weapons of choice because of how well the 390 can hook up (even without knobbies). I do wish the 390 had better ground clearance to clear big-ish rocks, but the suspension soaks up small to medium sized rocks with ease. You find the KTM a little soft if you're headed into some rollers or whoops, but for only having just over 6 inches of travel, I thought it was consistent and plush enough for how I wanted to ride. 
Extras:
The 3.8 gallon fuel tank allowed me to go almost 230 miles on a tank of fuel and when it says that it's empty you still can get another 20 miles or so out of it. I purposely checked this and had my wife on speed dial in case I got stranded, which I didn't. I also like how quiet the KTM 390 Adventure's muffler note is as it allows me to not have to wear ear plugs on longer rides. The dashboard is super friendly to interact with (except the TC and ABS data fields) and it didn't take long to figure out the lay of the land. The interface gives me enough information and I like that I could hook my phone up to it in order to see which calls I could decline or which ones I had to take.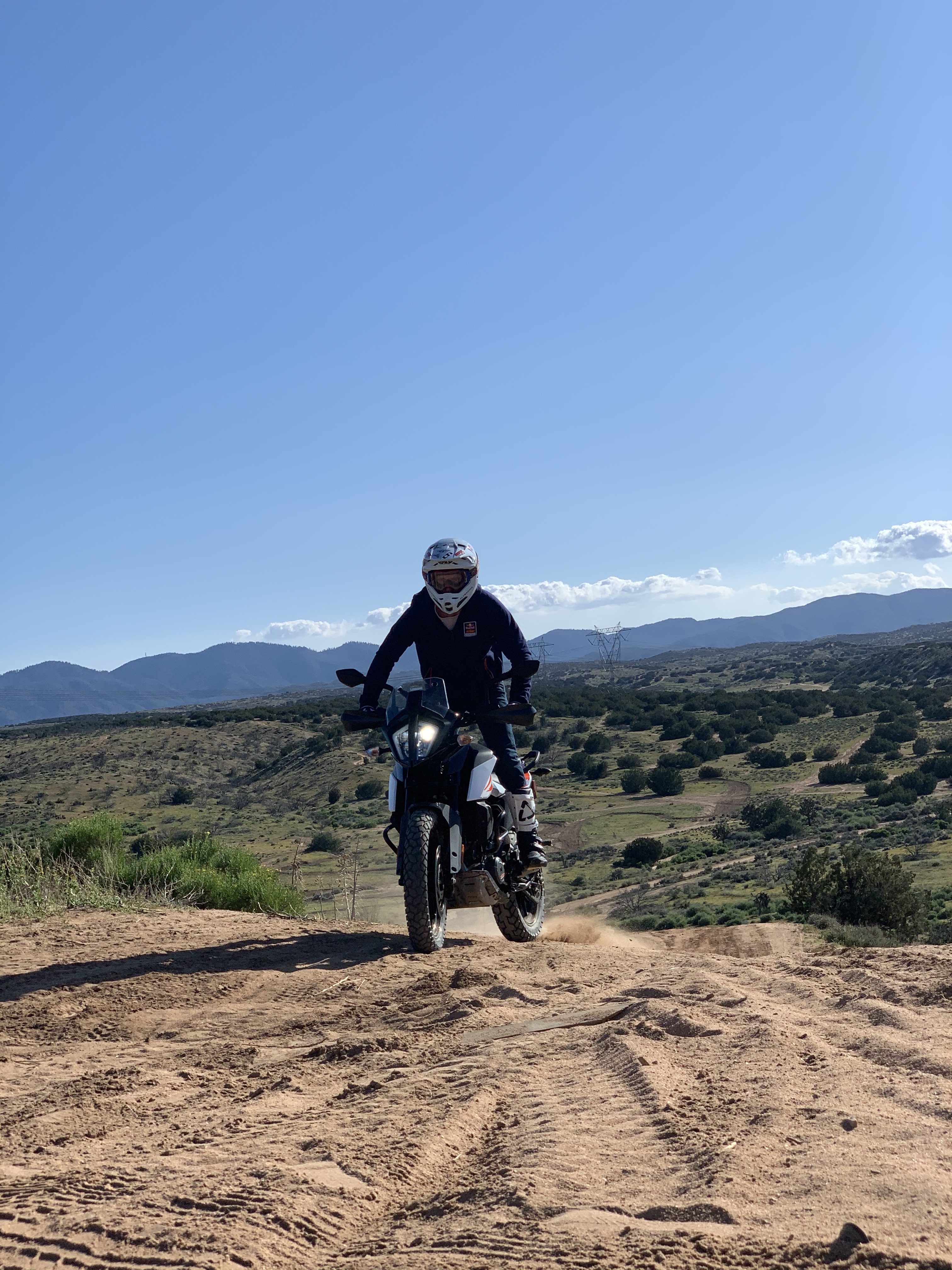 Overall Opinion:
For a guy that doesn't have a lot of Adventure bikes to compare to, I thought the KTM 390 Adventure was more than enough machine for what I wanted. At a price of $6,200 it's much easier to think about owning an adventure bike now than it was a couple years ago. With the price of adventure riding so expensive it was tough for me to justify thinking about owning a bike like this, but now I have one of these KTM 390 Adventure bikes on my office pin board wish list now. My next adventure with the 390 is to load it up with some bags and head up to the mountains for a camping trip with the fellas this spring/summer. Stay tuned for more on the KTM 390 Adventure over on Keeferinctesting.com as I continue to rack the miles on it.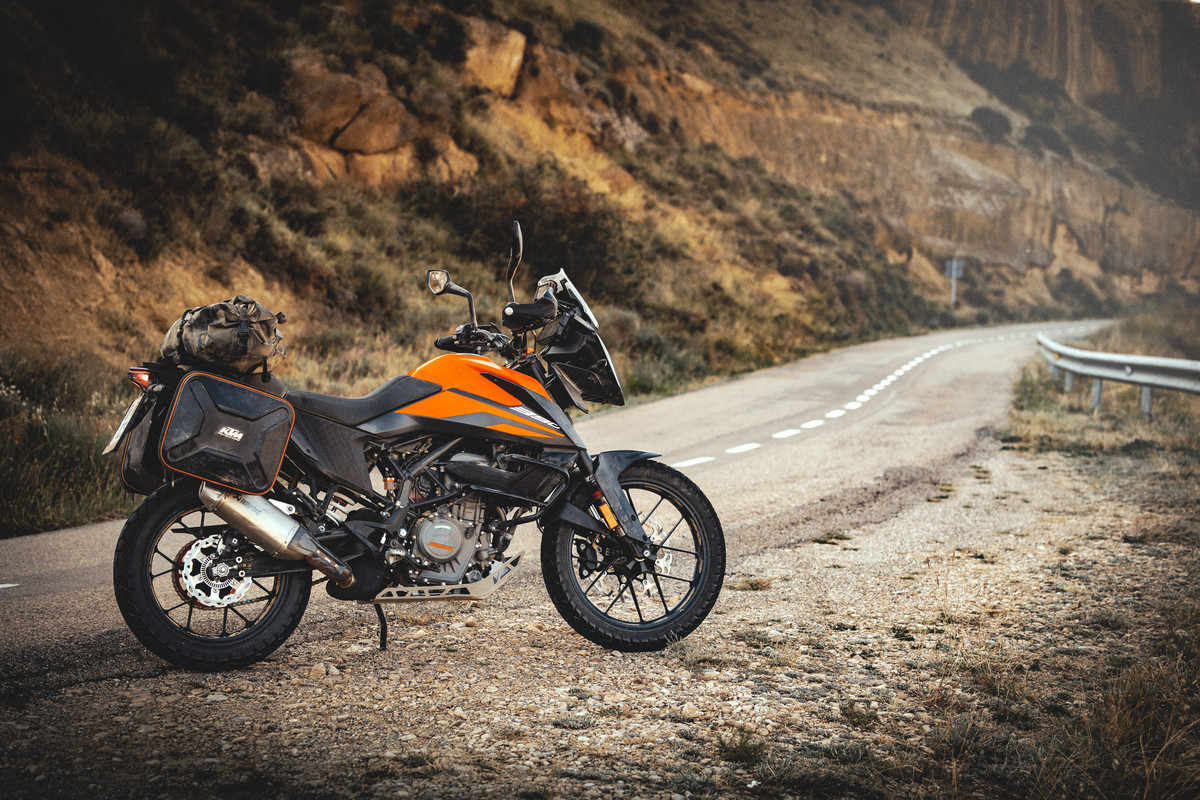 2020 KTM 390 ADVENTURE HIGHLIGHTS
Extremely powerful single cylinder, 4-stroke, 373.2 cc DOHC engine, electronic fuel injection, 3-way catalytic converter and balancer shaft, PASC slipper clutch and a Ride-by-Wire throttle for a smoother and more refined response.

 

State-of-the-art engine management system featuring the most modern electronic fuel injection system with a 46 mm throttle body.
Lightweight, precision-crafted exhaust system, comprising of a stainless steel header pipe and pre-muffler, which flow perfectly into a slim silencer.
Ultralight trellis frame strikes a forgiving balance of flex and stiffness and is designed for straight-line stability and agile and precise steering.
Bolt-on trellis subframe is compact and lightweight, but strong enough to carry a passenger and luggage, while negotiating extreme terrain.

 

Die-cast, open-lattice swingarm is a signature element of the KTM ADVENTURE range. It is precisely manufactured with an optimized stiffness, while still offering excellent flex characteristics. Its long design offers stability and the space needed for offroad tread.

 

WP APEX 43 mm upside-down fork was originally developed for enduro riding and is the absolute leader when it comes to suspension in this class. It features a spring on both sides, but each fork leg has a separate function: compression damping is fitted on the left side, while rebound is on the right.

 

Cutting-edge WP APEX shock absorber provides 177 mm of travel and is ideal for traveling long distances in tough conditions. Thanks to an adjustable spring preload and rebound damping, it can be fine-tuned to different situations.
Extra robust cast wheels specifically designed for demanding terrain—19" front wheel and 17" rear wheel, both fitted with tubeless CONTINENTAL TKC 70 tires for a blend of street performance and offroad grip.

 

High-quality BYBRE brakes featuring a large 320 mm front brake disc and a 230 mm rear disc work perfectly with a 4-piston radially mounted front caliper and a 2-piston floating rear caliper to provide the ideal mix of control and stopping power.
Ergonomically designed fuel tank with impressive 14.5 liter (3.8 gallons) fuel capacity, together with its exceptional fuel economy, is set for more than 400 km (249 miles) of non-stop exploring on a full tank.
High-end, tapered aluminum handlebar that importantly, provides a comfortable riding position and maximum control.
Windshield profile that allows the rider to move around the bike freely and offers an unobstructed view directly in front of the bike, even when covered in dirt. It can also be mounted in a lower or higher position to suit the riders sizes or needs.
State-of-the-art LED lights are used as the main headlight and taillight and offer great illumination and visibility while being compact and light.

 

Multifunctional dashboard with full-color 5" TFT display is bright and clear and offers a configurable set up via the menu switch on the handlebar.
Offroad ABS function improves braking control in offroad situations. In this mode, ABS is deactivated on the rear wheel, while ABS activation on the front wheel is reduced.
Motorcycle Traction Control (MTC) reduces the engine output with an extremely smooth, barely perceptible intervention if the rotational speed of the rear wheel is disproportionate to the speed of the engine, until the system has reduced slippage to manageable proportions for the current angle of lean.
Cornering ABS system allows riders to always use the full power of their brakes, while the system adjusts brake pressure to match the lean angle of the motorcycle for more predictable braking across a range of situations.

 

KTM MY RIDE comes as standard and allows for Bluetooth connection to control incoming calls and audio player through the full color TFT display.
The KTM 390 ADVENTURE can optionally be equipped with a race-derived Quickshifter +. Up and down-shifts can be performed without the need to pull the clutch lever.

 
SPECIFICATIONS
Engine Type: Single Cylinder, 4-Stroke, DOHC
Displacement: 373.2 cc
Bore/Stroke: 89/60 mm
Starter: Electric; 12V 8Ah
Transmission: 6 Gears
Fuel System: Bosch EFI, 46 mm Throttle Body
Lubrication: Wet Sump
Cooling: Liquid Cooling
Clutch: PASC Slipper Clutch, Mechanically Operated
Ignition: Bosch EMS with Ride-By-Wire
Frame: Steel Trellis
Subframe: Steel Trellis
Handlebar:  Aluminum, Tapered, Ø 26/22 mm
Front Suspension: WP APEX USD Ø 43 mm
Rear Suspension: WP APEX Monoshock 
Suspension Travel Front/Rear: 170 mm/ 6.7 in; 177 mm/ 6.9 in
Front/Rear Brakes: Disc Brake 320 mm/230 mm
Front/Rear Wheels: 2.50 x 19", 3.50 x 17"  
Front/Rear Tires: 100/90-19"; 130/80-17" 
Steering Head Angle: 26.5º
Wheelbase: 1,430 mm ± 15.5 mm / 56.3 ± 0.6 in
Ground Clearance: 200 mm / 7.8 in
Seat Height: 855 mm / 33.6 in
Tank Capacity: 14.5 L / 3.8 gal
Dry Weight, Approx: 158 kg/ 348.3 lbs.