There's a certain reason why everyone in the motocross industry gets into the industry and it's because we're fans of the sport. Whether it's riding, wrenching, making graphics or whatever, we all love motorcycle racing and are fans of the sport.
Sure, along the journey you lose that fandom for whatever reason or another, let's say you get burnt by a industry company, you become a mechanic and the rider you work for is a jerk off or if you're in the media, you understand that you have to report on the races objectively. Whatever it is you end up doing, that fandom gets buried deep down in you.
Sometimes though, it comes back out.
This is one of those times. As a kid reading Motocross Action cover to cover and back again, I always wondered what happened to Eddie Warren. Eddie was one of the all-time amateur greats in the early to mid-80's, won the 125SX title in the inaugural year of that class, got a spot on Factory Kawasaki alongside Jeff Ward and Ron Lechien, won a couple of 125MX nationals, podiumed a 250SX class and then poof, he was gone.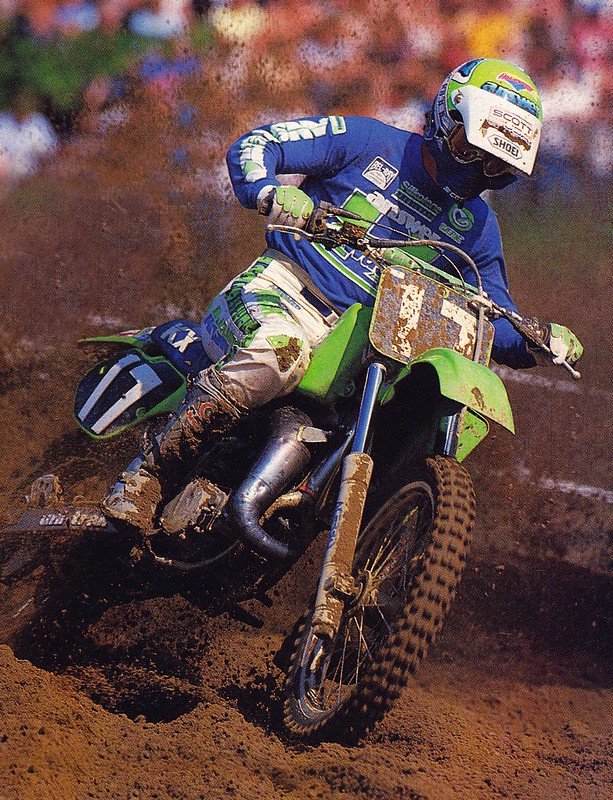 In
Eddie's last season in the USA, he was 9th in 125MX and 7th in 250SX which for a third year pro, wasn't too shabby. As I said, he won a couple of nationals and had a title-he was no slouch. One of the nationals he won with a 6-1 score but the other one was a great day at Hollister two weeks later in dry conditions, a win Eddie calls his career highlight. But nobody seemed to know what had happened to Eddie after 1987. We know he went to Australia and raced and settled down there, but there was still so many questions to be asked. Like, for one, why the hell didn't he get a ride with anyone else in 1988? Like, not even Suzuki wanted him?
I had tried to find him over the years, I started podcasting in 2008 and he's always been on my list of guys to talk to. Seriously, I had probably ten people down under hit me up and say they know Eddie, they know Eddie's wife's sister, they're a friend of a friend and that THEY can get the podcast done. Well, they didn't. One guy did actually reach back out and say he asked Eddie about doing it but that Eddie declined, he just didn't want to talk about that part of his life anymore was what I was told.
My mind always wondered, why? Was it because Eddie got fired at Kawasaki after two, what I would consider, good years and he was bitter? Was it something else? Did he not like podcasts? Maybe he didn't like me?
If I'm honest, I had given up, I looked on social media, on Facebook, asked all of our mutual friends and there didn't seem to be a way to get ahold of him to figure out the answers to my thirty-three year old burning questions. Eddie Warren didn't want to be found and it seemed didn't want to talk.
March 8th, 2020 I got an standard email from my website for some reader feedback that was left:
Hi Bryan, my name is Eddie Warren, I raced with Ronnie Tichenor as you would know. I'd like to get in contact with him, hope you can help. A phone number would be fantastic as I dont have any social media accounts. I appreciate your time. Thanks, Eddie.
 WHAT THE F**K????
I mean, before I could wonder on why he thought my name was Bryan, I checked the email and it was from Australia. COULD THIS REALLY BE EDDIE WARREN JUST COLD EMAILING ME????
This was left on an old podcast I did with Tichenor, a former factory Suzuki rider and contemporary of Eddie. I emailed Eddie back, explained one of the goals in my life was to interview him and would he be interested in that? And oh by the way, here's RT's number.
He replied that he wasn't sure if he would be up for a podcast (staying with his M.O) then I offered up an interview where I would type it up if that made him more comfortable. He replied that he'll think about it, he's got to go to a friends wedding and he would be back in touch.
Then there was nothing. I knew I should've promised him Tichenor's number AFTER I interviewed him! Eddie was gone again but I did have his email so he would have to deal with me sending him interview requests every week.
Then one Saturday night, during this quarantine, I put a frozen pizza in the oven while watching Breaking Bad when my phone rang with a number from Australia. I answered and it was Eddie! He was calling me to see about doing this interview. I looked at the pizza in the oven, thought about how I actually had him on the phone right now and when he said he could do the podcast now, I knew dinner had to wait. Not all heroes wear capes people.
(At this point I should mention that Eddie actually called me a week earlier but I was flying back from Hawaii on the day he called and had gotten some food poisoning as well on the way back. So on top of the travel, this was a top-ten worst day of my life as well. So no, I didn't check the missed voice mails. Besides, who leaves voice mails these days besides a guy from Australia that has no social media whatsoever?)
I called Eddie right back from the studio and he couldn't have been any cooler. Or nicer. A bit weird to hear the Aussie accent from a member of the Michigan Mafia but hey, he's been down there a long time now.
Eddie mentioned that he'd turned down more than a few media requests over the years to talk about his career, he wasn't in a good spot although he didn't seem bitter at all now. Perhaps going through the death of his first wife seemed to be the impetus for him turning inward. This interview we did was the first time he'd talked to anyone in a long time.
The reason why Eddie didn't race in the USA in 1988 because in his own words, he didn't have one offer! Pretty amazing times back then for a guy that made the top ten in two series!
"I had nothing. I didn't approach anyone. I didn't even go there" Eddie says about that 1987 off-season "I just thought, that's it. I've had my shot and I didn't make it. Whether it's a combination of me not doing enough, I didn't really know. I was just disappointed and depressed."
One thing Eddie does wish is that he would've told his manager back then, Roy Turner, about a car crash he was in before the 1987 Supercross series where the car he was in rolled and he hurt his shoulder. For whatever reason, Eddie kept that quiet from everyone and he struggled early in that 1987 season.
"No one ever knew about this. I never told anyone, until now. I had a girlfriend and she had an exchange student living with her. She wanted to drive so I said, all right, you can drive. So we're going somewhere. I was sitting in the back. We weren't going very fast. I was sitting in the back and my girlfriend was sitting in the front. Next thing I know, this thing was just tank slapping this car, and we rolled. I busted my shoulder, big time. I never went and got it x-rayed. I don't know whether I broke it. It was bad. I couldn't move it for weeks and weeks and weeks. I basically started the '87 season like that and everyone wanted to know what was wrong. Thinking about it now, I probably should have been more honest about what happened.
You either do it or you don't. That's their attitude" Warren said about being two years and done in the USA racing scene "If you've got what it takes, you'll go on. If you don't, then see you later. It's pretty brutal and pretty vicious, but you know that's what it's going to be like. They basically just looked at I wasn't doing my part and all that. That's probably what in the end… I never really got going that year, and in the end they just said, you're not good enough, and see you later."
Eddie would be invited by Jeff Leisk to race down in Australia and he kept getting invites for more races. At some point to fulfill his Kawasaki contract, he headed back to the USA for the Kawasaki Race of Champions deal. It was there after the KROC race in 1987 (that's where Turner told him after the second moto he wouldn't be back with the team in 1988 which Warren figured anyways with some hot Kawasaki amateur named Jeff Matiasevich coming up) where he decided to see what the Australian racing series was like and he essentially never went back home.
Warren raced a few years in Australia and then got an invite to race for factory Kawasaki in Japan for a few years where he raced against Tichenor amongst others. Eddie won races and championships there riding some ultra-trick works bikes until he was let go by Kawasaki because some guy named Matiasevich was coming to get his ride…again. He raced the 1995 season back down under (he remembers a very quick kid in the junior class named Chad Reed that probably had a good future ahead of him), got hurt and then got a job with the railroad. Motocross was over for Eddie Warren.
The success that Eddie was pegged for in the USA by so many didn't come but he did end up with a very successful racing career, it just so happened to be in Australia and Japan. Eddie's second half career was everything his first half wasn't.
"That was my golden ticket, in the end. I made very little money in the States (his salary that first year at factory Kawasaki? Would you believe 15,000?), but when I went to Japan I made – I say a lot of money. I didn't get rich and retire type money, but it set me up. It really did" Warren says of his racing life after 1987 "When I was there (Japan), if you won both motos on the weekend it was like a $25,000 weekend, with bonuses.
Even the prize money there was good. I think there was about $4,000 or $5,000 just prize money for one of those motos. Then all the sponsors… That's one good thing about the Japanese. With Kawasaki, I had to use NGK plugs. I had no choice. That's what they wanted to use. But NGK still paid me sign-up money and bonuses and all that. They didn't probably have to, because I had no choice in the matter. Still very honorable."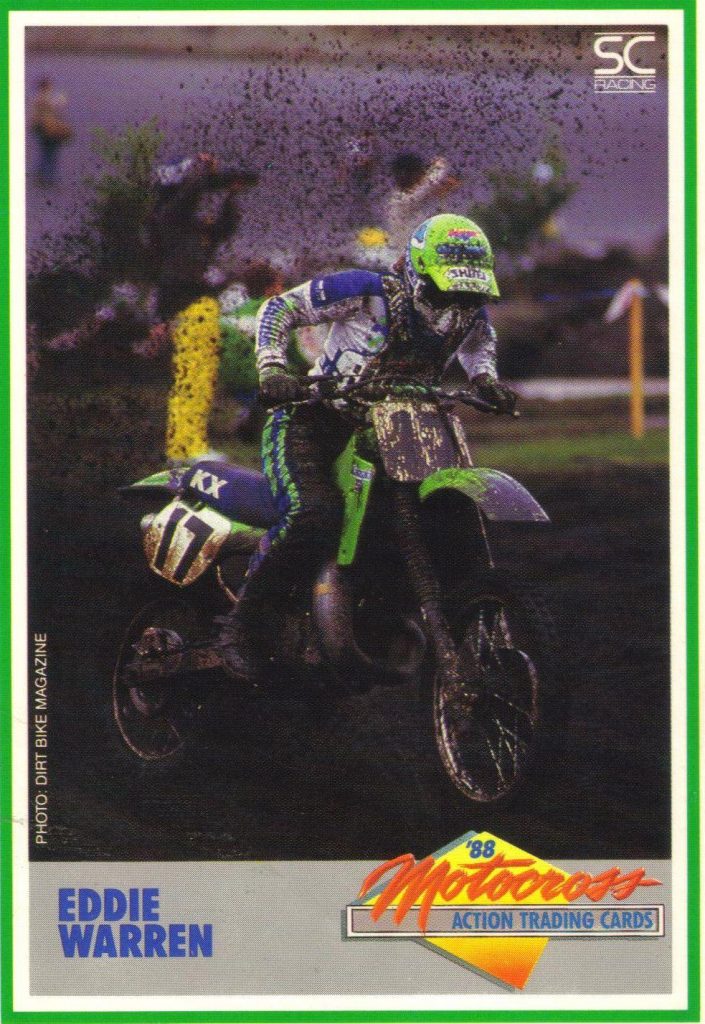 It was cool to hear Warren be so gracious and upbeat about his career and life in general. After the podcast came out, I got a note from current Monster Kawasaki racing consultant Bruce Stjernstrom who was head of Team Green for many of Warren's years on green:
"He was a great young rider and human being; I really enjoyed having him on our Team Green program. The Aussie accent threw me at first but is understandable based on the time he has lived there. So happy to know he is successful and enjoying a good life.
Here's a quick story, in 1985 at Loretta's he was blazing fast as expected on his KX125. One of his motos he got a horrible start, stood on the pegs and let everyone go through the first turn. From dead last, he passed everyone and easily won the moto. Thanks for the story on one of our favorite boys!"
Eddie has settled into life in Australia, no mementos of his racing down there (his mom and dad in Michigan have all of it he says) and not the type of guy who hangs onto who he was or what he could have been. Life's not been all roses for Warren and he's not the type to dwell on himself. But was there a point where he did think about his unfulfilled potential? I mean there must have been right? By his own admission, Warren turned down the chance to talk to media more than a few times.
"It (failure) beats you up. Some people get through it. You look at a guy like Ricky Carmichael, he went through the same thing. It would have been no different for him. He obviously had a lot more maturity than I had and he handled it better, and look where it got him. I just didn't quite have that. It's just the way it his. I had to deal with it. It took time to work it all out."
Any regrets Eddie?
"I've had this question before, and I had to sit and think for a while. Not just because of the racing either, but because of where I am with the other side of racing with my married life and my kids and all that. I wouldn't change it because of that, because it turned out really good. My kids are fantastic. They never got into trouble. So I wouldn't go and change it because I might not like the other outcome. So I'm very happy with where it all turned up. Probably at times I wasn't obviously, but in the end I am."
The important thing to take from this podcast is that Eddie Warren is alive and well and most importantly, he seems happy. After we hung up, I went back upstairs, ate that pizza and had a good night. My long quest to talk to Eddie Warren is now complete.
You can listen to the podcast HERE