(Lead photo: RacerX)
Hi everyone, my name is Kevin and I'm a Bar to Bar addict.
The Bar to Bar series recounting the Supercross series that most recently concluded, are produced pretty cheesily but the time capsule that they present, are priceless. The mid-90's Bar to Bar releases are bordering on the edge of cringe-worthy with some of the between-race-action scenes but you know what, therein lies the value. A lot of the 90's trends, character traits and lingo really were cringe-worthy looking back on them now. You gotta own up to it and swallow your pride, we all lived through it and for sure, we all have a story or two involving embarrassment looking back on the era. Bar to Bar doesn't hide these markers, it honestly appears to saturate itself in them and I really appreciate the series for it because when I settle in to watch Bar to Bar, I too want to be fully saturated in the era of whichever season I am soaking up.
In the moment, we can never fully appreciate the season as it is evolving. We are too invested in the corner to corner and week to week progression. It's only through the tool, study -aid, GOLD bullion that is Bar to Bar, that we can fully absorb how great a season really was as it unfolded. I've got them all, I've watched them all an obscene number of times and trust me, it's HARD to name a favorite. Possibly harder to name a favorite Bar to Bar than to name a favorite child. Ok not really, but the love is great for all of them. 2003 was AMAZING, especially the special edition which highlighted EVERY post-race press conference. I'm saving that story for another #covidcontent edition while the races are still tabled but for this first edition, we're hitting my true first love of Bar to Bar glory, it's 2009 baby!
What an amazing stage to have set coming into A1 with Chad Reed having essentially ousted himself from the San Manuel Yamaha team under Larry Brooks, with James Stewart having moved into his position. The disgust amongst the top 2 riders could not be more palpable. As the initial laps at round 1 clicked off, James and Chad swapped positions a few times and then suddenly, a missed gear entering the whoops by JS7 ultimately set the tone for the ENTIRE rest of the series! James was clearly concussed when he attempted to remount as Chad got up and going again.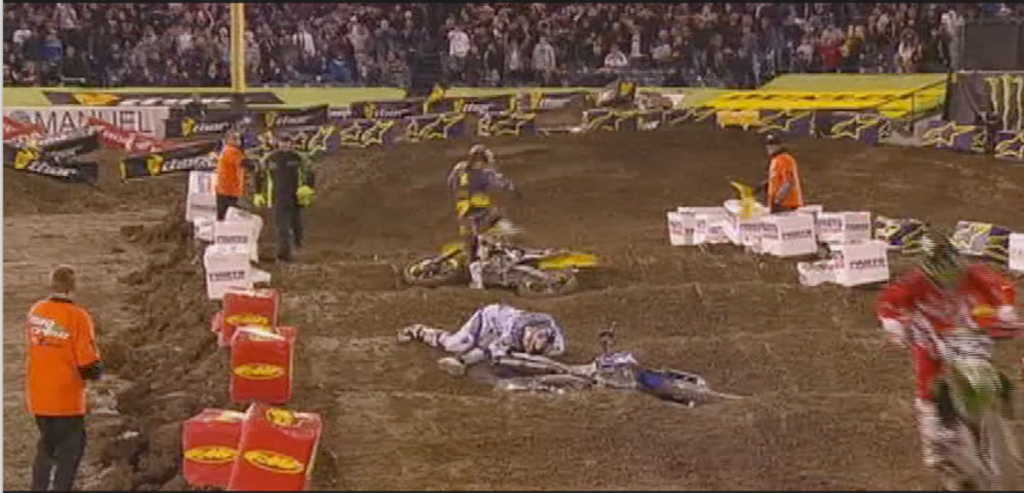 JS couldn't get his bike back into the race and a DNF at round 1 meant this series was going to be nuts. Josh Grant managed to secure the win for the JGR team with a rear wheel full of banners. The tension was so high at round one, it was really a dream scenario for the promoters. Looking back, you gotta assume JGR felt incredibly fortunate to win this amazing kickoff round in the fashion they did and to see the struggles they have endured since then, it's really heartbreaking in many senses. As the series left round one with Chad Reed holding a nearly 20 point lead over FMOP (JS7), we all KNEW the series to follow was going to be full of fireworks, unexpected drama and tension. It did NOT disappoint.
Just as you would have anticipated, JS7 reeled off an insane 7 race win streak, with CHasd finishing 2nd in all of those, to go up on Chad by 3 points in the series standings. Just when you thought James was going to prove unstoppable, Chad won 3 of the next 4 rounds, putting James back down in the points by 11. This cat and mouse game lead to my absolute favorite race of the year and a race that remains in my top 5 races ever. Jacksonville. I was in Florida on Spring Break and nearly attended the race but ultimately watched from our condo, from qualifying practice through the checkered flag in the Main Event, the tension was unbelievable. With only 4 rounds left and Chad up by 8pts, both Chad and James were at full attention. Chad knew he had a real shot at beating James straight up in a series and James was reeling, realizing he had once again solidified himself as the Fastest Man on the Planet, as well as his Mr. Hyde alter ego, Mr."Crash or Win" (CoW). James did NOT want to see a series go down that way, especially to Chad Reed, the one guy who never succumbed to the belief that James was the dominant of the two. Chad had always proven unflappable, regardless of whether James had beaten him by 45 seconds or Chad had once again passed him while he was picking up his bike.
During the day in Jacksonville, James and Chad had words as contact occurred and the tension grew. During the night show it was man-e-mano as they both swapped positions for the lead until James cross jumped Chad, ripping his fork guard off his RMZ450. Chad was PISSED and grabbed James by the neck after the checkers to give him a fair warning. What I wouldn't give to have had Weege doing the play by play during this race!! Unreal!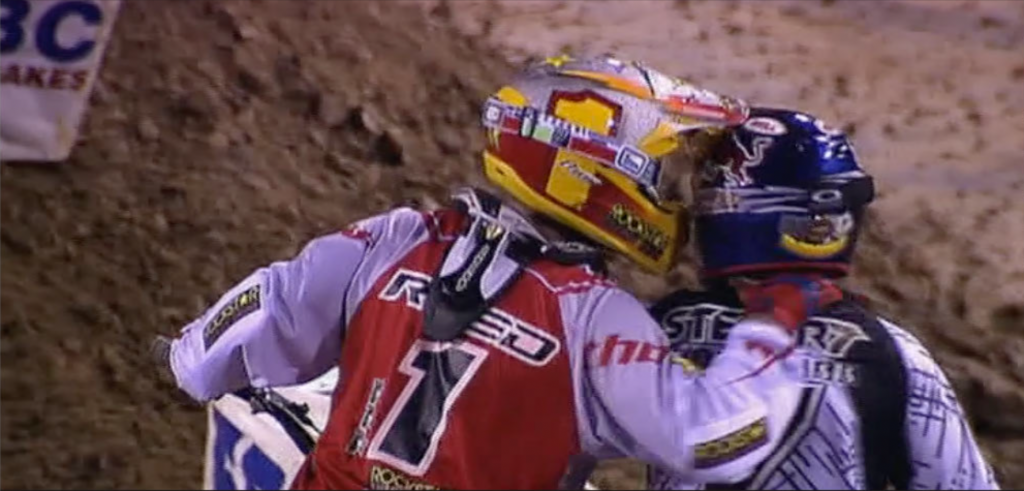 Two weeks later in Salt Lake City, we had the "Chiz" incident. As James and Chad battled, they came upon James' San Manuel teammate and he let JS7 by but as Chad followed close behind, Chiz performed a plausibly executed "riding error" which was clearly an attempt to slowdown Chad. Which it did and got Chiz black flagged right away. Following the race we got the "Chisholm, who's that guy?", quote from Chad. Classic Chad. It's mind blowing how years later Chad was allowing Chiz to train at his place and totally cool with him.
In the end, Chad had a longshot at the Championship in Vegas and he made a valiant effort in the sweeper outside the stadium as he ran it up the inside of James, forcing him outside where James *almost* went down. It was amazing man.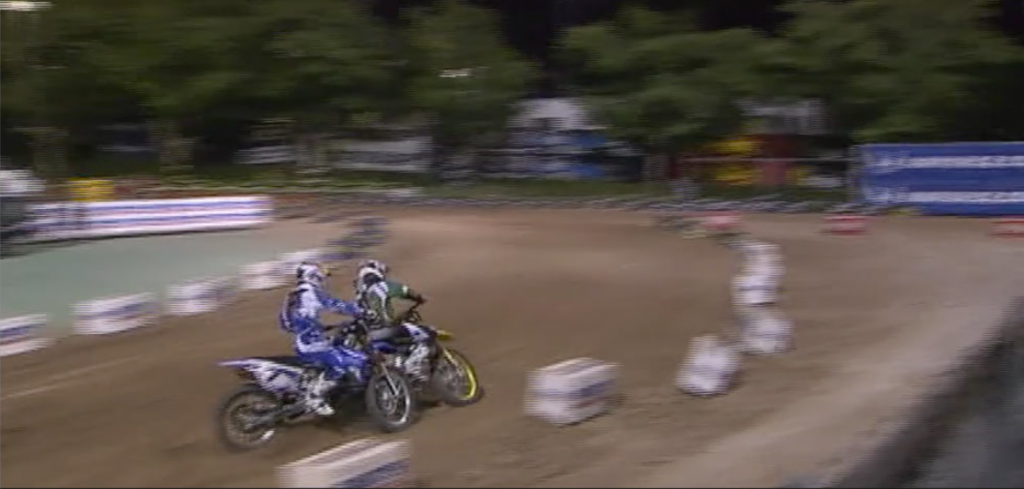 If you haven't gotten your Bar to Bar taste yet, I can't express strongly enough how much you need to source these gems and archive them. As I said, I have watched all of them many times and without fail, each viewing pulls you right back to that moment in time and it's even better because you're watching with that hindsight perspective that only adds to the excitement.
My next edition of Bar to Bar Throwback will be 2003. Another Classic.