Utah 3 delivers Extra Terrestial performance and a return to earth for fantasy scores.
I have to admit, I've already watched the U3 450 main twice, and I'll probably watch it again by the time you are done reading this, it was that good.
Speaking of good! Hodie345 is this week's PulpMX Champ. Hodie took down the overall by a mere two points, and without an optimal score from one of his all-stars. Let's dissect.
250s – Hodie nailed the non-all-stars, picking not one, but two out of three 52 point scoring riders, Wilson Fleming at 15.8%, and Carter Halpain at 22.8%. Both carried a 14 handicap. Hodie also chose chalky Pierce Brown (-1) for 36 points, and Shane McElrath (0AS) in the all-star slot with 23 points.
450s – Hodie took advantage of Marty's excellent run of late, and he delivered. Marty put up 36 points to top the board at a 3 handicap at a 30.7% pick trend. Hodie also chose Blake Baggett (4) with 30 points for 19.1%, Broc Tickle (7) for 26 points at 26.8%, and Dean Wilson (8AS) as the all-star. Deano put up 26 perfect points for 21.1% of teams.
FFL – Hodie correctly chose Shane McElrath as first to finish, they did not select a 450 class rider.
Keys to success: Hodie's combination of 52 point scorers sent him to the top this week. They also managed to avoid a couple of somewhat high owned busts, which we will discuss below.
Congrats again to Hodie for taking down the overall! Let's take a look at everything else.
Most picked riders, AKA "the chalk."
We saw a significant drop in pick trends this week. The highest pick trend overall for the day was Aaron "it's a mudder" Plessinger (1) at 41.4%. AP was followed by ET3 (1AS) at 34%, and Marty (3) at 30.7%.
Amazingly, nobody in the 250 class had a higher than 30% pick trend. Shane "Mr Clean" McElrath (0AS) topped the field at 29.6%. He was followed by Chase Sexton (1AS) at 29.3%, Pierce Brown (-1) at 27%, and Colt Nichols, (-2), also at 27%.
Low owned players who delivered – AKA great contrarian plays
It's incredible that with all the technology, podcasts, websites, expert picks, and everything else that's out there, that a few riders manage to slip through the cracks, yet here we are.
Wilson Fleming (14) topped the 250's with a 52 point score after qualifying 12th place overall. His 15.8% pick trend made sense as we had a short, single practice session, and he hasn't proven to be a consistent main event guy. We also saw Hunter Sayles slip through the cracks as a 13 handicap after qualifying in 18th. His pick trend was only 1.1%! Finally, Darian Sanayei put up another solid fantasy performance at a 14, scoring 38 points at a low 12.5% pick trend.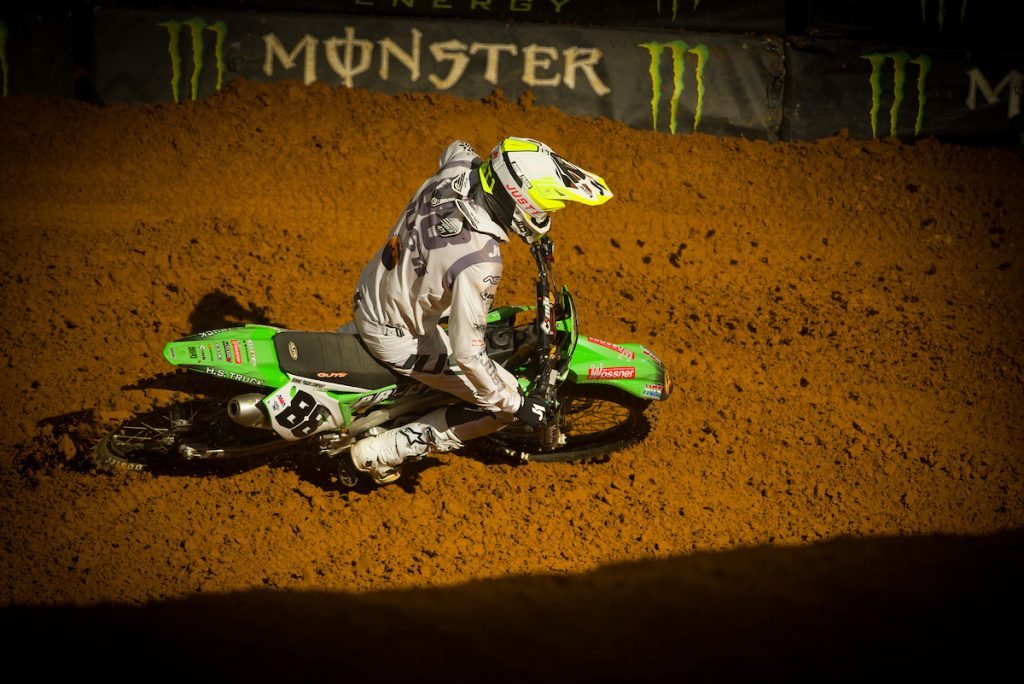 450s – Logan Karnow (16) qualified in 24P and put it in the main, scoring 34 points, the second-highest score in class for almost nobody, 0.2%. Proving once again that gambling on "bubble" picks who have a 16 handicap can pay off. We also saw Weege's man, Justin Brayton, line up for the first time in a while as a non-all-star. JB10 rewarded the 13.3% of teams who chose him with the third-highest in-class score, 32 points.
Fantasy Duds
Who burned the field? Let's take a look.
Dustin Winter (11) saw his nice run of top-20 finishes come to an end at Utah 3 as he DNQ'd for the night show after qualifying 5th, leaving 26.3% of teams with a zero. We also saw Garrett Marchbanks leave the track with what looked to be a shoulder injury, resulting in 22.9% of teams receiving only 3 points. Finally, Lorenzo Locurcio and his 7 pick trend could only manage a 20P finish in the main, scoring a paltry 10 points at a 20.5% pick trend. 
Given that it was a soft, rutty track, I have to say that AP's 26 point finish at a 1 handicap was a bit of a letdown for the 41.4% of owners who chose him. Not much else to note in terms of busts in the 450s.
Fantasy Studs
These are the riders with high pick trends who delivered!
I typically reserve this section for riders with a >30% pick trend who put up big points, but the handicaps were so good, that it didn't happen in the 250 class, so let's look at who was close.
Carter Halpain (14) topped the 250s with 52 points at 22.8%. We also had solid scores from Pierce Brown (-1) and Colt Nichols (-2), putting up 36 points for 27%. 
Marty was the only rider with a high score and a +30% pick trend. He had the highest in-class score at 36 points for 30.7% of teams. Last week I noted Chad Reed as a riser; he did not disappoint, scoring 32 points at a 7 handicap for 29.8% of teams. 
First to Finish Line (First Lap) Leaders
U2 saw historically low correct pick trend percentages, not so much for U3. We saw 23.8% choose an FFL in the 250 class, with 68.4% correctly choosing Shane McElrath. Guessing the other 32 or so percent went with Nichols? The 450 class saw 18.3% risk the picks, with only 9.5% correctly guessing Zacho for the second straight race. A considerable increase from his 0.2% correct pick trend last week.
Final Thoughts
Risers and fallers. Justin Hill has been on the struggle bus in the thin air of Utah, to the point that he is no longer an all-star. His first three finishes have been 16-10-15, and he is now a 2 handicap making him an interesting, low-floor-high ceiling pick for round 4. His real-life upside and 2x points eligibility makes him a rider that could decide the overall on Wednesday night.
If Chris Blose can line up in the 450 class, I would give him strong consideration. He has been consistent as a 250 East contender, and he will have a 10 handicap – if he lines up.
I also like Chad Reed again this week at a 6. 
The Bear has not had a good run in SLC, and his handicap is reflecting that. Now a ten, I'm still staying away. 
The 250 West guys are back for round 4, load up on Aussies! I especially like Jett Lawrence at a zero. Jett's GEICO teammate Christian Craig also merits strong attention at a four handicap. Lots of high-floor-high-ceiling picks wearing the GEICO Honda colors!
That's it for this week, thank you for reading and please remember to support the sponsors who support PulpMX. If you have any questions or comments, please hit me up on Twitter @msweeneyphoto.
Hope I see you on the leaderboard!