The 2020 Honda CRF250R could use a little help in a few areas. Some of these "areas" that need to be addressed are not all costly mods. Some are free and some cost you a pretty penny, but all of these mods below work. Getting some added durability as well as some horsepower is a slippery slope, but we think we found a blend of certain modifications as well as parts that can make your Honda CRF250R more fun to ride.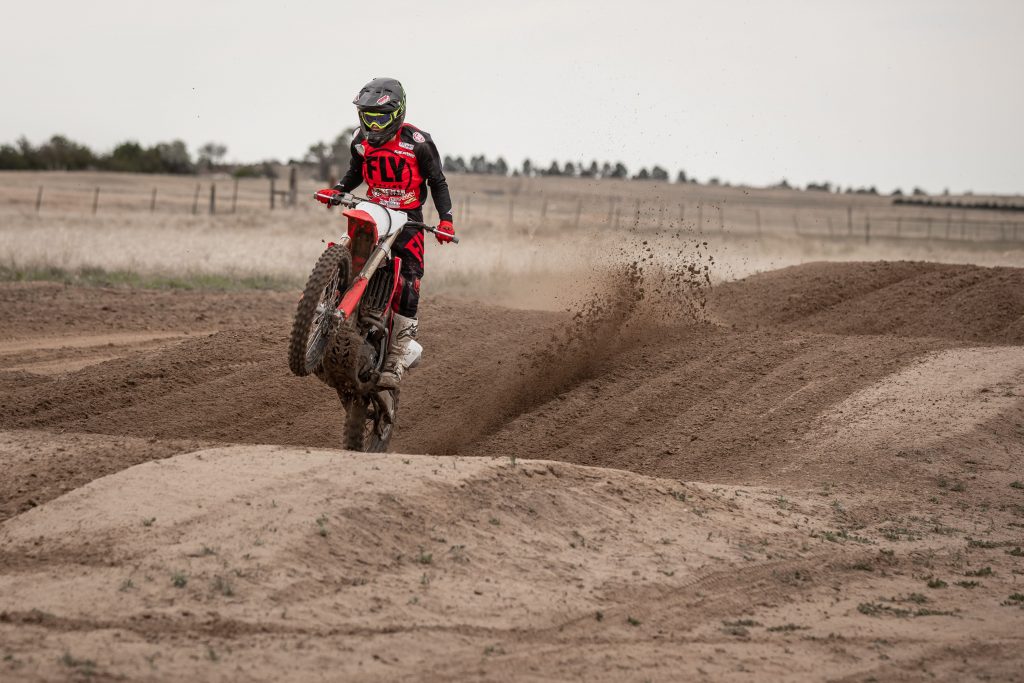 Clutch:
Going to a Rekluse Torque Drive Clutch Pack will give you better clutch lever feel as well as clutch life. The engagement of the lever ratio doesn't change, but it lets you put more of that horsepower to the rear wheel, without slipping, when hard on the throttle in soft dirt. This is simply a clutch pack and not the complete system. You use the stock OEM inner, outer, basket clutch pieces with this kit. 
Steering Head Nut:
Do yourself a favor and tighten up the steering head nut a little on the 2020 Honda CRF250R. The steering comes too loose from the factory and can cause some knifing in corners and can give you slight head shake on de-cel. Simply tightening the steering head nut a little makes the Honda's front end feel more planted (less loose feeling) when performing corners/initial lean/turning the handlebars. This is a simple modification, but really helps the Honda's ride attitude around the track. Sometimes it's the simple/easy things in life that make a difference. Dirt bikes are no different. 
Chassis:
As of right now I prefer the stock engine mounts torqued to the OEM/manual settings. Some bikes react better to aftermarket engine mounts than others and as of right now I feel the best settings (for comfort) come from the stock engine mounts. You can however torque the swingarm pivot bolt to 52 ft.lbs. for increased flex under throttle, while leaning. If you feel like the rear end is planted and doesn't deflect under load on chop please leave it at the OEM/manual torque spec. If you feel like the Honda is standing up through mid corner simply go back up to 5mm on fork height with the above suspension specs to help mid corner lean.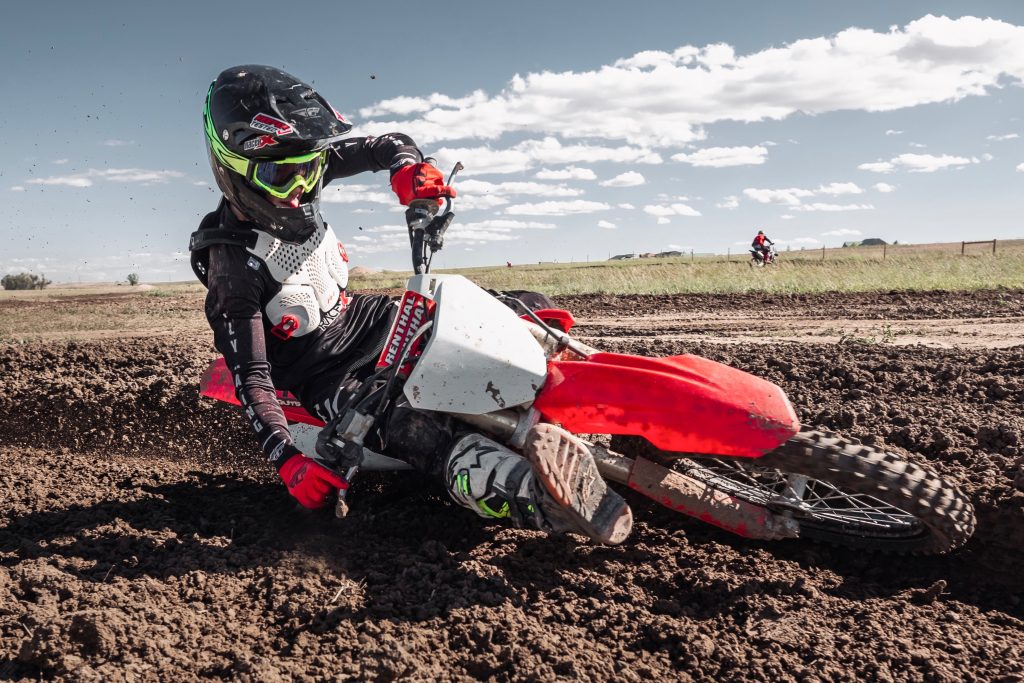 Boyesen Supercooler Kits:
The Boyesen Supercooler flows more water than the stock water pump on the 2020 Honda CRF250R. Boyesen has been working on water pumps since the 90's and the switch to four-strokes has only made Boyesen's effort more important. The Honda CRF250R runs very hot. The Boyesen Supercooler can reduce engine temperatures by as much as ten degrees, as confirmed by tests at Team Geico Honda. How does the Supercooler achieve this? Hydrodynamics. Boyesen's investment-cast aluminum water pump cover has bigger water inlets, a sculpted design, no casting seams, less restrictive corners, a more efficient impeller and less cavitation. Stock water pumps aren't very hydrodynamic. Their internal shape and impeller can create excessive amounts of air bubbles in the coolant. Air bubbles lessen not only coolant flow, but the amount of coolant per cubic gallon. Boyesen's Nautilus-shaped cover and impeller increase pump capacity. Boyesen's water inlet has an increasing diameter and curved shape. This is a big improvement over most stock inlets, which decrease in diameter as they near the impeller and have a 90-degree bend at the pump. Boyesen's patented impeller design is 25 percent more efficient at moving water than the stock Honda CRF250R design. While I don't get much overheating in Southern California dirt, I have experienced some of those problems in deeper east coast dirt. Installing this Boyesen product has relieved some of the heat stress on the Honda and has allowed me to go more than one moto without having to add coolant to the Honda's radiator.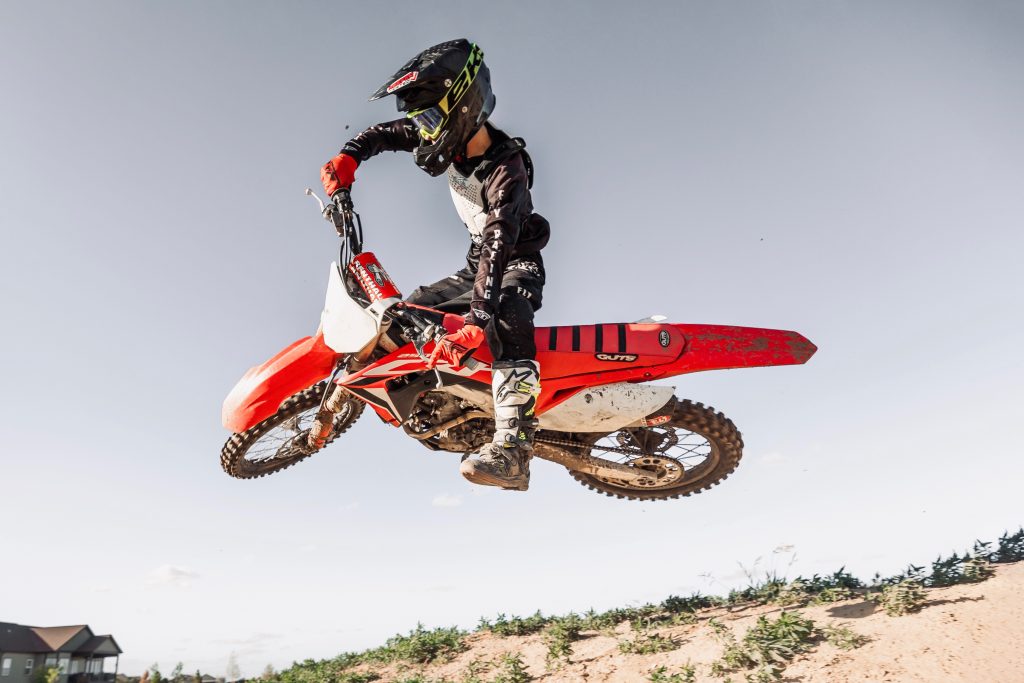 Yoshimura/FMF Muffler Systems:
Either one of these systems will give an increase in mid range pulling power (compared to stock) as well as some added low end recovery. The FMF has more snap off the bottom than the Yoshimura system, but the Yosh system will give you a little more mid range meat. Compared to the stock system either one of these systems is an improvement to me. The FMF mufflers are considerably louder than the stock system and the Yosh mufflers have a deeper tone in comparison to the stockers. For the money that you will spend on mufflers just know that you will NOT be getting a drastic change in overall power character. Both of these systems alter the engine character some, but don't expect it to be a mind blowing experience after bolting either one of these systems on. Some motorcycles react better to aftermarket muffler systems than others.
Optional More Expensive Way To Get More Pulling Power:
The Vortex ignition mapped by XPR Motorsports will give you more low end grunt as well as a pulling power that will increase the length of each gear. The map that Chad at XPR has created will allow the rider to lug a little more without the Honda falling off as easy (AKA, more recovery). The down side is that it will cost you around $800.00 to get this mod. However, the plus side to this mod is that it will give you more power than an aftermarket muffler system. 
Race Tech Re-Valved Suspension: If you're looking to get your suspension re-valved for your ability and weight, Race Tech has great settings for Honda CRF's. Some of the best suspension that I have tried on any late model Honda has been Race Tech. The stock Showa suspension is very good, but for my 170 pound frame it can be a little soft. Getting the Honda re-sprung as well as adding Gold Valves to my fork/shock has dramatically improved how I can push around the track when it gets rough. This mod is not for everyone as some can simply get away with stock suspension, but for those that are competitive and want to push harder into corners, Race Tech can be a great option for you Showa bump sticks.