PulpMX: It was a great ride, man. I loved Adam Cianciarulo on Twitter. Someone said, what did you think about when Justin passed you, sideways, legs off and everything else? Adam replied that he was going to be on a poster. That's what he thought of. That was a gnarly pass right there. That was awesome. 
JB: I don't even know. Everyone was like after the race, what was that? I was like, what are you talking about? It's kind of typical. You just never know what you're going to get. I was in that moment, and I was on Eli's back wheel and I was like, I need to follow him, and I just tossed that thing hard. That was a pretty wicked jump.
That was cool. Great ride, man. If you took away that DNF last week in the mud, you'd be right there in the points. You're still right there. You're not that far off. But a strong start to the year for you. 
JB: Yeah. It's been good. We've done a lot of work, a lot of us at the Yamaha team and outside the Yamaha team. So it's been a busy year. Kind of crazy. Lots of things going on. It was a shame about that DNF. Probably could have avoided that but unfortunately things happen and that's just racing in general. So just look past that. I think me and Eli are kind of in a similar spot right now. We both have a lot of points to make up. I honestly think we're going to see a lot more of that racing coming up. So I'm quite excited about it. 
That was awesome. You were pushing hard. He was answering you. You guys were going at it. It was a great race, man. After something like that, you guys have had your run-ins in the past. There's no secret. But after the race, you both congratulated each other. I thought that was really cool. I love to watch two guys just laying it out like that. That's cool.
JB: Yeah. We for sure have our history. At the end of the day when you hang out there that much and give it absolutely everything you have to the last drop, you just got to pat each other on the back and say good race. 
Did you have a spot where you thought you could try for the last couple laps? Did you have a spot?
JB: Oh, man. Honestly, it's kind of haunting me. I was like, what could I have did different? Not to say the track was one-lined by any means, but we were in such a race groove. I had a few different lines but I was just so in the zone of hitting the spots. I really wish I would have switched it up and tried a few different things because I still feel like I had some speed to where if I lost a little I could have maybe gained it back. I didn't really have a spot. I wish I would have searched around a little more, but at the end of the day, that's racing. We definitely put it on the line.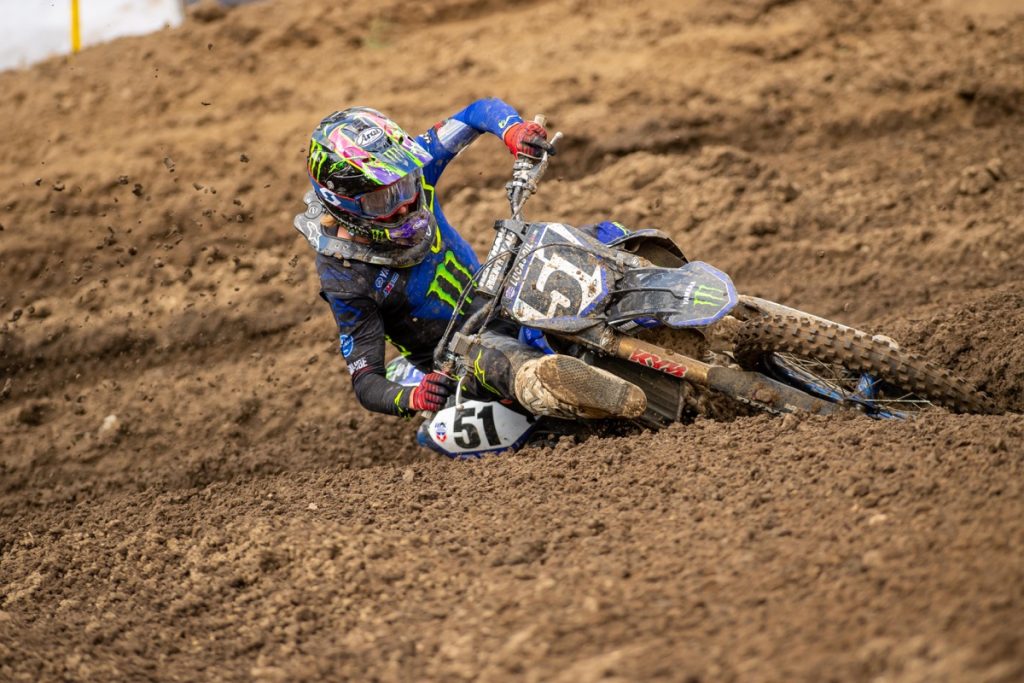 You had that one right-hander where you would swing out wide and you would cut across the inside hump almost. That was pretty sweet. You tried that a couple times in a row.
JB: Yeah. I did think that was a good spot. On the sighting lap I looked at those lines and I saw the inside was really deep and choppy. I knew Eli was hammering it. I was like, maybe it will get worse through the race and I'll be able to slingshot this thing. But it never worked out. 
This Villopoto guy. Of course he's taking all the credit right now for this. He's unbelievable. We knew Ryan Villopoto was testing for you guys. How much has his stuff helped?
JB: Yeah. You got to give credit where it's due. RV, come on, man. He's a champ. He knows what he's doing. He's still fast. He gave us a good setting to start with. I set it up a little bit for my style, but all in all he put in some great work to help us out. So definitely give him some credit, for sure. 
He rides on the rear wheel a lot. He doesn't ride like you or rev it like you. So I don't know. But he's claiming he's the answer, so I just deal with it. If I don't tell him that he's great, then he won't come on the show ever again. So I just got to tell him it's all good. 
JB: He definitely helped us out for sure. Then Broc came on and he did some testing and stuff like that and got his setup. We're really not that far apart on setups and stuff like that. We've put in a lot of work. We've done our time and it's time for us to shine a little bit. So I'm happy it's working out the way it's working out.
Obviously your contract is up next year. There's lots of rumors about you in the pits. I could ask you about it, but you're not really in a position to comment right now. So we'll forget about that. There's nothing you can confirm. Your deal is up, but you're shopping?
JB: Yeah, for sure. Like I said, there's not much to say. A month ago I would have told you I don't know. I have no offers. I have absolutely nothing. We're in the middle of COVID. The world is all messed up. When we are racing? Where are we racing? How are we racing? Then the last few weeks some opportunities have opened up and it's definitely sitting back. Honestly for sure right now the main focus is going after this championship. I have a shot at it still and I'm going to give it my all and go for that. Whatever works out, the other stuff will work. We'll see. 
Thank God the end of Salt Lake wasn't the end of the racing season for you. 
JB: Yeah, tell me about it. That was haunting me until motocross started. 
You guys obviously stayed at Ironman after the last round last year and tested, I believe, on Monday. How close are you to that setting? How much do you think that affected your good result? I'm guessing not close at all. 
JB: Zero. We always try to put in the effort however we can. It was definitely a good idea. We did get to do a little testing, and unfortunately it started absolutely pouring, just in the beginning of our day there. So we didn't really get to do that much. It should have been a really good thing but we didn't really learn… You always learn something, I suppose, but it really didn't do anything, actually. 
I feel like testing a year in advance, just riding styles in general, you probably ride a slightly bit different. So a setting might not work as good for you a year later as it did back then. 
JB: Yeah. It's funny you say that. Someone was saying something today when I did the Zoom interview for motocross. It was like, why can't you just use your setting from last year? The way I look at it, in car racing you're strapped in. You can't move. Yeah, you can use your old settings from the year before. You work on that. But in motocross or supercross, you change so much as a rider. Fitness, feel… You learn different stuff. You pick up good habits, bad habits, and you're always moving. So really you can't always go off that old setting. You can start there, but you always end up somewhere else. So I agree with you 100%. A year out on testing… You can do development, but setting testing, I don't think so. It's a great bike. It wins all the shootouts and things like that and then people see us going, we're struggling, this and that. It's very easy to make mistakes and lose a bike easily. It is a great bike though, for sure. 
More frustrating time for you, the Salt Lake City rounds or the end of the JGR Suzuki days? Which one had you more on suicide watch?
JB: Definitely my JGR Suzuki. Not bagging on them or nothing, but I almost retired. It was really not good. 
Your contract is up, like we know. You don't know where you're going. You have this garbage Salt Lake for all the reasons. You were frustrated there. Bike setup, riding, all this kind of stuff. Not working out. I think it's admirable that you were able to kind of put that in the rearview mirror, start riding outdoors, getting back into your groove. It's like the old Barcia is back. You riders are so weird that something like that with your contract ending, you could have just thrown in the towel and been like, screw these guys, screw the bike. I'm riding my nine races and we'll figure it out. But you did not do that. You probably rode your balls off. You tested a ton. And you're back and you're winning a moto and you're riding this moto. I think that's a tip of the visor for you to do that. I really do. 
JB: Thanks. I appreciate it. For me, any time I strap my helmet on I'm going to give it everything I have. It doesn't matter if it's a contract year, if my contract is up, if I already know I'm going to go do something else. It doesn't matter. At the end of the day, I just like racing. I'm going to give it my all no matter what. If I'm not comfortable on a bike or something and I give it my all and it's tenth place, I still gave it my all. So at the end of the day, I can leave the race or the track and go, I did everything I could. If it's first place or if last place, I know I tried my hardest. 
I agree. Sometimes that heart on your sleeve, that passion has gotten you into trouble. You've done some dumb things, as we all know. But it's also times like that where the second moto is there and it's rough and it's shitty and Eli Tomac is there and he's gnarly, and you're just riding your heart on your sleeve. You're just gassing the shit out of your bike, trying to beat this dude. Right? That's how you get with you. It's not always perfect, but yeah. 
JB: No. Definitely correct. I've done some stupid stuff with wearing my heart on my sleeve, as they say, and giving it my all and doing something stupid. The last thing that I did that was kind of stupid was when I argued with Eli after, I think it was Atlanta where we got into a little. It wasn't that bad really, but we were yelling at each other and people kind of blew it out of proportion. Like now, as you grow up, you learn to kind of let things go and just let it roll. I don't really regret anything – maybe a few things. But all in all, you can't take things back and you just got to learn from them. So I think all those things that I have done throughout my career, I get really misunderstood. I work with new people sometimes and they think I'm a complete dick. You could ask Cade. People will be like, "Man, this guy's a dick," just from what they see on TV or social media or whatever, but then when you hang out with me in person I'm actually pretty okay, for the most part. 
I actually tell people that all the time. People ask me, who's your favorite guy, or who's that guy that's kind of an asshole? What about that Justin Barcia guy? I'm like, Justin's actually pretty cool. He's always been super cool to me. He's fun to hang out with. He gets excited on the track, and it's like emotion. But I feel like everyone just shows their emotion. Sometimes you get it more than me, obviously, but I come off the track and yell at people all the time. You just actually get noticed. 
JB: Yeah. Thank you. I love the words. The kind words are nice. It's just a misunderstanding. People just see and believe what they hear and it's kind of a bummer. For me, I just like to ride bicycles, ride my dirt bike and have fun and have a laugh. That's what life is all about for us, at least some of us. 
You've definitely matured over the years, for sure. You were helping Weltin for a while there. I know some guys that have been around you as mechanics, practice bike guys. I know people who have gone to your house and have ridden and stayed there. You're always very generous with helping out other dudes and letting them ride at your place. There's a lot of stories under the radar about that kind of stuff where they're like, "Barcia seems like an animal." And you're like, "Well, he's actually helping out Weltin. He's actually giving him money or parts or whatever." 
JB: Being in the spotlight doesn't really affect me and how I help people or things I do. It's cool when people see what you do and help people out, but at the end of the day, they don't see what you really do or what you try to do. For me, when possible to give back to the sport. Our sport is weird. It's very hit or miss, obviously. I've been at the best of the best to the worst of the worst in racing. I've kind of seen it all. I always try to help out as much as I can, no matter what. When I make friends, I try to keep them. 
A lot of think you might do a season in MXGP before you call it a day. 
JB: Never say never. I bet RV would have never thought he would have raced MXGP, and then he ended up doing some. I want to definitely finish up my career here in the US. I feel like I have quite a few more good years left in me. I definitely want to get some championships. That's the goal. We'll see if we can do it in the next few years. Even this year outdoors there's a good shot at it. I think the MXPG would be fun, but probably not anytime soon. 
That second moto, that was unreal, even watching it on TV. Awesome to watch. How about the pass on AC that he doesn't even really remember what happened? Everybody was like, Oh my, God! When you're in a battle like that with someone obviously your level, does technique go out the window?
JB: For sure. I don't even know what's going on. It's pretty much just like, you have to hit your marks. You're shifting. You forget all that though, for sure. You just see fire and hit your marks and send it as hard as you can. Like I said, I don't really remember that scrub whip thing. It was so in the moment. I just was wanting to go as fast as I could forward. I just bent that thing. The leg probably slipped off but it looked sick. In the moment, I didn't feel out of control but people are like, he probably almost died. Like, yeah, maybe. 
There's been a lot of phases of Justin Barcia across your career. Like Steve said, you've done a lot of maturing over these last few years. If you look back across your whole career, what's the biggest, one piece of advice that you would give to up and coming amateurs getting into the sport now? 
JB: That is a good and tough question. I would say just enjoy the moment, man. For me, time flies by. I can remember being 16 years old and going pro and now I'm 28 years old and not going to be racing for a lot more years. So for me, I would just say enjoy where you're at and the amateur stuff. I had so much fun racing amateur. I just think if you can enjoy every moment of racing and with your family and stuff you should do it, because that time goes by fast. That's just life in general, I think. 
You've had a great career. You were really aggressive throughout your career, but I have a question. Just being a local rider here, I've had my fair share of accidental take-outs. I've gone over and talked to the people afterwards and said I'm sorry. To what extent have you actually felt bad and gone and bought dinner or something for them?
JB: Definitely there's moments like, that was stupid. A few people at the races I'm sure saw. Me and Zach were racing pretty hard the first moto and it was like the last lap. Zach is a pretty tough guy. He won't back off. So we came down the hill and I had a wheel – at least I thought. He probably thought he had a wheel. Our lines came together. I felt like he hit me pretty hard. So I was pretty mad, so I brake-checked him right after and stood him up. A whole bunch of people were like, why did you do that? I did kind of feel like it was a little stupid, because I probably lost a second in the heat of the moment. After the race, even I looked at him like, I'm going to kill you. Then we're on the line in the second moto and I walk up to him, and he walks up to me and kind of puts a smile on. He's like, "Yeah, I know." I was like, he probably should have backed out. He kind of giggled. I was like, I probably wouldn't have either. Things like that, it's kind of cool now because before I would have held a grudge for the rest of the year. We probably would have smashed each other and it would have ended bad. Now at our age, most of us in the 450 class we can kind of blast things off, at least for the most part. But I look back at some stuff and I'm like, that probably was not good. 
The Anaheim 1 with AC, I remember we had Adam on the show shortly after that and he was like, "Dude, maybe he's changed. He could have knocked me over there." You cut the corner. 
JB: That would have been bad. That was kind of like when Dungey accidentally T-boned Stew and knocked him out. That would have been like one of those. Not good. 
It's funny that you say that, though. In the 450, we've all kind of gotten to that point to where you run into each other and then you're really mad. If you came over to my rig after you ran into me, I would probably lose my mind. But if you wait until I see you on the line for the next moto it's probably going to be like, that was a good one. 
JB: Yeah. It's usually better to throw your mechanic on the back and run off and then wait and cool down, because in the moment it's never good. It never goes the way it should. It usually ends in fighting and is not ideal. 
I have like a five-minute rule after a moto or something. I'm like, nobody talk to me. I just need five minutes for my heart rate to drop, my anger to go away… I tend to get kind of hostile when I ride, especially if people are really annoying. If I come off the track, someone could ask me a pretty simple question and I'll give them the most asshole answer. Just give me five minutes and then we'll actually make progress.
JB: It could even be a team manager or anything. It's like, let's just not do this the five minutes after. 
You've been a veteran of the sport for a while now. What bugs you about your sport? 
JB: You know what really bugs me about this sport the most? And I think any rider would agree with this. I don't think we even ever talked about this, really. But I you watch Formula 1 and the perfect thing is Ferrari, for instance. I think the other day, the team manager goes, "We're probably not going to win for two years." Like, wow. You just came out and said you're not going to win for two years. Imagine if a team came out and said something like, "Yeah, tonight it was us. The bike didn't work. It wasn't the rider." That's why I think Formula 1 is so awesome. They come out with everything. They said, "We're getting rid of this guy and we're getting a new guy the next year, or the year before." The just report, and that's why they have so many people who watch it and are so into it. I think if our sport could somehow figure that out, it would be way better. Then I do think the media can't say that much either, because they do a lot of testing and things like that with the bike shootouts. I think they're very cautious about the things that they say. 
I agree. Even if you flip it to our sport, I don't know how much you follow road racing. I don't follow it a lot. But certain tire brands just won't work on a certain track, and a racer will come out and be like, "Our Dunlops aren't as good as the Michelins here because of the speed and the heat or whatever." And everybody goes, "Okay, that's understandable." Sweet Jesus, Justin. If you came out and said, "My front tire didn't work today," they would freak out. It's incredible. When Bridgestone left the sport, I wrote about how great the front tires at Bridgestone were and how much the guys loved them. I almost got in a fight with Glover. He was so mad at me. I'm like, what do you want me to do? The tires worked really good. I know Kawi was upset at Racer X. Eli dropped his bike at Loretta Lynn's 2. We all saw it on TV. Everybody saw it. Kawi was upset that we put it in a column in Racer X. I'm just like, hold on. It was on TV, and he did it. Why are you mad? Our sport is weird that way.
JB: I think it's our sport is quite small compared to other sports. It's just like they want to sugar-coat it maybe, you could say. I don't know if it's always been like this. You can maybe elaborate a little bit more on that. I just think it would be really cool if it was able to open up a bit more and show more personality and teams were able to talk more and you were able to talk more about things. Sometimes us riders and media have to hide things, and that bums me out sometimes. 
Thanks for coming on. That was a good race, man. Keep that up. That was sick. 
JB: Thanks, guys. I really hope and I do believe that there'll be more racing like that to come. I think Red Bud is a great track. It's very open. It should be great battles.
You're really good at Red Bud, aren't you?
JB: I've had some good races there. My highlight of my whole career, to be honest, one of my favorite races, I beat Dungey heads-up there in my JGR Yamaha days. So I have some great memories from there.