Red Bud has been an American Motocross tradition for a long time. Centered on our Independence Day weekend, it's always been a celebration of motocross and America. 
With 2020 throwing the proverbial stick in the front wheel of all of our bikes, it's great that we were able to get not one, but two rounds of Red Bud for our television viewing enjoyment. 
Fast forward to Labor Day weekend, and the racing has not lost any of its luster. If anything, it might have been a bit better!
Speaking of better, this week, one team owner was better than the rest. Congratulations to team surfskatemoto for taking down the overall championship win by two points! 
Surfskatemoto put up a huge 546 point score. They accomplished this by anchoring their team with Darian Sanayei – 94 points, Ty Masterpool – 74 points, Jerry Robin – 54 points, and Jeremy Martin in the all-star slot with 50 perfect points.
Surfskatemoto's 450 squad consisted of Justin Rodbell – 94 points, Ben Lamay – 72 points, Robbie Wageman – 58 points, and Zach Osborne with a perfect 50. 
For the second week in a row, our overall winner did not choose any FFL's!
Keys to success. Sufskatemoto navigated through a fantasy minefield on Friday. Choosing Ben Lamay at 9.5% and Robbie Wageman at 2.8% were huge. Equally important was avoiding high pick trend disappointments Benny Bloss at 33.4% and Luke Renzland at 19.5%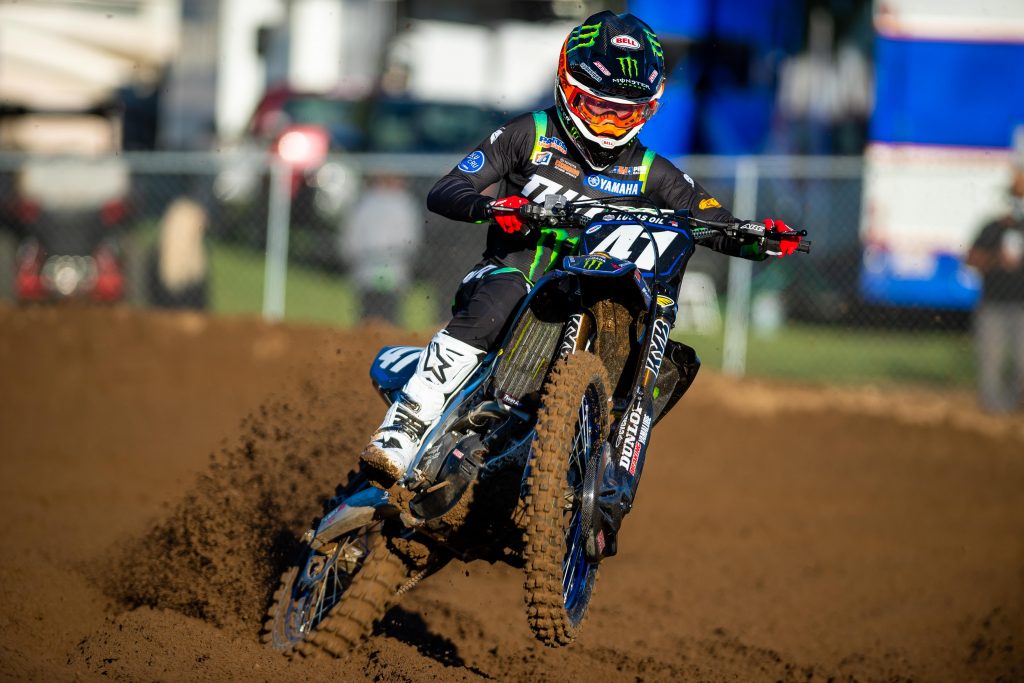 Sanayei was a massive difference-maker on the day, and having him was critical to overall success, especially at a 20.8% pick trend. It was equally important to avoid Hunter Lawrence, who only delivered 46 points at 36.5%, and last week's hero, Brandon Hartranft, who only accounted for 48 points at 19.2%.
Now, let's see how everyone else did.
Most picked riders, AKA "the chalk."
It's starting to feel normal when a Lawrence brother tops the pick trends, and Red Bud 1 was no different as we saw Hunter rise to the top of the 250 class picks at 36.5%. He was only able to deliver 46 points after a lousy moto one start. We also saw Ty Masterpool have a very successful return to racing at 34%. Considering his qualifying, I am surprised his pick trend was that low.
We've seen many all-stars rise to the top of the pick trend list this season, and Red Bud 1 was no exception. Justin Barcia topped the 450s with a 36.9% pick trend at a 5AS handicap. No surprise, given how good he has been this season. The 5 was super juicy! 
33.4% of owners were looking for a bounce-back fantasy performance from Benny Bloss, and unfortunately, it didn't happen. We also saw Coty Schock, coming off a solid 64 points at Ironman, at 30%.
Low owned players who delivered – AKA great contrarian plays
As we stated up top, Sayayei and his 94 points were critical at 20.8%. We also saw a nice 70 point day from Jalek Swoll (13) at only 6.2%, 66 points from Ryder Floyd (18) at 15.3%, and 56 points from Mathias Jorgensen (18) at 2.4%.
Felix Lopez (18) topped the low owns in the 450 class. He put up 86 points at 0.5% pick trend. We also saw an excellent return to form from Ben Lamay. He was overdue for some positive regression and delivered 72 points at a 14 handicap to 9.5% of teams. Finally, Grant Harlan has begun the year with a 23P at Ironman, and now a 21P at Red Bud. His 15 handicap made him a solid pick as he delivered 68 points at a 12.5% pick trend.
Fantasy Duds
Who burned the field? Let's take a look.
Hunter Lawrence topped the pick trends for the 250 class. While his 46 points weren't a disaster, considering they were primarily accumulated in just one moto leaves a feeling of unmet potential. Dylan Ferrandis came up well short of 50 perfect all-star points, only accumulating 37 points at a 22.8% pick trend, and finally, Brandon Hartranft did not repeat his perfect performance of last week. He managed only 48 points at 19.2%.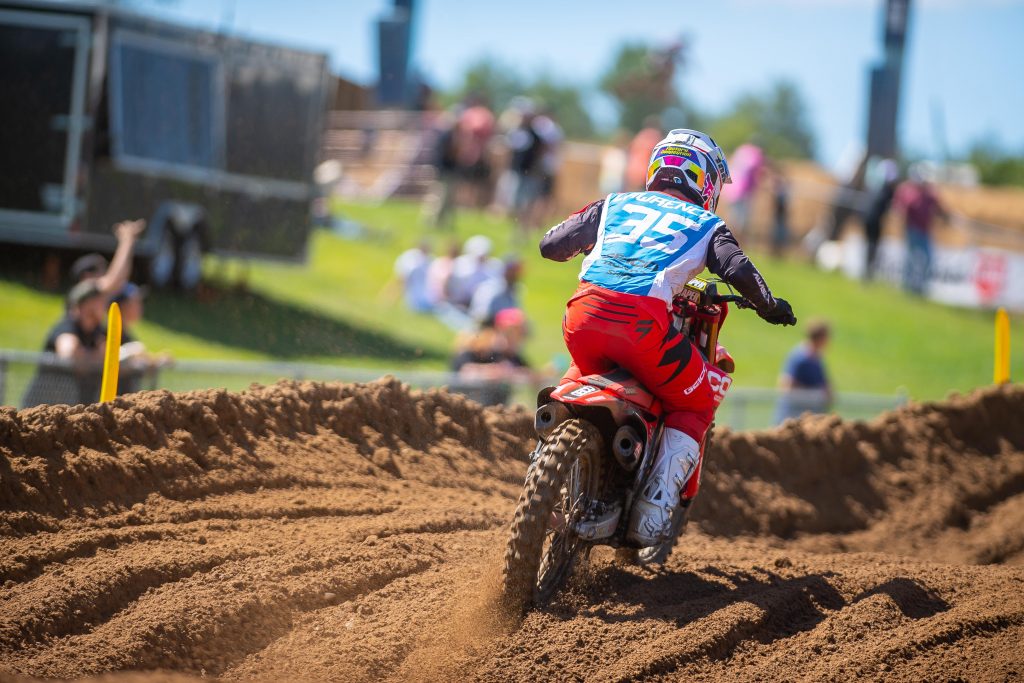 Two of the most chosen riders in the 450 class were not able to deliver expected points. Benny Bloss only put up 30 points at a 7 handicap, and Coty Schock managed 40 points at 30%. Finally, a tough day for Luke Renzland. He took a nasty digger and only managed 26 points at 19.5%. Hope you are ok, Luke!
Fantasy Studs
These are the riders with high pick trends who delivered!
250s: Ty Masterpool (4) topped the 250s with 74 points – 34% pick trend. Great return to racing from Ty!
450s: Justin Rodbell (14) topped the 450s with 94 points at a 21.8% pick trend. We also saw Justin Bogle (10) with 56 points at 29.9%. While 56 doesn't appear like a massive score, remember, in the 450 class, it usually only takes a 50+ point score from individual riders to add up to a solid overall.
First to Finish Line (First Lap) Leaders
At this point, I think it will be news when a Star Yamaha rider doesn't grab an FFL. Red Bud 1 was no exception as we saw not one, but two of them get it done. First, Ty Materpool, with the fantastic first turn finger point for his brother Jesse. In the second moto, it was Shane McElrath, getting it done. Pick trends showed 42.0% selecting with a meager 11% correctly choosing. 
There has been a little secret going back to the SLC SX Finals and it appears that not everyone is in on it yet. Zach Osborne is an excellent starter! That continued again at Red Bud 1 as we saw Zacho grab not one, but two FFLs. Pick trends show 35.6% of teams chose, but only 16% of them are in on the secret. 
Final thoughts
The handicaps for Red Bud 2 are up, and there are some juicy picks to be had. Warning, keep an eye on the weather and the track, it might be another mudder!
In the 250 class, I am looking for a bounce-back from 2x point eligible Brandon Hartranft at a 2. I would also look for a return to 2020 form for Mitchell Harrison, who also carries a 2 handicap into Monday. 
For the 450s, I am very interested to see if Robbie Wageman can back up his Friday performance. He will be a 17 handicap on Monday. Also, should the track prove to be muddy, I have to like Fast Freddie at a 4.
Finally, a prediction, Chase Sexton at a 5 handicap all-star, will top the pick trends for Red Bud 2.
That's it for this week. Thank you for reading, and please remember to support the sponsors who support PulpMX Fantasy. If you have any questions or comments, please hit me up on Twitter @msweeneyphoto.
Hope I see you on the leaderboard!