Today, the full-face helmet is all but universal in the off-road racing world. Everyone from kids on minis to World Champions on 450s run these fully enclosed brain buckets. For most riders, the mere thought of going out on the track without a chin bar is paramount to lining up to race in a pair of flip-flops. That added bit of protection gives us comfort in a decidedly dangerous environment. 
 For the first forty years of motocross, however, the full-face was not even an option. Open-face "pudding bowl" lids were the de rigueur fashion choice up until the late sixties and even then, the innovation was to extend the shell down over the ears, not wrap it around the front. Even as full-face helmets started to appear in the seventies, they were still not the choice of most pros in the sport. Remarkably, it would take another full decade for the full-face helmet to become the universal choice of amateurs and pros alike. 
While riders in the seventies and eighties were fine to have a crossbar smack their chin, they were still not too keen to take a rock in the chops. Particularly with short and stubby visors on their Electro lids, there was not a lot of roost protection available. To combat this, the aftermarket devised several methods of adding a little additional protection for the rider's face. Some of these were innovative and some were just plain odd, but all of them were certainly better than taking a hunk of Unadilla soil to the nose halfway through a 45-plus-two.
Here is a look back at some of the odd, interesting, and pioneering mouth guards of the last 50 years in moto.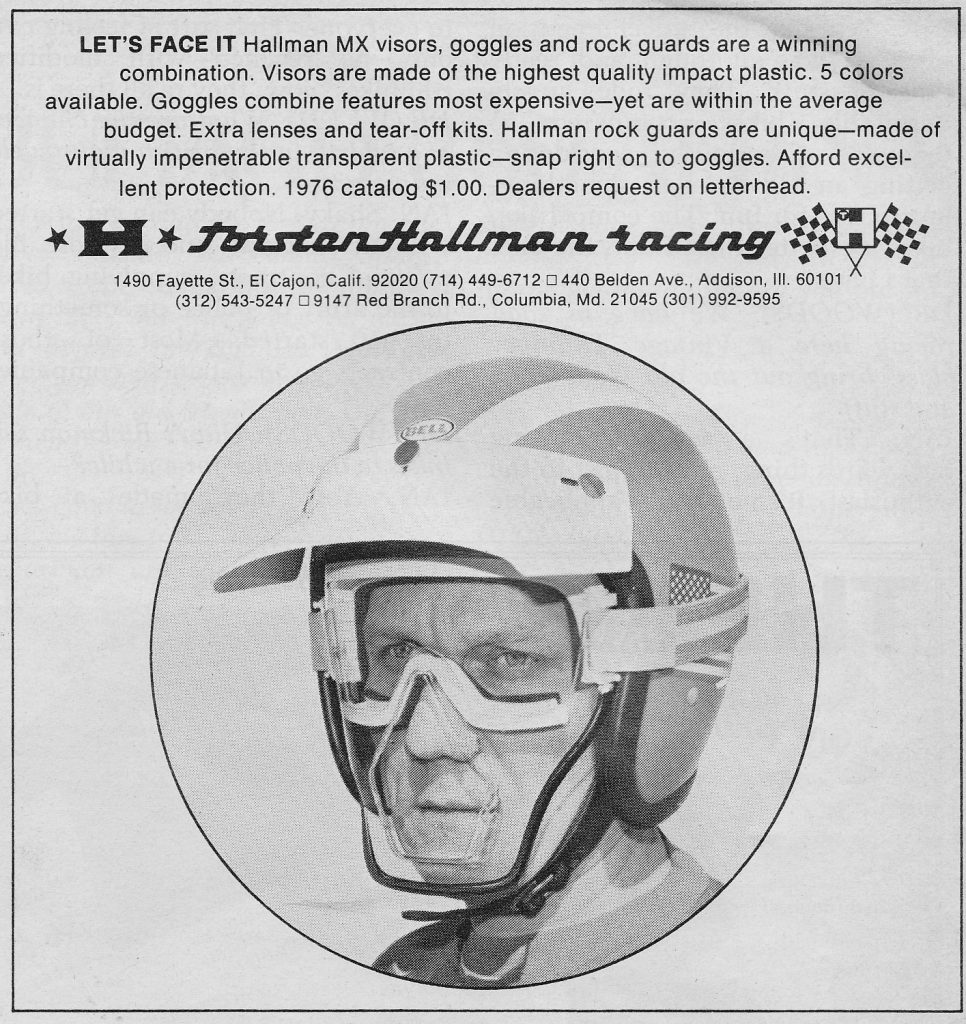 Blaze:  This Hallman (Thor today) "Rock Guard" from 1976 is certainly interesting and unique, but I question its actual effectiveness. The good thing about it is that it lets in plenty of air, but that big hole in the middle also let in all the rocks and roost. I guess if all you are worried about is your cheeks and chin it is fine but I think most riders are more concerned about having their front teeth knocked out. I have never seen a photo of someone actually riding with this thing and it appears to have disappeared pretty quickly from Hallman's catalog so I am guessing it was not a major hit at the time.
Matthes: Hold on, this isn't real. This is an internet fake I think because why would you leave your teeth exposed from rocks in a rock guard? Moving on…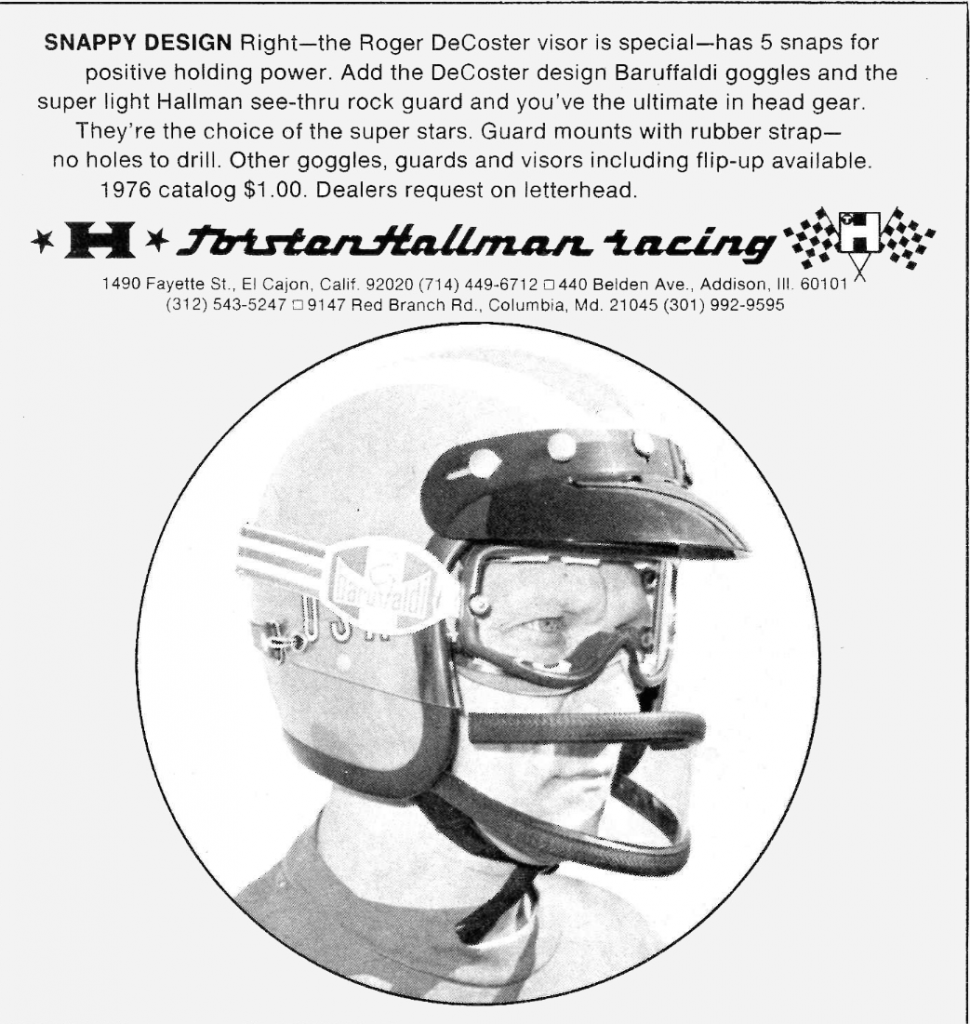 Blaze:  Here is another interesting one from Hallman in 1976. This rock guard looks to be significantly more protective than the other one and is the same basic idea as JT was offering at the time. The main difference is the attachment, which looks to be held on with a strap instead of snaps and the clear plastic construction which makes it look like an NFL helmet from this era. I know the JT ones were popular but I don't think I have ever seen a photo of someone actually wearing this thing. 
Matthes: I mean, this is better…how does it stay on though?..like stay centered and all that? Still a hard no from me dawg.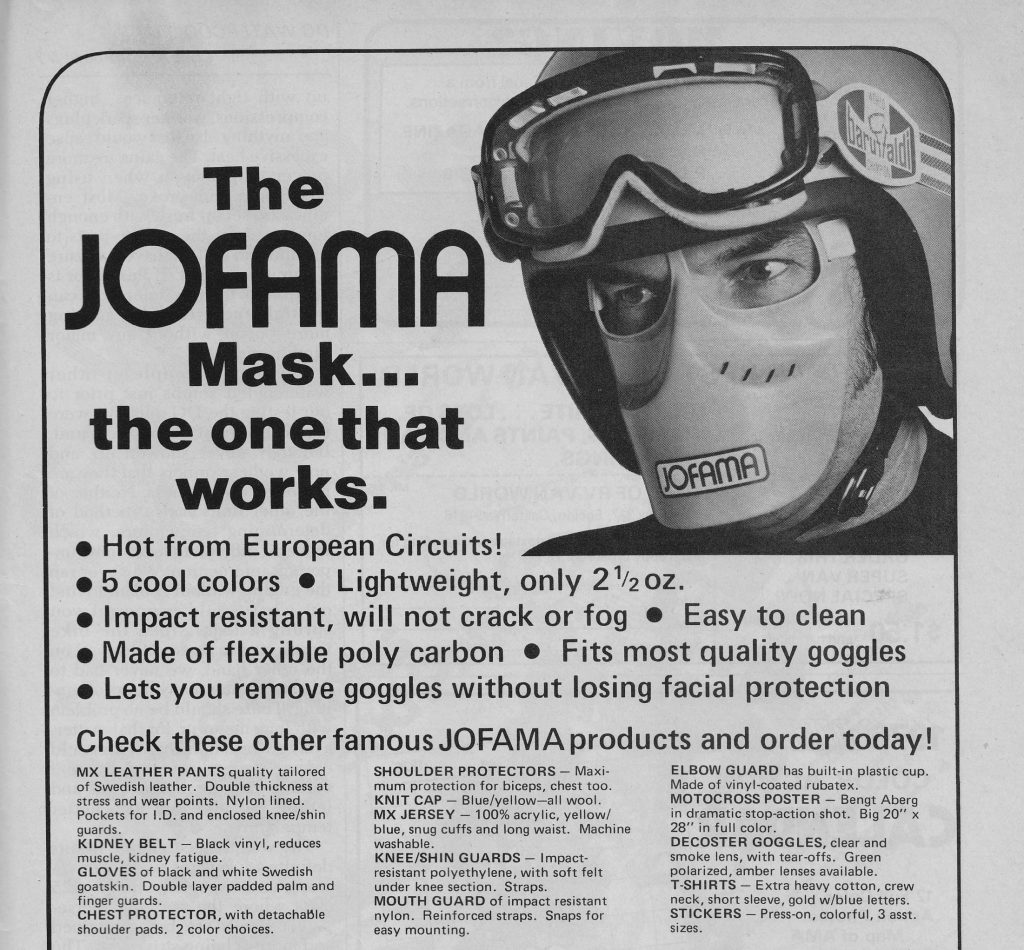 Blaze:  While that Hallman stuff was innovative and kind of futuristically cool, this competitor from the same era is just plain bizarre. Instead of attaching to the goggles, this Jofama guard sits below them. So now you have a nice piece of plastic between your face and the sweat-absorbing foam on your goggles. Not only does this thing look awful, but I also bet it was really uncomfortable to wear on a nice 90-degree day at Carlsbad.  
Matthes:  When it says "Hot from European circuits" that means that this would be blazing hot on your face yeah? I like the general idea of it, pretty nifty to stick it under your goggles and all that but this is generally speaking, pretty terrible. The JOFAMA name is pretty good, rolls off the tongue kinda…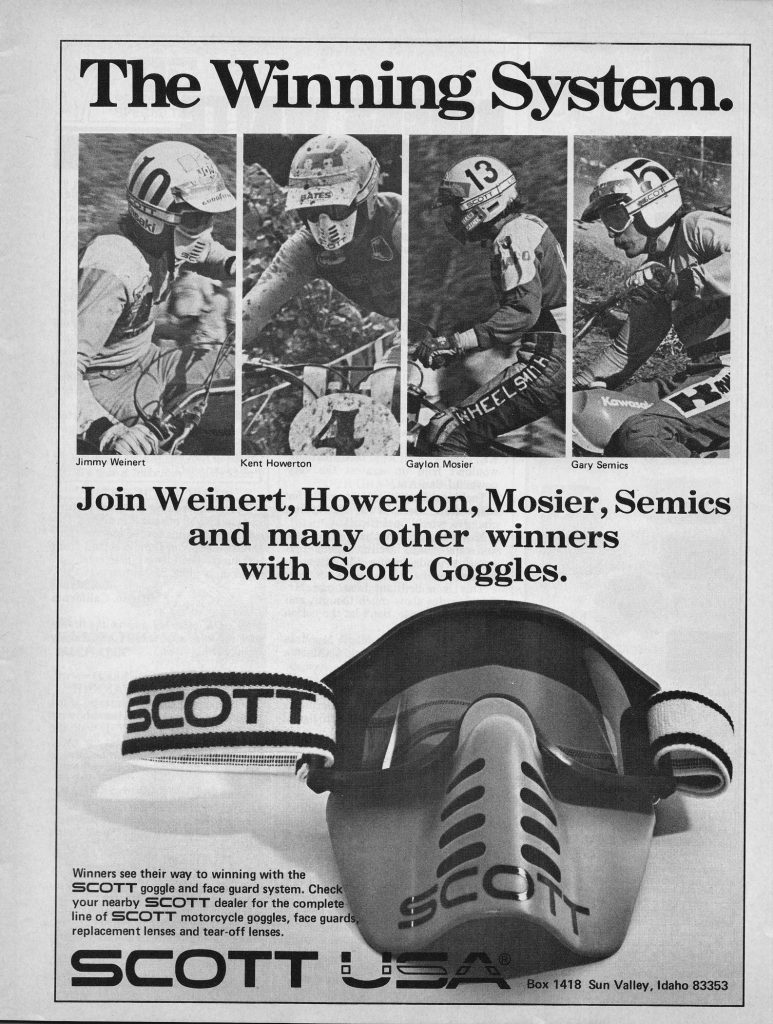 Blaze:   For my money, this Scott USA mask is the gold standard of seventies-era face protection.  Unlike the other quirky offerings on this page, this Scott Face Guard setup still looks clean and modern today. If I had an open face helmet I would feel 100% fine rocking this today. In my opinion, that cannot be said about anything else from this era. Stylish and unfussy, Scott nailed it with this one. 
Matthes: Yeah, here we go! As Blaze said, this is still fucking cool today. How many other things can you talk about in terms of the 70s in that way? Just iconic and I'm always on John Knowles at Scott saying they need to do some ads and programs to remind people of their history and all the cool accomplishments they've had. When Bailey would drill small holes in his mask, it was even cooler! Literally.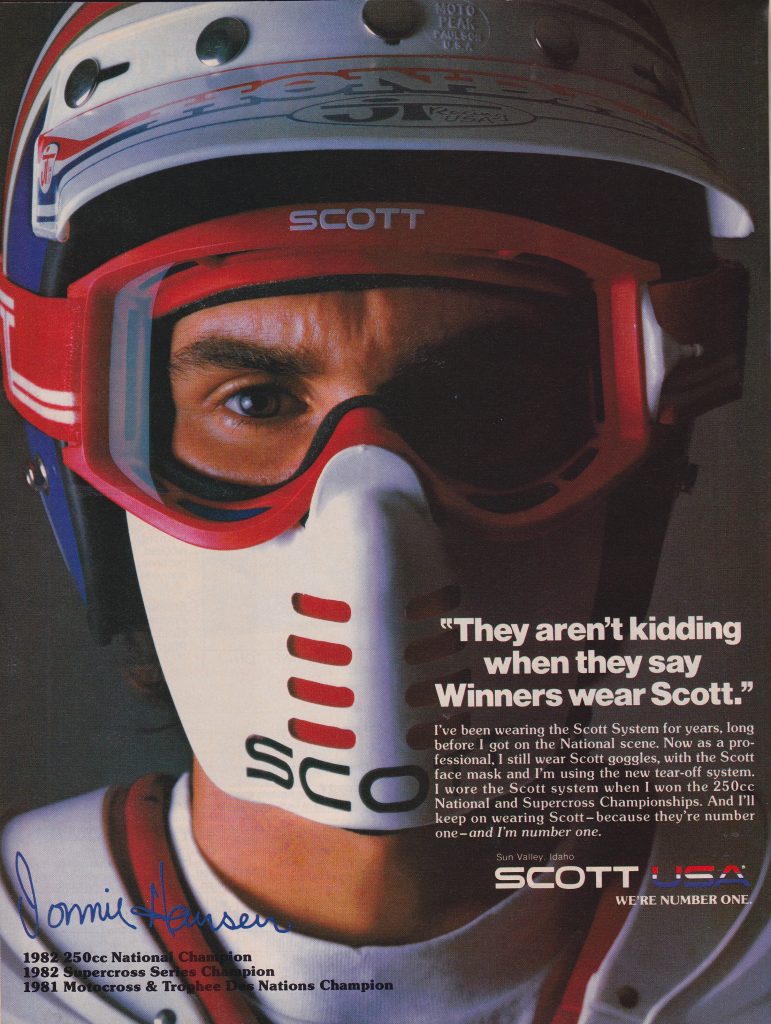 Blaze: Cool in 1976, cool in 1982, still cool looking today. 
Matthes: I had one of these BTW and the foam would get kind of gross inside at times.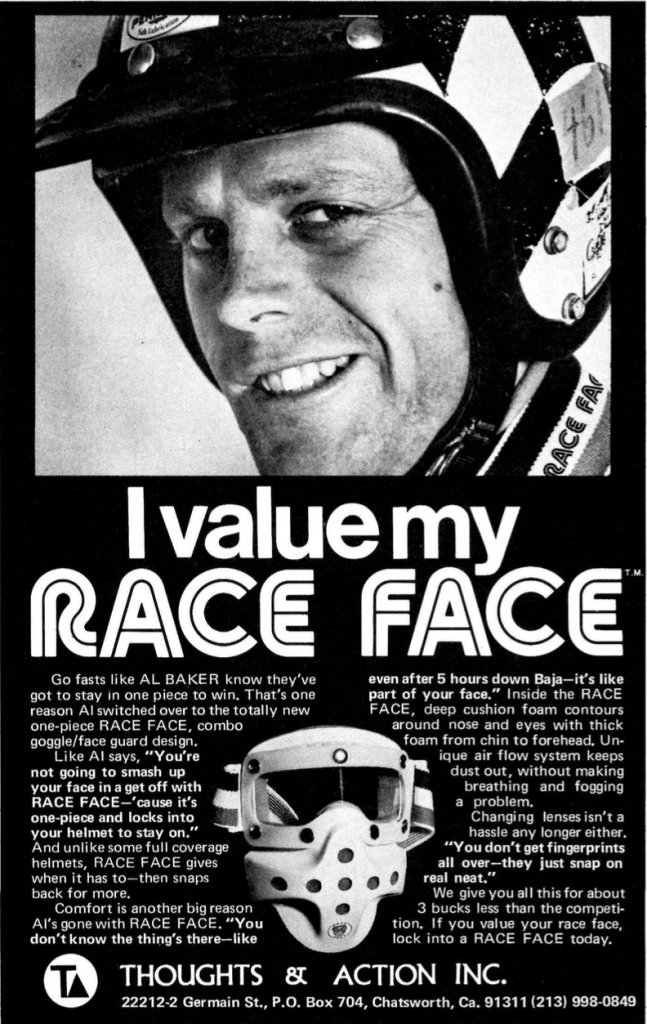 Blaze:  Al Baker was cool; this RACE FACE goggle combo was not. To me, this looks more like something Hannibal Lecter would wear than something any self-respecting motocrosser should be seen with. Do you still hear the lambs, Clarice…?
Matthes: This is something out of an insane asylum and it's the last thing you see before the killer stabs you over and over. Instead of "Thoughts and Action" it should say "Thoughts and Prayers" if you had to wear this.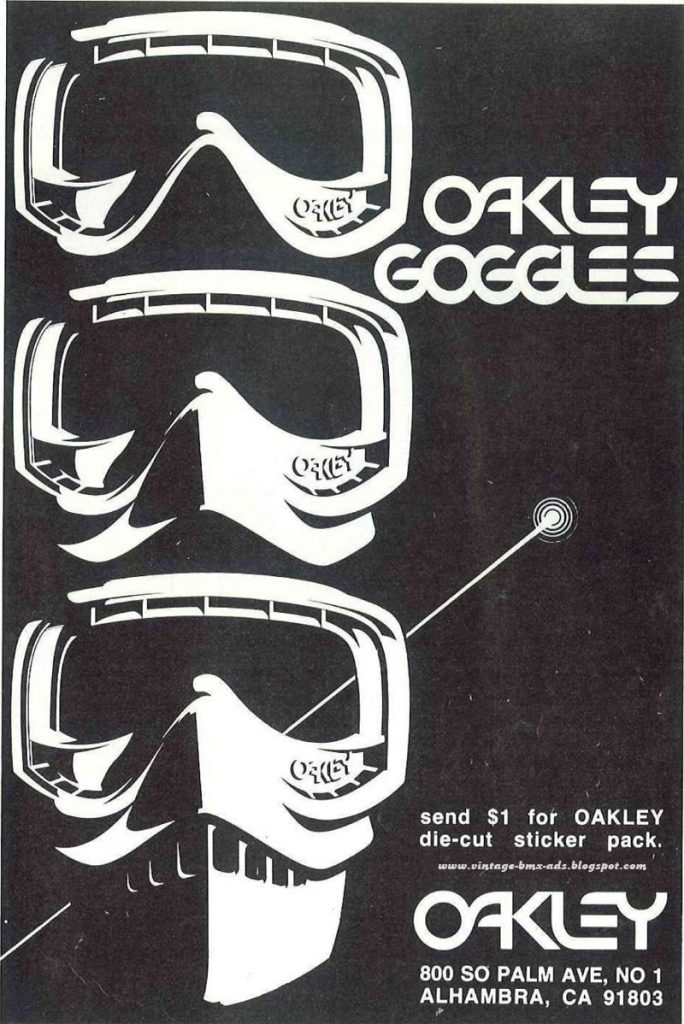 Blaze:   Eighties Oakley is awesome…but seventies Oakley? Well, that's a hard pass for me. That faceguard looks like a cross between Darth Vader and the Creature from the Black Lagoon. Yeah…no.
Matthes: Oakley just coming into it's own here, just wait people….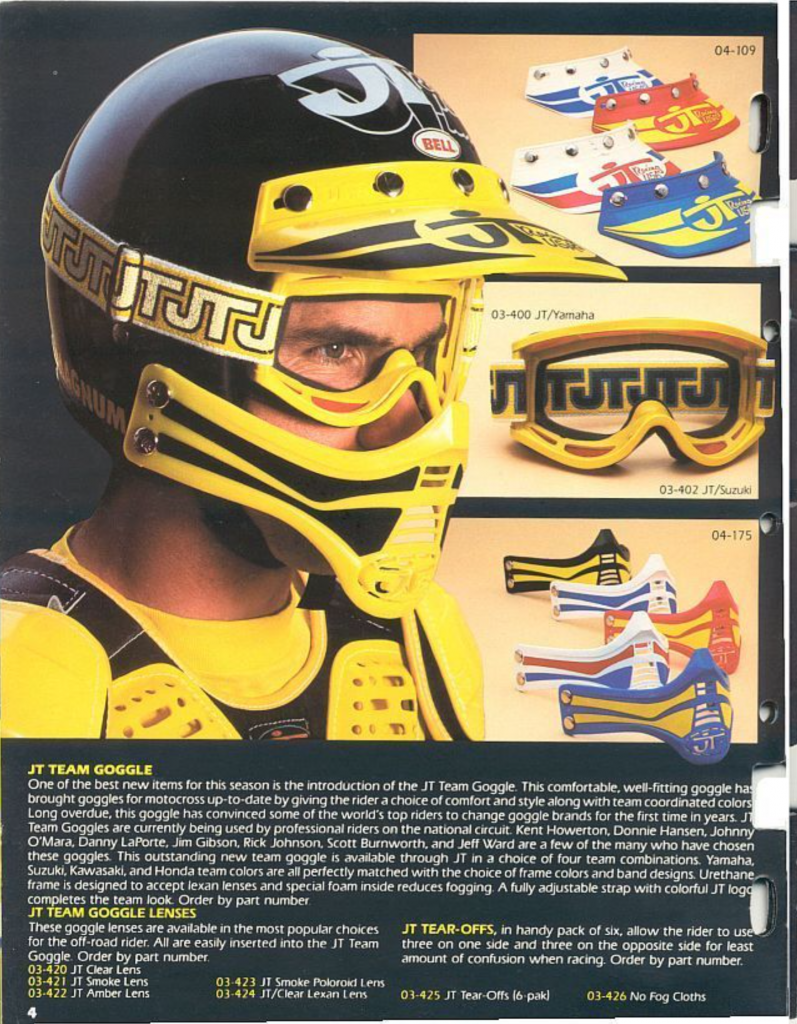 Blaze:  In terms of roost protection, JT Racing's Rock Guard seemed to offer the best combination of coverage and comfort. It was similar in function to the clear Hallman version but was far less odd-looking.  This is also basically the exact setup Arai would use with their MX-Pro helmets in the eighties. Originally made popular by Heikki Mikkola in the early seventies, versions of this guard lived on in JT's catalog for nearly a decade. 
Matthes: I think this is more Bob Hannah to me, at least that's the guy that made this setup popular and if you think about it, this is THE best protection back then for your face. So it's good yeah? Eesssh.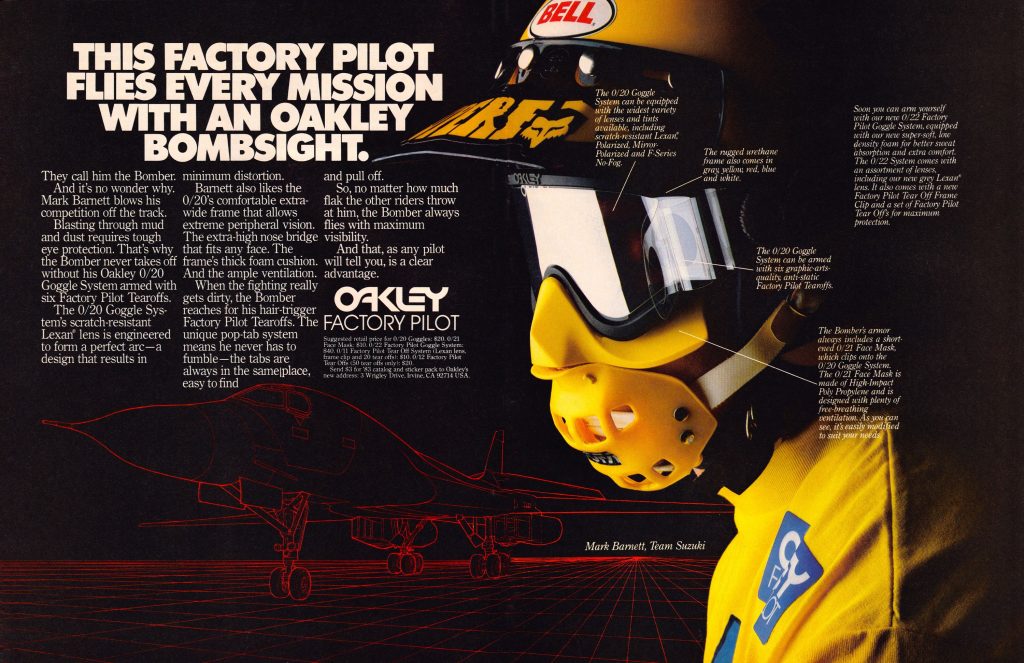 Blaze:  It is impossible to talk about motocross face guards without mentioning the iconic Jofa. In the days before motocross face shields were a thing, this hockey hardware was the go-to covering for pros around the world. De Coster, Weinert, Robert, and Lackey all ran them and the fact that guys like Mark Barnett were still using them well into the eighties is a testament to their popularity in the sport. Personally, I have never ridden with one and I always thought setups like Scott's Face Guard were cooler, but there is no discounting the influence the Jofa had on the sport we love. 
Matthes: Yeah, the Jofa is what we children of the 70s and 80s grew up with and it was a good look but it wouldn't always stay on your chin you know? This is such a cool ad and an awesome look when you added the Jofa in with the Oakley nose guard. The Bomber was a bad dude people and ads like this made him even scarier.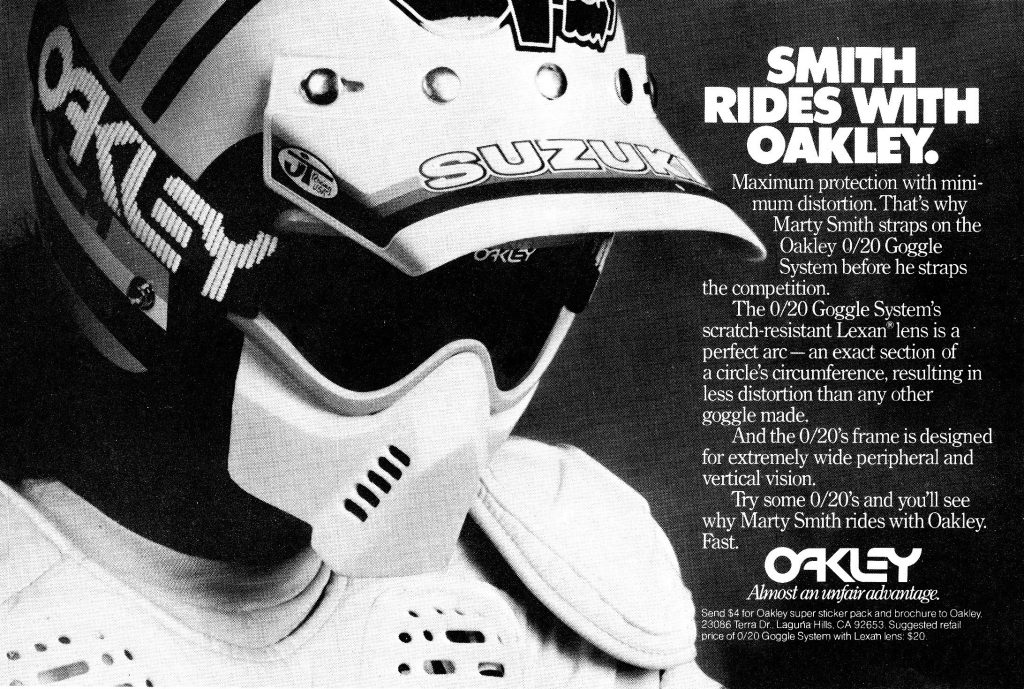 Blaze:  By 1982 Oakley had the goggle design nailed but this second version of their faceguard is still less than a winner in my book. 
Matthes: Yeah this was cool but still not on the level of the Scott one, not many Oakley guys even wore this. RIP Marty.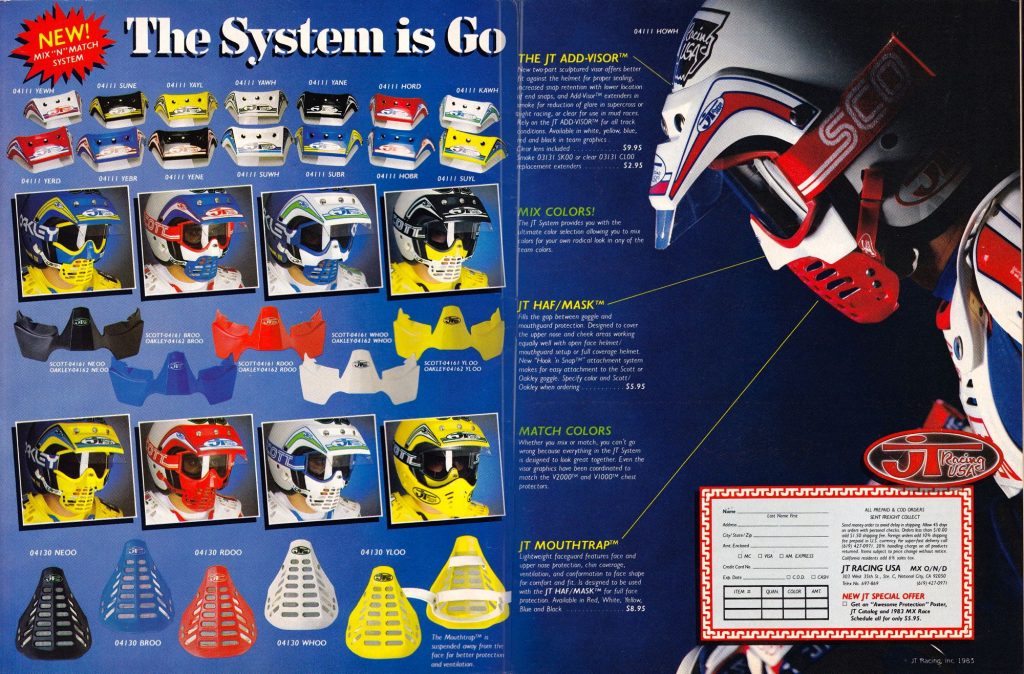 Blaze:  JT Racing offered a version of a Jofa knockoff they called the Mouthtrap in the early eighties. As I said previously, I was never a fan of this look, but I know they were certainly popular at the time. 
Matthes: This was JT trying to be like the Bomber's setup from before and one thing about the JT guard was it was really big. I had one when I was a kid and the thing just about ate my face. I can't believe Blaze wasn't a fan of this look though, I think it's pretty sweet. Especially with the Techno visor.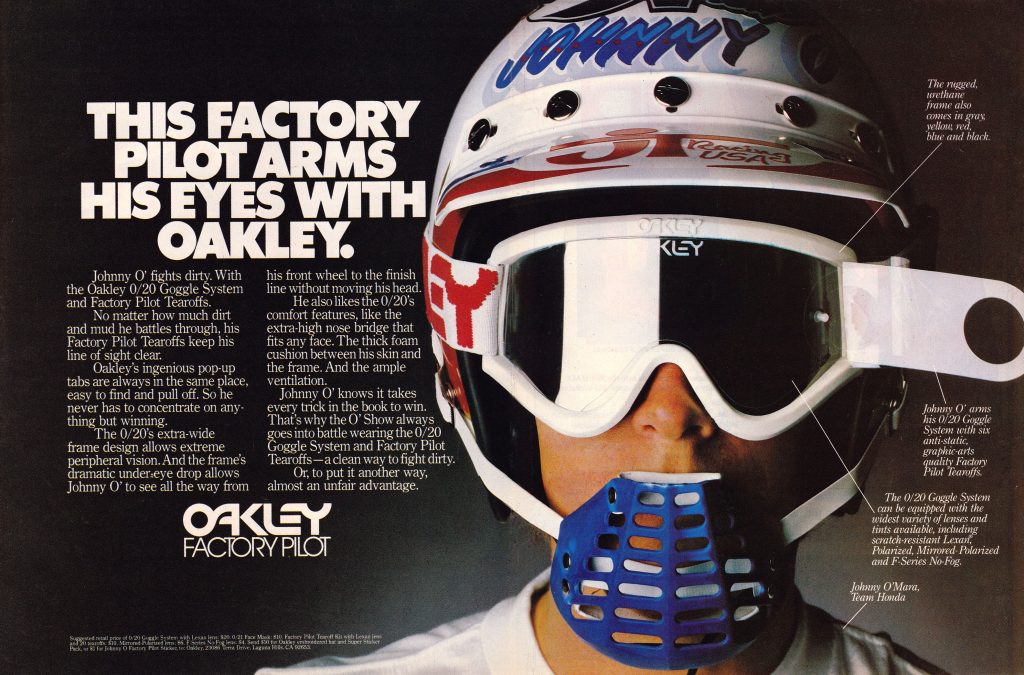 Blaze:  If the JT Mouthtrap was good enough for Johnny O', you know it was good enough for thousands of others who wanted to look just like him. 
Matthes: GOD THESE WERE COOL ADS.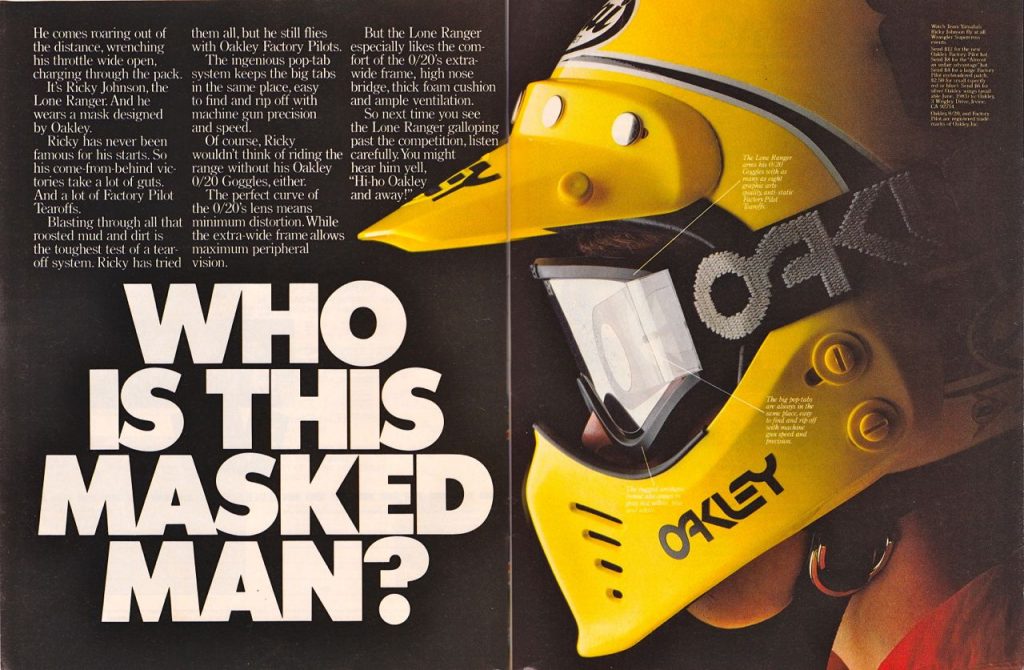 Blaze:  Arai's eighties helmet designs shared more than a passing resemblance to an open face with a JT Rock Guard attached. Even though tons of top riders like Rick Johnson (pictured), Jeff Stanton, and Guy Cooper ran these, I never thought that face shield would have provided much protection in a serious crash.  
Matthes: I think the thinking was that these would bend and then break which is a good thing in terms of not digging into the dirt and maybe causing worse injury? I'm not saying they were right but I get the thinking behind it…had to be something because shit, Shayne King was wearing this basic helmet in 2001 so they must've had some science behind it yeah?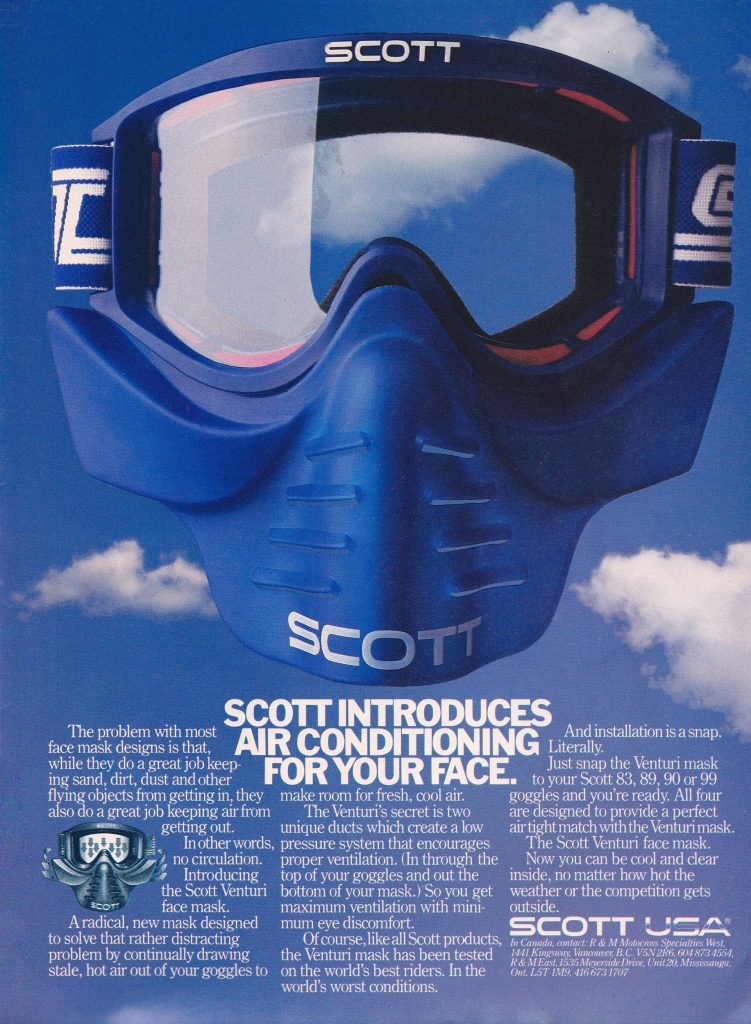 Blaze:  In 1985, Scott USA introduced the Venturi mask. This new design was engineered to draw more cool air through the goggles and seemed to be quite popular with off-road riders at the time. I still prefer the original mask's appearance but this updated version did offer slightly more protection without totally ruining the classic Scott looks.
Matthes: Yeah this was still sweet, maybe close to the OG one. Dogger wore these a lot and I think they look awesome still. Never had one so can't say if the venting actually worked or not.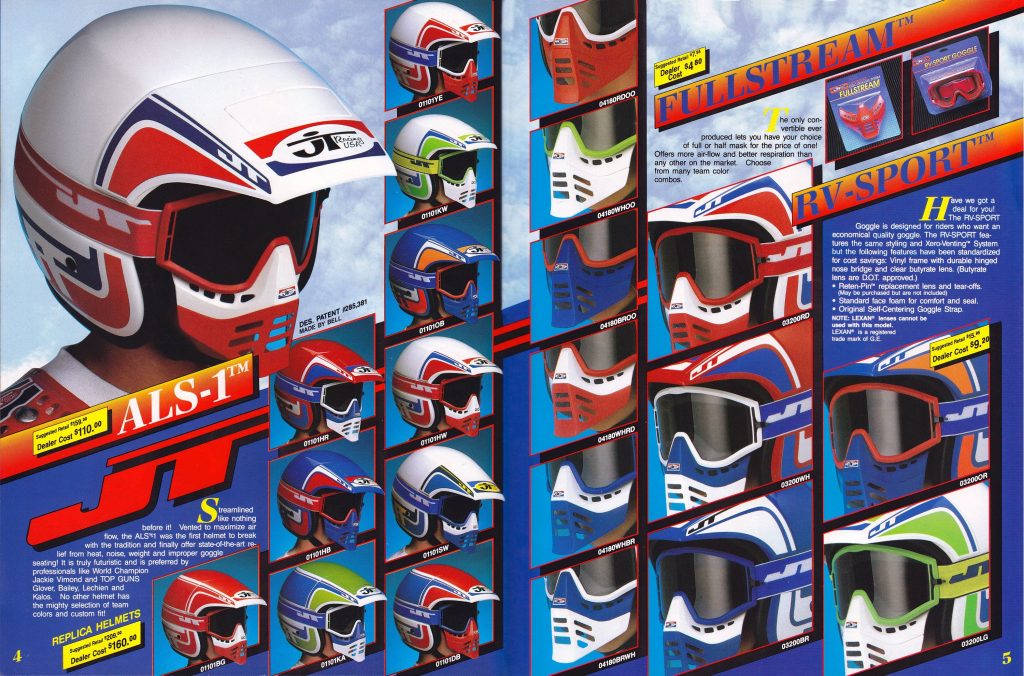 Blaze: In the mid-eighties, JT Racing came out with the new Fullstream mouth guard to go with their all-new ALS-1 helmet. While I don't love this design I do think it looks better than the Mouthtrap and it was pretty cool that you could run just the nosepiece or snap on the lower section for full coverage. It also went nicely with the futuristic looks of the ALS helmet. 
Matthes: Yeah, these were rad but they didn't catch on because more and more people were running full-face helmets at this point. Still, very sleek and modern for sure from the folks at JT. Mixing and matching the different colors was a strong look.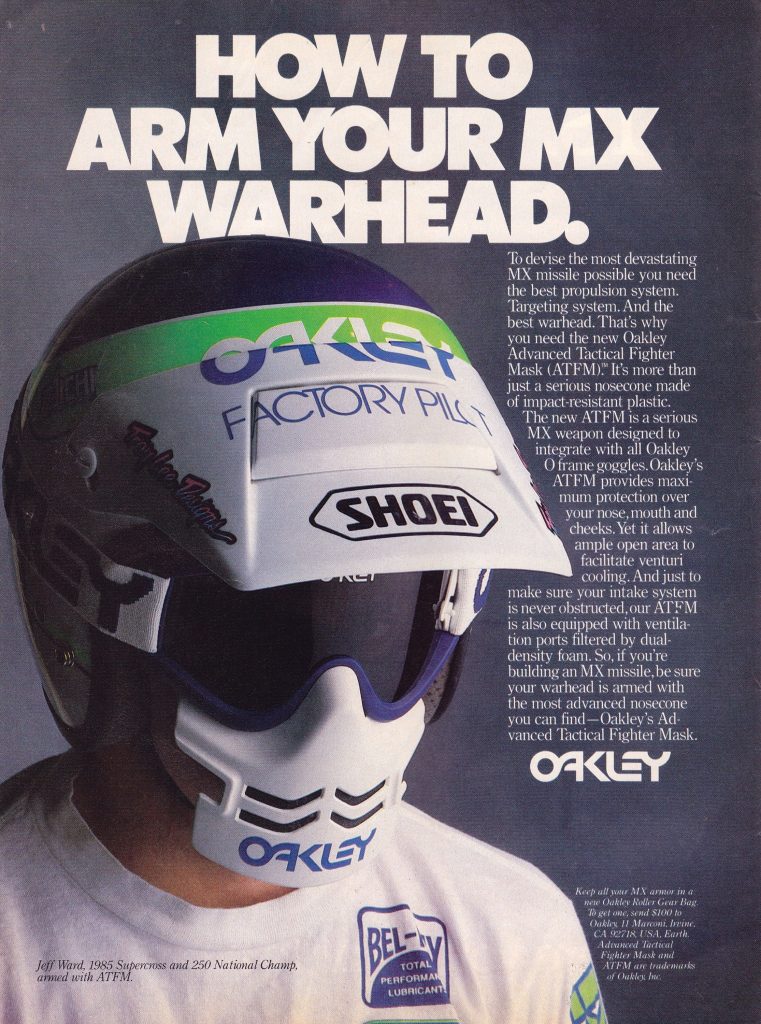 Blaze: For me, it is a dead heat between this Oakley Advanced Tactical Fighter Mask (ATFM) and Scott's original for the king of all-time mask designs. This ATFM has the advantage of coming out ten years later and is certainly the more sleek and modern of the two, but I am still drawn to the clean and unfussy look of the original Scott design. In 1986, I would have chosen Jeff Ward and his badass Oakleys as the champ but I think the Scott design is more timeless than this very eighties look. Both are great in my opinion and this is definitely the look I think of when I remember the last great run of the open face in motocross. 
Matthes:  Yeah, Wardy was like the last dude to switch to a full-face helmet so he was able to rock this, I can't think of any other Oakley dudes that had this model of mask? Anyways, Oakley came out with the Iridium lens around this time also and that with this guard was an amazing look. I remember thinking when this came out that it looked to have less coverage than the Scott and therefore, that's a bad thing? I dunno but it's fucking cool looking.