For this edition of Classic Ink, we are going to take a look back at Tuf Racing's crazy colorful lineup for 1991. 
In the late eighties, Illinois' Tuf Racing was one of the major privateer efforts in motocross. Supporting riders like Keith Bowen, Mark Barnett, Ronnie Tichenor, and Ron Lechien, Tuf Racing became the place to go when that Factory contract dried up. During this period, one of the hallmarks of the Tuf team was its bold look. In an era when most of the factory teams rarely strayed from the OEM look, Tuf Racing stood out with their orange KXs and blue RMs. While these aesthetic choices were not always met with universal praise, they did help the Tuf team stand apart from a very crowded field of look-alike machines. 
By 1991, this color conflagration had made its way to the OEMs who saw fit to start festooning their new machines with cat barf seats and My Little Pony graphics. While this largely appealed to the motocross masses of the time, it set the bar ever higher for aftermarket companies looking to stand out in an ever more colorful field. Enter Tuf Racing with this lineup of eyeball-jarring offerings.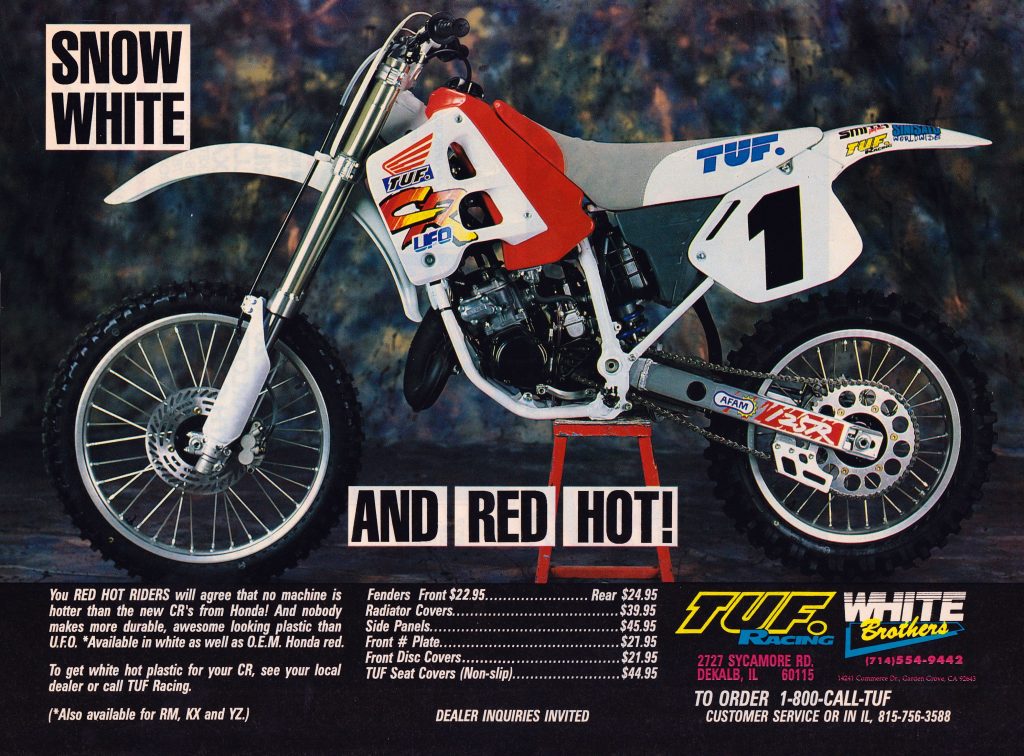 Blaze: For my money, this is the least controversial of the four Tuf designs. The white fenders are in line with the move to white for the shrouds this year and actually reminds me of the Peak bikes of the time. About the only issue, I have with this is the funky non-slip gray section on the seat. I don't think the color goes with the rest of the bike and kind of screws up the overall aesthetic of the machine. CEET Racing had a similar non-slip cover (this might have been made by CEET for Tuf) at the time and I always thought the faux-leather gray section they used ruined the looks of the seat a bit. Overall, is probably the most timeless of the four designs. 
Matthes:  Yeah Blaze, this is a CEET cover made for TUF guys and I think it's awesome. This is a strong look I think, I had one of these bikes and who knew that TUF was ahead of the game back then with the white rear fender that Honda would make stock in 1996? For the record though, I'm not down with putting a TUF logo there under the Honda wing. That's tacky.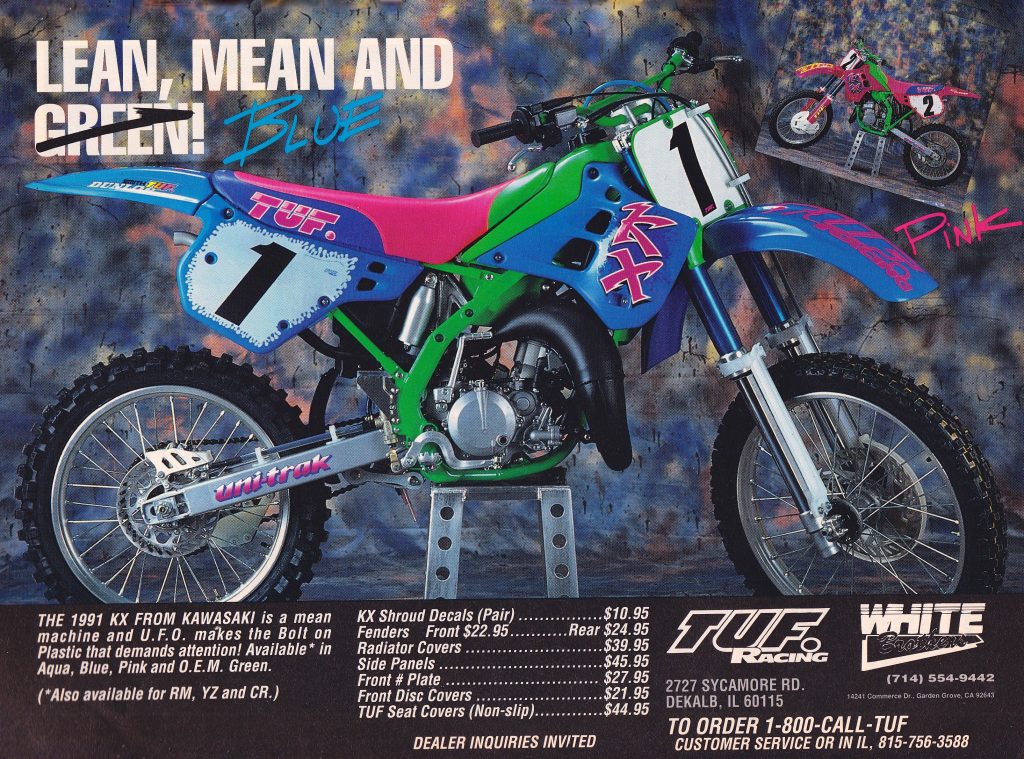 Blaze: I don't really know why, but this baby blue just has never done it for me on a Kawasaki. I actually much prefer the neon orange that Tuf ran in the late eighties to either this blue or the pink in the inset.  I do like this seat cover better than the Honda one and the bike is not objectionably bad, but I think a darker shade of blue would have worked much better here. Also, that funky "splat" plate background needs to be round-filed ASAP. 
Matthes: This is ugly, there's no other way to put it. But what's even uglier is that bike in the upper right corner right? Jesus, who thought of that? I'm actually kind of down with the seat cover here, I like the two-toned colors but the aqua blue plastic? No thanks. I'm agreeing with you Blaze, the orange plastic on Bowen's bike in 1988 wasn't actually that bad but by far the best TUF look was Alan King in 1987 or Tichenor in 1993 when he was Red Roof Inn TUF Suzuki.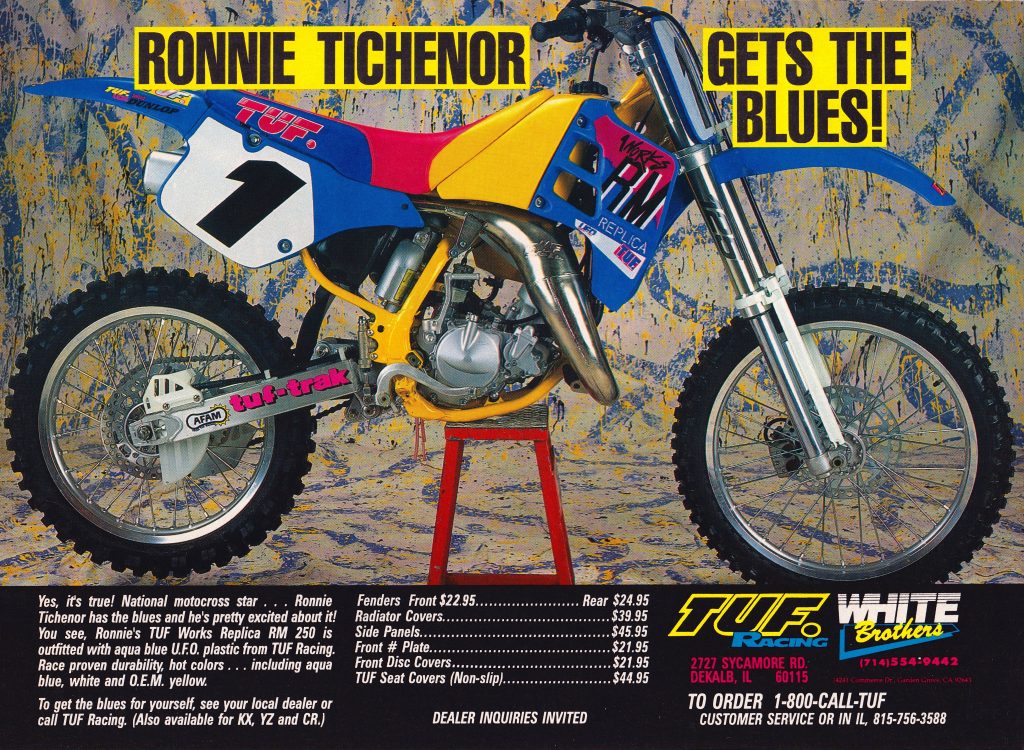 Blaze:  Of these four this is by far my favorite design. Perhaps that is because I hated the look of the stock RMs so much this year. By comparison to the Kindergarten graphics that came stock, this looks positively professional. It also probably does not hurt that I was a big Tichenor fan as well. I like the slightly darker blue here better than the lighter Kawasaki version and the blue/pink/yellow combo works better than the blue/pink/green in my opinion. It is still not as pretty as a stock 1990 RM, but if I had to go with one of these, this would be it.
Matthes:  Ok, renaming the suspension system to "Tuf Trak" is a little much but yeah, overall I like this look and it's certainly better than the stock RM's this year which was designed after a long acid trip in Japan.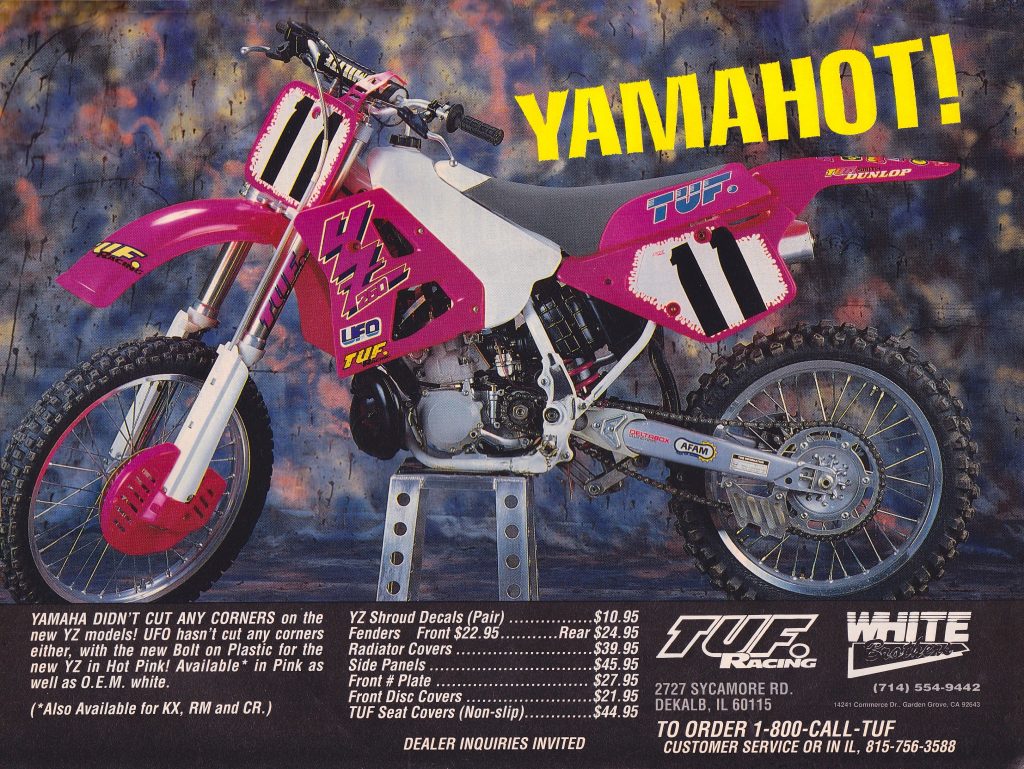 Blaze: Yama-hot? How about Yama-not! I loved the magenta YZs of 1991 and 1992 but this is WAY too much flaming neon pink for anything short of a Las Vegas strip club. Plus, it suffers from the same splat plates affliction as the KX and that damn gray seat. Not…a…fan.
Matthes: How about those numbers? OMG please make those go away. This is just…too much. No thanks.