I wanted to do something a little different this week, so I thought why not talk about some riders machines, instead of the riders themselves. It's hard to actually give EXACT FACTUAL feedback from the couch, but my eyes have been glued to a few machines this year, so why not give you some food for thought on a few factory machines from a test rider's POV.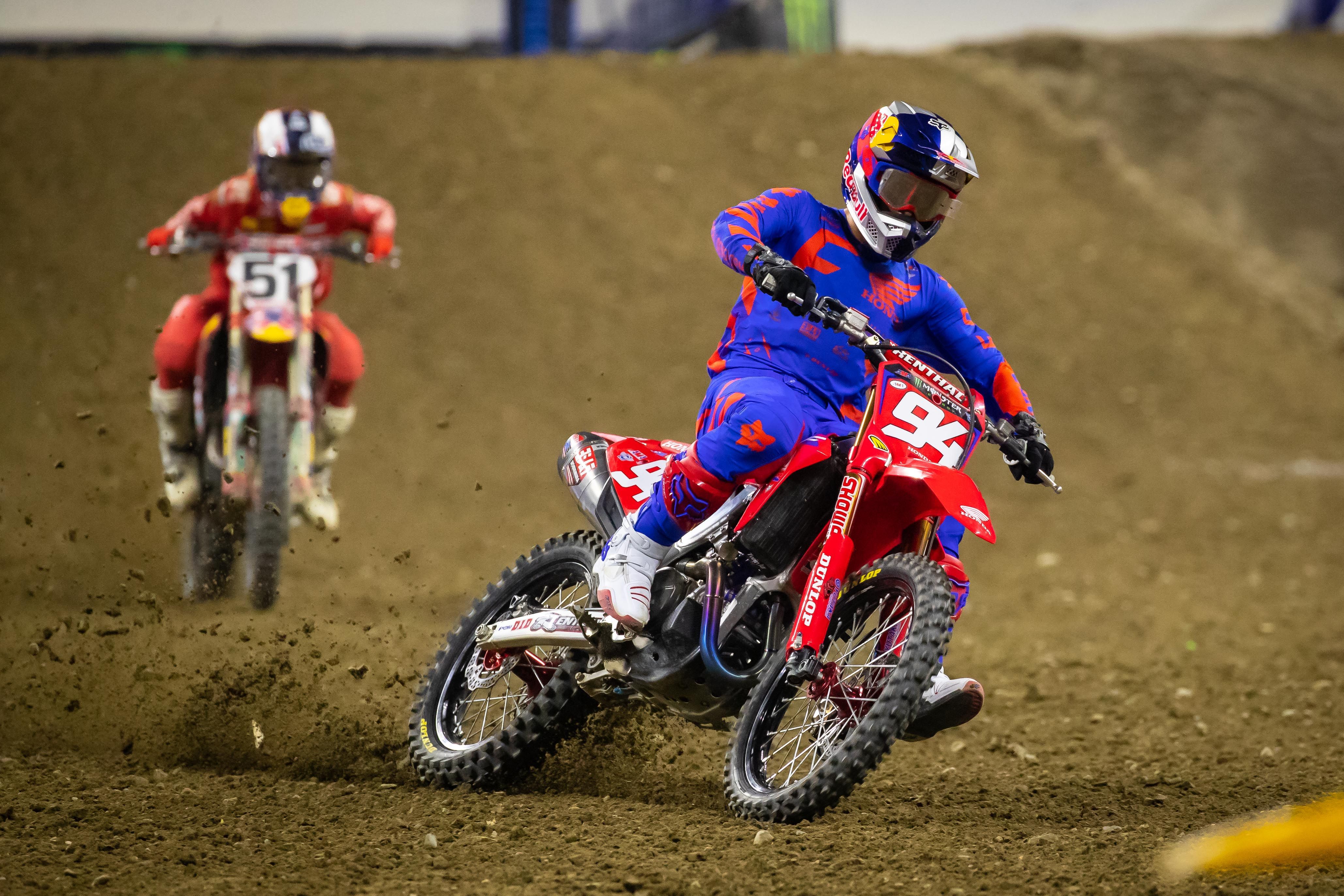 Ken Roczen's Factory HRC Honda: To me and my eyes this is the most balanced looking machine out on the track since the start of the series. From the way the power looks to be delivered off the start to how well the HRC Honda corners under choppy/rough berms/corners. If you go back and re-watch Indy 1 and Indy 2, watch how settled the HRC Honda is coming into corners. Even when there are some braking bumps leading up to the bowl turns, Kenny is able to sit early and set up his corners better than most. The only other bike that looks this good in that area is the Red Bull KTM's. The HRC Honda can also cut low in a corner and still have enough rear wheel traction to get out of the low line and jump three in a rhythm without a heavy throttle hand. This tells me that there is massive amounts of throttle to rear wheel feel for Kenny. I also appreciate how it looks like Kenny's suspension setting is stiffer than in year's past, but doesn't look as stiff as Sexton's bike (when he was racing). You can see how far forward Kenny gets on the bike especially at this week's triple. The face was steeper than in days past and there was a ton of ruts/chop in the pocket between the double before it and the face. The front end of the Honda didn't deflect, stayed planted and looked to have tons of front end feel! As bad as the 2021 production Honda CRF450R did in the reviews of us media asshats, the factory version is/looks freaking amazing. Good job to Trey Canard and the HRC team for getting the bike where Kenny can't help but love it! It's team effort, especially when the bike is almost all new.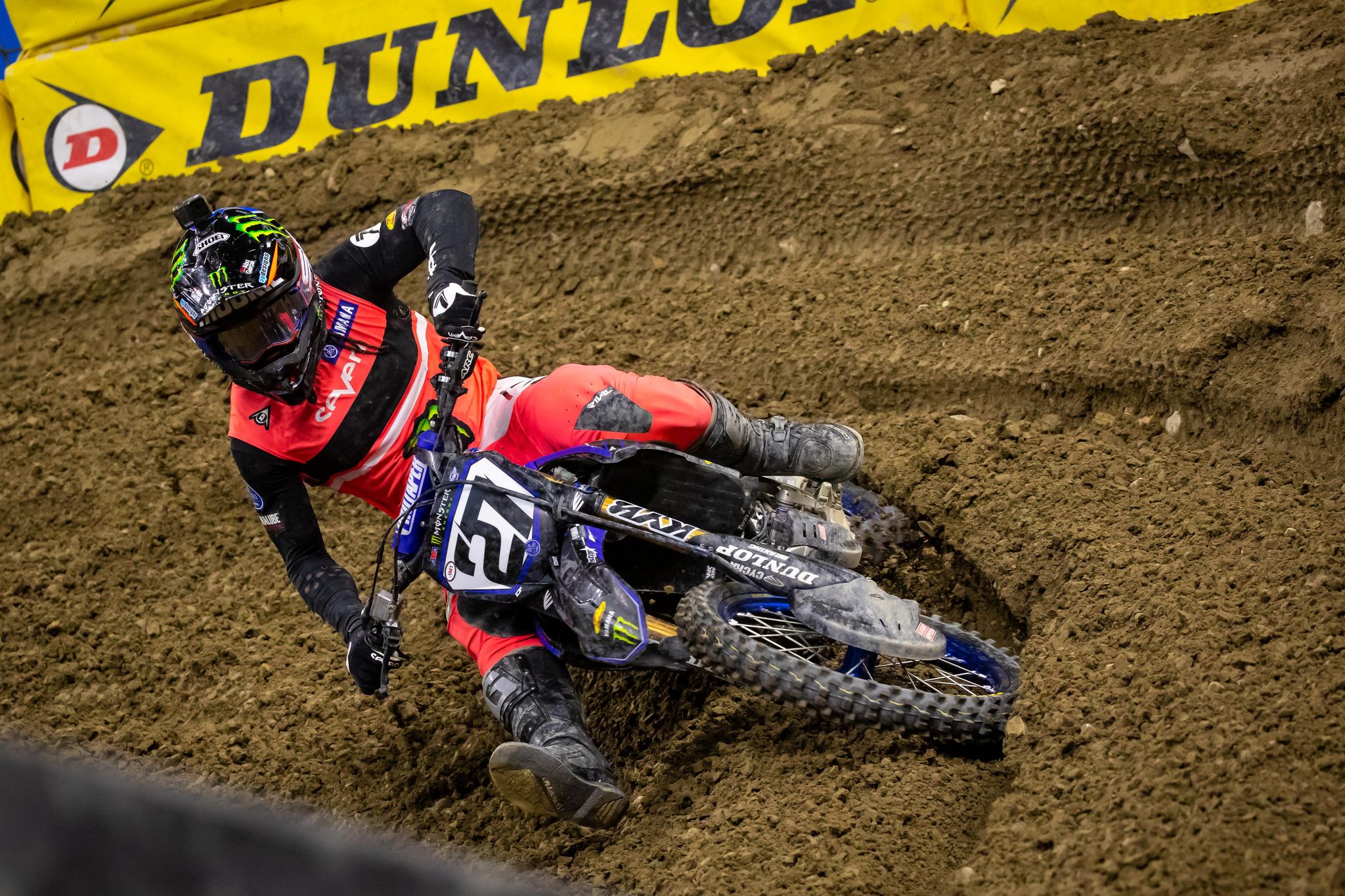 Malcolm Stewart's Star Racing Yamaha: The machine that I was most excited about watching this year was this one! I have ridden the old 2020 factory version and I thought it was pretty damn good! From what I see on my couch is that the riders may need a little more pull out of the gate. It seems like Aaron, Mookie and Dylan all get pulled a bike a half a bike length once off the grate. This is a slippery slope though isn't it? You give them more power and then it becomes a pain in the ass to ride aggressive for 20 minutes on a rough SX track. So I am sure that the riders have to pick their poison when it comes to starts or the rest of the race. I don't like how much the rear end squats under heavy acceleration out of corners as that could give too much teeter totter effect to the riders. Even with stiff SX suspension there is still some movement in the chassis that isn't there on other machines. It does however look to be better than last year's off/on throttle teeter effect though. It looked like with this block of Indy races, the Yamaha YZ450F has better cornering when the track gets rough. I could see that Malcolm was much more aggressive in corners, compared to the Houston rounds. I do know that Malcom's still on an air fork and the other riders are NOT. I can't say much about anything other than I would rather be on what Aaron and Dylan are riding. Kudos to the guys at KYB for absolutely working their balls off for these Star Yamaha riders and getting them comfortable. The job of a suspension tech doesn't get enough credit!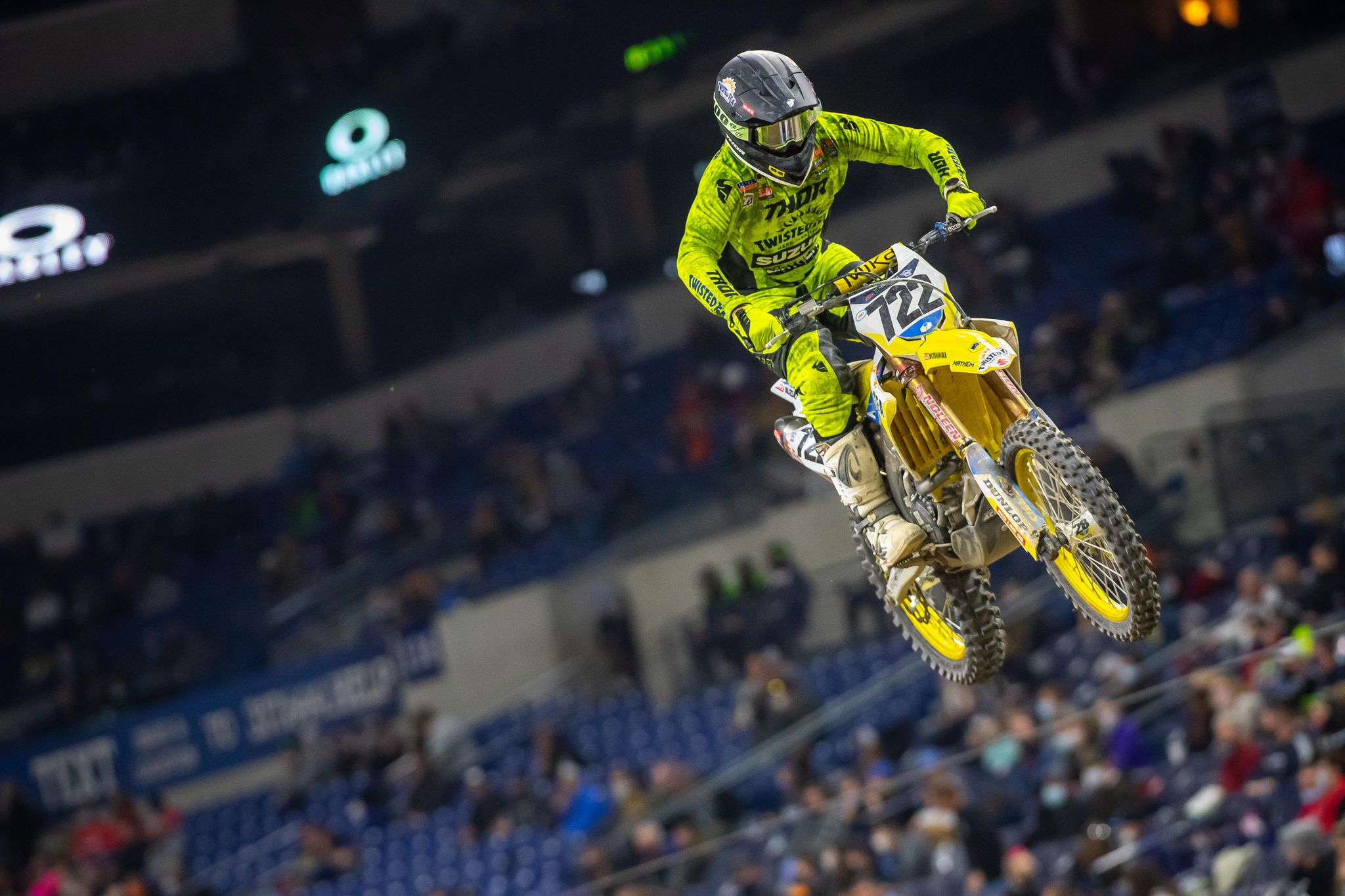 Adam Enticknap's HEP Suzuki RM-Z450: No hate comms on this Suzuki! The HEP/Twisted Tea Suzuki has some changes from last year's race machine and one of the big ones is the move from OHLINS to factory Showa stuff! This is HUGE for the riders! Clark Jones of Noleen Racing is still helping the team, but now the riders are getting the same treatment that other factory riders, that run Showa are getting. From what I can tell and have heard from Enticknap is that the bikes are much more consistent and have better hold up along with slightly more comfort. I don't know much about their engine package, but I would love to test one of the team's outdoor settings! COUGH COUGH, Dustin Pipes! The Suzukis have been getting off the gate well for the team but Indy 3 wasn't kind to Hartnraft. He came out to ride with me in between Houston and Indy and he said that his bike is awesome and he is not giving anyone any excuses. he says that all the 450 riders are gnarly and he needs to pick up the pace. He feels he needs to learn from these more experienced 450 riders. This #RMaRMy team is a strong one and so is the bike!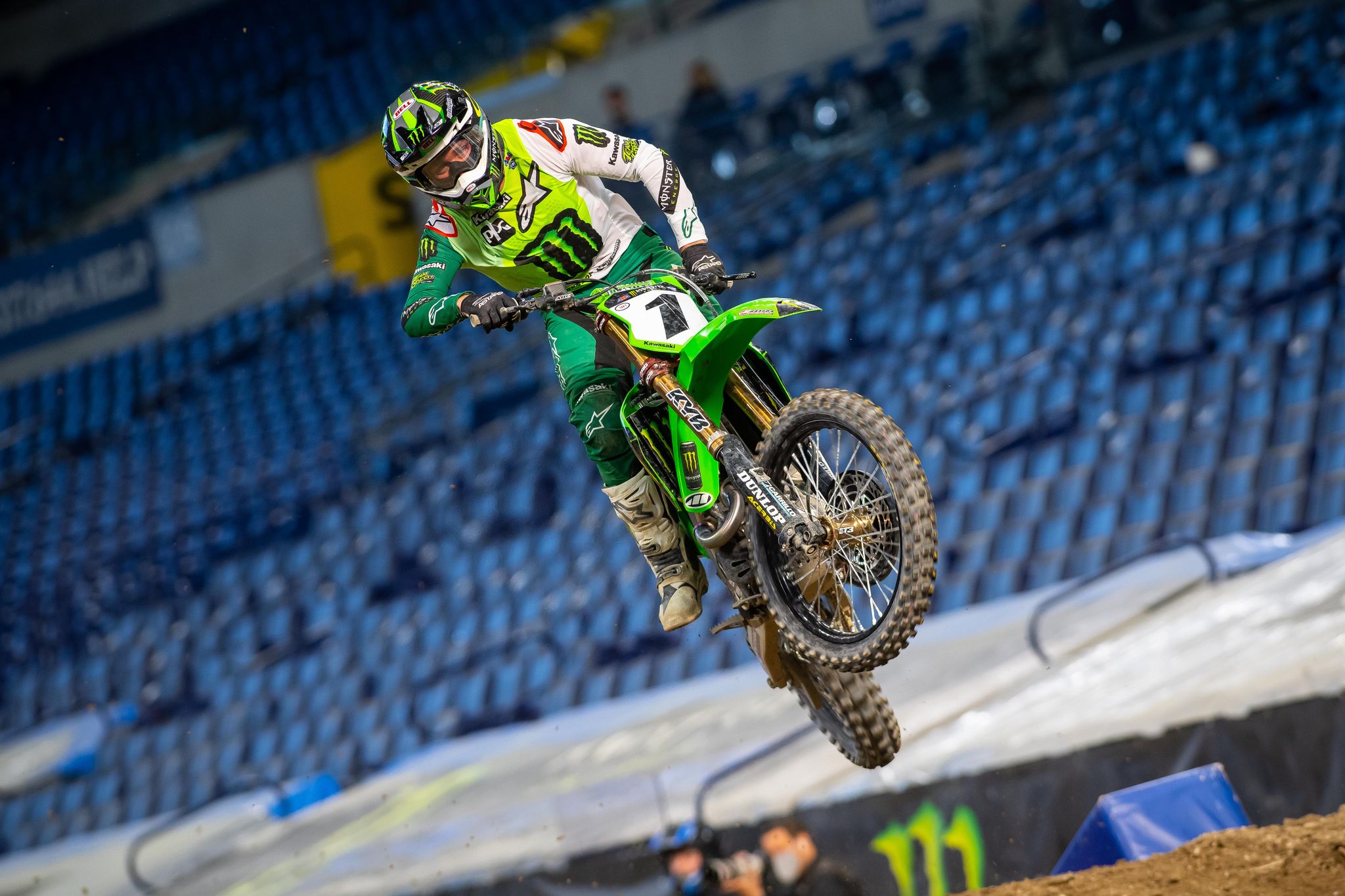 Eli Tomac's Monster Energy Kawasaki KX450: Holy shit, Eli got a holeshot one time this season already! It can be done! I mean Adam gets good starts consistently so I know the bike has the power/drive/hookup, but it seems to be lacking in flat corners. After the whoop section at Indy 3, the Monster Energy KX450 looked to be a little long or maybe they had the wrong front tire, but it had a bad push. Eli was losing time there, until finally he picked up on that inside rut before the rhythm. The Kawasaki looks really good/calm in transitions/pockets of rhythm sections as well as the whoops. Feeling the rear of the bike squat in the whoops and drive is one of the most incredible feelings as a SX rider. Having enough comfort on initial touch (on each whoop) yet not getting a side to side deflection is a feeling most want and Eli/Adam seem to have that.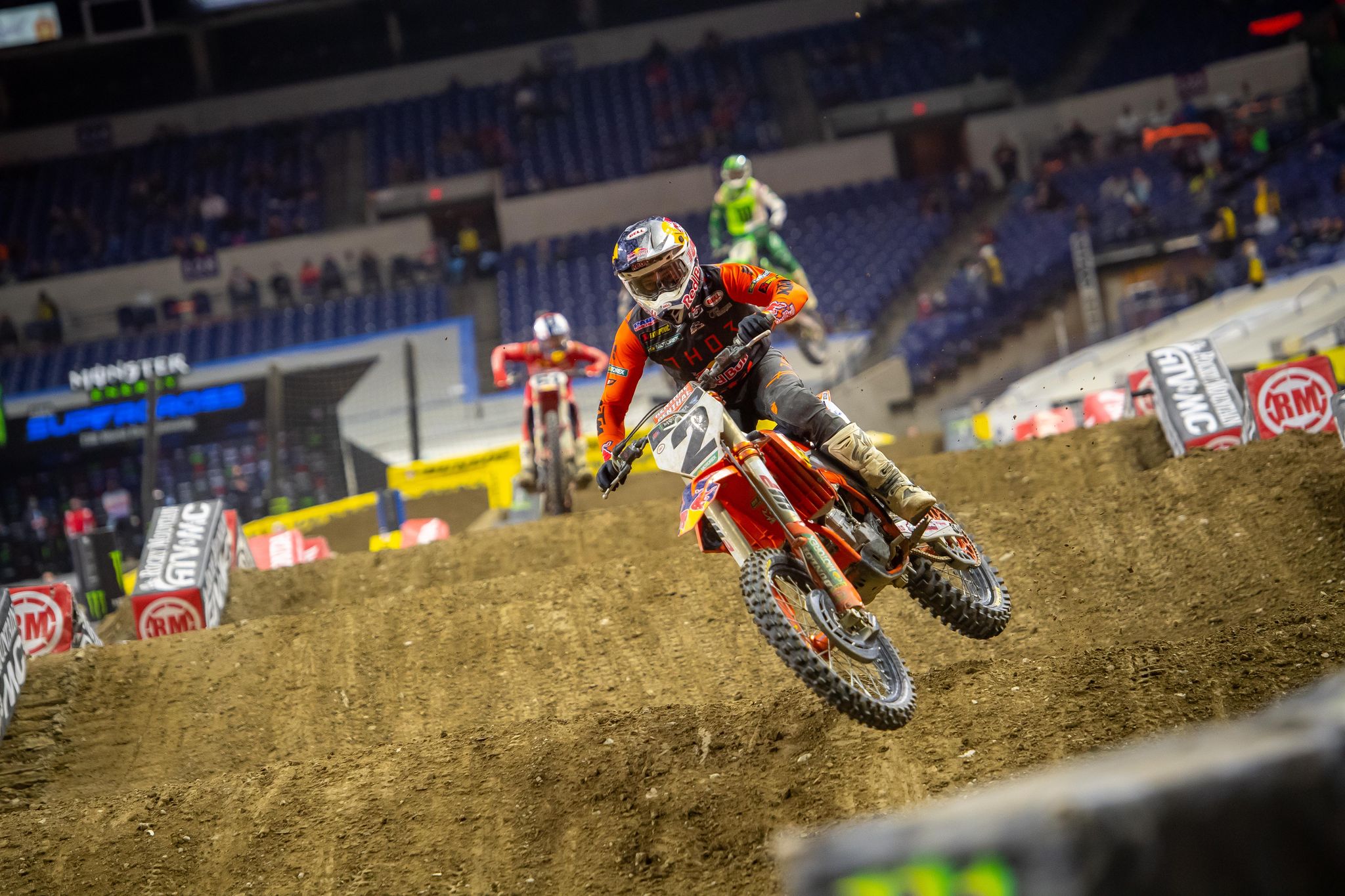 Cooper Webb's Red Bull KTM 450 SX-F Factory Edition: This is probably the bike that I would love to ride the most if I could. Coop's air shock looks low to me, but that could be Coop's setting because Marv's bike doesn't seem to be that low. The KTM in production form is a deceiving engine character as it's the easiest/mellowest of all 450's, but when you had a few HP's to it, this orange bike is INSANE! I could only imagine how well the Red Bull KTM is with that extra love. From what I see is that the KTM still has that easy to roll on power delivery, which gives Webb and Musquin the most rear end traction out of the 450 factory bunch. Roczen's bike looks hooked up but the KTM's seems to just have that extra bit when it gets shiny late in the main. In flat corners the bike looks to be low and biting into the ground unlike other bikes in the class where they ride a little higher in the stroke. I can see that Coop has changed something in Indy compared to Houston. He NOW can move around on the track more and search for different lines. In Houston it looked like he was kind of locked into his line and if he ventured out of that, the KTM didn't work as well. Almost like he couldn't push the bike in those different lines. He now can charge throughout the race even if he goes somewhere completely different. Cooper Webb is going to be dangerous moving forward and if he starts stringing off some good starts, watch out Kenny!