The more things change, the more they stay the same. We're 6 rounds into the 2021 season and your championship contenders are Ken Roczen, Cooper Webb, and Eli Tomac – the exact same 3 riders as 2020. The only difference is the Top 3 are separated by 24 points and last year it was only 9 points. So much for the early season talk about a stacked field. It only took Ken Roczen 3 rounds to put everything together and take command of the series.
Similarly, the 250 series is now a 2 rider race between Christian Craig and Colt Nichols. No different than last year when we had Austin Forkner vs. Dylan Ferrandis in the west and Chase Sexton vs. Shane McElrath in the east.
The more things change, the more they stay the same.
But when you look at each riders season, there's a lot to talk about. In an ode to PulpMX leader Steve Matthes and his popular Observations column over at RXI, let's take at one stat for each rider!
450's
Ken Roczen. 3 wins. Ken Roczen has taken command of the series after winning all 3 Indianapolis main events. Given he finished 2nd to Justin Barcia by 1 second at Round 1 and to Cooper Webb by 0.5 seconds at Round 3, it's very possible this number could be 5 instead of 3. Keep in mind… the first rider to 3 wins, wins the championship 70% of the time. Since 2000, that number is 81%. #2021champion
Cooper Webb. 8th average 1st Lap Position. Cooper Webb's first lap position is double that of Ken Roczen's. After Round 4 in Indianapolis he posted on Instagram "Track position is key right now and I didn't quite execute that in the main". His first lap position by round… 14, 8, 1, 8, 11, 3. Roczen's is 5, 14, 2, 3, 1, 1. Bad starts make life hard.
Eli Tomac. 3 Bad Days. Bad days are when you finish the race in a worse position than the first lap position. In 2020, Eli Tomac had zero bad days. None, zip, zero, zilch. He's already had 3 bad days in 2021 (rounds 1, 4, and 6). Obviously his crash at the 6th round wasn't his fault. Regardless, he's lost -26 points to Ken Roczen in those 3 bad days. You can't win a championship when half your races are bad days.
Adam Cianciarulo. -10 position changes at Round 1. AC's crash at round 2 in Houston where he lost -10 position changes and -12 points is the defining moment of his season so far. He was in position to at least podium and ended up outside the Top 10. That said, I think we can agree that 4th in the championship is great considering he came into the season with very little preparation and nursing injuries.
View this post on Instagram
Dylan Ferrandis. +22 position changes. Unlike many of you, I'm a fan of the Frenchman – I think he's a modern version of Damon Bradshaw. I was going to say his key stat was 2nd place at the 2nd round, but I think it's more impressive that in his rookie year he's moving forward an average of +4 positions each race and has only one race where he's lost positions. #rookieoftheyear
Justin Barcia. #40. The politically correct number is 19th for his finish at round 6 in Indianapolis, but I think we can all agree he got Friese'd. Leading up to this incident, Barcia was having a career year. He's won 3 heat races, won another season opener, and was on the podium at round 5. If the race finished as they stood when he crashed, Barcia would only be -25 points behind Roczen instead he's -42.
Marvin Musquin. 6 Good Days. Sure, Marvin's got 3 finishes of 10th, 11th, and 12th that aren't what we'd expect of a guy that's been on the podium in 41 of 76 career main events. But after missing all of last year with a knee injury he's come back and gotten 2 podiums and moved forward in every race. He's also 1 of 3 riders that hasn't had a single bad day – Roczen and Webb are the other two.
Malcolm Stewart. 4th place. Mookie got a career best 4th at the 6th round. This ties his previous best 4th at Round 17 of 2020 in Salt Lake City. If it weren't for a late race fall at round 5, Mookie would likely be 5th in the standings instead of 8th. He's been building momentum since 2019 and the focus and effort is starting to pay off. #mookiefever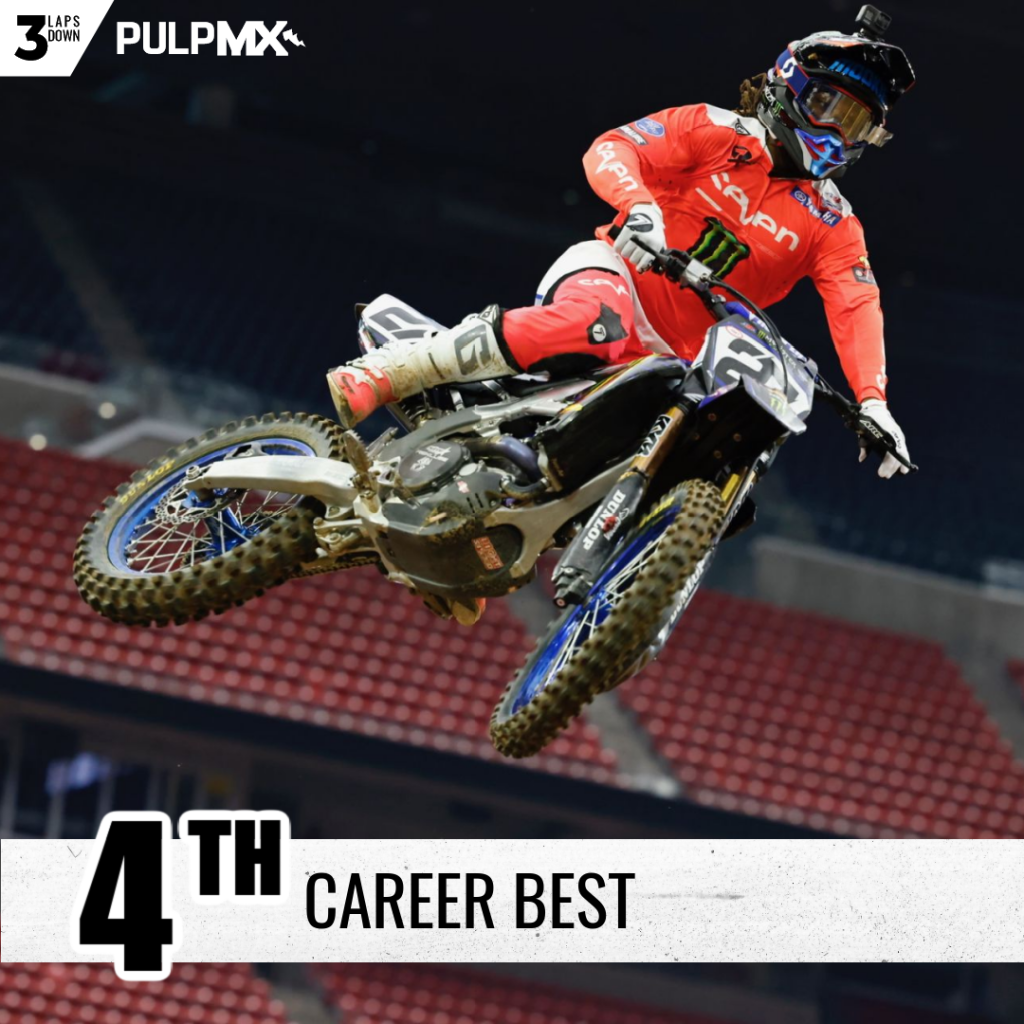 Zach Osborne. 12th average first lap position. Zach's only had one main event where he's started inside the Top 10. That was at round 2 where he was in 2nd on lap 26 of 29 and stalking Eli Tomac for the win. That changed quickly when he then fell and finished 10th. Zach has shown the speed and ability to run with the Top 3, but starts have limited his results. Is there a better rider, lower in the standings!?
Aaron Plessinger. 13th average gate pick. Aaron hasn't finished better than 5th in a heat race and that's leading to an average gate pick of 13th which has led to an average first lap position of 12th. Track position matters and it starts with qualifying (unless you're named Cooper Webb) and heat races. He did tie his career best finish 5th at round 5 and he's 2 positions better in the standings vs. last year though. Maybe most important, all 3 Star Racing Yamaha's are inside the Top 10.
Justin Brayton. 3rd place. At round 2, Justin stood on the podium for the 10th time in his career. Unfortunately, the likeable Iowan has finished 10th, 12th, 22nd, and 12th since then. He said it best on Instagram "It was a rough one. Not a lack of effort that's for sure. Feeling good riding wise just spent more time on the ground then on my bike haha" We won't forget that podium all year though!
Joey Savatgy. 8th place. Over the last 3 rounds, Versace Savatgy has averaged 8th place compared to an average of 15th in the first 3 rounds. He missed all of 2020, so it's no surprise the first few rounds weren't that great, but he's made strides in the last 3 and looks to be getting back in the groove.
Jason Anderson. 1 LCQ Win. It's been a tough start to the 2021 season for El Hombre. The 2018 champion has missed one round due to a dislocated finger and has yet to crack the Top 5.
first W of the season… FML

— Jason Anderson (@elhombre_21) January 31, 2021
Broc Tickle. +22 position changes. Broc's averaging a first lap position of 18th and a finish position of 14th. If he starts 10th, he finishes 14th (round 4). If he starts 21st, he finishes 13th (round 2). If Chiz Chizzes, then Tickle Ticks.
Martin Davalos. 34 years old. Did you know that Martin Davalos is the 2nd oldest racer on the gate behind Justin Brayton (36)?! He's older than Chisholm. He summed up his season best on Instagram – "Been struggling with falling during the main events trust me it's not ideal this dad bod can't handle this kinda sh*t."
Kyle Chisholm. 123 450 main events [Ed Note: I sent Steve a number yesterday that didn't include his 2021 start – sorry!]. Including his 6 main events in 2021, he's now tied at 18th on the all-time list with James Stewart and Jason Thomas. If you include his all of his 125/250 and 250/450 career main events, he's got 154 starts and is ranked 17th. #chizhaschizzedalot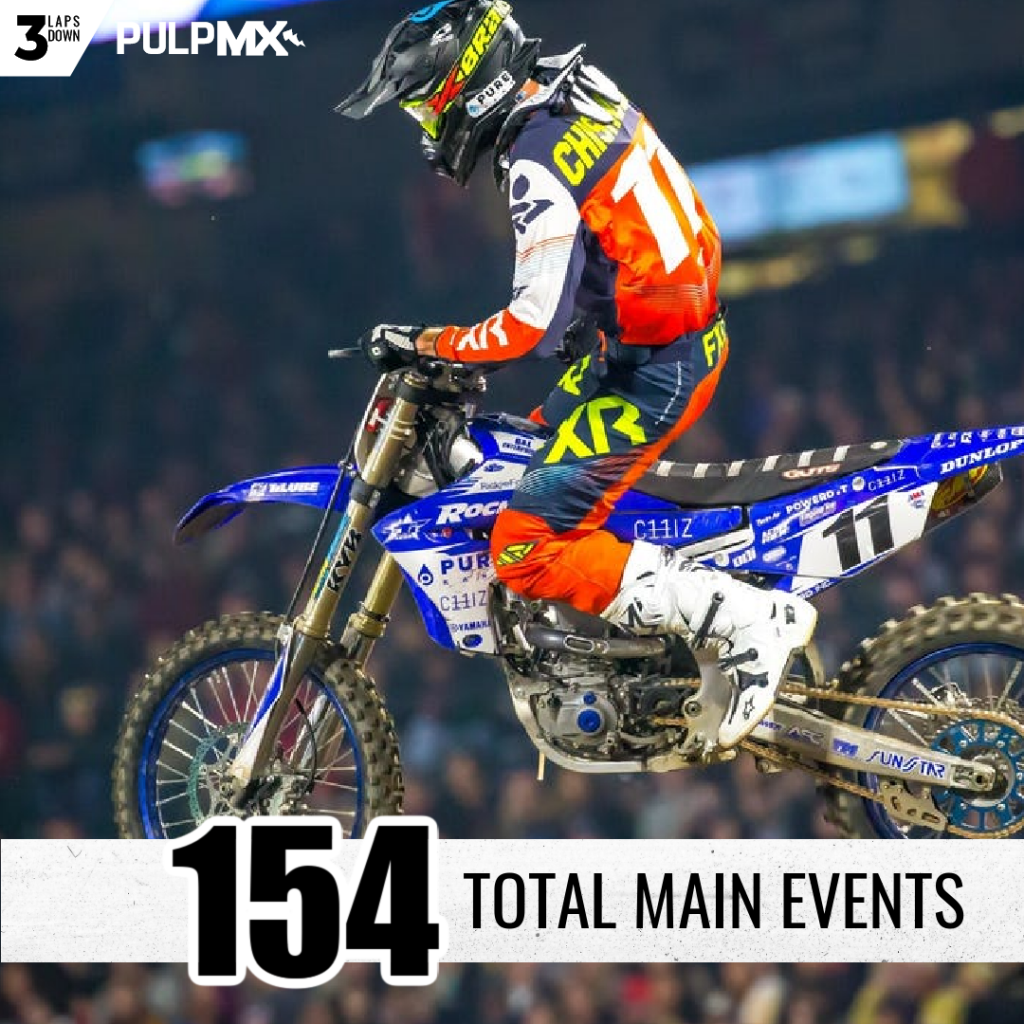 Vince Friese. 1 too many? You have to respect that he's a Top 20 supercross rider in the world, but it does seem like Vince's name is associated with trouble all too often. The other key stat is a series leading -42 position changes.
Dean Wilson. 3 mains. The likeable Scotsman has been injured and missed the last 3 rounds. The lapped rider situation was unfortunate and Deano showed his integrity in how he owned and apologized for the incident. #respect. Hopefully he's back soon.
Benny Bloss. 17th average finish. Back in 2018, Benny finished the season with 14 main events, 3 Top 10's and 15th in the standings. With one missed main at round 1 and a bad night at round 6th where he didn't finish the main event, let's hope he can get back to 2018 form for the remainder of the season.
Justin Bogle. 4 mains. Justin missed the first 2 mains of the year due to injury. Similar to Benny Bloss, he's had a string of crashes and injuries and likely is yet to show his full potential this season.
250's
Colt Nichols. 3 Wins. With the exception of one crash, Colt Nichols has been near perfect lately. He qualified fastest the last 2 rounds (1st of his career), he's won heat races at the last 2 rounds, he's won the last 3 of 4 main events, and been on the podium in the other. The winner of the next round is critical momentum going into the long break.
Christian Craig. 3rd average first lap position. Christian only has 1 holeshot, but he's been in great first lap position with the exception of round 2 where he rounded the first lap in 8th. Remove the 4th round incident that cost him a podium and the gap to Colt Nichols would half.
Jo Shimoda. 2 podiums. While you have to love Jo's humble nature, I think we can all agree that both podiums count! Another impressive stat is that Jo is 1 of 2 riders with 6 Good Days. He hasn't lost a position in a single main event. Jo's the 2nd youngest rider out there at 18 years old and has a bright future ahead of him. #sushi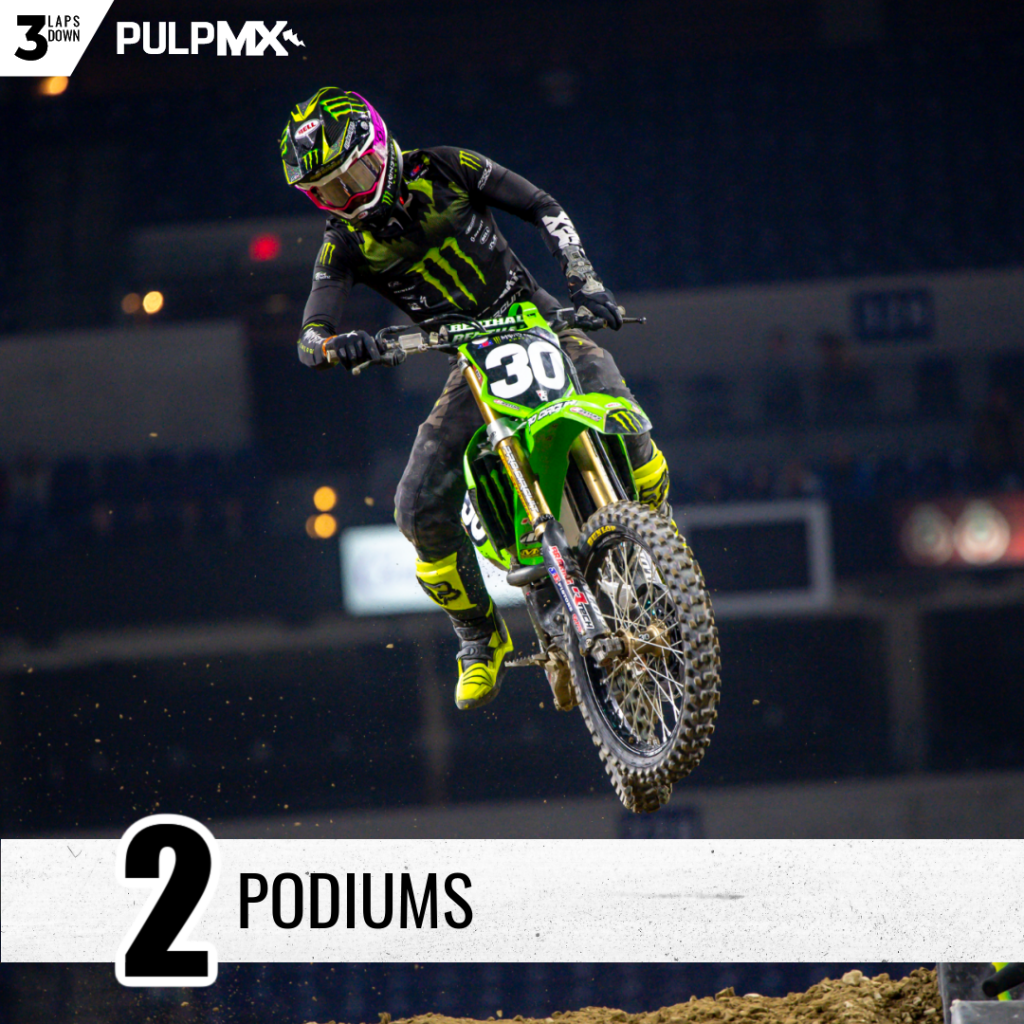 Jett Lawrence. 1 DNS. Jett Lawrence is now -42 points behind Colt Nichols and out of championship contention as a result of injuring his shoulder after a run in with a haybale at round 5. A plea to the fans… can we stop complaining about him getting interviewed or get the other riders to be as entertaining? Where else are we going to get quotes like "I used all my talent on my practice start"!?
Michael Mosiman. 1 missed main. Mosiman is headed for surgery on his hand after he crashed late in the final practice session at round 6. Unfortunate timing given he was 1 of 4 riders to lead a main event (7 laps) and showed signs that he would contend for race wins in the last 3 rounds.
Josh Osby. +21 position changes. He's been outside the Top 10 on the first lap at 4 of 6 rounds. He needs to get better starts to hang with the front pack.
Mitchell Oldenburg. -32 position changes. At rounds 3 and 5 he lost -10 and -15 positions. Round 5 was a mechanical and outside his control but round 3 I believe was a crash. Two 20th place finishes in a short series is tough.
Thomas Do. 7th place. Do finished a career best 7th at the 4th round in Indianapolis. That's a great finish but unfortunately he got a flat at the next round that caused him to lose a bundle of (-13 to be exact) positions (and fantasy players like myself cried ourselves to sleep that evening).
Joshua Varize. 5 Bad Days. Varize is having a great rookie season which also comes with a learning curve. For Joshua, he's lost positions at 5 of 6 rounds. The one round he gained positions… 7th place!
Grant Harlan. 5th place finish. In just his sophomore year, Harlan finished a career best 5th place at the 5th round in Indianapolis. If you don't follow Grant, what are you waiting for!? Be forewarned though, he's lurking online during race day.