I am a big believer of "Keeping Kids On Dirt Bikes" and Yamaha seems to be investing in that ideology as well. Yamaha was out of the 65cc market for quite sometime, but in 2018 they reintroduced the YZ65 to their motocross lineup and haven't looked back. Fast forward to 2021, it's nice to see Yamaha still investing in making a competitive 65 for kids to start their motorcycle racing lifestyle. Yamaha now has a dirt bike that is available from the time you start learning how to ride, all the way through your adult years. I learned how to ride on a YZinger, but once I gradated from the little Zinger, my dad was forced to switch brands because Yamaha didn't make a 65 at that time. Nowadays parents can see their kids through the Yamaha brand in order to make it more seamless for the child when it's time to step up. I still remember the day when my dad told me "ok son, you're old enough now, so it's time for you to make your own money and buy your own bikes"! Ouch! Even though real life slapped me in the face pretty quickly,  decided my first purchase was going to be a YZ125 because I had fond memories of me ripping around the front yard on my YZinger.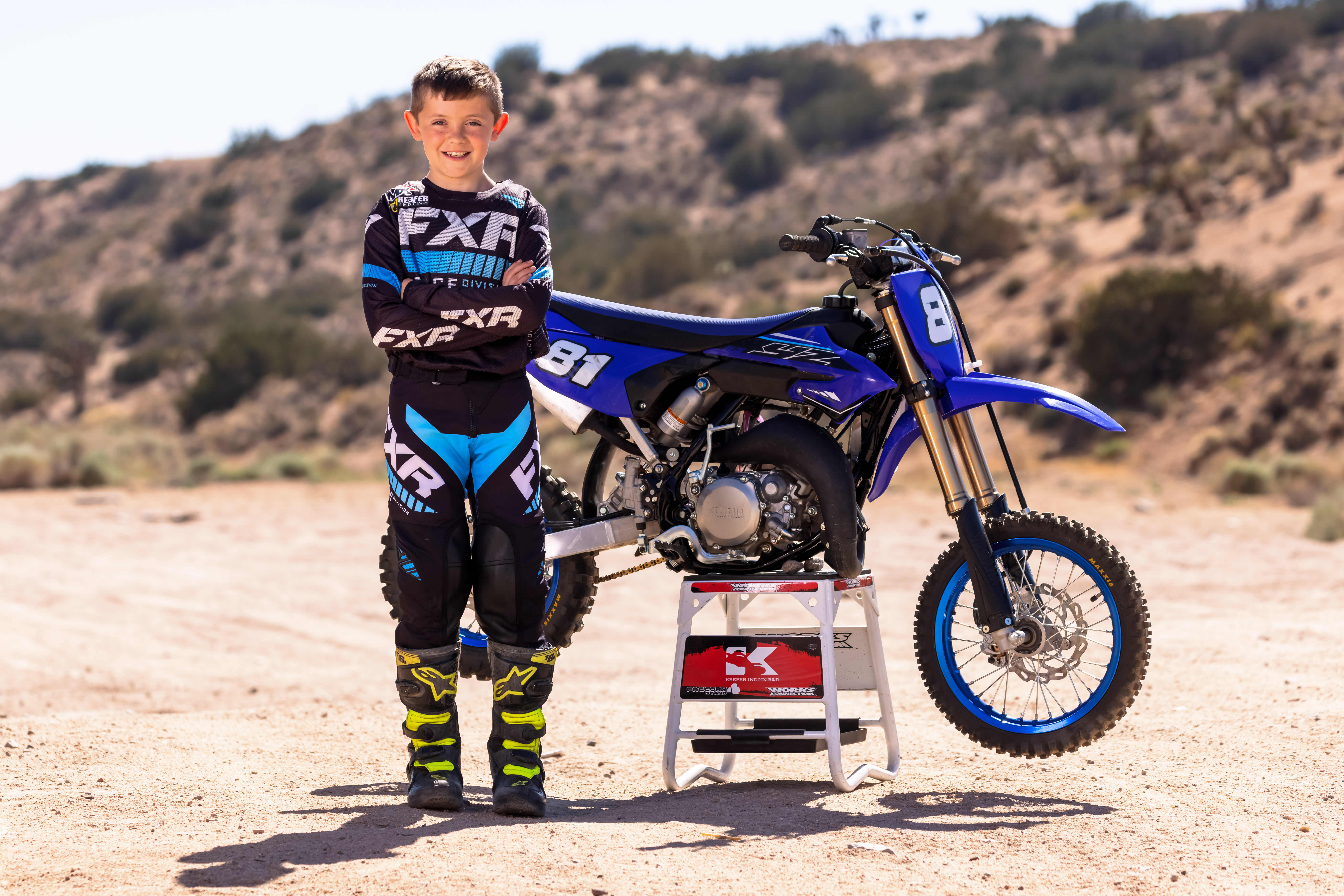 The 2021 Yamaha YZ65 features a race developed crankcase reed valve induction to keep the engine character fun yet easy to manage for a small rider. The last thing a small child need is a light switch. Little things that make a difference to a small rider that he or she may not notice, but the parents certainly will are: a clutch design that helps keep the lever easy to pull in (as well as adjustable), a lightweight swingarm that gives extra comfort through a link-less design that reduces routine maintenance requirements, has four handlebar positions to allow growth on the bike, as well as YZ inspired fully adjustable suspension. Yamaha designed a 65 that is easy to lug around for the beginner, yet also can be competitive enough for the serious amateur racer. If you're looking to raise your child on two wheels this YZ65 is a fun and serious machine all rolled into one.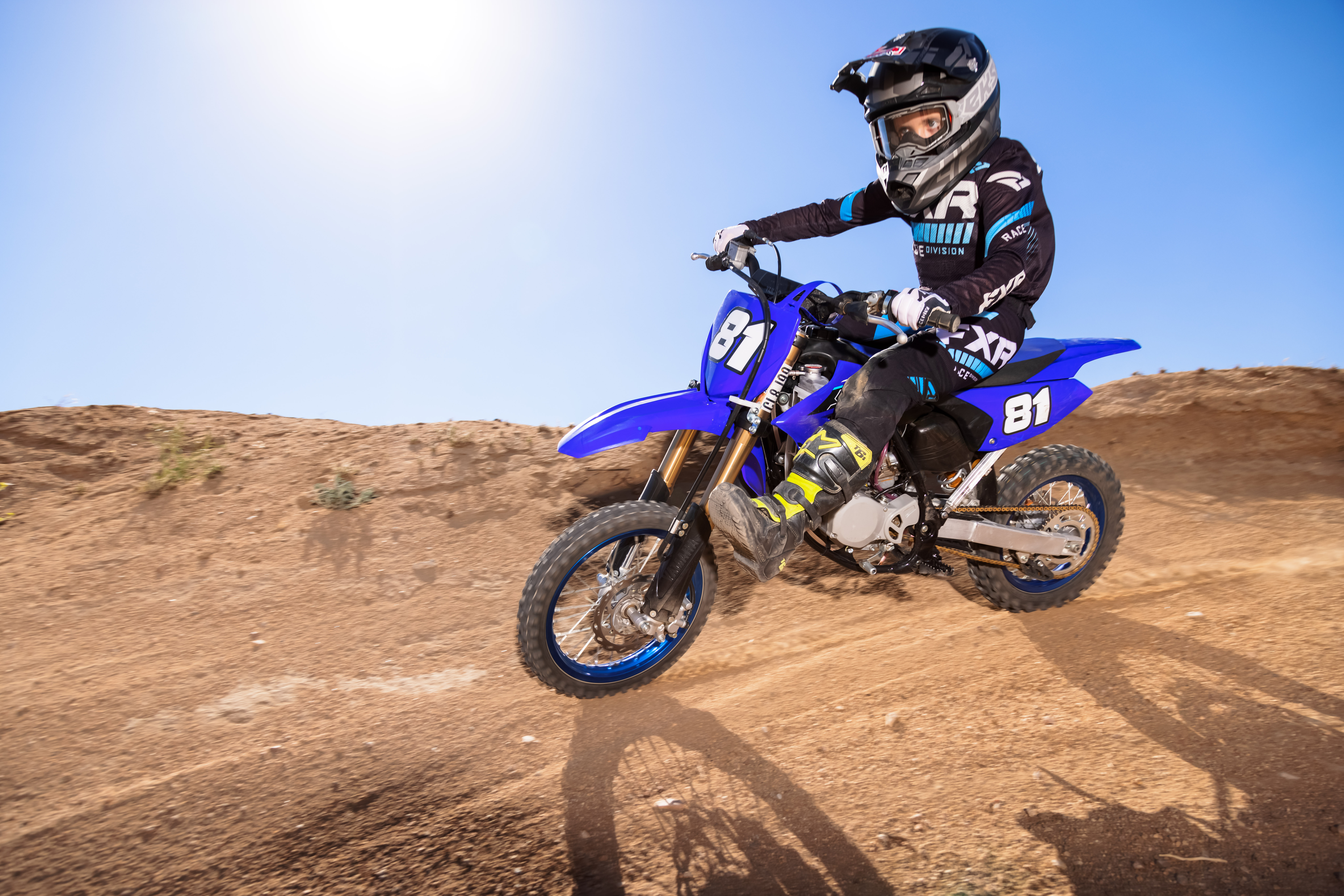 Here are some key features about the 2021 Yamaha YZ65 that our little 10 year old test rider Landon Sirevaag had the chance to test:
The 2021 Yamaha YZ65cc two-stroke engine features Yamaha's YPVS, mechanical power valve system for a broad spread of power and torque across the entire RPM range. Our 10 year old, 4'11, 85 pound test rider Landon Sirevaag said it was way faster than his KTM 50SX he currently rides obviously, but didn't have a sudden hit to scare him away.
2. The new YZ65 has a six port cylinder layout, center ribbed exhaust port, one piece power valve, compact combustion chamber, 5.2cc volume, lightweight single ring piston and a compression ratio that is; 8.1
3. With a new steel frame and an adjustable front and rear linkless suspension, the YZ65 offers smaller riders some added traction along with more flex that comes with a steel frame.
4. Another cool feature is the 2021 Yamaha YZ65 has a removable Aluminum subframe that is super easy to take on and off. This makes life a lot easier when you want to wash the airbox out after a muddy or dusty race.
5. Specifically developed for the 2021 YZ65 the 36mm KYB forks come with 215mm of travel, a high rigidity outer tube that is Kashima coated and a fully adjustable compression and rebound damping system.
6. The KYB long travel shock (98mm) comes with 270mm of rear wheel travel and fully adjustable compression/rebound damping. It's also worth mentioning that the rear shock doesn't have a linkage. Yamaha wanted to get some added ground clearance for the kids that scrub, are aggressive and push the bike to its limits.
7. The YZ65 comes with Blue Excel rims just like its bigger brothers, the front wheel is a 1.60×14 (60/100-14) and the rear wheel is a 1.60×12 (80/100-12). Maxxis Maxxcross tires comes stock on the blue Excel rims of the little blue shredding machine.
8. Aluminum Pro-Taper style crossbar-less handlebars have a four way position adjustment that gives the rider a 27mm range of freedom. An adjustable clutch and front brake lever also comes standard, just in case the little guy or gal can't reach the levers.
9. Accessories that will are available are a GYTR Air Filter, GYTR by FMF Expansion Chamber, GYTR by FMF Silencer, GYTR Pivoting Brake Lever, GYTR Pivoting Clutch Lever, Oil filler Cap, Yamaha Exhaust Plug, Motion Pro Fork Bleeders, GYTR Inner Clutch Hub, GYTR Clutch Pressure Plate, GYTR Billet Clutch Cover, GYTR Clutch Basket, GYTR Radiator Brace, Air Filter Wash Cap, Gripper Seat Cover, Lower Seat, MX Glide Plate and a Matrix Mini Stand w/ Wedge.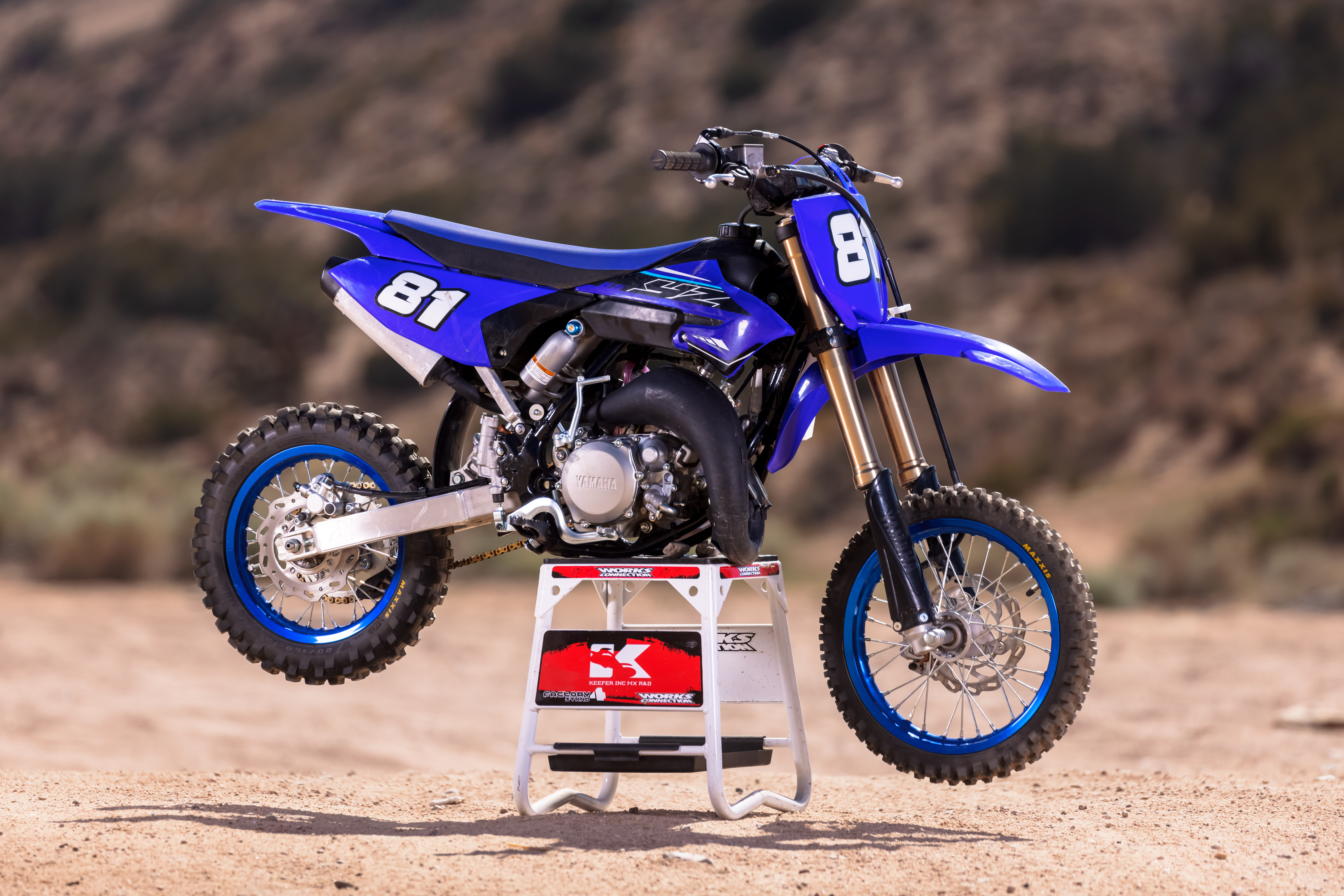 10. How did it look on the track? I say "look" because I didn't exactly get to ride it, but Landon Sirevaag had the pleasure to do the honors. Landon just graduated from his KTM 50SX and managed to figure out the Yamaha YZ65 without much issue. Getting used to a clutch is always hard to figure out for any new rider, but the Yamaha has enough lugability as well as a longer clutch engagement/throw to allow beginners to get out of their own way when taking off from a dead stop. Although getting feedback from a 10 year old is tough, you can always go off of how long they stay out riding during the day. Landon seemed to not want to get off of the machine and he mentioned more than once that the 2021 Yamaha YZ65 is definitely faster than his KTM. However, he wasn't intimated when learning how to ride it, which is key to keeping your little one riding right? 
 The suspension is a little stiff for his 85 pound frame, but dad was able to adjust and allow for a more comfortable ride as well as more traction. The cornering of the Yamaha came easy for Landon because he didn't feel as cramped on the Yamaha like he did at times on his KTM as well as a KX65 that he tried a while back. Not only did he love the power delivery, but it didn't hit too hard, which didn't tire him out! Shifting was a little tough to get used to, but the Yamaha allows a rider to rev out the 65cc engine without much fuss. Landon slowly figure out that second gear was his friend even if he had to really lug it around some corners. Fouling plugs was not an issue with the stock jetting, but we did manage to get adjust the jetting specs for a cleaner delivery as Landon got used to the the machine. 
At the end of the day, as we were packing up, I over-heard Landon ask his dad, "can we go race sometime soon"? Landon wasn't a big "race guy", but now has been bitten by the bLU cRU race bug. Let's hope pops is ready to start his mini dad career! The 2021 Yamaha YZ65 is a fun machine for the beginner rider as well as the serious future racer. With the reliability and adjustability of the YZ65, this little machine should be considered for your two wheeled happy child. #KeepKidsOnDirtBikes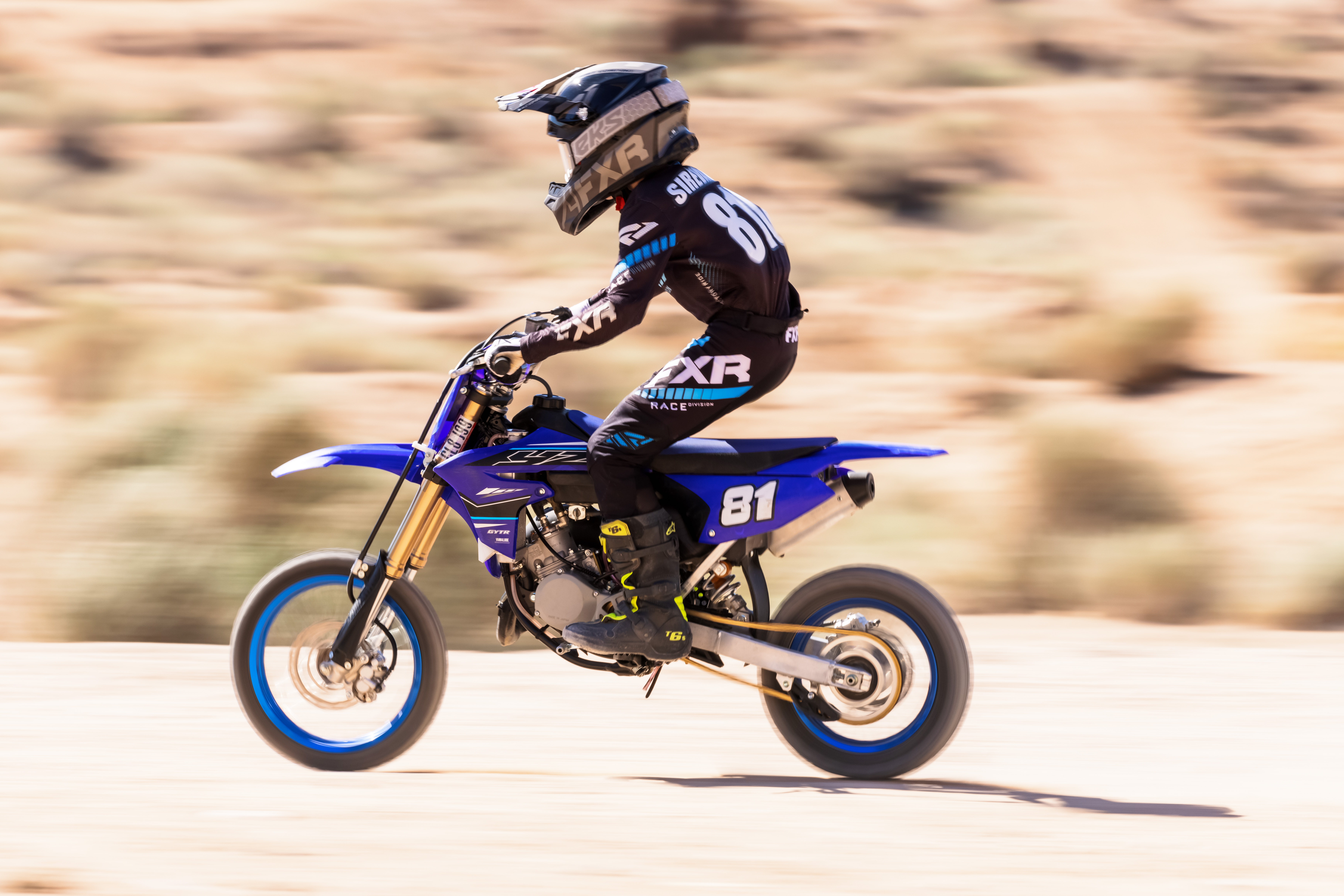 Important Features:
YPVS (Yamaha Power Valve System)
Compact Steel Frame
Removable Sub Frame
Maxxis SI Tires
Adjustable Bar Positioning
YZ/YZ-F Larger Bike Styling

 

MSRP $4,599
Fork Setting:
Spring rate: 0.28 kg/mm
Compression: 11 clicks out 
Rebound: 8-9 clicks out
Fork-leg height: 5mm up
Shock Setting:
Spring rate: 4.0 kg/mm
Race sag: 78-80mm 
Lo-compression: 9 clicks out
Rebound: 9 clicks out
Jetting Spec:
Main: 142
Pilot: 45
Needle: NAPF
Clip: 2nd position 
Air screw: 1.75 turns out
Pros: 
Brakes are strong, but not too grabby like the KTM/Husqvarna brakes.
The YZ65 is easy to maneuver
Suspension has a wide range of adjustability 
Engine control 
Cons: 
The levers were hard for small hands to reach at times
The Maxxis tires aren't the best for grip
Chain is somewhat cheesy as it will stretch big time within one hour