Dylan Ferrandis is the 15th rider in the sports history to win 3 overalls in a row in the premier class. Not a bad start to his rookie season! No surprise he did well at Southwick though – he's now averaged a 1.5 finish in 4 visits to The Wick and he extended his moto podium streak to 10. This is the sort of season most expected from Eli Tomac or Ken Roczen, but not Dylan Ferrandis. Yet 5 rounds into the season and he's shown that no matter where he starts, he'll contend for the podium.
In stark contrast to the premier class, the 250 class championship is separated by a mere 3 points and we've had 5 different winners to start the season. Jett Lawrence and Justin Cooper have consistently battled at the top of the standings, but with a dominating win today, Hunter Lawrence cut 18 points out of their lead and now sits only 26 points back. With 14 motos remaining in the season, it's possible we could see a 3 way battle for the championship emerge in the next couple of rounds.
Before we get to the stats for the Top 10 riders in each class, a shout out to New England locals Chris Canning (14th Overall, 14-14) and James Harrington (19th Overall, 18-19) for taking top honors among the 50 New England locals that registered for the race. It was a career best for Harrington and the 2nd best career finish for Canning. Congrats gentlemen.
450 TOP 10 RIDER STATS
Dylan Ferrandis (1st Overall, 1-3). Winning 4 of 5 overalls is an impressive start to his rookie season. I really appreciated his podium speech – he owned that the pressure of Eli made him slack on his technique and cause the bike to overheat and the respect he showed Eli was cool. #sleeperpick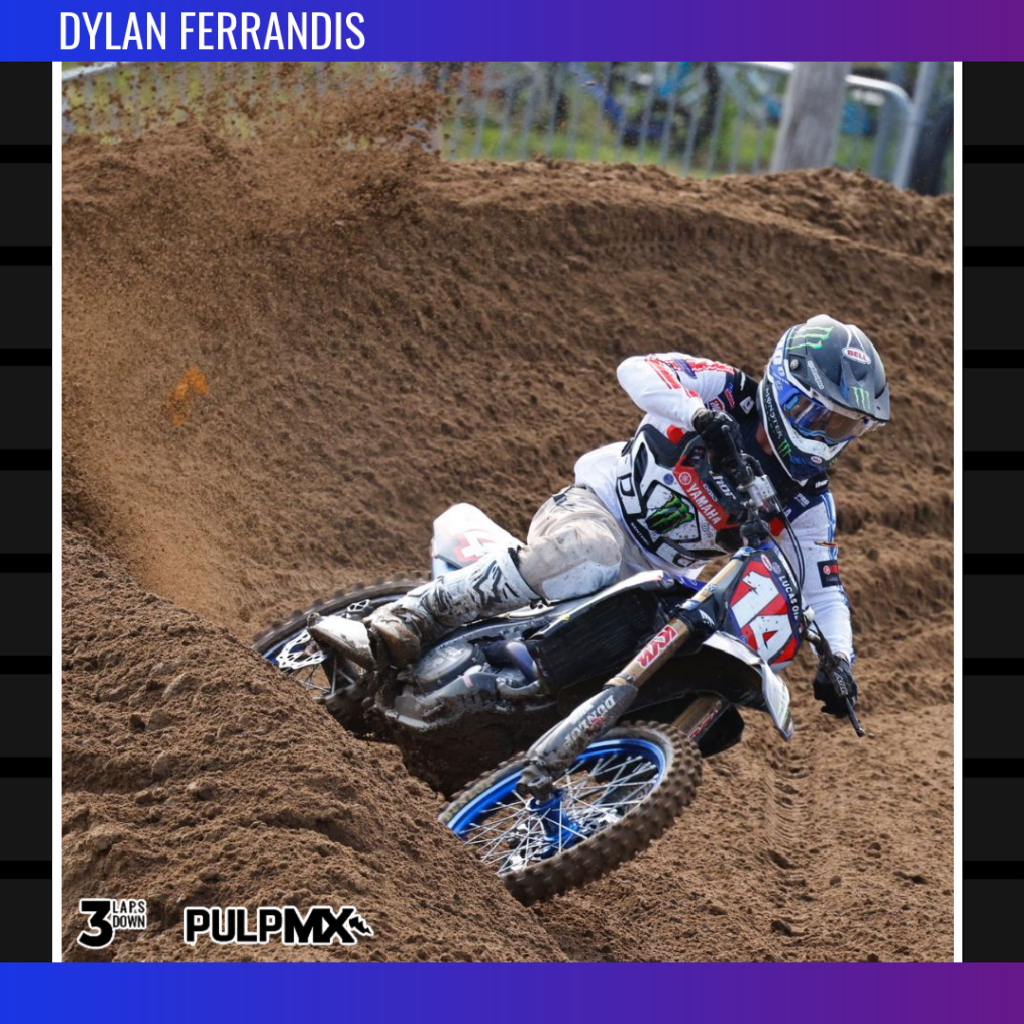 Ken Roczen (2nd Overall, 4-2). Struggled with his bike all day but still landed on the podium. Crazy that Ken still doesn't have a moto win on a 450 at Southwick in 6 races.
Justin Barcia (3rd Overall, 2-4). First overall podium of the year. It seems like Justin always does well at Southwick and I verified that's the case. He's got a career average 4th overall and he's only done better at Budds Creek and Unadilla. Oh, also, can we all agree that pass on AC in the 2nd moto was entirely unnecessary but not at all surprising?!
Eli Tomac (4th Overall, 8-1). Eli is now tied with Jeff Stanton for the 2nd most moto wins (8) in Southwick history. How do we explain 6-1, 4-1, and 8-1 moto finishes the last 3 rounds? Is it taking a full moto to get the settings right? Is he better when others are tired? Or is this just Elito Mac vs. Eli Tomac? What I do know is he's a legend and now has 51 moto wins in the premier class!
Cooper Webb (5th Overall, 6-5). If Eli Tomac is a different rider between first and second motos, then Cooper Webb is a different rider from the supercross season. Cooper has lost positions in 9 of 10 motos in pro motocross vs. gaining positions in 15 of 17 supercross main events. Today was the best finish of the season but I imagine he's still frustrated.
Adam Cianciarulo (6th Overall, 5-6). AC said it best after setting the fastest qualifying time – "My problems with my arm are well documented, figure if I can't hold on that long I might as well go fast". He's been fastest in 3 motos and fastest on the day twice. Both of these are season leading stats. #2022
Chase Sexton (7th Overall, 7-8). Last year, Chase was fastest qualifier 4 times, fastest in 2 motos, and won the last race of the year. I expected he'd continue that momentum into 2021 but he's only got 1 moto podium and no overall podiums in 2021. I expected better and I'm betting he did too.
Marvin Musquin (8th Overall, 10-7). If there was a track we'd see a breakout performance, this was it. Marvin won the last 2 races here in 2018-19. But looking closer at the stats, Southwick is one of his worst tracks on the 450 with a 5th place career average. Wish I'd looked at that before picking my PulpMX Fantasy team.
Dean Wilson (9th Overall, 12-9). It's been a tough season for the likable Brit with Epstein-Barr virus and a tough crash last week at Red Bud so it's a bit surprising to see him get a season best 9th overall at one of the most difficult tracks on the circuit.
Joey Savatgy (10th Overall, 11-10). Joey's average start is 13th and average finish is 11th. He's finished 14-12-9-10-15-10. Also, Joey finished the supercross season 10th in the standings. Joey's a Top 10 rider. #top10
250 TOP 10 RIDER STATS

Hunter Lawrence (1st Overall, 1-1). Hunter's first overall of his career and he does it by winning both motos. Interesting to note that Hunter was the fastest rider in moto 2, the first time he's been fastest this season. Feels like this could be the breakthrough day that builds confidence for him to contend for more wins.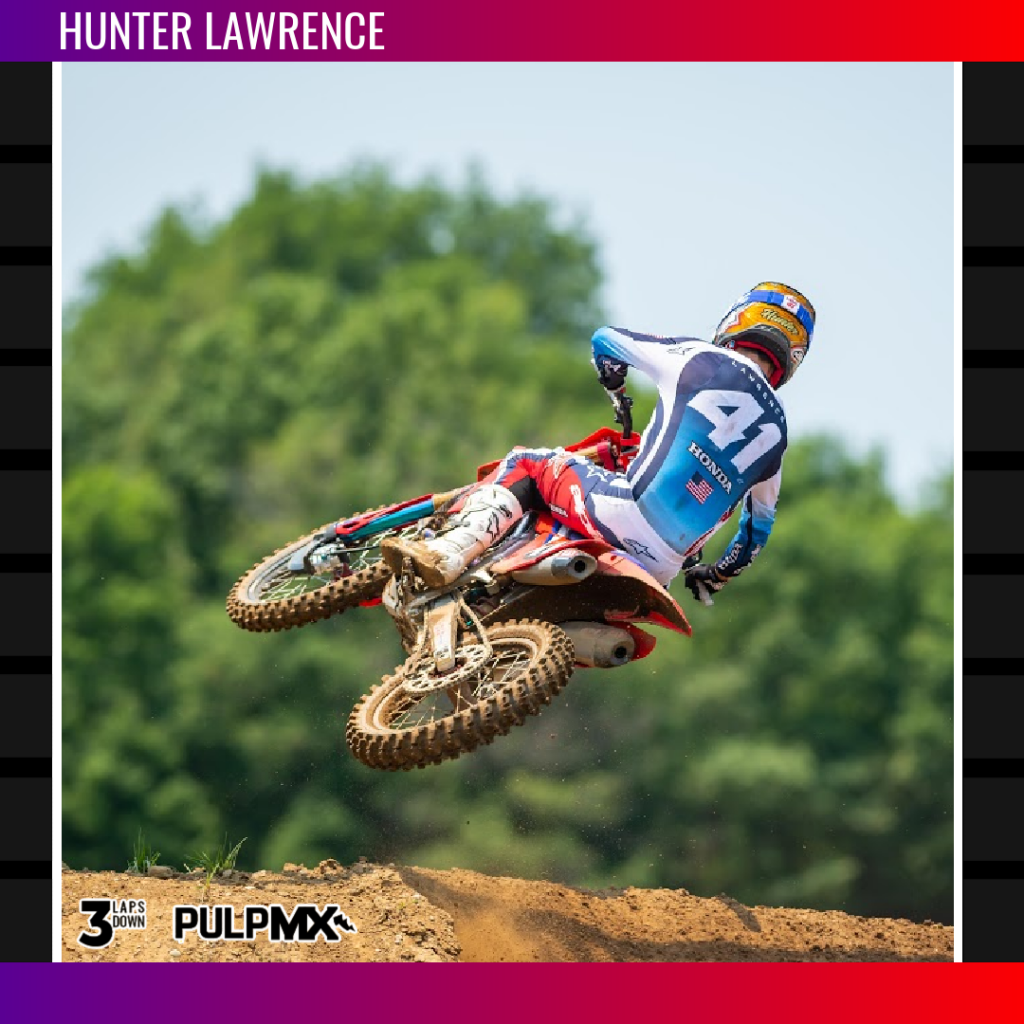 Jo Shimoda (2nd Overall, 3-4). Jo had much better starts today, averaging 4th vs 14th in the previous 8 motos, so it's not surprising that he got his first career overall podium.
Justin Cooper (3rd Overall, 6-2). Similar to Jett Lawrence last week, Justin saved his season in the first moto when he rounded the first lap in 22nd position and worked his way up to 6th. Great charge through the pack to salvage points.
RJ Hampshire (4th Overall, 2-6). What could've been if RJ hadn't crashed, crashed, crashed, and crashed again. By my count, that's a crash in 6 of 10 motos this season. He's also led 5 motos and not won a single one of them. RJ's potentially leading this championship with a few of those mistakes cleaned up and one chain staying together.
Colt Nichols (5th Overall, 4-5). After a poor weekend at Red Bud, Colt returned to form with 2 more Top 5 finishes. That's 5 Top 5 moto finishes on the season.
Jett Lawrence (6th Overall, 9-3). It's been a rough go the past two weekends for Jett with his worst moto finishes, 6th and 9th, but he's still got a 3 point lead in the championship.
Michael Mosiman (7th Overall, 7-7). By my count, Michael 'moved over' on Hunter Lawrence 5 times in that first moto. I wondered if we may hear about it from Hunter on the podium but Hunter focused on the win instead. Michael doubled his career laps led (9) in the first moto on a day that was good but could've been great without a couple crashes.
Stilez Robertson (8th Overall, 8-8). Stilez has finished 8th in each of the last 3 motos, the best moto finishes of his career. He came into the season with limited riding time due to an injury and he's building momentum with better and better results. #brightfuture
Jalek Swoll (9th Overall, 5-17). A holeshot in moto 1 got the day started off on the right foot, but a crash on lap 3 in the second moto ended it poorly.
Pierce Brown (10th Overall, 13-10). These are good moto scores considering his fastest lap times ranked 19th and 14th.
250 OUTLIER STATS
Jeremy Martin (13th Overall, 11-14). Crashes in both motos made for a tough day at The Wick. Interesting that J-Mart's only won 1 moto at The Wick in 8 attempts. I would've expected more.
Austin Forkner (17th Overall, 14-25). Austin was the fastest rider in moto 1, but that doesn't do you much good when you set it in 38th position on the first lap. He did make 16 passes in 1 lap though!
Luke Renzland's Husqvarna TC125 (40th Overall, 23-DNS). Surviving The Wick is one thing, a 125cc bike surviving is another. Luke had an impressive first moto but we didn't see him out there in moto two.
Got stats questions or want to bench race, hit me up @3lapsdown on Twitter or Instagram.