10 rounds down and 2 to go. Wait – it may be 1 round to go in the 450's. With his 1-2 for 2nd overall finish, Dylan Ferrandis now has a 50 point lead. If he ties or beats Ken Roczen at Fox Raceway next weekend, Dylan Ferrandis will be your 2021 450 Pro Motocross champion [note he was my sleeper pick for the championship].
In the 250's, Jett Lawrence is the third rider this season to win both motos for the overall win. He now has an 11 point lead over Justin Cooper. The biggest concern for Justin Cooper has to be momentum. Over the last 3 rounds, Jett's averaging a 1.5 moto finish with 2 overall wins while Justin is averaging 3.0.
Let's take a look at the stats for the Top 10 riders in each class. There's some great ones in here this week!
450 KEY RIDER STATS

Eli Tomac (2-1, 1st overall). Eli grabbed his 1st overall win of the season. It was his 38th overall win (combined classes) which breaks a tie with Bob Hannah for 4th on the all-time list. It's also his 75th moto win (combined classes) which breaks a tie with Broc Glover for 4th on the all-time list. The only riders with more overall and moto wins – Ricky Carmichael, James Stewart, and Ryan Dungey.
Dylan Ferrandis (2-1, 2nd overall). Dylan hasn't finished outside the Top 5 in anything. Qualifying overall, moto, or overall. If you wanted to get technical, he's been outside the Top 5 in six of the first qualifying sessions.
Cooper Webb (4-3, 3rd overall). Cooper was back on the podium for the first time since round 8 of 2019! Maybe more interesting is that it's only his 2nd ever podium in 450 pro motocross.
Ken Roczen (3-5, 4th overall). Kenny's likely going to finish 2nd in the championship for the 3rd time in his career (4th including 250's). Likely bittersweet for a competitor like Kenny, but impressive that he's averaged 2nd in pro motocross championships!
Chase Sexton (5-4, 5th overall). Chase has improved his results significantly in the last 5 rounds, averaging 4th vs. 6th in the first 5 rounds. He's also been fastest in 2 motos during the last 5 rounds. His confidence should be great heading into the offseason.
Coty Schock (8-6, 6th overall). Coty has almost doubled his points scored (83) in the last 5 rounds vs. the 1st 5 rounds (47). A 6th in moto two is a career best and impressive for a privateer.
Joey Savatgy (7-8, 7th overall). Joey Savatgy got his 5th career holeshot and 1st since his rookie season in 2019.
Justin Bogle (10-7, 8th overall). A season best finish for Justin Bogle, it's only the 2nd time he's finished inside the Top 10. This is momentum he can build on.
Brandon Hartranft (9-9, 9th overall). Almost an identical season to Bogle, this is Hartranft's 2nd Top 10 finish of the season. It's also the first 2 moto Top 10 finishes of his career.
Kyle Chisholm (11-10, 10th overall). Chiz finished inside the Top 10 for the 17th time in 450 Pro Motocross and first time since 2018.
250 KEY RIDER STATS
Jett Lawrence (1-1, 1st overall). Jett's led laps in 6 motos and won all 6 of those motos (see Justin Cooper below). At 18 years old, the kid has the poise of a veteran. When he gets a bad start, he charges to the front. When he's in the lead, he keeps it.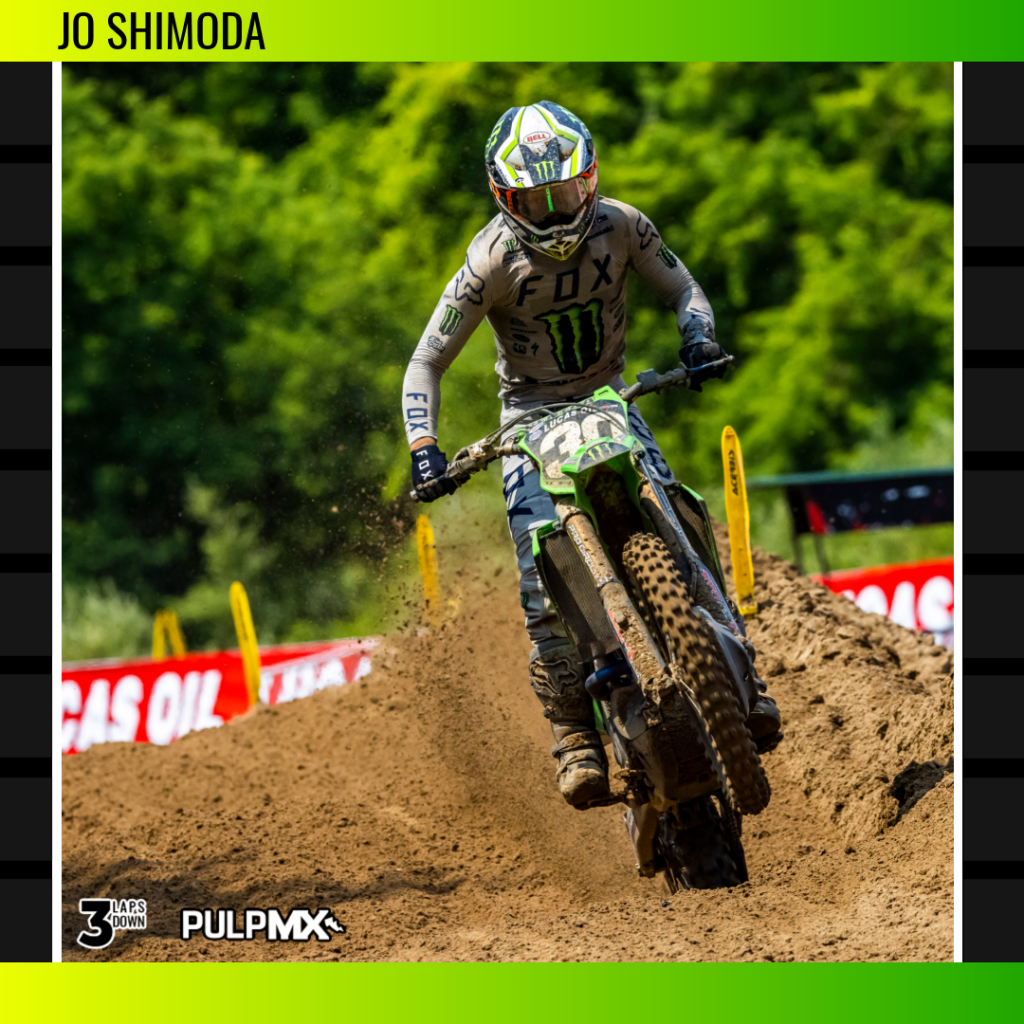 Jo Shimoda (2-3, 2nd overall). Jo got his first pro motocross holeshot and led his first lap. He's averaged a first lap position of 14th this season – it goes to show you what he can do when he gets a start.
Justin Cooper (4-4, 3rd overall). Justin's led laps in 14 of 20 motos but only won 5 of them. He's lost positions in 11 motos, the 3rd most behind Max Vohland and Ty Masterpool. If he's to win this championship, he needs to maintain position.
Michael Mosiman (3-6, 4th overall). In his first race back from a practice injury, Mosiman puts it into the Top 5 for the 2nd time this season.
Austin Forkner (5-5, 5th overall). As Austin has mentioned many times on social media, he'd get better as the season wore on. That's exactly what's happened. Austin's averaged 8th in the last 5 rounds, including two 5th overalls the last 2 weeks. He averaged 12th in the first 5 rounds of the season.
RJ Hampshire (13-2, 6th overall). RJ started the season strong setting fastest laps at 3 of the first 4 rounds of the season but hasn't had the same speed more recently. The charge through the pack in the 2nd moto for 2nd place was more of what we'd previously seen.
Ty Masterpool (6-7, 7th overall). Ty's season has steadily improved – he averaged 15th in the first half of the season and 12th in the second half. More importantly, he's finished in the Top 10 the last two weekends.
Carson Mumford (8-8, 8th overall). Carson's season has also steadily improved – he averaged 17th in the first half and has averaged 10th since. His two 8ths this weekend double his season Top 10 finish total.
Hunter Lawrence (12-9, 9th overall). For a rider with 2 moto wins on the season, it was weird to see Hunter finish outside the Top 10 in the first moto even with a first lap position of 21st.
Dilan Schwartz (9-13, 10th overall). Dilan has moved for +122 positions in 16 motos and lost -47 in another 4 motos. This week he added +33 position changes as he rounded the first lap in 23rd and 32nd. He's had a great season on that Suzuki RMZ250 with 6 Top 10 moto finishes.
Got stats questions or want to bench race, hit me up @3lapsdown on Twitter or Instagram.