Dylan Ferrandis is the 12th rider (it's been done 16 times) to stand on the podium every single round and win the 250/450F championship. He could've sat back and coasted at the final round, instead, he charged the entire second moto after a first turn tangle with a downed rider. That charge through the pack netted him his 6th overall win of the season and served notice that he will never quit.
Jett Lawrence added a bit of suspense to the last round of the year, but came through with his first career championship. Jett joins a short list of riders that won their first championship before or on their 18th year, including James Stewart, RV, RC, Marty Smith, Broc Glover, Tony DiStefano, Ron Lechien, and Travis Pastrana (anyone I'm missing?).
Let's take a look at the key season stat for each rider in the Top 20 of the championship standings…
TOP 20 450 RIDERS – KEY SEASON STAT

Dylan Ferrandis – 23 'Good' Motos. You could look at the 6 overall wins, 8 moto wins, or podiums in every race, but the fact that he gained positions in 23 of 24 races (only lost a single position in the moto he clinched the championship. #nobaddays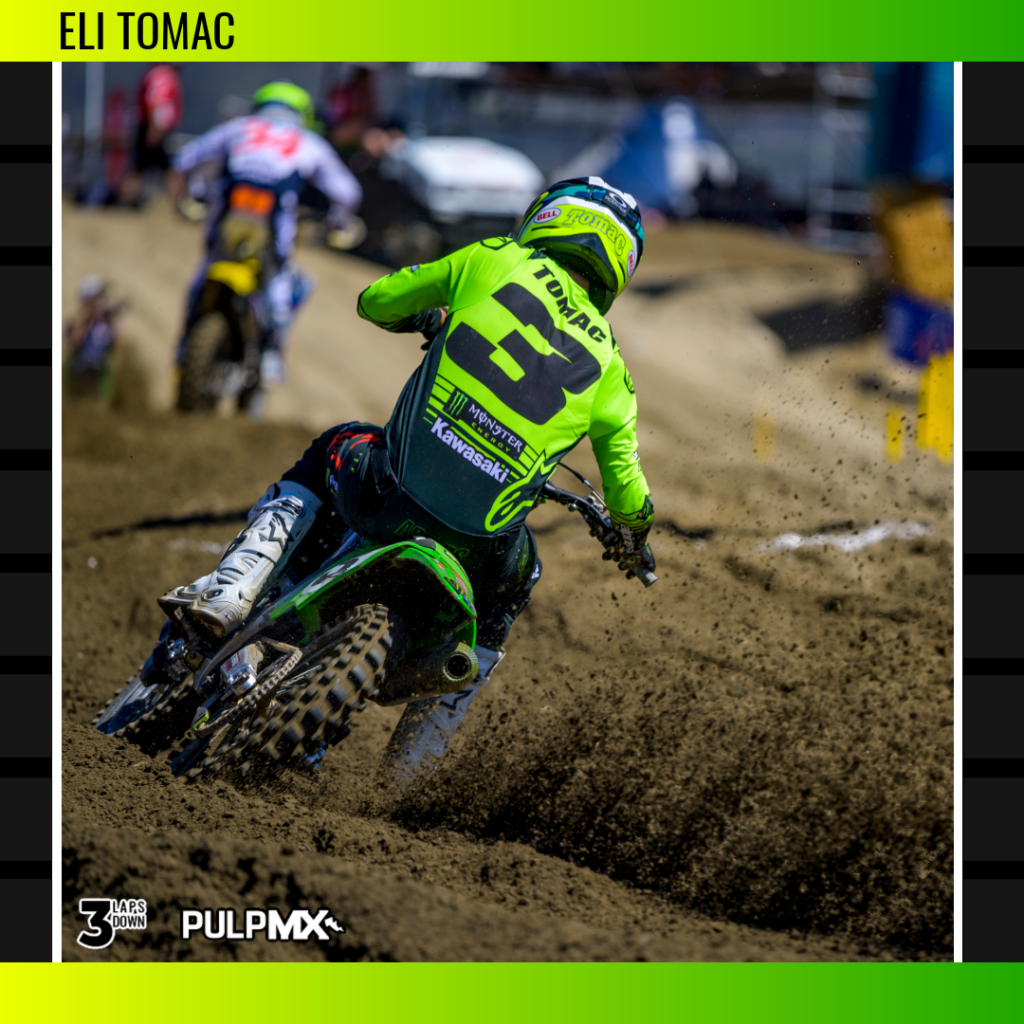 Eli Tomac – 27th Career 450F Overall Win. Eli Tomac tied Bob Hannah for 3rd all-time overall wins in the 250/450F class. It wasn't his best season outdoors, but he has secured legend status in the record books for sure.
Ken Roczen – 144 laps led. He led 38% of the laps, the most of anyone. He's actually led the most laps in 4 of the last 5 series he's entered over the last 3 years. Unfortunately, he's not won any of the championships during this time.
Cooper Webb – 17 'Bad' Motos. This one was tough given he turned around his season by finishing with 3 overall podiums in the last 3 races. Unfortunately, he started the season losing positions in 15 of 18 motos. For a rider of his caliber who had the 2nd best 1st lap position of all riders (3.8) we've come to expect he'd win motos and overalls.
Chase Sexton – 1 Overall Win. Chase won the Washougal overall and added a second career win in the 450's this season.
Christian Craig – 7 Moto Top 5's. Going into the season, Christian had 7 Top 5 moto finishes. He's not got 14 career Top 5 moto finishes. Christian consistently put a third Star Racing Yamaha in the Top 10 all season.
Marvin Musquin –  1 Overall Podium. While he didn't get a moto win for the first time in 5 years, Marvin did get another overall podium. He's now gotten an overall podium in every single season outdoor season he's raced going back to 2011.
Joey Savatgy – 1 Holeshot. His 5th career holeshot in the 450's, but more importantly, it was a signal of confidence before he got slowed and sidelined in the last two rounds.
Justin Barcia – 1 Overall Win. Justin got his fourth overall win in the 450's and his first since the 2018 season at Round 6 in Spring Creek.
Aaron Plessinger – 2 Motos w/Laps Led. Aaron led laps in a 450 moto for the first time this year. He also got his first two overall podiums in the 450's. A breakout season in his sophomore season that's likely earned him a ride with Red Bull KTM.
Max Anstie – 4 Top 10 Overall's. While some will point out there were a lot of injuries, Max finished the season with 4 Top 10 overall finishes, including 2 Top 5 moto finishes.
Brandon Hartranft – 1 Top 5 Overall. In his rookie 450 season, he goes out strong in the last round with a 5th overall. He also had 7 Top 10 finishes and improved throughout the season.
Justin Bogle – 82 Net Position Changes. The 82 net passes ranked Justin 5th in the 450's. That's 16 motos where he made 111 passes and 8 motos where he lost -29 positions. An average of 18th place on the first lap gave him a lot of passing opportunities. But is there anyone with more style!?
Coty Schock – 4 Top 10 Overalls. Prior to this season, Coty had 1 Top 10 Overall. Adding another 4 to the career tally counts for a breakout season.
Adam Cianciarulo – Fastest 450 Rider 2x. Adam was the fastest rider on a 450 at both Fox Raceway 1 and Thunder Valley. He's got the speed but he also had 7 motos where he lost positions due mostly to wrist and arm pump issues.
Dean Wilson – 17 Motos. The likable scotsman spent the season fighting Epstein Barr virus and ultimately had to drop out of the series, finishing 17 motos.
Justin Rodbell – 18th Average Overall. In his rookie season, Justin finished inside the Top 20 in 8 of 12 rounds and just missed Top 10 in the final two rounds.
Ryan Surratt – 7th Overall at Hangtown. Ryan put in some strong late season performances, capped by an 8-8 for 7th overall at the final round.
Freddie Noren – 10th Overall at Fox Raceway 2. Fast Freddie had an up and down season but secured a 10th overall at the second to last round at Fox Raceway.
Ben LaMay – -18 Net Position Changes. Ben had did a LOT of passing even though the next position changes is relatively low. He had 15 motos where he passed 82 riders and then he had 9 motos where he was passed 100 times mostly due to 4 DNF's.
TOP 20 250 RIDERS – KEY SEASON STAT
Jett Lawrence – 24 'Good' Motos. Jett didn't lose a single position between the first and last lap all season long. He had some errors before the end of the first lap that cost him, but he recovered and gained 103 positions for a perfect season with #nobaddays
Justin Cooper – 11 'Bad' Motos. Similar to Cooper Webb in the 450's, Justin led the series in holeshots but wasn't able to hold his position. He had 11 motos where he lost 24 positions and in the other 13 motos he gained 23 positions. Those 24 lost positions cost him 59 points and the championship.
Hunter Lawrence – 1st Career Overall Win. Hunter finished the season 3rd in the standings and his 1-1 performance in Southwick was definitely the highlight. Oddly, he only had 2 moto podiums after Southwick.
RJ Hampshire – 1 Overall Win. RJ was fast – he was fastest in 4 motos and fastest overall 250 rider once, and led laps in 5 different motos. Interestingly, he scored his only overall win by going 2-2 and didn't have any moto wins all season.
Jo Shimoda – 5 Moto Podiums. Jo led laps in a pro motocross race for the first time this year, but more importantly, he finished the season with 4 moto podiums in 6 attempts. He got better as the season went on and will be a contender in 2022 supercross and motocross.
Jeremy Martin – 20th 125/250F Overall Win. Jeremy got 3 overall wins this season, passing Ryan Villopoto (19 overall wins) and is now tied with Steve Lamson at 4th on the all-time list. Mark Barnett is next on the list with 25 wins.
Austin Forkner – 1 Fastest Overall Lap. After crashing on the first lap of the first moto in Southwick, Austin set the fastest lap of the day while passing 15 riders!
Michael Mosiman – 2 Overall Podiums. Mosiman has been fast, but just hasn't gotten on the top step of the podium, yet. With 4 moto podiums and 2 more overall podiums, Michael is positioned to be a title contender in 2022.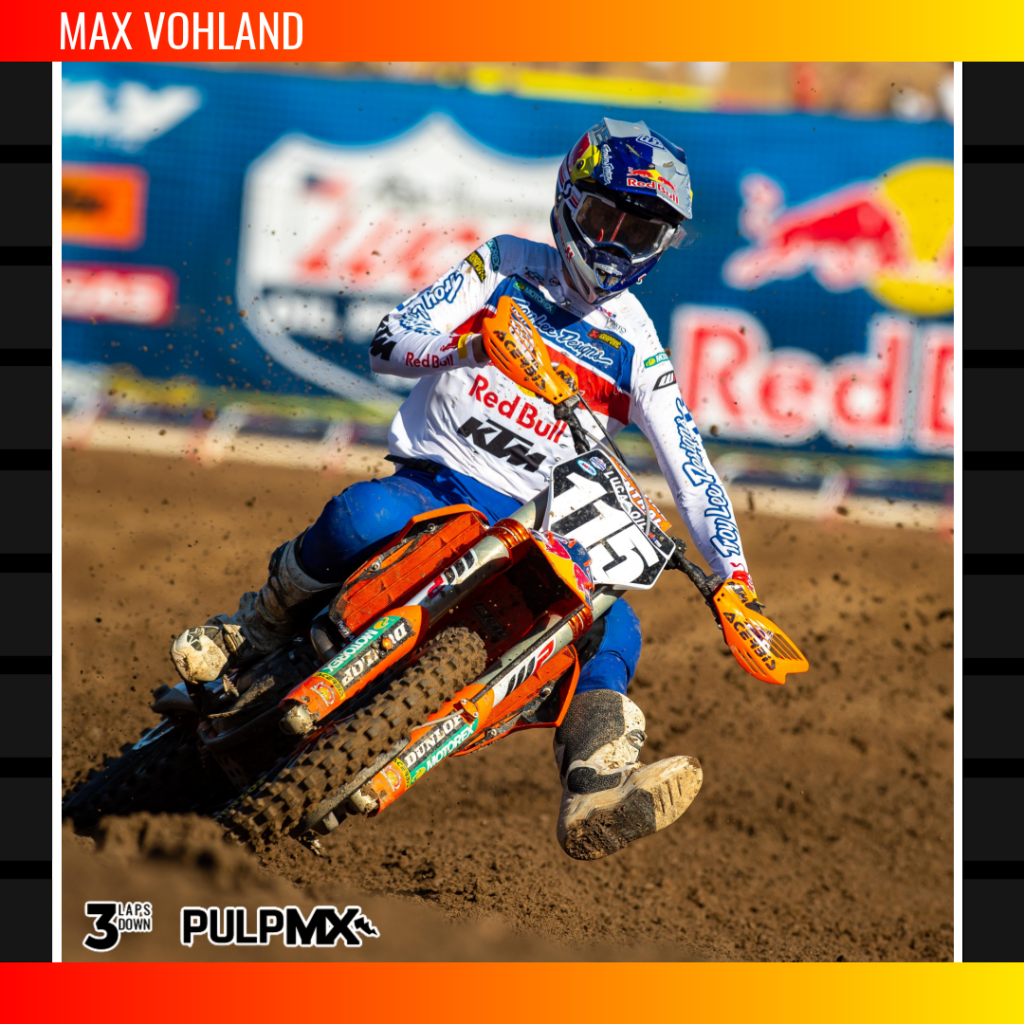 Max Vohland – 8 Laps Led
. In his first pro motocross race, Max led 8 laps before his bike broke and he DNF'd. While he didn't lead any other laps all season, he battled for moto podiums and top 5's throughout the series.
Dilan Schwartz – 7 Top 10 Overalls. Dilan had a breakout rookie season and was consistently working his way into the Top 10. Arguably his biggest challenge is to improve his starts – he averaged 16th on the first lap, 3 positions worse than the rest of the Top 10 in the standings.
Jalek Swoll – 1 Overall Win. Jalek got his first moto and overall win at Round 3 in High Point. It was an impressive outing. Unfortunately, Jalek didn't get another podium all season and his season ended early after a qualifying crash at the 9th round at Ironman Raceway.
Jarrett Frye – 1 Top 10 Overall. Given the intensity under the Star Racing Yamaha awning, I imagine it was a long season for Jarrett who scored his only Top 10 overall at Unadilla.
Carson Mumford – 94 Net Position Changes. Carson had a career day at Ironman (8-8 for 8th overall), but the key stat is 17 'good' motos with 127 passes and 7 'bad' motos with -33 lost positions. With a 26th ranked first lap position of 18th, Carson needs to clean up his starts and put himself in a better position to race in the Top 10.
Colt Nichols – 14 Motos. Unfortunately for Colt, he had another season cut short by injury. He did get a moto podium at Round 3 in High Point.
Ty Masterpool – 7 Top 10 Motos. Ty finished the season strong with 5 of his 7 Top 10 moto finishes coming in the final 4 rounds. It helps that he also started inside the Top 10 in 5 of those last 8 motos.
Garrett Marchbanks – 18 Motos. Garrett had a tough pro motocross series. It started out strong with 7th and 6th overall, but then went downhill due to Addison's Disease.
Josh Varize – 1 Lap Led. Josh got picked up to ride the Factory Husqvarna the last 2 rounds of the series and made the most of it. In the final moto of the year, he pulled the holeshot and led the first lap.
Pierce Brown – 1 Top 5 Overall. Pierce's season was cut short due to injury, but he got his first career Top 5 overall at Round 7 in Washougal.
Levi Kitchen – Average 12th Place Overall. Levi joined the series full-time at Round 8 in Unadilla and averaged 12th overall. Had he competed in the entire series, that would've put him 10th in the points standings just ahead of Dilan Schwartz.
Stilez Robertson – 9th First Lap Position. Stilez had the 6th best first lap position at 9th and it's also notable that he qualified 2nd at Southwick. Sounds like Stilez is working through some health issues and he missed the last 3 rounds.
It's been fun bringing you stats each week throughout the 2021 season. If you like them, be sure to let Steve know so you get them again in 2022.
And as always, if you've got stats questions or want to bench race, hit me up @3lapsdown on Twitter or Instagram.