ALL-TIME RIVALRIES: Wardy vs. RJ
Who was better – Jeff Ward or Rick Johnson? Anyone that grew up watching or racing moto in the 1980's remembers epic battles for many years. And for one reason or another, you were likely in one camp or the other. It was rare to find someone that liked both Wardy and RJ. If you were a Kawasaki fan, you probably like Wardy. If you were a Honda fan, you probably liked RJ. Regardless of why, it's rare to find someone that was a fan of both riders.
So the question is, who was better – Jeff Ward or Rick Johnson?
Disclaimer: I grew up a Wardy fan. Likely the result of my uncle owning a Kawasaki dealership and my brother and I riding Kawasaki our entire youth. I was a Kawasaki fan and that meant I was a fan of Wardy. RJ was obviously talented but being a Kawasaki and Wardy fan meant I thought RJ was too much.
Matthes disclaimer: I grew up an RJ fan, he was just the coolest starting, for me, in 1986 when he got on a Honda. I got an '87 CR80 and I was ALL IN on RJ. He was great on and off the bike and flashy. Wardy was just a bulldog and didn't seem to have as much flash as Rick. But like Clinton says, you couldn't like them both, had to be one or the other.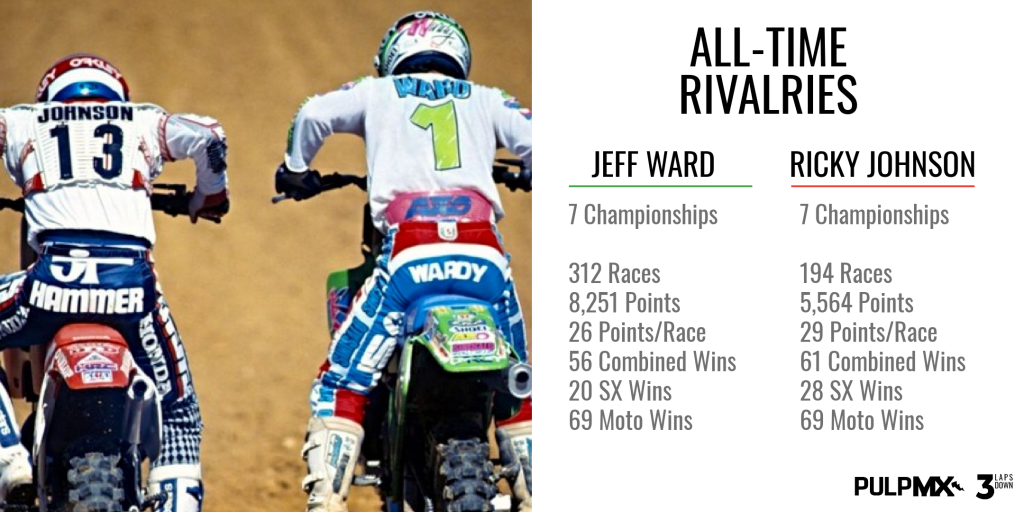 Wardy raced for 15 seasons (1978-92) and RJ for 11 seasons (1981-91). As a result, Wardy has the advantage in some key stats like points and races. But it's not just the key stats that made this such a rivalry, it's the head-to-head battles these two greats had for almost the entire decade of the 1980's.
Let's start by taking a look at the key stats and then dive into the head-to-head battles…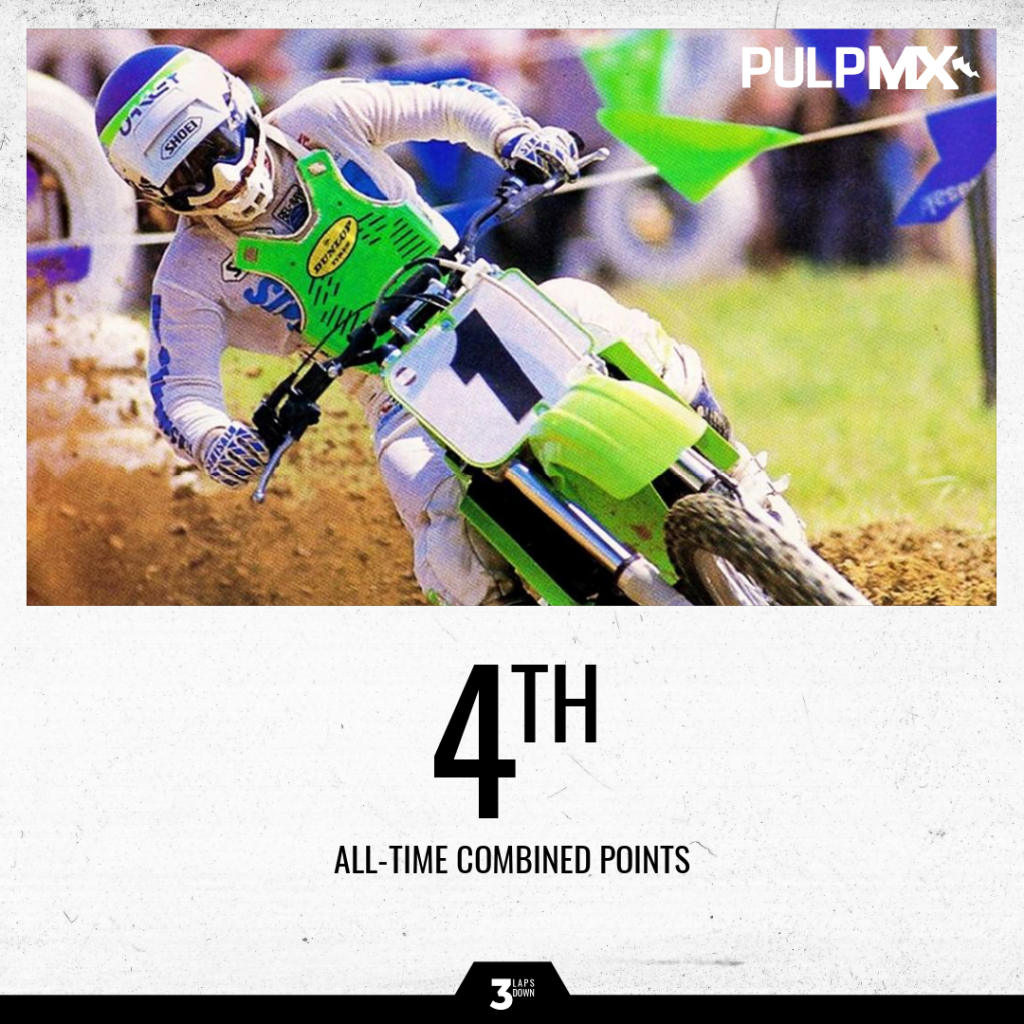 TOTAL POINTS
Wardy is ranked 4th overall in combined sx/mx points* with 8,251. Only Mike Larocco, Kevin Windham, and Ricky Carmichael have scored more points in their careers.  This is all-time legend status but RJ is no slouch with 5,564 points and ranked 21st. Regardless, Wardy has the advantage here. During an era where careers were relatively short, Wardy not only raced for a long time, he did so at the front of the pack.
*Excludes non-championship points races.
Matthes- I mean, RJ's career was cut short due to injury and Wardy stayed remarkably healthy although props to Jeff that even with broken ankles, broken foots, etc, he usually taped it up, froze it- whatever and rode it. Just not sure we can do total points as to who's better and Clinton knows this...
AVERAGE POINTS
Not to discount Wardy's combined sx/mx points ranking but comparing RJ and Wardy on total points isn't entirely fair. Wardy raced in 312 combined sx/mx races (ranked 9th all-time) vs. RJ's 194 races (ranked 63rd all-time). Looking at average/points per race is a better comparison and RJ has the advantage, 29 pts per race vs. Wardy's 26 pts per race. Further, he averaged more points per supercross main (18 vs. 16) and outdoor national overall (40 vs. 37).
Matthes- I was surprised these average points were that close to be honest. Thought RJ would be the clear winner…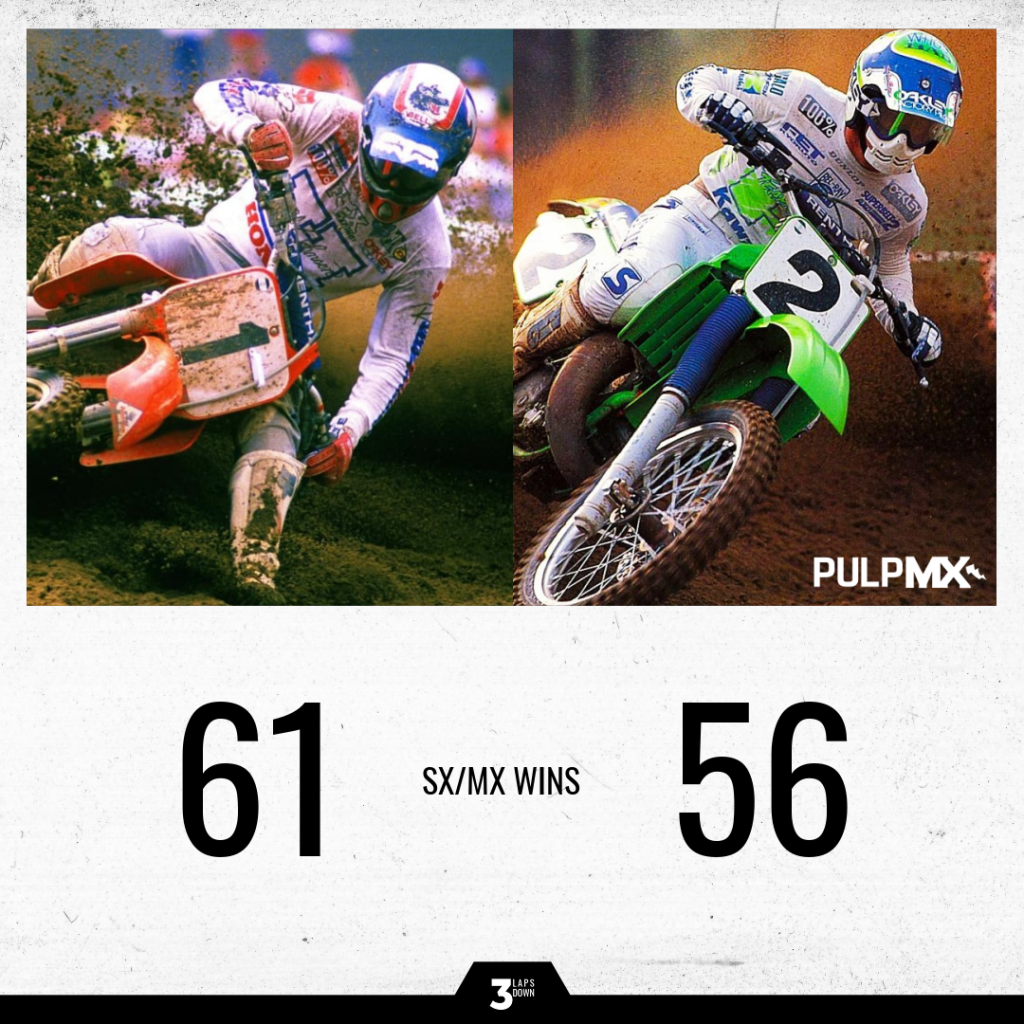 WINS
RJ has the advantage here with 61 total wins vs. Wardy's 56. That said, Wardy's got more overall mx wins, 36 and ranked 6th on the all-time wins list, versus RJ's 33 wins and ranked 8th all-time. But RJ has a more commanding lead in supercross wins. RJ's got 28 main event wins (ranked 10th all-time) and Wardy's got 20 main event wins (ranked 14th all-time).
If you think looking at moto wins will help settle the debate, think again. They both have 69 moto wins. That said, the RJ fans will note that Wardy has 20 moto wins in the 125's vs. RJ's 1. While it slightly pains me to admit it, RJ has the upper hand when it comes to wins.
Let's take a moment here to recognize that both of the guys are absolute legends. We're splitting hairs debating some of the greatest riders in moto history. Alas, it gets even more interesting when you look at almost decade long head-to-head battles.
Matthes- Well, each having 69 career moto wins is appropriate. 
HEAD-TO-HEAD
Let's start with the obvious comparison – they both have 7 championships. Wardy has 5 motocross championships (1984 125MX, 1985 and 1988 250MX, 1989-90 500MX ) and 2 supercross championships (1985 and 1987 250SX). RJ also has 5 motocross championships (1984, 1986-87 250MX, 1987-88 500MX) and 2 supercross championships (1986 and 1988 250SX).
From 1985 to 1988, they won every title chase they entered except for the 1986 500MX championship that David Bailey won. They dominated both motocross and supercross for 4 straight years, no wonder we remember the rivalry so well. The question still stands – who was better?
HEAD-TO-HEAD MX
Head to head in motocross is really interesting. Wardy beat RJ in 7 of 12 championships, but RJ raced a fraction of the races in 2 of those seasons due to injury. If you throw those 2 championships out, it's a head-to-head tie – each of them beat the other in 5 of 10 motocross championships.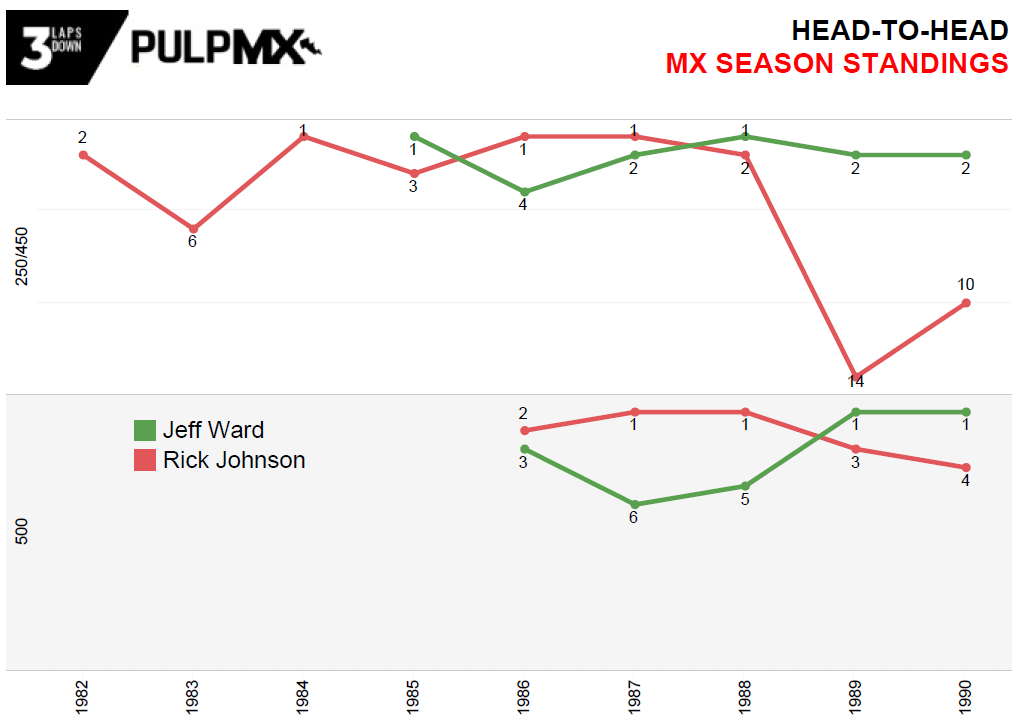 1981 – They raced each other for the first time in the 125's. Wardy finished 3rd overall and RJ 7th, his rookie season.
1985 – Wardy wins his first 250MX championship picking up 5 wins along the way. RJ finishes 3rd and grabs 2 wins.
1986 and 1987 – RJ dominates. He beats Wardy in all 4 series and he wins 3 of the 4 championships. He also won 16 races and landed on the podium in 22 of 23 rounds.
1988 – Split decision. Wardy wins the 250's and RJ wins the 500's.
1989 – Wardy dominates, kinda. Wardy wins the 500MX championship and finishes 2nd in the 250's, but RJ had broken his wrist and only raced 2 rounds of the 250's.
1990 – Wardy beats him in both series but the RJ fans will point out that RJ's wrist wasn't the same. Nonetheless, Wardy repeats as the 500MX champion and finishes 2nd in the 250's.
Tough to say who has the advantage here. RJ dominated 1986-87, but Wardy wins 3 of 6 championships from 1988-90.
Matthes- In my opinion, you can't take anything from Johnson post wrist injury early in '89 but hey, that's just me…
HEAD-TO-HEAD SX
The Wardy vs. RJ supercross rivalry was dominated by injuries. RJ had injuries in 5 of 10 seasons while Wardy had injuries in 3 of their 10 head-to-head seasons. They only competed against each other in one complete season. That was 1985 and Wardy took the title that year.
You could argue the key head-to-head stat for supercross is wins, but you have to give some weight to longevity and consistent wins/podiums across a longer career too.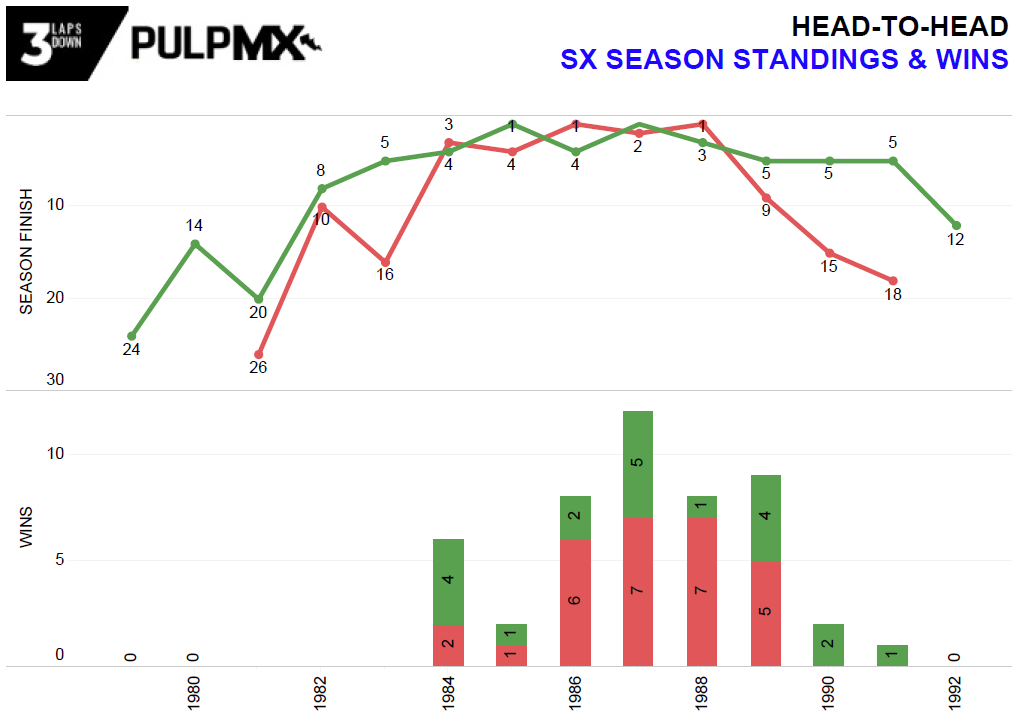 1981 – It's their first supercross season racing each other. Wardy raced 4 rounds and RJ 3 rounds. Not a great comparison.
1982 – Wardy finished the season 8th, ahead of RJ in 10th, but RJ missed one round. It's a toss up.
1983 – Wardy finished the season 5th, ahead of RJ in 6th, but RJ missed 6 rounds. Not a good comparison.
1984 – RJ finished the season 3rd and Wardy was 4th. Interestingly, RJ had 2 wins, 9 podiums, but missed 2 rounds. Wardy had 4 wins and 10 podiums. Maybe a slight advantage to RJ?
1985 – Wardy wins the championship. They each have one win. Interesting to note this is the least amount of wins to take the championship in supercross history.
1986 – RJ wins the championship after winning 6 rounds. Wardy finishes the series 4th after 2 wins but also missed 2 rounds.
1987 – Wardy wins the championship along with 5 wins, but RJ finished 2nd with 7 wins and 3 missed rounds.
1988 – RJ wins the championship along with 7 wins. Wardy finished the series 3rd after winning 1 round but missing 2 rounds to injury.
1989 – Wardy misses 6 rounds though wins 4 main events. RJ misses 9 rounds but won the first 5 main events of the year. The infamous wrist injury ultimately leads to a shortened RJ career.
1990 – The last year of their head-to-head battles, RJ only raced 5 rounds.
By my tally, Wardy has the advantage in a longer career, stayed competitive the entire time, and sits 4th in all-time combined mx/sx points. When you compare championships, they've both got 7 – that's a tie. Their motocross head-to-head battles is basically a tie with maybe a slight advantage to Wardy. Their head-to-head supercross battles is basically a tie with a slight advantage to RJ for wins (though injuries hindered his championship tally).
Based on a super sophisticated PulpMX + 3 Laps Down algorithm, it's very obvious that Wardy was better! 😉
Matthes- Whoa, whoa whoa Clinton! There's no doubt that Johnson was better, we can all see your stats. Peak RJ is faster than Peak Wardy, end of story. This argument will probably never be solved.