I actually stayed for a whole race! I sat up in the nosebleeds (press box) with Matthes, Weege as well as Jamie and viewed the Minneapolis round of the Monster Energy AMA Supercross Series in freezing ass Minnesota! It was actually coincidence that it was an actual day race and not a night race, but that seemed to suit me just fine! There is a routine to Steve's race day and I just try to follow along like a little lost puppy dog, but we can hash that out on Monday's Pulp Show. However, I did get to talk/see a lot of riders so there is some merit to staying for this whole damn race thing. I will give Matthes that. Here are a few things I took away from Minneapolis.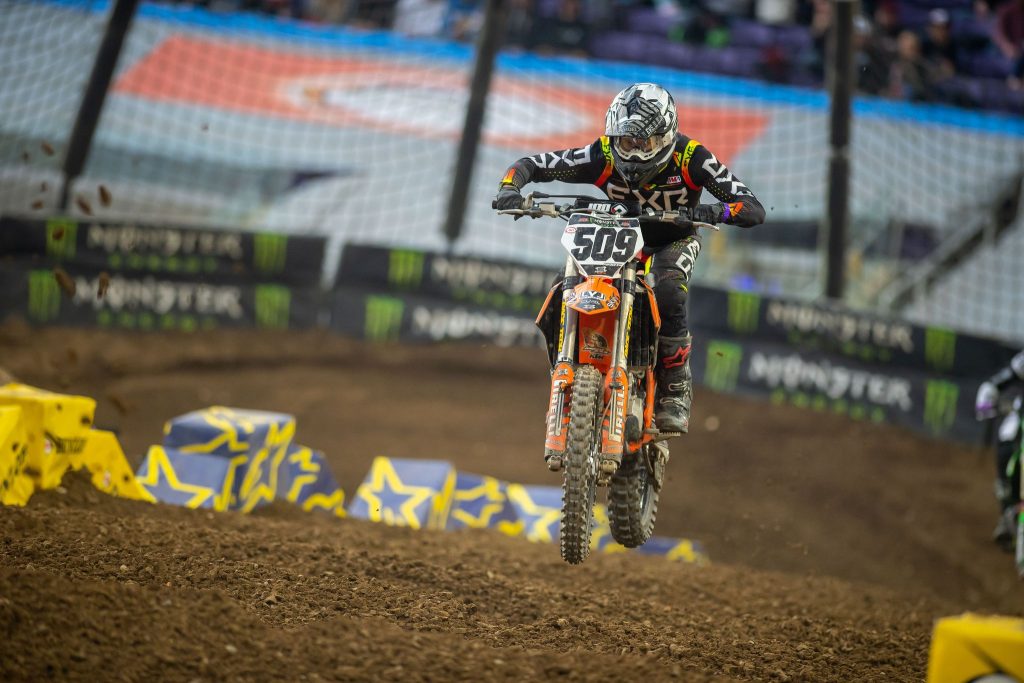 450 B Practice: I just want to really give a shout out to the B practice riders as these guys have it rough. I mean the track literally looks like a bomb went off and these "B" dudes are trying to lay down some times. The Minneapolis track wasn't quite as bad as some of the other tracks we have been to but these riders are getting zero help from the track crew. The bowl turns are hacked, the transitions to the jumps are sketch and the whoops are cupped out like a mutha!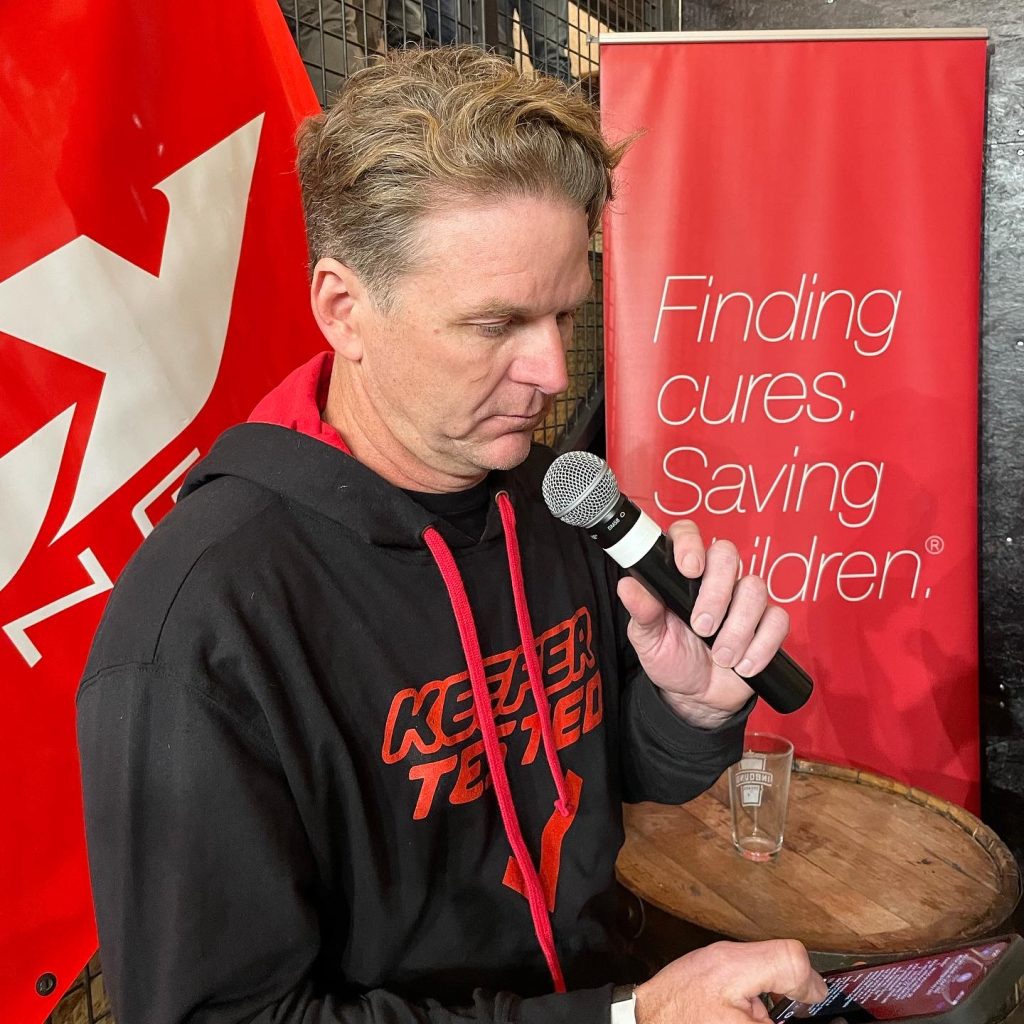 The Pony: Jamie Guida (formerly known as Darkside) got his pony cut off Friday night at the Pulp MX Live Show (oh and also gained a new YZ250). The outcome of the haircut has already done wonders as many people were complimenting Mr.Guida on the new hairdo Saturday in the pits. The new metrosexual cut really does make Jamie look 10 years younger and way more approachable than ever before! Welcome to your new life Jamie!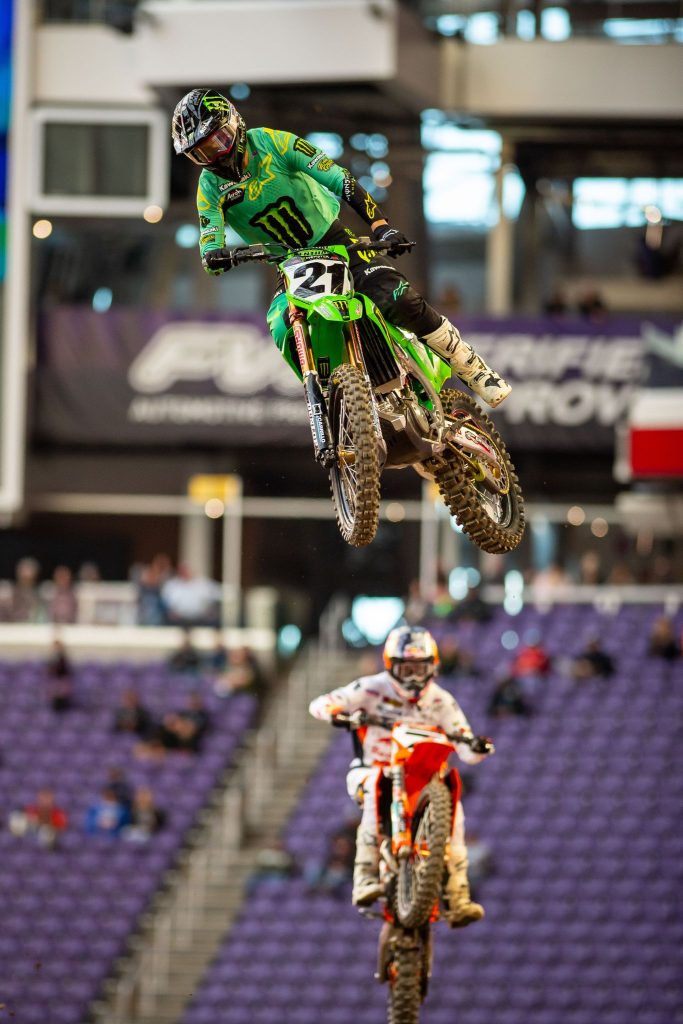 Jason Anderson: JA lucked into this win because of Gisele's (AKA Chase Sexton) mishap once again but now Mr.Anderson is only three points out of the lead heading into Dallas. Anderson looked to be settled in for second place as his whoop speed wasn't quite as good Sexton's, but he held it together long enough to get the dub in the last two laps! Damn it Gisele, your style is soooooo sexy, until it's not.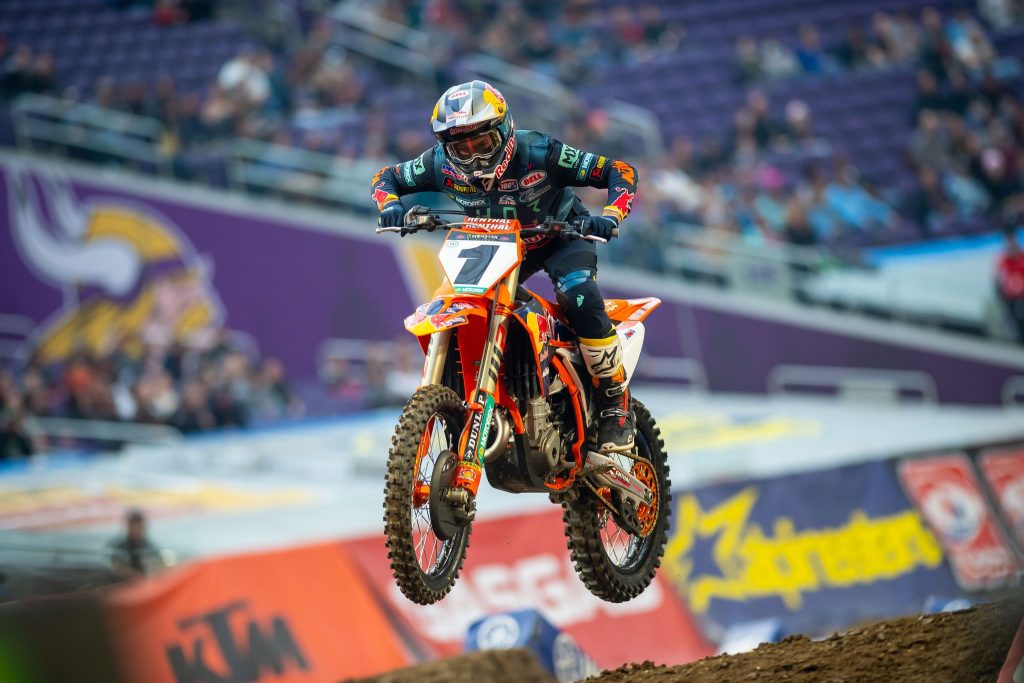 Cooper Webb: Is this the beginning of a string of podium finishes now for Webb? I was speaking to someone on the inside of Webb's camp and they tell me that Coop was at the test track until dark on a couple of occasions last week. He also has claimed that it is not all the bike and that he has to clean up a few things in order to be more of a consistent front runner. I also heard that Michael Byrne is no longer with Webb so that is pretty big news as well. Lots of changes this past week for Webb, but so far it looks to be trending in the right direction. He looked looser on the bike and to me the fitness wasn't an issue late in the moto.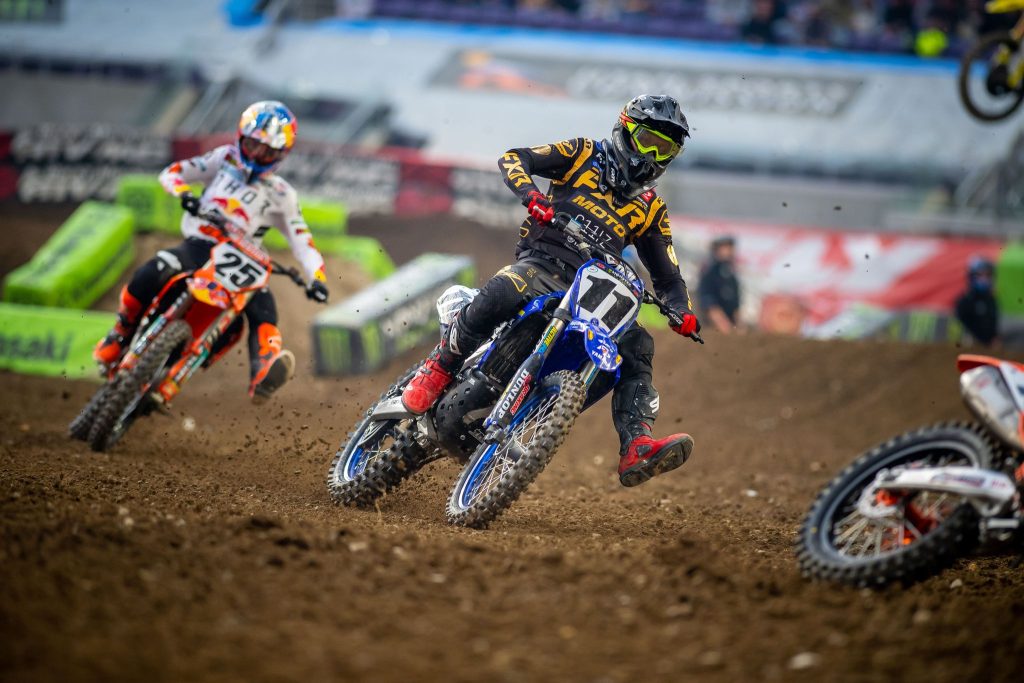 Kyle Chisholm: Kyle literally will not test anything during the week. He rides twice during the week but is more focused on just logging laps which is understandable. However, he literally is riding a stock Yamaha YZ450F, down to the footpegs and ECU mapping. I have offered a few things for him to try but we will see if he takes me up on it, down the road. Maybe I shouldn't offer him up any parts for his bike because he seems to be doing just fine. Chiz qualified straight out of the heat and into the main, which is a pretty remarkable feat considering how stacked the class is this year. There are a lot of privateers that are pissed off that he seems to do it with ease and to me he looked to be riding the best he has been in a while. Hopefully we can get him some offset pegs to help his rider triangle a little soon though. Up to you Chiz!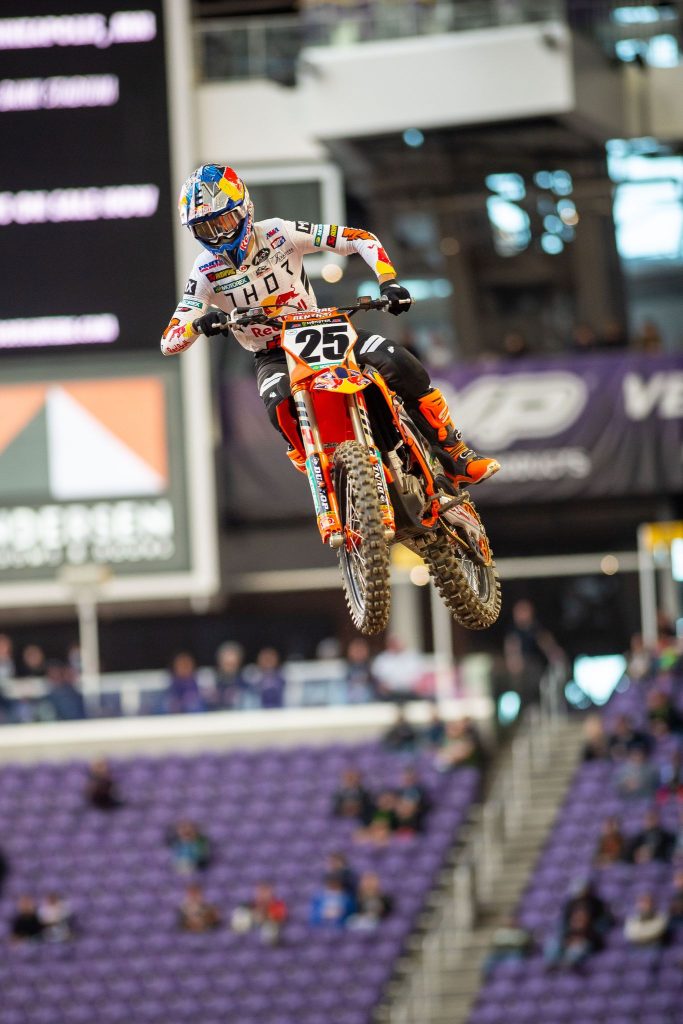 Marvin Musquin: Vuillemin had Marv was out at an outdoor track this week in Southern California to work on ruts and intensity. It looked like it played a roll in his results Saturday. Marv was more aggressive, rolled his corners better and almost had Webb at one point. A little mishap in the rhythm lane pushed him back a little, but having two KTMs on the podium has got to feel good. Look for Marvin to be good when the track is soft and when the whoops are jumpable.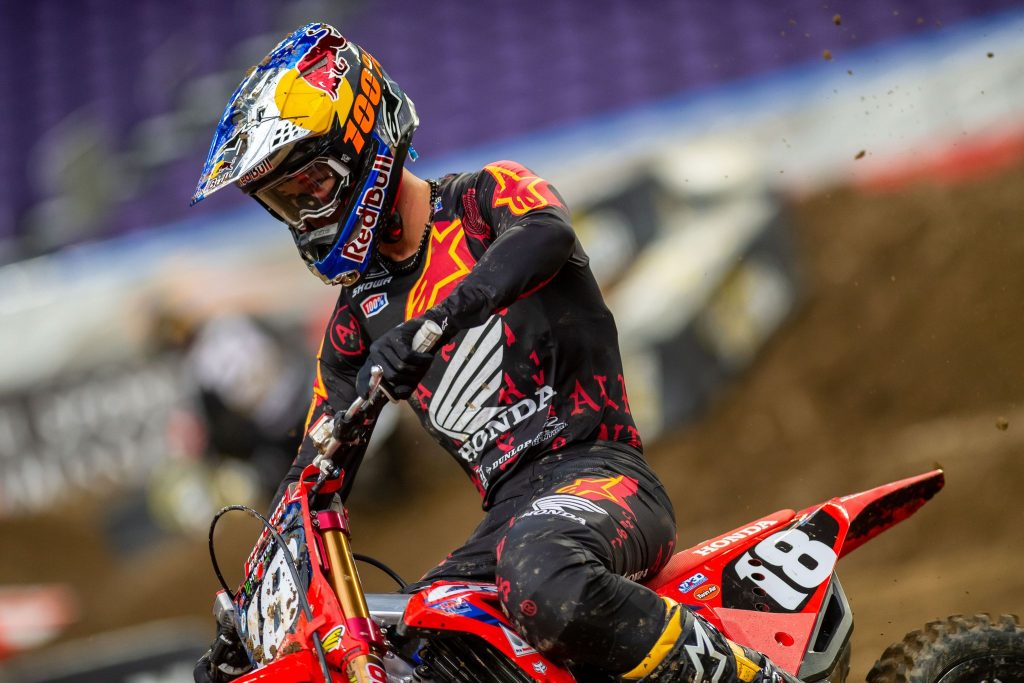 Jett Lawrence: The Jett was good in the short whoop section before the triple and that is where he would make up/hold his time/gap on Forkner. His bike setting looked to be the most set up for the whoops as it stayed flatter across the tops better than any other bike, or maybe that was just "The Jett" being better than everyone else in them. Even though I know the media gives this kid a ton of love and sometimes maybe too much at times, he is a super fun rider to watch ride regardless if he wins or loses. I do think there are four other riders who can challenge him in the championship, it will take those riders to get some great starts in the main to hold off number 18.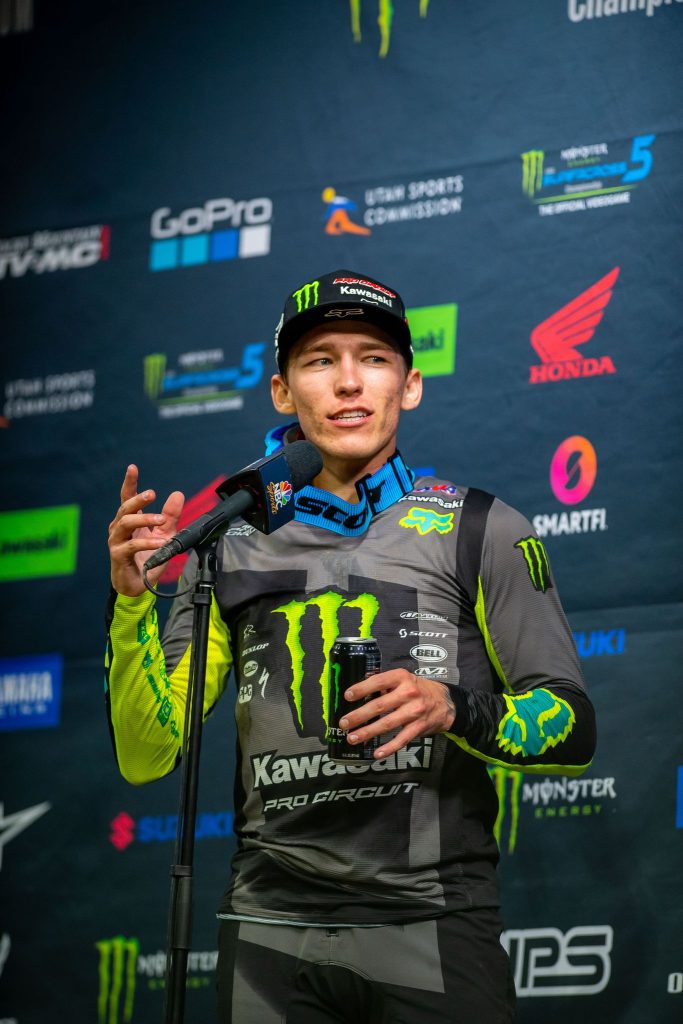 Austin Forkner: Austin has had a rough go the past couple years, but he looked like a man on a mission during qualifying. There was a better blend of aggression and smoothness that we haven't seen from Austin in I would say, ever! He actually closed the gap up on Jett a couple times but just couldn't find that extra gear to make the move. The Pro Circuit KX250 looks much better than last year's bike in the whoops and from what the riders have told me, the whole bike is much more planted feeling than in the past.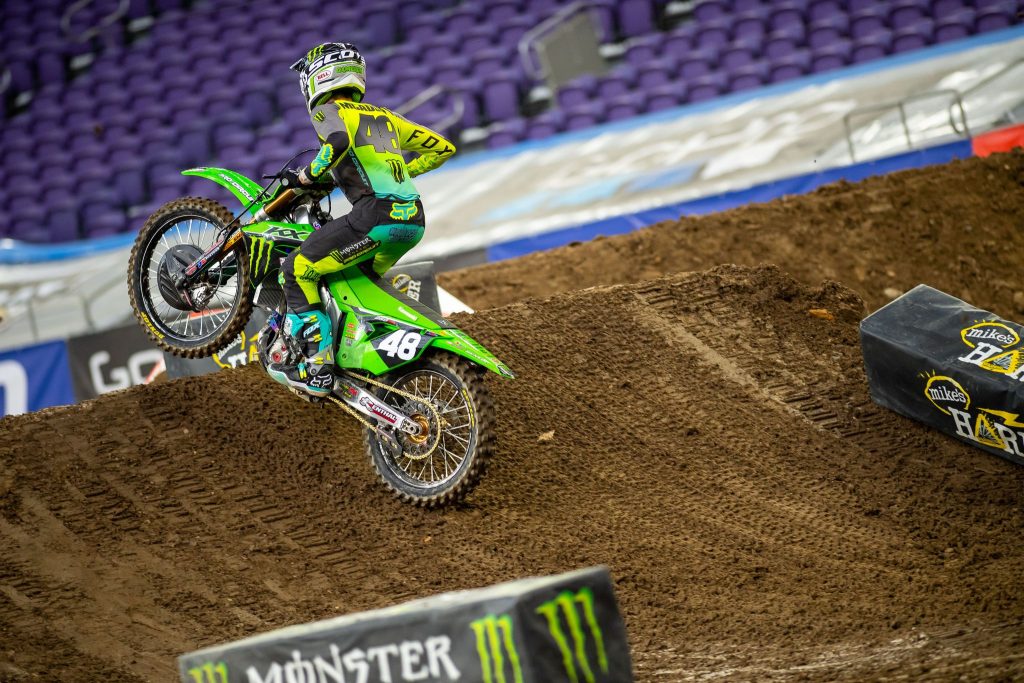 Cameron Mcadoo: I honestly thought Mcadoo would fade a little in the main, but he proved me wrong by sticking with Austin until the checkers. A pre season crash set him back a few weeks and I know he only has maybe a solid few weeks of riding Supercross before Minneapolis. When you see J Mart breathing down his neck the whole race it can be tough to bet against the veteran rider but Mac hung in and got himself a podium which I know a lot of people may not have put him on at the first round.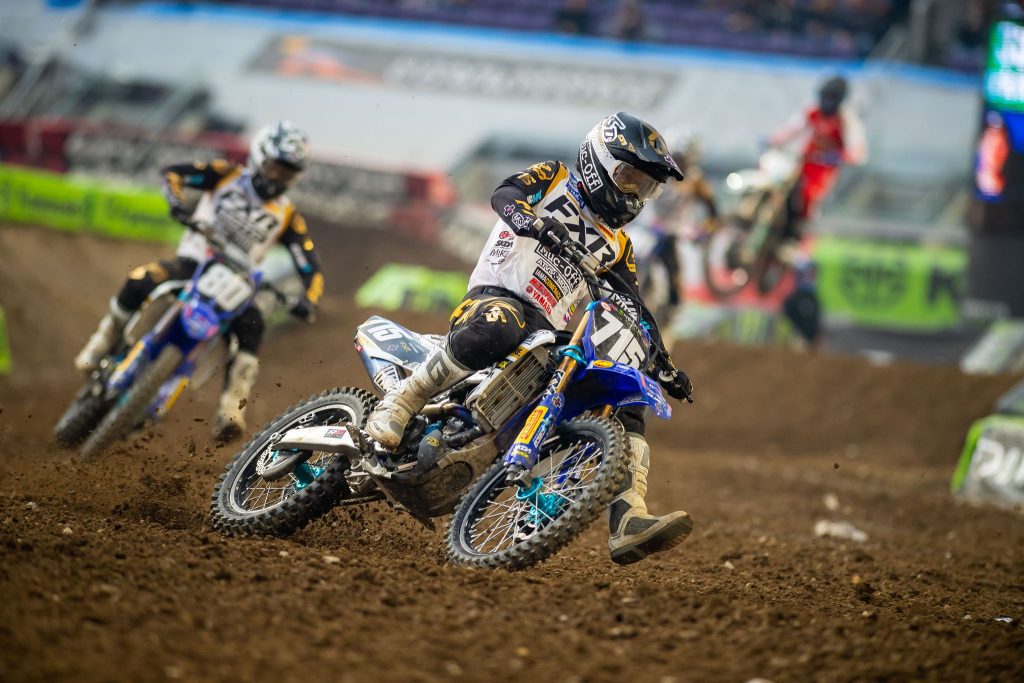 Phil Nicoletti: Oh boy… Good ol' Phil is back and with some drama with Forkner in his heat race we all sat up in the press box and began to relish in what the season holds for us! Deathcross is back and Phil narrowly escaped getting landed on by Forkner when the two had opposite rhythms going. Phil actually told Forkner after the race that he knows Forkner is faster but he needs to be smarter if he plans on chasing the championship. It was cool to see Forkner take ownership of his mistake and told Phil that it was his fault. That is the easiest way to defuse any slit throat gestures by Phil in the future!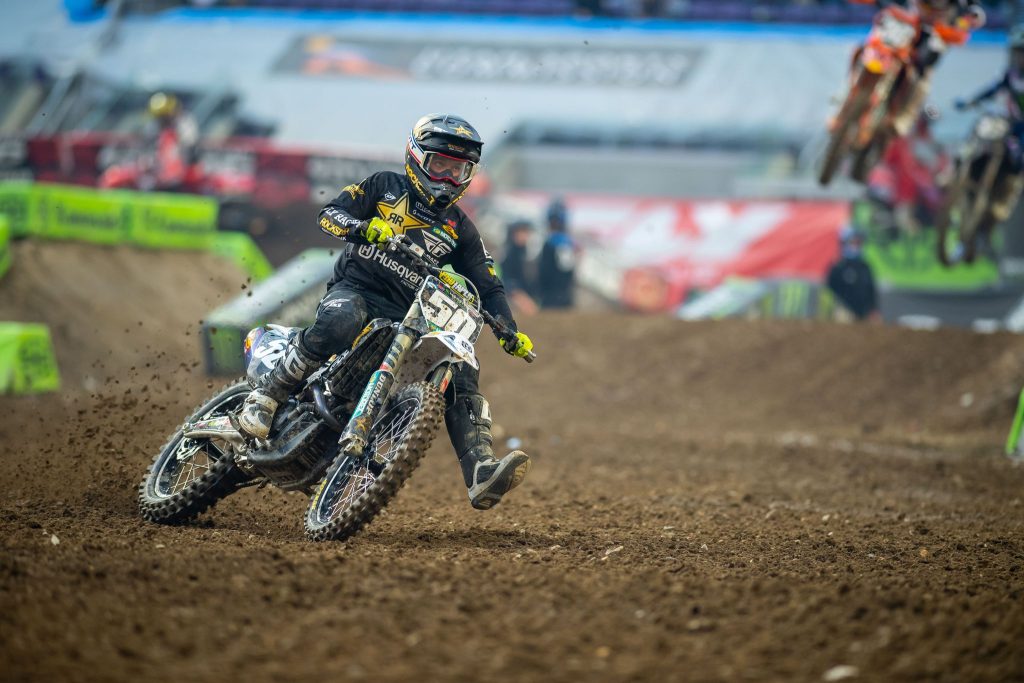 Stilez Robertson: Another rider who surprised me with some speed was Stilez. He was P1 in practice for a while and his starts were pretty good. Stilez wasn't riding when I was down in Florida before the season started so I don't think he has too much time on the bike. This will be a make or break year for Stilez as he is in his last year of his contract. He has some great equipment underneath him and a new Team Manager in Nate Ramsey so let's keep an eye on him the next few rounds.