We're just past the halfway mark in the season and the world championships are starting to take shape. Eli Tomac has a 42 point lead over Jason Anderson and Malcolm Stewart. Jett Lawrence has been the fastest rider in the 250 east and has an 8 point lead over Cameron McAdoo while Christian Craig has been the fastest rider and has a 28 point lead over Michael Mosiman in the west.
Rather than dive into the details of the points championship or any specific rider, let's take a look at the key stats for mains, heats, LCQ's, and qualifying for each of the 3 series. I've noted a handful of insights for each of the series further down, but here's the one key insight per series.
In the 450's, it's fascinating to see that the 'stats leader' is different in qualifying (Malcolm Stewart), heats (Chase Sexton), and main events (Eli Tomac).
Jett Lawrence is the clear stats leader in the 250 East. While Cameron McAdoo has shown he's close, the fact that he's not set a fastest time across qualifying, heats, or the mains highlights that Jett's the title favorite.
Christian Craig is simply dominating the 250 West.
Take a look at the details below and drop me a line @3lapsdown and let me know what you see that's interesting!
450SX KEY STATS
The obvious and most important one is Eli Tomac with 5 wins and 7 podiums – it's no surprise that he's got a 42 point lead
I want to meet the person who bet on Malcolm Stewart being 3x fastest qualifier. He's had the speed in qualifying but what's notable is that it's not translating into the main event where Eli Tomac has set the fastest lap 5x.
Jason Anderson has led the most laps (69) and led laps in the most mains (6). Unfortunately that's not translated into as many wins and podiums. In some ways, Jason's story is similar to Eli Tomac's in 2017-18 where he was arguably the fastest rider but made too many mistakes.
Heat race stats show that Chase Sexton has dominated – winning the most heats (4), leading the most heat laps (36), and setting the most fastest overall heat lap times (4). Similar to Malcolm with qualifying, he's not translated that into main event success.
As for LCQ's, it's Kyle Chisholm that's dominating wins (3), laps led (18), and most fastest LCQ lap times (2). This is likely to change as he joins the ranks of the 250 East series on Star Racing Yamaha.
250SX EAST
Jett Lawrence has now had back-to-back perfect nights – fastest qualifier, won his heat race, and won the main event. He's also won the last 3 races and 5 of 7 going back to 2021.
Cameron McAdoo has 1 win and been on the podium every round, but he's not had a fastest lap across qualifying, heats, or main events. Until he finds just a bit more, Jett's likely to have the title advantage.
Moving to the heat races, you see a bit more balance with Jett Lawrence, RJ Hampshire, and Pierce Brown each having 2 heat wins a piece.
Jarrett Frye is your LCQ leader with 2 wins and the most laps led (15). He's now made 3 mains and finished 21-19-20 this season.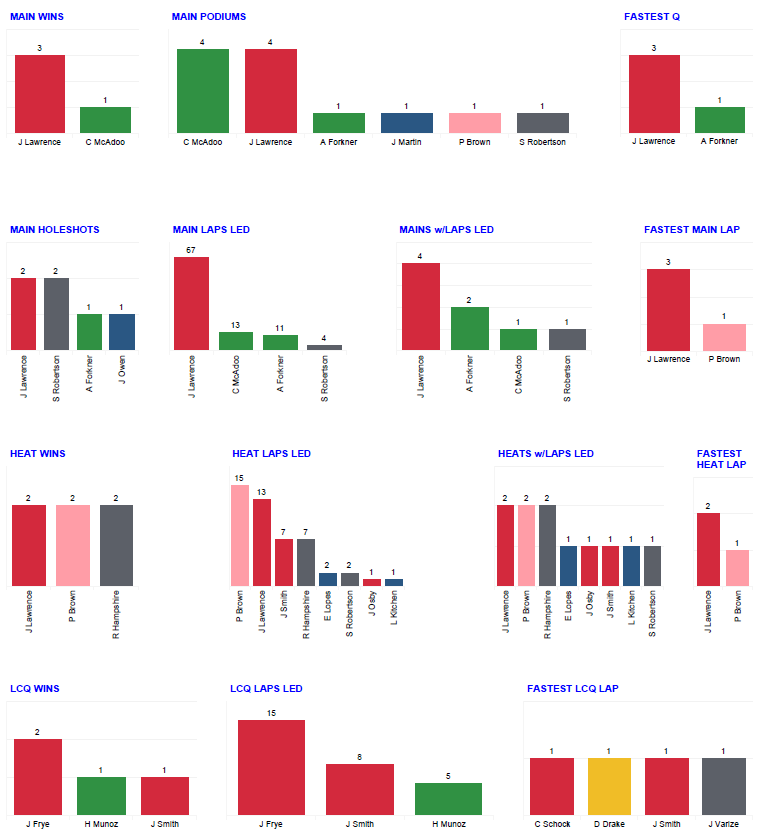 250SX WEST
The only stats that Christian Craig doesn't lead are from the LCQ which makes the analysis a bit boring.
Hunter Lawrence has been able to take 1 fastest qualifier and up until round 6 in Anaheim, had been on the podium every single round.
Michael Mosiman has set the fastest lap in 3 of 6 rounds, but mistakes have led to only 3 podiums in 6 rounds.
Interesting to see 6 different LCQ winners in 6 rounds.