The Yamaha YZ250F is unchanged for 2023 so these five mods below will work for the 2022 and 2023 model. If you're looking for a baseline suspension setting you can click this link: https://pulpmx.com/2021/09/26/2022-yamaha-yz250f-baseline-settings/. These mods below drastically changes the way the YZ250F runs as well as handles as each improve an already great motorcycle. If you have any questions about the YZ250F, feel free to ask away at kris@keeferinctesting.com.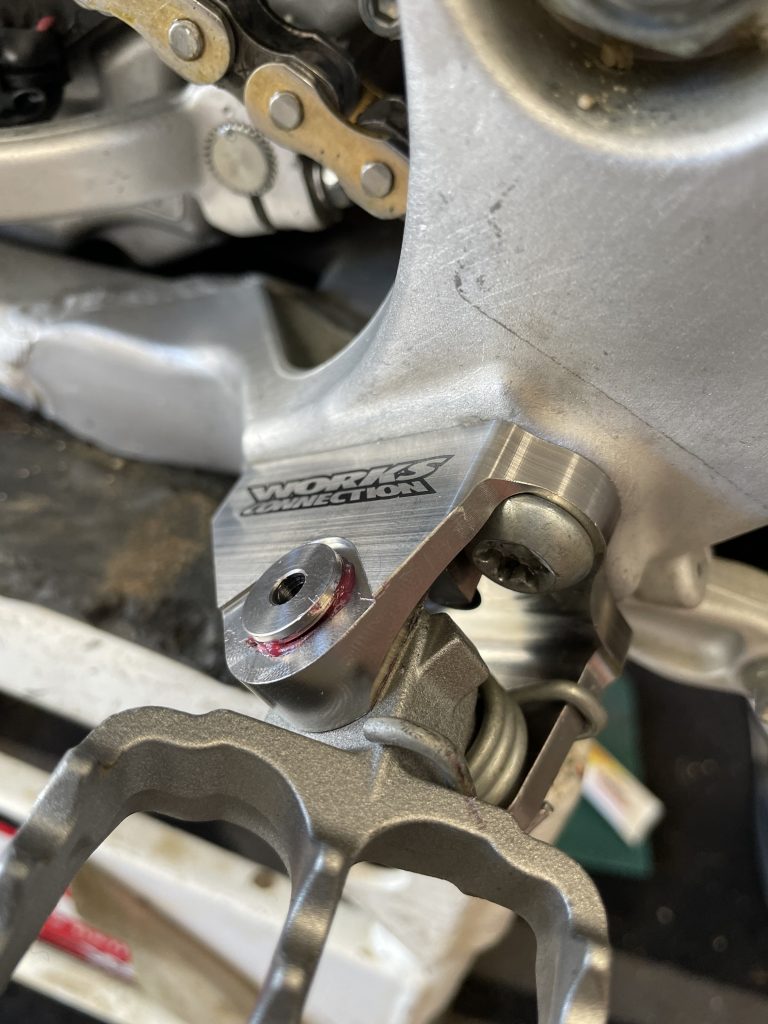 1. After testing a bunch of different configurations I felt like -7mm down and -5mm back would be the hot set up for riders anywhere between 5'8-6'2. I let several riders try a couple different configurations with my SX RACE Pro Taper EVO bars as well as my standard height firm GUTS Racing seat foam and most preferred the -7mm down and -5mm back mount that I had. After we figured out what offset configuration would work the best for a wide range of riders Works Connection went to work on designing a grade 5 6AL-4V titanium mount that is 30% lighter than stock and can fit any footing that you choose. Works Connection paid close attention to ground clearance and even though the mounts are lower, the clearance is the same as stock.
You may be thinking, oh it's only a few millimeters Keefer, so how the hell can I feel that? I can't sit here and say "OH MY GOD, IT"S GOING TO ChANGE YOUR LIFE", but you will have more room in the cockpit and will get less leg fatigue. I get less leg fatigue and the transition from sitting to standing is made easier because my knees aren't so bent. My lower part of my body is slightly more relaxed. I DID NOT have to move my shifter or rear brake pedal and to me, it just allows more room to move around on the bike.
The whole Works Connection footpeg mount kit comes with two titanium footpeg mounts, two titanium pins, two titanium washers and two cotter pins. The whole kit costs 349.99 a pair but if you use the code KEEFER20 on worksconnection.com, that will save you some dough at checkout.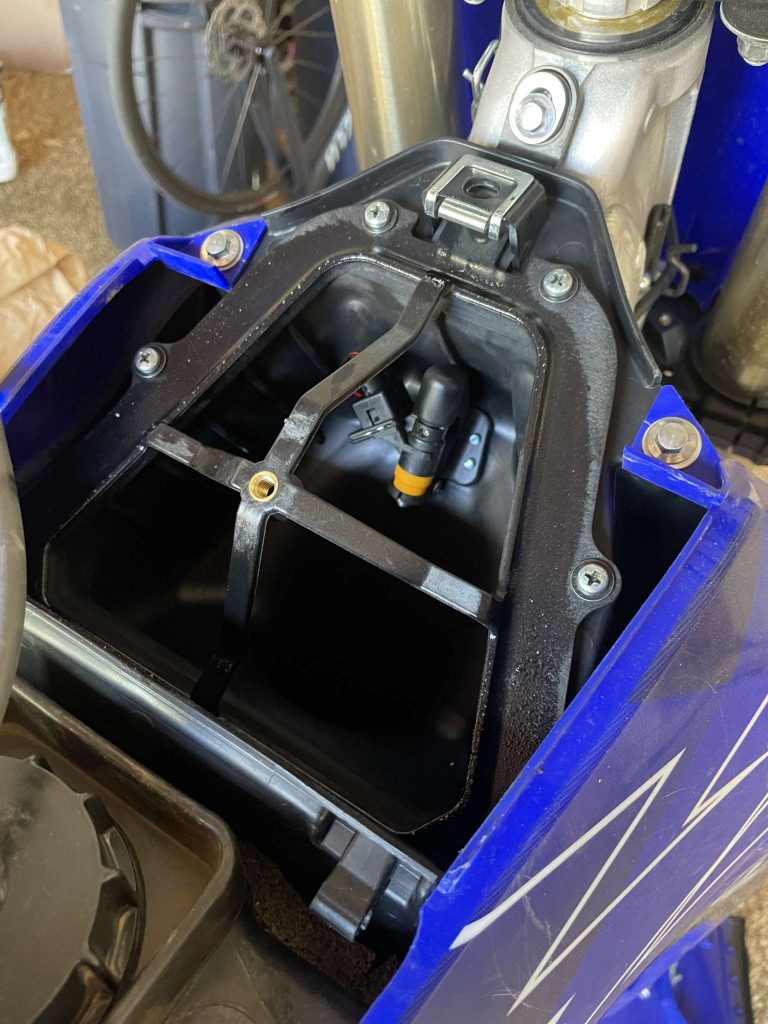 2. I have ridden our 2022 Yamaha YZ250F in stock form for most of the year. It has the most bottom end pulling power in class, but lacks some top end over-rev compared to the KTM and Honda. It is most definitely a front side engine that allows riders to short shift and lug if necessary. With the Twisted Development dual injector kit the YZ250F now has more bottom end pulling power, more RPM response and more notably more top end/over-rev than I have felt  in quite sometime. The YZ250F now has a distinct bark to it (with the help of the FMF 4.1 of course) and the rear wheel connection that you get is something that you will notice almost immediately. Third gear roll on power is more pronounced and the bike becomes more lugable, like it was in years past (2019-2020). The dual injector kit comes with a Vortex ECU like previously mentioned and with that comes pre-programmed Twisted Development maps that ensure you get the proper tune for this kit.
The difference that this dual injector kit makes (to me) is more noticeable than a full GYTR head/piston kit. With the GYTR kit you get more low to mid range pull, but I just don't get that initial low end response/throttle crack like the dual injector kit has. I also feel with the stock engine, along with this dual injector kit, the YZ250F feels like it has more top end pulling power. Jamie sets up the Vortex ECU rev limit up to cut out 100 RPM higher compared to the stock ECU, but you can ask Jamie to increase that by another 100 RPM for more over-rev pull (for a total of 200 RPM). However, just know as you climb the rev ladder, you will get less durability, but to me 100-200 is a safe cut off limit. If you think you will not be able to feel that extra 100 RPM up top, you would be wrong. 100-200 RPMS can be felt by any semi sensitive rider or racer and helps with getting out of corners or pulling up hills.
I was blown away by how much difference this kit can make on a YZ250F. With the front side intake design that the Yamaha comes with along with this second injector, this mid sized four stroke becomes a race weapon (or even a vet rider's dream bike). More low end, excitement down low and more top end? Who wouldn't want that? I also like the reliability standpoint in this $2099.00 kit. With a modified engine kit, that may cost you around $2000.00, but you get less durability most of the time and maybe not as much gain on the track. With this kit you get to keep all the stock internals and actually feel a difference on where your money just went. This isn't a cheap mod, but at least you can feel where that 2K just went. If you're serious about adding horsepower to your YZ250F and some more excitement, this is a great buy. The Twisted Development second injector kit comes with air box, intake, Vortex ECU and recommends you to use the Twin Air PowerFlow Kit or GYTR Air Filter system. You can order or call Twisted Development at 951-698-7222 or visit them at www.td-racing.com.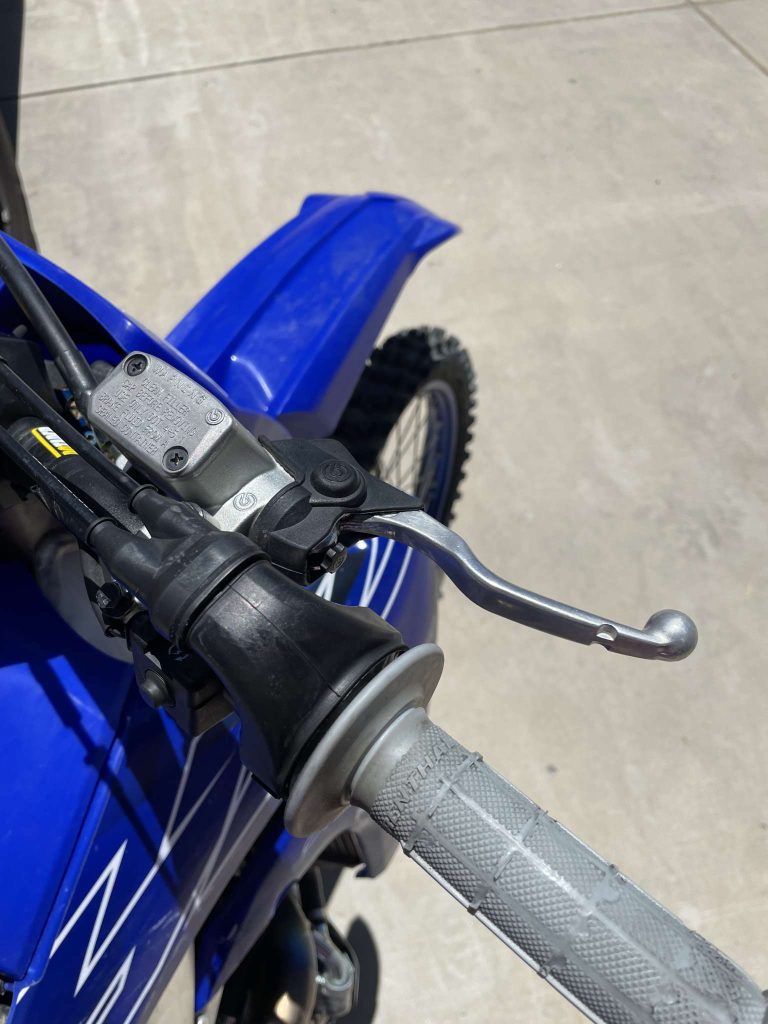 3. So are you tired of that spongey feeling stock Yamaha brake? Since I get to ride all the bikes, I would have to say that the Brembo system is one of the best feeling brakes out of all the MX machines. However, a little mix and matching can get you a more linear feel than an all Brembo system so we used the "Dubach Method" and combined Nissin and Brembo technology together to form the best feeling front brake I have come a-crossed in a while. If you're looking to get a full system set up, below is the way to do it and some KTM part numbers to help you out!
Parts Needed:
Stock 2022 YZ-F brake hose (must use 2022 YZ-F caliper carrier)
KTM Master Cylinder
PN: 54813001200
Spare Brembo Lever (one comes in the master cylinder kit)
PN: 54813002100
KTM Banjo Bolt
PN: 50213025000
YAM Caliper
PN: 1C3-2580T-00-00
Spare Brake Pads
PN: 5MV-W0045-01-00
Note: The thin metal clip that goes into the carrier needs to match the older/larger brake pads. So when you take off the 250mm carrier, make sure to take the clip out and put it in the 270mm carrier.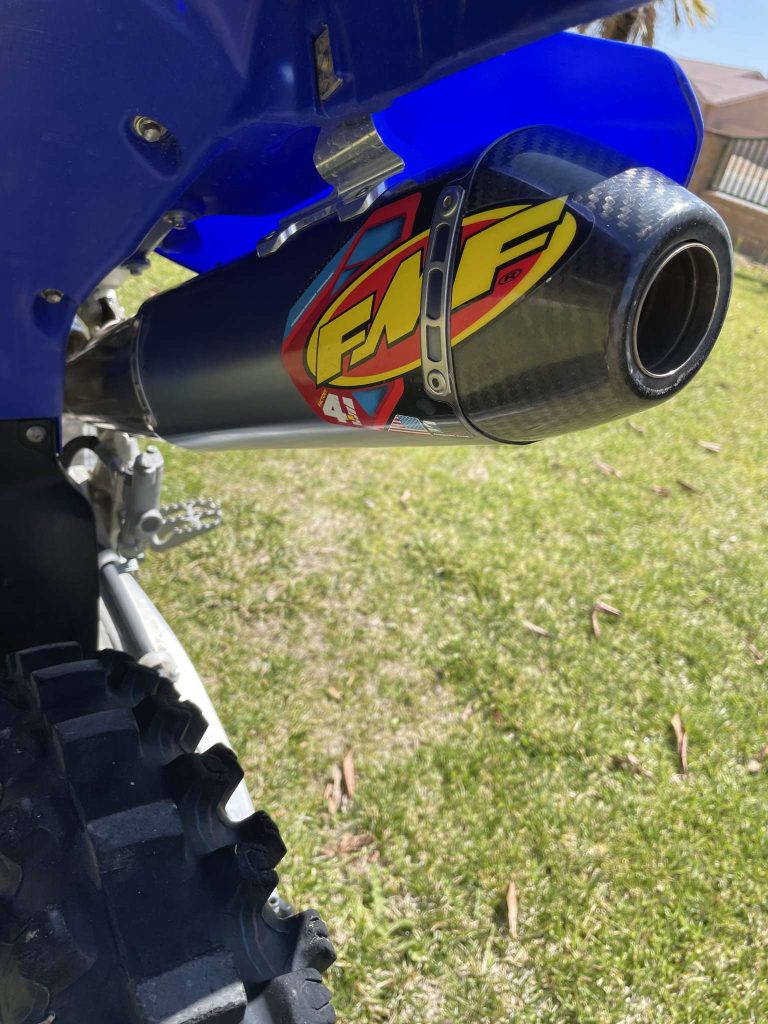 4. Although the stock exhaust is VERY hard to beat in terms of performance, it can get a little raspy once the hours start adding up. The FMF 4.1 system slip on gives the bike a throaty tune and a factory look, but with a more tunable engine character. We have found that running the system without the spark arrestor insert takes away some back pressure, which causes the YZ250F to lose some of that bottom end power we come to love out of this bike. If you want to retain some of that back pressure/low end RPM response cu the spark arrestor out and install the insert.
The 4.1 adds mid range power as well with a little more top end pulling power. We prefer the system with the insert installed because it helps keep most of the stock bottom end, keeps the YZ250F quiet, and can even make it legal to ride on the trails (when spark arrestor screen is left in). You will lose use over a pound of weight when installing the FMF system (over the stock muffler) so that is another added bonus. The FMF system is made well but just be sure to keep up on the muffler packing (every 10 hours) and the canister will stay together longer. The longer you prolong re-packing the closer you get to burning up the can and possibly blowing out the rivets/etc. Oh and I almost forgot to mention that installing the FMF slip on is painless and takes five minutes of your day.  Overall, I am happy with this FMF 4.1 slip on as it improved mid range/top end and made the YZ250F sound much better and didn't sacrifice as much bottom end as I thought!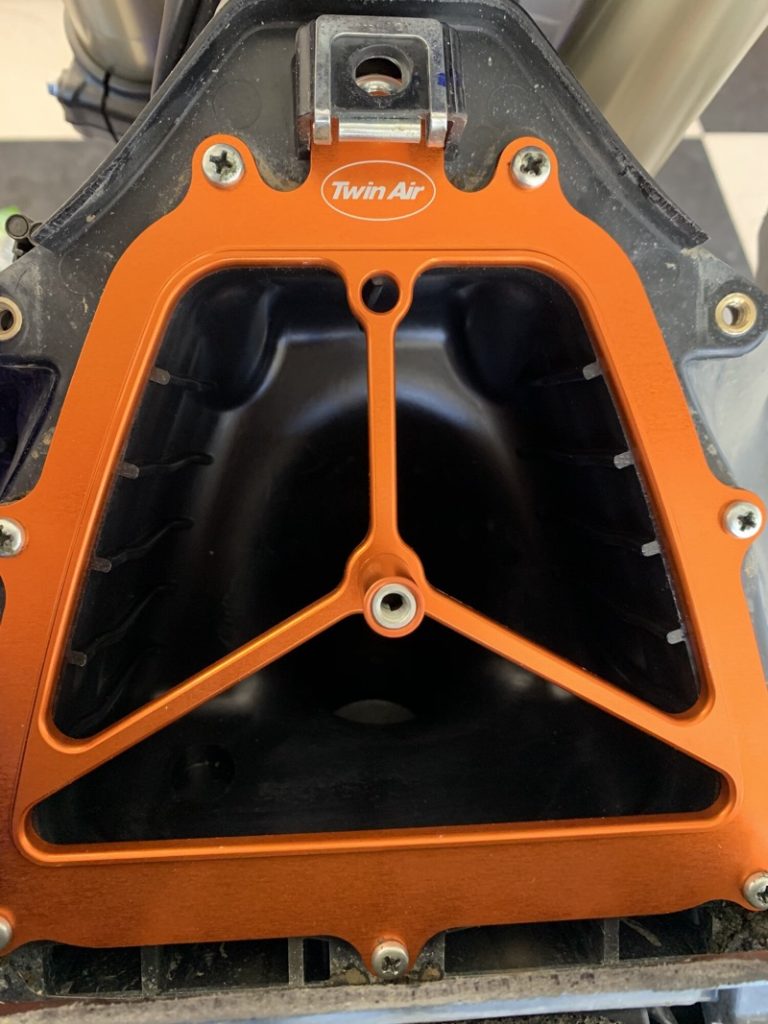 5. If you want to get rid of the somewhat janky stock air filter cage system of the YZ250F, go with the Twin Air Power Flow Filter Kit. To me the Twin Air YZ250F PowerFlow kit is the best all-around filter system for the YZ250F airbox. Why? With this kit, Twin Air replaces the stock sealing ring with an anodized aluminum mounting plate, gets rid of the backfire screen for uninterrupted airflow, adds an internal filter cage (that supports a bigger air filter), and finishes it off with a CNC-machined aluminum knob to hold the filter in place. This design brings in more air volume, increased air velocity, better sealing around the edges and better throttle response/bottom end pulling power. Yes, that is right, you will notice more rpm response out of corners as well as better pulling power out of soft loamy berms. The downside is that some dirt particles are more prone to fall into your air boot if you're not careful with removing a dirty filter. The reason why it's more sucbseptble to dirt particles is because Twin Air doesn't incorporate the backfire screen and unless you have a super steady hand, a few pieces of dirt can get down inside your air boot. If you do find yourself in that situation simply get a shop vac (with a skinny end/attachment) and suck out any particles that have found its way inside the air boot. If you DO NOT open/twist your throttle after the particles have found its way inside the air boot, you will get nothing past the throttle body and you're engine will not get any dirt inside of it. The Twin Air Power Flow Kit takes a little more patience when changing filters, but can add power to your YZ250F as well as create a better sealing surface. The cost of $259.95 is on the steep side, but if adding up dollars to the horsepower increase we witnessed on the dyno (as well as felt on the track), the price tag is worth the almost one horsepower you will be gaining. One horsepower may not seem like much, but just think that some muffler systems (with a price tag of $1000.00) can't get you one full horsepower. You can check out the Power Flow Kit over at twinair.com.