For this edition of Classic Ink, we are going to look back at the promotional material for Harley-Davidson's failed attempt at breaking into the motocross market in the late '70s.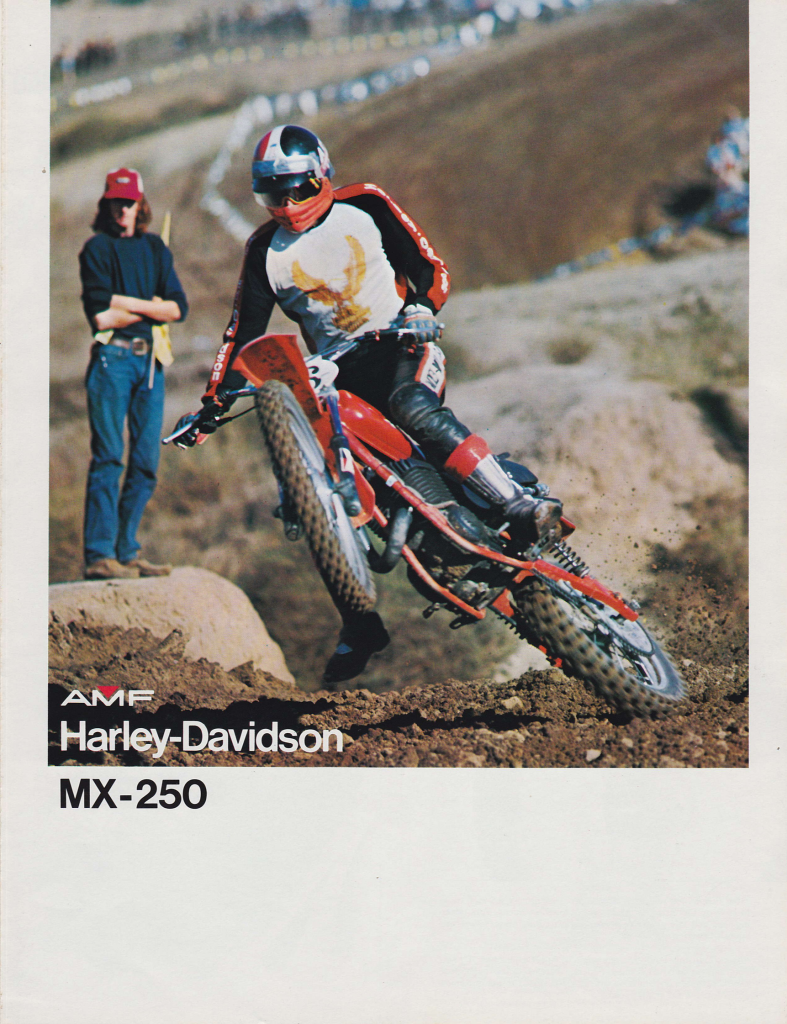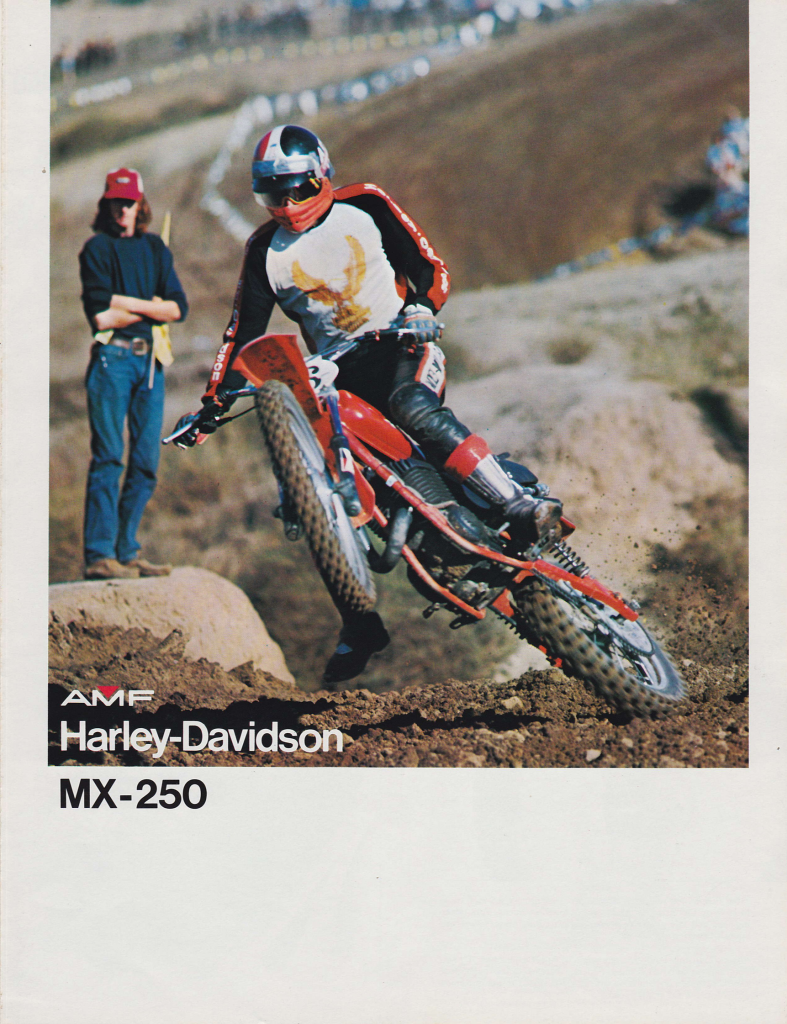 In the mid-1970s, off-road riding was exploding in popularity in America and AMF/Harley-Davidson was hungry to get their cut of the lucrative motocross market. 
Today, Harley-Davidson is once again at a crossroads. In some ways trapped by their success, they are tied to an aging customer base that does not seem to want them to change with the times. Even Harley knows, however, that if they do not reinvent themselves soon then the market for their products will continue to dwindle. Electric, hydrogen, or some other alternative fuel will eventually supplant gas and the days of the big Milwaukee V-Twin will be in the past.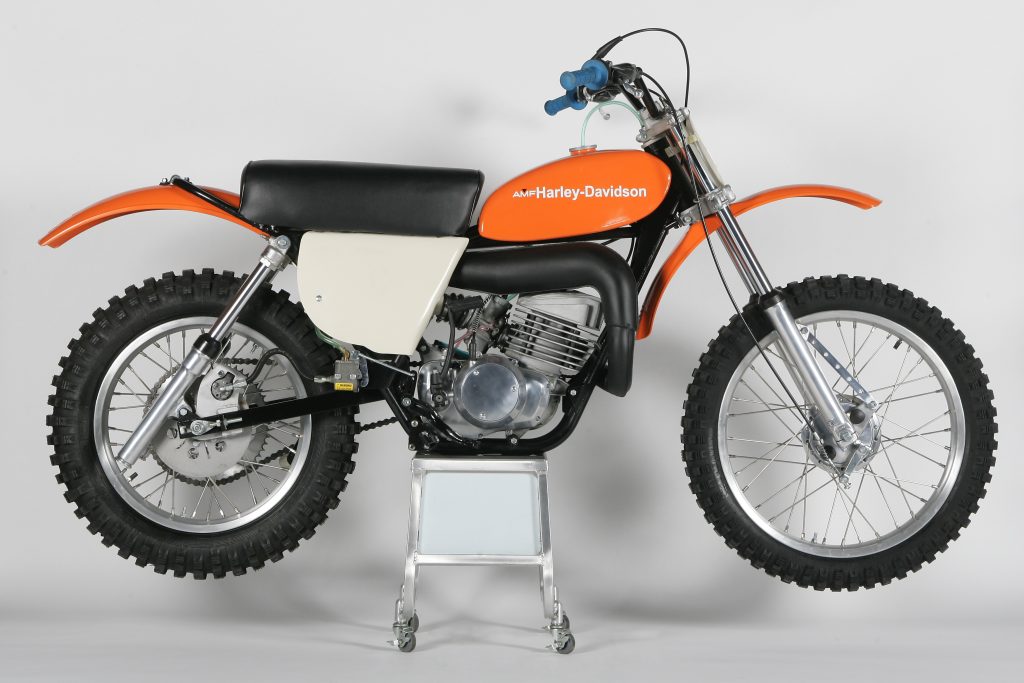 Harley's first attempt at a motocross machine was more of an experiment than a mainstream product. Only 65 were built and it is remembered today more for its quirky rear suspension setup than anything it accomplished on the track. Photo Credit: Le Big 
While this uncertain future is certainly daunting, it is far from the first time America's most famous motorcycle brand has faced an uphill battle. In the late '60s and early '70s, it was the influx of inexpensive and reliable machines from Japan putting on the squeeze. Back then, Harley's answer was to buy Italian motorcycle firm Aeronatica-Macchi to produce small and inexpensive two-strokes to fill out its product portfolio. This gave Harley a foothold at the entry-level side of the market that they hoped would translate into Super Glide sales down the road.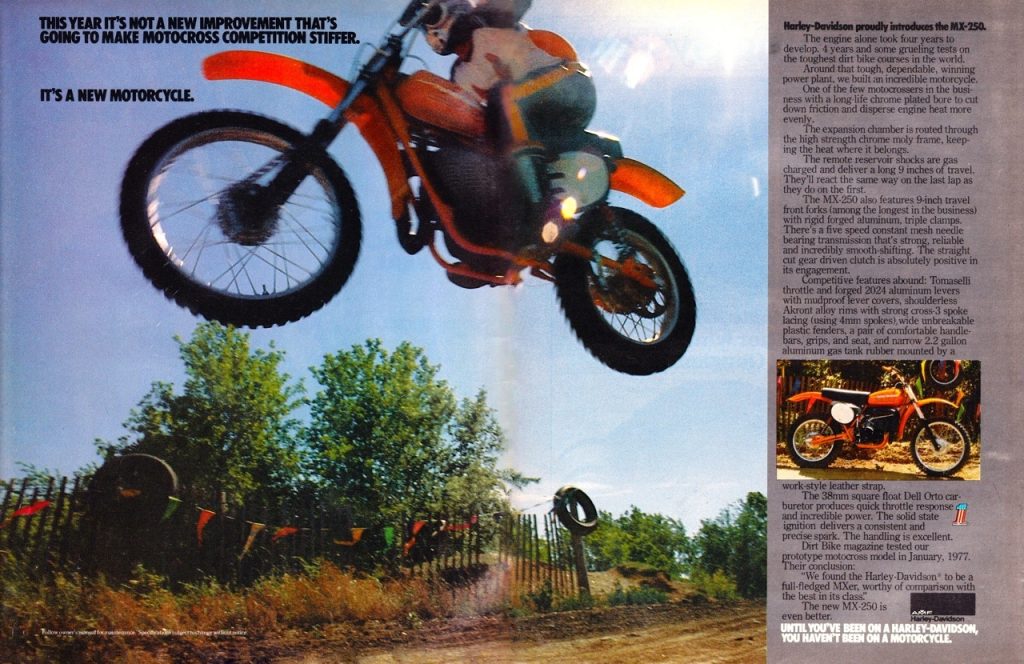 In the late 1960s and early 1970s Harley-Davidson's product portfolio was surprisingly diverse, including several small and inexpensive two-stroke models. By 1978, however, Harley was quickly moving away from the two-strokes to focus on their core V-twin four-stroke market. The MX-250 would be the last hurrah for Harley's Italian two-stroke connection. 
With motocross and off-road riding exploding in popularity in the mid-seventies, Harley decided the time was right to leverage their Italian operation's experience with two-strokes to develop an "American" motocross machine. In 1975, the first MX-250 made its debut in limited numbers as an experiment to gauge interest and asses the viability of moving forward with a full-scale motocross operation. Only 65 of these original MX-250s were built and they are remembered today more for their odd rear suspension which featured front forks in place of traditional shocks than anything that was accomplished on the track.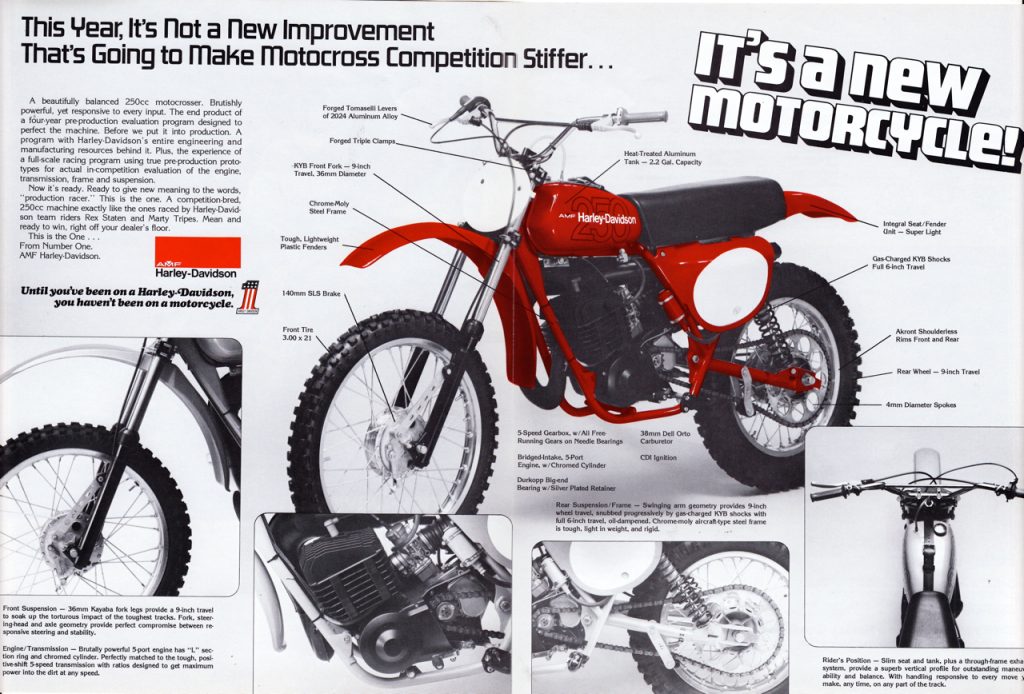 While not a world-beater, the '78 MX-250 was surprisingly well-finished for a first-year design. The machine featured top-quality components throughout and could be competitive with some motor and suspension fine-tuning. 
While the '75 MX-250 turned out to be more of a curiosity than a contender, the level of interest it generated convinced AMF/Harley-Davidson's management that a motocross program could be a worthwhile investment for the brand. In 1976, Harley hired journeyman pro "Rocket" Rex Staten to help develop an all-new machine and set about bringing the brand's dirt track success to the motocross arena.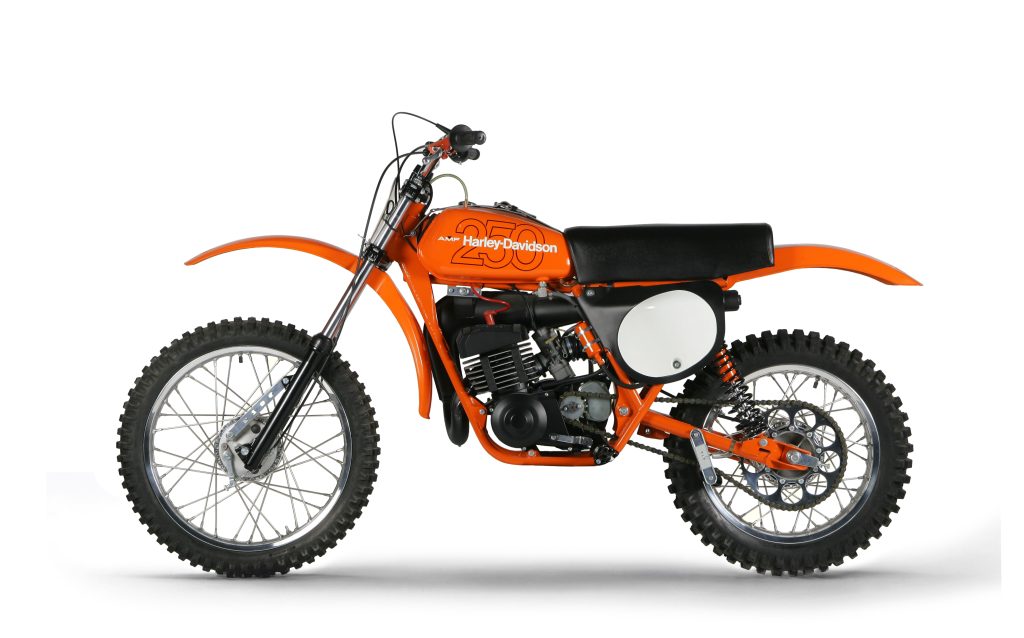 Handsomely styled and well-finished, the MX-250 needed broader power, less weight, and a better-sorted suspension to take on the class leaders in 1978. Photo Credit: Le Big
Two years later, the all-new MX-250 made its debut with an impressive spec sheet and thoroughly modern design. The machine used components from all over the world with Japan, Italy, Germany, France, Spain, and the USA all contributing to its construction. Kayaba forks and shocks mimicked those found on the class-leading RM250 and a powerful 242cc Italian motor beat at its heart. On the dyno, it pumped out a very competitive 32 horsepower and on paper, it looked to be competitive with anything available at the time from Europe or Japan. 
Harley fielded a team to race the machine with Rocket Rex, Marty Tripes, and Rich Eirstadt piloting the orange and black machines on the AMA circuit. On the track, the production MX-250 turned out to be, quite expectedly, a work in progress. The bike's weight was as much as 25 pounds greater than its 250 competitors and that hindered both its handling and suspension performance. The stock settings were quite soft and underdamped for the machine's 240-pound girth and the bike wallowed and bottomed out severely if pushed. Slow-speed comfort was good, but the bike was designed for motocross racing, not plonking through the countryside. The motor's impressive dyno numbers did not translate to an effective motocross powerband as well and the machine was quite difficult to manage with its light switch-like delivery. Its fit and finish, however, were quite good with the machine featuring top-quality components and impressive build quality for an inaugural outing.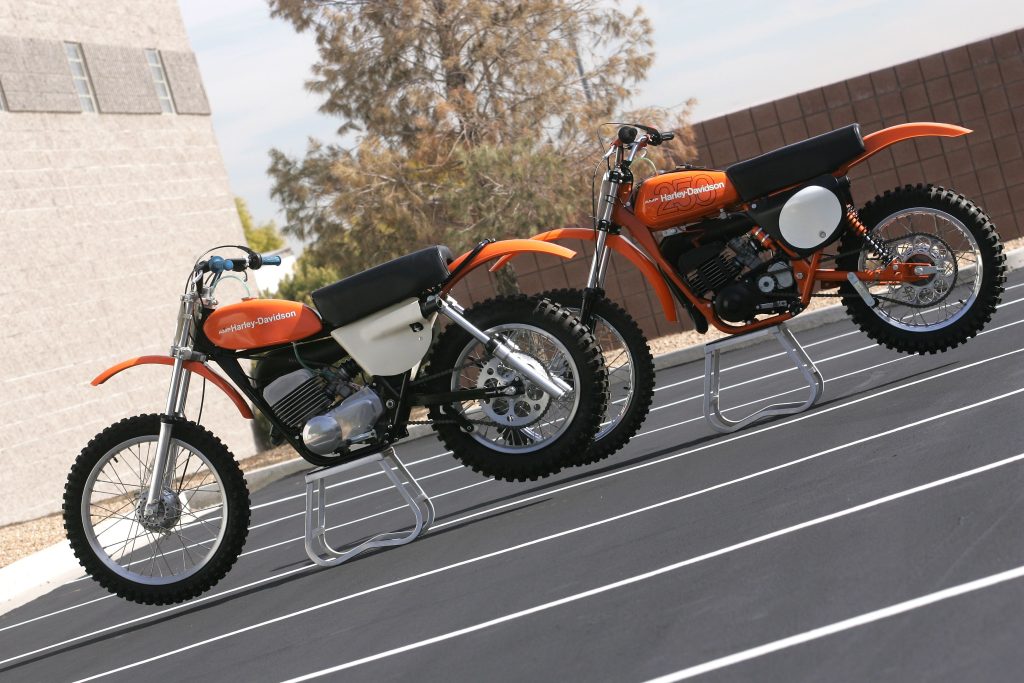 Harley-Davidson's flirtation with the motocross market ended with the sale of their Italian operations to the founders of Cagiva in 1978. Photo Credit: Le Big
Unfortunately for Milwaukee enthusiasts everywhere, the Harley-Davidson motocross experiment would be short-lived. At $1695, the MX-250 cost $200-$300 (the equivalent of $900-$1300 today) more than its Japanese competition and was backed by a dealer network more interested in saddle bags and chrome than knobbies and boost bottles. It was an experiment doomed to fail and in 1978, AMF/Harley-Davidson would sell off its Italian operations to the Castiglioni brothers who would rebrand Aermacchi as Cagiva and take the brand to the 125 World Motocross title in 1985.