It was 1985 and the world needed help. The people of Ethiopia were starving and were in dire straits (money for nothin…chicks for free) and there was only one solution, only one thing would help the Ethiopians out. A musical super group had to be formed and come together for the good of EVERYBODY. There was no doubt about it, Ethiopians needed it but even more than that starving country, WE needed it.
It was 1985 and the world needed help. The people of Ethiopia were starving and were in dire straits (money for nothin…chicks for free) and there was only one solution, only one thing would help the Ethiopians out. A musical super group had to be formed and come together for the good of EVERYBODY. There was no doubt about it, Ethiopians needed it but even more than that starving country, WE needed it.
The CD buying people of the world would report to the stores like lemmings and all of us would watch the music video in awe. HOW could all these superstars come together and not end up in a massive wiener measuring contest? May I present to you guys, the We are the World song!
I recently viewed this amazing video on youtube and came away with a sense of awe, astonishment and bewilderment. And that just covered the "A's" and "B's". What a cool idea and I did what any moto fan would do, I immediately pondered what it would like if we had replaced current and former moto stars in for the musicians. Here is a running dairy of the video along with an alternate version for your enjoyment.
:30– We see Lionel Ritchie and he opens this heartfelt plea for money so America can buy bags of rice and drop it from planes to help Ethiopia. Lionel was a massive star at this time, coming off number one smashes "All Night Long" and "Hello". It would be the year before he danced on the ceiling and there was no one better at the time to open this mega-hit.
Moto Equivalent– Well I don't think it can even be disputed that we would plop James Stewart in there, he's the biggest thing we have right now and he's even black. And he sings on Youtube. So it works out real good.
:38– Now it's a shot of Lionel and another music icon Stevie Wonder, Stevie was pretty much done pumping out hits by this time but no one can forget that he used to be the MAN. So, we have the current superstar teaming up with an older disabled one. Stevie does belt out his part like his life depended on it though to remind us that he still has it. He just chooses to not use it.
Moto Equivalent-We would have to have David Bailey in there, he's disabled and a moto icon. He's not black so it doesn't work out as good as the other one but by the end of this thing, I'm going to be reaching badly anyways.
This is Lionel's "I'm too sexy pose". People forget, Lionel was HUGE.
:49– It's Paul Simon and The Gambler!! Kenny Rogers was a massive star back then and even though he was country, songs like "Lady" and "Islands in the Stream" reached across genres and touched us all. And he was an actor! Plus he had a sweet beard, makes some damm good roasted chicken and you get the sense that he could walk up to you and steal your wife/girlfriend away with just a "How you doin baby?". Basically he could do anything. Paul Simon was no longer a star in 1985 and was probably just there because he knew someone. He was big when teamed with Garfunkel and they had "Bridge over Troubled Water" and most of his fans would like to forget the "You Can Call me Al" years.
Moto Equivalent– Could it be anyone else for Kenny but Travis Pastrana? He's a race, flip, crash, win, do anything type of guy. He might not be able to steal your chick (unless his wallet accidently came open) but there's a versatility there that Kenny also had. And he would give you a cheese-ball thumbs up after singing his part. To play the part of Paul Simon, let's put Johnny O'Mara in that spot. A guy that probably doesn't get as much credit as he should and had some great years but his fans would like to forget about the Suzuki, Kawasaki and Honda of Troy comeback years.
1:13– We see some guy I don't know, Tina Turner and Billy Joel. The dude I don't know gets out of the shot (probably because the director took him out with a potato gun) and Billy and Tina do their parts. Tina was a massive star with hits like "What's Love Got to do (with it)" and "Private Dancer". As a matter of fact she was, like, 60 when this came out but could get any 20 year old dude to jump in the sack with her at a moment's notice. She gets bonus points because she got beat up by her crazy husband Ike Turner for many, many years in the 70's and lived through it. She never really recaptured the 1985 glory again but I saw her not too long ago on a HD music channel still belting it out. And still looking hot. Billy was a solid star at this point and never really blew up huge but was always just there, in the underbelly of stardom. He deserved to be there for "Piano Man" and "Allentown" (Although I used to hate "Piano Man" because there was this guy in high school named Brett that was able to play any musical instrument in the world. He would sometimes slide up to the school piano and play "Piano Man". The collective thud of all the girls panties hitting the floor shook the world and meant me and my buddies looked like do-nothing losers. I hated Brett.) His longevity of being a rock star should also count for something.
Moto equivalent- I think we could get Mark Barnett for Tina's part. Mark had a hell of a year in 1981, winning the 125 national and supercross title. He was solid after that but never had a year like '81 (and Tina never had another year like '85). For Billy's part we need Kevin Windham, no doubt about it. Kevin was never "the man" but was very close a lot of times. When he packs it in, he'll be remembered for a great career but coming up just short of superstardom. Just like Billy. And both have massive houses.
The Bomber = Tina Turner? In my world it does. Photo-RXI archives.
1:27– Finally we see the mega massive huge star Michael Jackson with his part but it looks like he's in a separate room and wasn't there. No doubt the weirdness and unpredictability that he's become known for was already starting and he was quarantined away from the others. Very talented, wearing one glove and a soldiers outfit of some sort Michael, in the midst of his "Thriller" success, would never even come remotely close to that level of records sold again. His strange career decisions would haunt him for the rest of his career. One thing his detractors would even say, the man had talent.
Moto Equivalent– There can be no doubt that it would be Jason Lawrence. He wouldn't show up for the recording and if he did, he would have to be in another room because he would do something to get the other guys upset. Jason had incredible success in winning the west coast title last year and most people don't think he'll ever come that close again. Especially because he's going to be a full time 450 guy from now on. And his strange career decisions are almost as wacky as Michaels. But one thing his detractors would even say, the kid has talent.
1:41– They cut to Diana Ross looking absolutely fro-tastic with her hair everywhere. Diana wasn't really a star back then, she was still milking The Supremes for all it was worth. Then it cuts to a split screen shot of Diana and Michael singing a duet verse. Again, Michael is in a different room. I suppose Diana belongs because of her past. And the fact she has a "I'm not really here" look in her eyes.
Moto Equivalent– Maybe we could get Leticia Cline to do this part. She was never really a star back in the day like Diana but she has a "I'm not here and don't understand what you just said" look in her eyes. She would make a great fit for J-Law in the screen shot as well and you would wonder "What is she doing there?" like I was with Ross. Heck maybe Leticia and J-Law could marry and their off springs could spontaneously ignite whenever entering a motocross track.
2:06– Ok never mind that, what in the hell is Dionne Warwick doing there? Diana Ross looks like Jesus next to this chick. She was a nobody who hit is big in '85 with "That's what Friends are for" a sappy song with a bunch of other singers. She can't even take credit for the whole song, she seriously must be punching herself in the ovaries to see if she's dreaming. I guess it was just the right year to hit like that, look it got her invited to the GREATEST ASSEMBLY OF MUSICIANS EVER!! Amazing. She is teamed with Willie Nelson a country/folk legend that is still packing (and rolling) it in today. Willie is an amazing talent and, like Kenny Rogers, it's good to see producer Quincy Jones recognize other genres. Nelson is also know for starting the "Farm Aid" series of concerts which gave back to the struggling farmers of America so he was familiar with the whole helping people with getting food thing. There's another guy there that I have no clue who it is, maybe Al Joulson?
Moto Equivalent– Ladies and Gentlemen, playing the part of Dionne Warwick is none other than Ricky Ryan! He won Daytona in 1987 and that was, far and away, his biggest accomplishment. He never came close to even coming close to repeating that feat. As far as Willie is concerned, we'll go with freestyle legend Carey Hart. Hart was a little star in the moto world at some point (Hart's Minneapolis 250cc main event is Willie's "On the Road Again") and was an instrumental part in getting freestyle in the "Boom-Boom Huck Jam" thing. So Farm Aid is like Boom-Boom Huck Jam. You following this?
The Bruce in all his 1985 glory. Yes, you are the man right here Bruce.
2:15– YES! We see Bruce Springsteen push an unknown dude out of the scene and come in hard with his trademark growl. Right when the chorus hits also. They saved one of the best parts for Bruce, who was battling Michael Jackson for the title of "Biggest Recording Artist" in 1985. Bruce had just put out "Born in the USA" and with its title track and "Dancing in the Dark", he was a MASSIVE star. When I was a kid I would go to the roller rink (don't laugh) and the biggest skate song was either "Billie Jean" or "Dancing in the Dark" The goth kids and chicks going out to "Thriller" and dudes like me to Bruce. You wonder why I'm such a dork. Anyway, he was a huge star in the early 80's, massive in the mid-80's and leveled off to where he is today. Springsteen represented the working man and reportedly drove to this shoot in his own pick-up.
Moto Equivalent– RC was a star when he rode 80's, was a MASSIVE star in the big bikes and despite me not caring the least, is still a star to many with his attempt at a NASCAR career (which sound like it's going well because a guy I've actually heard of hired Ricky to drive trucks for him). Couldn't you just see RC with a rag in his pocket trying to save America from the music of the weirdo Michael Jackson? RC also strikes me as a type of guy that would drive his pick-up to the recording session.
Hope Lechien is a big Journey fan but I doubt it, last time I spoke with him he just got back from a Crue concert. I love this photo by the way. Photo-RXI archives
2:25– Kenny Loggins is in on the act. Kenny always has a special place in my heart for "Footloose" and "Danger Zone". You would think he'd be here because of "Danger Zone" but nope, it was released a year later. He was invited for "Footloose" which reached number 1 and "I'm Alright", the Caddyshack theme song. Kenny also seemed to be ahead of the curve as he was the first guy I remember using keyboards in his songs. He's got a nice beard here, between him, Kenny and Billy Joel, the beards were rocking in 1985!
Moto Equivalent– Davi Millsaps seems like the Loggins type. He is real nice to watch ride (Kenny does look good with his beard and skinny ties), has had some success in winning supercrosses (Kenny had Danger Zone) but in the end he leaves you wanting more and thinking there should be more (Kenny kind of faded away and isn't recognized as a pioneer in keyboards like I think he should be).
2:30– The very talented Steve Perry steps in and hits some notes. Steve was a lead singer of Journey and had some great songs but decided to leave and then became nothing (unless you consider "Oh Sherry" a musical milestone). Obscurity, meet Steve Perry, you're going to be buddies forever. If you read some magazines about him, he was a moody, mercurial sort with tons of talent but couldn't hold it together. But he could hit the highs people! Why he doesn't just bury the hatchet with his still touring Journey buddies and hit the carnival circuit is beyond me, is he that rich?
Moto Equivalent– Let's go with the Dogger, Ron Lechien in this spot. Ron wasn't moody but he certainly was mercurial and very talented. The Dogger made sweet music with some titles and lots of race wins but in the end, just couldn't hold it together. Like Steve Perry.
2:38-Darryl Hall is invited but no John Oates anywhere to be seen. That's a disgrace! They were Hall and Oates, not Hall and some guy! John Oates was the rhythm of the group and a guy that had a great mustache. So what if he wasn't a singer? Just an absolute travesty if you ask me. Hall is considered a very talented writer/singer/musician by many in the industry. By the time this thing was recorded, Hall and Oates had six number ones, the most recent being "Out of Touch". They would also never get another one after 1985.
Moto Equivalent-I think for the suddenness of how everything ended for Hall and Oates, we would need Rick Johnson in this spot. RJ was on top of the world, the 1988 sx and 500 national champion, he came out in 1989 and won the first five supercrosses by a big margin and then lost the sixth when he fell on the last lap. He would then get landed on by Danny Storbeck a week later and POOF…he was never on top again. He had no Oates to his Hall however.
2:55– Huey Lewis, Cindy Lauper and some chick I don't know all get little solos and then lead into the chorus. Huey was a big time star back then, him and his band the news, released "Sports" in 1983 and it had exploded onto the scene. It was the group's third album and solidified Huey as a solid addition to the "We are the World" ensemble. Cyndi Lauper was a rookie sensation when they asked her to join the fun. She had released "She's So Unusual" and went on to grab all these shiny trophies for it but never again attained the same level of success that she had in 1985.
Moto Equivalent-When I think about Huey, I think about Doug Henry. He was a solid pro his first couple of seasons and then was rewarded with a factory Honda and the bike became his "Sports". Everything clicked and Doug would go on to win a couple of national titles. Plus you know he would try his hardest to hit every line in the song and sing so hard he'd pass out. The Lauper of moto would probably be Bobby Bonds, signed right into the ranks of Pro Circuit, won the AMA Rookie of the Year and had some great rides but in the end faded out as quickly as he came in. Lauper came back and recorded an all acoustic cd and that was weird. So is Bonds becoming a WORCS champion.
3:36– Oops, never mind. I see John Oates in the group shot. All is forgiven.
3:48– We now see Bob Dylan mumbling his way through some lyrics that no one can figure out. It was also a "Who's that?" moment for a lot of kids. Then their parents slapped them upside the head because, even though Bob was no longer relevant, he was a huge star back in the day and the parents had probably gone to some hippie no war thing where Bob hung out in the 60's. I don't know much about Dylan but he needed to be here one supposes.
Moto Equivalent– Joel Robert could be there eating a Belgian waffle and just chain smoking some Euro cigarettes. Nobody and I mean NOBODY would think that this guy was a bajillion time World Motocross Champion. The parents would have to fill in the kiddies on the guys gnarly-ness and somehow, the kids would have to believe this chain smoking, waffle eating fat man was the same guy.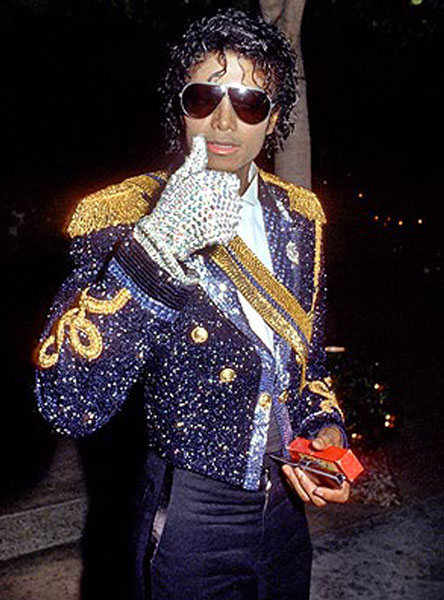 What would you even say if you ever met MJ? Where would you begin, I'd start by asking him where his chimp Bubbles went and what the hell happened to the other glove?
4:19-In what might be the weirdest shot of the whole weird video, we have Dan Aykroyd, some chick in R2-D2 glasses and a guy that looks like Al Cowlings (OJ's buddy that drove him around in the Bronco) screaming away. First of all, how did Aykroyd get invited? Yes, he was a huge movie star in '85 but I don't think he had much singing chops besides playing the harmonica while Belushi sung. And another thing, he's Canadian! He should've been in the Canadian version of "We are the World" which is right here. Please don't watch it though; it'll just make you think less of my country.
4:30– Just some group shots of the different people assembled in the room singing so loud and hard that the kids in Africa can probably hear them. All the musicians have these headphones that are supposed to make it "seem" like they're actually recording the music. Except some people don't have them on, some are half-assed holding it up to their ear and some people are running the 'phones strong (Tina is really into it, they're on her head despite that massive spiky coif she has). It doesn't make much sense, but then again none of this does.
Moto Equivalent– We could have a bunch of privateers standing there and the reaction would be the same "Get those guys off my screen and give me more Jackson/Stewart!"
4:45– Ray Charles comes in from out of nowhere with some strong singing and it looks like he's playing a piano but there is no piano in the song. At least that I can hear. In 1985 Ray Charles was pretty much done but like Dylan, Wonder, Ross and half of this group, was invited for all he had done in the past. Like coin the catch phrase "You got the right one Baby!" in those Pepsi commercials. Did you know that Ray fathered 12 kids by 10 different women? He couldn't see but apparently he had no problem finding women's birth canals. He also gave each one of his kids 1 million bucks before he died. Nice guy.
Moto Equivalent– Probably Guy Cooper because he was a former champion and then he made that comeback to the nationals on a KTM 840 or whatever that was. He would pull holeshots and fight like mad before always settling in the 10th to 15th position. You kept having to pinch yourself that this guy was a national champion and in the top five of fastest guys to never win a supercross.
5:24– Stevie Wonder and Springsteen get a lot of singing and music video time right now! It's as if the producers decided that we needed two COMPLETELY OPPOSITE people to come together and sing. Bruce looks like he is trying to squeeze a big poop out as he is really putting his all into this thing. Stevie is just shaking uncontrollably like one his handlers just told him that in twenty years he came up short in the coin flip and they decided to make a movie about the other blind black singer guy. And that Ray Charles will be crazy rich because of it.
5:52– A Bette Midler sighting! Never even knew she was there and it would be years before she had the wind beneath my wings. Wonder what she was doing here? Maybe she came with Aykroyd?
6:18– I have no idea who this guy is with a couple of lines. Therefore I cannot compare him to anyone in moto. He must be the James Eickel of the singing world?
6:46-Lionel gives the camera a big thumbs up, reassuring us that that this is all ok and that he is happy to be here. Maybe I should've compared him to Pastrana?
And with that the video fades to black and the once in a lifetime moment is over. I hope the people in Ethiopia enjoyed their rice because we had to put up with this song and these people. Did you know this song went number one in every country that tracks that sort of stuff but Japan, Brazil and Austria? Hope you enjoyed my warped comparisons and I'll go get some help now.