The rolling tank speaks about Germany, Tiger Woods, his Suzuki and some other things.
The rolling tank speaks about Germany, Tiger Woods, his Suzuki and some other things.
Me: JT, you just got back from round two of the German supercross series. How was it?
Jason Thomas: It was pretty good, I got second overall. I felt like I was good enough to win but it didn't work out. I got a bad start and couldn't take advantage of some things in the other races and didn't put it together. I'm still happy with everything though.
I watched the first round and even went to all of the races in this series years ago and it still looks the same. Which is tight, pretty fast tracks with easy obstacles right?
Yeah, they are. The tracks demand a lot of attention from a rider. The first round was a lot like what you said but this past weekend the track was more difficult. I made some changes in the set-up of my bike, I went in a direction that I hadn't really thought of before and it worked real well for me. Thanks to Factory Connection for helping me out on that. I worked on intensity and all the things that are important in that series and I think it helped me this past weekend.
I read a race report from round 2 that made it sound like Cole Siebler dominated the weekend but you tell me it was a great race between you guys. Did you get that impression from the PR as well?
(Laughs) yeah, for sure. I understand, his team put that out and that's to be expected. I was a little bummed that it got run as an official race report. I was ahead of him at different points and we battled all weekend. It was a war between us but we kept it clean and were joking with each other on the starting line before each race. I don't know how much closer two riders could have gotten than what we did.
How is the new Suzuki working out for you?
As you know, the BTO Sports.com, BBMX team switched to Suzuki's with the help of Palmetto Suzuki down here in Florida and it's been great. Right when I got home after the first round, I headed to MTF to test with Ziggy at Factory Connection and we made some big changes and it really made the bike better, like I was saying. I think it's going to definitely be the best bike I've ever ridden. The one on one help with FC and changing the way I set up my bike will help a ton.
I've always had my bike set-up one way and always wondered how Chad (Reed) and Timmy (Ferry) could ride their bikes that way but I've started to see the light now. I've always tried to set it up really slow 'cause my legs are so short and I didn't want to get wacked. We've changed other things to where I can now have a normal set-up and not have to worry. So it's controllable and it's making a huge difference right now.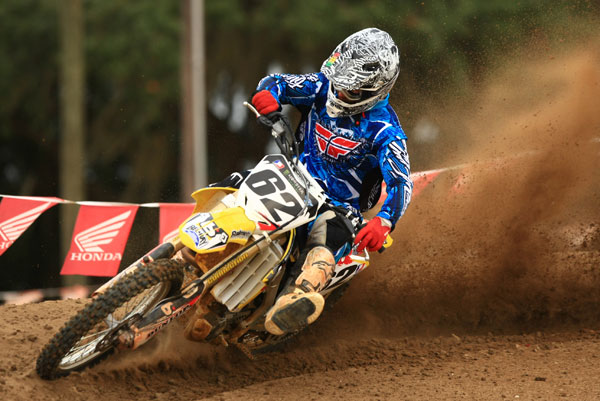 New number, new bike and new attitude for the Pint-Sized Warrior

What is it about the German supercross series that attracts you and so many other riders? You've been going there for how long now?
I've been going there for ten years and it's more than the money that they pay to make me go back each and every year. I really struggled at first with what you have to do to do well there. I think I made two main events out of ten that first year. There's a formula that you have to figure out to do well at those races and it took me until 2003, 2004 until I really started to figure out how things worked. I know what I needed to do, where to go fast and how to make things happen. I'm really good friends with my manager over there that sets everything up and it's easy now. I fly in, fly out and everything's easy for me.
What is your secret for the trans-Atlantic flights? Man, after Bercy I was wiped for a few days.
I don't know if I have a secret, they're brutal for sure. I try to sleep on the way over but that doesn't always work. I try to stay awake the first day so I go right to sleep that night. It's tough for sure as anyone out there knows that has done it. All you want to do is sleep all the time.
Are you finding yourself with a little bit of a following over there after going there so many years?
Yeah, definitely. At the rider introductions, I can tell that the fans cheer for me and they recognize me from years past. There's a little bit of a following there and I wasn't able to make it over there last year because I was hurt. I think the people over there wrote me off a little bit after not seeing me and then with me having such a crappy US season. So I think after Saturday night at Stuttgart and this past weekend, people know that I can ride at the front and win races.
So did you have to switch teams over there because you've been on the Honda for so long over there?
Yeah I did, the Suzuki team over there is cool. They're good guys and we all get along. I'm now on Team Twenty and I knew the guys already so the transition was easy. It sucks to not be able to ride for the team that I have for the past six or seven years but I still go over there and talk to those guys and have some coffee with them. It's all good. You know how racing over there is, there's not much pressure and everyone is hanging out and having a good time. It's a lot more casual than America.
So I take it you're in second in the points right now?
I'm in second right now after four events. There are ten races in the series so we're not halfway yet but I have to start making things happen here shortly. Siebler is leading the points ride now and I don't know for sure if he's going to the last round or not but I'm not that worried about it to be honest. I just have to start winning some races and everything will take care of itself.
What do you think about Tiger Woods and all that?
(Laughs) Yeah, that's a bad deal for him for sure. It's funny because it's the same in our sport, there are guys that have people that create images for them and that's their whole job- to create this image. Then when you have something like this happen, it just blows that image right out of the water. All those years or work creating this perfect brand of wholesomeness and getting all these sponsors lined up and it's all done in with voicemails left to a cocktail waitress. It's crazy for sure, he's been hooking up with this chick for thirty months.
When you're on the inside of our sport like we are, you know things or hear whispers of things about people and whatever, you just write it off and realize that it's not for public consumption. I imagine it's the same in the golf world where there's a bunch of professional golfers who heard the news and just smiled and nodded. They knew this stuff about him the whole time.
Oh for sure, I have friends or people that I meet that will bring a riders name up and make a comment and I'm just like, 'This dude has no clue what he's talking about right now'. You couldn't make a more wrong comment if you really tried. That's what it is; people are paid to make certain guys look like the most generous people in the world when they're not.
Well hopefully you don't have waitresses across the country that are out there ready to ruin your image.
(Laughs) No way, I'm not cool enough for that.
How's the team coming together?
Everything is good, they're talking to some riders and I think they're going to hire one more guy. I don't know who it is going to be. Everything is good, we tested this week, getting our race motors done and I'm really pumped on everything right now. I'm really excited about what Ziggy at Factory Connection has been able to do for me and my set-up. The motor is really fast already and we're now going towards getting the bike to work well all around. It's usually me telling the suspension guy how I like it and how I want it set up but this year they told me what they wanted to try. We're kind of in a different place with the shock and I think it's going to be really cool.