More good times!
More good times!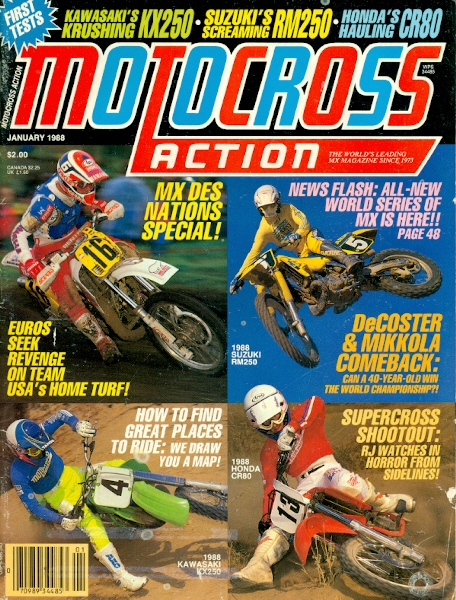 The January edition starts off with a Euro rider and an 80cc bike test on the cover. In other words, this ain't your 2009 edition of Motocross Action. Did you know that Jody wrote "On the Mainjet" for many years? I'm not sure if he wrote every single one or if Roland Heinz did actually write them at some point but I've been told that they a lot of them was Jody. Who knew? I always thought they made a lot of sense and then sometimes Jody's Box made zero sense but now I know it was actually Jody playing ying-yang with his emotions.
On the Mainjet this month exposes the fact that the AMA is trying to kill the 500 class as Yamaha has tabled a proposal that in order to save costs, the class needs to be eliminated. I'm sure it has nothing to do with the fact that Yamaha's YZ490 in 1988 was basically the same bike as the '83. Suzuki voted to end 500 racing as well, again in the name of keeping costs down and nothing to do with the fact they don't make one. Jody rightfully calls them out on it and calls out the other two people that voted for the change. Which was Bill West and Rich Winkler. Winkler, the track builder guy I think, was there on behalf of Pace SRO productions (?!?)
What the hell was Wink doing representing the people of supercross? C.E Altman is quoted as saying that he didn't know why Rich voted that way and his vote would be changed. Did Rich wander in on the meeting and think it was about tracks? I read this part two or three times and still couldn't understand it.
The first test in the magazine is on the '88 CR80 and I remember this bike because Canadians never saw them. Honda didn't bring in 80's or 500's up north. I rode Kawasaki's this year because they gave me a deal and had a rear disc. Tom (my dad) was very big on this feature. My buddy Curtis bucked the system and went to North Dakota and purchased this bike. He was a rockstar, no one had one of these suckers and he used it to get many top tens (some top fives) in the Manitoba 80cc A class. I lost the title by two points to a dude on an '87 CR80 so in the end rear discs aren't everything.
Next up is a preview of the '88 RM250 and I remember this bike was pretty good and the beginning of Suzuki pulling itself out of its doldrums. It even won someone's shootout which for Suzuki was pretty amazing.
There is a world supercross report from Holland where RJ comes from dead last to first and is a hero. They show an uphill section where the track is just covered in plywood! I'm pretty sure that wouldn't be allowed anymore.
There is coverage on the '87 MXDN and I wonder why the guys never made the cover, maybe the deadline was too close or something? Of course the USA won and Weege flew out of the track in a helicopter with his big-wig Bel-Ray dad. There's an interview with Bob Hannah where he says that he told the AMA that he would ride anything if he were selected for the team and then, when he got chosen to ride the 125, tried to get out of it! Hannah redeemed himself with his ride, America kicked ass and all was right in the world.

Interesting look back at the feud between Mickey Thompson and Mike Goodwin in regards to Anaheim stadium and who gets to run the race there. Goodwin and Thompson used to be partners but, according the article written by Greg Barbacovi, Thompson won the right from the city of Anaheim to run his Ultracross series in the stadium while Goodwin has the AMA sanction to run supercrosses. Sort of, I read the story a couple of times and couldn't figure out who the AMA was behind (the interview with the head AMA guy is confusing. Imagine that) and whether Thompson was going to run a supercross or an Ultracross in Anaheim. Jam Sports and Live Nation have nothing on these guys.
We now know that the first race at Anaheim was not AMA sanctioned but all the racers showed up anyways. We also know that Thompson was murdered shortly after this story came out and Goodwin was convicted of setting it up. Erie to read this story with interviews of both guys in it.
A few pages later there is an ad for the San Diego supercross and says this will be your only chance to see the factory stars in Southern California this year. On the back page is an ad for Hondaline with Mickey Dymond, it would probably be the last time Mickey would be featured in Honda colors.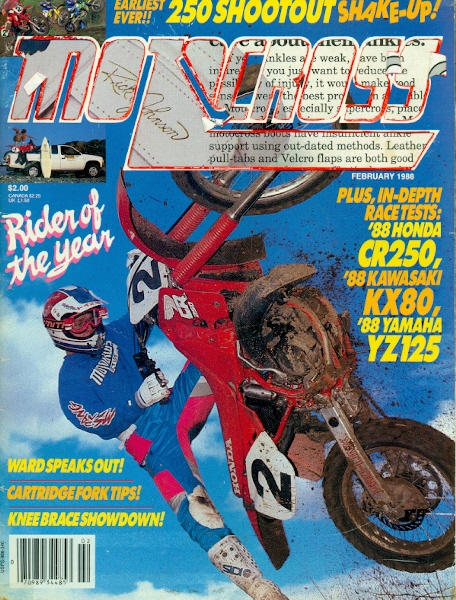 I apologize for the shape the February issue is in but the guy that I got these from was about 14 when these came out and, like me, tore stuff and cut things out. I guess he liked the title sequence.
The '88 CR250 is on the cover and this was a pretty cool bike when it came out. The low-boy pipe was like nothing we had ever seen before not to mention Honda went with the blood-red color. Its photos like this one that made all of us fall in love with MXA. This was radical stuff back in the day and I'd love to see the "after" shot of this.
The inset photo is RJ pretending to surf on his CR250. He was awarded a new truck for being named MXA's rider of the year. This was a cool thing that they did every year and I always wonder what the dudes did with the trucks? I've never seen one driving down the road. I wonder if the riders could just get the cash if they wanted to? Anyways, the MXA truck makes the little plaques and trophy's they give out for Rider of the Year nowadays look like crap.
They test the YZ 125 and say that it is the best YZ125 since 1980. Yikes, that's a long time and I know for sure this bike was better than the '85 that my brother had as that thing seemed to seize every 10 min. Tom was not happy and I learned some new swear words in '85. I always thought the '87 and '88 was basically the same bike but these guys say it's not. The new motor in the '88 makes it much better.
There's a race report from the Masters of Motocross in Italy where RJ cleans up yet again. The real story to me is Ross "Rollerball" Pederson finishing in fourth ahead of Jeff Stanton, Ron Tichenor, Eric Geboers and a bunch of other guys. Yeah, there's even a shot of THE Ross dicing with Stanton and another one of him in his underwear strapping on a knee brace. I had better not go any further right now about this for fear of a restraining order.
A test of the KX80 is in here and I didn't even need to read this again. I remember when it came out as this was my bike of choice (or my dad's) and I knew it inside and out. They interview DMC's Dave Miller about the bike and that's a bit of a bummer, I wanted to see how the Wrecking Crew felt about it. Anyways, Dave says the forks won't work well for anyone over 100lbs. Which I clearly was. If you would like to see me on this bike, click HERE. I liked the bike and Tom bought me a practice bike as well. He hid it from my mom for a while, we would always kept the bikes separate and she would never know. There would be one in the van and I'd work on it and then load it up, unload the other one and work some more on it. Mom was oblivious to the spending.
Big interview with Jeff Ward where he says Southwick is the best national track, Ron Lechien is, at different times, the fastest guy for one lap and the slowest! He says that if Ron ever figures it out, he'll kill everyone. MXA asks him a bunch of questions about the AMA and I notice that there is quite a bit of anti-AMA rhetoric in the two issues that I've picked up.
The Wrecking Crew say that the new CR250 isn't very good and that they'd "rather not race it." Wow, the best bike ever ('87 CR250) to this thing in one short year.
A 250 shoot-out follows where the Yamaha wins with Suzuki in second. The crew loves the Honda's ergos but not the motor. The Kawi seems to do everything well but the Yamaha's motor is so good, the guys vote it the best.
There's the ROY two-page photo spread with RJ and his truck, a Nissan 4×4. Rick is posed in front of it with the shortest Life's a Beach shorts on I've ever seen. They are flo-yellow with little blue bats on them and yes, I had a pair. Mine weren't so short though. I also had the bomb shorts and my brother had the ones with The Jetsons on them. We used to just drool thinking about going to the one store in town that carried them. I remember they were like 40 bucks which is like $40,000 in todays money.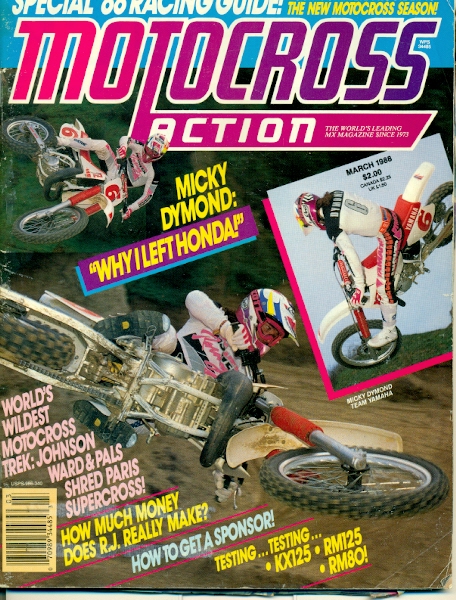 The coverboy on the March issue was Yamaha's newest signing, Micky Dymond. It had to feel good for Yamaha to poach an emerging star from Honda (even though the red guys didn't want him) after watching Hannah, RJ and Lechien go to Honda and kill it. The pattern would repeat with Jeff Stanton shortly after this and we now know that this switch to white didn't work out for Dymond. His lack of results were definitely offset (at least to me) by his unbelievable cool look. The Mick had the riding style, the hair hanging out the back and the pink, white and black Answer gear was pretty much the coolest thing ever.
His numbers looked awesome and his mechanic at the time, Ron Heben, once told me that he spent a lot of time making those trick 6's every week. He said he still has the template in his garage! Dymond started off the season strong with a third in the non-AMA race but got hurt after that and started losing interest in becoming a pro motocrosser. In the podcast I did with him, Micky really seemed to be full of regret that he didn't try harder. He was definitely one of guys, like Brian Swink, that you look at years later and wonder why they weren't superstars.
The 'Dirt' section has a report on the Bercy supercross. There's a picture of RJ shaking the hand of an 18-year old JMB. Bayle just has on the open face with goggles. Got to love that and I forgot to ask O'Mara on the podcast how in the hell he rode a national like that.
Then it's a feature story on Bercy written by Zap and it's a good one. Think of it like an "Observations" column from Paris. Not so much heavy text about the actual race but nice little tidbits here and there and Espinoza tries to capture the riders like regular guys and gives you reports on what they did together during the day. The story goes on to relate that JMB does not want to be compared to legendary Frenchman Jacky Vimond. Bayle says that Vimond is the true French hero, not him. A few years after this, people would be saying "Jacky who?" as JMB wrecked havoc on the world racing scene.
1988 RM 125 test ends with "Is it a winner? It is in the right hands." Which is code for "This thing sucks but if your name is Rick Johnson, you could probably win on it."
There's a World Supercross Series that was going on but one of the rounds included the infamous Veronica Beach race. Suffice to say, RJ, Wardy and the Dogger weren't lining up for the wide open in sixth gear, down a whooped out beach race. Eric Geboers won and it allowed him to slip into the lead of the WSX series. That's fine, I'm sure RJ was like "Have at it."
An interesting story is on how much money RJ makes in a year. It says that Johnson's Honda contract is worth $275,000, his Oakley deal is $20,000 and his Fox deal is $100,000. I'm not sure how accurate those numbers are but, after the win bonuses are all added up, it says that RJ made over a million bucks in 1987. In 2002, Broc Sellards was getting $275,000 from KTM to ride half the supercross series and the nationals. MC told me on the podcast that his best year in salary from an OEM was around $350,000 so that seems about right if you jump from RJ to MC but then after that, things got a little loopy in the rider salary department.

At the back of the magazine, in the new products section, there is an ad for the Donnie Hansen Motocross Academy and shows Donnie blasting a turn. That's cool and all but he's got a big number 0 on his bike. Why would you put number zero on your bike and then try to sell yourself as a teacher? Weird right?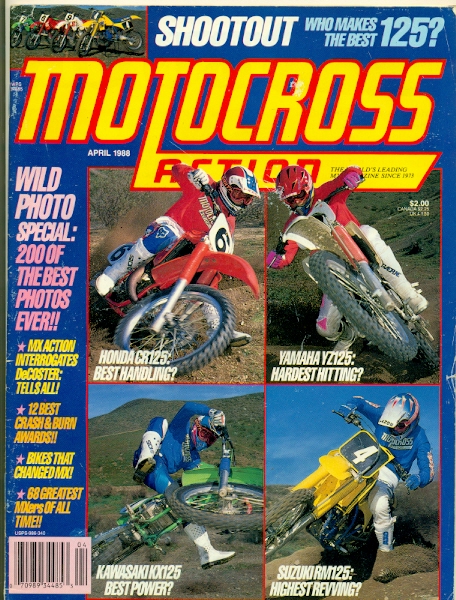 The April issue has the four 125's as MXA shoots'em out. On a related note, I was reading an MXA from '84 and there was a seven bike 125 shootout in it! They threw the KTM, Husky and Cagiva in there and probably not any shock that they were the three worst brands. Anyways, this issue starts off with more information on the promoter war going on between Goodwin and Thompson and then a bunch of mini-interviews with JoJo Keller (who says that the Kawi's didn't work for him and he's back on a Honda), Larry Brooks (who says that 1988 would be THE year he comes out swinging), Jeff Stanton (who signed a full-factory deal with Yamaha and says that Honda couldn't offer him enough. History would say that one year later, they found the money), Guy Cooper (talking about how being married helps him out), Fred Andrews (who says that if the AMA doesn't increase the purse money, he can't afford to race) and Mike Craig (who tells us about a Tahiti SX that he went to with topless beaches. Yep, sounds like Craig.)
The 125 shoot-out goes like this- Kawi has the best power, Honda handles the best and the KX took home best suspension. At the end of the article, it's obvious that Kawasaki is the winner but they never really say who makes the second best 125. I got to think it's Honda as, even though they changed from the '87, Honda didn't really make a crappy bike in the mid-80's. I do know one thing, the Suzuki sucked.
Something that I have to mention here is that the 1988 Kawasaki bikes were universally lauded as the best in their classes and that's true I think. I had an 80, my buddy Kyle had the 125 and his brother Dave had the 250. I rode them all and the suspension was really great but I just don't think you can call them the best bikes. The quality control on these things was terrible. The plastic cracked if you looked at it wrong, the footpeg springs were jello after ten minutes, the bolts stripped out badly and the frames cracked. So no matter how good they worked back then, you couldn't say that they were better than the Hondas just because they were piles of crap half-way through the season. There, I've said it.
This issue is really a best of motocross with a ton of features all about the history of the sport. There are enough mentions of Tony D to fill a copy of 'War and Peace'. An interview with DeCoster, some cool crash and burn photos, a list of past champions and a bunch of old photos. It's cool for sure but a lot of it is recycled material that we already knew because we were hard-core MXA readers. Still, I guess you have to dust off the archives once in a while.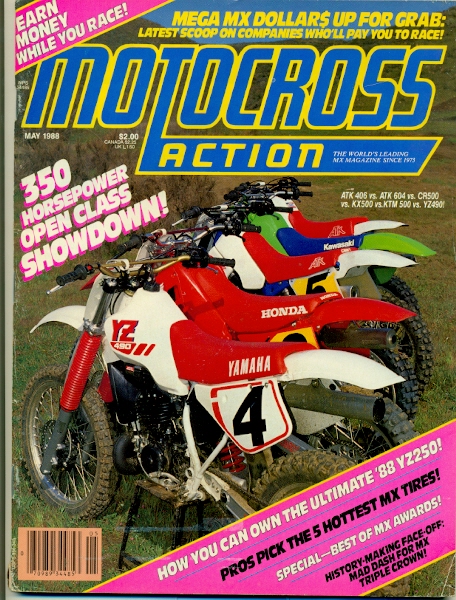 The May issue has the mighty 500's on it and it's always cool when you can include more than just the big four. Actually the Suzuki isn't involved because they don't make a 500 and for some reason that I can't figure out (maybe Zap will read this and let me know) there are two ATK's on this cover (the 406cc and 604cc) but the KTM is nowhere to be found. Inside the mag, the KTM gets ranked with all the other bikes but it didn't make the cover. Weird.
The first two pages are a close up of the Fox Comp-2 boot and this thing was trick. I had a pair and it was one of the first boots (Alpinestars did it but in Canada, A-Stars were non-existent and were a million bucks) to ditch the velcro and put a lower buckle on the bottom. It was pretty sweet for sure. The Rick Johnson autograph seemed to fade when you took them out of the store but overall this boot lasted me a long time and I remember it fondly. The next page has the Roost-2 chest protector which I had and loved. After that is a Paw 2 glove ad and yes, I had a pair of those as well. I wonder if Fox still have all this crap lying around in a warehouse somewhere? I have to ask Beeker.
There's a who's riding for who chart and it lists Factory Suzuki as having six riders! Yes, I said six. They are Eric Kehoe, Bob Hannah, Johnny O'Mara, Donny Schmit, Ron Tichenor and Keith Turpin. In 2010, they have one guy that actually makes a salary and two more who make zero money. Times were different back then for sure. They also have four guys listed as factory support (Ty Davis, Todd Dehoop, Jimmy Gaddis and Junior Jackson.)
There's a Florida Winter Series report and remember when these things were so cool? All the factory guys would show up and race to get ready for the new season. Hell, Wardy told me they used to make more money at these than at a supercross. Ferry would drive all night back from a supercross to make a Florida Series race because they paid so much. That just doesn't happen anymore and that makes me sad. Anyways, Hannah, Bowen and a guy named Jon McCabe won. There's an interesting name at round four held in Brooksville. None other than Canada's Shane Drew finished fourth in the 500 class on this day.
The best of motocross is a story where the MXA guys pick just what the title says in a whole bunch of different categories. One thing they got right was Best European-Jean-Michel Bayle. Other winners were Ron Lechien for best dressed, Ricky Ryan for best guts, Chicken for best rookie and best jumper went to Guy Cooper.
California Golden State series went on with Ron Lechien winning the 250 title. Somehow, Ronnie stayed on the straight and narrow the whole time and managed to make it to every race. That's pretty awesome.
The five best tires in motocross are ranked and number five is a Metzeler. I know that they were the tires to beat back in the day but by '88, I figured they were done. Not so says the Wrecking Crew. What do I know, my dad bought Bridgestone M22's for ten years and we ran them everywhere.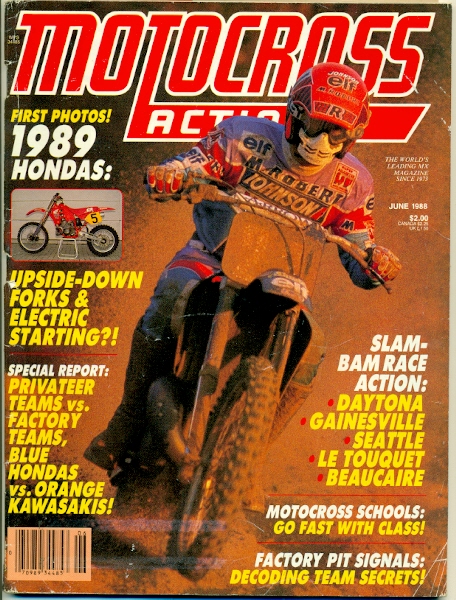 I can't find it listed anywhere in the magazine but I think Georges Jobe is on the cover here. Remember when Jobe, in a desperate quest to be the first rider to win all three GP classes, dropped down to the 125's after years of riding 500's and got his ass handed to him? It had to hurt even more when Eric Geboers beat him to the record when he won the 500's in this same season. What the hell is Jobe doing on the cover of MXA might be the better question to ask?
After talking about the supercross promoter wars the last few issues, this is the issue that reports on Thompson's tragic death when he and his wife were gunned down one morning. Had I been around reporting on supercross back in this time, I probably would've been scared. Real scared.
One of the first ads I see is one for Bobs Cycle Supply in Minnesota and it brings back fond memories for me. When I was a kid my dad and I would venture down to district 23 to get some early racing in before our Canadian season started. We would end up at tracks such as Grantsburg, Elko, Millville and there would always be this little truck that would show up with absolutely smoking deals on gear. With the 65% exchange rate and the local rip-off shops at home, this stuff seemed to be almost free. We couldn't believe it and soon would start stocking up on anything that we needed. Anyways, maybe a dumb story but when this ad came out, I knew that our little secret in Minnesota was now open to the world.
Then there's a feature on Keith Bowen and his move to TUF Racing for the '88 season. Remember these bikes? Green mixed in with some flo-orange plastic? Man, they were ugly and Bowen didn't do much this year but it was good to see the shop on the map. Twenty years after this, TUF would be a major sponsor of Sean Hamblin when he raced the outdoors and now they are closed up. Tough deal for a shop that was an integral part of privateer moto for so many years.
The opening round of the nationals from Gainesville were reported on here and there's a sweet shot of Rollerball in the mix. Here are the top ten from the two classes at:
125
Eric Kehoe 2-1
George Holland 1-2
Donny Schmit 3-3
Larry Brooks 4-4
Jeff Matiasevich 5-6
Ron Tichenor 7-5
Mike Kiedrowski 8-7
Keith Bowen 6-11
Larry Ward 10-8
Todd Dehoop 13-9
250
Jeff Ward 2-1
Rick Johnson 1-3
Ron Lechien 4-2
Micky Dymond 3-6
Jeff Leisk 5-4
Broc Glover 6-5
Shaun Kalos 9-7
Mike Healey 8-11
Ross Pederson 12-9
Tommy Watts 7-14
There's an FMF catalog after the national report and the pictures are all blurry. I'm not sure if it's on purpose or not but they are terrible. Weird. They sponsor Honda support rider Guy Cooper but he's buried in the catalog and FMF chose Tom Carson for the cover. Even weirder. "Hey come buy our pipes, we help out Tom Carson!"
Daytona supercross report and it looks muddy. Not as muddy as the year before when Ricky Ryan won but still, a sloppy day in the infield of Daytona superspeedway. RJ wins, Ward second and really, that was the running order of almost any race back then. Maybe Lechien would win here and there but these two dudes were a cut above everyone.
A story on what to write on a pitboard is fascinating.
There's an ad for the brand new Scott EFS system which my dad bought me and with the exchange rate, it cost somewhere in the area of three thousand dollars. This system was flawed from the start as I had the one with the motion sensor and going in and out of trees signaled the sensor and the film moved. Soon you would actually need it and the whole roll would be gone! History says that this system, and the next years one with a button, was a ginormous failure. Good old Smith goggles had to be smiling.
Yeah, it must be Jobe on the cover because there's a big story about him and his switch to the 125's. He's got a pretty trick CR125 with aluminum tank and upside-down forks. I don't remember how he did this year but I do know that he didn't come close to beating JMB at any point and his quest failed.
A report from the Euro pre-season opener at Beaucaire says that American Goat Breker won the race. This after being retired for a couple of years. Goat would come out and compete in the 500 GP's this year after this victory. I also don't remember how he did but I think he came home early. Ricky Ryan actually won two of the three motos but DNF'd the second one with a rock in his chain. The two Americans were probably snickering to themselves about how they were going to smoke everyone in the upcoming season but what they didn't know what the Euros really didn't care about these early races.
Interesting interview with Steve Whitelock who was the Honda Euro boss back then. Nowhere in the entire interview does Steve seem like an ass which makes his behavior as the AMA Pro Racing guy a few years back even more mystifying. And also, I wonder if Steve would have done this interview in 1988 if he had any idea about how MXA was going to rip him to pieces each and every month when he was the boss of pro racing. Steve Whitelock, you will not be missed in the pits at Anaheim 2010.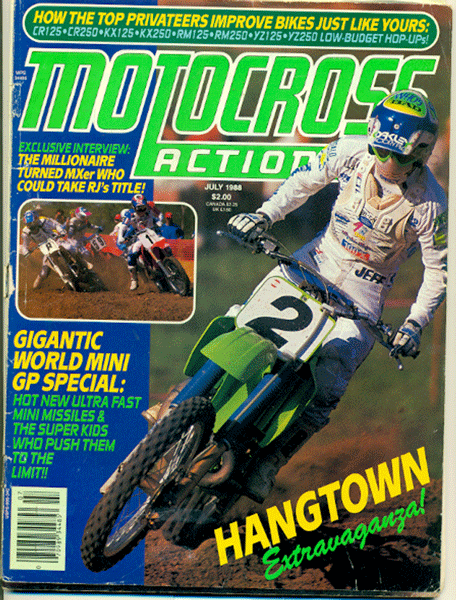 July '88 has Wardy on the cover with a helmet that says "Who's Bad?" on the top. Surely if Jeff somehow reads this he will have to wonder what in the hell he was thinking putting a Michael Jackson slogan on the top of his helmet. Michael Jackson was actually the opposite of "bad." Between RJ telling us in ads that he was "Bad to the Bone" and Wardy's helmet, I feel like I'm getting overrun with dudes who are "bad."
Inset photo is RJ and Jeff Stanton who, one year after this, would become teammates and buddies. Stanton moved in with Rick and learned the ropes of how to become a winner and then took, uhhh, major advantage of what he learned.
In the table of contents, there is a shot of a kid on a PW from the World Mini's and it's Daniel Blair! Complete with his Maxon helmet and with both feet off the pegs, he looks far from the rider that would go on to get a GEICO Honda ride.
Jodys Box is the usual race-day experience with his buddies. Does anyone know if Stumpy and Monte Floyd were real people? What about Crazy Dave? Lovely Louella? I'm pretty sure that Jimmy Mac was actually…uhh..Jimmy Mac but other than that, are these crazy people that existed in his head? I was going to ask Jody this very question on a podcast show but then he said "That's (being on the show) not going to happen" when I asked him to come on.
A High Point gear ad with Stanton isn't exactly what anyone would call the cutting edge of fashion.
Interview with George Holland about his switch from Suzuki to Honda where he basically says he wanted a better bike and that's the reason for the switch. When they ask him how he knew Honda was a better bike, he replies that he's had to race against them for years. He says that he used to get so bummed when he would go to Southwick and just get "blown away."
The change worked out pretty good as George won the title this year and did pretty well in the supercross class as well. The next year ('89) he was leading the mx series again when he was forced to pull out with a shoulder injury. Then he was done. Retired and you never, ever read an interview with George Holland anymore. It's like he dropped off the face of the earth. I guess when a dude grows up in racing like he did and races pro forever, you just reach a point where you're sick of it and want to grow almonds.

Hangtown national report tells us that RJ and Kehoe win with what looks like hurricane winds. There's a photo of Broc Glover and Jeff Leisk standing there in plain clothes wearing goggles! Glover gets third (do I even need to say that Ward finished second?) and Stanton fourth.
A feature on privateer bikes is notable for a color shot of Jimmy Gaddis whose Arai mouthpiece is literally pushed so far up that he probably can't see out of it. The companies that made the plastic nose guards never, ever got any of Jimmy Gaddis's money, let's put it that way.
Shaun Kalos interview as he's the hot-shot kid on the circuit. Just seventeen years old, the Arizona native travels with his Grandpa in a converted Greyhound bus. Kalos was pretty good and almost always was a top ten guy but then just seemed to fade away. You wonder what happened to these guys…oh wait I actually know because I was his mechanic for a bit. Kalos went to Europe shortly after this, didn't do much and quit racing for a bit. Then he came back in '96 on the PJ1 Yamaha team and I worked for him for two races. He was really nice but a bit weird. He would show up at the last minute for practice and then be gone by the time I got back to the truck. He was like that dude that could teleport or something. The highlight for the Kalos/Matthes team was an 11-11 at Unadilla '96.
World Mini report with a ton of future champions like Steve Lamson, Jeff Emig, Mike Kiedrowski and Damon Bradshaw. Looking at it makes you realize that, although these amateur races are important, they are in no way an indicator of how someone is going to do when they turn pro. A lot of names that finished pretty well at this race are now pumping gas while a guy Steve Lamson (who was just inside the top ten) would go on to win two 125 national titles.
The Kawasaki Race of Champions was where a selected group of 15 kids were picked to race identical KX 80's. It was a cool concept and would have absolutely zero chance of happening nowadays. Joel Albrecht won in an upset after Buddy Antunez crashed in the first moto. My buddy Jason Frenette got invited via him winning the Canadian 80cc national title and went a consistent 12-12-11. Way to represent the motherland Jason!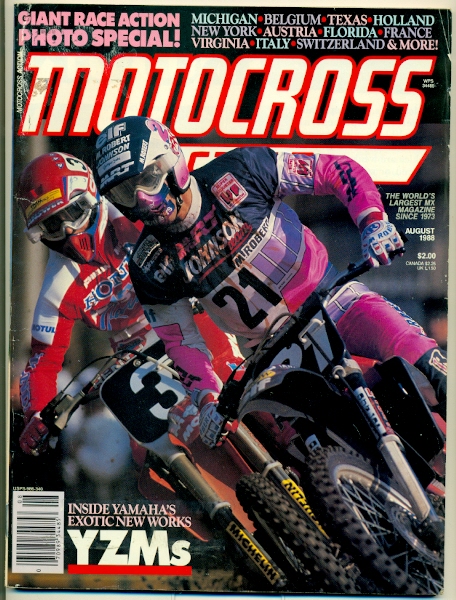 Good God, the August issue has Georges Jobe on the cover again! What in tarnations is going on here? Man, I guess Luc Verbeke kidnapped Jody and locked him away for a little while. Second cover for "Gorgeous" George in three months and he's closely followed by JMB who would go on to win the 125 World Title this year. There is a JMB CR125 from this year in Greg Primm's warehouse and it's trick in a simple kind of way.
Big supercross report that shows us RJ is running away with it and coverage from Pontiac, Tampa, New York and Dallas shows us what went down. There's a list of favorite music from the top riders and Stanton goes with The Oakridge Boys. Seems about right. Lots of photos and captions to read but I do wish (and this goes for Racer X as well) that they would list the entire top twenty from the race.
Opening rounds of the GP's are covered in here with JMB winning the first round of the 125's, Jeremy Whatley got the 250's and David Thorpe won the 500's. There's an in-depth interview with a young Belgium rider named Peter Dirkx who never really did anything but I do remember him having some decent results here and there. I wonder whatever happened to him?
Actually there's a whole bunch of GP coverage in here. In other news, the sky is falling.
The MXA gang looks back on the '88 KX250 and all the problems that it has. Remember my little tangent earlier in this story about the quality control issues on the Kawi's? Well the Wrecking Crew finds the same problems that I had. Stripped bolts, bad plastic, kickstart lever falling off, etc, etc. Also, they find the one problem that I forgot to mention. The gas cap threads crack. I came up short on a double on my '89 125 (same bike basically) and broke it. I had to do one more lap with gas splashing on my nuts and experienced pain like I had never felt before or since.Guess what? Your ball-sack is porous. Then to top it all off, the tank was back-ordered and it forced me to race my brother's 1987 CR125 which was a better bike than the dog-slow '89 that I was on.
I have a love/hate thing going on with my Kawi's in these years.
A guide to stands is awesome. Also, the guide to numbers is amazing as well. I know bills have to be paid but really?
There's a Lake Sugartree national report with Guy Cooper winning the 125's with a 1-3 finish. This was Chicken Coops first race back from injury and he did pretty well no? It was also the first race back for Micky Dymond and he did the opposite of Coop with a 10-DNF. RJ suffered a DNF in the second moto and Ward took control of the series with that mistake.
A story on the next future stars of motocross include Larry Ward, Mike Larocco, Ron Tichenor and Jeff Matiasevich. Well, they got it half right.
An ad for the Hallman chest protector that came with elbow guards and was basically a turtle shell that you put on. There was zero chance of you getting hurt with this thing and my brother actually had one for a little while.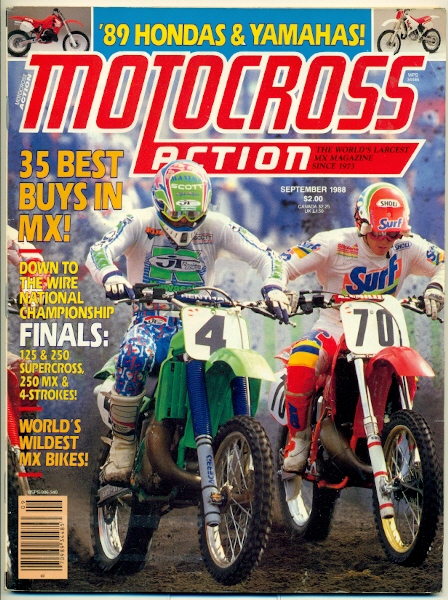 Ahhh, the September issue. I can remember this cover like it was yesterday. The Dogger in all his glory with the set of gear that probably remains my favorite to this day. I had the same look going on while I fought tooth and nail for Manitoba 80cc title. I also loved this helmet that Ronnie's wearing and Jeff Glass gets his only MXA cover with his cool Surf Detergent look.
I love the two-page feature on the all of the top riders helmets. I'm going to scan this in and put in up on the site. One of the biggest regrets that I have about today's riders is the lack of helmet "coolness." Out of the sixteen helmets shown, I'd have to say that Glovers and Lechien's JT ALS-2's look the coolest. Ol'Wardy still ran the open face and was probably the last guy to give it up.
A 125 SX wrap-up shows us that the top ten in each coast was:
WEST
1-Jeff Matiasevich
2-Mike Kiedrowski
3-Larry Ward
4-Ty Davis
5-Mike Craig
6-Chris Young
7-Jimmy Gaddis
8-Kerry Mulligan (who?)
9-Mike Pascarella
10-Rick Simmit
EAST
1-Todd Dehoop
2-Mike Jones
3-Mike Larocco (who scored zero points the first two rounds- me thinks Dehoop got a little lucky)
4-Robert Hayes (who?)
5-Denny Stephenson
6-Chris Coleman
7-Kenny Kizzar
8-Robert Naughton
9-Mark Crozier
10-Carl Vaillancourt
There's a questionnaire about what's wrong with the 125 supercross class. Mitch Payton says that they should get the east and west coasts together and shoot them out at the end of the year. He's a smart man.
Goat Breker won the World Four-Stoke Championship with Ed Arnet and Gary Jones following close behind. Clearly with the original GOAT racing this event, his GP career is over.
A supercross wrap up that tells us RJ reclaimed his indoor crown and I find it interesting that, with the sx promoter wars going on, the actual championship was only nine rounds (only eight cities with Seattle being a doubleheader). Ward raced seven of them, won 1, finished third in 1 and got second at the other 5. RJ won 7 out of the 9 with Ward winning 1 along with Glover getting the last round at LA. Parity thy not know the 1988 AMA Supercross series.
Trouble-shooting the '88 CR125 and nowhere in the entire article can I find the words, "sell it and buy an '87" which is what people should've done. The only problem with that is the color difference between the two and if you had an '87, you were mocked as being out of date.
An expose on the 1989 Hondas shows us that entire line received the low-boy pipe and styling of the '88 CR250. Well, except for the 80. While these photos got most of us drooling at the usual Honda trickness, what no one knew was that, underneath that shiny look, lay the worst suspended machines ever. Honda went to the upside-down forks and the bikes were horrible. My buddy had a CR250 and I could barely ride it. It felt like Romans were driving stakes through my palms every bump I hit.
There's a similar story on the '89 Yamahas and what's weird about this is that the bikes in the photos have upside-down forks. Well, we never got them in Canada. Something happened at the final stages and Europe and Canada received the old forks. I'm not sure about the USA models, I think they didn't get upside-downs either. Leave me a comment if you know. They did have a 19-inch rear wheel which was super cool at the time.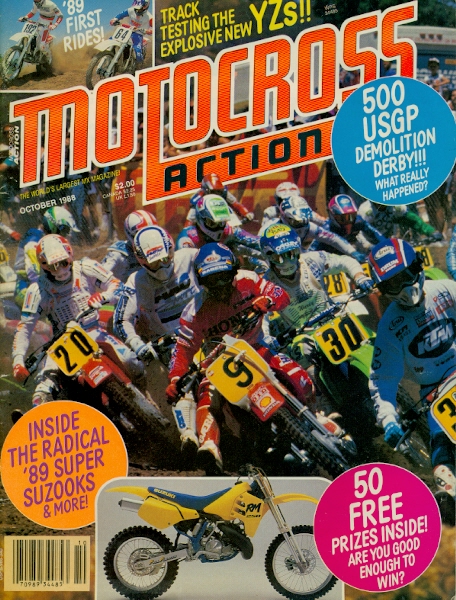 Another month of MXA, another Euro on the cover! This time it's a start shot of the 500 USGP. Front and center is Eric Geboers and to his right is the UK's Mark Banks. The inset shot is the new '89 RM 250 and I always loved the way this bike looked. Geboers would actually go on to win this race and it's funny because from '82 on, you just assume that Americans won every USGP there was to win but that's not true. Geboers won this one, I believe Demaria won at Budds Creek and Van Der Ven might have won one in there someone. To me, these dudes deserve a tip of the hat.
The 'Dirt' section has a report from the Binghamton 125/500 where they spell Binghamton wrong! They add the 'p' in there at the end and it's a common mistake. I've done it a few times here and there, actually come to think of it, maybe I shouldn't comment on other people's spelling as I'm still trying to grasp that part of writing.
Anyways, Guy Cooper wins the 125 class again and since he's come back from his broken leg he's been the man-winning four races on the season which is double anyone else in the class. Too bad for about that broken leg that he suffered at an off-season supercross. Here are the results from the 1988 Binghamton national.
125
1-Guy Cooper 1-2
2-Eric Kehoe 4-1
3-Donny Schmit 3-3
4-Larry Ward 2-9
5-Mike Jones 5-6
6-Ron Tichenor 7-5
7-Larry Brooks 6-8
8-George Holland 13-4
9-Barry Carsten 10-12
10-Rick Pinney 11-11
500
1-Rick Johnson 1-1
2-Jeff Stanton 2-3
3-Jeff Leisk 3-4
4-Fred Andrews 5-5
5-Tommy Watts 6-6
6-Ron Lechien 4-9
7-Doug Dubach 7-7
8-Tom Carson 8-8
9-Jeff Ward 34-2
10-Kurt McMillen 11-11
There's a report from Luc Verbeke (a Euro) on the 500 Euro guys and how they couldn't clear a tabletop at the recent USGP that American intermediate riders would've cleared. He does mention that Geboers eventually jumped it but that the 500 guys looked "spodey" when they couldn't clear it. He then mentions that there was a set of four jumps that were about ten feet apart and the American guys were clearing them but that David Thorpe and Jacky Vimond protested and got them flattened because they were classified as doubles, which was a no-no with the FIM at that time.
So the author says that, just like America, the 250 class is where it's at in Europe and this feature is about the best in that class. Rodney Smith is one of the best along with Dutchman Jon Van De Berk. Rob Herring (who always looked the part of a fast guy) and Ricky Ryan are struggling as is two-time 250 World Champion Heinz Kinigadner.
An in-depth report from Red Bud on the opening round of the 125/500 series sees Jeff Ward capture the overall via his 1-3 score. The story says that Wardy is on a quest to become the first rider to win every major championship in America. He would have to wait another year though as RJ captured the '88 title. It's funny because the Yamaha factory team of Broc Glover and Micky Dymond were not allowed to race the 500 nationals because Yamaha didn't feel their bike was competitive but Yamaha support rider Jeff Stanton could race. The funnier thing is Jeff is consistently the third best rider showing that the bike is somewhat competitive (one of the funnier moments in the Racer X Podcasts was Bradshaw telling me that he told Yamaha to take the shock off and replace it with a solid strut because at least then would know what the shock was doing. Another time Bob Oliver telling me that the old YZ490's would start the moto with 65HP and end it at 30. The YZ490-when bad bikes happen to good people!) and even funnier to me was that Stanton was number 8 in the country this year while Glover was 44 and Dymond was 23! The Yamaha crew would be real sorry the next year when Jeff switched to Honda and kicked everyone's ass for 6 years.
A ride report with the '89 YZ's shows us that they did have upside-down forks so my question earlier in this story about the bikes is moot. Maybe I'm getting the Yamaha's mixed up with the Kawi's? Anyways, the Wrecking Crew liked the bikes and seemed to appreciate the opportunity to be the first to ride them. I don't think any of the riders in the story are Jody but the one bike does have the familiar #192 on it. Starting from Ed Schiedler and going onto the present guy in charge of Yamaha R&D, MXA has always had a cozy relationship with Yamaha guys. Now Tim Olson, a long-time editor at MXA, is a the PR guy over there.
When I worked on the factory team I would venture over to the R&D department and chat it up with the guys over there and they could always count on a friendly MXA review. But Yamaha did make some great bikes in that time as well.
Mammoth Mountain race report has Johnny O winning the 125's on his PC Suzuki 125. There would be no way that O'Mara could win at the high altitude of Mammoth without some kind of major motor work or possibly a 250 motor wedged into that frame. Good for Johnny as his Suzuki years weren't full of highlights by any means. He beats some legit top 125 riders like George Holland, Mike Kiedrowski and Mike Craig. Johnson wins the 250 and 500's. For some reason, Mammoth isn't as big of a deal as it once was with the magazines. It used to be a pretty big race back in the day. I've never been and it's a regret I have, no doubt about it.
The 500 USGP from Hollister almost never happened. You know who the promoter was that backed out when the sponsorship dollars weren't great enough? Pace SRO, the supercross promoters! Who knew that they were in the motocross business back then? Some company named Horizon Enterprises stepped up and the race was saved. As stated above, Geboers won with a 3-2. David Thorpe won the first moto and Jeff Leisk won the second one. Wardy and Lechien crashed in the first turn of the first moto and both pulled out and went home early. A shame because Wardy was over two seconds faster in practice with Lechien second. It sounds like Glover was one of the fastest guys there but crashes late in the motos hurt him and he could only go 9-3 on the day.
A real cool story is 'A year with the '88 mxers' where MXA revisits each bike a year down the road once they have lived with them. Every Honda model gets high ratings while the Suzuki 125 gets one star (even more amazing that O'Show kicked everyone's ass at Mammoth.) They still rank the Kawi's as being pretty good despite crappy seat foam and all the stuff I've already gone through. The CR250 is a great bike but they had to pour a bunch of money into it to make it good. If you had to race the 250's dead stock, they say the Suzuki and the Yamaha are the best bikes. Guess what? The YZ490 ranks as shitty. Shocking I know.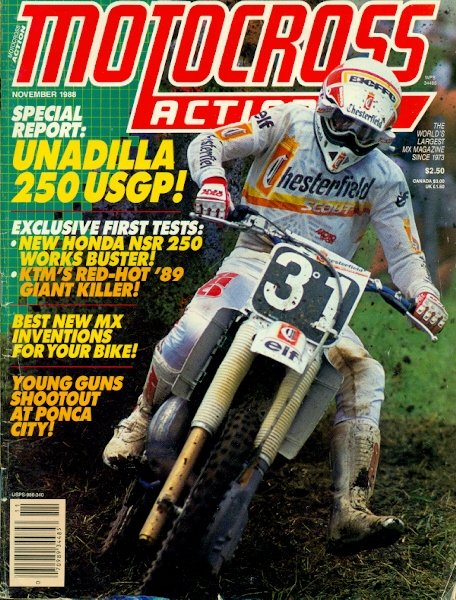 The November issue has American Rodney Smith on the cover but he's on a Chesterfield Suzuki because he's racing in Europe this year. So he's a GP racer and this makes it four and a quarter (a quarter if you count the small picture of Leif Persson on January's issue) Euros in eleven issues! Wow, how things change in the moto world. Having now worked in the motocross magazine world, I can tell you readers that the cover of a magazine is not a choice that's taken lightly.
There are political reasons, racing reasons, advertising reasons all rolled into the final equation of who gets it. Maybe things were different back then, I don't know. This is a cool shot of Rodney Smith though who came oh so close to winning a world title way back when and then made himself a nice little career racing the GNCC's.
The Dirt column tells us that JMB won the 125 World Title by a scant three points over Davey Strijbos and I would've thought that Bayle had won the title handily if I hadn't read it differently. Hmmm, funny how time changes your perception on what actually happened.
The '88 250 USGP took place at Unadilla with RJ sweeping both motos pretty easily. Bob Hannah came out for only his second race of the year and went 2-2. It's funny because I remember thinking that Hannah was so old when he raced but I bet he's somewhere around 30, 31 when he raced at Unadilla. Nowadays, it's commonplace to see guys hold on for a long longer than Hannah in '88. Anyways, Dymond went 3-3 on the day.
There's coverage from a 125/500 AMA national at Troy, Ohio where the writer seems absolutely amazed that Ron Lechien straight-up beat RJ. The Dogger went 1-1 for his first national win of the year in a dominating performance and in an interview says that he doesn't know why he can just turn it on once in a while. He confirms in the story that he's out at Kawi at the end of the year and is looking for a ride. History shows us that they did re-hire him for '89 though. In the 125's George Holland wins to extend his points lead to over 60 points with two races remaining. Some dude named Derek Roe goes 5-8 in the 125's in a surprise ride.
All hail the 350's. This issue has a test of a bike way ahead of its time-the KTM 350 two-stroke! To quote the Wrecking Crew "The best thing about the KTM 350 is that it innovatively approaches the motorcycle market with an eye towards real people." You could probably just cut and paste that quote for the upcoming 2010 KTM 350 thumper.
There's a funny story about how the pros spent their first ever factory paycheck and Lechien says he bought a condo but that it took a ton of money to set it up. He says we wouldn't believe that furniture and stereos cost so much!
There is also a deal where they ask the pros what they would be if they weren't factory superstars and Lechien, who is probably serious, says that he would be a bum on the street.
Motocross' Best Innovations story has to be a mistake as they list the Scott EFS system as one of the greatest things ever. Uh, I beg to differ. They did get it spot on with the ATK bike shoe though.
Ponca City report says that some kid named Kevin Windham from Louisiana will be the next big thing. There's a cool picture of Buddy Antunez on his RM80 in all his R&D glory. Damon Bradshaw and Brian Swink were also big winners.
Interesting story on another projected fast guy John Kitsch from Michigan. Kitsch is an interesting story because you can still find people that tell you just what a bad-ass he was back in the day and even when he first turned pro. I met John a few times because he was actually a mechanic on the circuit for a little while and worked for Swink at one point I believe. He got into the wrong crowd and fell into the grips of drugs and other bad stuff and never became the rider that many thought he could be. In the January issue of this year there is a feature from the Florida Winter Series and he kicks everyone's ass as a B rider! What could have been…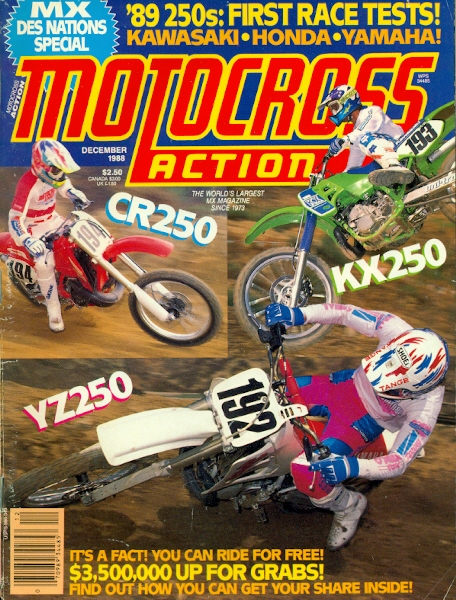 December '88 has three of the 1989 bikes on the cover. The CR, KX and YZ 250 get wrung out by the crew. The new bike tests were always so cool for us in Canada because the ground was under snow and the dealers didn't get the things until January or so. Oftentimes, we would have months to read the test over and over on the bike we're going to ride in three months. You would just grease the linkage over and over while the bike sat in your garage.
Right out of the hop, there's a naked picture of Rick Johnson! It's the famous 'thinker' pose with RJ wearing nothing but a pair of Comp-2 boots. Good God, his thighs are ginormous.
In The Dirt section, there's a bit about Yamaha pulling out of the 500GP class because they believe that the 250 class is where the action is. MXA makes a good point by saying that yes, the 250 class is where the action and sales are for Yamaha because they don't make a viable 500. So there goes the mighty works YZM500 that never saw the light of day in a production version.
A test of the '89 CR250 and MXA seems to kind of like the bike. They love the motor but agree with me that the suspension and handling need work. They don't seem to think the suspension is that bad but like I said, my buddy had one and it was horrible. At least that's what I remember. The motor was pretty good, I had a 1990 and I liked it- although the suspension didn't work that well either.
A national wrap-up profiles George Holland and him finally getting his long awaited 125 title while RJ won the 500's. There's a shot of Doug Dubach that says his privateer rides earned him a Honda support ride for '89 which we now know never happened for some reason. Yamaha, Shoei and O'Neal have just always been there for the Doctor.
Test on the '89 KX250 which is basically the same bike as the '88 which is fine because the '88 was great. Wait, now that I read the test it seems the bike has new brakes, new revalving in the shock, new gas tank and seat and a 19-inch rear wheel. Ok, so I was wrong. They end the test by saying that "this is the best 250 on the track."
I guess I can skip the issue with the 250 shoot-out.
MXA names their sx and mx rookies of the year and they are:
SX- Jeff Matiasevich
125MX- Mike Larocco
250MX- Shaun Kalos
500MX- Fred Andrews
There's a Yamaha DT-50 test (?!?) where MXA says that they "are happy that bikes like this exist" and that "long live the play bike." MXA always seemed to bust out some weird stories like this here and there.
1989 YZ250 gives "value to a dollar and fits to the competition." But you're saying that it's not as good as the Kawi…
A Loretta Lynn's Amateur national story written by some guy named Davey Coombs follows the test and we see a starting line shot of the PW50 class. There are a couple of kids named Nicolas Wey and Clint Bowyer pictured as they wait for the gate to drop. I bet this is the first time that Clint Bowyer ever got into a magazine but it certainly wouldn't be the last.
Remember the John Kitsch story from above? Well, he's the big winner at this race along with Denny Stephenson. Bradshaw, Swink and Antunez are other winners along with Mark Barnett who came out of retirement to race the vet class. Of course, the Bomber smoked them.
For some reason, the 1988 MXDN story is buried last in this mag and didn't make the cover blurbs either. Strange. Anyways, this is the race that Ron Lechien smoked them all. The story says that he led 26 out 30 total laps. The other story, especially because this race was in France, is JMB beating everyone but Ronnie in one moto. On a 125! It was basically Johnny O part 2.
In the process of smoking everyone, Lechien was rewarded with a new contract from Kawasaki for the 1989 season which seems about right for Ronnie and his career. Lechien told me that he went out all night before this race and just got back to the hotel before the guys were heading out for practice. Classic.